UNVEILED: The Major Brands Behind Your Favorite TJ's Products
Savvy shoppers know that Trader Joe's has garnered a serious cult following. But is the store brand's tasty and affordably-priced products all due to the big brands lurking behind them?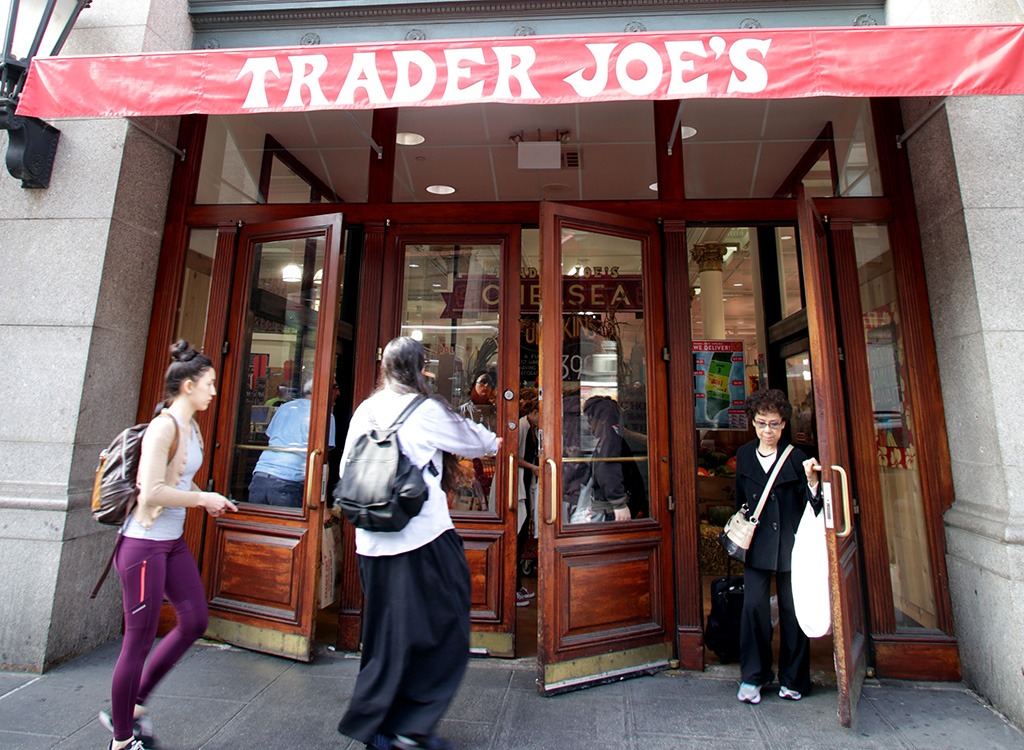 For foodies on the lookout for affordable luxuries, Trader Joe's is usually their top grocery spot thanks to unique offerings via their private label brand. But if you've ever read the ingredient list on one of TJ's products and compared it to a big brand's version of that product, you'll likely notice that the ingredients (and even the taste!) are all too similar. News flash: it's not a coincidence. Many of Trader Joe's own products are actually made by the big brands you usually skip in lieu of TJ's marked-down deals.
The Method Behind The Marketing
So how is Trader Joe's able to pull off selling big brands' items under their own label, not to mention marking down the prices so significantly? It turns out they've got a few tricks up their Hawaiian-print sleeves. Since TJ's executives are tight-lipped about the way they do business, "Trader Joe's never willingly talks about who their suppliers are," Mark Gardiner, author of Build a Brand Like Trader Joe's said, as reported by Eater. "Suppliers aren't allowed to say they supply Trader Joe's products." But, there are a few ways around this—two of which Eater discovered and was therefore able to reveal the name brands behind our favorite TJ grub.
Two Approaches To Unveiling The Big Brands
First, let's review the two approaches to getting around the hush-hush brand disclosing system. To unveil TJ's secret suppliers, Eater reviewed the USDA's Food Composition Databases (in addition to conducting web searches), which lay out products' nutrition facts, and found similarities among big brands' items and TJ's products. Another method they used was via Freedom of Information Act requests, in which they got hold of any FDA and USDA recalls that were related to Trader Joe's within the last decade. Because food manufacturers list all the brands and stores associated with the recalled foods, this revealed which popular brands were associated with Trader Joe's-labeled products.
So Which TJ's Foods Are Produced By Popular Brands?
Now that we understand how this information was gathered, let's get to the fun part: revealing which popular brands are masked under TJ's own label! To help decipher between the tastes of the big brands' offerings and TJ's own, Eater conducted a blind taste test involving over 30 volunteers.
Chocolate-covered Pretzels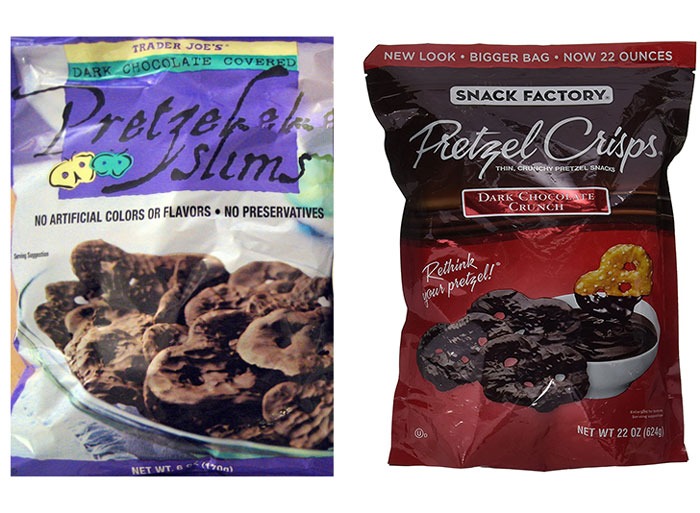 According to Eater, the ingredients in TJ's and Snack Factory's chocolate-covered pretzels are exactly the same. Just 39 percent of taste testers didn't taste the difference between the two crunchy sweets.
Trader Joe's chocolate chip cookies and Tate's Bake Shop's version are way too similar ingredient- and packaging-wise. According to Eater, 39 percent of testers didn't taste a difference between the two chocolate chip cookie versions. 6254a4d1642c605c54bf1cab17d50f1e
Trader Joe's organic animal crackers and Stauffer's organic animal crackers boast the same ingredients. Half of the taste testers didn't notice a difference in taste between the two brands' nostalgic snacks.
Although past product recalls revealed that Wonderful Pistachios supplied Trader Joe's pistachios, 71 percent of taste testers reported a difference in taste between the two brands' nuts.
What's more, product recalls revealed that Naked Juice Company provided some of Trader Joe's own bottled smoothies while Tribe Mediterranean Foods supplied TJ's with its popular hummus.
Why They Do It
Although Trader Joe's expectedly declined to comment on these findings and their relationships with suppliers, manufacturers do get a benefit from masking their own labels with private ones like Trader Joe's. Doug Baker, the vice president of private brands at the Food Marketing Institute, explained to Eater that brands disguising their own popular names under lesser-known labels usually better target consumers who aren't necessarily concerned with brand names, but care more about value. "If the consumer wants to buy it, there's a manufacturer out there that wants to make it, and a retailer that wants to sell it. That's been the great thing about this industry and our economy, is we're always out there looking for a way to meet this demand," Baker explained.
If you're anything like us, your next trip to TJ's will consist of scanning the store brand's pita chips ingredient list and comparing it to Stacy's Pita Chips via a quick Google search. And even if you discover that the two brands' ingredients are identical (with TJ's pita chips priced significantly lower), you're better off leaving the bag on the shelf as this snack is one of our 75 "Healthy" Foods That Aren't.
April Benshosan
April is a born-and-raised Brooklynite who has a passion for all things health, wellness, and tastebud-related.
Read more about April