We Sent a Southerner to Try Burger King's Pulled Pork Sandwich—Here's What He Really Thought
See how the Pulled Pork King stacks up.
If you try to bring some pork game to the South, especially rolling out a pulled pork sandwich that will hit the North Carolina market, you'd better come correct with your creation. It's gotta be light and fatty and smoky, piled high with a tart slaw, and garnished with—at least in the eastern part of North Carolina—a vinegar-based, slightly tomato-y, hot sauce flecked with red pepper flakes, all contained within a warm potato roll. When done right, pork is marvelously meaty and moist, bursting with a heavenly blend of backyard BBQ flavors.
And when done wrong, well…you get the Burger King pulled pork sandwich.
Of course, the N.C. version isn't the be-all, end-all of pork-based sandwiches, and there are plenty of other Southern barbecue varieties. Barbecue lovers in the western part of North Carolina, for instance, use a thicker, more tomato-forward sauce. And barbecue spots in Kansas City and the Midwest opt for an even thicker, sweeter, traditional BBQ sauce for their sandwiches. That brings us to Burger King's newest, limited-time offering—the Pulled Pork King.
As an avid aficionado of N.C. pulled pork—leaning toward the more vinegar-based version favored in the eastern part of the state—I had to go pick up a few of these swinish selections to deconstruct BK's take on the BBQ treat. After a stop at a Raleigh, NC, Burger King location, I secured two sandwiches from the drive-thru. The fast-food worker asked if we had tried them yet, declaring that they were "really good."
What does the Pulled Pork King taste like?
6254a4d1642c605c54bf1cab17d50f1e
I immediately tore into the first sandwich while it was still hot from the bag. This sandwich seems rooted in the more Midwestern take on pulled pork, as the meat is drowning in a sweet and spicy BBQ sauce. It's also loaded with crispy onions and pickles on a sesame seed bun. That, unfortunately, makes the Pulled Pork King kind of a travesty to the traditional Southern smoked swine dish, at least in my eyes. But I dug in, hoping that the shared love of pork would spawn something delicious, yet different.
Friends, Southern friends…this was just a bad sandwich. It was hot, so that was a high point. But it was way too sweet, boasting a staggering 34 grams of sugar per sandwich. And it's hardly spicy at all, with the sickly sweet sauce overwhelming the precious pork. The "crispy" onions are there—but they're soggy, with nary a crunch to be found, thanks to the sauce. It has pickles, and yes they taste like BK pickles, so that's something.
I tried to down the whole Pulled Pork King, but it was just too sugary for my taste. There were a few hints of goodness, including the faint taste of fried onions and the satisfying crunch of the pickles, but overall, it was just a sad, sweet, 690-calorie mess of meat and sauce. I detected almost no heat in the sauce, either, which could've helped overcome the sugar overload.
Final Verdict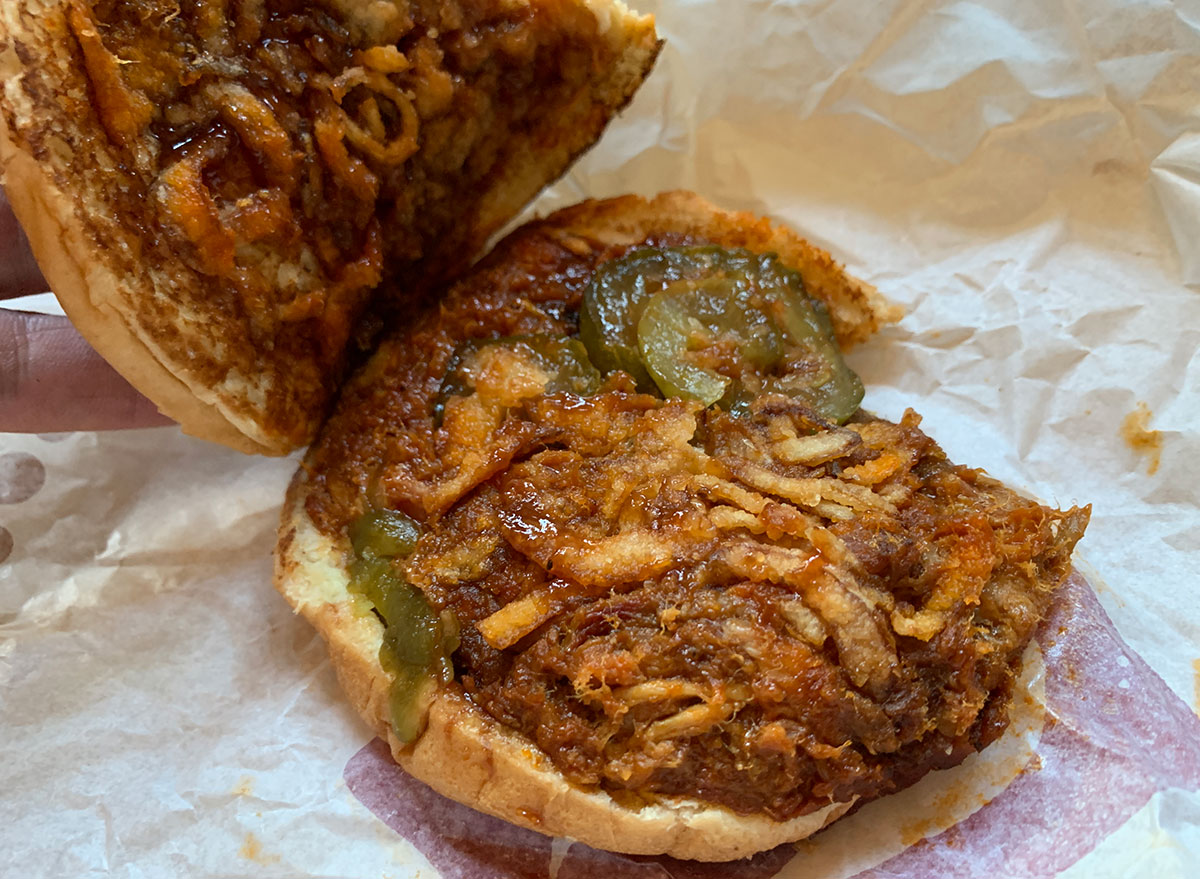 The sandwich could've been decent, even if it was more of a Midwestern take on the classic pulled pork sandwich rather than a recipe aligned to the Southern version. If Burger King had just held back on the sauce and upped the spice, and perhaps provided the crispy onions on the side so you could add them and enjoy some semblance of crunch while chowing down, it could've been worth going back for. But for this sub-par sandwich, being a limited-time-only menu item is an advantage…this way, most people will never have to experience eating this pulled pork parody.