Canned Coffee Is the Next Big Food Trend
Have you heard? Coffee is the new soda.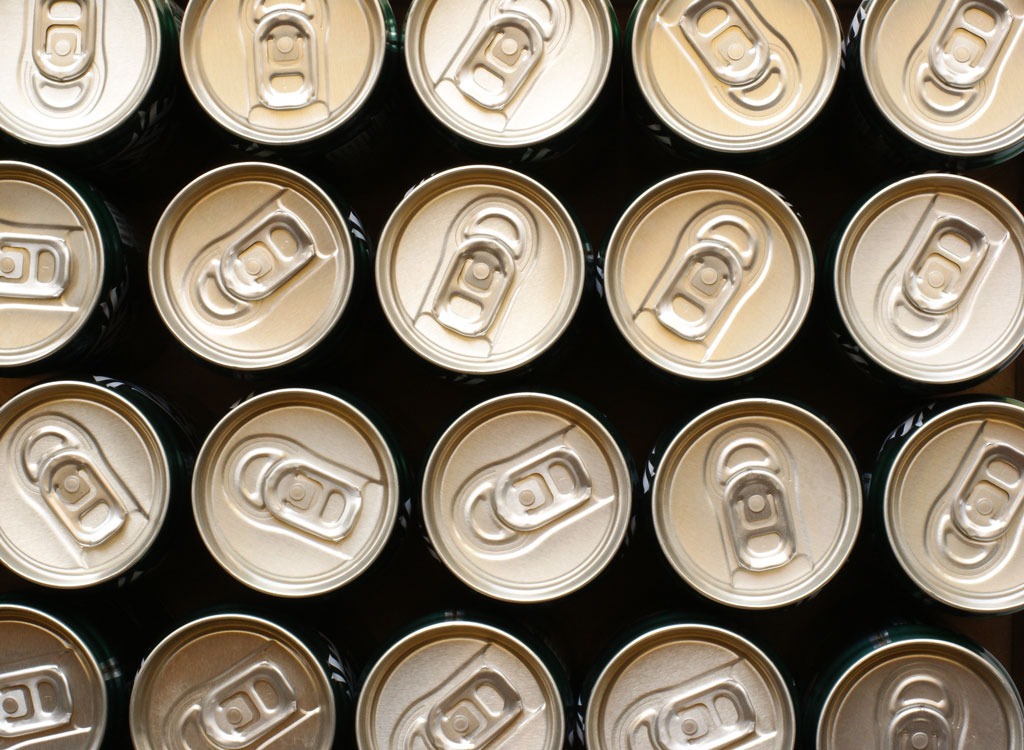 Ever since leading industry experts and researchers put a bullseye on sugar's back, soda, has taken a hit. Spearheaded by the floundering numbers of two of the biggest brands (Pepsi and Coca-Cola), overall sales in the soda industry declined for the eleventh consecutive year in 2015. In fact, the latest numbers project that sometime in 2016 the per-person consumption of bottled water will surpass soda for the first time in recent history. But don't worry about never seeing those silver cans again; ready-made, iced coffee is the aluminum industry's newest customer.
Piggybacking on the cold-brew coffee trend—which, for the uninitiated, is coffee brewed with cold water instead of hot—companies are packaging their ready-made coffee drinks into cans and selling them cold. What's the advantage here? You'll no longer have to wait for each drip of coffee to filter into your cup. (And no more burnt tongues from sipping too soon.) Plus, because they're ready to drink, you can just reach for a canned cuppa joe whenever your caffeine deprived heart desires. And this is news that gets us Eat This, Not That! staffers pretty darn excited. Why? Research shows that coffee is the number one source of free-radical fighting antioxidants in the American diet. What's more, sipping the stuff has been shown to boost metabolism, minimize the appearance of cellulite, reduce anxiety, and possibly help ward off heart disease, Parkinson's, and dementia. That's quite the resumé! So while we're all for the easy access to a better-for-you beverage, you have less control over what gets poured in your java when it's pre-made. While you can dictate to the barista to lay off the extra two pumps of that sugary flavoring in the store, for example, you can't do so with these ready-made cans. Which makes it all the more important to reach for a one that's Eat This-approved.
Interested in the trend? We dug through the beverage aisle to find the best and the worst of the lot. Here are ones we like and the ones you'd be better off skipping. And speaking of bad news java, be sure to read up on these 20 Coffee Drinks with More Sugar Than a Can of Coke—and steer clear!
Drink This!
Stumptown Nitro Cold Brew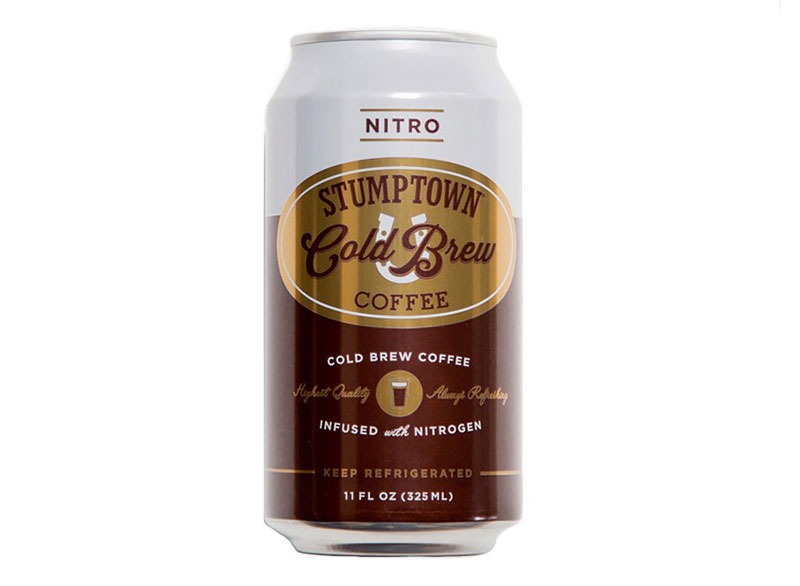 Nutrition per 11 fl oz. can: 3 calories, 0 g fat, 0 mg sodium, 1 g carbs, 0 g fiber, 0 g sugar, 0 g protein
This effervescent brew is infused with nitrogen rather than carbon, which is what's found in bubbly sodas. Nitro coffees are unique in that the bubbles are tighter and smaller, which results in a decadent creamy taste—and that means you won't even miss the cream (or the sugar) in Stumptown's Nitro Cold Brew.
High Brew Coffee Double Espresso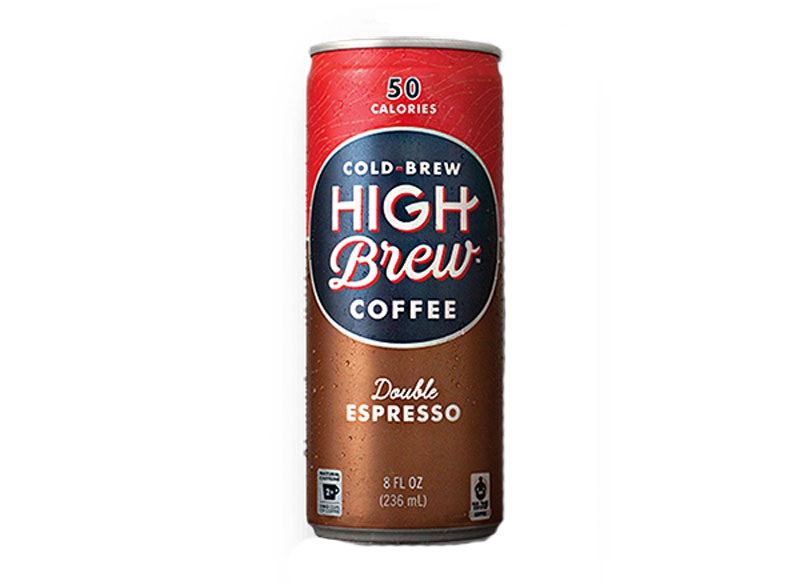 Nutrition per 8 fl oz. can: 50 calories, 0.5 g fat (0 g saturated fat), 40 mg sodium, 10 g carbs, 0 g fiber, 7 g sugar, 2 g protein
Because of the sometimes stringent, bitter taste of the bean, not everyone likes their coffee black. We get it. But when you're looking for a less bitter brew, be sure to pick up a brand that goes easy on the sweet stuff. (And yes, High Brew fits the bill.) This coffee is blended with reduced fat milk and sweetened with both cane sugar and the natural zero-calorie sweetener, stevia, which keeps the sugar count at a reasonable seven grams.
Nutrition per 6.8 fl oz. can: 45 calories, 0 g fat, 20 mg sodium, 12 g carbs, 0 g fiber, 10 g sugar, 1 g protein
These fancy brews might be interesting and all, but when you're out on the road, not every store will carry the artisan javas mentioned above. That said, if you're looking for a can that's Eat This!-approved and can be found just about anywhere, look no further than Illy Issimo. This coffee is dairy-free and sweetened just enough with pure sugar cane to be delicious.
Not That!
Marley's One Drop Mocha Coffee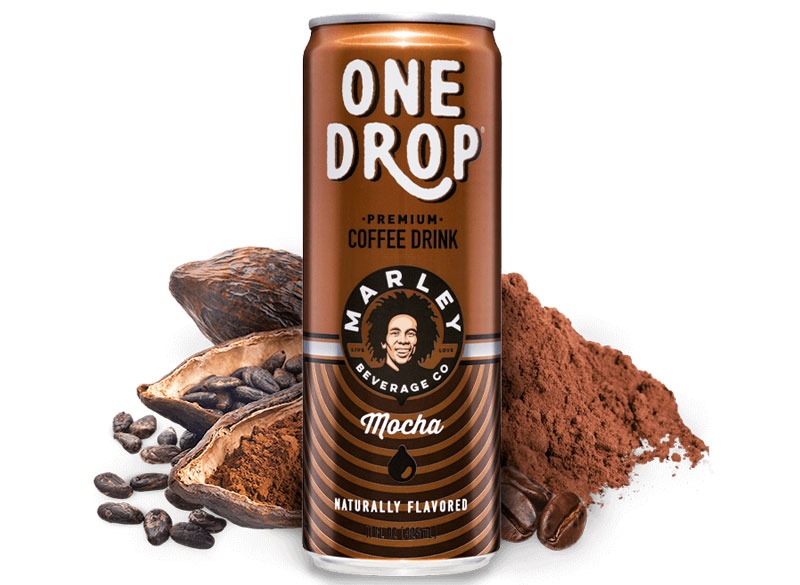 6254a4d1642c605c54bf1cab17d50f1e
Nutrition per 11 fl oz. can: 240 calories, 4 g fat (2.5 g saturated fat), 85 mg sodium, 43 g carbs, 0 g fiber, 41 g sugar, 7 g protein
It might be flavored with low-fat milk, but don't let that distract from the sugar content: a whopping 41 grams! What's more, skim isn't always the best choice. Nutritionist Cassie Bjork, RD, LD, actually recommends a full-fat dairy like heavy cream as a coffee add-in because it's slow-digesting powers can help keep your blood sugar levels stable between meals, which means more consistent energy and brainpower. And isn't that the reason you even had coffee in the first place?
Starbucks Doubleshot Energy Coffee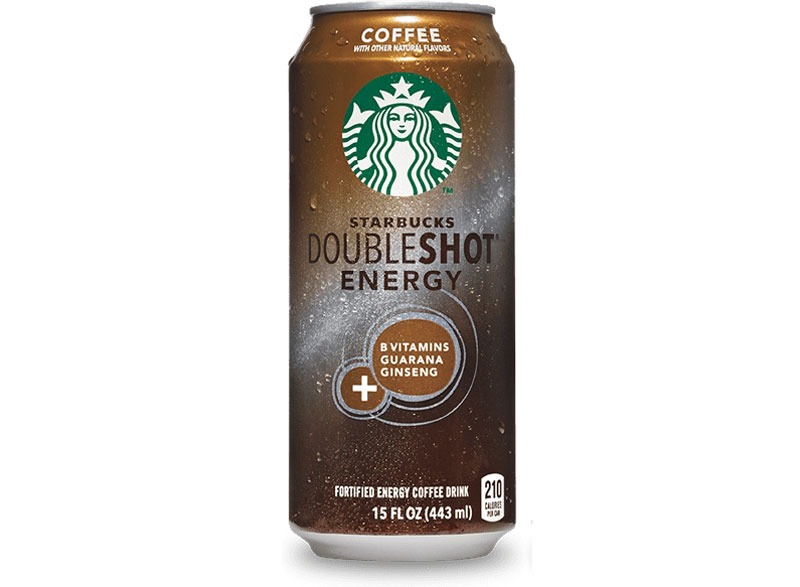 Nutrition per 15 fl oz. can: 210 calories, 2.5 g fat (1.5 g saturated fat), 170 mg sodium, 36 g carbs, 0 g fiber, 26 g sugar, 12 g protein
On top of 26 grams of sugar, Starbucks also adds the artificial sweetener, sucralose (also known as Splenda) to their can to give your taste buds a double shot of sweetness. They also add taurine to the mix, which is commonly marketed as an "energy booster." Too bad that's simply not true. While it's relatively harmless in small amounts, Cornell researchers found that the amino acid behaves more like a sedative than a stimulant. Go figure! Add that to the fact that this can is riddled with a long list of chemical ingredients, and we're certain you should pass on this java.
UCC Original Blend Coffee with Milk
Nutrition per 11.3 fl oz. can: 140 calories, 1 g fat (0.5 g saturated fat), 170 mg sodium, 28 g carbs, 0 g fiber, 25 g sugar, 5 g protein
This Japanese company made the world's first canned milk coffee back in 1969—and it's about time to change the recipe. Half a day's worth of added sugars is just too much in one can.
Olivia Tarantino
Olivia Tarantino is the Managing Editor of Eat This, Not That!, specializing in nutrition, health, and food product coverage.
Read more about Olivia