How to Build the Perfect Charcuterie Board
Plating an Instagram-worthy meat and cheese spread is easier than you think.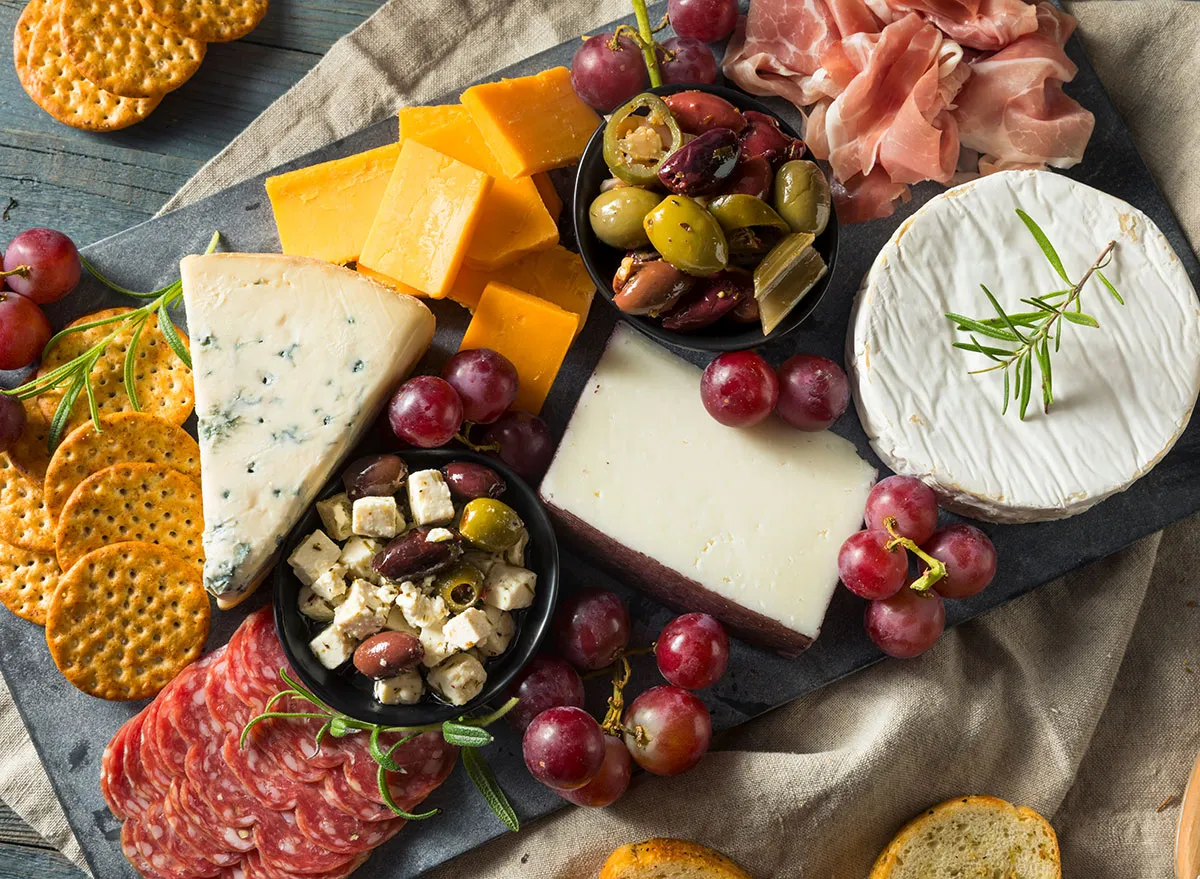 "Charcuterie" is the French word for the preparation of meat such as bacon, terrines, pâtés, and more—but you probably know "charcuterie" as those fancy food boards you see foodies posting on Instagram. At its core, a charcuterie board is simply a combination of meat, cheese, spreads, and accompanying sides. It sounds like an easy endeavor, but when you see lavish displays that are a foot long and look as if an interior designer arranged them, it can seem a bit overwhelming—but it doesn't have to be. We asked some experts on how to build the perfect charcuterie board that's perfect for all kinds of parties.
How big should your charcuterie board be?
The first thing you must determine is the size of your charcuterie board. Are you fixing a small appetizer plate for your book club, or do you want it to serve as a dinner for a crowd? Chef Rachael Polhill of Dante restaurant in New York City suggests starting with at least four meats and two cheeses, but you'll need to add either larger serving sizes or more variety as your guest list grows.
Start with the meats
The options for meats on your board can be as adventurous as you and your guests are. Polhill recommends prosciutto, jamón ibérico, and salami as a few basics. If you're going to go the sausage route, she suggests one sweeter and one spicy (such as Spanish chorizo or Italian soppressata) to mix up the offerings. Then she says to grab a couple of "interesting" items, such as terrine, rillettes, 'nduja, or bresola.
This section of your board is going to be protein-packed, so don't forget to balance it out with lean options such as shaved turkey or smoked salmon. With all meats, mix up how you display it: roll some, fold others in half, make triangles, or go the intentionally messy route.
Next, the cheese
As the owners of Cured, a gourmet cheese and charcuterie grocery in Boulder, Colorado, Will and Coral Frischkorn have strong opinions about the cheese that tops a platter.6254a4d1642c605c54bf1cab17d50f1e
"We start with the cheeses, as that's the heart and the soul of the board, making sure we have cheeses that balance each other and offer the palate a bit of exploration," they explain. They focus on cheese that will both complement and contrast with their selected meats.
Take a visit to the local cheese shop or grocer, and ask for their best options at the moment. Popular charcuterie favorites include hard parmesan, smoked gouda, and manchego. Make sure you sprinkle in a few healthy cheese options such as mozzarella, goat cheese, and Swiss as well.
The Frischkorns suggest plating by leaving soft round cheeses whole, chunking items like goudas and cheddars, and slicing some into triangles.
Chef Perry Pollaci of Castaway restaurant in Burbank, California, offers a cheese display tip. "My favorite trick is to use a Japanese mandoline to slice harder cheeses," Pollaci says. Not only will you get uniform slices, but the thinness of your cuts will enhance the salt and crystals in the cheese. Pollaci says his favorite to use this technique on is Midnight Moon cheese, a hard goat's milk cheese from Holland.
Don't overload the board with carbs
Next, you'll round out your board with items to pair with your meat and cheese selections. Is your crowd comfortable with carbs? Of course, there's always the go-to like a fresh baguette or crispy crackers—but Vinson Petrillo, Chopped champion and executive chef of Zero Restaurant + Bar in Charleston, South Carolina, says your board will benefit from the "coarse texture from really good, lightly grilled bread that is crunchy and chewy." This will pair well with everything from creamy cheese to spicy meats.
If your guests are a bit more carb-conscious, consider adding diverse vessels like nut-flour crackers, apples, cucumbers, pork rinds, or sweet potato crisps. Think outside the box for gluten-free and low-carb options you could add to the platter.
Give it an accent
Finally, you'll round out your dish with accessories, so to speak. These are sauces and dips that can pair well with your spread, such as fig jam or blackberry compote. Petrillo says a sweet mustard and a fresh jam are both imperative, while Polhill says that if you use pork rillettes then apple relish is a must.
Everything else could be added as functional decoration: Not only will these items pair well with your previous choices, but it will also add color and diversity to your plate. Think about adding fresh herbs, olives, dried plums, candied nuts, pickles, hard-boiled eggs, and even fresh honeycomb.
Design the plate
"Building a beautiful board is all about balance and not letting yourself get too worried about perfection," the Frischkorns advise. They say it's all about layering. After you select the right platter, board, or tray, start by distributing your cheese throughout. Then layer in your meats, and nestle your extra items into remaining spaces.
But most of all, have fun with it. There's no wrong way to create and arrange a charcuterie board. Whether you feel you've made a Pinterest-worthy creation or not (but you likely will by following these tips), your guests are sure to love your charcuterie board.
Dalene Rovenstine
A New York-based freelance journalist, Dalene Rovenstine often writes about food and drink and health, as well as entertainment, beauty, and other lifestyle topics.
Read more about Dalene