The Ultimate Cheese Straws Recipe
You won't find a cheesier, flakier cheese straw than this.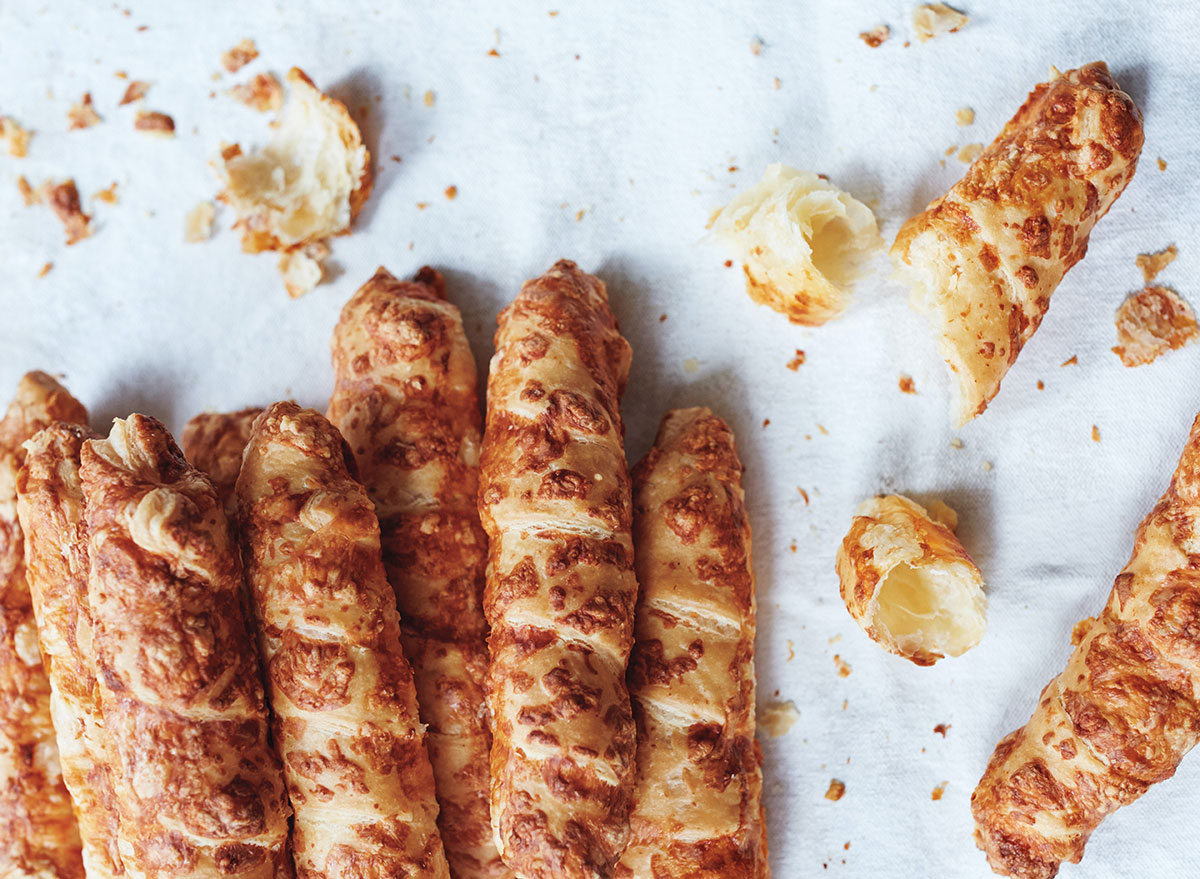 Excerpted from Breaking Breads by Uri Scheft (Artisan Books). Copyright © 2016. Photographs by Con Poulos.
These cheese straws are the ultimate snack. I am by no means the first baker to ever press grated cheese into puff pastry and twist it, but I do like to think that my cheese straws are the best. That's because I use a lot of cheese. A lot.
I am a huge cheese lover—that must be the Danish in me. When I moved back to Israel from Denmark as a young man—which was at a time before you could get good cheese in Israel—whenever someone was coming from Denmark to visit, I would say, "Bring coffee, bring licorice, bring cheese, and definitely don't forget the smoked fish!"
For baking you don't want to use strong, bold, well-aged cheeses. Because they are more mature, they have less moisture, which means they won't melt nicely in the oven. A young Gouda works well for this recipe. It has the right balance of sharp to sweet and it melts beautifully.
To load these sticks with cheese, press both sides of the puff pastry dough into the grated cheese so there isn't just cheese on the outside of the twist but trapped on the inside too. As the puff pastry bakes, the cheesy bits on the outside of the stick become golden and crisp, while the interior stays rich and mellow. In the bakeries we sell hundreds a day, baking some every hour or two so they're warm and fresh when people eat them. That's when cheese sticks are at their best—within a few hours of baking (not that they'll last any longer than that). For mini appetizer or hors d'oeuvre cheese straws, slice the unbaked straws crosswise into thirds after twisting them.
Makes 20 cheese straws
Ingredients
1 large egg
1 tablespoon of water
pinch Kosher salt
All-purpose flour for rolling
1 pound (450 grams) store-bought puff pastry (thawed if frozen)
12 ounces (340 grams) Young Gouda cheese (grated)
How to Make It
Line a rimmed sheet pan with parchment paper. In a small bowl, whisk the egg, water, and salt together to make an egg wash, and set it aside.
Lightly flour a work surface and set the puff pastry on top. Roll it to form a 15-by-10-inch rectangle with a long edge facing you, flouring the bottom and top of the dough as needed so it doesn't stick (don't overflour the pastry or it will toughen—you just want a light coating so it doesn't stick to the work surface).
Use a pastry brush to lightly coat the entire surface of the rectangle with the egg wash, and then sprinkle half the cheese evenly over the entire surface. Press lightly on the cheese with a rolling pin to smash the cheese into the dough (try to do this without further rolling or flattening the dough—you just want to get the cheese to stick).
Use the rolling pin to lift and flip the dough over. Egg-wash the second side, cover it with the remaining cheese, and press it in. Use a pizza wheel, chef's knife, or bench knife to divide the dough in half lengthwise so you have two 5-by-15-inch strips. Then slice each strip crosswise into 1½-inch-wide strips (you'll end up with 20 strips).
Hold the ends of a strip and twist it like the threads on a screw. Place the twisted strip on the prepared sheet pan, and repeat with the remaining dough. Cover with plastic wrap and refrigerate for at least 20 minutes or up to overnight.
Preheat the oven to 375°F.
Bake the cheese twists, rotating the sheet pan midway through, until they are golden brown and the cheese is nicely melted, 12 to 15 minutes total. Remove from the oven and let them cool on the sheet pan before serving.
Note: Freeze some or all of the unbaked cheese twists on the sheet pan. Once they are frozen, transfer them to a resealable freezer bag and freeze for up to 1 month. When you want to serve them, they can go directly from the freezer to the hot oven to bake (they may need a few extra minutes to brown). You can also cut them into thirds crosswise to make mini hors d'oeuvres–size twists.
RELATED: The easy way to make healthier comfort foods.6254a4d1642c605c54bf1cab17d50f1e
Uri Scheft
Uri Scheft runs Tel Aviv's Lehamim Bakery, and is the founder of Breads Bakery in New York City.
Read more about Uri