Copycat Healthy Blueberry "Pop-Tarts" Recipe
Your favorite toaster treat can be made better with protein and probiotic-packed ingredients.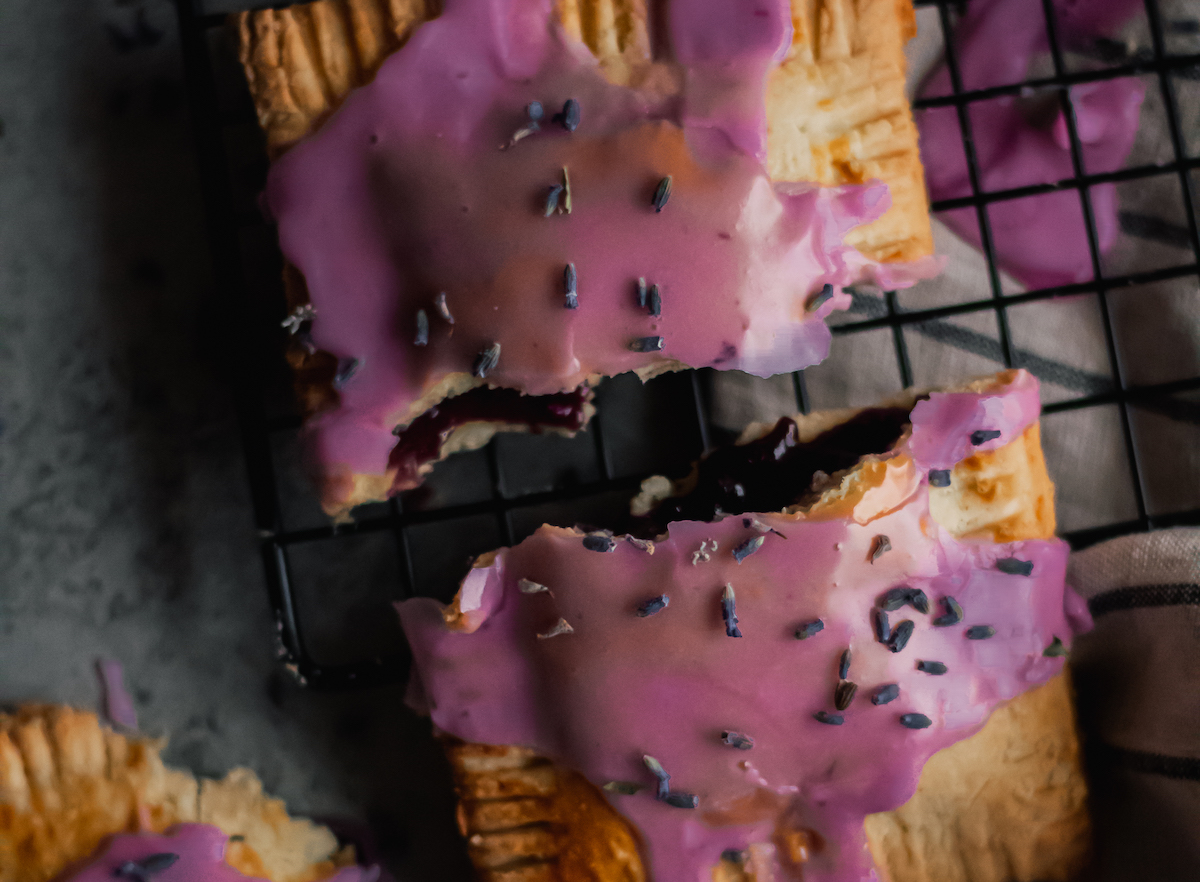 I mean, who doesn't love Pop-Tarts? The iconic morning treat—which was started in the '60s and almost had the name "fruit scone"—is one of Kellogg's most popular products that's still a smash hit today. However, a store-bought box of Pop-Tarts is loaded with unnecessary sugar and other potentially harmful ingredients that should be avoided in your daily diet.
Luckily, the same sweet, soft-yet-crispy pastry can be made right by you… in your very own home (aka, the best method possible). This recipe from Lifeway Kefir offers a delightfully healthier version of blueberry Pop-Tarts that's full of filling protein and gut-supporting probiotics so you can satisfy your craving in a better-for-you way.
Copycat Healthy Blueberry "Pop Tart" Pastries Recipe
Prep Time: 30 mins
Serves 8
Ingredients
For the Filling:
4 cups of blueberries
1/4 cup Lifeway Kefir Farmer Cheese
1/4 cups sugar, plus more if needed
1 tbsp gluten-free flour
1 tbsp hot water
Salt
Water as needed
Pastry:
2 1/2 cups gluten-free flour
1 cup cold unsalted butter, cubed
1 1/2 tbsp sugar
3/4 tsp salt
2 egg yolks
About 2 whole eggs, for egg wash
Lavender Icing:
1 1/2 cups powdered sugar – more if needed
1 1/2 tbsp Lifeway Kefir Organic Plain Whole Milk Kefir
1/2 – 1 tsp grade A edible lavender (to taste), crushed with hand
2 tsp of blueberry puree
Directions
Filling Directions:6254a4d1642c605c54bf1cab17d50f1e
In a medium sauce pan over medium heat, cook down the blueberries and sugar until it becomes liquified. Take out half of the mixture and set aside for icing.
Mix together hot water and cornstarch and add it to the blueberry mixture.
Add in salt and more water if needed to keep it as a Jam consistency,
Remove from the heat and mix together with farmer cheese. Set aside.
Pop Tart Pastry Directions:
Whisk together the flour, sugar, and salt in a large bowl. In a food processor cut the butter into the flour mixture until pea-sized.
In a small bowl, whisk together the egg yolks and kefir. Add to the flour and mix until it comes together, adding a tablespoon more of cream at a time, if needed. Don't over-mix, you can tell it is done when it's not crumbly, and the dough no longer sticks to the sides of the bowl.
Divide the dough into two pieces. Kneed it into a disk and refrigerate for 30 mins.
Once the dough has chilled, roll out into a 6×16 inch rectangle.
Cut the rectangle into a smaller rectangle measuring 3×4 inch for a total of 16 rectangles. Poke holes in 8 of them—those will be the tops of your tart.
Place the 8 rectangles you'll use as the bottom on a baking tray lined with parchment paper. Whisk one of the eggs in a small bowl to use as egg wash; brush onto all four sides of each rectangle on the tray.
Place a spoonful of the blueberry/farmer cheese jam mixture in the center of each bottom layer. Do not overfill, and leave room on the sides for the top. Spread the whisked egg around the corners of each pastry.
Place the tops that you've pricked with a fork on each pre-filled base. Seal the edges properly with your fingers, and then with a fork. Chill in the fridge for at least 30 minutes. Preheat the oven to 400 Degrees F.
Using the other egg as egg wash, brush onto the entire tops of the pop tarts.
Bake for about 25 minutes, until golden brown. Transfer to a wire rack to cool. If you can't fit all of the pop-tarts on your baking sheet, make sure you keep the ones that aren't baking in the fridge to keep cool.
Icing Directions:
Strain blueberry puree mixture from step 1 in a bowl. Add in all ingredients except the extra lavender for garnish and whisk until smooth.
Spoon on in a thick layer and sprinkle the pop tarts with extra lavender buds while the icing is still wet. Enjoy!
Faye Brennan
Faye is the Chief Content Officer of Galvanized Brands, overseeing all editorial content for Eat This, Not That!, Best Life, and other brands.
Read more about Faye