Video Shows Courteney Cox Making the "Greatest Steak of All Time" With Some Unexpected Ingredients
Here's how you can make it at home tonight.
It takes a big person to admit that their signature recipe isn't the best, but that's what Courteney Cox of Friends fame admitted yesterday about her steak recipe. In an Instagram video, she makes the "greatest steak of all time." The recipe isn't hers though, which she admits is pretty amazing, but a famous friend's. "I thought that my recipe was good," she says, "but I actually got this from Brandi Carlisle and hers is better than mine." Brandi Carlile is a singer/songwriter who apparently also makes the best steak in the world. Here's how it's done. Plus, don't miss The Best & Worst Cuts of Steak—Ranked!
Prep the steak with a flavorful oil.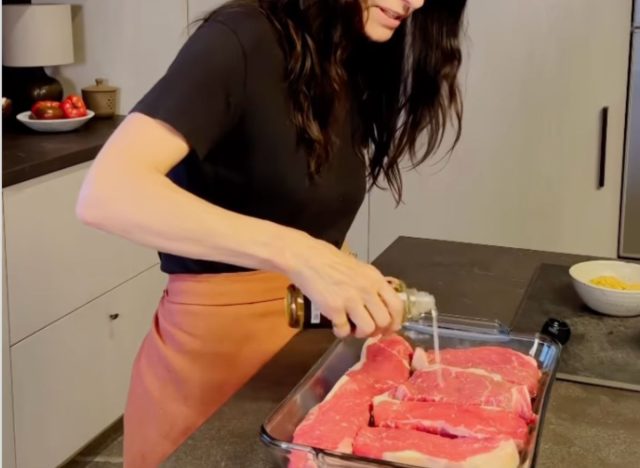 Cox lays the steaks inside a pan, the recipe posted on Instagram says to have them at room temperature. She then sprinkles the steak with truffle oil, but you can use olive oil per the recipe. (Honestly, I wouldn't waste expensive truffle oil on a steak that's just going to be cooked. Save it to drizzle on after.)
Use coffee and brown sugar to coat it.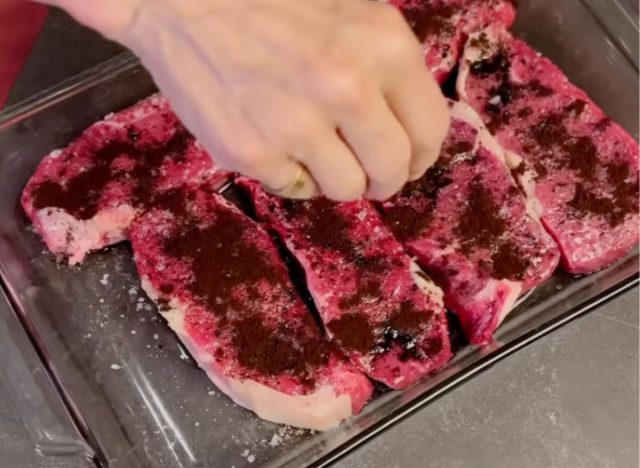 This is where things get interesting. Courteney Cox tops the steak with the requisite coarse salt and pepper, but also adds lots of freshly ground coffee and a sprinkling of brown sugar. Many steak rubs contain both ingredients but she put them on separately. I imagine this browns the exterior of steak and adds a ridiculously delicious crust.
Use garlic salt to season the asparagus side.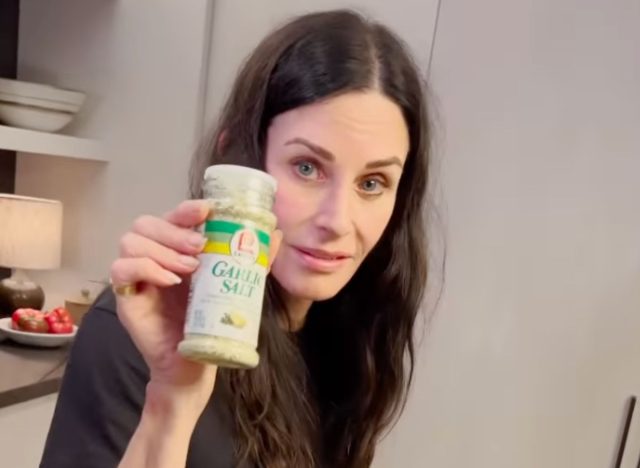 Cox serves the steak with pureed cauliflower and grilled asparagus spears. Her asparagus uses a secret old-fashioned ingredient: Lawry's Garlic Salt. " You could chop garlic, you could put salt on it," she says, "Or you could just do this." Lawry's original seasoned salt, which is an old-school blend of salt and spices, came out in 1938 and was used exclusively by Lawry's The Prime Rib Restaurant in Beverly Hills. It was so popular there that guests actually stole the salt to use at home until McCormick began packing and selling it with a few delicious variations.6254a4d1642c605c54bf1cab17d50f1e
Sear the steaks and re-dip.
Next, she takes the steaks out to what could be the biggest grill I've ever seen, but you can use a grill pan or a cast iron pan. She sears them on both sides for three minutes, re-dips them in the coffee-brown sugar oil, and throws them back on the grill. "I'm not a chef," she says. "I just make things that taste good." The internet approves, as the post has over 217,000 likes and a slew of approving comments, including one from Carlile herself.