Father's Day Quotes to Caption Your Favorite Picture With Dad
Today is all about your number one, dad.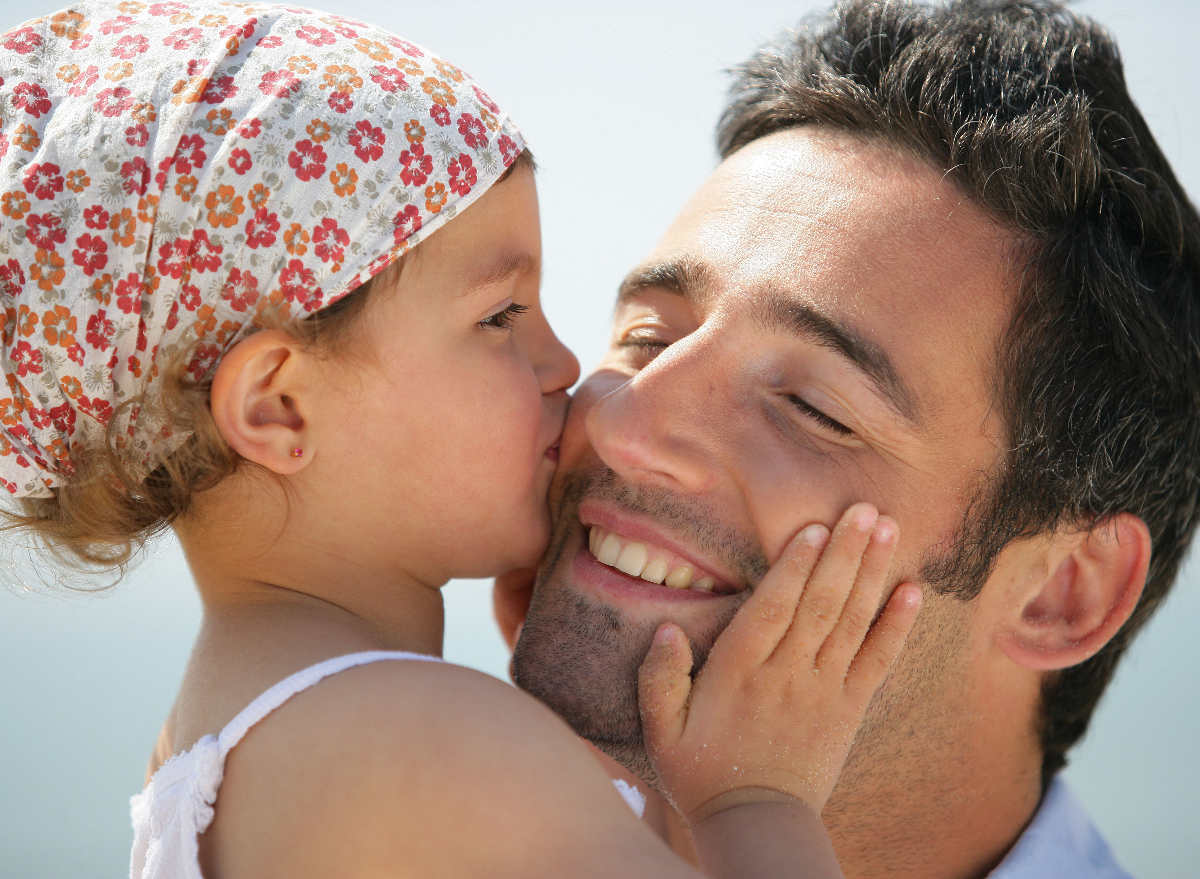 There are a lot of spectacular dads out there, and if you happen to be lucky enough to have one of the cool ones, you know exactly what we're talking about. On Father's Day—and every day of the year, for that matter—the best dads deserve a ton of hugs, so many thank you's, and a great picture post on Instagram, along with one of just the right captions we rounded up. Any of these Father's Day quotes below will pair so well with your favorite picture (or pics) with dad or the father figure in your life.
Spending quality time with loved ones, like your number one guy, dad, is known to have a plethora of benefits. They include: helping you deal with stress, enhancing your mental well-being, improving your cardiovascular health, boosting your self-confidence, and even helping you live longer. And as far as posting a sweet picture with your dad on social media with one of these Father's Day quotes? Well, Mesfin Awoke Bekalu, a research scientist at Harvard T.H. Chan School of Public Health, discusses a study he co-authored, explaining, "We found that routine social media use—for example, using social media as part of everyday routine and responding to content that others share—is positively associated with all three health outcomes," which are self-rated health, positive mental health, and social well-being.
That being said, we've rounded up some pretty great Father's Day quotes to show dad some love on this special day. But first, let me share with you a few examples that my dad has done over the years that you might relate to. He was front and center at every dance recital and sporting event, with flowers and smiles from ear to ear. Not only did he teach me how to drive a stick shift, change a tire, and plant a beautiful garden, but he also taught me how to work hard and save for retirement. Dad showed me how to rock it out at my first father-daughter dance, always helped with math and science, and shopped for my first car with me. We may not have always agreed on every point over the years, but he always respected me, listening to every point of view I had. He still encourages me to challenge myself and embrace every opportunity. He's available 24/7 whenever I need advice or help with anything at all—a true BFF.
If this wonderful, unselfish man did not step up to the plate and love me as much as he did since the day I was born, I would not be the person I am today. For my dad, and all of the awesome dads like him, thank you for being you. Celebrate your dad (or the dad figure in your life) on Father's Day and always with these Father's Day quotes, paired with your favorite picture, recent or throwback. And next up, don't miss The 6 Best Exercises for Strong and Toned Arms in 2022, Trainer Says.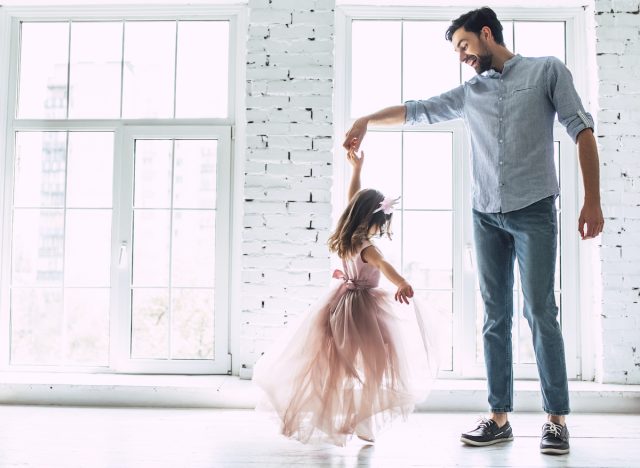 "My father didn't tell me how to live; he lived, and let me watch him do it." — Clarence B. Kelland
"Anyone can be a father, but it takes someone special to be a dad." — Wade Boggs
"A father is someone you look up to no matter how tall you grow." — Unknown
"Behind every great daughter is a truly amazing dad." — Unknown
"Not all heroes wear capes." — Unknown
"One of my biggest cheerleaders." — Unknown
"The older I get, the smarter my father seems to get." — Tim Russert
"Some people don't believe in heroes, but they haven't met my dad." — Unknown
"Girl Dad: a dad who is proud to have daughters and who empowers them to be strong. confident, and work hard." — Etsy
"A father is a son's first hero and a daughter's first love." — Unknown
Related: Motivational Quotes That Will Help You Nail Your Workout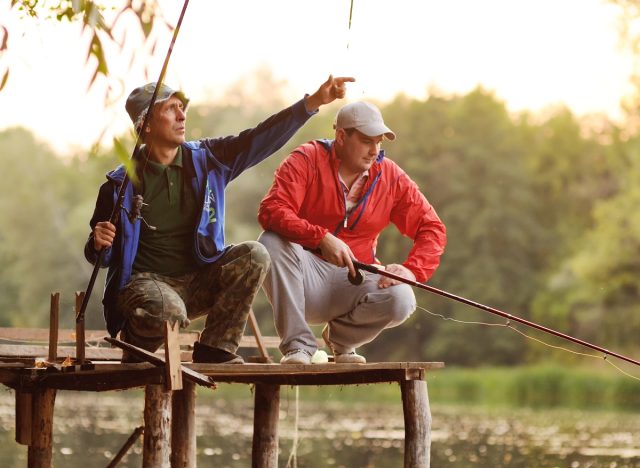 "My bestie, my dad." — Unknown
"Always stay cool out there, dad." — Unknown
"Dad always knows what's up." — Unknown
"Dad to the bone. D-D-D-D-Dad." — Unknown
"Thanks for always letting the dad jokes fly." — Unknown
"Let me tell you about my bestie." — Unknown
"Yoda best, dad." — Unknown
"When my father didn't have my hand, he had my back." — Linda Poindexter
"Always Superman." — Unknown
"Dad knows how to fix things and make them better." — Unknown
"Cool dad status right here." — Unknown
"When in doubt, call dad. Heck, call him anyway!" — Unknown
"Dad. He can play like a kid, give advice like a friend, and protect like a bodyguard." — Unknown
For the sporty/athletic dad: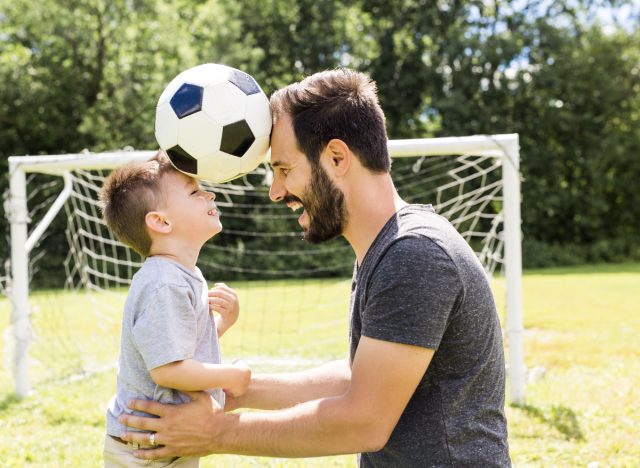 "You taught me the game and you taught me how to play it right." — Wade Boggs
"No one else I'd rather climb mountains with." — Unknown
"Race you to the finish line!" — Unknown
"Today was a total hole in one." — Unknown
"Fore the most tee-riffic dad." — Unknown6254a4d1642c605c54bf1cab17d50f1e
"You're the best by par." — Unknown
"May the course be with you." — Unknown
"Best dad. No ifs, ands, or bunts." — Unknown
"Dad, thanks for liking me slightly more than football." — Unknown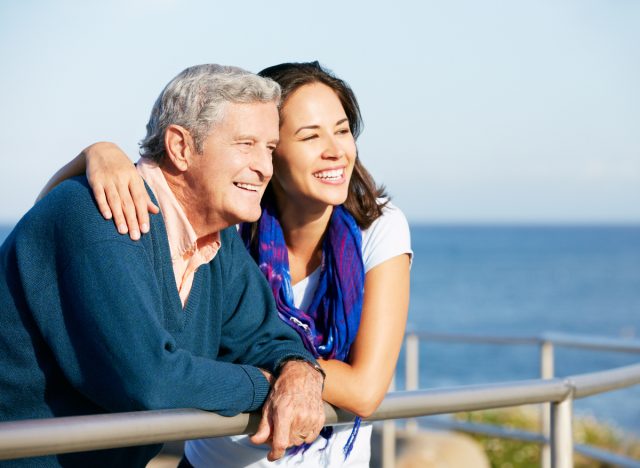 To stay up to date on the latest mind and body news, check out our newsletter below.
Alexa Mellardo
Alexa is the Mind + Body Deputy Editor of Eat This, Not That!, overseeing the M+B channel and delivering compelling fitness, wellness, and self-care topics to readers.
Read more about Alexa