The Best Father's Day Gifts 2022 for the Dad Who Deserves It All
From road-running shoes to grill essentials, consider your shopping situation saved.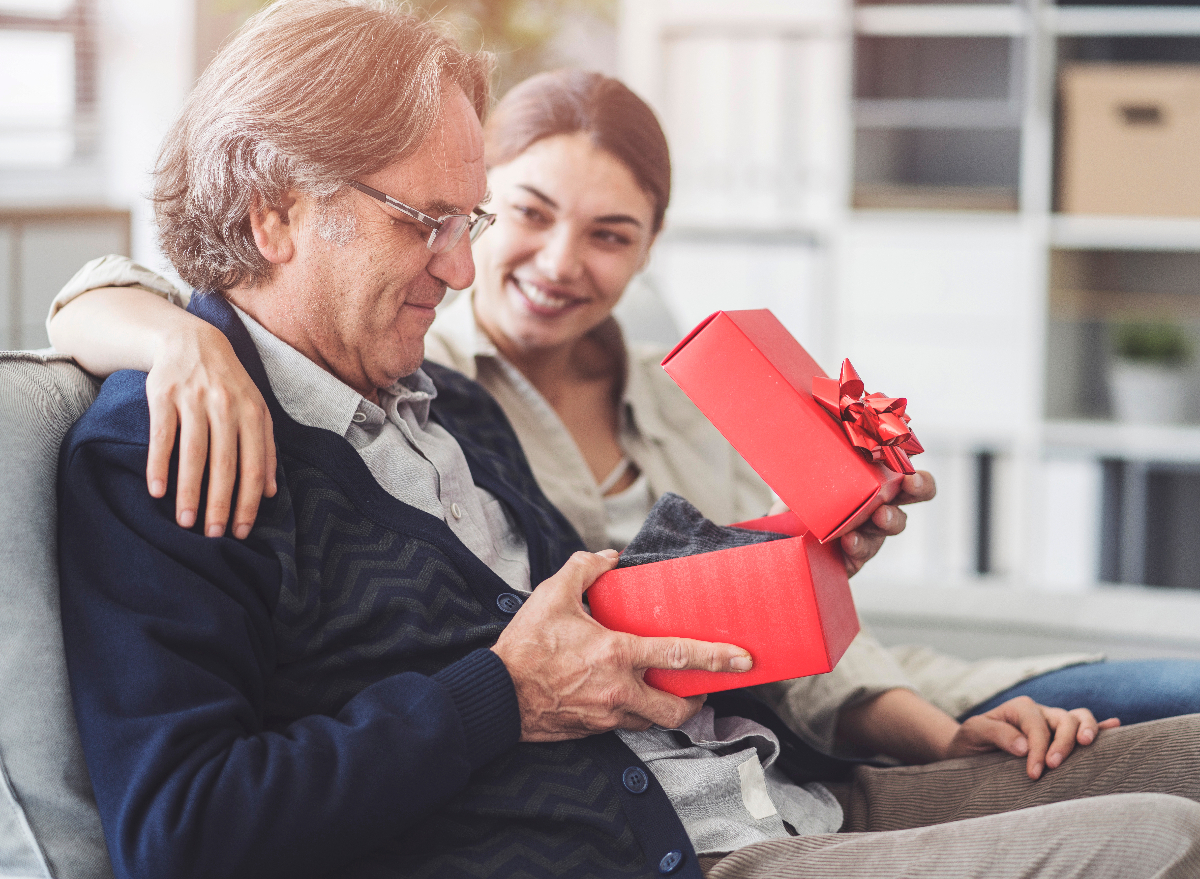 Let's be honest: Dad deserves to be celebrated every day of the year for all he does. So on this very special date, gift him something that will make a lasting impression and shows how much you appreciate him. We've rounded up the absolute best Father's Day gifts for 2022 that are beneficial to the mind, body, and soul.
Whether your dad loves to stretch it out in a morning yoga sesh, participate in 5Ks, flex his chef skills in the kitchen (or backyard) to cook up some healthy eats, or simply unwind after a long day's work, we have the perfect gift for all of the above. There are options for every price point, too, so whether you typically get a group gift together with your siblings or do it solo, consider your shopping situation saved.
Check out the best Father's Day gifts for 2022 below, and next, be sure to read The 6 Best Exercises for Strong and Toned Arms in 2022, Trainer Says.
An Authentic Homemade Meal (Or Two!) From Shef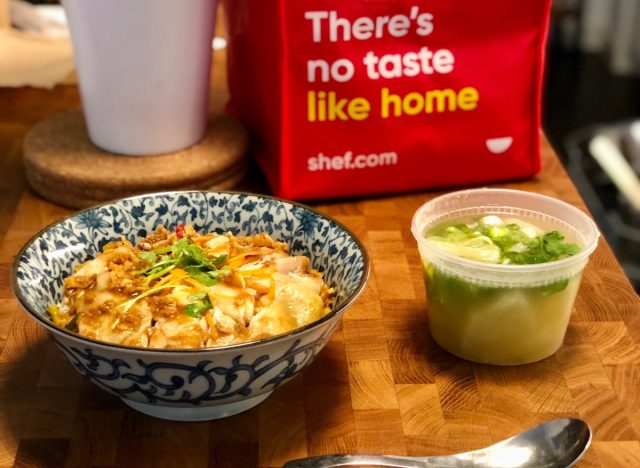 If your dad's a major foodie, he'll absolutely love experiencing the tastiness of Shef. This cool online marketplace spotlights global cuisine. It's where Dad can enjoy an authentic meal or two from talented, food safety-certified cooks in his area. All meals on Shef include 100% fresh ingredients—in fact, a lot of the dishes you'll see on the site are special family recipes these cooks prepare for their own families. Your mouth will water as you browse a selection of dishes from Latin America, South Asia, Africa, and the Middle East.
To get started, all you'll have to do is type in dad's zip code, tell Shef how adventurous dad likes to get with food, choose the meal (or meals) you'd like to have conveniently delivered to dad's doorstep, and then select a delivery date! It's that simple.
Sunlighten's Portable Infrared Sauna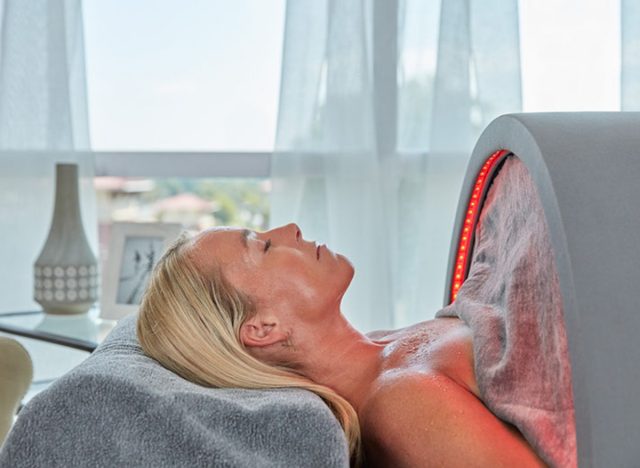 Okay, Sunlighten's portable infrared sauna may be more of an extravagant gift, but it will certainly help dad de-stress, de-compress, and seriously relax in the morning or at night. Plus, he deserves it!6254a4d1642c605c54bf1cab17d50f1e
Essentially, the Solo System Portable Infrared Sauna is a "single person mini sanctuary" that helps the body detoxify naturally, torch calories, and enhance circulation. Complete with the brand's very own patented SoloCarbon infrared panels, the sauna utilizes zone-based heating and allows individuals the ease of choosing from different settings to find the absolute best temperature for their personalized experience.
Dad will love incorporating this into his fitness and wellness routine, and it will make the perfect addition to his home gym. Plus, the sauna's convenient, lightweight cushions and sliding double-dome setup make it super simple to assemble and then store away.
Brooks Road-Running Shoes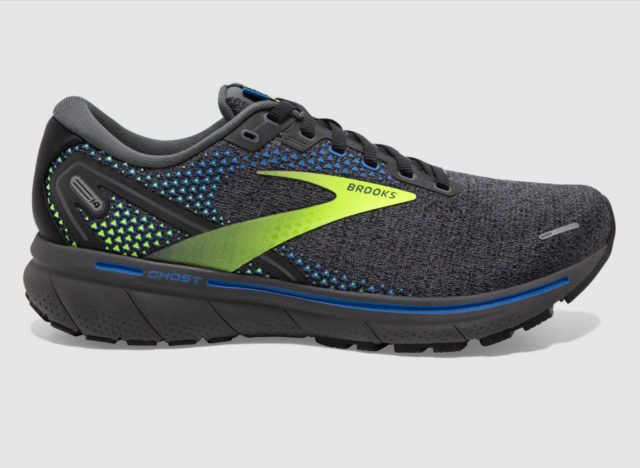 Can dad use an upgrade in his running gear? If so, Brooks is here to save the day—and you better run, not walk, to their top picks for Father's Day. The Ghost 14 men's road-running shoes ($140) come in 14 different colors and are one of the brand's "most-loved cushioned running shoes." As long as dad has these sneakers on deck for his next outdoor run, he'll enjoy all the benefits this style has to offer, from soft landings and smooth transitions to a reliable fit.
Related: This New Activewear Collection Is Here To Upgrade Your Workouts
Blue Apron's Special Father's Day Offerings
Does dad like to flex his chef skills in the kitchen? If so, Blue Apron's Father's Day offerings might be the gift for him. Plus, this is a really fun activity the both of you can enjoy together, so get ready to fire up that grill, enjoy some scrumptious eats, and soak up that quality bonding time.
Blue Apron is serving up an amazing menu for this very special day, where shoppers can choose from a selection of two Premium recipes, in addition to add-ons—all prepared with fresh ingredients. The homemade meals are great for just two diners or up to a family of four.
Choose from a succulent Seared Ribeye Steak & Garlic-Herb Butter with Arugula & Nectarine Panzanella or French Dip Burgers with Buttermilk Ranch Slaw. As for add-ons, you can't go wrong with the Double Chocolate Cupcakes with Mint Simple Syrup ($13.99) or the Pesto Pasta Salad with Arugula, Tomatoes and Parm ($10.99) if dad wants to splurge a little bit on this very special day!
The Retro-Blue Celebration Cake From SusieCakes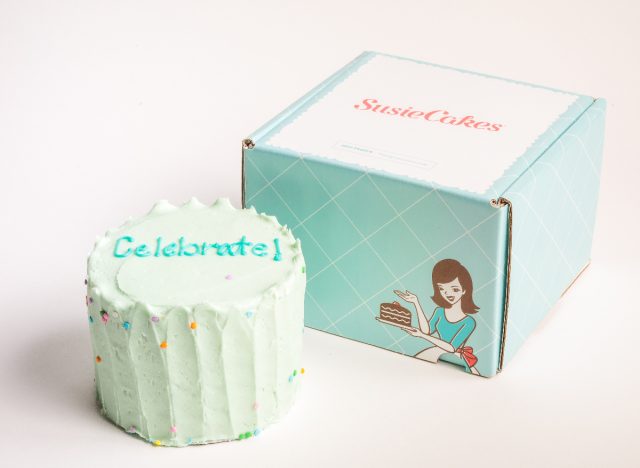 Let's get real: The very special guy in your life deserves to be celebrated, and the Celebration Cake ($99) from SusieCakes says that—and then some. It's the ultimate treat for the dad who has a sweet tooth, and we can honestly say it may be the best dessert cake of all time.
The Celebration Cake is a fan favorite among SusieCake fans, as it's their signature cake and #1 seller. Dad will seriously jump for joy when he digs into the six decadent layers of sugar confetti vanilla cake, complete with the bakery's signature retro-blue vanilla buttercream frosting. That sounds like a party to us! It will be the sweetest ending to a super sweet day.
Ultra-Cozy BEARPAW Slippers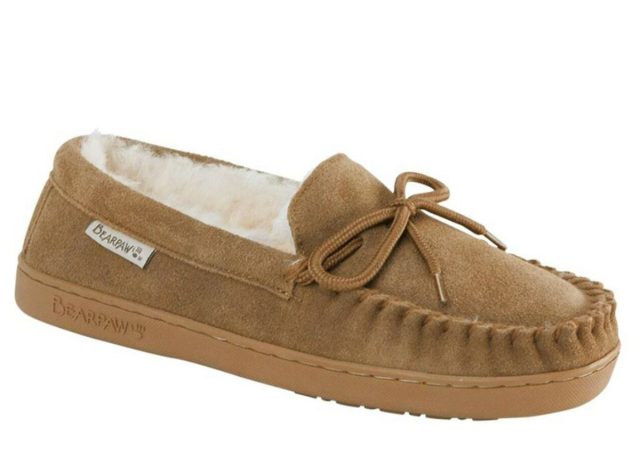 A pair of BEARPAW slippers is pretty much a staple must-have for the dad who likes to keep things comfy-cozy at home. Whether he's more of a moccasin or slip-on slippers kind of guy, BEARPAW has his needs covered. (Check out the brand's Moc II, $65, and Peirre, $60, for some inspo.) It's safe to say dad's feet will be feeling oh-so pampered when he slips them into the soft wool lining and footbed after a long day's work or on a lazy Saturday morning.
Related: These 5 Destinations Can Help Reverse Aging and Promote a Healthy Life
If you haven't heard of Sunwink yet, get ready to be officially obsessed. If dad is all about living his best, healthiest life, Sunwink sells sparkling tonics, superfood powders, and bundles of goodies that are vegan, non-GMO, plant-powered, and organic. According to the brand's website, "We crafted our superfood sparkling tonics and powders to easily incorporate plant powered wellness into every part of your day"—and that they did!
Sunwink provides a tasty and fun way for dad to incorporate superfoods into his diet. Each product sold by the brand is co-created with an expert in the wellness realm. Whether dad would like to focus on digestion, improved clarity, or unwinding at the end of a long day, Sunwink has the product that's right for him.
In the tonics realm, the De-Stress Tonic Pack ($48) comes with 12 tonics that will help dad "de-stress and refresh." Sunwink's Digestion Lemonade Powder ($24, 1-pack) is concocted with superfoods such as dandelion, alma, and chicory root that help keep your digestive system on the right track. It tastes like classic lemonade and can be stirred into a cold glass of water for a delightful refreshment. Grab dad a variety of Sunwink products for an all-around healthy treat.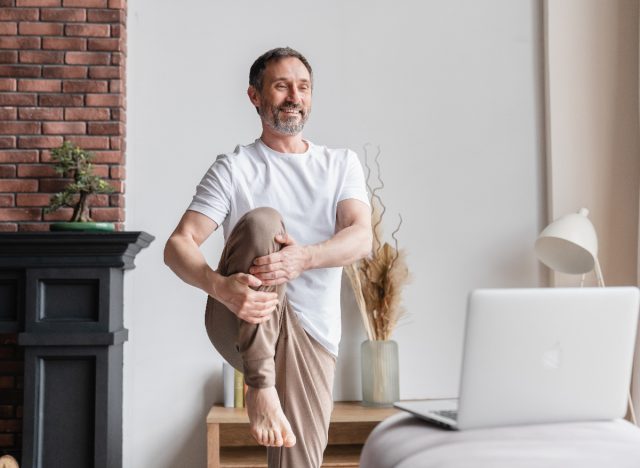 With a monthly or annual membership to Alo Moves, dad can conveniently stream boxing, HIIT, core strength, yoga, pilates classes, and more from the comfort of his own home—or even when he's traveling. There are thousands of classes to choose from, with brand new classes being added on a weekly basis! Guided by world-class and celebrity trainers, dad will really look forward to turning his living room or man cave into his very own, personal fitness studio. And if he works remotely, this gift will serve as a great way to break up the workday and recharge.
Dad will be able to select on-demand classes based on what he's in the mood for that particular day, what his skill set is in that kind of fitness class, and if he'd rather perform a lunchtime HIIT workout or nighttime yoga flow.
Related: The Best Training Shoes For Workouts, Podiatrist Says
The Spark Grill Essentials Package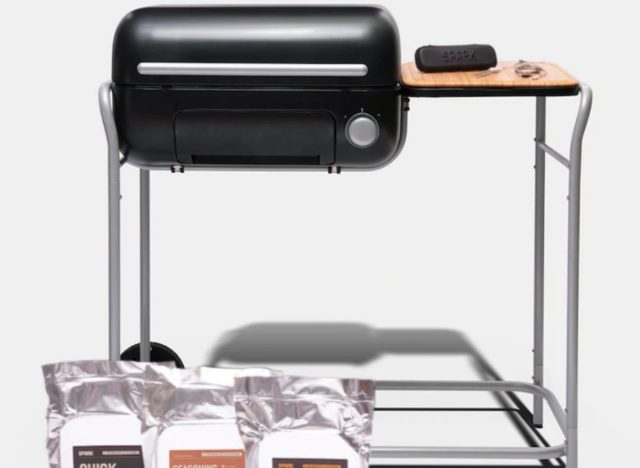 The dad who loves to grill all summer long and beyond will surely appreciate this Essentials Package by Spark Grills ($899). The grill itself will look ultra-sleek in dad's backyard in black or navy blue. It's charcoal fueled, has wide cast iron grill grates, and features a temperature range of 250-900°F so dad has plenty of options whether he's making a grilled pizza or doing some searing on high heat. The coolest part is quite possibly the Bluetooth app that keeps track of the grill and cook temperatures.
What comes in the Essentials Package? Well, let's just say dad will be totally hooked up and in his glory when he opens up this gift. The package includes, of course, the Spark Grill, in addition to three compostable charcoal Briqs, a premium cutting board, two temperature probes, and a 15-foot power cord.
A Coffee Date At about t:me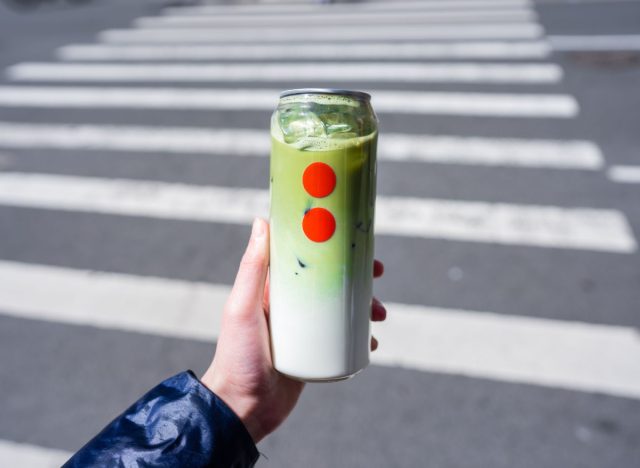 This one's for the dad who can't live without his morning cup of joe, and it makes for the ultimate day date plan the both of you can savor together. If you live in or near the New York City area, about t:me is a brand new "tech-forward café concept" that lives by the motto, "Specialty coffee shouldn't slow you down." The brand is proud of the products they serve in their three Manhattan locations—and for good reason. The specialty espresso and coffee beans are sustainably sourced, and every single roast is perfected until the blend can be the absolute best it can be for customers.
Treat dad to a caffeinated beverage like the iced mocha, iced chai, or iced matcha latte in the brand's unique, 100% recyclable, picture-perfect bottle. Don't forget to peruse the bakery case for some pastries and danishes to enjoy with your sips. We chatted with the café concept's Coffee Master who tells us the flavor profiles in each snack specifically pair well with certain drinks on the menu. Needless to say, this is an experience that will totally perk up dad's day!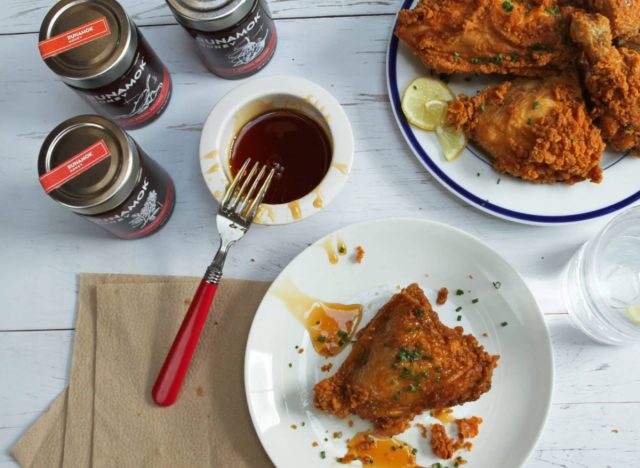 Upgrade dad's honey stash with Runamok. This Vermont-based company offers incredibly unique flavors of hot, raw, and infused honey. A sampling of the brand's most popular flavors includes their Florida Orange Blossom Honey ($13), Lemon Verbena Infused Honey ($13), and Chipotle Morita Infused Honey ($13) which is the ultimate addition and spicy kick to a fried chicken dinner. After all, honey is chock-full of nutrients and antioxidants, and it could enhance one's heart health, so this makes for a super healthy gift for dad!
Steeped Single-Serve Coffee Bags
Once dad tries Steeped craft coffee bags, we're willing to bet he'll never go back to drinking his cup of joe any other way again. With Steeped Coffee, dad can easily whip up his morning dose of caffeine at home, bring a bag to the office, or prepare a to-go tumbler for the ride. Each Steeped coffee bag contains 100% artisan roasted specialty coffee, with quality, sustainability, and ease of use in mind. The packaging is totally compostable, too!
The brand's roast lineup is pretty hard to beat. Depending on how dad likes to enjoy his coffee, Steeped offers a Sunrise Blend (light roast) with notes of lemon-lime and cocoa, a California Blend (medium roast) that's sweet with a chocolaty body, a full-body Odyssey Blend (dark roast) with notes of dark chocolate and s'mores, and more. If you're having a tough time deciding, you should opt for The Lineup: A Collection Of Each Blend ($18) so dad can have fun switching it up.
A Virtual Shopping Trip On Hive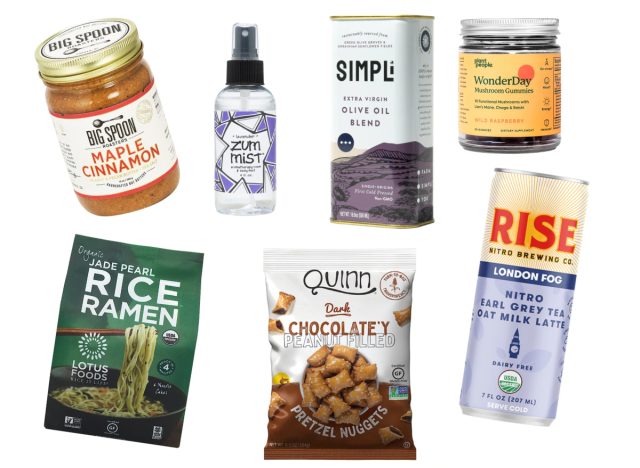 Dad will surely enjoy picking out a selection of goodies on this cool online marketplace. Hive sells sustainable, "meticulously vetted" products (from groceries to household staples to wellness items) and is fueled by the mission to bring people together "who want to shop their values with brands who live those values."
The brand lives by its very own "High Five criteria," which include ingredient integrity, low carbon footprint, recyclable packaging, rave-worthy, and social good. One hundred percent of the company's shipments are carbon-neutral, and 769 of the products sold on Hive "are verified for fair or direct trade practices and sustainable agriculture."
If dad is unsure where to begin, Hive makes the process seamless for the consumer with their lists of new arrivals, best sellers, and Hive team picks. (We must say, if dad loves getting his peanut butter fix, both the Peanut Butter Filled Pretzel Nuggets by Quinn Foods, which also comes in a peanut butter-chocolate-filled version, and the Maple Cinnamon Peanut + Pecan Butter by Big Spoon Roasters are to die for!) Be sure to encourage dad to shop across brands in an effort to support various causes such as poverty and hunger, animal rights, and more.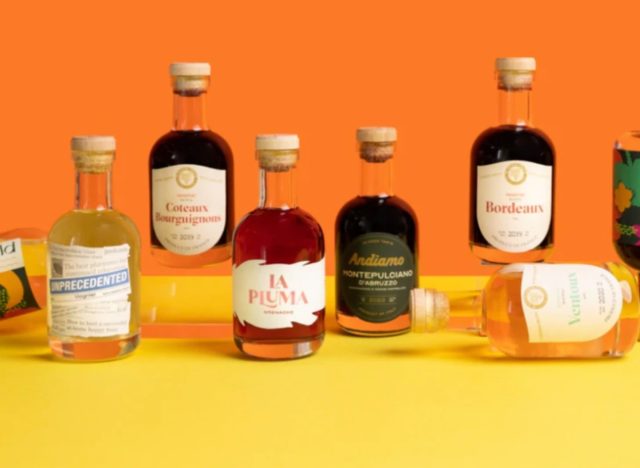 In Good Taste's mini, picnic-ready wine bottles make for the coolest wine tasting experience dad can enjoy right in his backyard. If he loves wine, you can't go wrong choosing from the variety of Curated Tasting Flights, such as Uncommon Grapes ($65) and California Wine Mixer ($65). With brands like Wild Child (that pairs so well with pizza), La Pluma, Unprecedented, Passport, and more, your number one guy will have a blast discovering some new favorites.
In Good Taste even has blog posts on their website that dad can peruse while he's sipping, including the best ways to pair wine with food, the skinny on wine closures and toppers, and a wine pairing quiz.
Alexa Mellardo
Alexa is the Mind + Body Deputy Editor of Eat This, Not That!, overseeing the M+B channel and delivering compelling fitness, wellness, and self-care topics to readers.
Read more about Alexa