20 Most Outrageous Restaurant Grilled Cheeses
Go beyond your typical Wonder Bread and American cheese with these eye-popping, delicious combos.
Grilled cheese seems pretty simple: Butter two pieces of bread, throw in a couple slices of cheese, and grill it up on a pan. But these restaurants throughout the country have taken the traditional comfort food and flipped it on its bread, adding in gourmet ingredients, savory sauces, and crafting up artisanal grilled sandwiches.
Eat This, Not That! scoured the most popular grilled cheese joints in the US and found some of the most outrageous creations. From mac and cheese filling to deep frying the whole sandwich, these sandwiches offer up so much more than the typical American cheese and white bread. Need more inspo to devour a grilled cheese? Check out our 30 Reasons to go Crazy for Grilled Cheese.
'White Trash' at UMelt
The "White Trash" grilled cheese at this Providence, RI grilled cheese spot may not have the most politically-correct name, but the ingredients are all-American deliciousness. Piled high with mac 'n' cheese, cheddar cheese, and pulled pork on thick-cut sourdough, it's as messy as it is tasty.
Fried Chicken at Melt Shop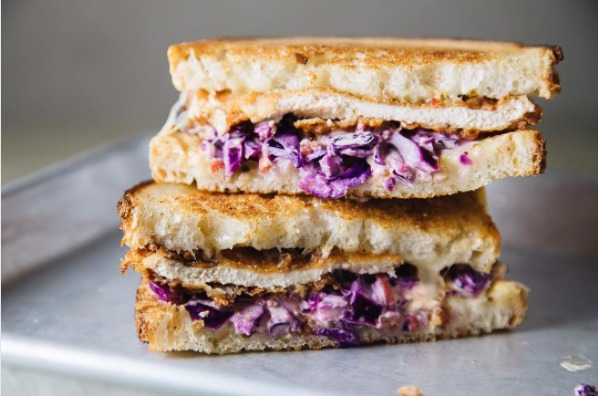 The popular NYC eatery serves up a variety of artisanal grilled cheeses with ingredients such as gruyere cheese, parsley pesto, and truffle mayo. Can't decide between fried chicken and grilled cheese? Now you don't need to. Melt Shop's fried chicken sandwich goes above and beyond with pieces of battered and fried chicken, pepper jack cheese, red cabbage slaw, and the restaurant's special melt sauce all on sourdough.
Big Popper at Melt Bar & Grill
This Cleveland eatery has a menu chock-full of cheesy comfort food, including this grilled cheese that's basically a jalapeno popper in sandwich form. It contains layers of fresh jalapeno peppers, cheddar and herb cream cheese. Then, the whole sandwich is deep fried, covered in powdered sugar, and served with berry preserves for dipping. It's the perfect combo of sweet-and-spicy.
Frenchie at Cheesie's Pub & Grub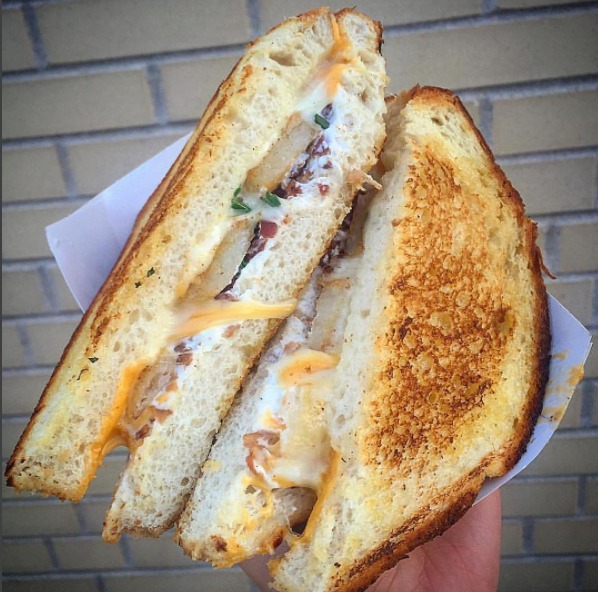 Why have French fries on the side if your grilled cheese when you can have them layered right in between the slices of bread? The Frenchie at this Chicago-area grilled cheese spot comes with American, mozzarella and cheddar cheeses, thick-cut fried, bacon and chives on sourdough bread. It comes complete with sour cream as a dipping sauce.
The Smooch at Melt Kraft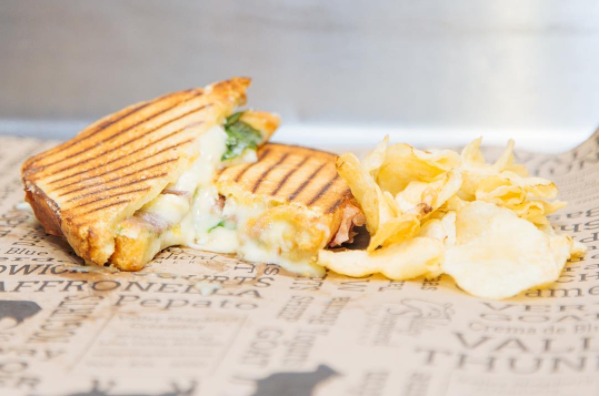 Melt Kraft in Philly gets fancy with The Smooch. The ooey-gooey sandwich is served on brioche bread and comes with creamy brie cheese, prosciutto, truffle oil, and lemon-tossed spinach.
Spinach & Artichoke at The Grilled Cheeserie
Spinach and artichoke dish is amazing as an appetizer, but it's even better in sandwich form. This Nashville spot takes the dip favorite and makes it into a rich and flavorful grilled cheese sandwich with layers of a swiss-gruyere blend, marinated artichokes and housemade organic spinach dip with Parmigiano Reggiano, white wine, garlic, and leeks, served on rosemary garlic bread.
Croqueta Monsieur at Ms. Cheezious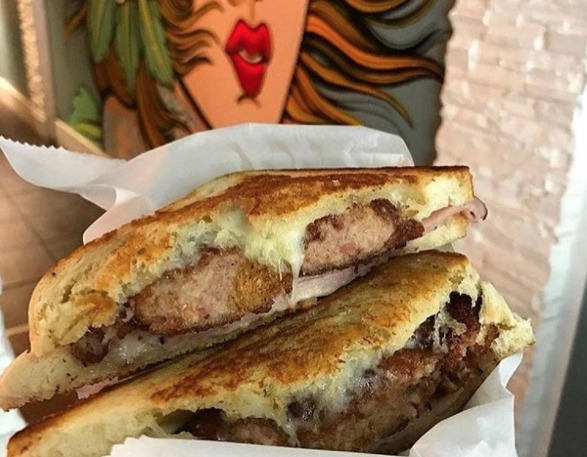 This Miami grilled cheese joint knows the meaning of comfort food. Their Monsieur Croqueta is anchored by ham croquettes (breadcrumb-covered and deep fried pieces of ham), surrounded by tavern ham, Swiss cheese, and bechamel white sauce all on sourdough bread.
Crabby Melt at Grilled Cheese & Co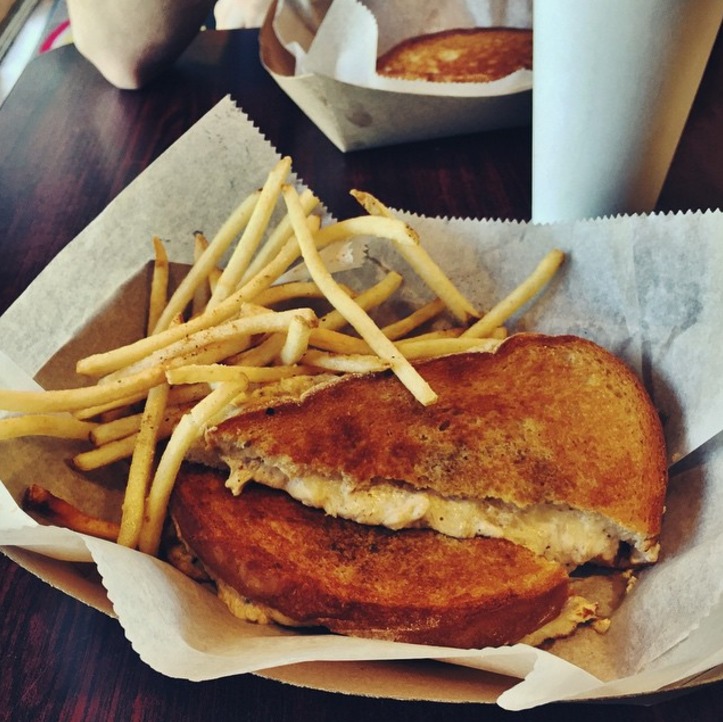 As a grilled cheese spot in the greater Baltimore area, it should be no surprise their signature sandwich's key ingredient is crab. The Crabby Melt starts with their house-made crabby dip, which is made with sweet claw crab meat, then topped with Monterrey jack cheese. It's all grilled on ciabatta bread.
Philly 'Grilled Cheese' Steak at Melt It!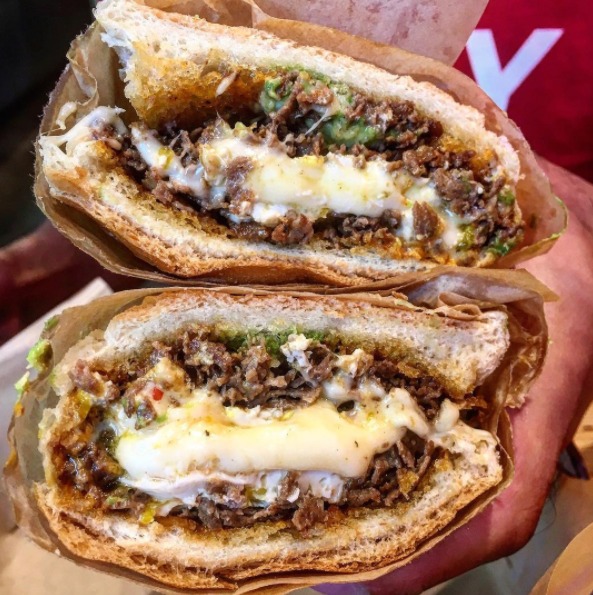 This Pasadena, CA grilled cheese restaurant brings a taste of Philadelphia to its cheesy menu. They took a classic Philly cheesesteak and a grilled cheese sandwich and combined them to make a Philly "Grilled Cheese" Steak Sandwich. It's a giant beast filled with steak, caramelized onions, grilled bell peppers, and provolone cheese on a French roll.
Green Muenster at Roxy's Grilled Cheese
Roxy's is not just a grilled cheese restaurant; they also have food trucks throughout the Boston area. Their most decadent offering is the Green Muenster grilled cheese made with muenster cheese, bacon, and homemade guacamole. Top off the meal with a side of hand cut truffle fries.
Croque Madame at DBGB
Who says grilled cheese is just for lunch or dinner? The popular Washington, DC restaurant serves up a killer sandwich for brunch. The Croque Madame is toasted with ham and gruyere cheese, topped with a sunny side up egg. Perfect to enjoy with your bloody Mary.
Croque Madame at Burro Cheese
Burro Cheese Kitchen in Austin are pros at crafting up artisan grilled cheeses, with savory ingredients such as goat cheese, gouda, and roasted pecans. They have their own twist on the Croque Madame with grilled hot ham and cheese, toasted to perfection.
Cubano at American Grilled Cheese Kitchen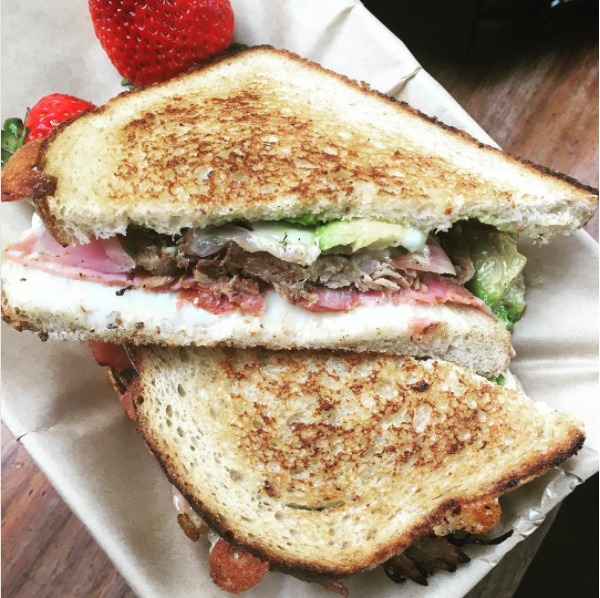 This San Francisco joint offers up a selection of breakfast grilled cheeses along with their regular menu, and tasty soups and side salads. But one of their most popular (and outrageous!) creations is the Cubano. Cocoa-rubbed pulled pork and cured ham are joined by Monterey jack cheese, stone-ground mustard, pickled red onions, chipotle butter, and bread 'n' butter pickles on levain bread.
The Cheesy Mac 'n' Rib At The Grilled Cheese Truck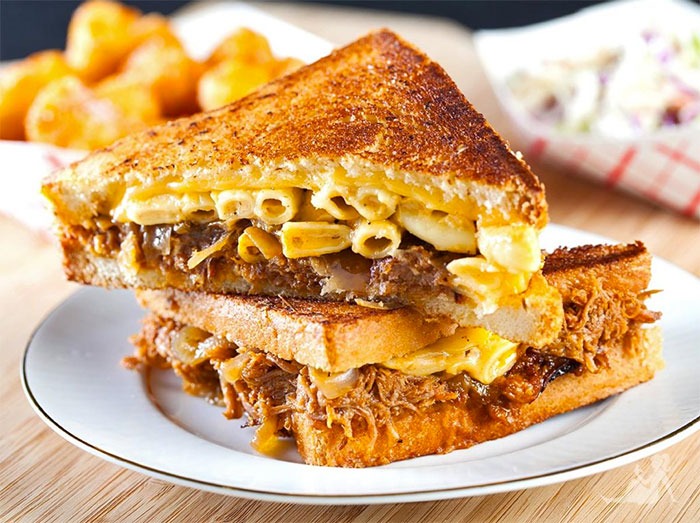 Although not a restaurant per se, The Grilled Cheese Truck in Los Angeles serves up gourmet grilled cheeses with savory ingredients such as BBQ smoked pork, homemade chili, and caramelized mushrooms along with sweet additions like Nutella and brown butter apples. One of their signature creations combines two classic American ingredients: mac and cheese, and smoked BBQ pork. Topped with homemade BBQ sauce, caramelized onions, and sharp cheddar, the Cheesy Mac 'n' Rib is as messy as it is delicious.
Mac Daddy at The Melt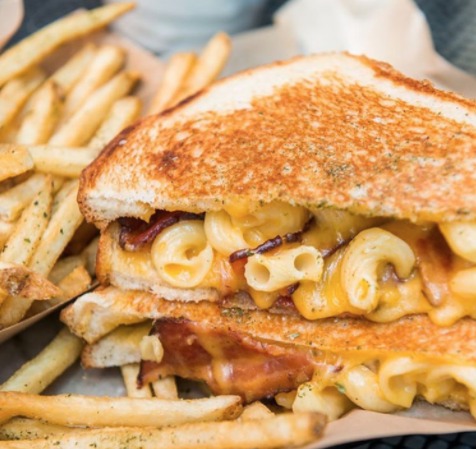 Mac 'n' cheese seems to be a popular topping for grilled cheese, and it's easy to see why — it's delicious! The Mac Daddy at The Melt in California, Colorado, and Texas makes their sandwich with sharp and mild cheddar, mac 'n' cheese, smoked bacon, and crispy onions.6254a4d1642c605c54bf1cab17d50f1e
The Cheesus at The Grilled Cheese Grill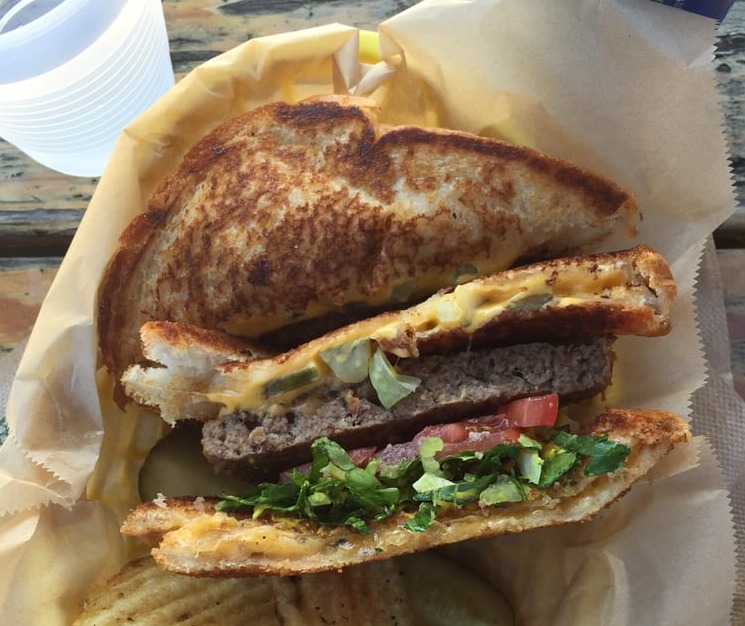 The famous Cheesus at this popular Portland spot is like if grilled cheese and a cheeseburger had a baby. In lieu of a bun, this burger uses not one, but two grilled cheese sandwiches to wrap around the burger patty, lettuce, tomato, ketchup, and mustard. You can also add bacon for $1.75. The Grilled Cheese Grill website says you won't need to eat for two days after indulging in this meal, and that sounds about right.
White Russian at Queens Kickshaw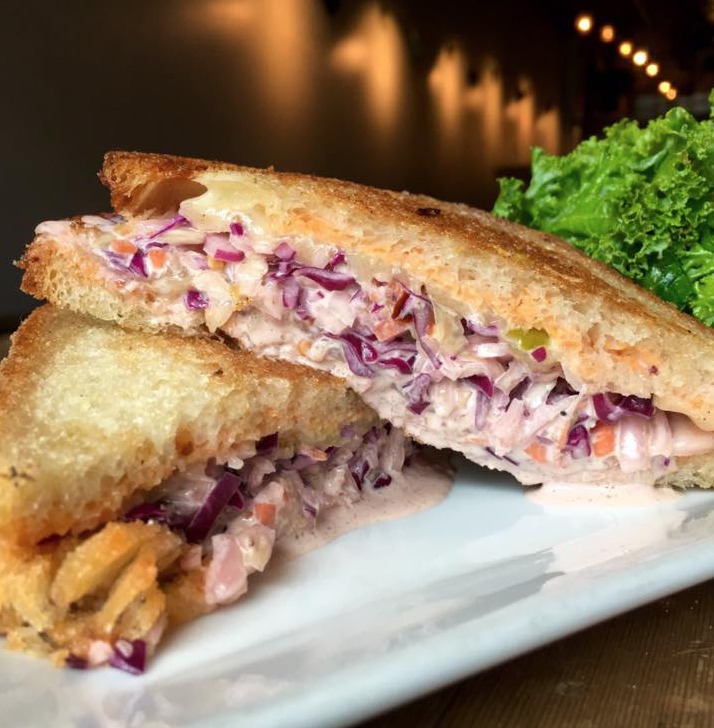 The Queens Kickshaw in Astoria, Queens knows how to take a popular summer side dish and turn it into a delicious sandwich. The White Russian comes layered with coleslaw and grilled to perfection with cheese. It's part of the restaurant's spring menu, which changes up seasonally.
Barbacoa Grilled Cheese at Barrio Barista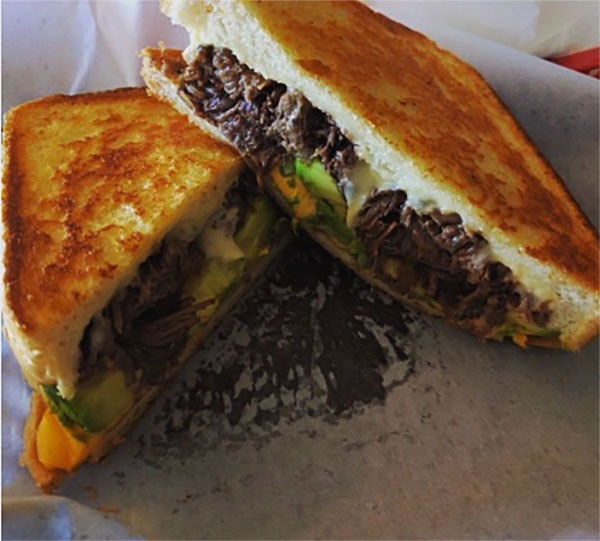 This popular San Antonio eatery is known for its barbacoa grilled cheese, which is piled high with slow-cooked meat, cheese, and avocado, and grilled to perfection. Barrio Barista also sells coffee (as the name suggests), so be sure to load up on some java to wake you up from your food coma.
'The Original' at Tom and Chee
Can't decide between a grilled cheese and a donut? Now you don't have to with Tom and Chee's famous donut grilled cheese known simply as "The Original." The sandwich is exactly what it sounds like: Wisconsin cheddar cheese layered in between two glazed donuts and grilled. Talk about a cheat meal.
Strawberry Lemonade at Tom and Chee
There's a reason we featured the Cincinnati grilled cheese spot twice because using two glazed donuts instead of a bun is just outrageous. They have a sweet spin on grilled cheese with the Strawberry Lemonade Donut: Fresh strawberries, candied lemon, mozzarella, and lemon mascarpone all on two grilled donuts.