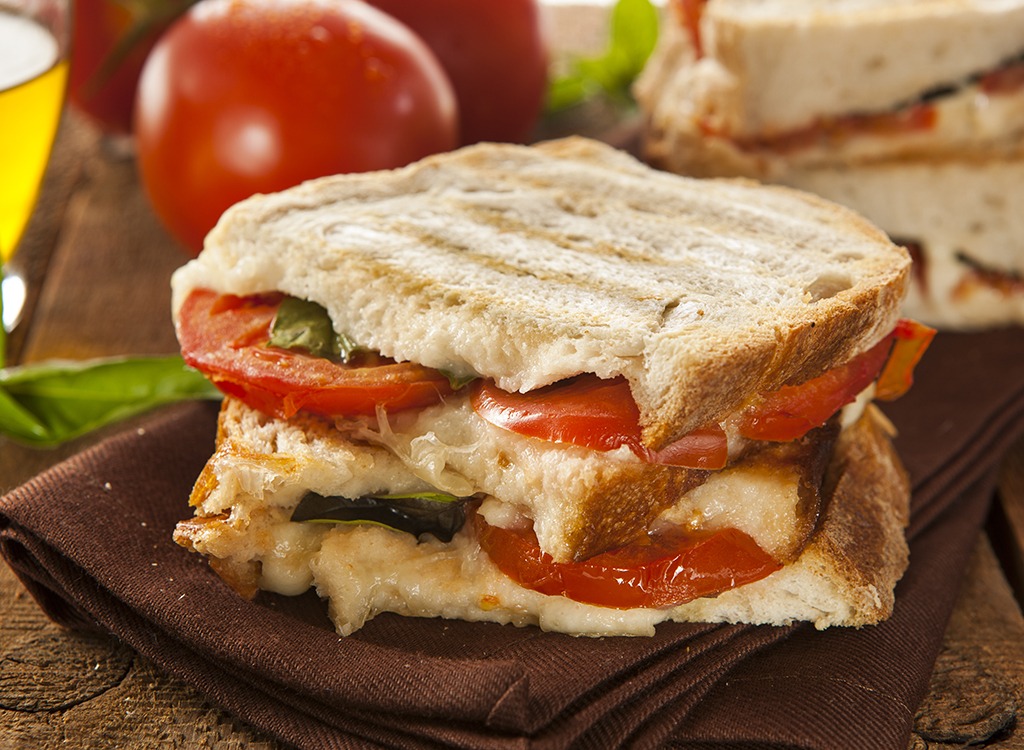 Life, liberty, and the pursuit of the perfect grilled cheese.
Grilled cheese is the staple sandwich of America, ingrained in everyone's mind since childhood. And in order to recognize this heavenly creation, April has been named National Grilled Cheese Month. Don't exactly think about grilled cheese as the go-to when you're trying to gear up for bikini body season? Well, there are plenty of ways you can have your cheese and eat it, too!
Grilled cheese first came around in the 1920s as an open faced slice of bread covered with melted American cheese. The accessibility of the pre-sliced bread and processed cheese was appealing when times were tough during the Great Depression because this was incredibly affordable (and delish) dish! The second slice of bread didn't come about until the 1960s and is when the dish turned into what we now know as our beloved grilled cheese. Now it's a staple on kids' menus, we make it when we're in a rush or looking for comfort, and we have become such big fans of it that there are even food trucks and restaurants dedicated to making solely gourmet grilled cheeses.
So, in honor of the holiday, we've rounded up a bunch of awesome reasons you should be indulging in this classic sammie, tips on taking the healthy route, and some recipes to try out for when you're geared up to get some grilled cheese in your tummy. (And if you think you should have some tomato soup with that, that's cool; just avoid these 20 Worst Ingredients to Put Into Your Soup, okay?)
WHY EAT GRILLED CHEESE?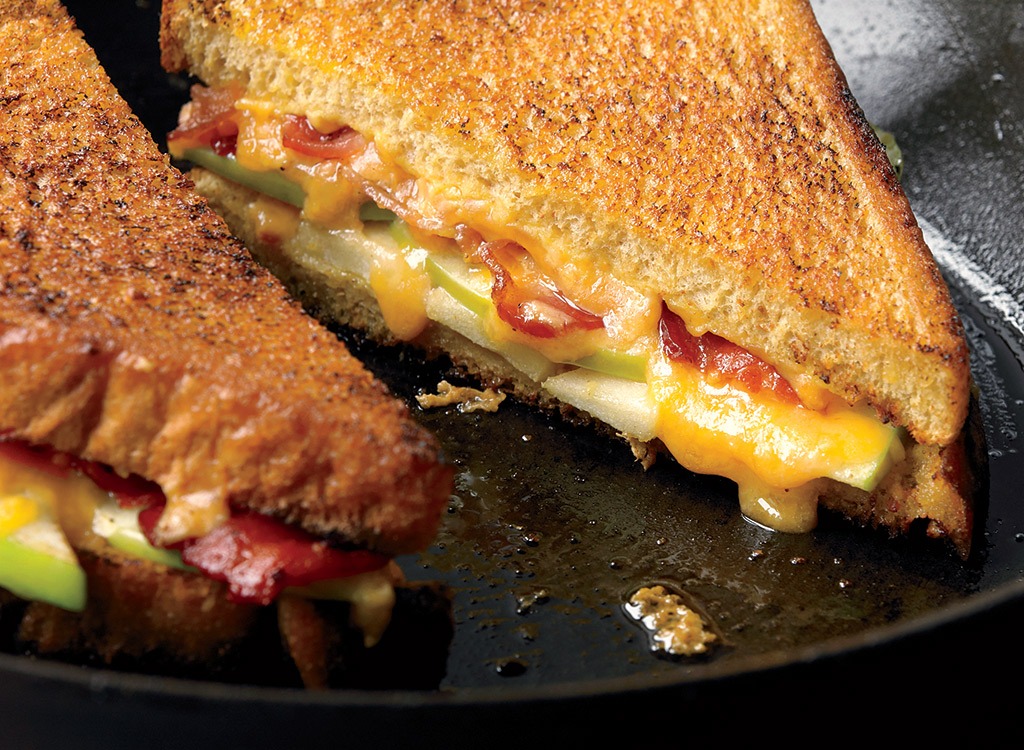 We know you don't need the motivation, so consider this your list of great excuses if you need that instead!
IT'S CHEAP
The average price in America to buy whole wheat bread is around $2.00 and for cheddar cheese it's around $5.50—and that's per pound! This two-ingredient sandwich is an obvious go-to when you're on a budget or just looking for in a cheap meal that is indulgent. Although cheese and bread are the only two components necessary for grilled cheese, look at it as a blank canvas ready to be painted with tons of other nutritional ingredients. And if you make it right, you can stay on budget and on your diet!
EASY TO MAKE
There's not much to it; get your cheese, get your bread, and throw it on a fryer pan—or even better, use a panini maker. It's a no-hassle make and not much clean up required. You can make it when you're in a rush or if you're looking for a cozy comfort food to chill out with. It's a simple sandwich that packs in some protein, carbs, and fat on one plate. For more clever tools in and out of the kitchen, check out 20 Weight Loss Tools Under $20.
YOU'LL HAVE MORE SEX
A study was done that showed that 32 percent of grilled cheese lovers are having more sex—to be precise, at least six times a month. So, as unusual as this connection might be, having a love of grilled cheese could make your sex drive go up!
THE OPTIONS ARE UNLIMITED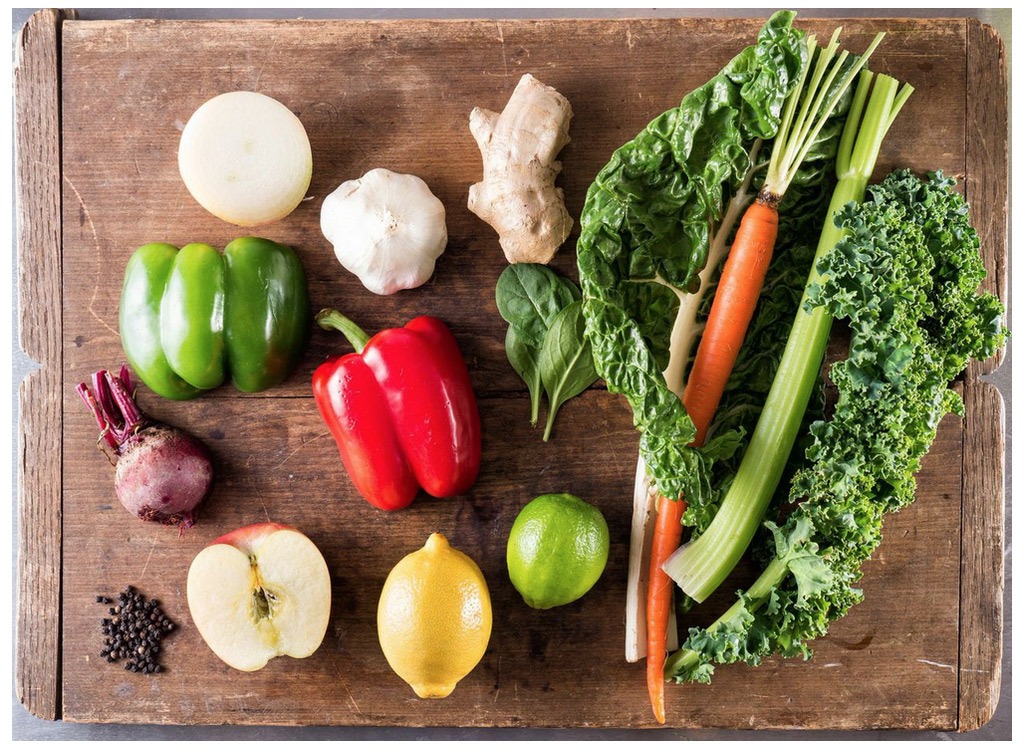 Keep it classic and make your grilled cheese using just cheese and bread. Or be an innovator and load up that sandwich with your favorite veggies, spicy sauces, or even fruits (when you're looking for something on the sweeter side)! These days, there are even entire restaurants dedicated to a menu based solely on various grilled cheeses. When you're talking two slices of bread and melted cheese, there's pretty much nothing that won't taste good in between. We suggest using ingredients like avocado, tomato, or spinach to increase the nutritional value and up the taste! Did you just drool a little bit at the thought of some avocado? Then don't miss these 18 Tasty Ways to Satisfy Your Avocado Cravings!
YOU CAN ORDER IT ALMOST ANYWHERE
Despite what many may think is impossible, you can order a grilled cheese at fast food restaurants that don't even have grilled cheese on the menu. Often found on their "secret menus," just about any burger joint can throw together this sammie by making a cheeseburger, minus the burger. In-N-Out's Grilled Cheese consists of two slices of melted American cheese grilled between their bun and loaded with their fixins like tomato, lettuce and onion.
TIPS FOR KEEPING IT HEALTHY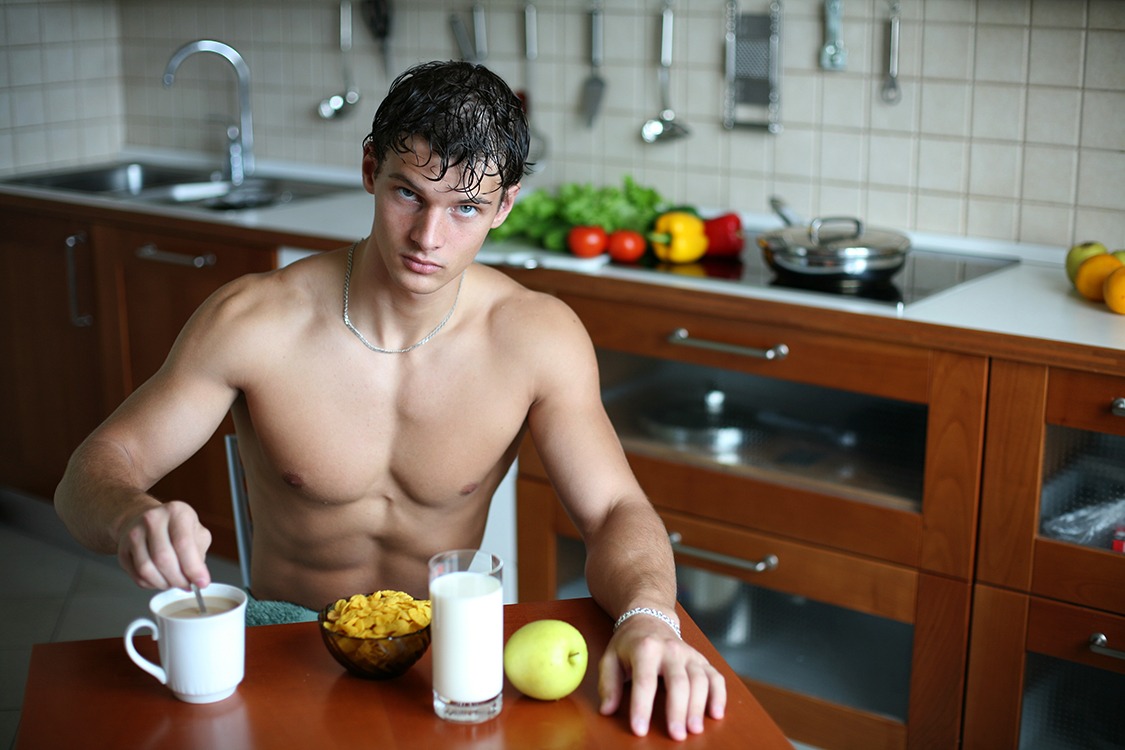 Let's be real: Grilled cheese is not exactly known to be a superfood dish. But there's a huge difference between really-bad-for-you sammies and not-that-bad-at-all options!
USE A WHOLE GRAIN BREAD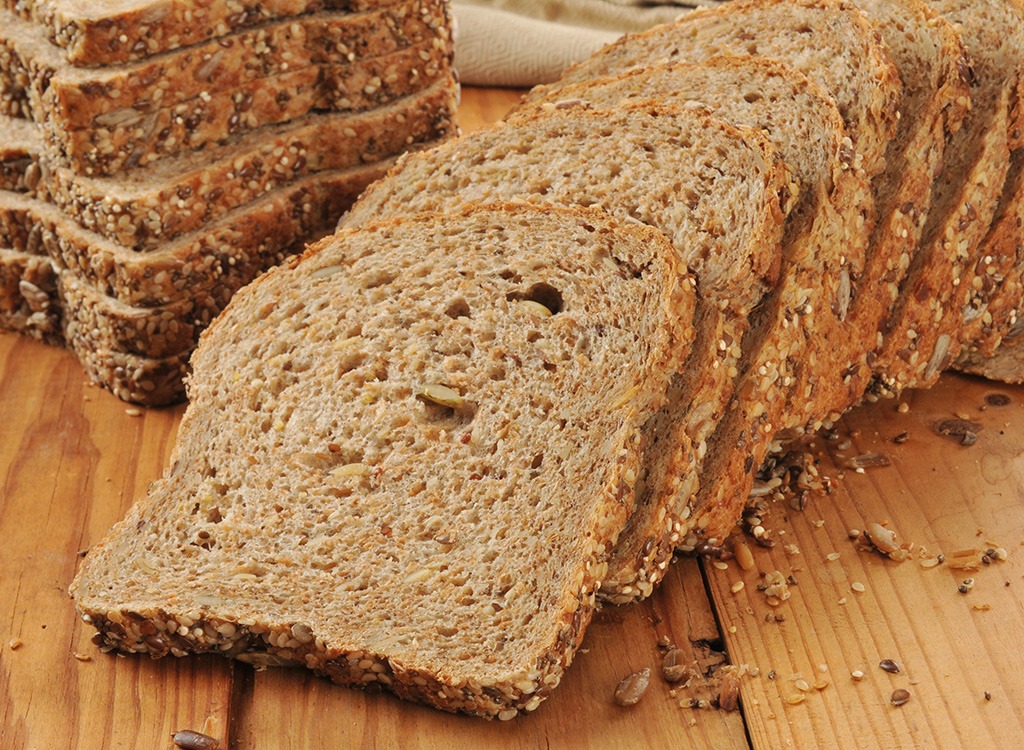 White is out and grains are in! There should be no more of that overly-processed white bread making your grilled cheese when there are so many better-for-you options out there. Go for something packed with fiber rather than sugar and carbs. Ezekiel bread is a great option because it contains sprouted grains and absolutely no sugar!
CHOOSE THE RIGHT CHEESE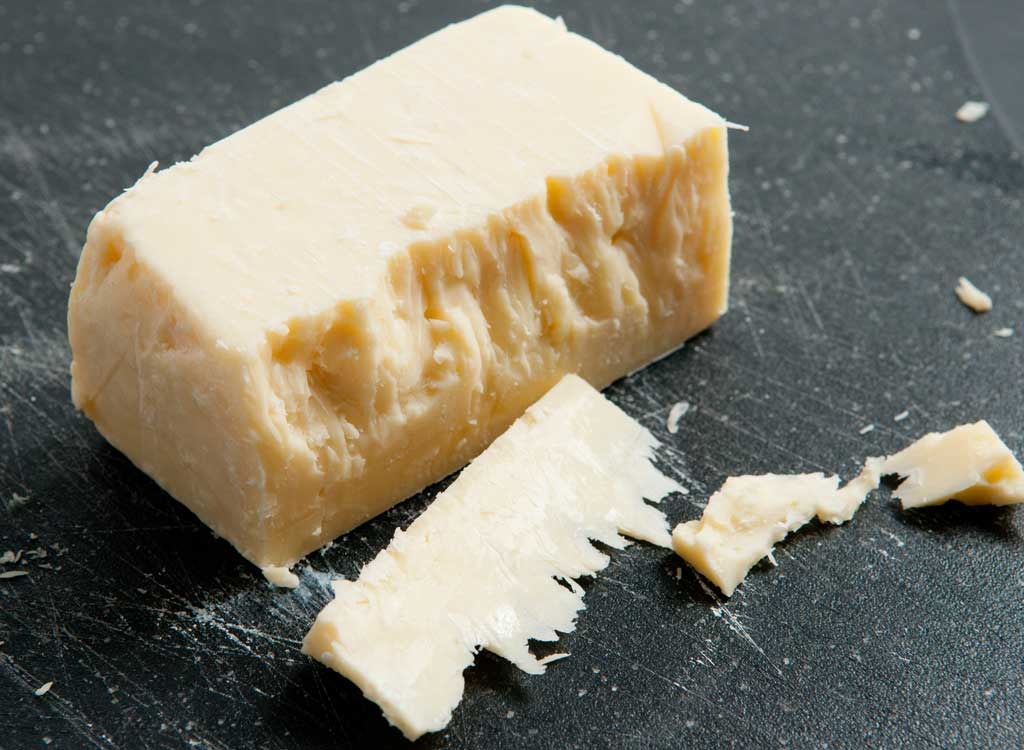 Cheese can be a great source of calcium, protein, and vitamins. But when you live in a world where even Cheetos gets to be labeled 'natural,' it can get confusing finding a cheese that's going to provide those benefits. Skip artificial cheeses like American cheese (which is technically not even a cheese!) and go for brands like Sargento. They have a long list of real natural cheeses (all with short lists of ingredients) in a variety of different flavors from mozzarella to garlic and herb jack! Ultra-thin slices are also one of their offerings, so you can cut back on the calories from a single slice of cheese.
AND DON'T GO OVERBOARD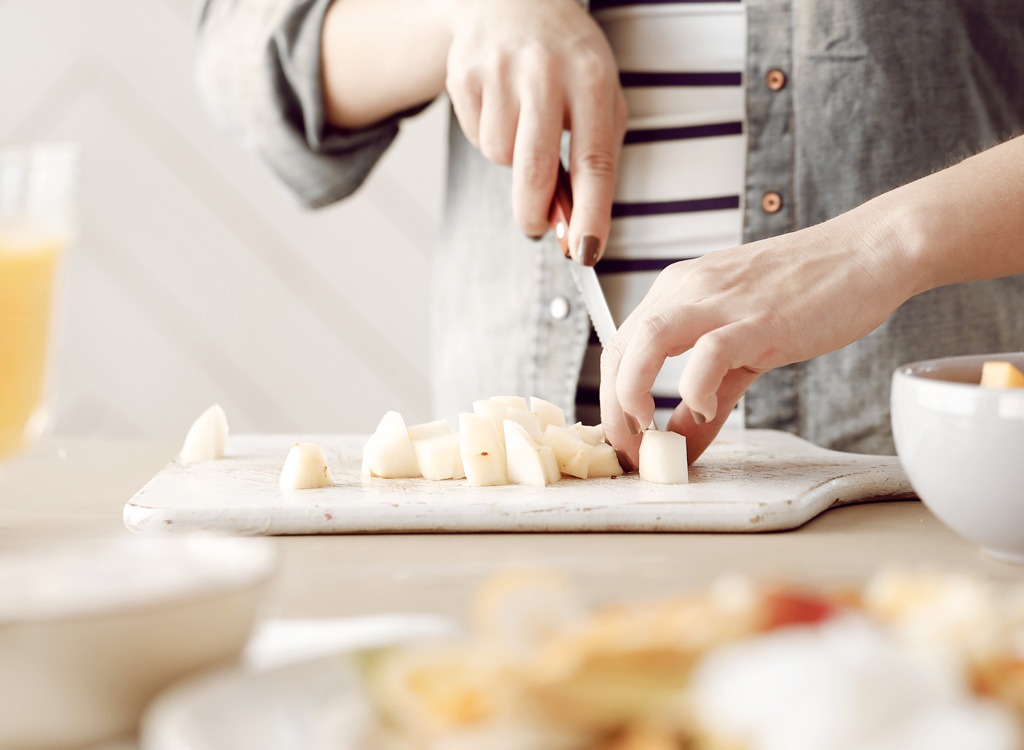 Loading up on too much cheese is not only a weight loss no-no, it decreases the quality of your grilled cheese! When there's too much cheese between the bread, it's almost impossible for you to get a full melt without overcooking the bread. A cool trick to make the grilled cheese feel heartier—without having to pile on excess cheese—is to mash beans or avocado and add it to the sandwich. You'll get more of the good fats and steer clear of excess inflammation.
EMBRACE THE VEGGIES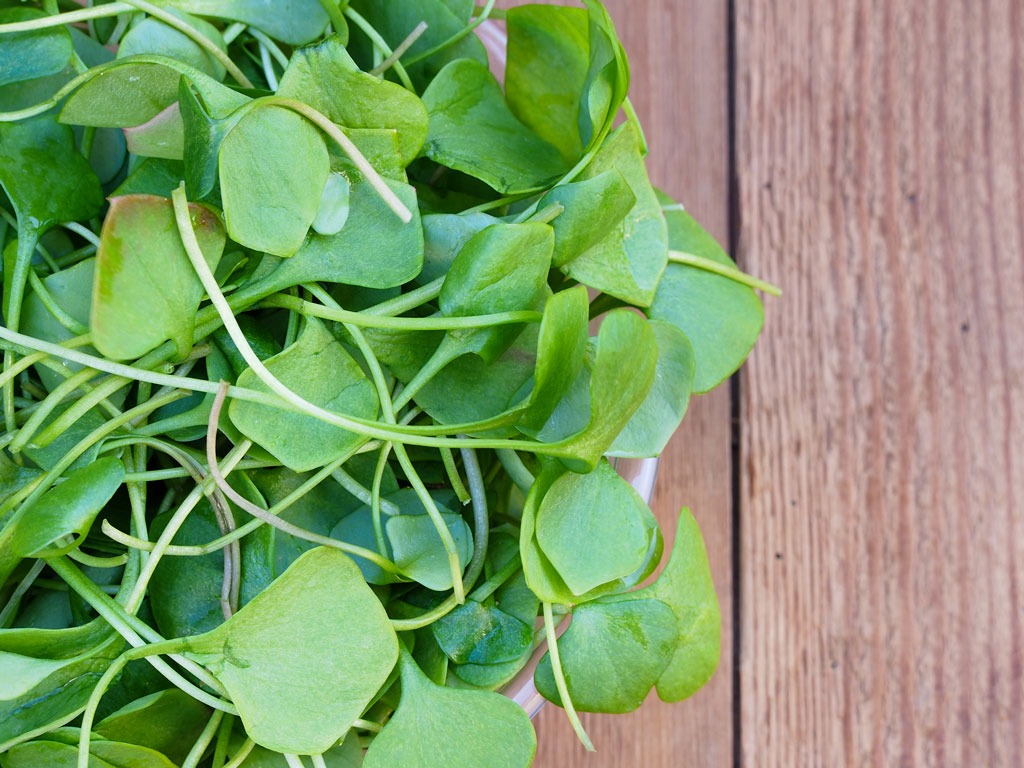 Vegetables in your grilled cheese might sound like hot sauce on your ice cream, completely ruining the greatness of the sandwich, but it's a great way to get in some vitamins and mineral while seriously enhancing the flavor profile. From broccoli to sweet potatoes, there are a ton of veggies that can be loaded onto your next grilled cheese.
LIGHTEN THE BUTTER LOAD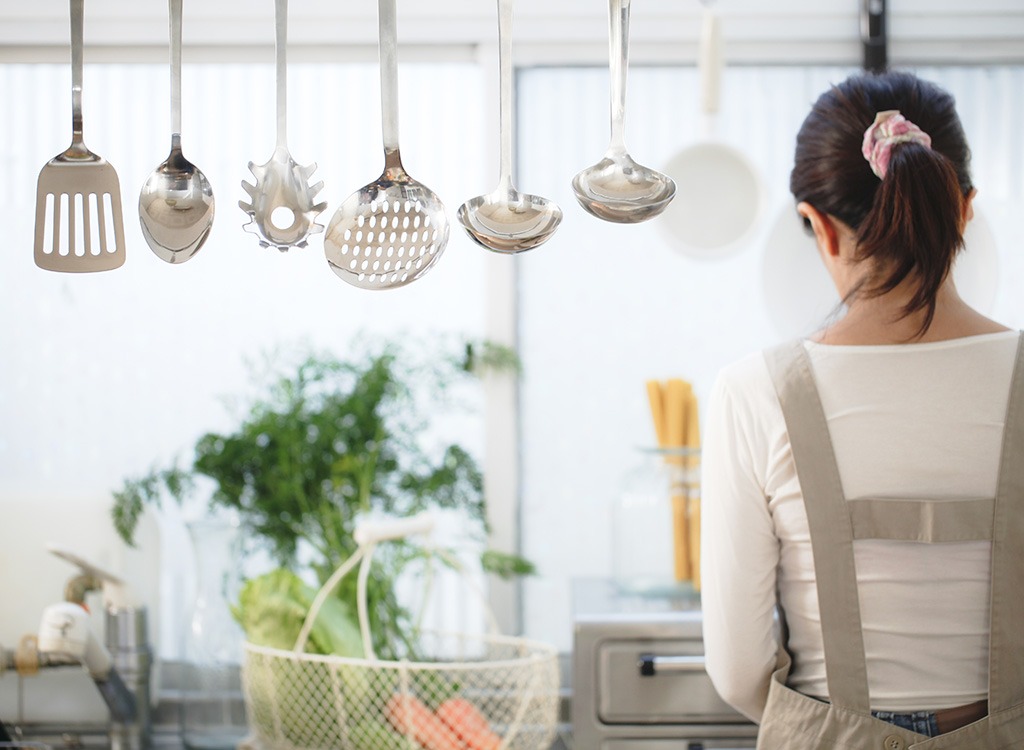 Butter is a typical component of the classic grilled cheese to achieve that crispy outer texture and depth of flavor, but it's also packed with saturated fat and calories. Go for the organic grass-fed kinds and don't lather it on the same way you would your conditioner in the shower. You can still reach that same crunch with just a teaspoon of butter. This will reduce your calorie load and help you get to those summer body goals in no time. For more smart swaps and tips, see these 25 Ways to Cut 250 Calories.
GO HALFSIES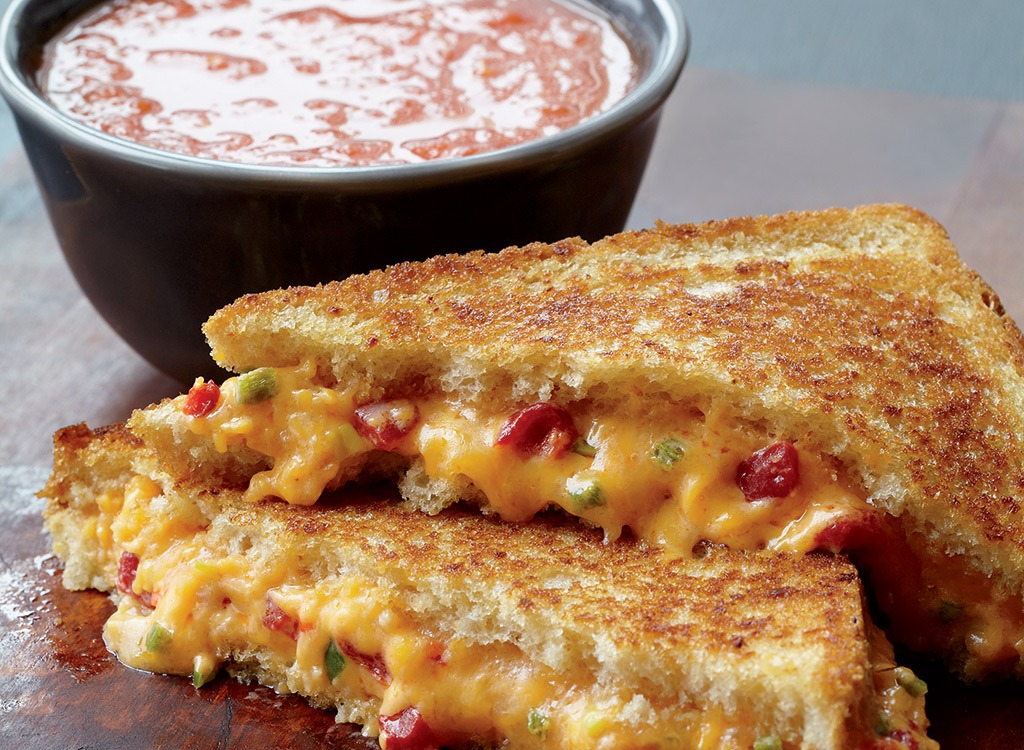 If you go half soup or salad and half sandwich, controlling your carb portion can be a big support in losing weight. Instead of indulging in the whole sandwich in one sitting, pair it with a tomato soup or a garden mix; you'll still feel just as full without the added bloat.
COCONUT OIL IS YOUR FRIEND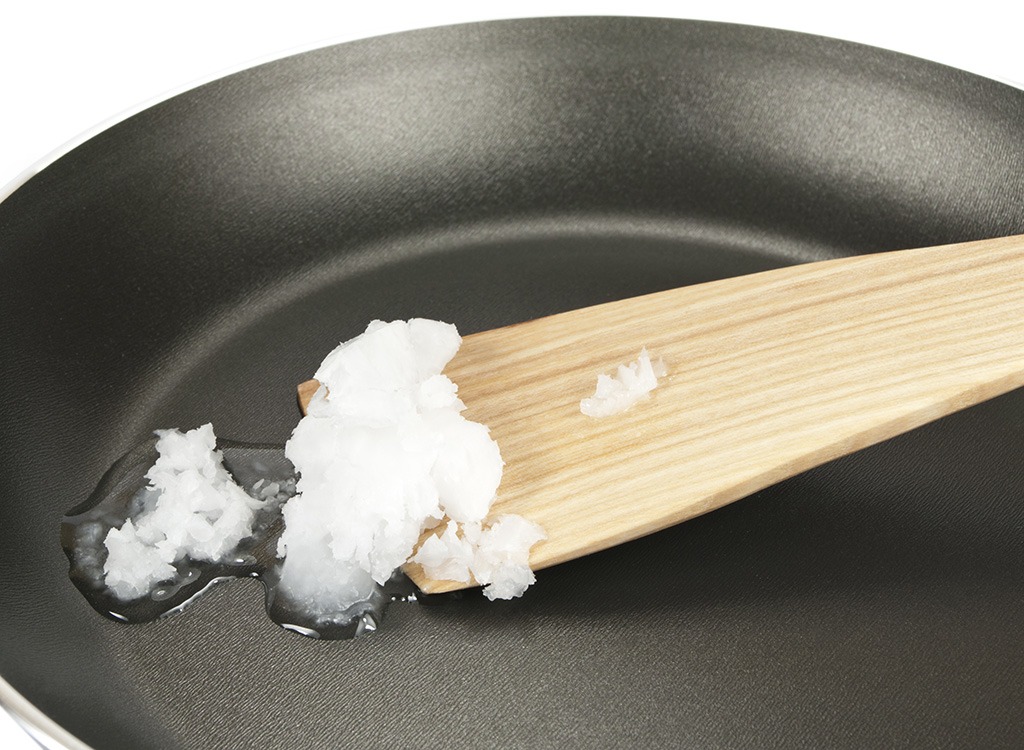 Instead of butter you can use coconut oil, which is a healthy fat that shares many of the same qualities as butter but actually has tons of nutritional benefits—from curbing your appetite to helping with your memory. Coconut oil (as opposed to butter) elevates good cholesterol and reduces your risk of heart disease. Curious about coconut oil? Find out Why Everyone is Obsessed With Coconut Oil!
AND SO IS OLIVE OIL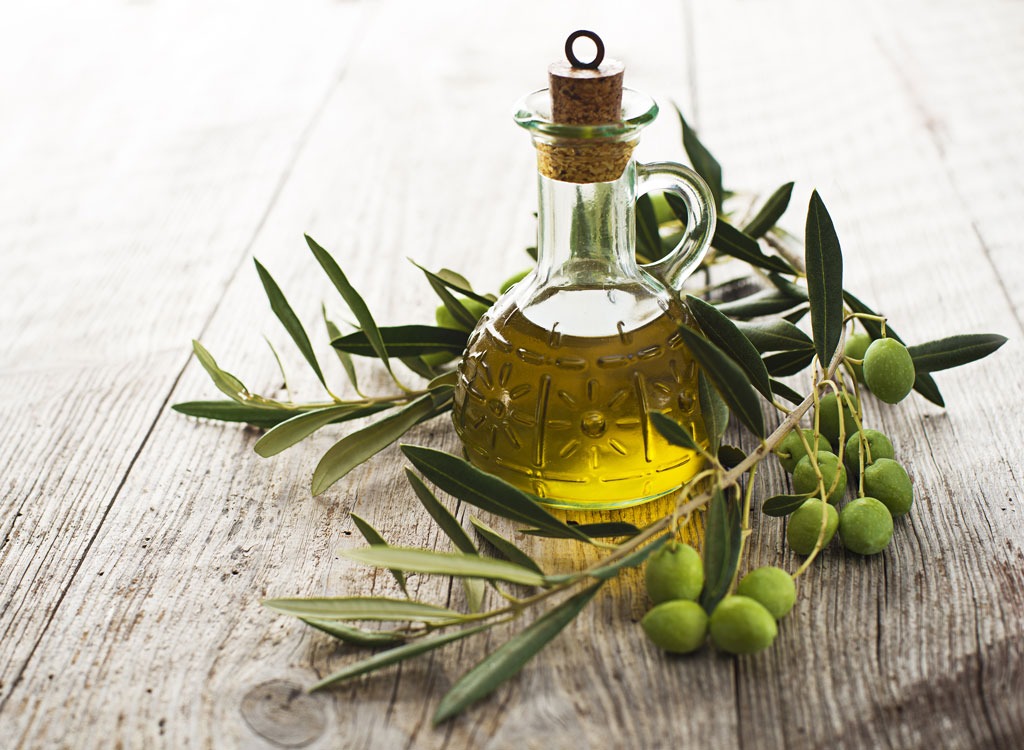 Olive oil is another ally on the list of fats to use when cooking. And as the cornerstone of the Mediterranean Diet, cooking with olive oil can help boost levels of adiponectin, which is a hormone that breaks down fat. The monounsaturated fat is a heart-healthy ingredient to use instead of saturated fat. Stick to the extra virgin olive oils to reap max benefits!
USE A PANINI MAKER INSTEAD
6254a4d1642c605c54bf1cab17d50f1e
As we mentioned earlier, this is a great tool for your grilled cheese culinary adventure. You can even skip the butter and oils completely! But how will I get the crispy bread I love so much?! Don't freak out! Panini makers are an awesome way to get a crisp crunch on a sandwich without using any of that extra fat.
FORGET THE SECOND SLICE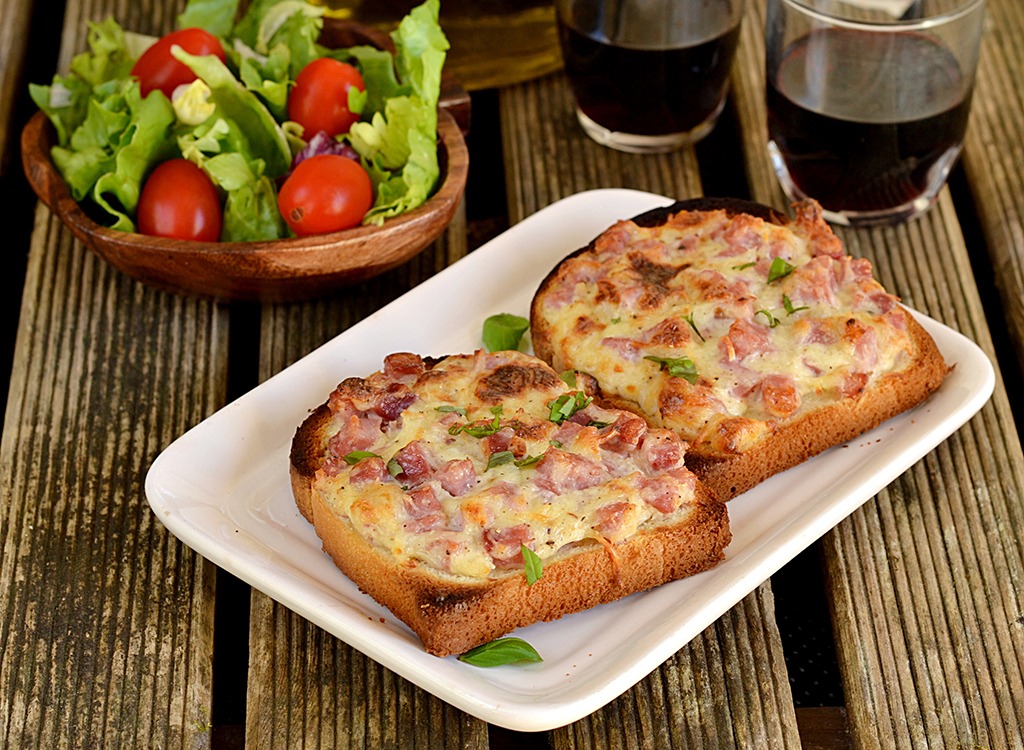 Another easy tip to keep things slim is to make an open faced sandwich and skip the slice of bread on top. You can lessen your carb intake and still get all the great flavors you're looking for in a grilled cheese. Top it with tomato or a homemade salsa and a poached egg to really get in an extra kick.
SKIP THE EXTRA CARBS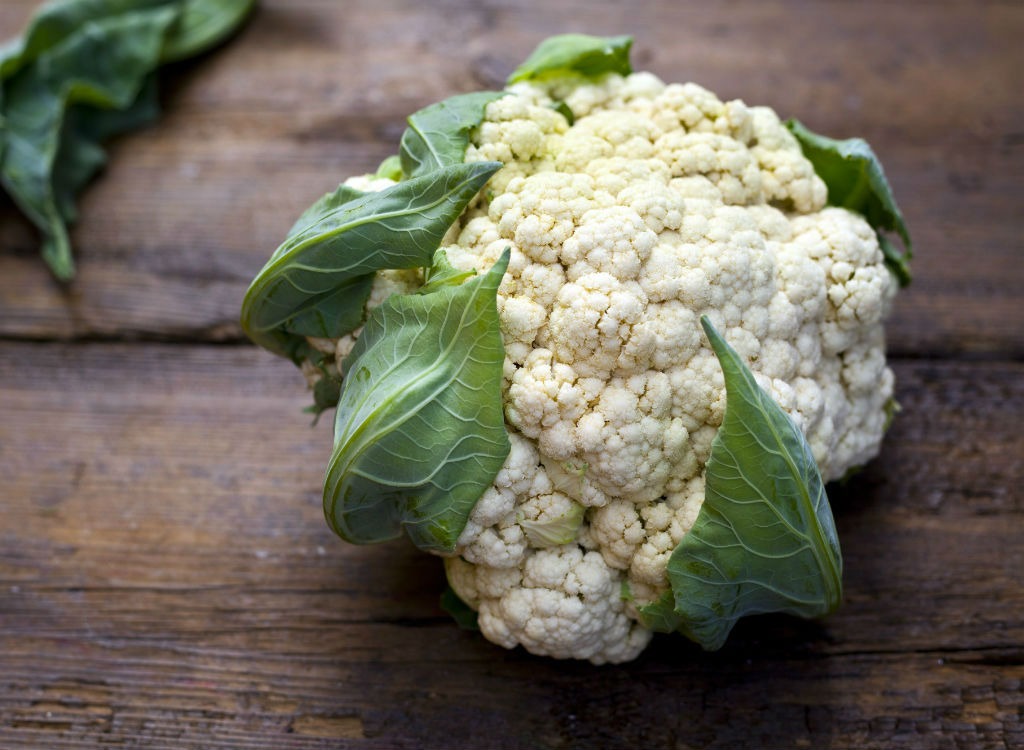 A grilled cheese with no bread? Are pigs also flying? Well, the first ones true. You can actually make the grilled cheese classic without any bread. That's where our good pal cauliflower comes in. Check out this recipe to get the gooey treat with no guilt.
GET IN SOME GREENS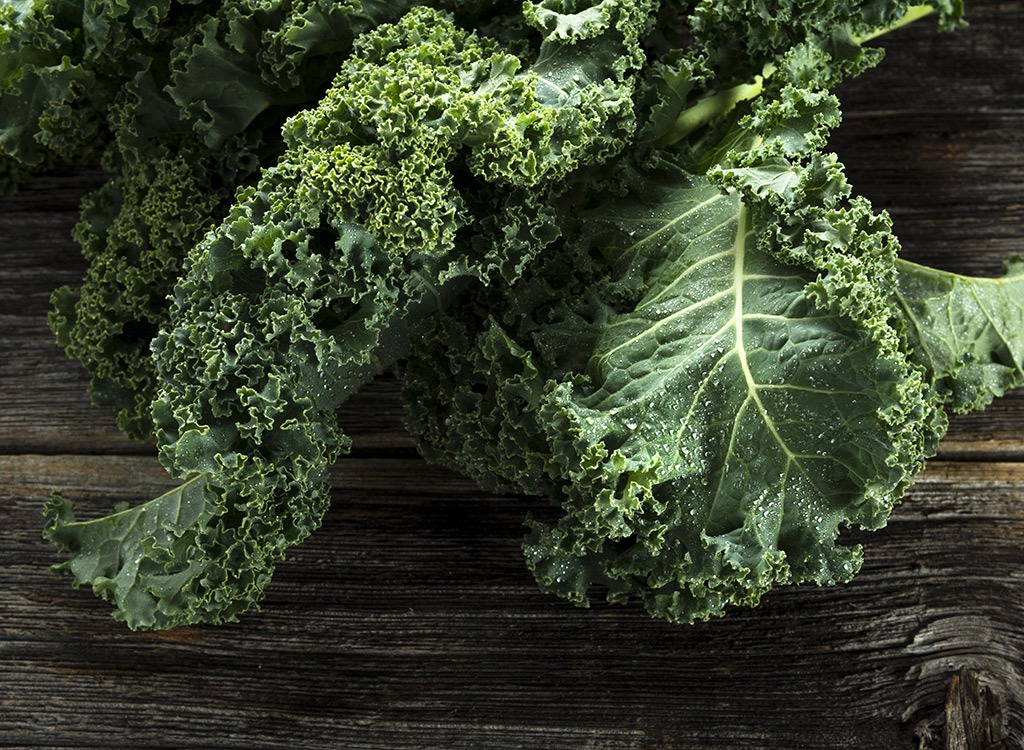 Add spinach, arugula, or kale to brighten up this mono-colored classic. If you're not regularly a fan of greens, take heart that there's really no better way to get them in than with a sandwich that has so much other flavor. You can get tons of extra vitamins and nutrients without having to diminish any flavor.
MAKE IT A COMBO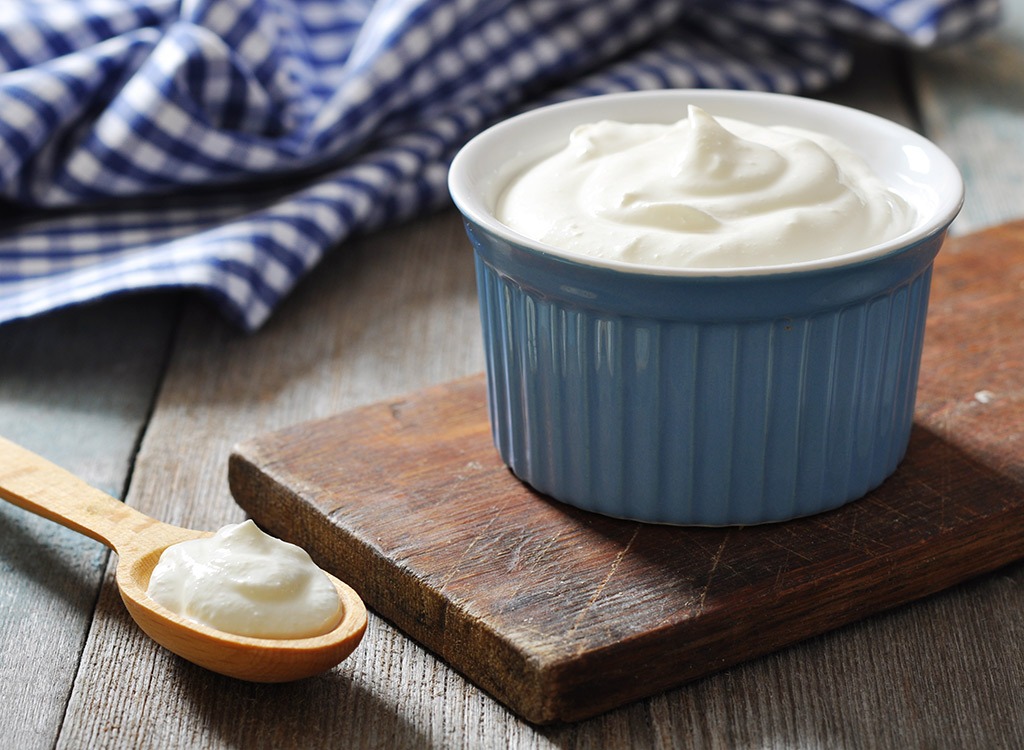 Combining the cheese with other creamy ingredients like Greek yogurt or olive oil mayo before melting it over the bread instead of just loading on the cheese. It can really help build a satisfying consistency without all the extra cheese and fat. If you're not convinced, go try out The Ultimate Comfort Food Combo recipe and see how fast your mind changes.
SPICE IT UP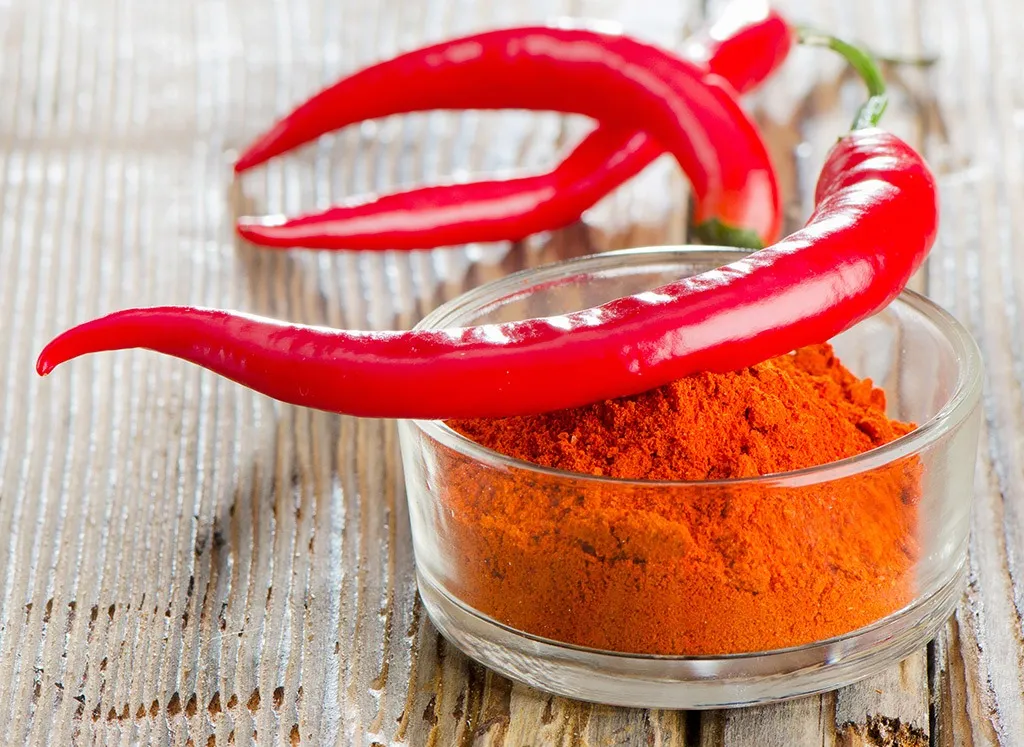 Use spices to make the flavor even more impressive than it already is. Simple spices like cayenne, black pepper, and mustard seed (that are all on the list of 5 Best Spices to Burn Fat) are a great way to easily amp up the taste while scoring some nutritional benefits.
ADD MORE PROTEIN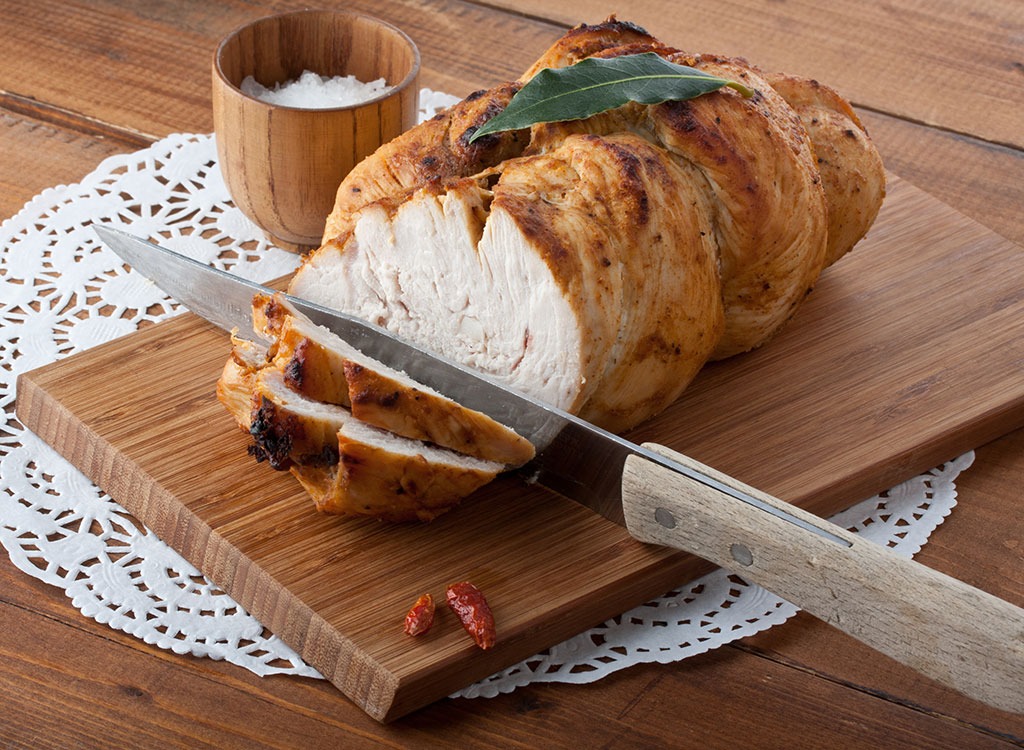 Turkey, grilled chicken, egg, or tempeh are just some of the great proteins that you can add to the center of your grilled cheese to give it more nutritional value and make sure you really please your appetite. Plus, protein can help you lose weight and keeps you fuller longer because of its metabolism-boosting properties. Trust us on this; protein is going to play a major role in shedding the pounds before summer, so it's not a bad idea to get some extra protein in anywhere you can!
RECIPES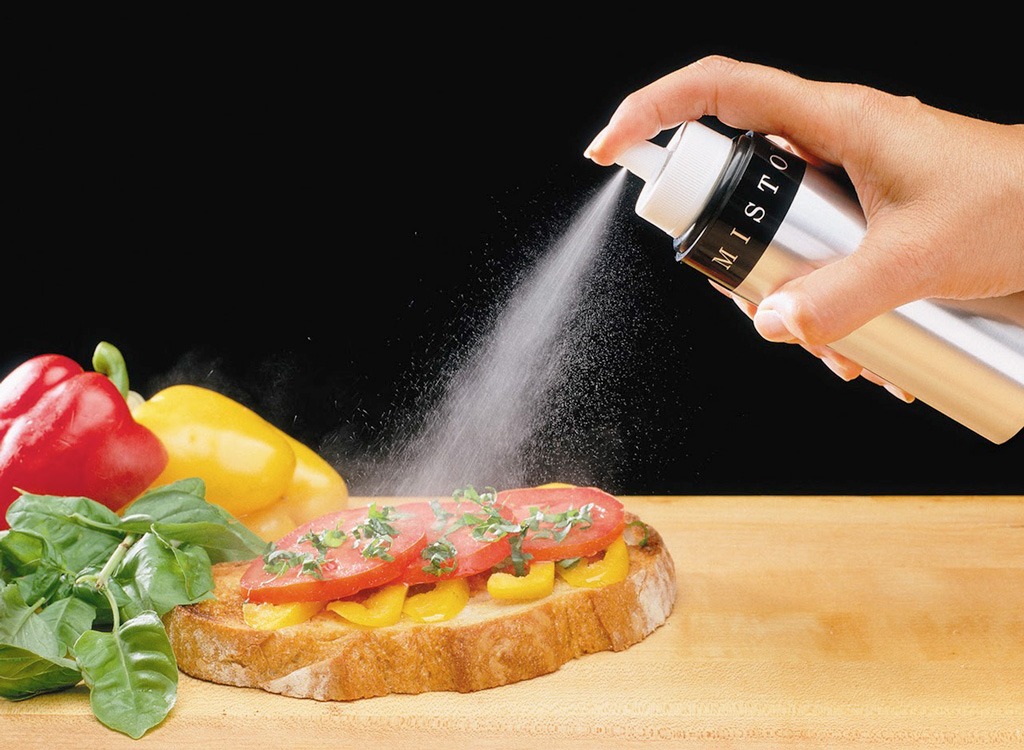 Ready to whip up the most delicious grilled cheese ever? We thought so! Try these out—any time of the year, whether it's National Grilled Cheese Month or not!
LOADED VEGGIE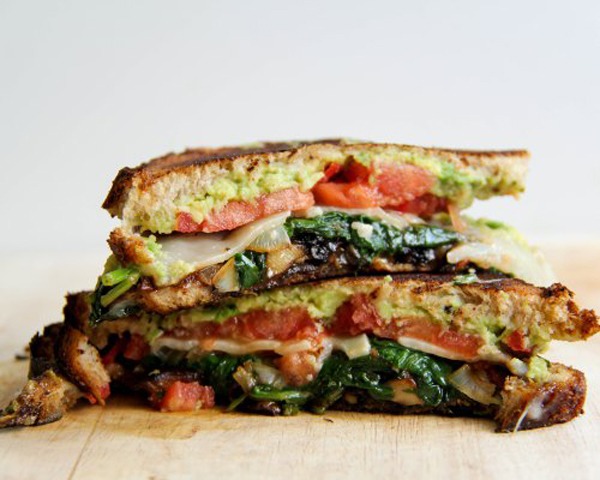 Serves: 1
Nutrition: 538 calories, 31.2 g fat (13.3 g saturated), 825 mg sodium, 49.8 g carbs, 16.3 g fiber, 8.6 g sugar, 26.2 g protein
Veggies, veggies, and more veggies make up this grilled cheese! The flavors of these ingredients come together so well to make your taste buds and belly happy. There's a mix of juiciness from the tomatoes, creaminess from the avocado, and crunch from the toasted bread that combine for a bite you won't forget. The best part—it's so simple to conjure up!
Get the recipe from The Dreaming Foodie.
GRILLED CHEESE ROLL-UPS
Serves: 3
Nutrition: 530 calories, 27.3 g fat (10.3 g saturated), 930 mg sodium, 45 g carbs, 6 g fiber, 6 g sugar, 36 g protein (calculated using mozzarella and olive oil)
Grilled cheese. Rolled up. Don't mind if we do! These are a fun and easy way to fill yourself up without worrying about filling you out. Pair two with a dip of your choice whether it be tomato soup, a savory Greek yogurt dip or hummus.
Get the recipe from Coupon Clipping Cook.
BLACK BEAN AND KALE GRILLED CHEESE
Serves: 1
Nutrition: 542 calories, 30.3 g fat (16.7 g saturated), 660 mg sodium, 40.7 g carbs, 9.9 g fiber, 4.7 g sugar, 27.5 g protein
Black beans are on our list of 8 Foods You Should Eat Every Day for a reason! They have the ability to boost your brainpower like no other bean out there. This also calls for a spicy mustard which is low cal and metabolism boosting. It gives the grilled cheese a nice kick of spice that amps up the flavor that's perfect for a meatless Monday.
Get the recipe from Foodologie.
PESTO GRILLED CHEESE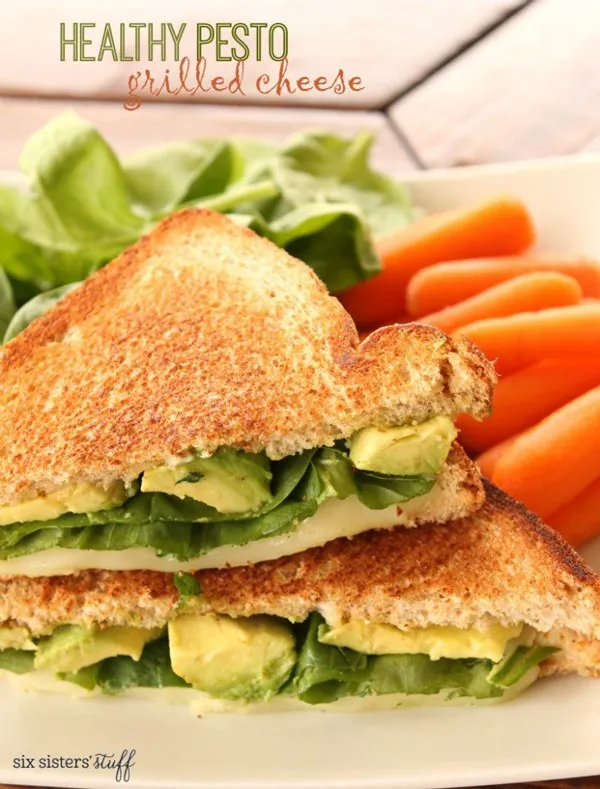 Serves: 3
Nutrition: 613 calories, 41.8 g fat (12.5 g saturated), 722 mg sodium, 38.1 g carbs, 13.2 g fiber, 4.1 g sugar, 26.6 g protein
Simple, wholesome, and super tasty, this grilled cheese has no negatives. You might be looking at the calories and thinking they're a little high, but they're coming from the avocado (which is naturally high in calories and healthy fats that will keep your cholesterol down, reduce abdominal fat and fight hunger).
Get the recipe from Six Sisters Stuff.
ROASTED VEGETABLE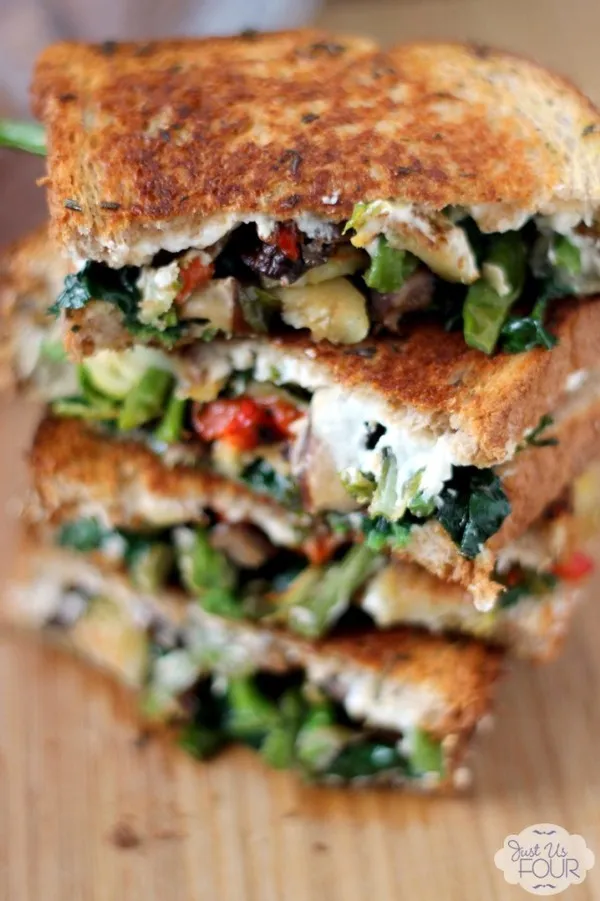 Serves: 2
Nutrition: 394 calories, 24 g fat (10 g saturated), 1058 mg sodium, 27.9 g carbs, 5.4 g fiber, 5.5 g sugar, 18.3 g protein
Just the looks of this grilled cheese stuffed with roasted veggies will make your mouth water. This is the perfect way to have your favorite sandwich and still get in some vital nutrients. Not only are the veggies good for you and taste great, they make the sandwich hearty enough to keep you satisfied longer. Skip the mayo and cream cheese if you want to reduce the fat and spread on some spiced up Greek yogurt.
Get the recipe from Just Us Four Blog.
CARAMEL APPLE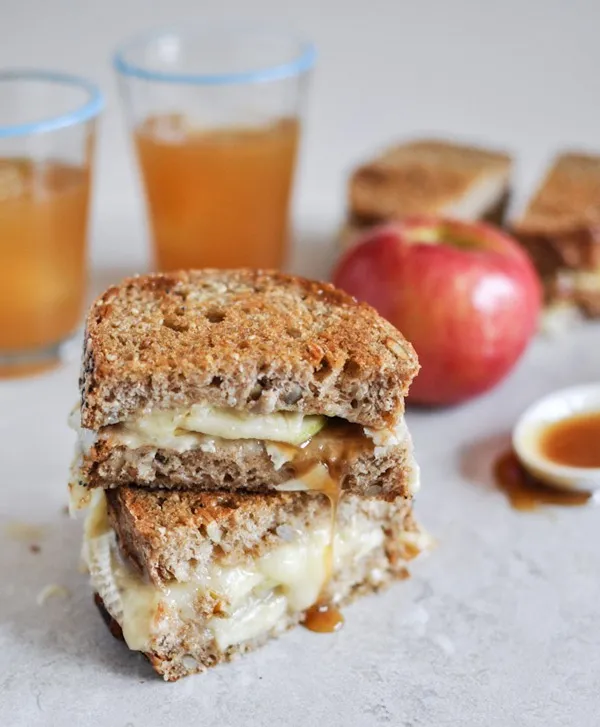 Serves: 2
Nutrition: 562 calories, 29.6 g fat (17.7 g saturated), 661 mg sodium, 57.6 g carbs, 6.4 g fiber, 32.5 g sugar, 19.1 g protein (calculated using maple syrup instead of caramel)
What a sweet way to enjoy the classic grilled cheese! By topping this masterpiece with maple syrup instead of caramel (which is typically made with sugar and heavy cream) will lower the fat intake and not spike your blood sugar levels so drastically. It still has a super sweet taste and antibacterial properties that will help fight disease-causing bacteria.
Get the recipe from How Sweet It is.
TURKEY APPLE-BUTTER AND ARUGULA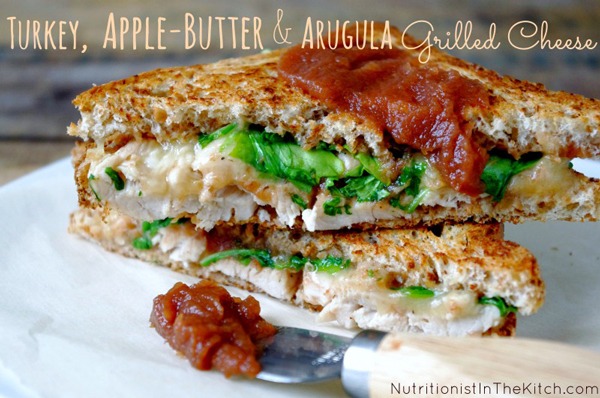 Serves: 4
Nutrition: 308 calories, 7 g fat (2.9 g saturated), 998 mg sodium, 28 g carbs, 9 g sugar, 6 g fiber, 36 g protein
Organic apple butter is a spread that's all natural and all delicious. Not only can it be switched out for those high sugar jams on your PB&J's, but it also tastes great as a sweet touch to your savory treats. The turkey also increases the protein intake and the arugula ups health benefits with tons of vitamins and minerals. Before you slather on your favorite peanut butter, though, find out where it ranks on our exclusive report of The 36 Top Peanut Butters—Ranked.
Get the recipe from Nutritionist in The Kitch.
WAFFLEWICH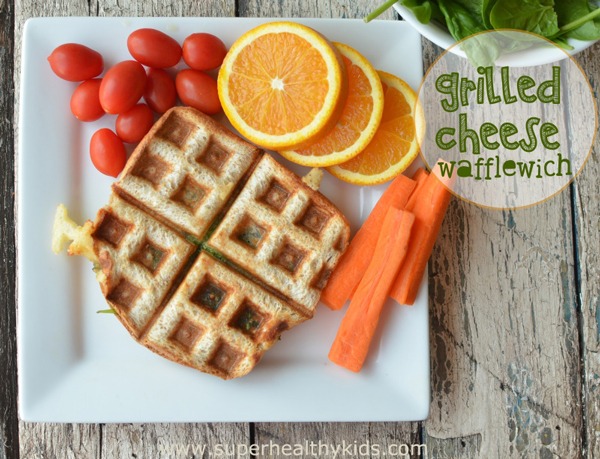 Serves: 1
Nutrition: 248 calories, 10 g fat (5.5 g saturated) 486 mg sodium, 24.6 g carbs, 4.7 g fiber, 3.3 g sugars, 14.4 g protein
Kids will love it, adults will love it—everyone will love it. Bonus: It's super easy to make. It's a fun way to sneak in veggies for the young ones who often push them off. This wafflewich is made of only three ingredients: spinach, cheese and whole wheat bread. Using a waffle maker is a great way to skip the oils and extra fat and still get that crunch you're looking for.
Get the recipe from Super Healthy Kids.
SWEET POTATO AND KALE GRILLED CHEESE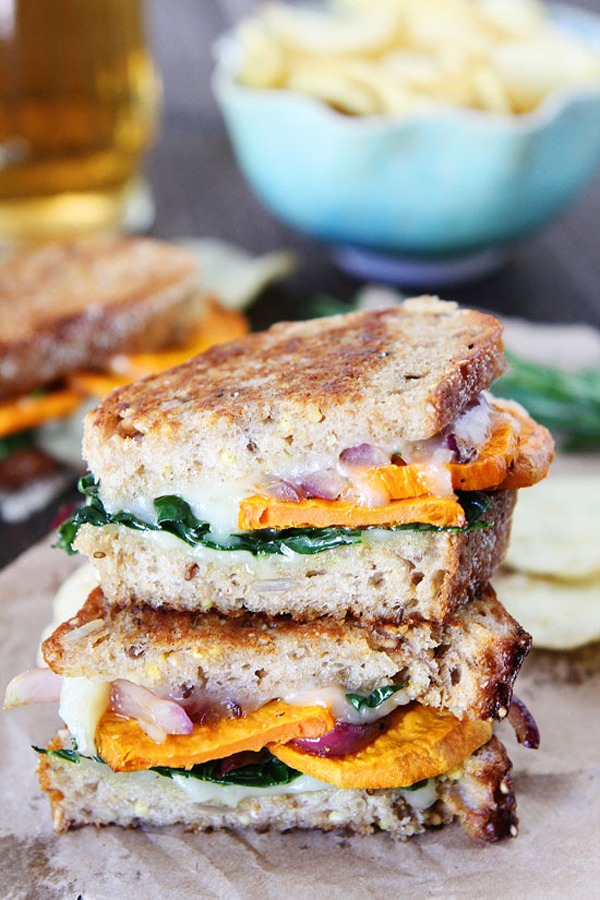 Serves: 2
Nutrition: 523 calories, 32.2 g fat (21 g saturated), 727 mg sodium, 38.6 g carbs, 6.4 g fiber, 8.5 g sugar, 25.5 g protein (calculated with 4 ounces of Havarti cheese and 1 tablespoon each of butter and olive oil)
The texture levels of this sammie are off the chart! With the tender sweet potato, crunchy whole grain bread and melty cheese you a meal that's worth every calorie. By adding kale you also get an extra boost of nutrients! A single cup of kale has 2 grams of fiber and 3 grams of protein that will keep you satiated.
Get the recipe from Two Peas and Their Pod.
ASPARAGUS, CRISPY PROSCIUTTO AND BRIE GRILLED CHEESE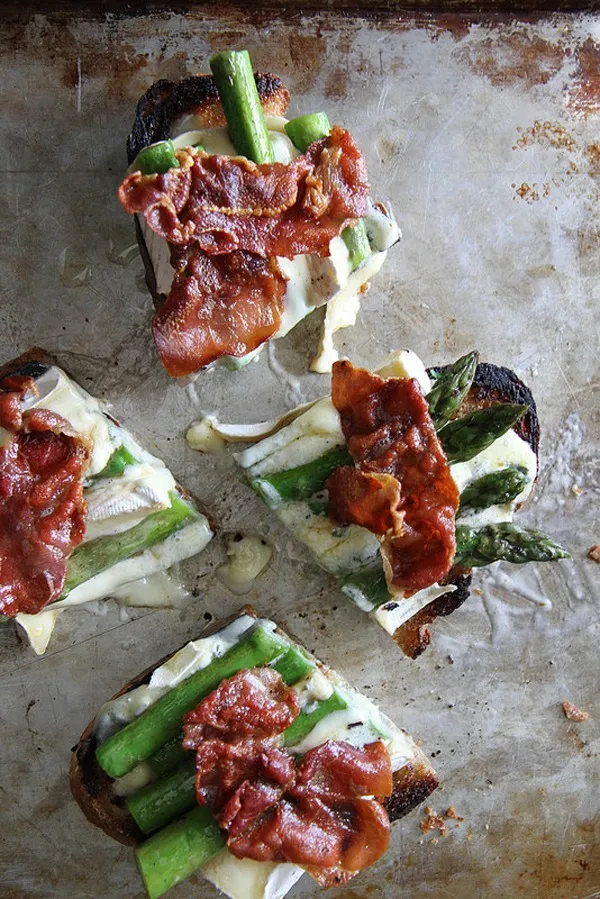 Serves: 4
Nutrition: 348 calories, 25.4 g fat (11.9 g saturated), 1070 mg sodium, 8.8 g carbs, 2.3 g fiber, 2.5 g sugar, 22.6 g protein (calculated with 4 ounces of prosciutto)
This open-faced grilled cheese is topped with savory prosciutto and waist-whittling asparagus. It's a great way to up the flavors and get in some added nutrition. Asparagus is a spring vegetable filled with fiber and vitamins that promote weight loss. If you want to lower the sodium intake switch the prosciutto for turkey! Speaking of Spring, get ready for summer by loading up on these 20 Spring Foods to Help Shed Your Winter Weight.
Get the recipe from Heather Christo.