Healthy Foods That Are Perfect for School Lunch
Mean Girls writer Tina Fey was onto something when she compared the school cafeteria to the African savanna.
And it's not just the menacing bullies, the grouchy lunch ladies or the power politics of the cool kids' table that make this depiction accurate. It's the food.
While we've made huge improvements since the days of deep-fried nuggets and potato chips, the school lunchroom is still a battleground where political forces, from vending-machine businesses to the agricultural industry, jockey for position. And often, our kids are caught in the middle. That's why the editors at Eat This, Not That! magazine gave cheer when the USDA decided to include Chobani Greek yogurt as a protein option in schools starting next year. While many yogurts can have as much sugar as a Snickers bar, Chobani's Greek offerings are relatively light on the sweet stuff and packed with protein.
But why stop there? Keeping kids healthy should be our number one goal, and it's not that hard: On a typical school day, kids consume an average of 527 "empty" calories; cutting just 30 calories a day from a child's intake can make a major difference, Harvard's Steven L. Gortmaker told the New York Times recently. The editors of Eat This, Not That! have chosen some other products that ought to appear on school lunch menus — and on your own dinner table. In the mean time, make sure you and your family are getting the 8 Foods You Should Eat Every Day.
Eat This!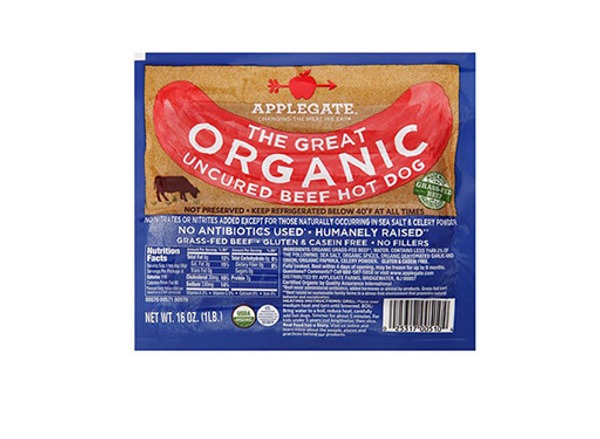 Applegate The Great Organic Beef Hot Dog, 1 hot dog
| | |
| --- | --- |
| Calories | 90 |
| Fat | 7 g |
| Saturated Fat | 3 g |
| Sodium | 280 mg |
| Protein | 6 g |
Most hot dogs are pumped full of fillers, preservatives and bloated amounts of sodium. Instead of continuing to let schools dish up 'dogs with questionable fillers, we're in favor of these cleaned up franks. The two main ingredients are grass-fed beef and water, and they're followed by a small lineup of flavor-packed ingredients that you'll actually recognize, like garlic, paprika and celery powder.6254a4d1642c605c54bf1cab17d50f1e
Eat This!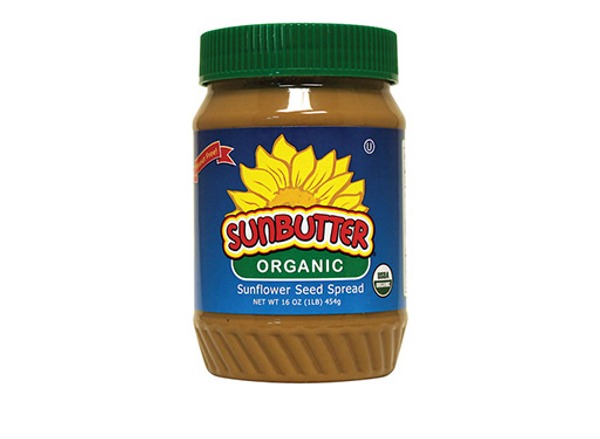 SunButter Organic Sunflower Spread, 2 Tbsp
| | |
| --- | --- |
| Calories | 220 |
| Fat | 20 g |
| Saturated Fat | 2 g |
| Sugar | 1 g |
| Protein | 6 g |
This PB alternative is the perfect second meat-free option for schools: it's allergy-friendly, low in sugar and made from only one ingredient, roasted organic sunflower seeds. Most nut and seed butters are highly processed and loaded with sugars and trans-fatty oils, and contain less of the healthy monounsaturated fats that you truly need. Anything labeled "spread" is even worse. The word "spread" indicates that it's at least 10 percent additives. Ditch the weird oils and mountains of sweeteners, and you'll set kids up for an energized, slump-free afternoon. Use it at home to lose weight and get your kids to eat healthier by adding it to this Best-Ever Healthy Smoothie Recipe.
Drink This!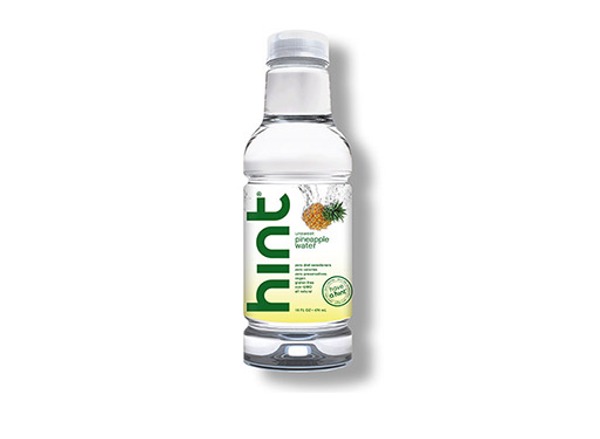 Hint Pineapple Water, 16 fl. oz
| | |
| --- | --- |
| Calories | 0 |
| Fat | 0 g |
| Saturated Fat | 0 g |
| Sodium | 0 mg |
| Sugar | 0 g |
It's boring enough for an adult to try to gulp down eight glasses of water daily. There's no way plain H2O can compete for a kid's palate against the sugary, bubble-bursting taste of soda. That's where Hint water comes in. All of their "unsweet" drinks are spiked with a touch of natural flavor without any natural or artificial sweeteners, making it easier for soda-addicted kids to start the transition to water. Kids between the ages of 6 and 19 don't drink enough water in general, leaving them at least mildly dehydrated, according to a recent study. This can result in fatigue and, potentially, undermine their ability to pay attention in class.
Eat This!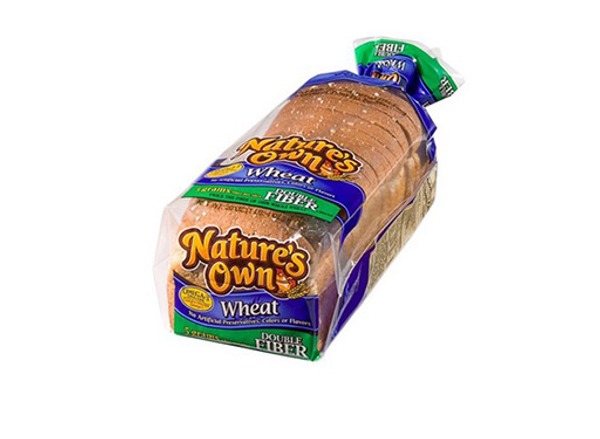 Nature's Own Double Fiber Wheat Bread, 2 slices
| | |
| --- | --- |
| Calories | 100 |
| Fat | 1 g |
| Saturated Fat | 0 g |
| Carbs | 26 g |
| Fiber | 10 g |
| Sugar | less than 2 g |
This bread's nutritional info reads like a report card full of straight As: no high-fructose corn syrup, no artificial flavors, colors or preservatives, high in fiber and made of whole wheat. The bread gets its "double fiber" from the addition of inulin, a natural fiber made from chicory. That boosted fiber count can do something essential for growing minds and bodies: it wards off hunger for hours, keeping them full, focused and away from less nutritious, sugar-filled snacks. And to make a packed sandwich the healthiest it can be, check out our tips in the Eat This, Not That! exclusive report, 8 Easy Ways to Make Every Meal Healthier.
Eat This!
Happy Squeeze Twist Organic Apple, Kale and Mango, 1 squeeze pouch
| | |
| --- | --- |
| Calories | 60 |
| Fat | 0 g |
| Saturated Fat | 0 g |
| Carbs | 14 g |
| Sugar | 11 g |
Plain applesauce is a sugary, soulless treat masquerading as a health food. But the fun packaging of this applesauce replacement ensures your kids will never know the truth: all the sugary apple juice is gone, replaced by whole fruit and, yes, kale. Use this kid-friendly grab-and-go pouch to take some of the struggle out of getting kids to down their vegetables.
Eat This!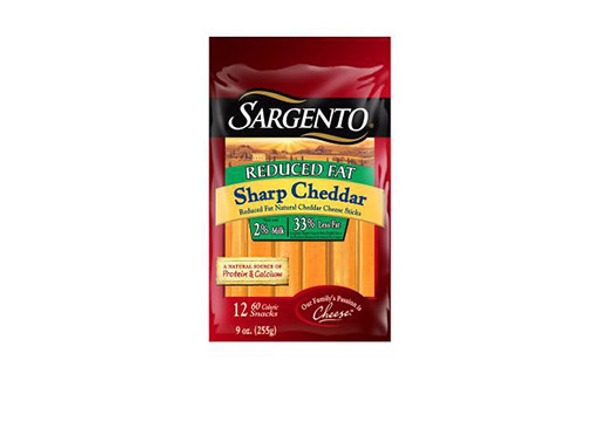 Sargento Reduced-Fat Sharp Cheddar Sticks, 1 stick
| | |
| --- | --- |
| Calories | 60 |
| Fat | 4.5 g |
| Saturated Fat | 3 g |
| Sodium | 135 mg |
| Protein | 5 g |
With five grams of hunger-busting protein and 15 percent of the day's calcium for just 60 calories, portable snacks don't get any better than this. Paired with a piece of fruit, like an apple, it's a perfectly balanced duo that will keep you little one focused through the afternoon, mess free. And if you're looking for a clean, additive-free cheese, look no further: this cheese stick uses a third of the ingredients of its cellophane-wrapped cousin (six to Kraft's 18).
Eat This, Not That!
Inspired by The New York Times best-selling book series, Eat This, Not That! is a brand that's comprised of an award-winning team of journalists and board-certified experts, doctors, nutritionists, chefs, personal trainers, and dietitians who work together to bring you accurate, timely, informative, and actionable content on food, nutrition, dieting, weight loss, health, wellness, and more.
Read more about Eat This