13 'Healthy' Restaurant Orders with More Sugar Than a Can of Coke
If you're trying to cut down on the sweet stuff, it is time to rethink some of your favorite so-called healthy eats.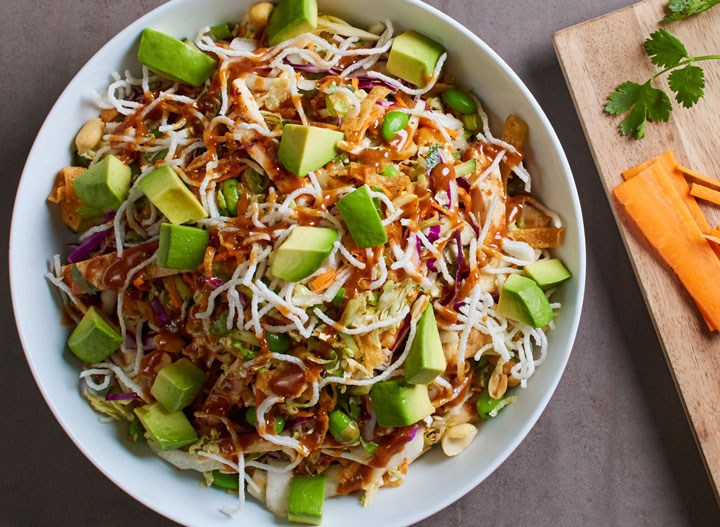 When it comes to making healthier food choices, one of the best things you can do for your overall health (and your waistline) is to cut back on sugar.
Obvious sweet treats like cookies, cakes, and soda are easy enough to pick out and avoid, but what about the secret sugar bombs lurking in your "healthy" meals and snacks? Many seemingly diet-conscious salads, smoothies, and sauces contain more sugar than a can of soda.
If you really want to work on slashing the sweet stuff from your diet, take a peek at these deceptive menu choices—all of which have more sugar than a can of Coke (39 grams)—to learn what items you need to avoid the next time you're choosing a drink, snack, or meal.
Curious what other foods are secretly loaded with sugar? Take a peek at the 35 Sugariest Restaurant Meals on the Planet to learn what else you need to avoid while eating out.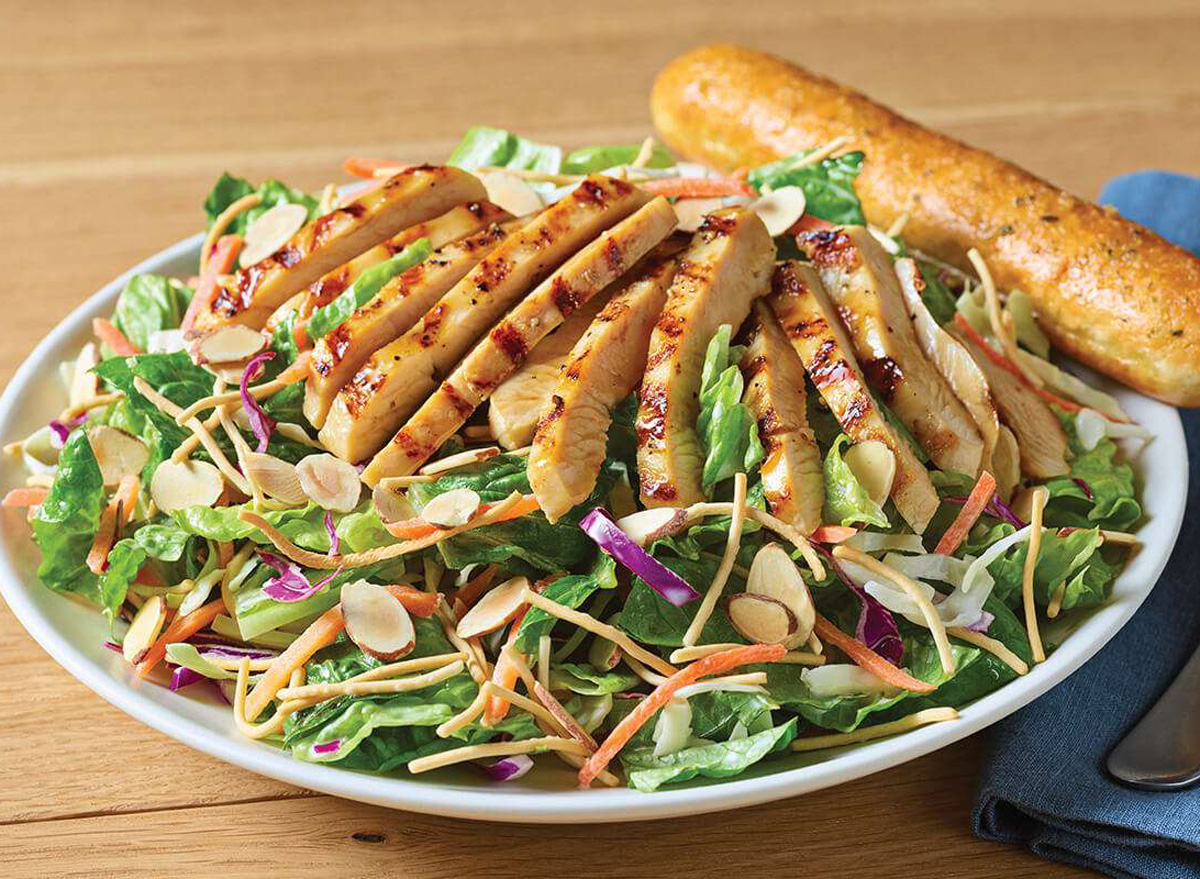 1 entree
: 1,440 calories, 90 g fat (15 g saturated fat, 0.5 g trans fat), 2,250 mg sodium, 106 g carbs (10 g fiber, 53 g sugar), 57 g protein
Salads are often a healthy option, but this is the last thing you want to pick if you are trying to eat light. While grilled chicken is seemingly the healthier option than the fried, this offering is actually higher in sugar by nearly 10 grams. The main problem with this meal is sugar-laden dressing, which contains 12 grams of sugar.
STAY INFORMED: Sign up for our newsletter to get the latest food news delivered straight to your inbox.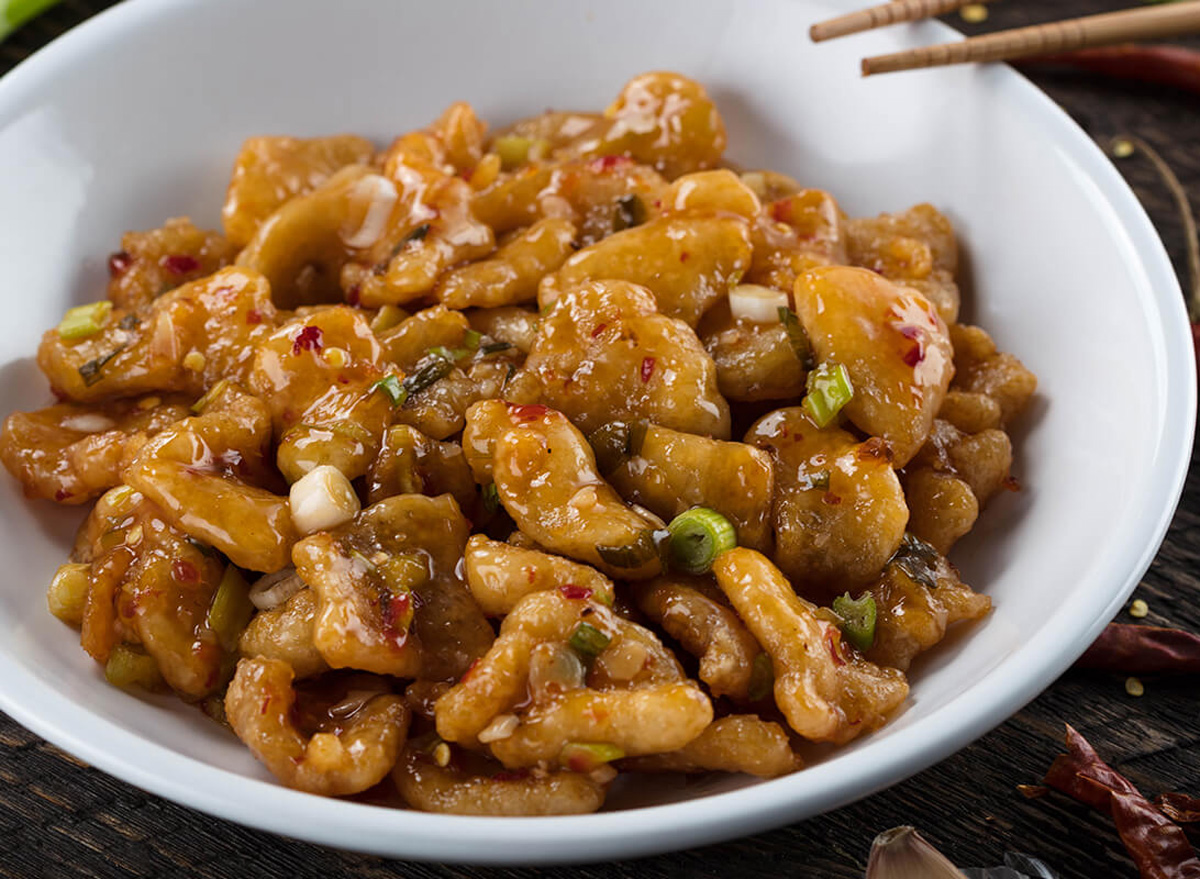 1 entree
: 840 calories, 33 g fat (5 g saturated fat, 0 g trans fat), 1,140 mg sodium, 77 g carbs (1 g fiber, 66 g sugar), 61 g protein
One of the 5 Major Mistakes You're Making on a Gluten-Free Diet is assuming that anything that is gluten-free is healthy. So don't make that mistake with P.F. Chang's Gluten-Free Spicy Chicken.
At P.F. Chang's, this usually healthful vegetable gets coated in a sauce with over 40 grams of sugar, as well as 23 grams of fat. Stick to the steamed version of Budha's Feast if you want to slash calories, sugar, and fat in one fell swoop.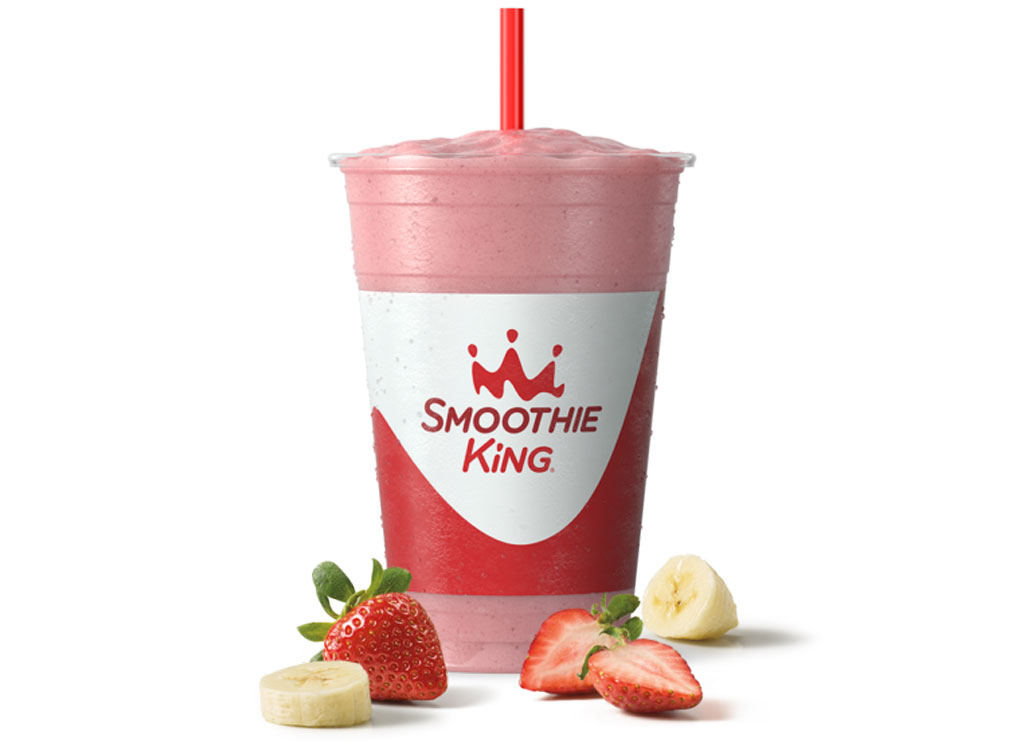 1 smoothie (20 oz)
: 390 calories, 0 g fat (0 g saturated fat), 10 mg sodium, 98 g carbs (4 g fiber, 83 g sugar [50 g added sugar]), 1 g protein
This fruit-based beverage may sound innocent enough, but even its smallest size contains more sugar than two cans of Coke. (The large 40-ounce size contains over four!) In order to get that tropical taste, Smoothie King combines bananas and a papaya juice blend and throws in some turbinado sugar to sweeten the deal. Bananas and papayas both have quite a bit of natural sweetness and condensing them into liquid form (plus adding more sugar) means multiple fruit servings worth of sugar, all blended into one ominous cup.6254a4d1642c605c54bf1cab17d50f1e
1 medium latte (14 oz)
: 340 calories, 9 g fat (7 g saturated fat), 160 mg sodium, 56 g carbs (0 g fiber, 49 g sugar), 10 g protein
Chai lattes are deceptive. While the spicy tea variety itself is filled with antioxidants, lattes made with concentrated syrup are an entirely different story. The first ingredient listed in Dunkin Donuts' Vanilla Chai Powder is sugar, so it's no wonder that even a modestly-sized latte has close to 50 grams of the stuff.
Learn what you should order at Dunkin Donuts by checking out The Best & Worst Dunkin Donuts Coffee Orders For Weight Loss.
1 parfait (10.2 oz)
: 370 calories, 9 g fat (4.5 g saturated fat), 170 mg sodium, 65 g carbs (3 g fiber, 45 g sugar), 11 g protein
Blueberries are a bonafide superfood but the only thing super about this blueberry parfait is its sugar content. Au Bon Pain's blueberry yogurt is sweetened with corn syrup and their granola contains both brown sugar and maple syrup, all of which account for the parfait's cavity-inducing amount of sugar.
1 bowl
: 510 calories, 10 g fat (3.5 g saturated fat), 45 mg sodium, 101 g carbs (11 g fiber, 65 g sugar), 8 g protein
Acai bowls may be a buzzy food trend, but many come with quite a high-sugar price tag and Jamba Juice's version is no exception. Honey, granola, bananas, and the acai juice blend itself all play a role in upping the sweetness factor of this bowl, which contains nearly 70 grams of sugar. While some of this sugar comes from fruit, there is definitely a good amount of added sugar considering that fruit juice concentrates, rice sweetener, sugar, evaporated cane juice, oat syrup solids, molasses, and honey are ingredients.
T.G.I. Friday's Chinese Chicken Salad with Salmon
1 salad
: 1,030 calories, 72 g fat (13 g saturated fat, 0 g trans fat), 2,880 mg sodium, 68 g carbs (8 g fiber, 41 g sugar), 36 g protein
Another innocent-sounding salad that really isn't so innocent after all. The combination of orange slices and a sweet dressing all contribute to the salad's high sugar count.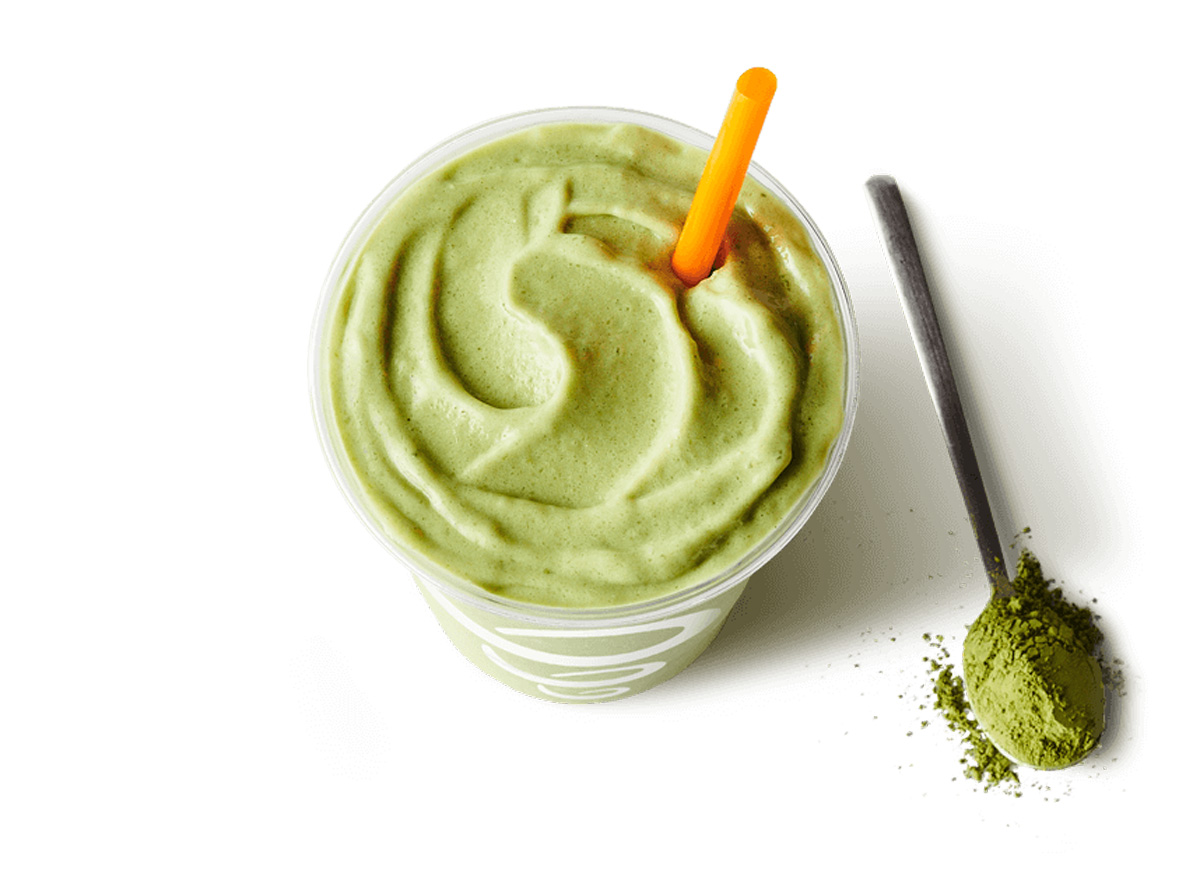 1 small (16 oz)
: 270 calories, 0 g fat (0 g saturated fat), 130 mg sodium, 56 g carbs (1 g fiber, 51 g sugar), 8 g protein
Matcha is rich in antioxidants, but this is by far the worst way to get your green tea fix. Even if you order the smallest size, you're looking at 300 calories and 57 grams of sugar. In order to create a tea blast, matcha powder is blended with sweetened soymilk and frozen yogurt, making this drink a glorified milkshake in disguise.
Skip the extra sugar and try your hand at a homemade smoothie. Check out 56 Smoothies for Weight Loss to pick a recipe that appeals to you.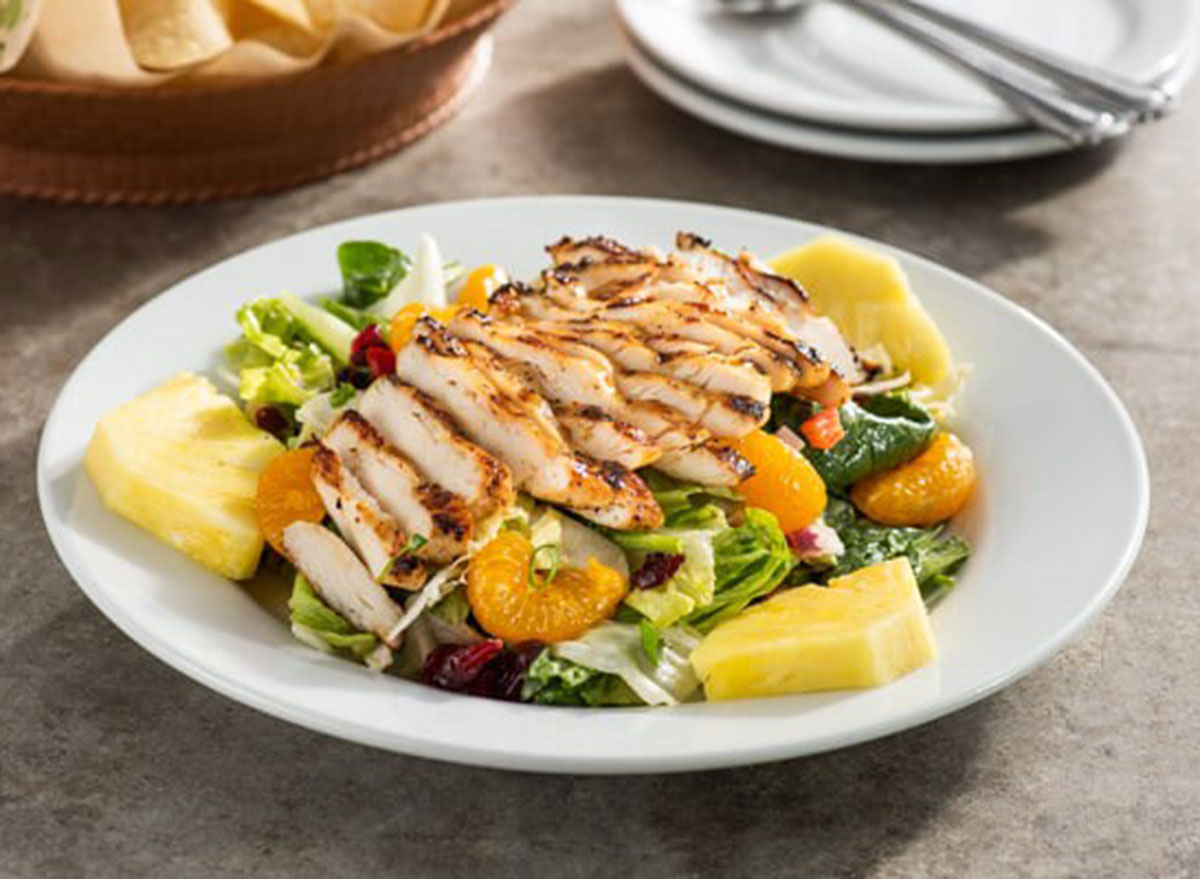 1 salad
: 710 calories, 28 g fat (4.5 g saturated fat), 1,020 mg sodium, 85 g carbs (8 g fiber, 70 g sugar), 34 g protein
Add this to your list of salads to avoid. Chili's island-inspired salad contains super-sweet fruits such as pineapple, dried cranberries, and mandarin oranges, all of which are topped off with a saccharine honey-lime dressing.
California Pizza Kitchen Waldorf Salad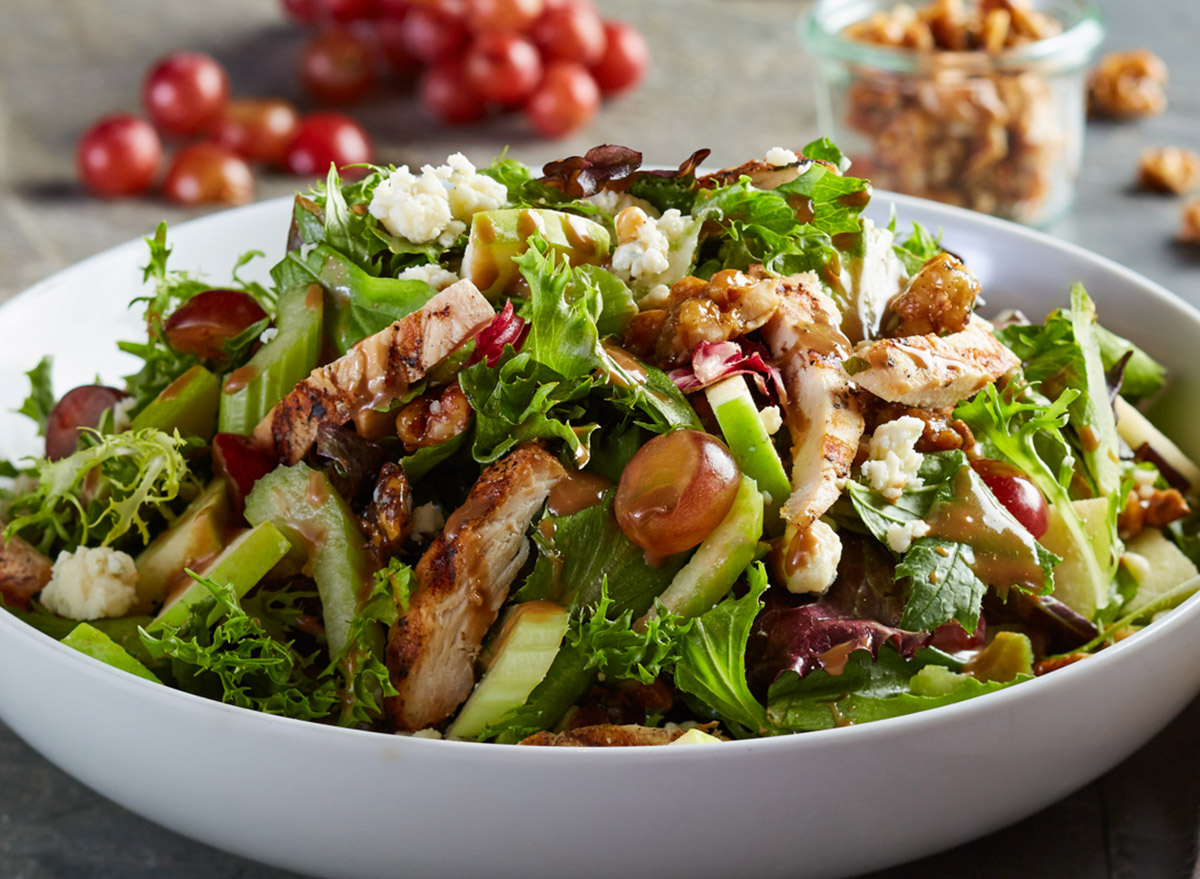 1 full portion
: 1,320 calories, 94 g fat (22 g saturated fat, 0 g trans fat), 2,020 mg sodium, 75 g carbs (10 g fiber, 55 g sugar), 54 g protein
Yet another salad shocker, this bowl of greens contains well over 50 grams of sugar. Between the candied walnuts, apples, grapes, and Dijon balsamic dressing, it's no wonder this salad is nowhere near as virtuous as it may appear.
Cheesecake Factory Barbeque Ranch Chicken Salad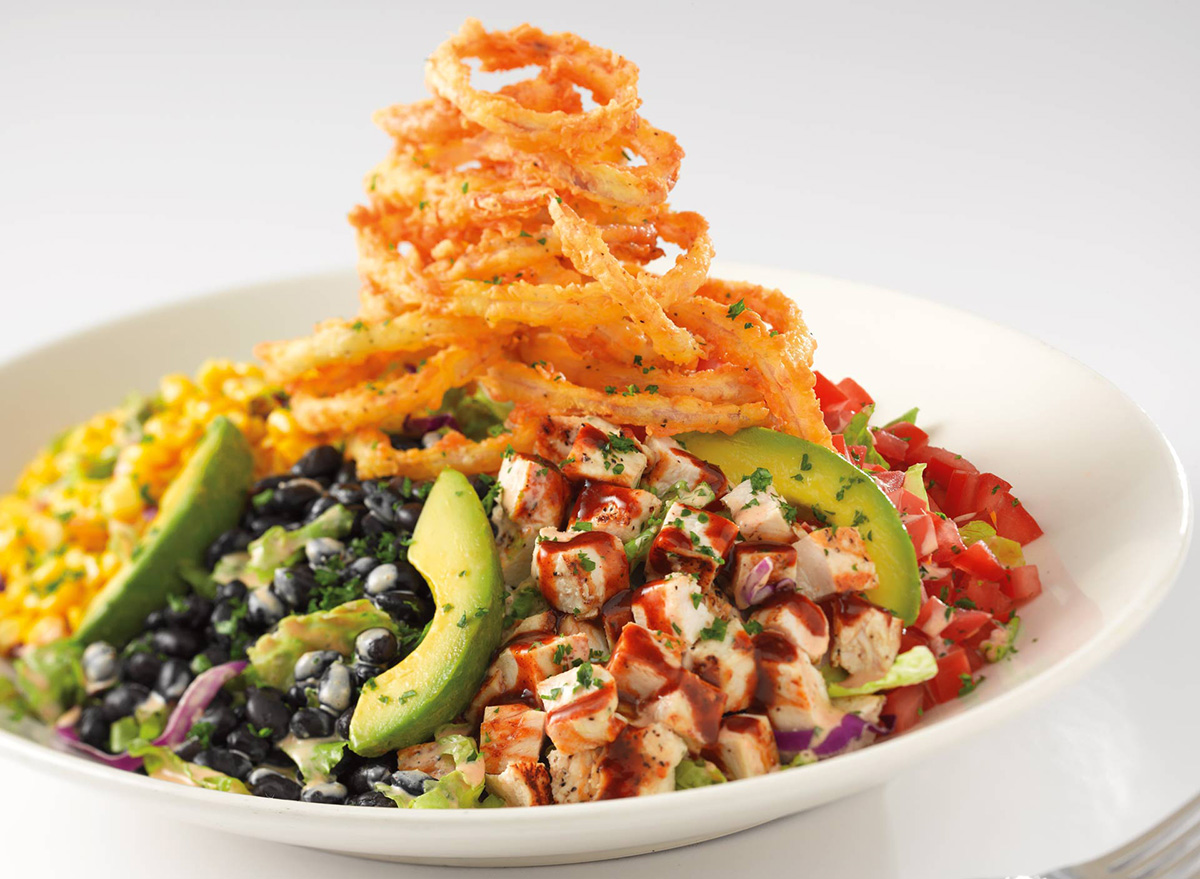 PER salad
: 2,150 calories, 137 g fat (25 g saturated fat, 0 g trans fat), 2,870 mg sodium, 161 g carbs (23 g fiber, 67 g sugar), 66 g protein
Perhaps even worse than this healthy-seeming salad having more sugar than a can of soda is the fact that it has more calories than you should eat in a whole day!
T.G.I. Fridays Grilled Chicken Pecan & Blue Cheese Salad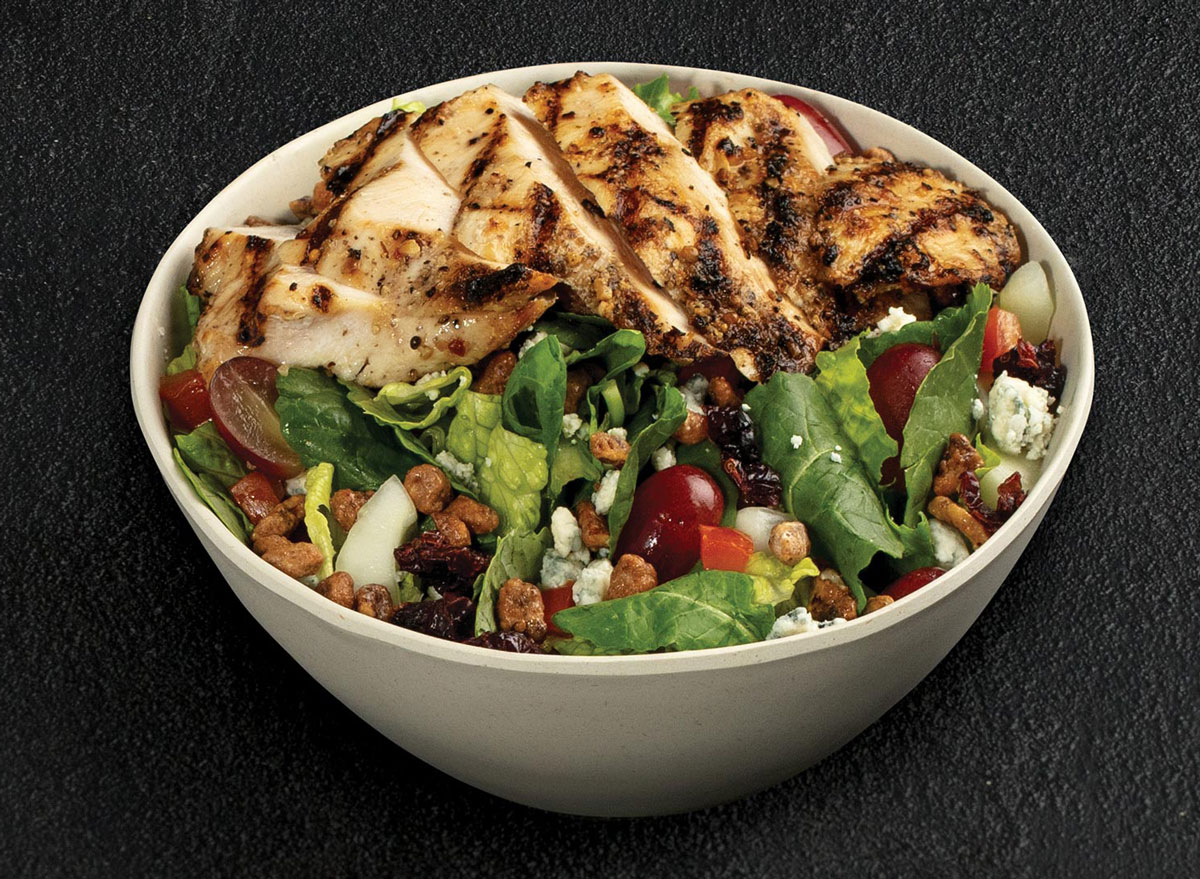 950 calories, 42 g fat (11 g saturated fat), 1,730 mg sodium, 103 g carbs (10 g fiber, 77 g sugar), 49 g protein
Are you surprised that by adding sugar-coated pecans, dried cranberries, and grapes to a salad it could add up to the sugar equivalent of nearly two cans of cola?
California Pizza Kitchen Thai Crunch Salad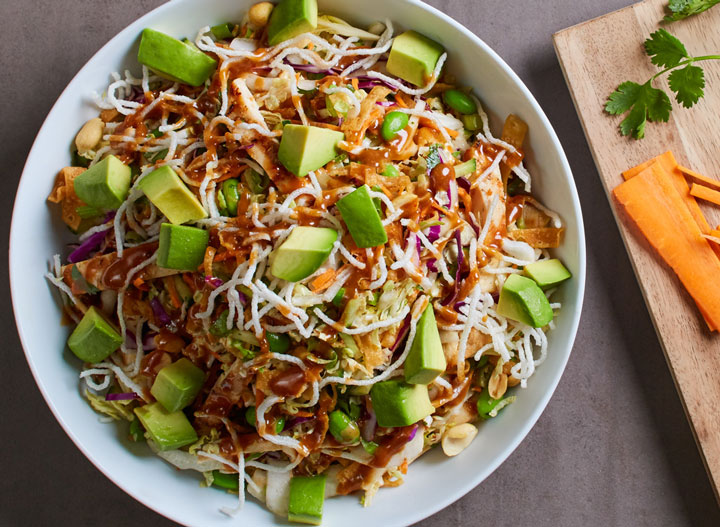 1 full portion
: 1,180 calories, 73 g fat (9 g saturated fat), 1,710 mg sodium, 88 g carbs (14 g fiber, 50 g sugar), 56 g protein
The Waldorf salad is not the only secret sugar bomb at California Pizza Kitchen. The Thai Crunch salad is a close runner-up when it comes to an excessive sugar content in a seemingly innocent salad. Most of the danger here lies in the salad's abundant helping of sweet Thai peanut dressing. If you must order this, be sure to get the dressing on the side so you can reduce the amount of sugar you're consuming.
Looking for some healthier picks when it comes to eating out? Be sure to check out our list of The #1 Healthiest Menu Option at 40 Popular Restaurants.