Why You Shouldn't Feel Guilty Cutting Down Your Wedding Guest List
An expert shares how to deal with one of the most stressful parts of wedding planning: the guest list.
You're engaged—congratulations! Taking that next big step in your relationship is so very exciting. You've found the love of your life and are ready to embark on many new chapters together. Chapter one? Planning the wedding. Visiting different venues and finding the perfect aesthetic that best suits you as a couple is so much fun, but preparing for the big day can be quite stressful—and expensive. We spoke to an expert and are here to let you know how to cut down a wedding guest list and not feel guilty about opting for a smaller celebration.
Many couples are taking the road that's less traditional and planning a smaller, more intimate affair. The problem lies with how to set that tone, keep your special day truly yours, and not feel bad about capturing your own vision. Why is that even a problem? The wedding guest list can be one enormous struggle.
Here's how to cut down a wedding guest list and not feel guilty about it.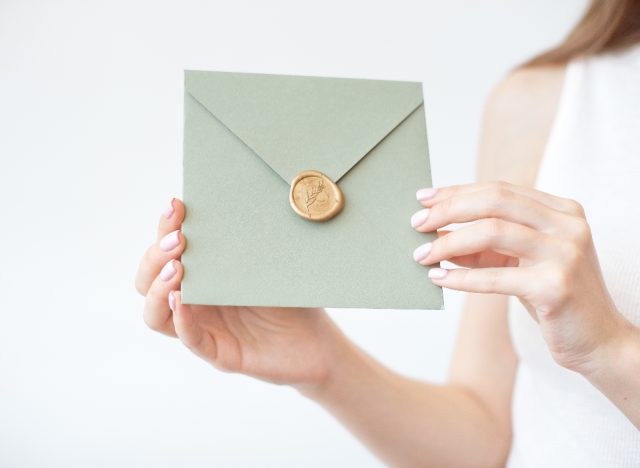 Leanna Stockard, LMFT at LifeStance Health explains, "While you are navigating your wedding stressors, you may feel pressure to invite every single person you know. You may even feel a sense of guilt for not being able to invite every person you want."6254a4d1642c605c54bf1cab17d50f1e
Ah, good old family guilt. What would a beautiful, happy time like a wedding be without it? Whether you're feeling obligated by family or friends to include certain family members, friends, or friends of friends, it's essential to keep in mind that your wedding day belongs to you and your partner, and the decisions are up to both of you—no one else! This includes the size and style of the venue, the number of guests you'd like to attend, and how much you want to spend. What it boils down to is you simply can't invite everyone.
The bottom line? Cut out anyone who won't make your special day the absolute best it can be. "If you are feeling guilty about cutting down your wedding list, remember that you are inviting people that you want to create memories and celebrate with. Think about who on your guest list will help you best encapsulate that, and it may help you prioritize the people you invite," Stockard suggests.
Here's how to handle friends or family members who give you the guilt trip.
Know that you may not be the only one experiencing uneasiness when it comes to cutting down your guest list. It's not uncommon to have friends or relatives throw a guilt trip or awkwardness your way for not being invited (or for not being extended a plus one on their invite). If this happens, Stockard advises that you explain to them you totally get how they're feeling, but the venue has a limit and so does your budget. She points out, "While they may not like the decision that you are making, by engaging in open communication of how this was more of a logistical decision as opposed to a personal reason, it may help them understand."
To work through any uneasy feelings, be reminded once again that this is your wedding day. Everyone in your life should respect all of your decisions. "Making you feel guilty about your decisions is not okay, and if they continue to make you feel guilty after this conversation, it may be warranted to set boundaries around them in daily life, and not just around your wedding," Stockard tells us.
Here's how to deal with other wedding planning stresses.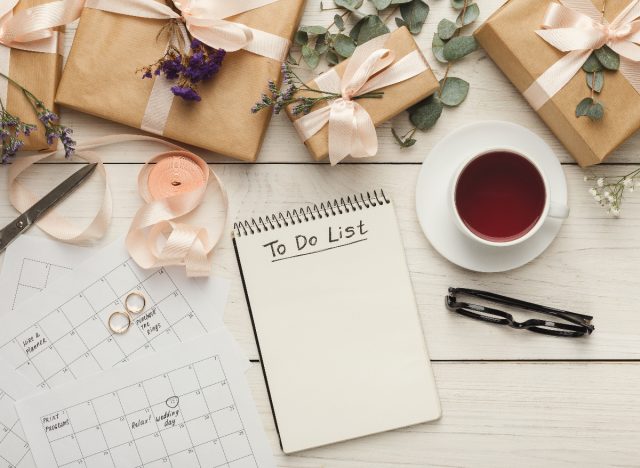 Okay, now that we've discussed that hurdle, we have to point out that the invitation list isn't the only stressful step when it comes to planning your wedding. Once you have your guest list settled, there are additional common matters to consider, including coming up with a manageable budget, choosing a wedding party, deciding on vendors and whether or not you'd like to hire a wedding planner, creating seating charts, sending out invitations, keeping all of the parents happy, and tending to your own sanity.
This can all be quite challenging, and even that's an understatement. On top of everything, your partner may not be as involved in the planning process as you'd like them to be, and the busy parade known as your everyday life—including work, deadlines, and daily tasks—doesn't stop. Take a deep breath, and take it down a notch, because Stockard has solid, helpful advice to overcome the anxiety that comes along with getting married.
She tells us, "I recommend setting manageable goals and working with your partner on determining what each person can be in charge of. When bigger decisions need to be made, engage in an open line of communication with your partner, and all parties involved, to ensure that everyone is on the same page about what is doable, and what is desired."
It's so important to recognize that you don't have to endure the stress that comes along with putting your wedding together alone. "I recommend reaching out to friends and family who have planned a wedding, and rely on their practical and emotional experiences to figure out the best way for you to work through the stress. At the end of the day, remember that you are planning a celebration for you and your partner, feel the positives, the anticipation, and the excitement that comes with your wedding day," says Stockard.
Alexa Mellardo
Alexa is the Mind + Body Deputy Editor of Eat This, Not That!, overseeing the M+B channel and delivering compelling fitness, wellness, and self-care topics to readers.
Read more about Alexa