17 Grocery Swaps That Save $200 a Month
Slash nearly $3,100 from your yearly grocery bill—without having to part ways with all of the delicious, healthy foods you love.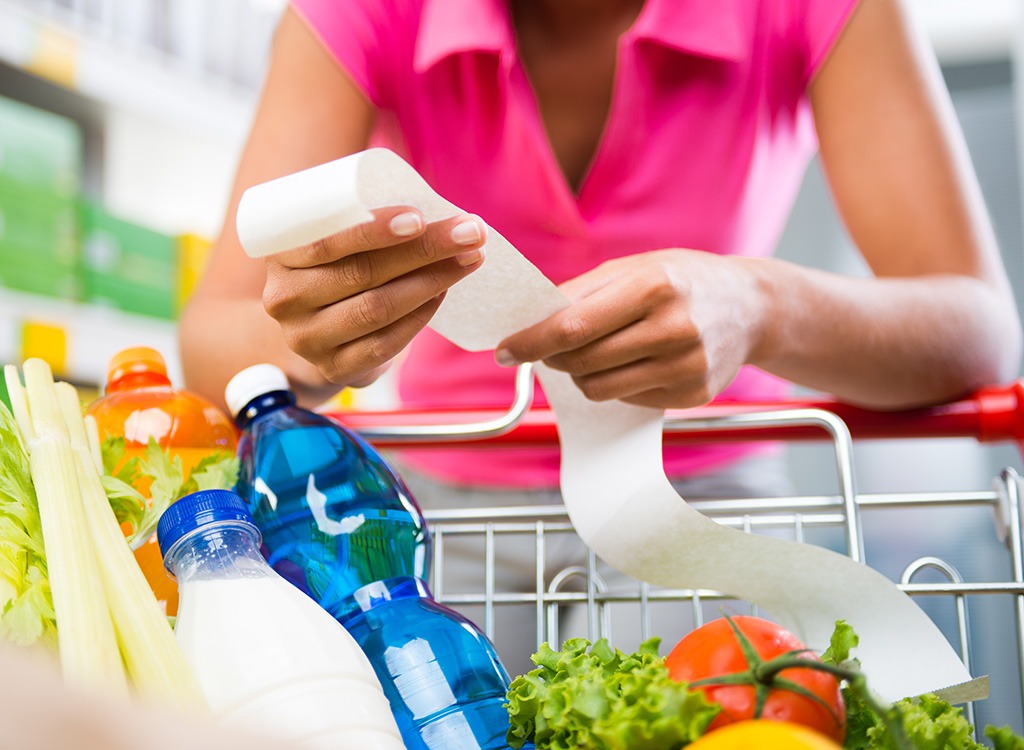 You may have never thought about it, but you could go on an extra vacation, get weekly massages, or even donate thousands to charity each year if it wasn't for one pesky—and costly—expense: your groceries. The average American family of four spends between $568 and $1,293 a month on milk, bread, bananas, and other supermarket staples, according to the USDA. And if that seems like a big chunk of your paycheck, that's because it is. In fact, groceries are the third biggest expense for U.S. households, reports The Bureau of Labor Statistics. But it doesn't have to be.
It's totally possible to fill your shopping cart with all of the healthy foods you love for far less than you currently spend. If you automatically assume this means clipping coupons and can't believe this applies to you, we're about to change your mind! To prove it's possible, we dug deep into the dollars and cents behind some of the most popular grocery items and came up with 17 easy and actionable ways to slash a whopping $255.02 from your weekly grocery bill. Most of our calculations are based on buying one product or food each week, but our methodology was still determined on a case-by-case basis of what might be normal shopping habits. Regardless, in a year's time, that's $3,060.24 to put toward something else in your life, rather than into the cash register. And while you've for groceries on the brain, be sure to check out these 46 Best Supermarket Shopping Tips Ever!
Swap Colors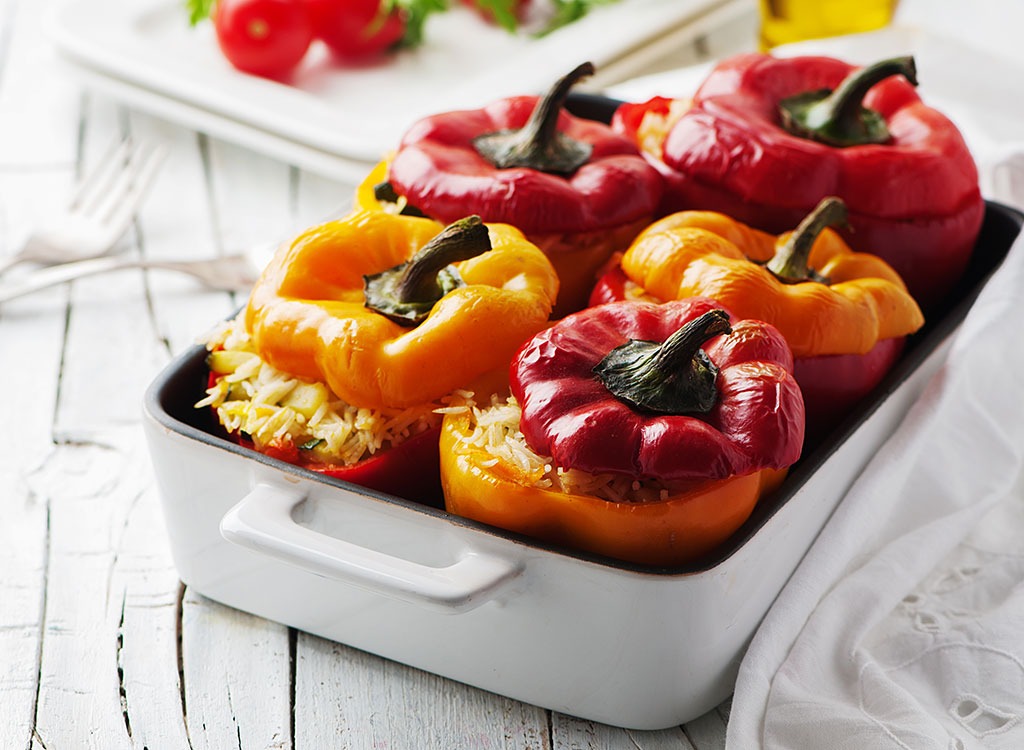 All sweet peppers, regardless of their hue, are a potent source of the metabolism-boosting compound, dihydrocapsiate, which makes them a powerful addition to any weight loss plan. But not all peppers carry the same cost per pound. In fact, green peppers, which run about $2.13 per pound, are 38 percent cheaper than their red cousins that go for about $3.44 per pound, according to a United States Department of Agriculture report. If each week you use just one green pepper instead of a red one, you'll save some dough—and your taste buds will barely notice.
Cash Saved Per Week: $1.31
Cash Saved Per Month: $5.24
Put the Paper Towels Down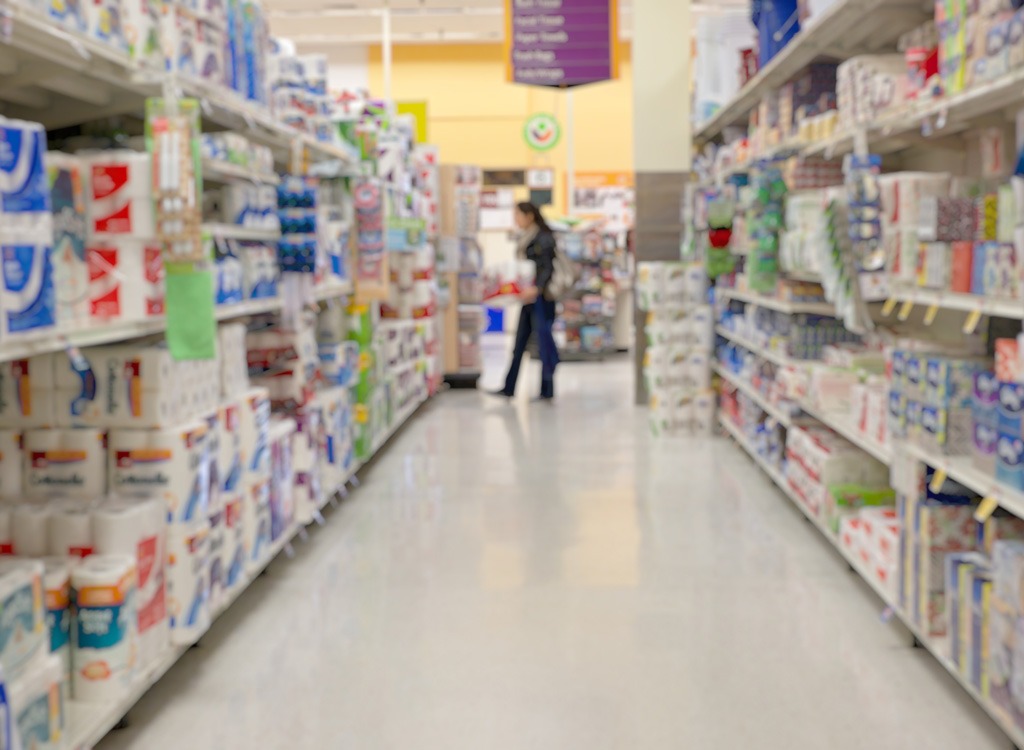 Sure, picking up a few rolls of paper towels may be easiest to do at the market (you're already there, after all), but the convenience comes at an added cost. Some stealthy sleuthing on our part revealed that the same 2-pack of Bounty Select-a-Size Huge Rolls Paper Towels costs $1.02 less in Wal-Mart than in the supermarket. Who knew?! And speaking of kitchen staples, if you've ever wondered how flat-belly foodies stock their cuppards, check out our exclusive report 40 Things Healthy Cooks Always Have in Their Kitchen!
Cash Saved Per Week: $1.02
Cash Saved Per Month: $4.08
Take Out The Cheese Grater
The word "lazy" is practically synonymous with hemorrhaging money. It's an undeniable fact, especially in the grocery store. You likely already know that things like cut up fruits and veggies cost more than whole pieces of produce, but did you know that the same holds true for cheese? According to stats we gathered from Instacart, the fast-growing grocery delivery service whose personal shoppers hand pick and deliver items from local grocers, a 6-ounce bag of shredded cheddar costs $5.99 while an 8-ounce block of the same cheese variety costs a dollar less. So whether you love to top your salads, pizzas or Chipotle-style tacos with some shredded goodness, get yourself a grater; it will save you dough in the long run.
Cash Saved Per Week: $1.00
Cash Saved Per Month: $4.00
Skip Pre-Portioned Foods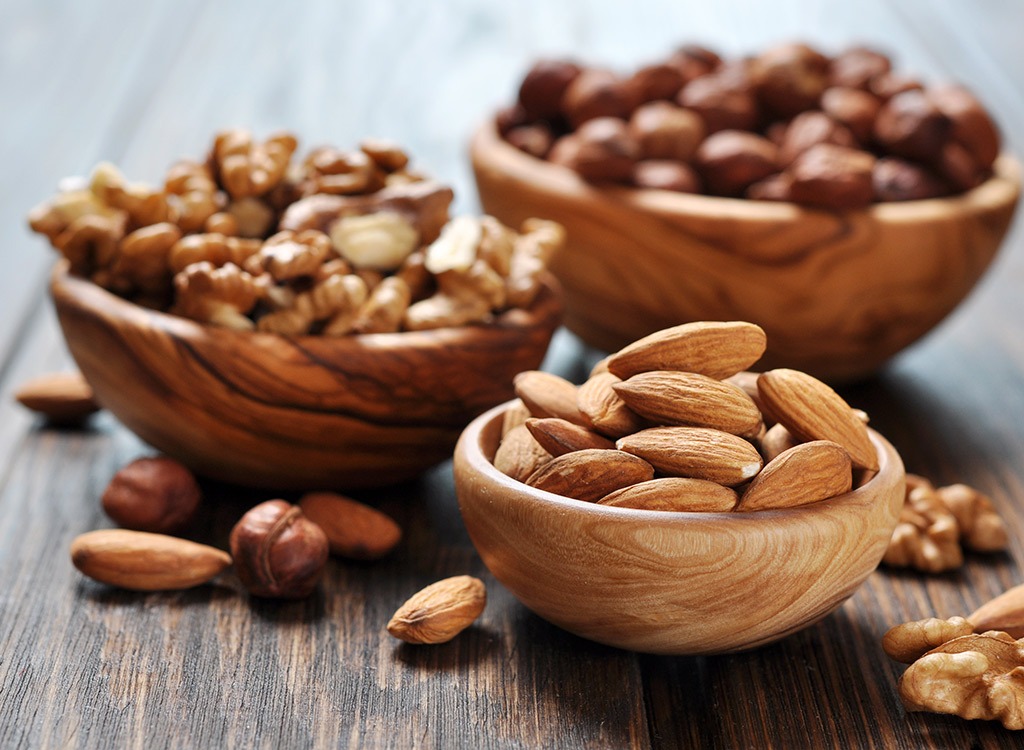 Nuts are packed with heart-healthy fats but they're also filled with calories, which is why we named them one of the 20 Healthy Foods You Better Eat in Moderation. Most people already know this, so we totally get the appeal of grabbing a box of 100-calorie, pre-portioned nuts, but the markup is downright heart-stopping. While a box of Emerald 100 Calorie Packs Walnuts & Almonds, brakes down to $2.25 per ounce, an Emerald Natural Almonds & Walnuts canister is just $0.55 per ounce. That's a 68 percent markup, just to have the manufacturer pre-portion everything for you. To hold onto your cash—without overdoing it—stick to the canister and spoon 2.5 tablespoons (which is 106 calories worth) of nuts into individual plastic snack bags.
Cash Saved Per Week: $6.10
Cash Saved Per Month: $24.40
Bake Your Own Cake
According to consumer savings expert Andrea Woroch, grocery store bakery items are marked up nearly 100 percent! (Did you just die a little? Us, too!) For instance, an 8-inch red velvet cake from Fairway will cost you $22.99, while making a semi-homemade version with a cake mix, pre-made frosting and sprinkles will only run you $9.77. Even if you factored in an extra dollar for the oil and eggs—pantry staples you likely already have at home—you'd still save more than $11. Note: Most health-conscious consumers aren't buying cakes every time they shop (if ever), so we only accounted for one monthly cake purchase.
Cash Saved Per Month: $12.22
Know When to Go Organic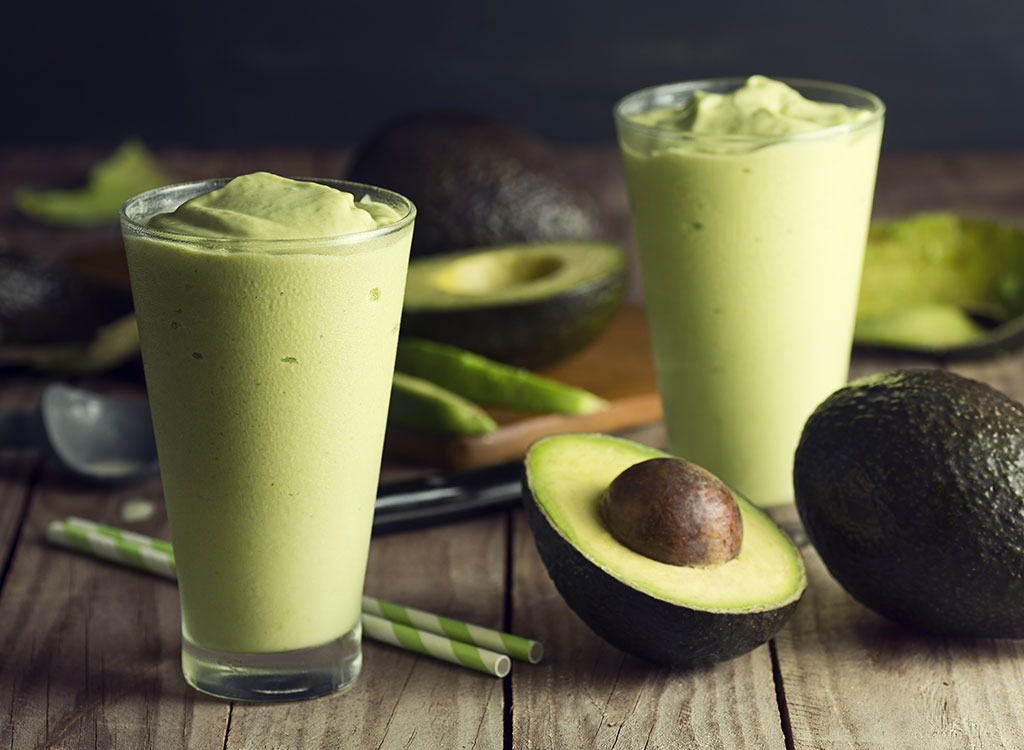 The Environmental Working Group (EWG), an organization that studies pesticide contamination, ranks avocados among the most-pesticide-free fruits—even when grown conventionally. That said, there's no reason to shell out the extra $0.99 per fruit for the organic variety. In fact, as a general rule, anything you have to peel before you eat it (such as a banana, for example) is relatively low in pesticides. If you want to eat organic, splurge on produce with permeable or edible skin, such as peaches, lettuce, and apples—and save cash on things that are on the EWG's Clean Fifteen list.
Cash Saved Per Week: $0.99
Cash Saved Per Month: $3.96
Buy Cheaper—But Equally Healthy—Equivalents
It may be the golden child of the food world, but loading up on quinoa at your local market costs about $7.50 per pound. Equally-as-healthy millet, on the other hand, is just $1.99 per pound. Millet and quinoa are both naturally gluten-free, and each provides fiber and magnesium, two nutrients that regulate blood sugar levels and aid weight loss, explains Spokesperson for the Academy of Nutrition and Dietetics Lori Zanini. So long as you aren't a vegan or a vegetarian that relies on quinoa as a complete source of protein, this cost-saving switch is a no brainer. And speaking of carbs that can help you get skinny, check out these 25 Best Carbs for Weight Loss!
Cash Saved Per Week: $5.50
Cash Saved Per Month: $22.00
Mix Up Your Meats
6254a4d1642c605c54bf1cab17d50f1e
Ground beef prices have skyrocketed over the past few years, with the average cost per pound reaching a gut-wrenching $3.98 in January 2016. If you think that sounds steep, our local market was selling lean ground beef for $9.99 per pound—and 94% ground turkey for just $5.99 per pound. If you typically pick up 2-pounds of beef per week, swap one pound out for turkey (one of the 29 Best-Ever Proteins for Weight Loss) to save $16 per month—that's enough to buy a movie ticket or a manicure!
Cash Saved Per Week: $4
Cash Saved Per Month: $16
Catch a Bargain
Frozen fish is just as healthy as its fresh counterparts and it tastes just as good. Plus, most "fresh" fish sold at the supermarket was likely frozen at some point before it wound up behind the market's glass, so it doesn't make much sense to shell out the extra cents for fresh fillets. At our local Whole Foods market, for example, wild salmon fillets at the seafood counter were selling for $29.99 per pound while their store-brand wild salmon frozen fillets, which come in 12-ounce bags, go for $11.99, or $15.98 per pound.
Cash Saved Per Week: $14.01
Cash Saved Per Month: $56.04
Pick Bagged Over Canned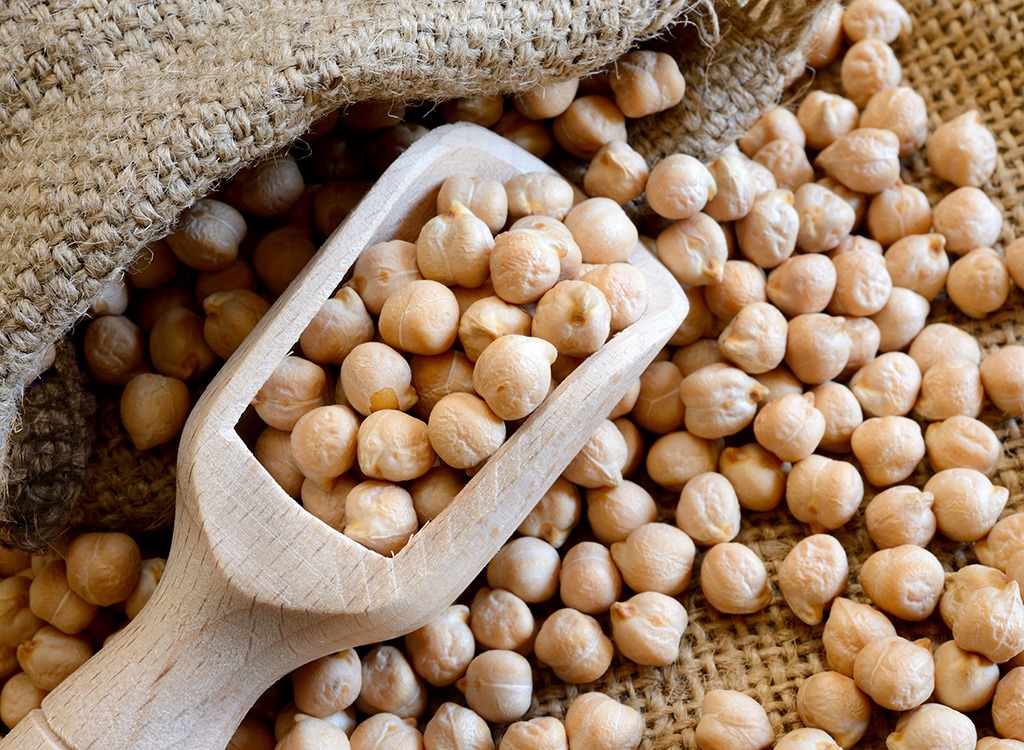 Here at Eat This, Not That!, we love, love, love chickpeas! Why? Not only are they prime sources of fiber and muscle-building protein, they're extremely versatile, making an appearance in everything from risottos to brownies. (Yes, seriously! Check out these 20 Amazing, Surprising Ways to Eat Chickpeas for more creative ideas.) The only downside? They can be a bit pricey. A 15.5-ounce can of Goya Chickpeas goes for $0.99 at our local market while a 16-ounce bag of Goya's dried chickpeas goes for $1.69—but yields three cups of soaked and cooked legumes, which is more than three times what you get in the can. To get more bang for your buck, stick with the bagged variety, cook a big batch, then freeze extras.
Cash Saved Per Week: $1.28
Cash Saved Per Month: $5.12
(Note: Savings calculation based on the assumption that the consumer would purchase enough chickpeas to yield 3 edible cups.)
Consider Frozen Produce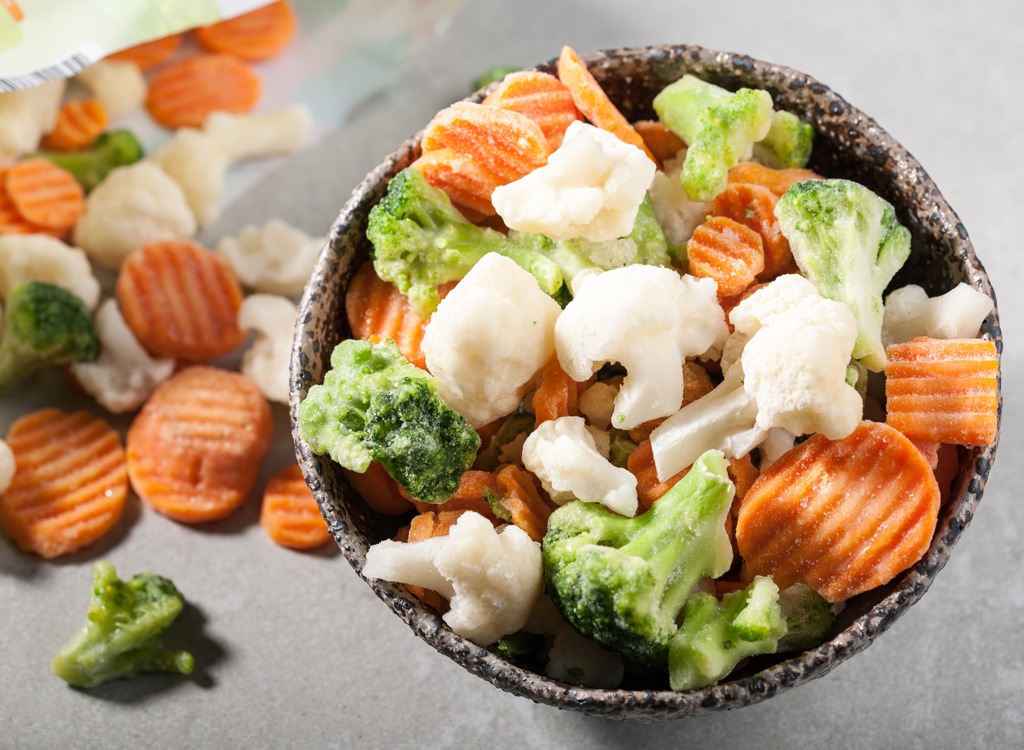 Buying fresh produce may seem like the smartest move, but the truth is that most frozen fruits and veggies are just as healthy—if not healthier in some cases because they're frozen at their peak—than their fresh counterparts. Plus, they're usually cheaper and don't spoil. The best part: Freezer produce serves as a great meal-starters when you're running low on kitchen reserves. Frozen broccoli, for example, which is $0.59 cheaper than the fresh variety at Fairway, can easily be thrown into a pan with some cubed chicken, minced garlic, dried herbs, salt and pepper and served over a bed of millet or brown rice. For more time-saving healthy meal ideas, check out these 35 Healthy Crock Pot Recipes.
Cash Saved Per Week: $0.59
Cash Saved Per Month: $2.36
Opt for Store Brands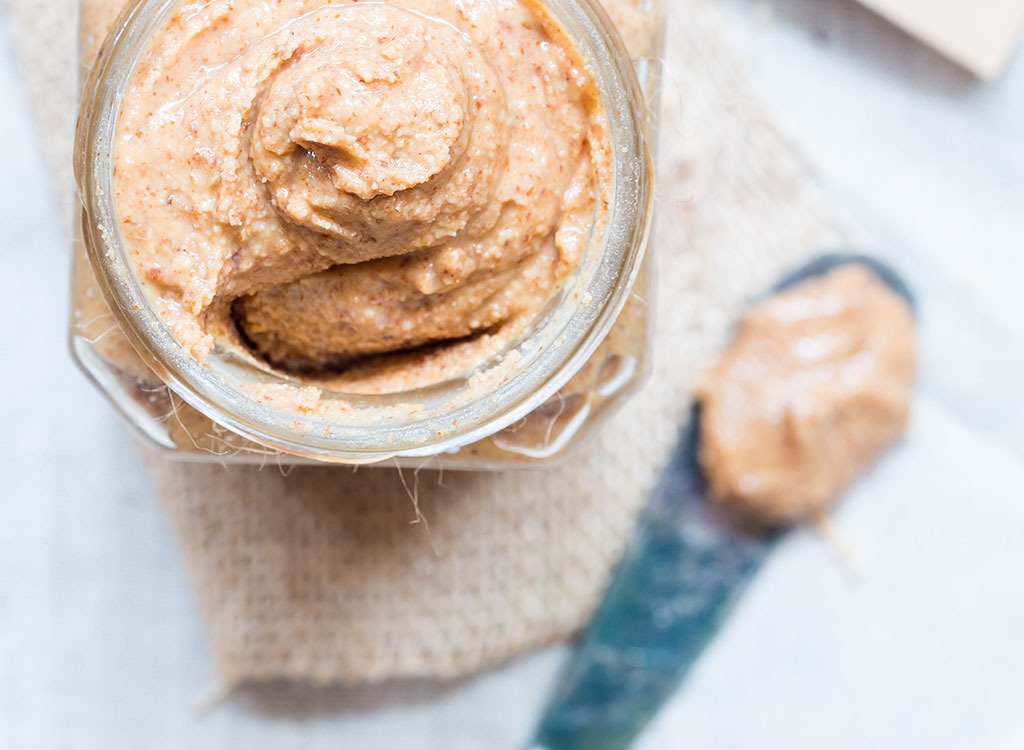 When it comes to family, friends, and even business, it pays to be loyal. But when it comes to purchasing name brand products, loyalty can suction the cash right out of your wallet—especially for pricier items like natural nut butter. While Whole Foods' in-house brand 365 sells its 16-ounce container of Creamy Unsweetened Peanut Butter for $4.99, the same size jar of Maranatha Organic Creamy Peanut Butter goes for $8.99! For a "cheap" protein that's a pretty steep price. So long as you're not sacrificing nutritional quality, switch to the store brand to save.
Cash Saved Per Week: $4.00
Cash Saved Per Month: $16
Do Your Own Chopping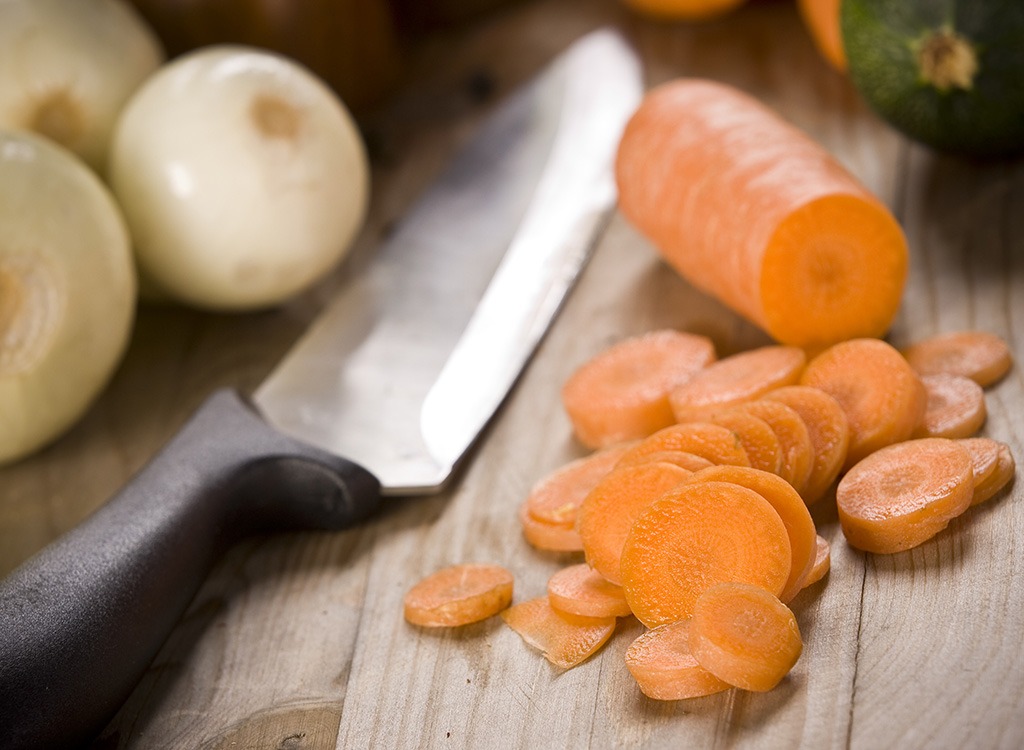 Get this: Two pounds of carrots (one of The 50 Best Food for Your Penis) cost $1.29 while the same amount of pre-cut carrot sticks sells for $7.16, according to a Consumer Reports study. Like grating your own cheese, slicing and dicing your own vegetables and fruits can be a major cash saver.
Cash Saved Per Week: $5.87
Cash Saved Per Month: $23.48
Stop at the Drugstore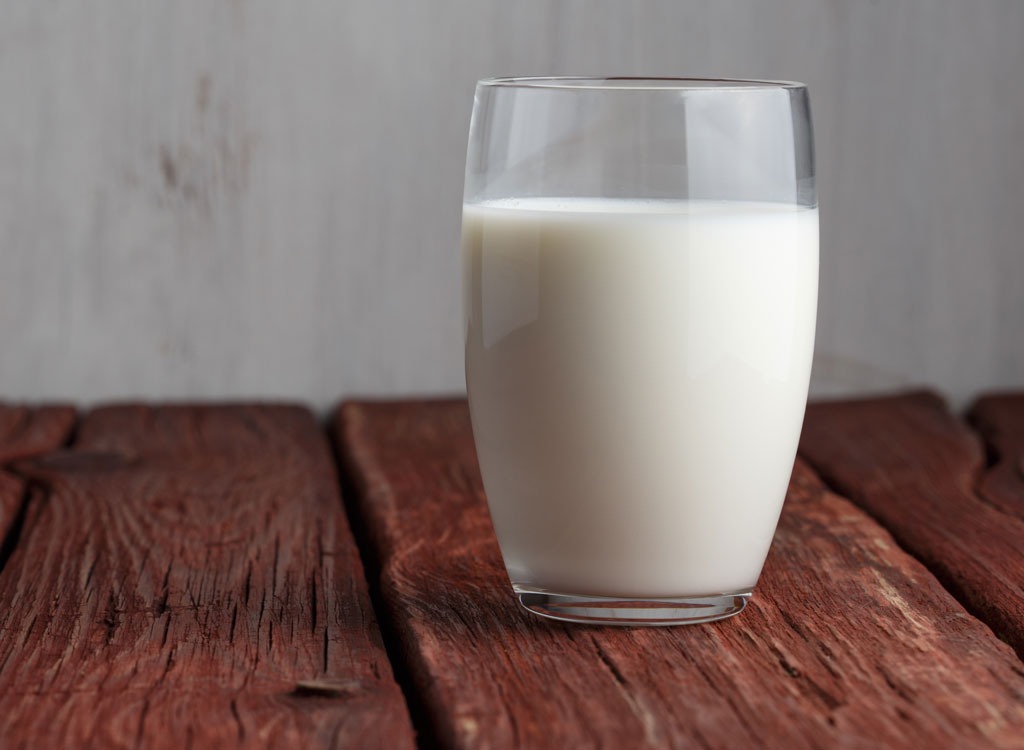 It may not have shocked you to learn that you shouldn't purchase paper towels at the grocery store, but that's not the only staple you should purchase elsewhere. Milk typically costs $0.30 to $0.50 less per gallon at drugstores than it does at the supermarket, according to Teri Gault, author of "Shop Smart Save More." Who knew?!
Cash Saved Per Week: $0.50
Cash Saved Per Month: $2.00
Harbor Your Green Thumb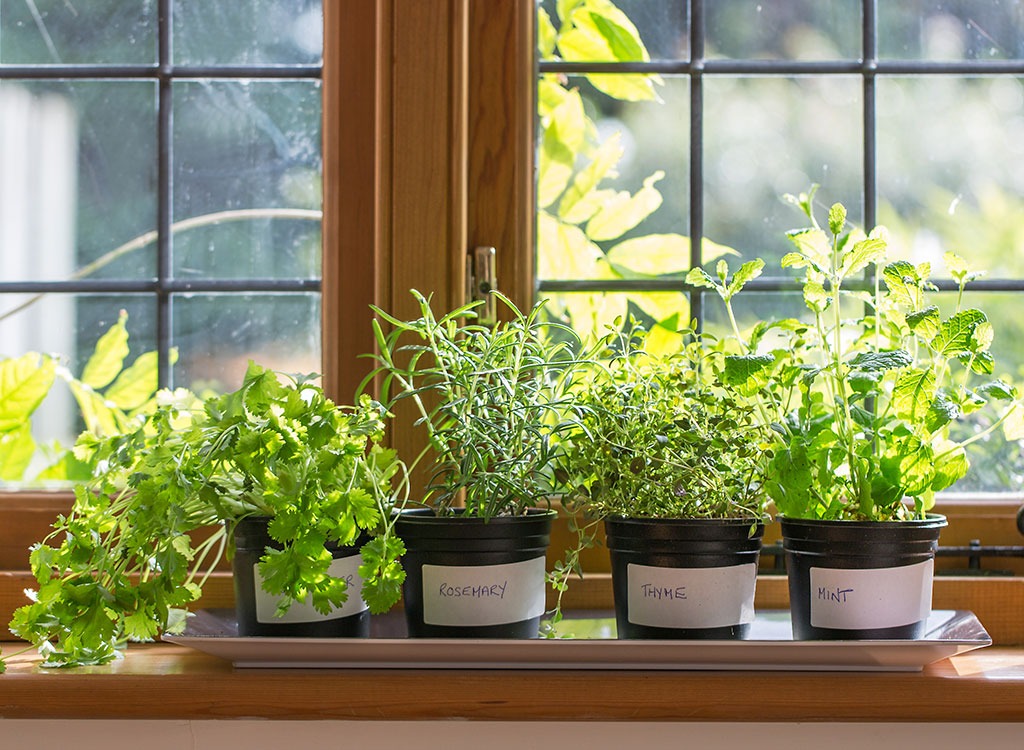 I've all come across recipes that call for a tablespoon or two of fresh herbs. And I don't know about you, but everytime I buy a bundle of basil or thyme—it wilts and dies before I can use it up! Talk about throwing money out of the window. Potted basil and thyme plants, however, will cost you a cool $3.98 at Whole Foods. Buying packaged bundles of the same plants could go up to $6.68, collectively. The smarter pick here is clear.
Cash Saved Per Week: $2.70
Cash Saved Per Month: $10.80
Don't Buy Soda—or Bottled Water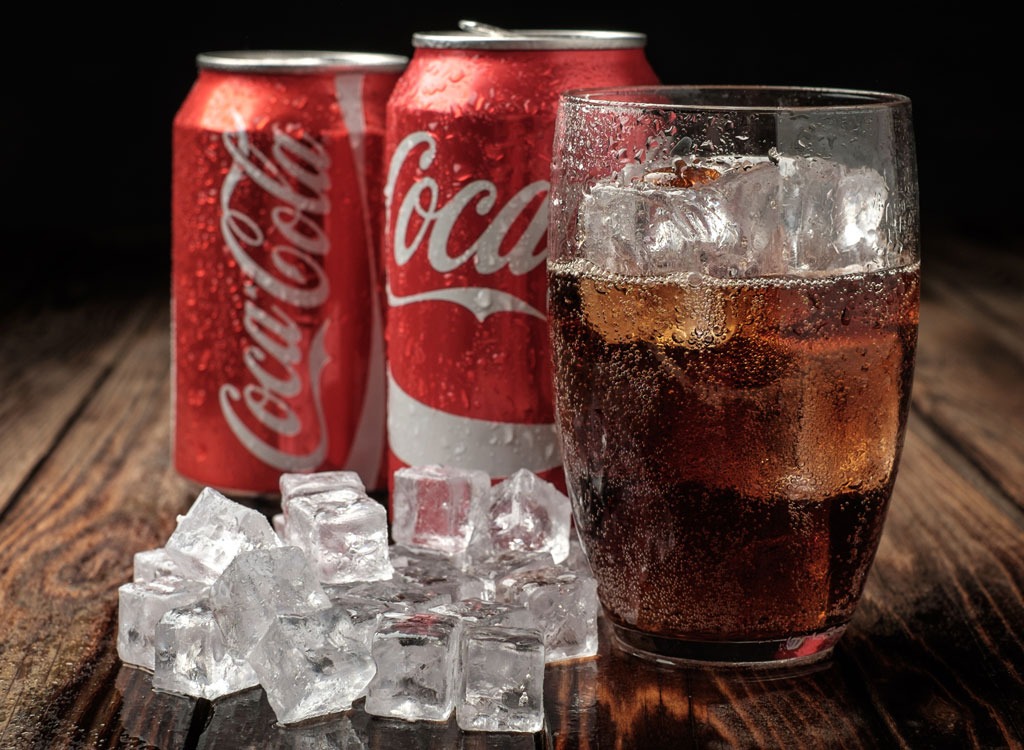 Fun fact, guys: A few years back, Aquafina and Nestle Pure Life were both forced to change their labels to accurately describe where their water came from: public water sources—the same stuff that comes out of your kitchen faucet. So why are you shelling out your hard earned cash for the stuff? A 24-pack costs $5.99—money that could be used to get a refillable water bottle so you'll never have to buy another hard-to-carry pack again. And don't even get us started on soda. Not only is it filled with health-harming chemicals and ingredients that have been linked to cancer and weight gain, but it's not exactly cheap. Two liter-sized bottles of cola cost about $2.50—which, over time, can really put a dent in your wallet. Our advice: Keep your $8.49 by kicking your bottled beverage habit and whip up one of these 50 Best Detox Waters for Fat Burning and Weight Loss instead.
Cash Saved Per Week: $8.49
Cash Saved Per Month: $33.96
Stock Up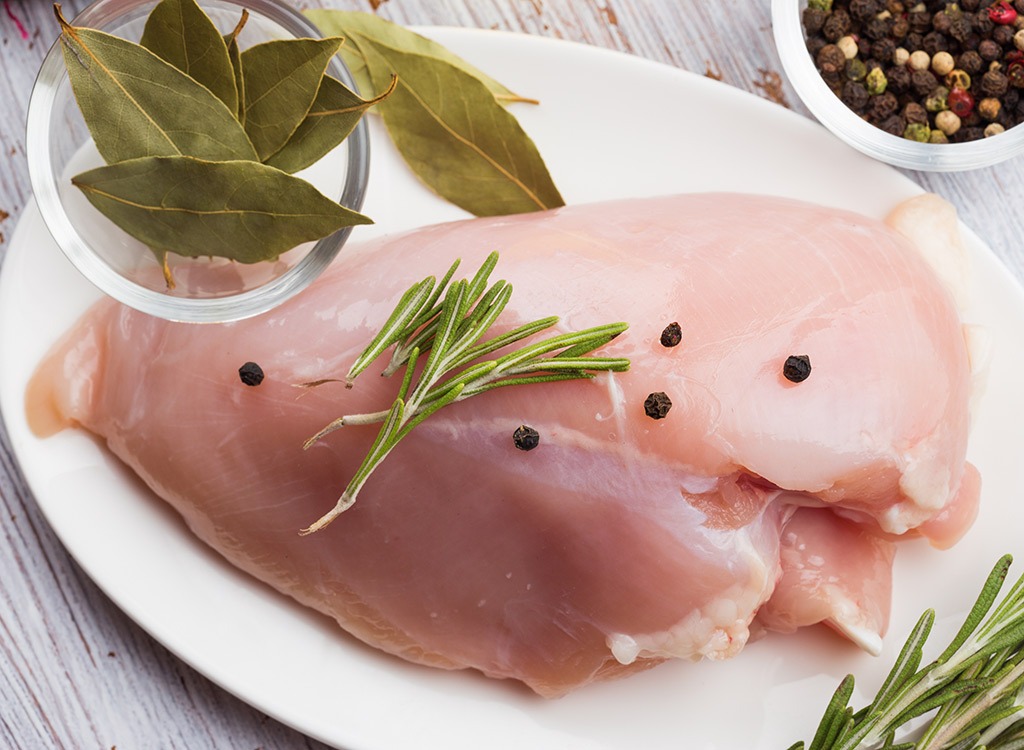 Boneless chicken breasts, one of the most pricey cuts of poultry, isn't so expensive for those willing to buy it in bulk. A pack of Costco's Kirkland Signature Boneless Skinless Chicken Breast costs $33.73 for a 9.14-pound pack. If you were to stock up on the amount of meat at your local supermarket, it would cost you about $40.41, Instacart data reveals. Not sure how to keep nine pounds of poultry interesting? These 35 Best-Ever Chicken Recipes for Weight Loss can help!
Cash Saved Bi-Weekly: $6.68
Cash Saved Per Month: $13.36