Healthy Loaded Vegetable Frittata Recipe
This recipe is packed with veggies, protein, and fiber for a healthy breakfast that's actually filling.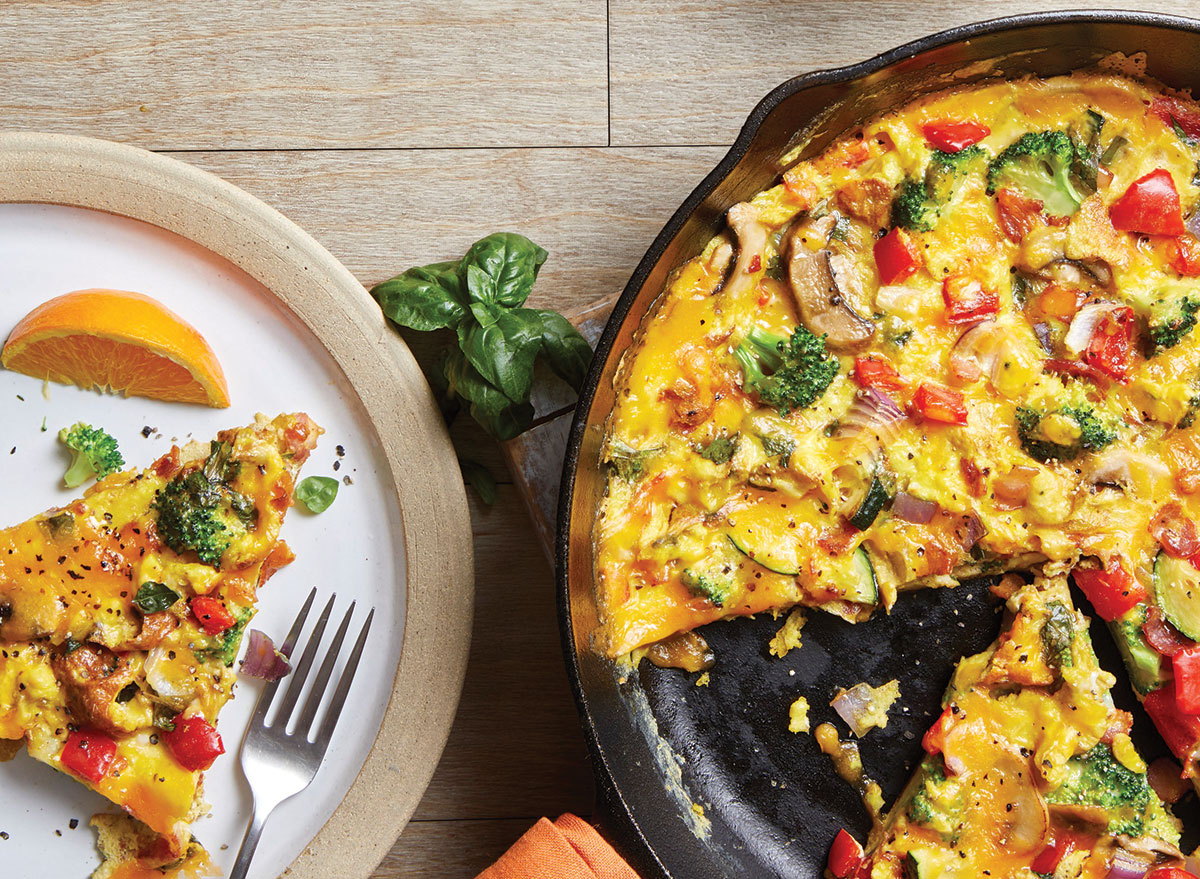 Eggs are a nutritious and filling way to start your day, but if you pair fried eggs with a few slices of crispy bacon, that healthy breakfast can become something else entirely. Enter this loaded vegetable frittata recipe, which is the best of both worlds. You'll need a broiler and a skillet for this one, but it's definitely worth it.
Eggs are nutritional powerhouses, plain and simple. But if you're getting bored of your typical hard-boiled eggs, this frittata recipe will help you spice things up. It's loaded with bacon and all kinds of veggies, plus a little cheese, salt, and pepper for maximum flavor.
Two slices of real bacon are included in this frittata, which boasts a whopping 20 grams of protein per serving. But alongside the chopped bacon bits, there are also plenty of nutritious vegetables, including red sweet pepper, broccoli, and mushrooms. You'll still get that delicious, salty bacon flavor, but it won't overpower the whole dish. Instead, it'll add a rich taste to the frittata and enhance the vegetables in this one-pan wonder. (You can always substitute other veggies in, too, based on what's in season and your taste preferences.)6254a4d1642c605c54bf1cab17d50f1e
A lot happens to your body when you eat eggs, so you're in for a real treat with this meal, nutrition-wise. Eggs can help boost your immune system and even improve your brain function. Plus, they can help your eyes and bones, too. Eggs are rich in the antioxidants lutein and zeaxanthin, which can help you stave off cataracts and macular degeneration later in life. They're also high in vitamin D, which can help strengthen your teeth and bones. Plus, eggs contain choline, which can help keep your liver healthy, as well as keep your mind sharp in the years to come.
Eggs are one of the cheapest and healthiest ways to add more protein into your diet, and protein is just one of the many benefits they provide, no matter how you eat them. From all of the antioxidants they provide to their relatively low-calorie content, eggs are a one-stop shop, nutrition-wise. Instead of a fried eggs and bacon combo, this healthy vegetable frittata amps up the antioxidants, protein, and fiber for a filling, healthy breakfast that will keep you satiated.
There are countless reasons you should be eating more eggs, but this frittata recipe might just be the most delicious one.
Nutrition: 250 calories, 12 g fat (5 g saturated), 450 mg sodium, 5 g sugar, 20 g protein, 8 g fiber
Makes 4 servings
Ingredients
2 slices bacon, chopped
1 1/2 cups sliced fresh button mushrooms (4 ounces)
1/2 cup chopped onion
1/2 cup chopped red sweet pepper
1/2 medium summer squash, quartered lengthwise and cut into 1/4-inch-thick slices
1 cup fresh broccoli florets, coarsely chopped
6 eggs
4 egg whites
2 Tbsp chopped fresh basil
1/4 tsp salt
1/4 tsp black pepper
1/4 cup shredded reduced-fat cheddar cheese (1 ounce)
How to Make It
Preheat broiler. In a broiler-safe 10-inch skillet, cook bacon over medium heat until browned and crisp. Remove bacon to drain on a paper-towel-lined plate, reserving drippings.
Add mushrooms, onion, and red sweet pepper to skillet; cook 3 minutes. Add squash and broccoli; cook 3 to 4 minutes more or until vegetables are crisp-tender. Stir in reserved bacon.
In a medium bowl, whisk together eggs, egg whites, basil, salt, and pepper. Pour egg mixture over vegetables in skillet. Cook over medium heat. As mixture sets, run a spatula around edge of skillet, lifting egg mixture so uncooked portion flows underneath. Continue cooking and lifting edges until egg mixture is almost set (surface will be moist). Sprinkle with cheese.
Place the skillet under broiler 4 to 5 inches from heat. Broil 1 to 2 minutes, or until the top is just set and the cheese is melted. (Or bake in a 400°F oven for 5 minutes until the top is set.)