Chris Hemsworth's Trainer Reveals The 'Thor' Star's Current Workout
Yes, even Thor works out hard.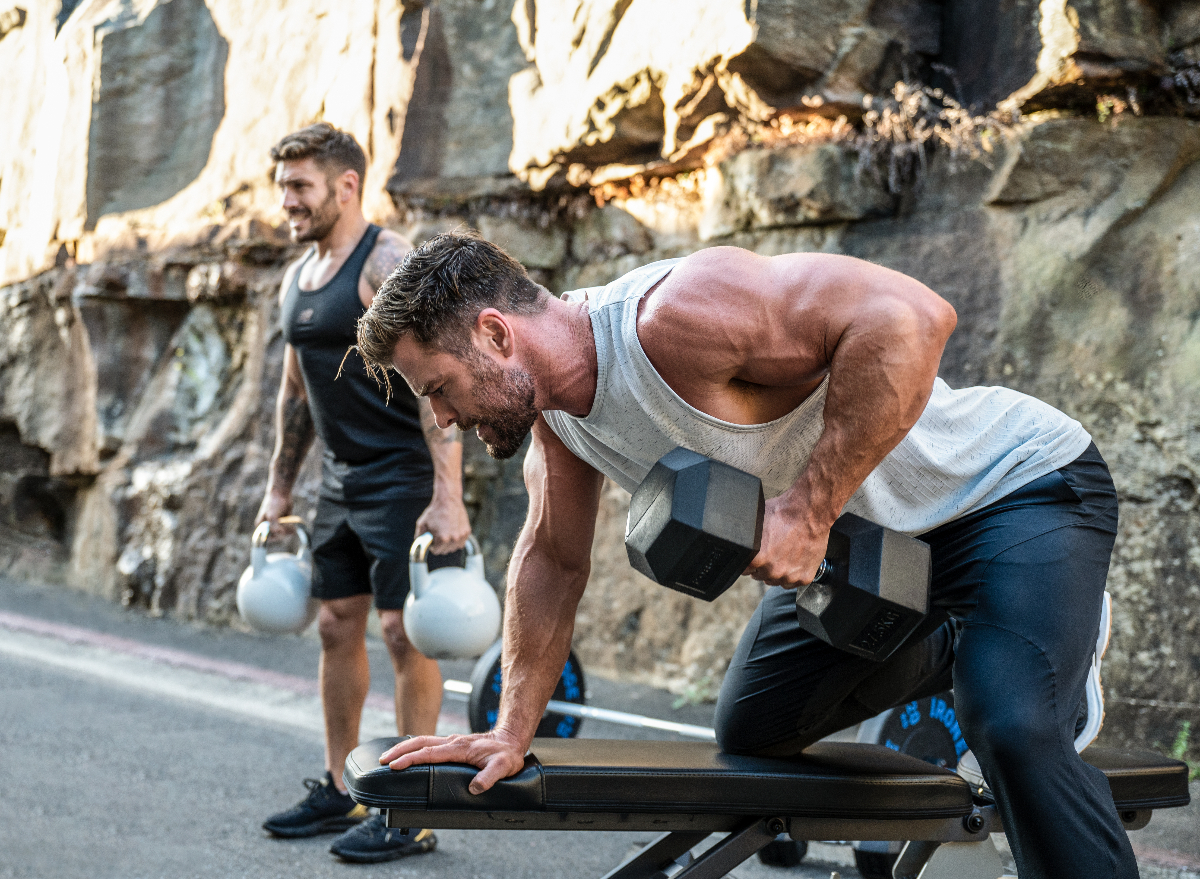 As if being a hammer-wielding Marvel superhero slash Norse God (aka Thor), a total heartthrob, and an all-around cool celeb with an impressive list of accomplishments is not enough, one look at Chris Hemsworth, and it's clear he's also driven to work long and hard on being physically fit. It should come as no surprise that the Australian actor is passionate for his profession and living his best, healthiest life.
It stands to reason, between saving Snow White from the Evil Queen, protecting the Earth from complete and utter devastation, being crowned King of Asgard, driving a race car in Rush, and most recently, filming Extraction 2 in Prague, Hemsworth has to work out—and he works out long and hard.
We here at Eat This, Not That! spoke with Hemsworth's personal trainer, Luke Zocchi, who let us in on just how much training the actor has to do for his various roles. Just like the superhero he channels on the big screen, the Australian celeb gets right to everything he needs to do, full speed ahead. And next up, check out The 6 Best Exercises for Strong and Toned Arms in 2022, Trainer Says.
Chris Hemsworth is currently crushing kettlebell training, boxing, functional movement, and pool workouts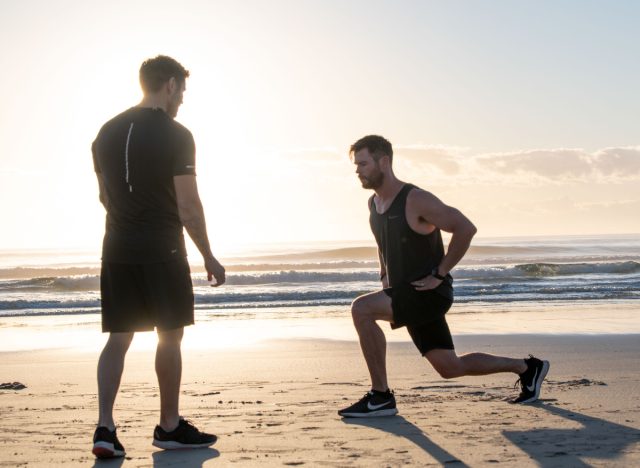 Hemsworth's current role in Extraction 2 is that of Tyler Rake, a black market mercenary. "This role requires a lot of physical work from Chris," Zocchi tells us. (Sheesh—does Thor/the Huntsman ever get invited over to just kick back, relax, and sip some tea? Apparently not, as once again, playing the character of Rake consists of impressive stunts and fight scenes—and that means being 100% ready to dive into them.)6254a4d1642c605c54bf1cab17d50f1e
To prepare, Zocchi reveals he has the actor spending a lot of time working on kettlebell training, boxing, functional movement, and pool workouts that facilitate "rest and recovery."
Related: This Is Chris Hemsworth's Exact Meal and Exercise Plan to Get into 'Thor' Shape
The health benefits of Hemsworth's fitness regimen are just too good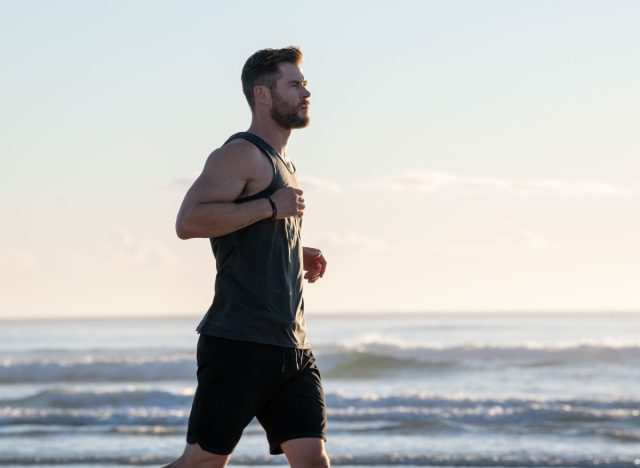 You can channel your own Chris Hemsworth-inspired fitness routine if you're game for a solid sweat sesh.
First off, kettlebells are a great investment for you to incorporate into your own workout. They are pretty inexpensive and super easy to use. They are also great for resistance training.
Next up, boxing can better your overall health while helping your body get strong and fit, as it will absolutely help define your extremities. According to Harvard Health Publishing, taking part in aerobic exercise like fitness boxing can lessen your risk of developing heart disease, high blood pressure, and diabetes. It can make your muscles and bones much stronger, in addition to serving as an all-around mood and endurance booster. Work some boxing moves into your routine for a great confidence builder—you really can't go wrong!
In addition, functional fitness (which you may also recognize as functional movement or functional training) builds strength and will benefit your everyday activities. By investing your time in functional fitness, you will strengthen your muscles, decrease your risk of injuries, and better your overall well-being, according to Universal Health Fellowship. Tailor your functional fitness routine to what works best for you. Some great exercises to include are squats, lunges, pushups, and pull-ups.
Last but most certainly not least, swimming provides an amazing aerobic workout. As a matter of fact, research indicates that 2 1/2 hours of swimming each week can lessen your chance of developing a chronic illness. Plus, it's a great variation to switch things up. If you don't have your own pool, check out the local YMCA.
Related: The "Simple" Exercise Rebel Wilson Did To Drop 75 Pounds
Hemsworth's personal trainer stresses the importance of consistency—it's "what sets you up for success"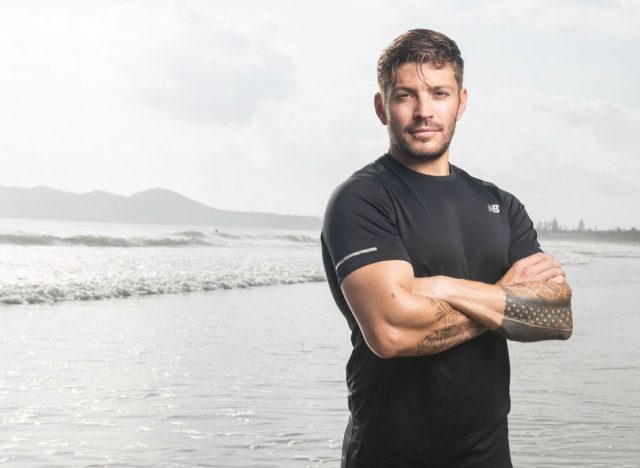 Zocchi feels goals are critical when working with his clients, and tells us they "map out your training and provide milestones to mark progress." He further explains that short-term goals are awesome for motivation, such as reaching certain distances or a certain number of reps. They keep you on task and help you accomplish the bigger ones. Long-term goals are reaching your best level—for example, a marathon.
"Goals are super personal to each individual," Zocchi notes, adding, "Consistency is key and what sets you up for success." In Hemsworth's training, the end result is being ready to play his role effectively and looking the part, which he does with perfection.
Hemsworth's digital fitness and health program is something you'll want in your life ASAP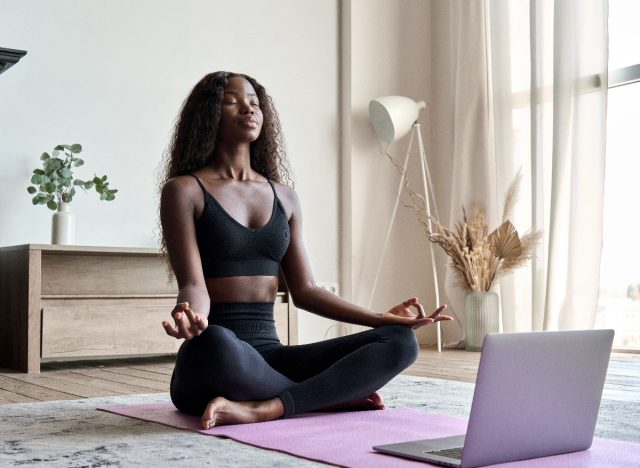 Hemsworth has worked with the entire team at Centr—a digital fitness and health program owned and curated by Hemsworth—to prepare for various roles (and not just bodybuilding). Hemsworth hand-selected an impressive team of experts—the best from all over the world—in the fitness, nutrition, and mindfulness realms to share their knowledge and skills via Centr. "They cover all different types of fitness—from yoga, pilates, functional training, boxing, MMA, bodybuilding, HIIT and HILIT to name a few—plus our food and nutrition experts and mindfulness experts," Zocchi says.
Zocchi also shares with us Centr's belief in three mainstays they deem to be quintessential to achieving a long, healthful existence: "Eat, Train and Live." He continues to explain, "Centr is all about helping people build sustainable healthy lifestyles and this is at the core of everything we do … Plus, it's not a one size fits all mentality… we tailor the planner and programs based on your personal goals."
Alexa Mellardo
Alexa is the Mind + Body Deputy Editor of Eat This, Not That!, overseeing the M+B channel and delivering compelling fitness, wellness, and self-care topics to readers.
Read more about Alexa