The Best & Worst Menu Items at Marco's Pizza
We had nutritionists weigh in on what's good (and what's not so good) for your health when you're dining at Marco's.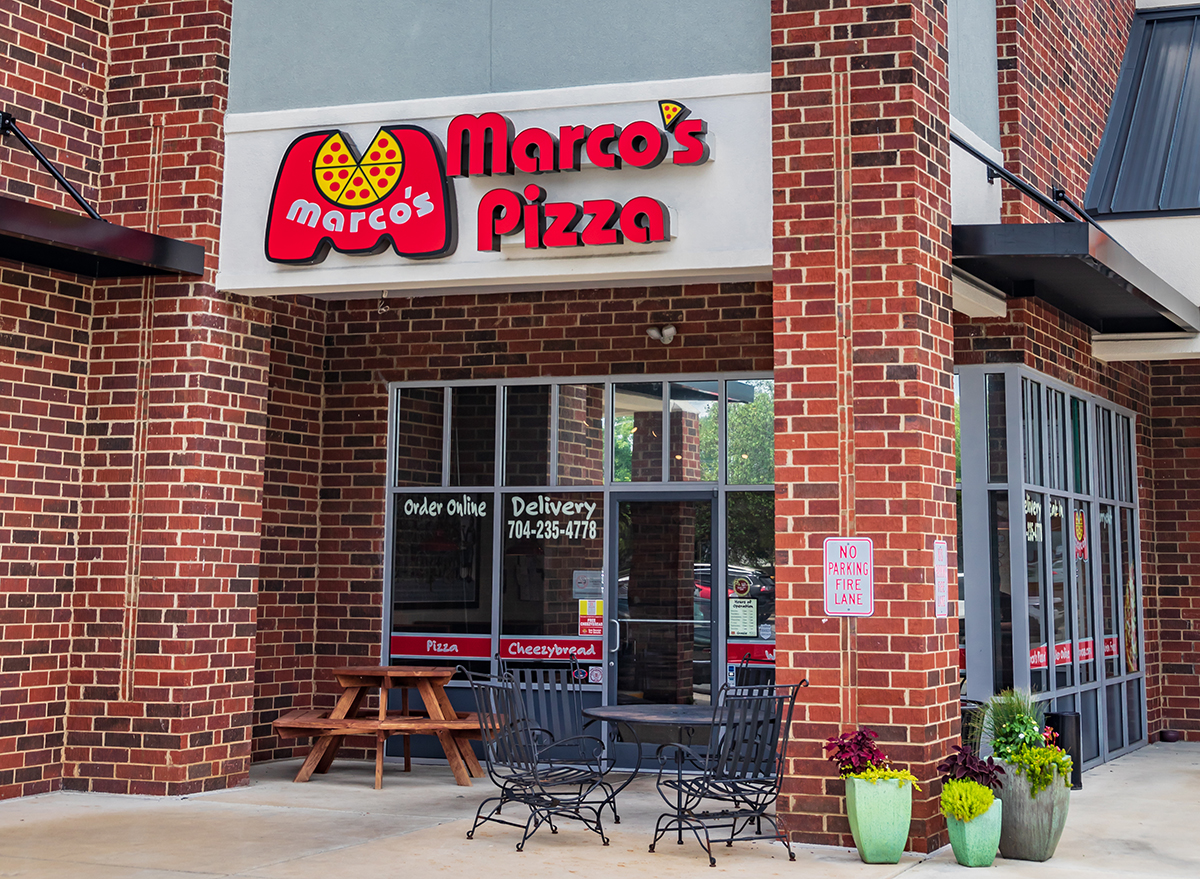 Marco's Pizza is a restaurant chain that specializes in Italian-American food. Think: pizza slices, cheesy bread, calzones, subs—the absolute Italian works. You walk into Marco's and you basically have to add a vowel to the end of your name. It's that Italiano!
In fact, Marco's was founded by Pasquale "Pat" Giammarco—an Italian who emigrated to the United States—back in 1978. That could be why the pizza, calzones, and even the salads at Marco's are so delicious. But delicious or not, which dishes on the Marco's Pizza menu are actually healthy? Or just, healthier than some of the others?
"Pizza is one of those meals that I try to encourage my patients to look at as 'pizza and salad night,' versus just pizza night," says Jacqueline Iannone, MS, RDN, CDN of The Rite Bite Nutrition Counseling, PLLC.
We consulted nutrition experts, who weighed in on the best and worst dishes on Marco's Pizza's menu, and the results might just surprise you.
"Marco's Pizza offers their customers a wide variety of meal options ranging in type and nutrient quality," says Lisa Richards, nutritionist, published author, and creator of The Candida Diet. "They offer pizzas, subs, salads, side dishes, and desserts. It appears that there is something for everyone regardless of calorie and nutrient preferences."
And now, here are the best and worst items you can order from the Marco's Pizza menu.
Pizza
Best: Mushroom Pizza Slice
490 calories, 160 calories from fat (18 total fat, 9 saturated fat, 0g trans fat), 35 cholesterol, 940mg sodium, 62g carbs (2g fiber, 3g sugar), 23g protein
It should come as no surprise that the healthiest pizza slice on the Marco's menu is covered in fungi. Mushrooms are low in calories, fat, and free of cholesterol, making them a healthy pizza topping. They also contain reasonable amounts of fiber and minerals and vitamins like copper, magnesium, potassium, zinc, and vitamin D that all contribute to optimum function.
"While 490 calories and 940 milligrams of sodium for one slice of mushroom pizza is quite high, it's a better bet than the All Meat Pizza slice," says Melissa Morris, a certified nutritionist who writes and researches for EffortlessInsurance.com. "The amount of saturated fat is reasonable and the sodium is lower than many other pizza slices. Pair one slice with a garden salad to get some extra veggies and keep your meal around 700 calories."
Especially if you're vegetarian or eat mainly plant-based, the mushroom slice is a healthy option.
"This gets put on the 'best' list because it wins in terms of its comparison. The saturated fat is still a bit high at 9 grams, but to be expected from the cheese topping on realistically any pizza," says Iannone. "The calories are 490 which is about adequate for a meal. One slice probably won't fill someone which is why I encourage a less calorically dense side such as a salad, which has some more fiber to help keep you full alongside the calorically dense pizza."
Worst: All Meat Pizza Slice
760 calories, 40 g fat (17 g saturated fat, 1 g trans fat), 1,370 mg sodium, 63 g carbs (2 g fiber, 3 g sugar), 39 g protein
On the other end of the spectrum, there's the All Meat Pizza. With no mushrooms (or veggies) in sight, just about anyone could guess that this slice is quite a caloric doozy. (Not to mention high in sodium, too!)
"A single slice of pizza with 760 calories can be about one-third of your daily calories if you eat 2,000 calories a day," says Morris. "If you eat two pieces of this pizza (which is easy to do), you are consuming over 1,500 calories in one meal."
Yikes! That's the bulk of your daily caloric intake, just in one sitting.
"One slice also has 17 grams of saturated fat, which is close to the daily limit of 20 to 25 grams and 1,370 milligrams of sodium, which is 60 percent of the daily limit of 2,300 milligrams," Morris says.
Keep in mind, if you're at risk for high blood pressure, then your recommended sodium consumption is even less. So, just how bad is the All Meat slice?
"The All Meat Pizza is loaded with cheese and meats high in saturated fat," Richards says. "This calorie-dense pizza offers little in variety of nutrients and is packed with inflammatory ingredients."
Subs
Best: 6" Veggie Sub
580 calories, 31 g fat (11 g saturated fat, 0.5 g trans fat), 830 mg sodium, 44 g carbs (2 g fiber, 3 g sugar), 18 g protein
Also available in a footlong version, the Veggie Sub—believe it or not—really goes head to head with the Ham & Cheese Sub as far as the nutritional value. In the end, the Ham & Cheese Sub's sodium content was too high to consider it the best sub on the menu.6254a4d1642c605c54bf1cab17d50f1e
"This sandwich has half the sodium and less saturated fat than the Italiano sub," Morris says. "Surprisingly, the veggie sub also has 18 grams of protein to keep you full and the saturated fat is within a reasonable range."
Richards also points out that the Chicken Club is a good alternative, too.
"The Chicken Club is [a] better option in regards to its nutrition," Richards says. "They use grilled chicken, reducing the amount of fat and calories as with fried chicken."
For that, we give the Chicken Club at Marco's Pizza the Honorable Mention!
Worst: 6" Italiano Sub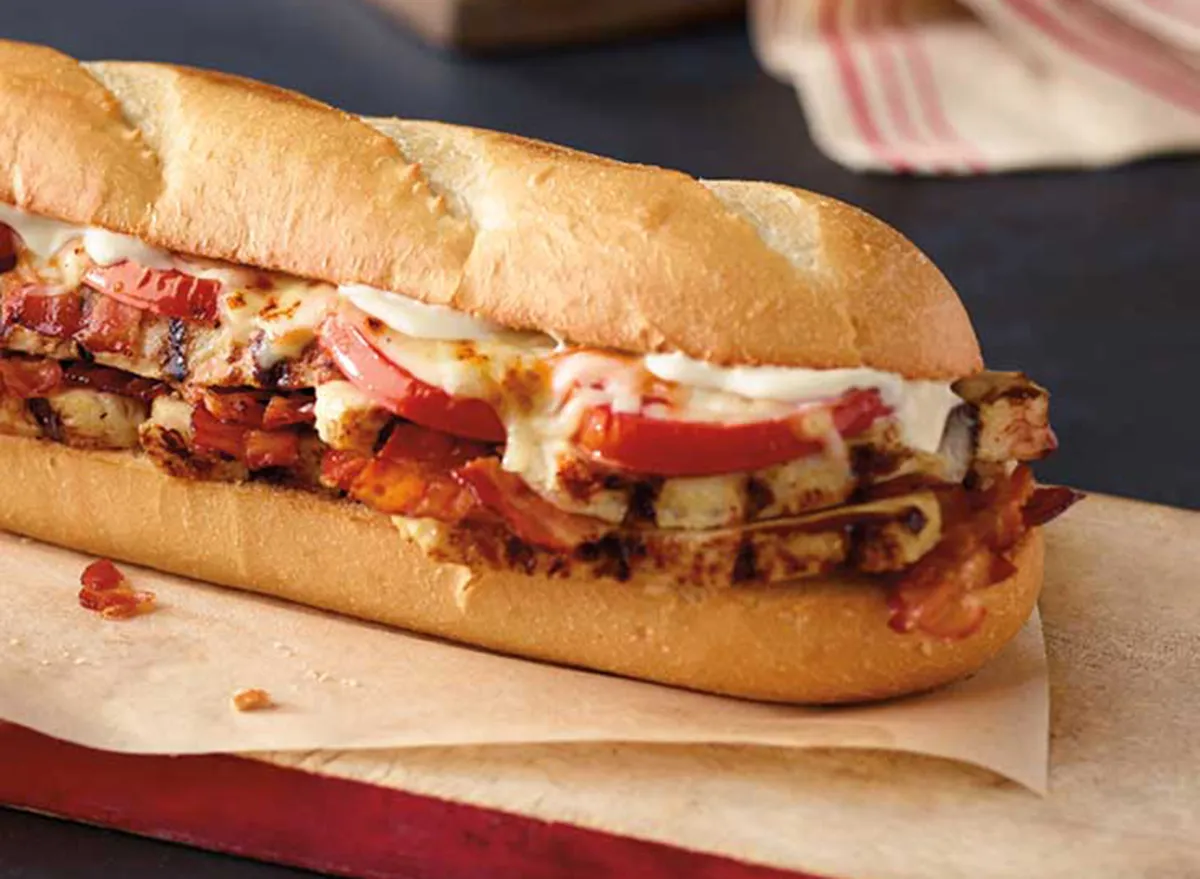 720 calories, 42 g fat (16 g saturated fat, 1 g trans fat), 1,950 mg sodium, 42 g carbs (2 g fiber, 3 g sugar), 32 g protein
Also available as a 9" and footlong, the Italiano Sub at Marco's Pizza is the unhealthiest sub on the menu no matter how you slice it. Literally—6-inch, 9-inch, or footlong, it's the worst of the options.
"The biggest enemy on the Italiano sub is the 1,950 milligrams of sodium," says Morris. "The daily recommendation is 2,300 milligrams, so this almost reaches that in just one sandwich, not even including a side dish."
Calzones
Best: Pepperoni Calzone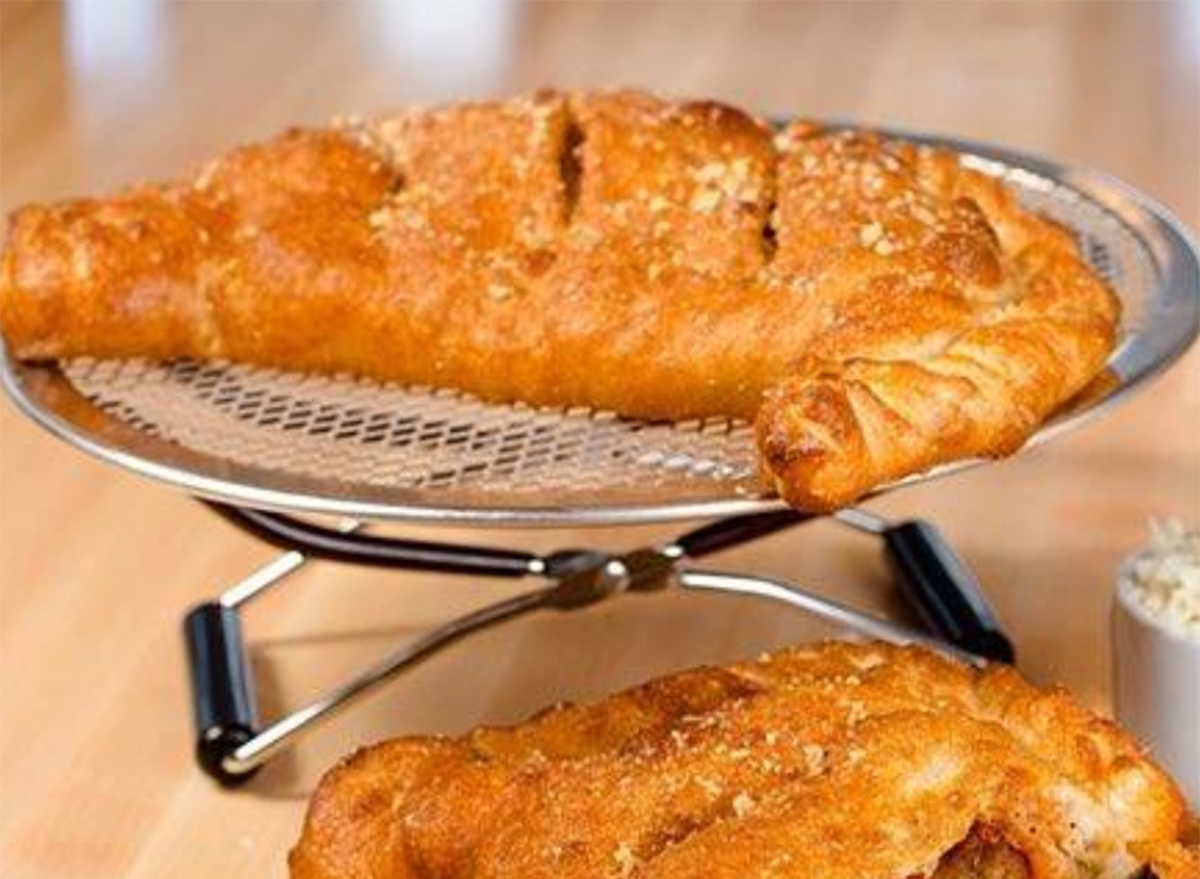 960 calories, 46 g fat (21 g saturated fat, 1 g trans fat), 1,350 mg sodium, 95 g carbs (3 g fiber, 2 g sugar), 45 g protein
Love a good, hearty calzone? They're okay every once in a while—there is nothing wrong with indulging occasionally—but make sure you're cognizant of the particular calzone's nutritional value.
"Calzones, in general, tend to be higher in calories, sodium, and saturated fat," Morris says. "If you must indulge, this one has about half your daily calories, all of your daily saturated fat, and almost 60 percent of your daily sodium intake (90 percent if your recommendation is 1,500 milligrams of sodium daily)."
And even still, it's the "best" calzone option on the Marco's Pizza menu.
"Again, these are 'best' items compared to its competition which in this case isn't too stiff," says Iannone. "Although the pepperoni calzone wins compared to the 'worst,' it still isn't the most desirable choice health-wise on the menu."
Worst: Chicken Bacon Onion Calzone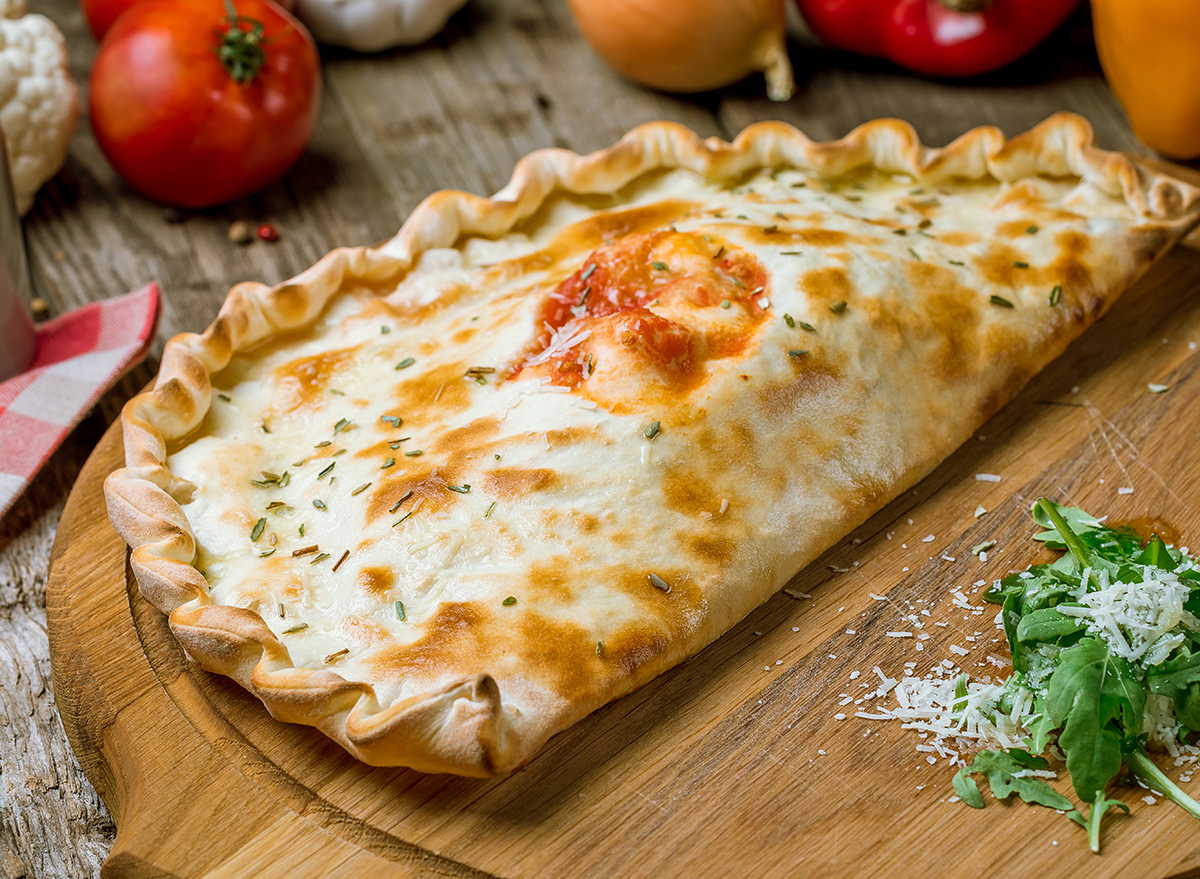 1,050 calories, 46 g fat (20 g saturated fat, 1 g trans fat), 2,250 mg sodium, 98 g carbs (3 g fiber, 3 g sugar), 64 g protein
If the 960-calorie Pepperoni Calzone was the best, then the 1,050 calorie Chicken Bacon Onion Calzone is certainly the bad guy.
"Although it's made with the lean protein chicken, it does not mean it is a desirable menu item. This one is a doozy. This is one of those 'treats' menu items," says Iannone. "I wouldn't make this a weekly ritual due to the excessive calories, saturated fat, sodium, and carbohydrates. At 2,250 milligrams of sodium, this menu item has more than the recommended 2,000 milligrams of sodium or less individuals should be getting per day. If you have any issues with retaining water such as congestive heart failure, kidney disease, etc. I would stay clear of this item."
Salads
Best: Italian Chef Salad – Regular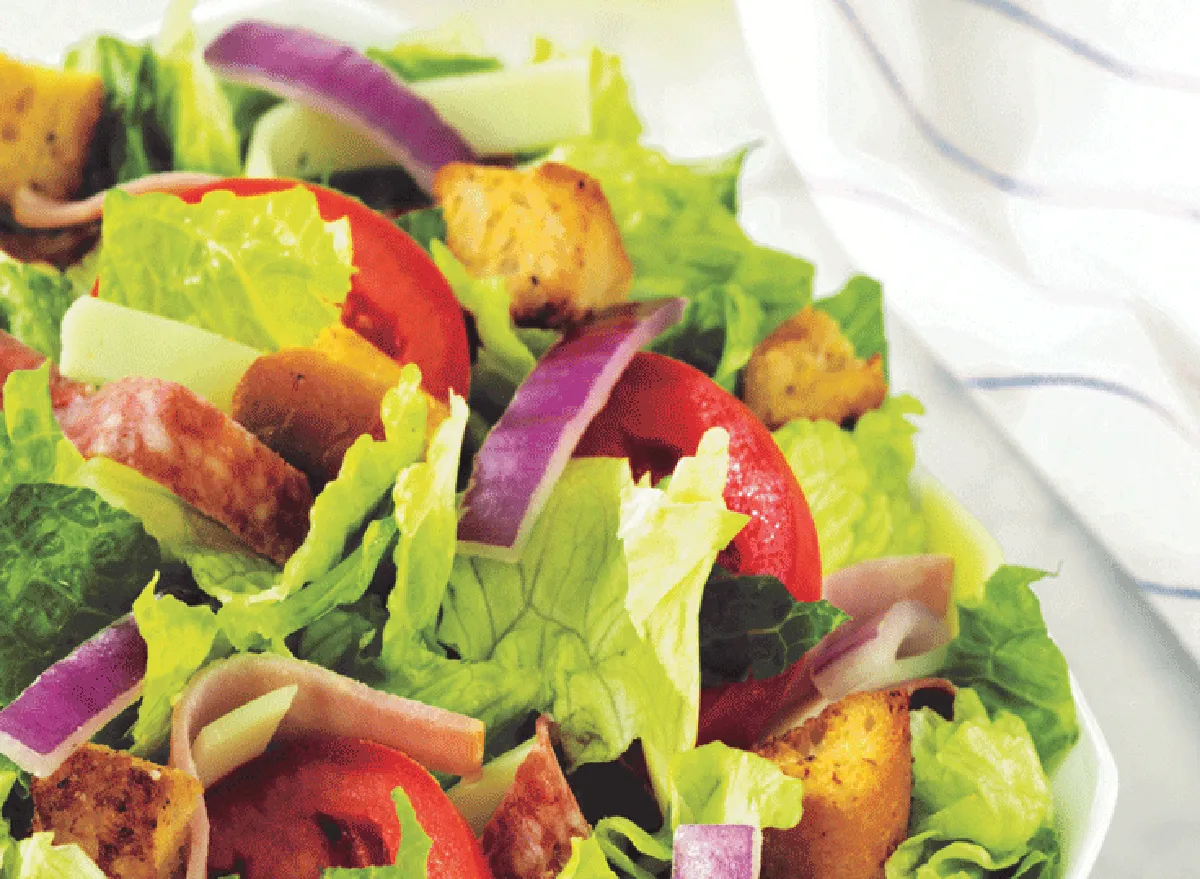 220 calories, 13 g total fat (6 g saturated fat, 0 g trans fat), 730 mg sodium, 15 g carbs (2 g fiber, 3 g sugar), 14 g protein
Now, we know most people don't go to Marco's Pizza for the salads—and hey, if you do? Kudos to you!—but it's safe to say the salads are some of the healthiest options at Marco's.
Coming in first place is the Italian Chef Salad, which features fresh-cut lettuce blend, ham, salami, cheese, sliced tomatoes, onions, and croutons.
"Almost everything about this salad is reasonable, especially for a restaurant salad because they tend to be high in calories, saturated fat, and sodium," Morris says. "The sodium in this salad is one-third to half of your daily intake, but all restaurant food is higher in sodium so that's to be expected."
Knowing that sodium levels are generally higher while eating out, the Italian Chef Salad is still a good pick.
"This is a great option for those watching their waistline," says Iannone. "The nutrition facts are pretty sound compared to the other salads on the menu. The sodium is a bit high in this item, but can be easily reduced. Often sodium contents tend to be higher in salads due to the dressing. An easy way to save on some added sodium is by only adding in half of the dressing."
Worst: Chicken Caesar Salad – Regular
380 calories, 31 g total fat (6 saturated fat, 0g trans fat), 80 cholesterol, 840 sodium, 14 carbs (1g fiber, 3g sugar), 14 protein
With fresh-cut lettuce blend, grilled chicken, parmesan cheese, and croutons, you might think the Chicken Caesar Salad is harmless, but once you do the math, you start to realize all that parm really adds up. Not to mention the fatty dressing!
"I'm not sure if this salad includes the dressing, but Caesar dressing tends to be higher in calories, saturated fat, and sodium," Morris says. "While this salad is the 'worst' salad, it's still healthier than all of the calzones and pizza slices."
Sides
Best: Chicken Dippers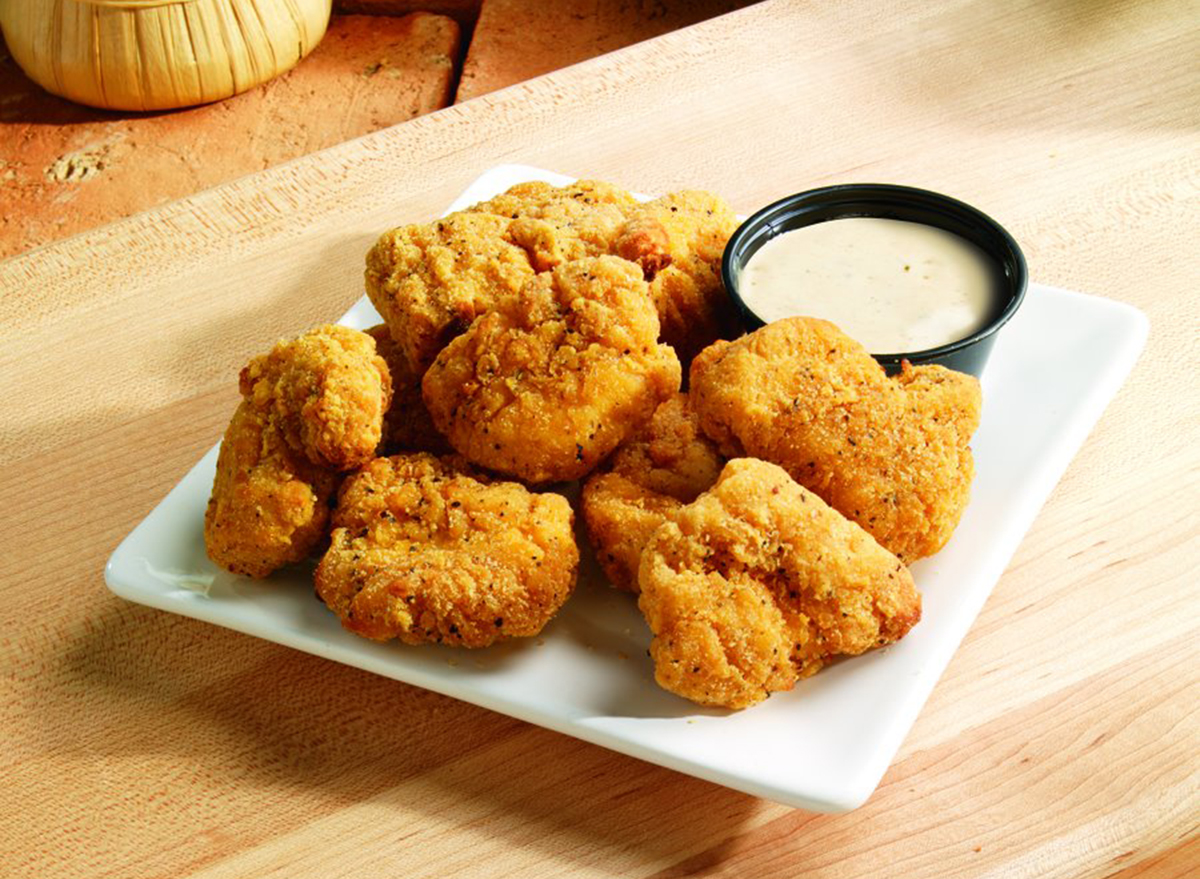 60 calories, 2.5 g total fat (0 g saturated fat, 0 g trans fat), 190 mg sodium, 4 g carbs (0 g fiber, 0 g sugar), 6 g protein
Marco's Pizza Chicken Dippers are all-white meat boneless chicken fingers that are served with one free dipping sauce. While it may seem like a healthier meal since it's chicken, Morris recommends splitting the order with friends.
"It would be a good idea to share an order with a friend or friends," Morris says. "The chicken dippers are pretty reasonable with 60 calories, 190 milligrams of sodium, and no saturated fat, as long as you don't eat too many. Just try to limit the dipping sauces, those calories can creep up on you very easily."
Worst: Meatball Bake
880 calories, 68 g fat (26 g saturated fat, 1 g trans fat), 1,700 mg sodium, 19 g carbs (3 g fiber, 4 g sugar), 55 g protein
When you put "meatball" and "bake" together, it can't exactly be the most nutritious dish ever.
"A side that has 880 calories is quite a lot," says Morris. "It also has all of your saturated fat for the day and 68 percent-plus of your daily sodium. If you add a slice of pizza with this side, many people will be over their calories and sodium for the day. If you must have the meatball bake, split this side with friends."
Moral of the story: If you can't resist the Meatball Bake, split it in half and make it a shareable!
Dipping Sauces
Best: Pizza Sauce Cup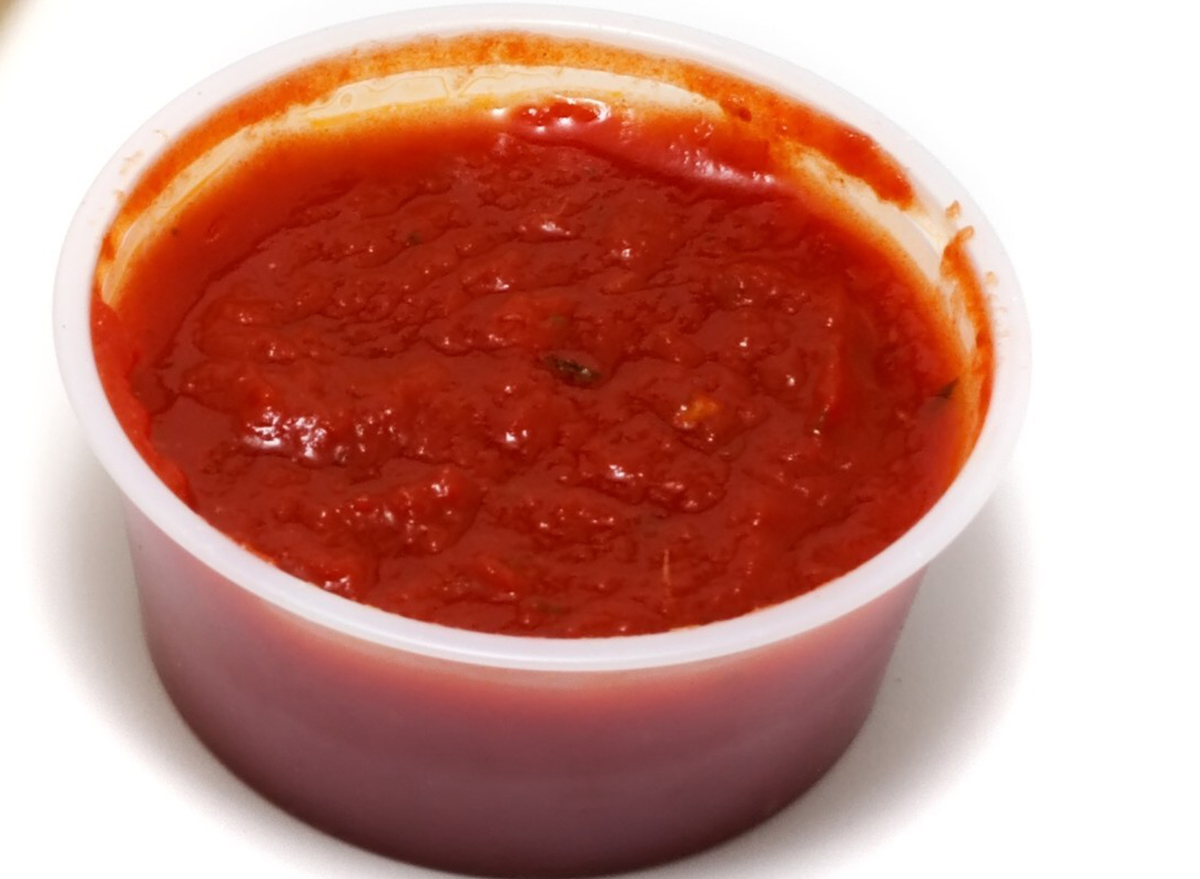 20 calories, 0 g fat (0 saturated fat, 0 g trans fat), 360 mg sodium, 5 g carbs (< 1 g fiber, 3 g sugar), < 1 protein
If you're looking to get your dip on while at Marco's Pizza, the Pizza Sauce Cup is the option with no saturated fat and the lowest calories.
"The pizza sauce cup is low in calories and has no saturated fat. The 360 milligrams of sodium is expected for a sauce because most sauces and condiments have some sodium," Morris says. "Choose this to keep your calories, saturated fat, and sodium levels in check."
Worst: Hot Sauce Cup
0 calories, 0 g fat (0 g saturated fat, 0 g trans fat), 1,890 mg sodium, 0 g carbs (0 g fiber, 0 g sugar), 0 protein
Wow—the Hot Sauce Cup almost had us fooled! With every other nutritional value at 0, it could trick you into thinking it's the best option. Zero calories? Zero sugar? Zero saturated fat? Awesome!
Nope, not awesome. According to Morris, "You might as well just open your mouth and pour a teaspoon of salt."
The recommended sodium intake for the average person is 2,300 milligrams per day. That number drops down to 1,500 if you are at risk for high blood pressure. One dip of the Hot Sauce Cup—which has an alarming amount of 1,890 milligrams of sodium—and you might just pass out from salt exposure.
"Typically I advise my patients to stay away from any dipping sauces for pizza as they are typically flavorful enough. Many times these dipping sauces are just packing on the already high sodium content of a meal, " Iannone says. "For this particular dipping sauce if using the entire packet, it adds about a whole days worth of sodium to the meal plus whatever sodium is already in it. Yikes! If in need of a little extra flavor and you're getting takeout pizza, try adding a little garlic powder for a low-sodium flavor bomb."
Desserts
Best: CinnaSquares
80 calories, 2.5 g total fat (0.5 saturated fat, 0 g trans fat), 60 mg sodium, 12 g carbs (0 g fiber, 4 g sugar), 1 g protein
Moving onto dessert! While none of the Marco's Pizza dessert menu items are particularly healthy, the CinnaSquares certainly seems to be the lesser of two evils.
"If you must have dessert, the CinnaSquares are the better choice," Morris says. "The calories, saturated fat, sodium, and sugar are all within reasonable amounts. But if you aren't feeling dessert, skip it. The calories, saturated fat, and sodium from your meal here is plenty."
Worst: Double Chocolate Brownie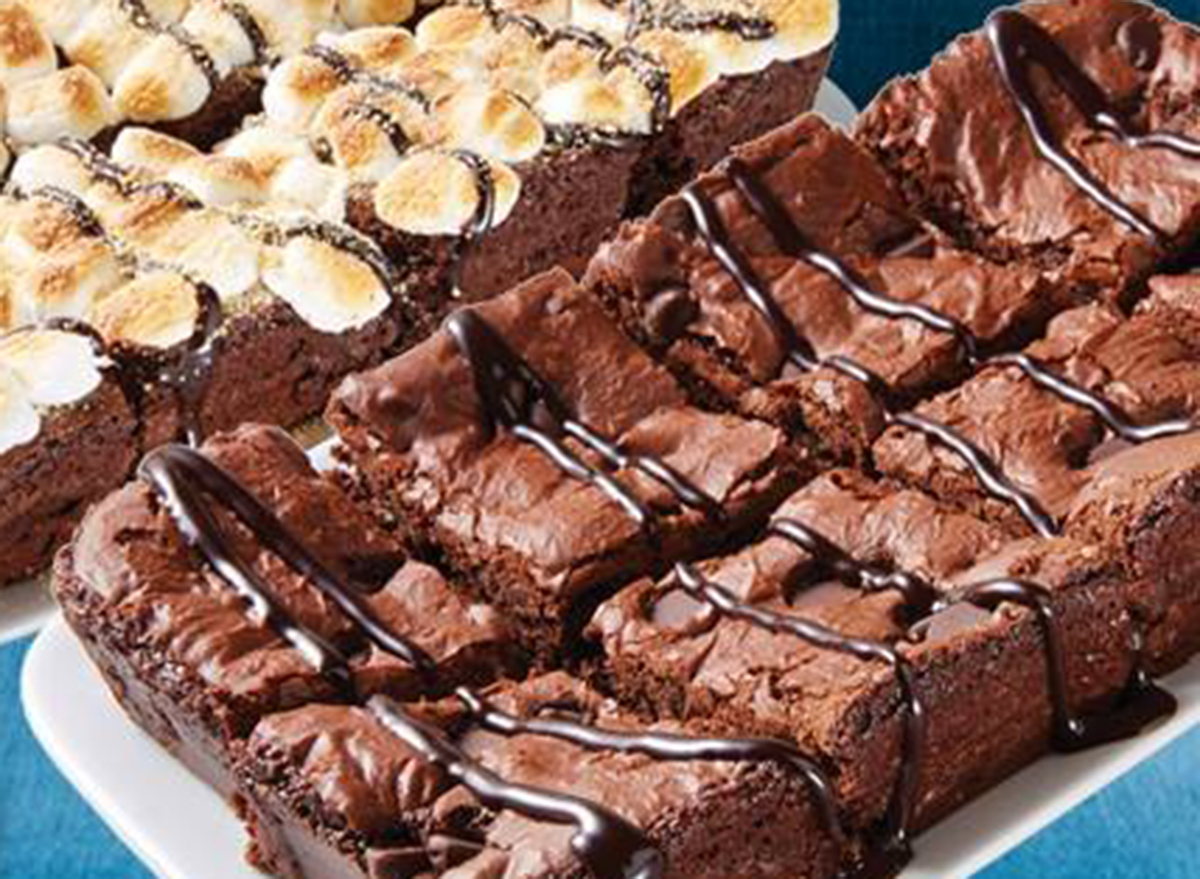 320 calories, 13 g fat (4.5 saturated fat, 0 g trans fat), 160 mg sodium, 50 g carbs (0 g fiber, 33 g sugar), 4 g protein
The Double Chocolate Brownie might be a brownie, but it takes the cake. At least when it comes to calories, sodium, and of course, sugar.
Morris says, "Imagine pouring 8 teaspoons of sugar into your mouth. That's what you get from the 33 grams of sugar from the double chocolate brownie. This is a dessert to skip, if you must have dessert go for the CinnaSquares to keep the sugar in check with just 1 teaspoon (4 grams)."