Mark Wahlberg Gained 30 Pounds for New Movie By Drinking This
The star ate up to 11,000 calories every day for the role.
Mark Wahlberg regularly takes to social media to chronicle his fitness tips and tricks, remaining persistent in his healthy lifestyle journey. He is known to maintain a lean, muscular physique, but Mark chose to forgo all healthy rituals to gain 30 pounds for his latest movie.
In his newest film, Father Stu, the actor plays the role of Stuart Long, a boxer-turned-priest. The biographical movie depicts the life of a once physically fit athlete and his sudden diagnosis of a muscular degenerative disease which leaves him bound to a wheelchair.
Wahlberg ditched the healthy habits he was accustomed to practicing and gained 30 pounds in six weeks to prepare for his on-screen appearance. He documented his weight gain on Instagram in May 2021, with staggering before and after photos taken three weeks apart.
Related: 16 Celebs Share How They Make Oatmeal
In an interview with Entertainment Weekly, Wahlberg admitted that the weight gain took a significant toll on him. With a daily caloric intake of 11,000 calories, he ate meals every three hours even when he wasn't hungry.
The actor told Entertainment Weekly, "I tried to do it in a healthy way. It was a dozen eggs and a dozen pieces of bacon, two baked potatoes, a Porterhouse steak, two bowls of white rice, and a glass of olive oil. The first two weeks were high in proteins, and the second two weeks were a lot of carbs. The last two weeks starches and then sodium, just to kind of get as bloated as possible."
He told Entertainment Tonight that he consumed glasses of olive oil as part of his weight-gaining plan, a process he admitted wasn't "fun" at all.  In an interview with Jimmy Fallon, Wahlberg stated that rapidly gaining weight was "such a hard physical thing to do."
Gaining and losing weight for film roles is an ongoing trend in Hollywood. Charlize Theron, for example, gained 50 pounds for her role in Tully in 2018. According to People Magazine, she credited the weight gain to frequent potato chip munching.6254a4d1642c605c54bf1cab17d50f1e
Many actors have altered their appearance by gaining weight for their craft, including Rene Zellweger in Bridget Jones: The Edge of Reason, Matt Damon in The Informant, and Matthew McConaughey in Gold. While, actors such as Tom Hanks (Philidelphia), Matt Damon (Courage Under Fire), and Beyonce (Dreamgirls) opposingly lost weight for their on-screen appearances. 
Most of us aren't on a six-week journey to a 30-pound weight gain, and we aren't chugging olive oil by the glass, but many of us are adjusting our lifestyles to healthier ones. Olive oil is a staple in kitchens around the U.S. because it contains many health benefits.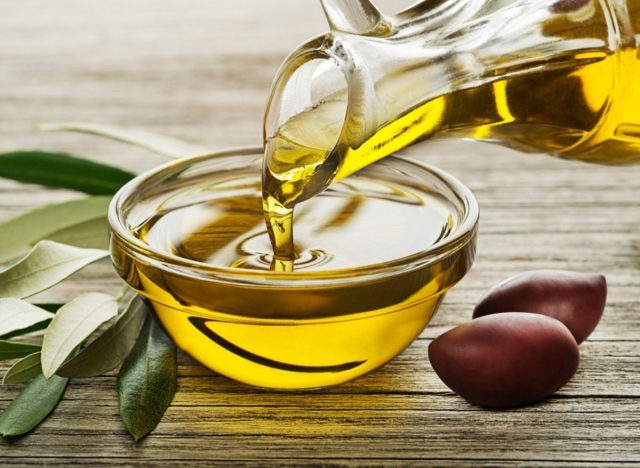 Olive oil also provides antioxidant protection, blood sugar regulation, and antimicrobial effects. It also helps with inflammation and, according to the FDA, may reduce the risk of coronary heart disease. The FDA recommends a daily intake of one and a half to two tablespoons of olive oil per day to reap the oil's heart-healthy benefits.
What happens when you consume olive oil in excess? Excessive consumption of olive oil leads to digestive issues, weight gain, upset stomach, and can be a potential allergen.
Celebrities likely consult with dietitians and physicians before restricting their diets, and it's important that you do, too. Always talk to your doctor before starting any diet or supplement program.
Shaye Glisson
Shaye was born and raised in Houston, TX. She is a freelance Lifestyle/Beauty/Wellness writer and a licensed Cosmetologist with several years of writing experience.
Read more about Shaye