20 Food Splurges Restaurant Chefs Say Are Totally Worth It
Because boxed noodles don't compare to handmade pasta.
One of the hardest things to do as an adult is budget—particularly when it comes to dining out at restaurants. With so many different options to choose from, self-proclaimed foodies of the world are left with quite the struggle: When you only have so much money you're willing to spend, you have to make the absolute most out of every cent—and who better to fill you in on the dishes worth splurging on than the all-stars who make them?
Just like the rest of the food-loving population, some of the best of the top chefs also have their go-to dishes they never feel guilty about spending the big bucks on. Whether it's some to-die-for sushi or the best handmade pasta you've ever wrapped around your fork around, these most expensive foods—in the minds of the pros—are always worth the extra dollars.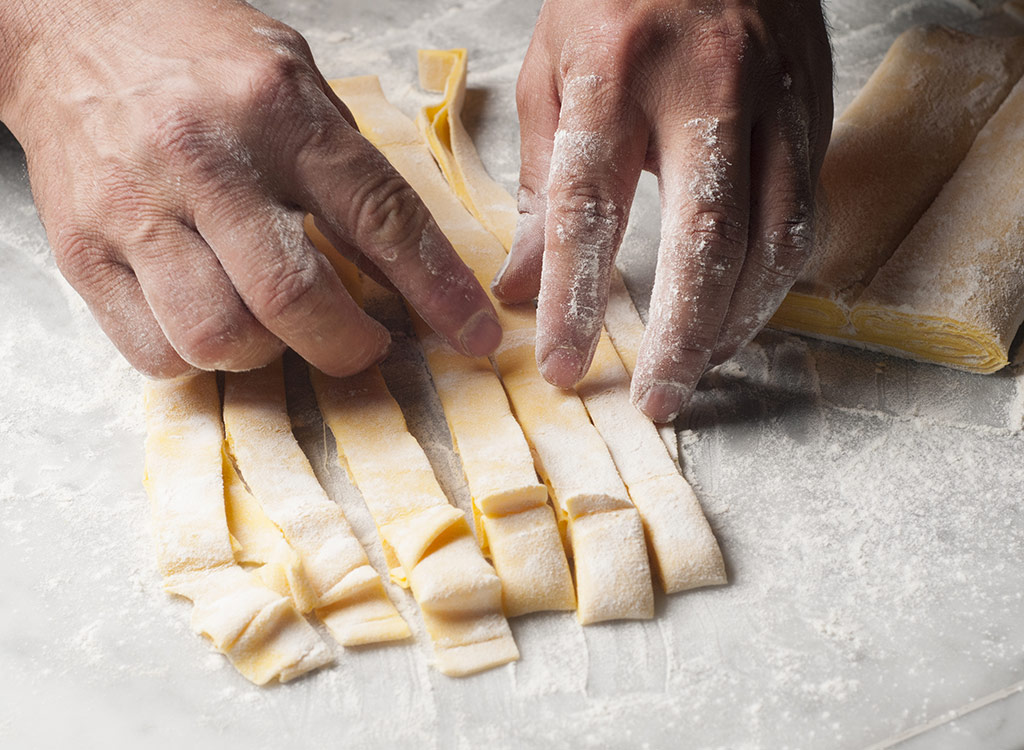 "Handmade pasta is one of those truly artisanal things that is one in its own. The extra money goes to support the time, labor, and effort needed to produce the final product," says Tim Cook, chef de cuisine at The Clocktower in New York City
"The Caviar and Egg on Toast Dish at Jean Georges Restaurant is basically eggs, butter, toast, and caviar, but that doesn't describe how the particular combination is so special. The crunch of the toast, ooze of the egg yolk with the perfect amount of salt, and the burst of salty, briny flavor and texture from the caviar is really a textbook example of how to make one expensive, elegant ingredient come to life. And it's eggs on eggs, which is even more brilliant. I would eat it for breakfast, lunch, and dinner; it's worth it in both texture and taste. And when you sip a glass of dry champagne alongside it… ethereal." —Alex Guarnaschelli, executive chef of Butter Restaurant, TV personality, and cookbook author
Heirloom Tomatoes and Artisan Bread
"Whether I'm stopping at the farmers' market or dining out with the girlfriend, my top splurges are always in-season heirloom tomatoes and some artisan freshly-baked bread. Add burrata and fresh herbs to the tomatoes with a dash of a fine olive oil and Maldon salt and you're knocking on heaven's door with happiness. Plus, true artisan bread is literally the cornerstone of life. A beautiful baguette or sourdough along with a slab of quality European butter will always have a place at my last supper. If you smear a slice of the heirloom tomato on a crusty piece of bread… pure bliss." —Richard Rea, executive chef at The Butcher's Daughter in New York City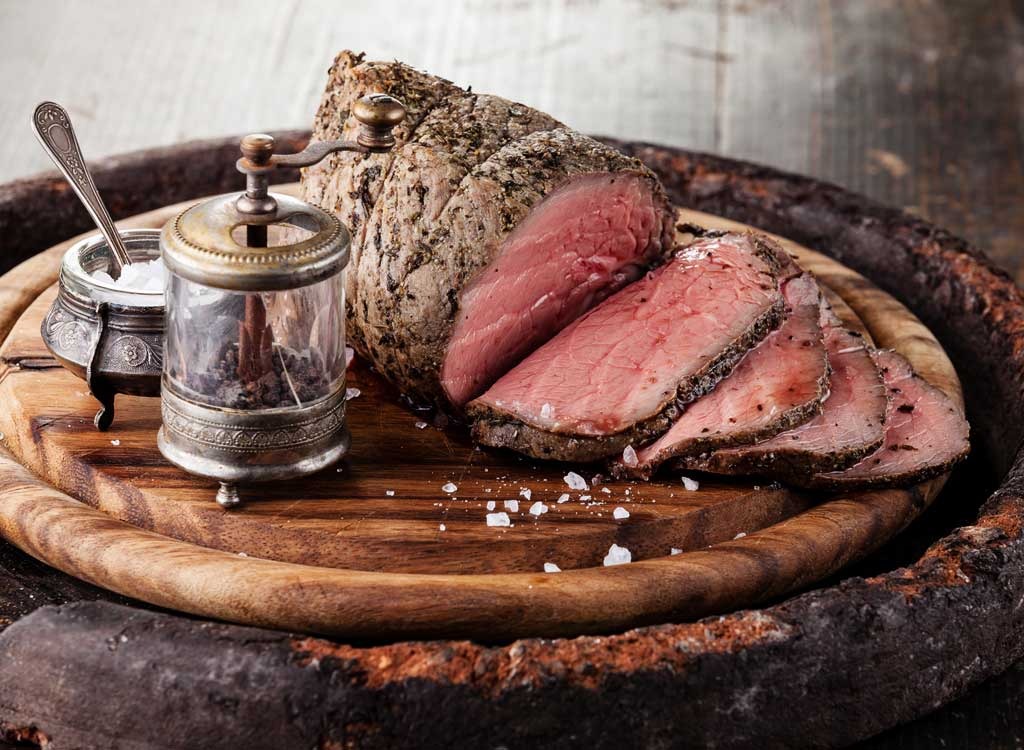 "If you're going to pick one item to spend some extra money on while dining out, it has to be steak. There's a huge difference in flavor, quality, and tenderness when you choose to spend more. I personally recommend finding a restaurant that dry ages their own beef. If a restaurant is going to take the time and effort to let a very expensive piece of beef age for a month before they even think about cooking it, you know you're going to be in for a treat." —James Richards, chef at Provisions Lot F in Ames, IA
"I love going to Kismet and making a meal out of the Tokyo turnips with butter and preserved lemon, fried cauliflower with caper yogurt, potatoes with labneh, macadamia nut, cured scallop, and Urfa pepper, and avocado with puffed wild rice, crispy lentils, and coconut vinaigrette. They take farmers' market veggies and combine them with great spices, giving you unusual and delicious flavor combinations." —Susan Feniger, co-owner and chef at Border Grill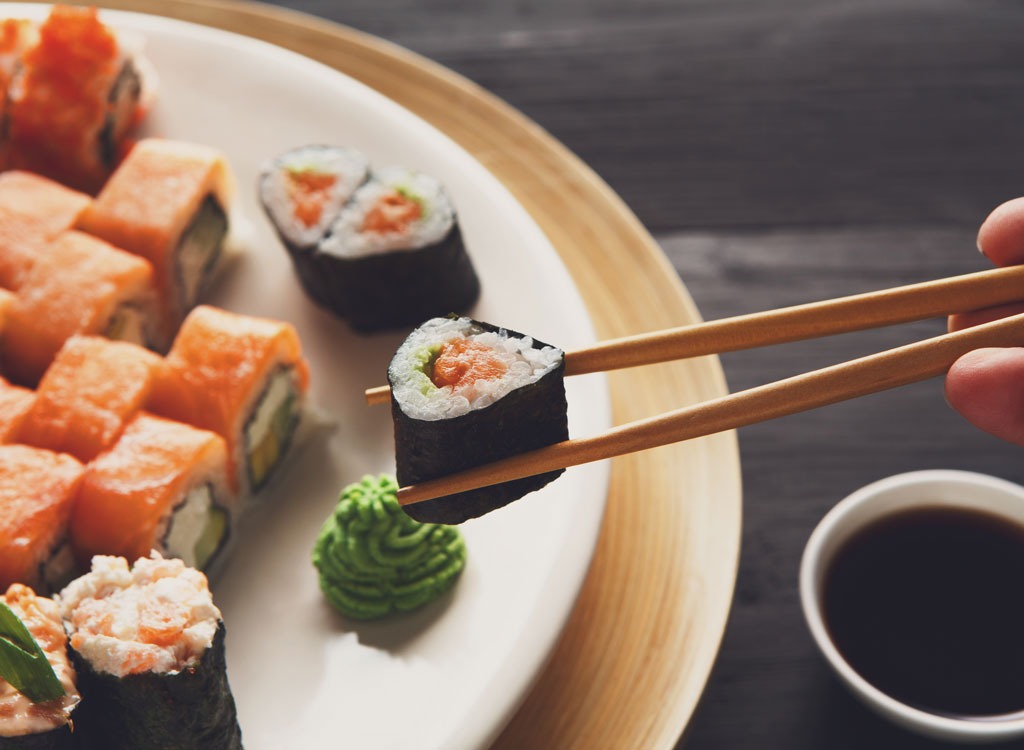 "When I go out to restaurants, I'm always attracted to foods I don't cook at home, so it's often specialized ethnic cuisines—and I'm more than happy to splurge on sushi. I adore the sushi experience—the immediacy and the interaction with the chef. It's always worth the extra money because of the stellar, hard-to-source ingredients and the extra care required by the chef, both before and during the meal." —Mary Sue Milliken, co-owner and chef at Border Grill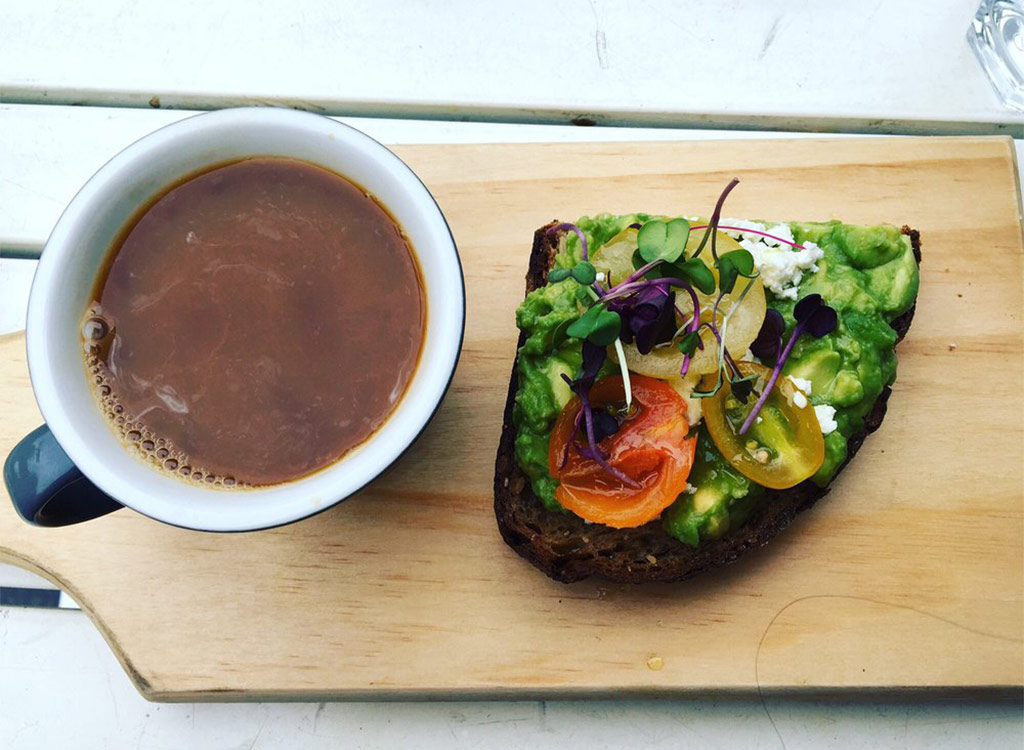 "I recently went to eat at Blue Hill Stones Barns—it has exceptional cuisine that really focused on letting vegetables be the star. One noteworthy dish was the summer squash 'avocado,' where his team created a hybrid of summer squash and winter squash to make a more dense-yet-tender squash that was served like an avocado spread. It was definitely an investment traveling and eating at the restaurant, but it was so worth it. You can't go wrong with eating organic vegetables that are grown a few feet from the restaurant." —Michael Han, chef de cuisine at Ortzi in New York City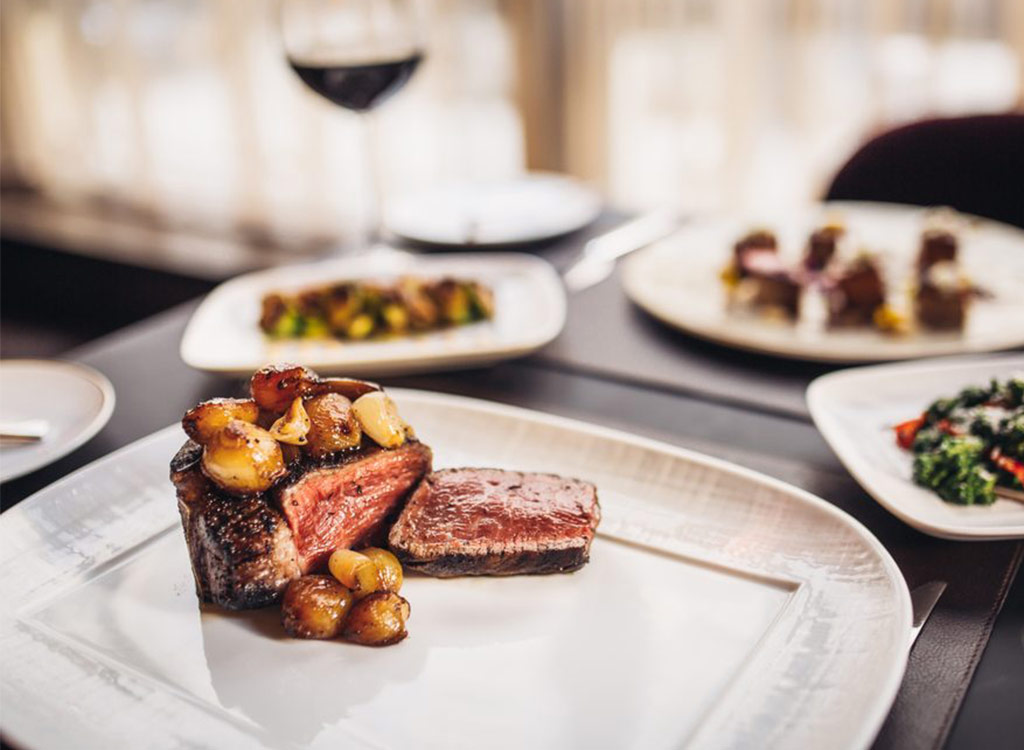 "If there's one splurge meal I could have, it would be true Japanese A5 Wagyu Ribeye. It's like no other cut of beef in the world—it's indescribably delicious. It's almost as if you emulsified the tiniest bit of steak you've ever had with the best fresh high-fat creamery butter you've ever tasted. It's outrageously expensive but always worth it. My favorite place to order it at is CUT in LA or New York City." —Chris Santos, chef/partner for TAO Group and executive chef at VANDAL, The Stanton Social, and Beauty & Essex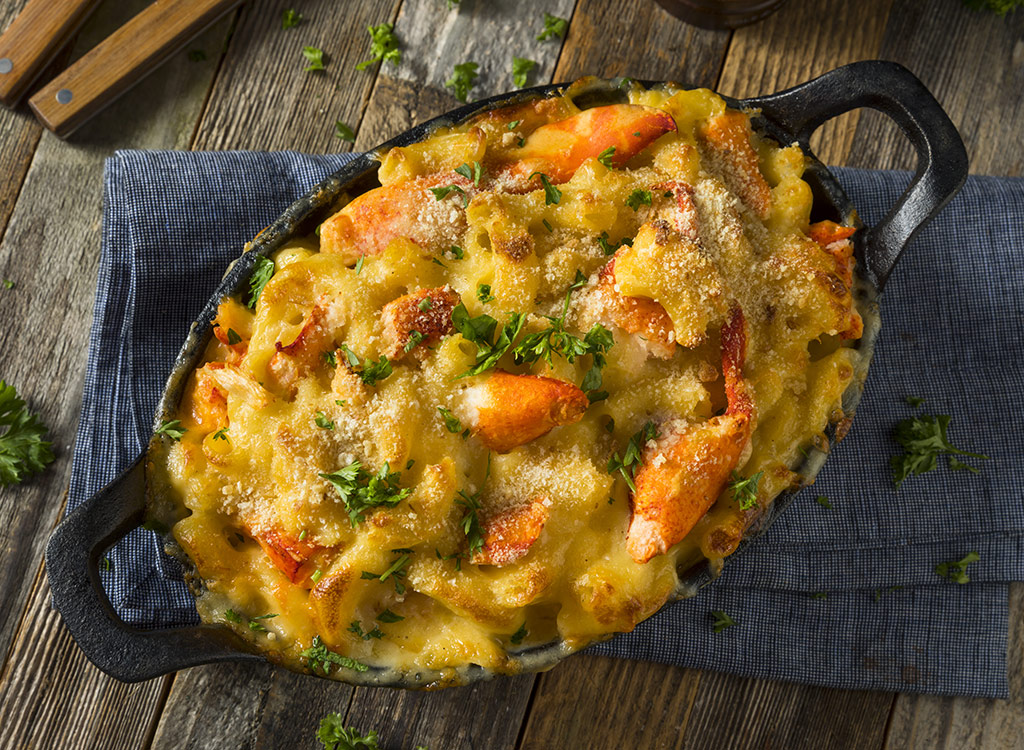 "My absolute favorite 'meal enhancement,' if you will, is our Lobster Mac and Cheese. The baked, gooey treasure is loaded with fresh lobster and finished with aged grafton cheddar cheese and compliments just about everything on the menu." —Daniel Fleming, executive chef of Primal Cut in New York City
Grilled Cheese and Spicy Tomato Soup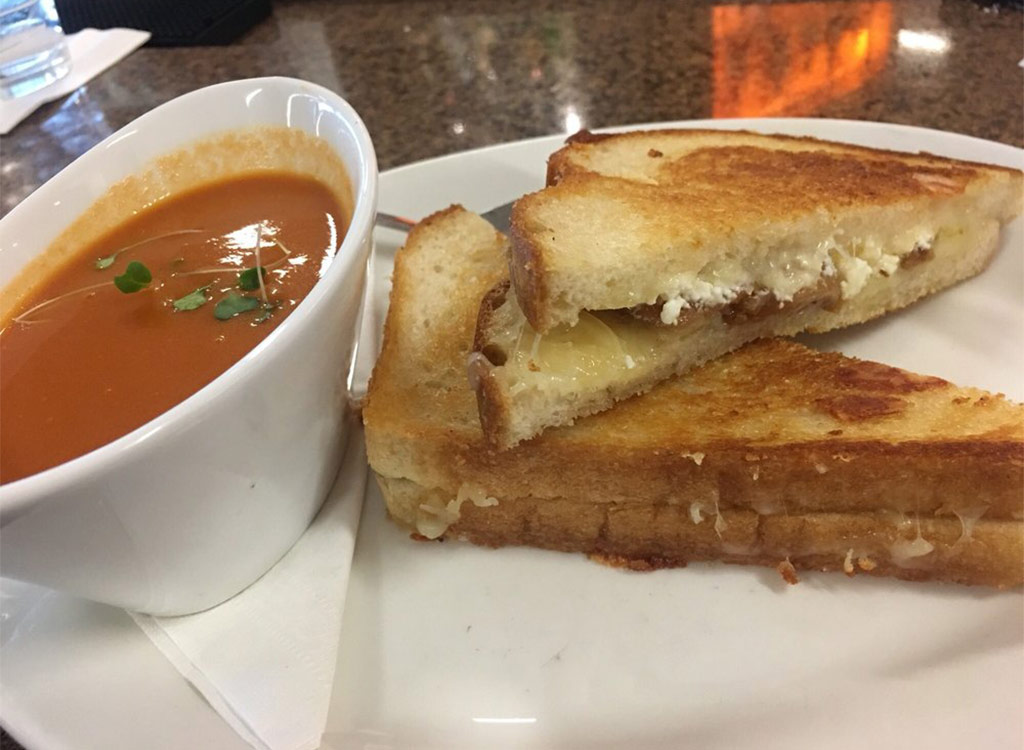 "The Grilled Cheese and Spicy Tomato Soup at Cat Cora's Kitchen is one of my favorite splurges. I also like to make it at home for my family. Nothing is more comforting than the memories around my mom making it homemade in Mississippi." —Cat Cora, first female Iron Chef, restaurateur, and author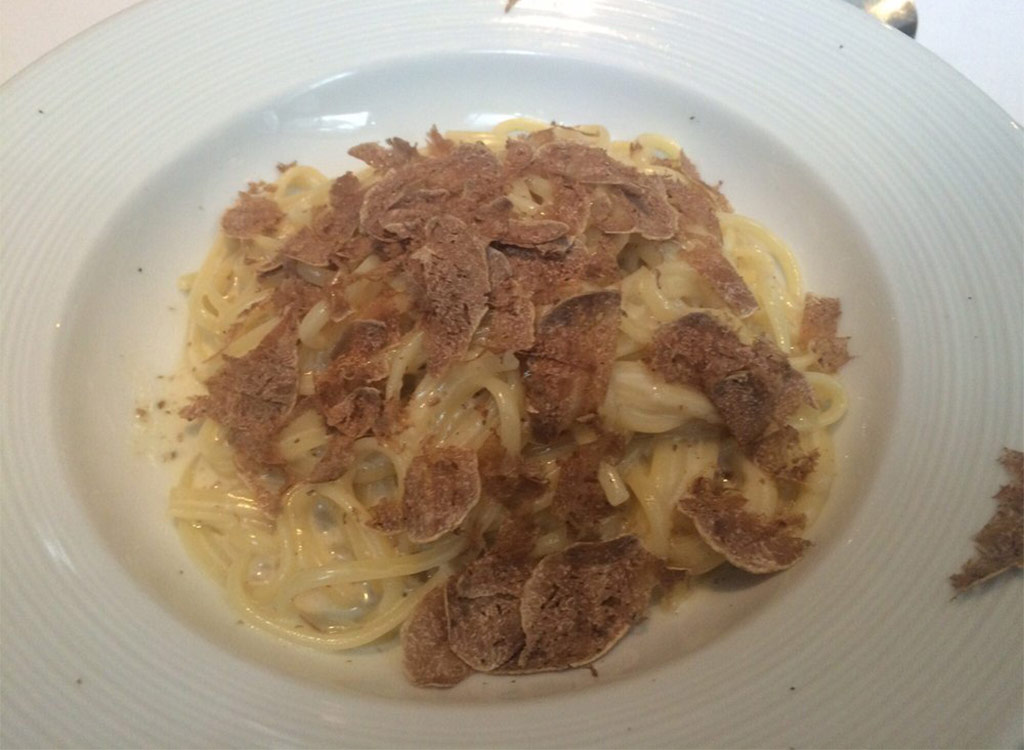 "White alba truffles shaved onto tagliolini from Madeo in LA or Otto e Mezzo in Hong Kong is a simple but decadent dish I'll always order when it's white truffle season. Sure, I can make it at home, but there's something special about having this dish at your favorite Italian restaurant—and having the experience of watching the server shave that beautiful truffle with their white gloves." —Kathy Fang, chef and restaurant owner of Fang in San Francisco
Dry Aged Prime Tomahawk Ribeye Tacos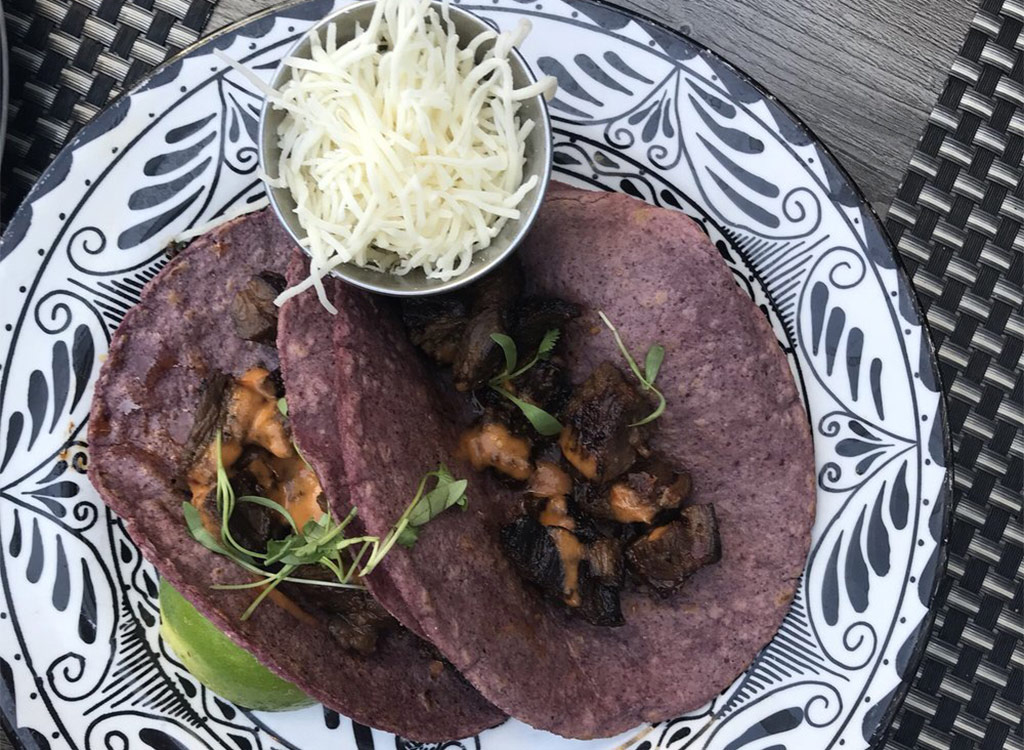 "If I was going to splurge on something, it would be my Dry Aged Prime Tomahawk Ribeye dish served at Barrio. Due to the size of it, an initial reaction when people first see it is shocking and they think it's too much for tacos. However, I always tell the hesitant ones to just go for it. Very few times have they been disappointed." —Katsuji Tanabe, Top Chef alum and owner of Barrio in Chicago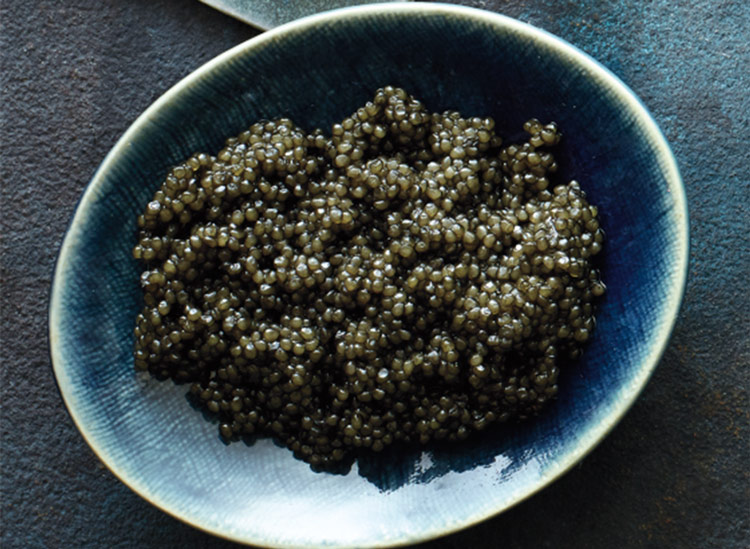 "My splurge is Russian sturgeon caviar—either Ossetra or Beluga. Lower-priced roes—like whitefish, paddlefish, or trou—seem to be trending right now, and they are good… but nothing compares to the real stuff. Wild sturgeon caviar has a completely unique taste, with just the right balance of salinity. It's especially great paired with one of my favorite types of champagnes—a Blanc de Blanc or other Chardonnay-forward bubbly." —Christopher Gross, James Beard Award-winning chef at the Wrigley Mansion in Phoenix, AZ
Blistered Shishito Peppers
"When I get a chance to dine at other restaurants, I really prefer to splurge on an assortment of appetizers rather than one main dish. From the roasted carrots and blistered shishito peppers to the California squid and Chinese long beans, what I love about Botanica's menu is it's so fresh, so farmers' market-driven, and features such strong, eclectic flavors. Nothing is done in a simple way even though the food feels really fresh and seasonal." —Susan Feniger, co-owner and chef at Border Grill
Australian Tomahawk Steak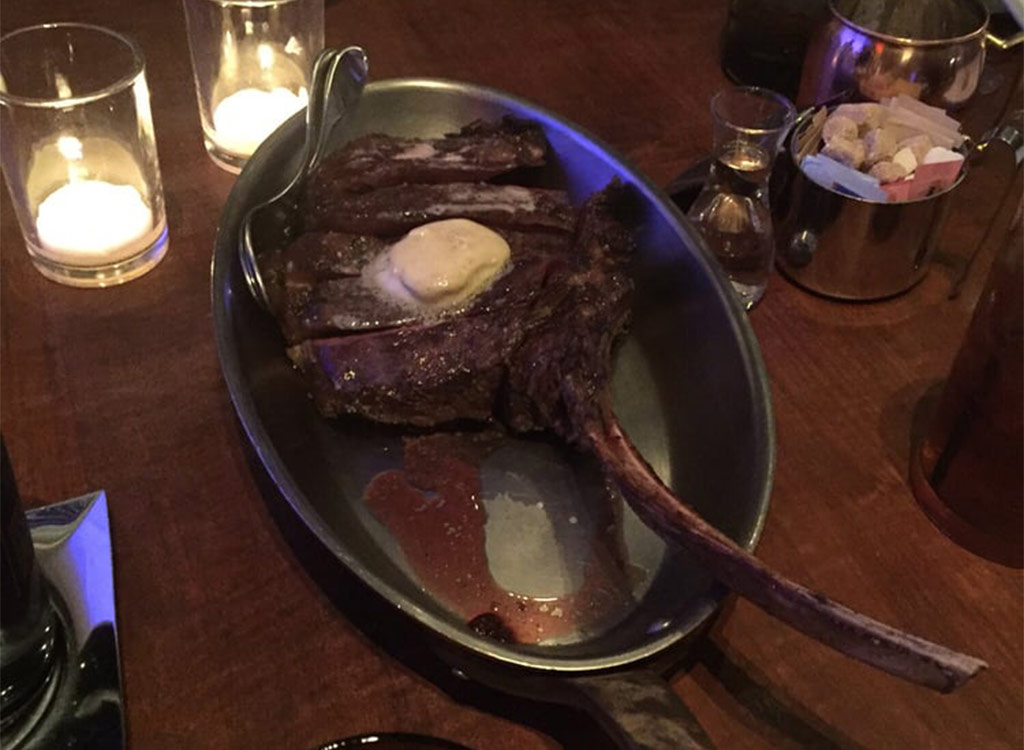 "To be honest, I would really only splurge on steak. At Michael Mina's flagship steak restaurant in Las Vegas, STRIPSTEAK, they offer a great 40 oz. Australian tomahawk steak. It's very expensive at $165 but well worth the price. Made from Wagyu beef, the tomahawk is cooked on a wood-burning grill, which imparts an incredible smokey flavor on the cut. There's something about the flavor you get from grilled meat over a wood fire that's very unique." —Alfie Szeprethy, executive corporate chef of Sammy's Woodfired Pizza & Grill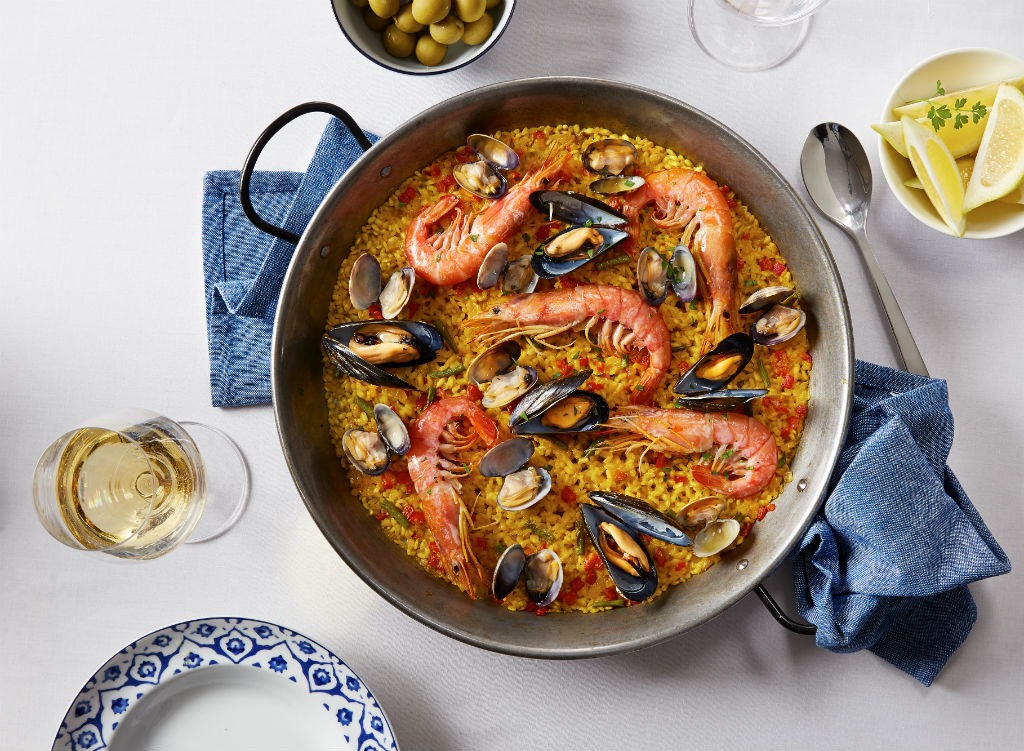 "The Study of the Sea dish from Bazaar Mar by José Andrés is a dish worth splurging on at $225. Chef José Andrés takes you through his thoughtful seafood selection of 12 different one-of-a-kind dishes from ceviche to caviar to squid to lobster. The tasting menu is so unique and it's the perfect dining experience for a seafood lover." —Jose Icardi, chef at Diez y Seis at Shore Club in Miami
"I love the Uni wrapped in nori at Nobu in Malibu, CA, for its pure ingredient horsepower. One bite of the seaweed and uni wrapped together with a squeeze of lime and it's as if you're swimming in the ocean." —Alex Guarnaschelli, executive chef of Butter Restaurant, TV personality, and cookbook author
"My favorite splurge is caviar. True caviar is one of nature's most rare, delicate, and beautiful delicacies. New non-kill techniques are on the rise, exploring ways to harvest the roe from sturgeon that have to be 20 years old before they even start to produce. At Corner Table, we serve our caviar simply with cultured butter and popovers fresh out of the oven." —Thomas Boemer, co-owner of the Corner Table and Revival in Minneapolis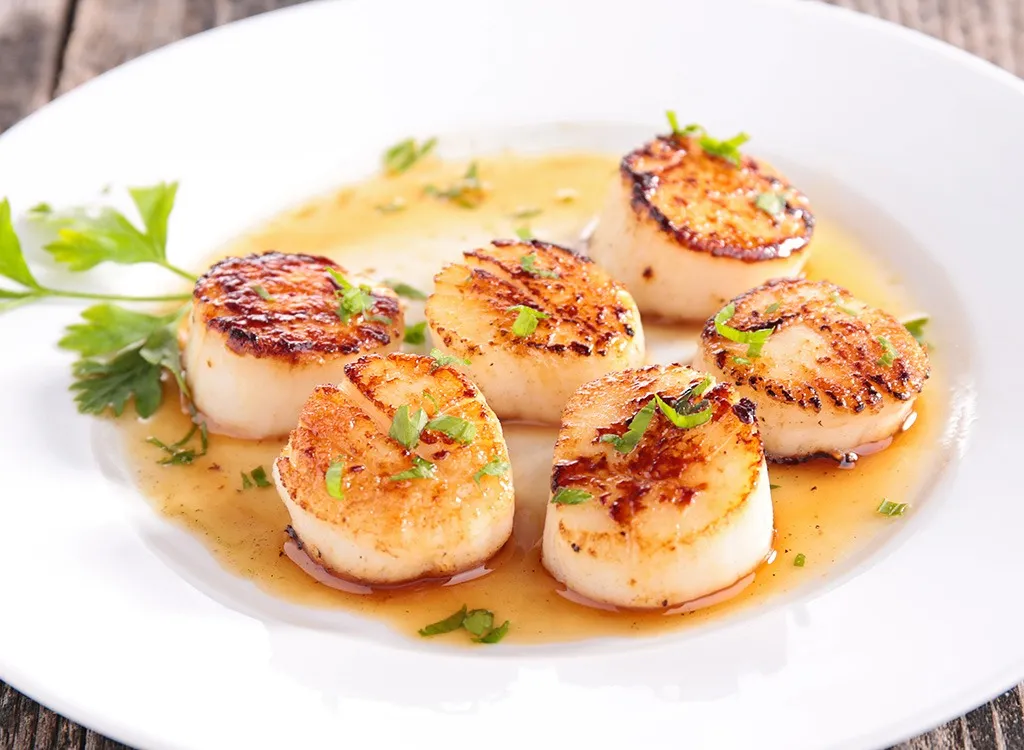 "One splurge that's worth the money is the Grand Banks Supérieur at Grand Banks. The chef first sends an amuse, followed by appetizers, which include radishes, burrata, and a caviar latke. Then you get a lobster roll, sea scallops, and French fries, as well as a dessert that includes berries and mascarpone and a chocolate pot de crème. Between the view and the boat, the $100 is well-spent!" —Stephen Yen, corporate chef of summer ops at Grand Banks, Island Oyster, and Pilot in the New York City area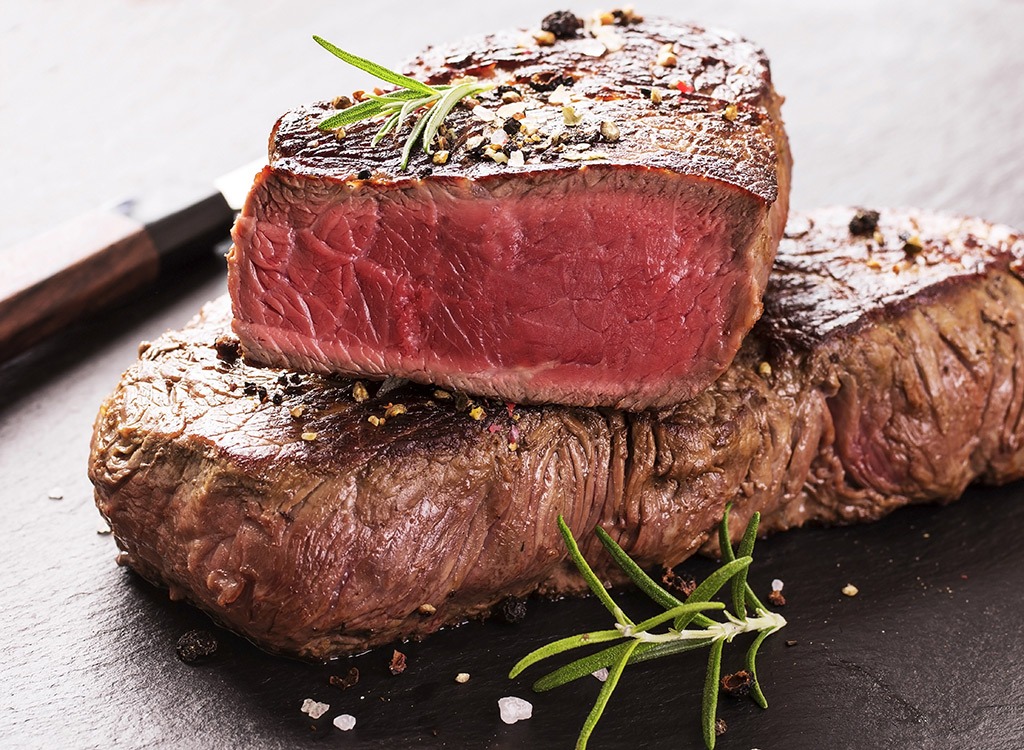 "Wagyu beef is worth the splurge. It's so rich that it doesn't take much to satisfy the craving, and there's no other product out there that can match it in flavor and richness. A $35 carpaccio at Morimoto is expensive but totally worth it." —Mark Dommen, chef at One Market Restaurant in San Francisco
Tehrene Firman is a freelance health and wellness writer.
Read more