10 Biggest Fast-Food Chains In America Right Now
These brands have the most pull with customers.
When it comes to fast-food domination, these big-league chains compete on a global scale. America, however, has always been a fierce battleground as the original home of the quick-service meal and drive-thru culture.
The annual Technomic's Top 500 Chain Restaurant Report ranks the biggest chains in the nation by looking at last year's top earners. While there may be no surprises about who made the final list for 2021, it's a good reminder that size doesn't really matter when it comes to popularity among customers.
Here are the biggest fast-food chains in the U.S. right now.
And don't miss This Once Bankrupt Brand of Grill Restaurants Is Making a Huge Comeback.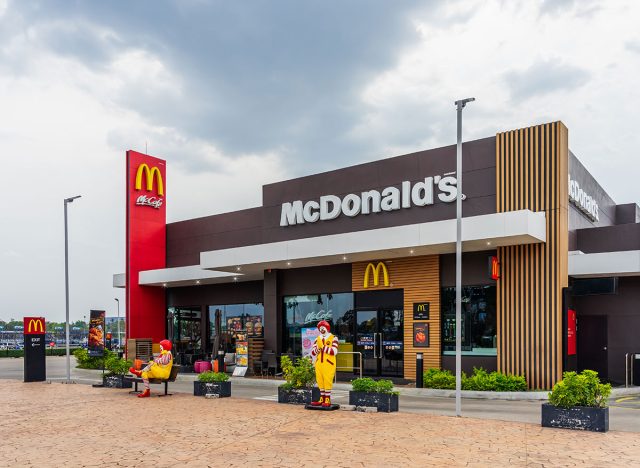 McDonald's had a very good 2021, despite dealing with worker shortages, wage increases, the pandemic, and rising food costs.  This was largely due to the chain's ability to adapt to a changing market.
The company made nearly $46 billion in sales, according to Technomic's Top 500 Chain Restaurant Report. However, although it has increased its sales from the year prior, the company has shrunk in terms of locations—it is down by 244 U.S. restaurants compared to the year before.
In 2021, McDonald's embraced third-party food delivery platforms like Uber Eats and DoorDash, added some pizzazz to the menu with chicken sandwiches and celeb meals, and ended up increasing its prices—all of which contributed to strong sales and its position as America's top fast-food chain.
Starbucks has had a rocky year so far with a growing number of its stores unionizing. But in 2021, the chain saw big profits which reaffirmed its position as the second-largest quick-service chain in America. 
"This is further evidence of the Great Human Reconnection," said Starbucks CEO Kevin Johnson of the company's stellar 2021 year during Fortune's Global Forum conference. "The rapid re-engagement of non-rewards customers not only propelled our record results but also underscores the strength of the brand and the growth potential ahead."
The company was able to reach more than $24 billion in sales in 2021, according to Technomic's Top 500 Chain Restaurant Report.
Starbucks boosted sales by leaning into its drive-thru, which represented nearly half of all its transactions during the pandemic. 
Additionally, the chain has been steadily increasing its prices due to inflation. The coffee chain has raised menu prices twice in a relatively short period of time: in October of 2021, and again in January of this year, with plans for more price increases by the end of the year. Still, nothing seems to be deterring its fans.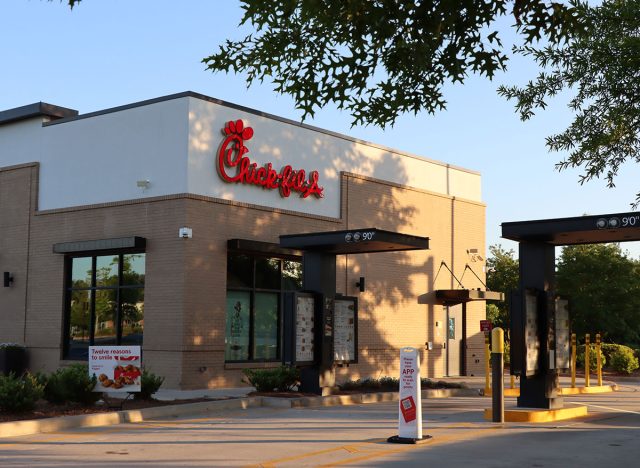 Number three in the big league rankings, this "chicken little" is the smallest chain to compete with the heavyweights. At only 2,704 locations compared to McDonald's 13,438 U.S. units, Chick-fil-A packs quite a punch for its size.
It reached $16.6 billion in sales last year, according to Technomic's Top 500 Chain Restaurant Report. For Chick-fil-A, 2021 was a record-setting year in terms of revenue and earnings, according to Franchise Times.
The chain excelled during the pandemic by innovating the drive-thru like no other fast-food establishment. Arming workers with iPads and taking orders directly from cars while sectioning the parking lot into "zones" proved an effective approach.
And the company is still ahead of the game when it comes to innovation, currently testing a new autonomous delivery service in Texas.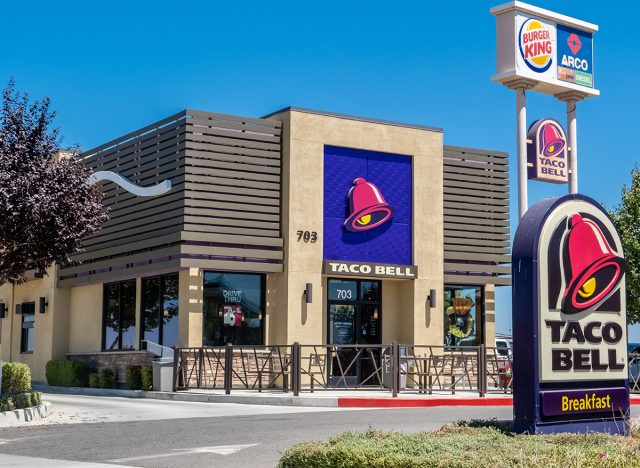 Technomic's Top 500 Chain Restaurant Report indicates the Mexican fast-food chain has managed to bring in well over $12 billion in sales last year. It has also grown its footprint by about 200 locations in the U.S. during that time.
The chain owes its success to wasting no time in maneuvering the "new normal." In the summer of 2020, Taco Bell introduced its new Rewards Program which featured a new "fire" level of superfan. Additionally, it unveiled the "Go Mobile" prototype store, which heightened drive-thru capabilities and curbside pickup.
Luckily for Taco Bell, reinforcing drive-thru was an obvious choice for navigating the pandemic. More than 70% of Taco Bell's orders already come via the drive-thru, according to Forbes. By enhancing its digital footprint early on, Taco Bell was already ahead of the (bell) curve.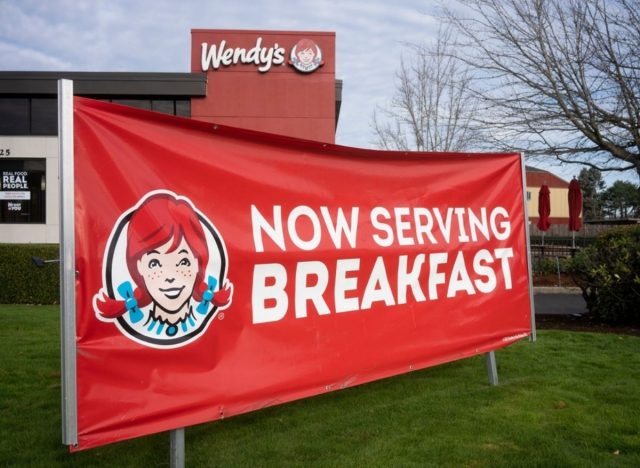 After dethroning Burger King as the nation's second-favorite burger chain behind McDonald's, Wendy's has been riding high and it doesn't appear to be relinquishing the title soon. 
The chain's sales reached over $11 billion last year, according to Technomic's Top 500 Chain Restaurant Report.
Part of the success was due to Wendy's hitting the right spot with its then-brand new morning menu in 2020. The chain generated 8.5% of its sales from breakfast last year, according to Restaurant Business.6254a4d1642c605c54bf1cab17d50f1e
Additionally, a few successful launches like the Pretzel Bacon Pub Cheeseburger and a focus on value have made Wendy's marketing ring right with its customers—something that Burger King hasn't been as good at.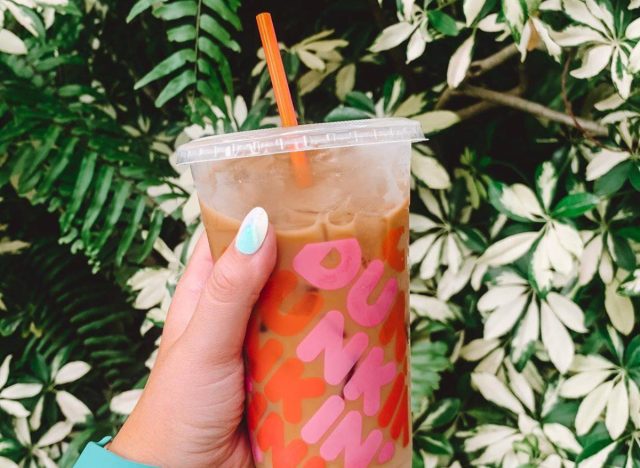 America still runs on Dunkin', even under the threat of a pandemic. The fast-food chain was able to keep business humming thanks to innovative drinks and a lot of customers looking to treat themselves to a donut during a crisis.
In 2021, Dunkin' was able to hit over $10 billion in sales, according to Technomic's Top 500 Chain Restaurant Report. Dunkin' has less than 10,000 locations in the U.S., making it a mid-size chain on this list.
Last year, the chain was catering to the home-office crowd, pushing new caffeinated beverages and mobile ordering. It introduced a lineup of matcha and oat-milk lattes, plus Dunkin' Refreshers, made with iced green tea. The move proved a smart one as the trendy new drinks were a success, with the brand declaring oat milk a new guest favorite.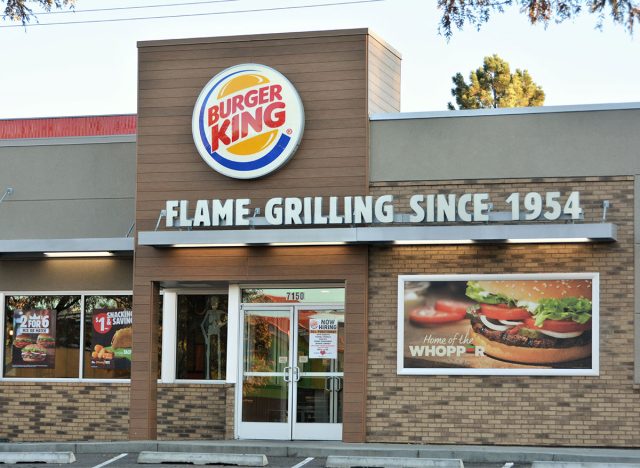 Just because it's not America's second-favorite fast-food burger chain anymore, doesn't mean Burger King has completely fallen off the radar. In fact, the chain still enjoys plenty of fandom and is still one of the highest-grossing burger brands in the U.S.
BK hit about $10 billion in sales last year, according to Technomic's Top 500 Chain Restaurant Report. And while that was enough to land it in the #7 spot among America's biggest chains, the number demonstrates that Burger King still hasn't gotten back to its pre-pandemic sales levels. 
The chain has also closed about 250 U.S. restaurants since the start of the pandemic, going from 7,346 in 2019 to 7,105 in 2021.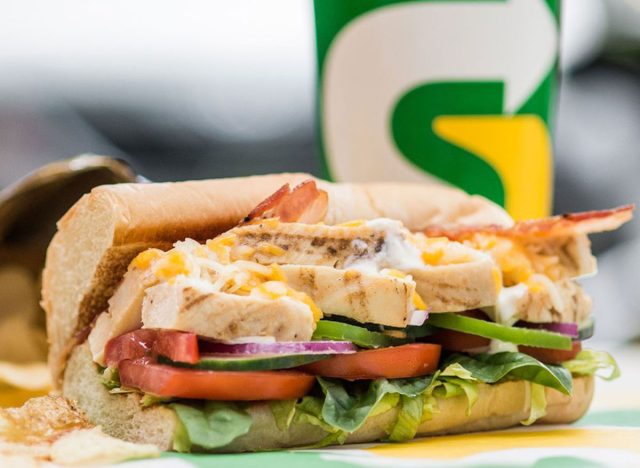 America's biggest sandwich shop landed in eighth place just like last year. But it is looking for a fresh start amid some serious turmoil in recent years. 
Subway's sales hit $9 billion last year, according to Technomic's Top 500 Chain Restaurant Report. But the chain is still down compared to its pre-pandemic numbers—in 2019, its sales were at over $10 billion, which put it in sixth place on this list that year.
Subway has implemented some successful strategies in 2021, some of which created same-store sales that were the strongest in 8 years. In the summer of 2021, it revamped its menu, offering improved ingredients as well as several new sandwiches. Thanks to that move, its 5,000 top-performing domestic locations saw a 33% increase in sales during that time. 
However, while the Eat Fresh Refresh menu overhaul worked to bring customers in the door, Subway was also closing doors en masse. Subway's franchisees shuttered more than 1,000 locations in 2021, bringing the chain's U.S. store count down to just over 21,000.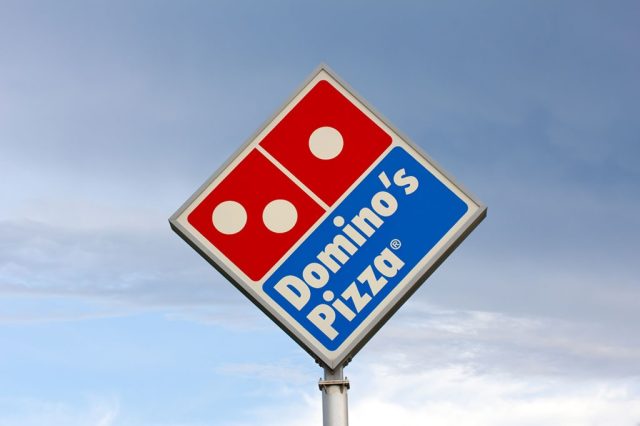 Domino's is the only fast-food pizza chain to make it to the top 10, although the pizza segment was hot during the pandemic. Pizza Hut follows at #13 on the ranking, and Papa Johns at #25. 
While many restaurants were struggling to adapt to the pandemic, Domino's was ready to deliver. The pizza giant was locked and loaded from the start and saw sales boom at the onset of quarantine.
The growth continued into 2021. The pizza chain's sales last year were about $8.5 billion, according to Technomic's Top 500 Chain Restaurant Report. 
More than any other pizza delivery chain, Domino's had a robust digital platform, one that had unique features like "hotspots," which let people order pizza to locations outside of their houses (like the beach) and other outdoor areas.
The chain is still innovating and has recently tested self-driving delivery cars in Texas.
One surprising winner that came out of the pandemic was Chipotle, which traditionally had more dine-in sales. The brand had just launched its order-ahead drive-thru Chipotlanes a year prior to the pandemic. It also boosted its digital presence.
The company is the highest-grossing fast-casual on the Top 500 Chain Restaurant Report from Technomic. The chain brought in $7.5 billion in sales last year and has been on a steady upward streak since 2019.
Chipotle has managed to grow loyal customers since the start of the pandemic, recruiting 20 million users to its digital rewards program in one year since the program launched in March 2019. 
Given that it has less than 3,000 locations, Chipotle was able to garner enough sales with a loyal customer base to make the list of the top 10 biggest restaurant chains in the U.S., making it one of the smallest and most adaptable restaurants on the list.
Amber Lake
Amber Lake is a staff writer at Eat This, Not That! and has a degree in journalism from UNF in Jacksonville, Florida.
Read more about Amber