This Beloved Juice Box Is Drastically Changing Its Ingredients for the Second Time in 7 Years
The company said it's because of what parents now prefer to give their kids.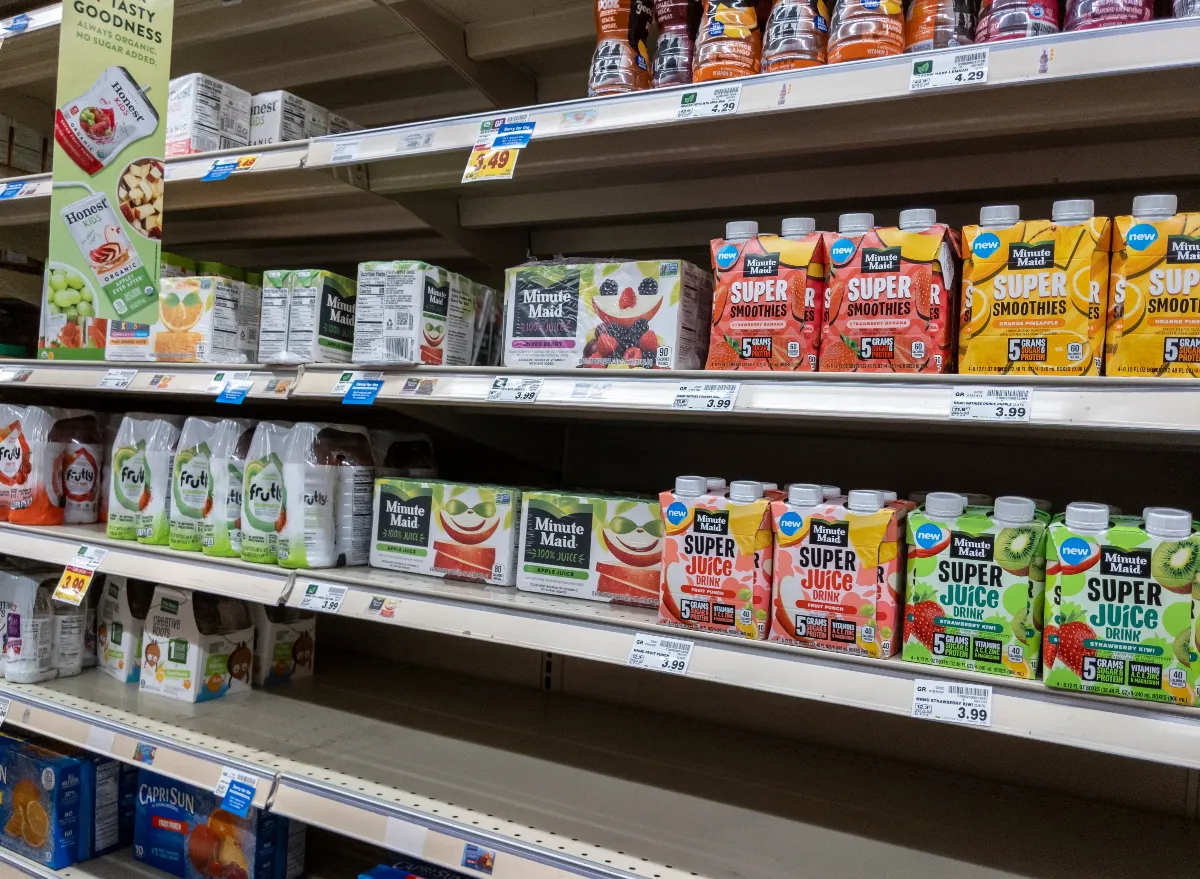 There may not be a more iconic juice in the grocery store than the one sold in a silver pouch. While sticking a straw in the top of one of these squeezable liquid-filled sacks is a memory most of us share, the famous Capri Sun is about to make a big change—only you won't immediately notice it from the outside.
The beloved drink is getting a recipe makeover for the second time in seven years. The new Capri Sun juice boxes will feature monk fruit concentrate—a small fruit native to China often used as a no-calorie substitute for sugar while still providing the taste of sweetness. The switch will help reduce the amount of total sugar in a serving of Capri Sun by 40%.
RELATED: 6 Cracker Brands To Stay Away From Right Now6254a4d1642c605c54bf1cab17d50f1e
Monk fruit is a small fruit native to China and is often used as a no-calorie substitute for sugar while still providing the taste of sweetness. The ingredient will now be added to Capri Sun's entire original flavor lineup as part of an effort to align evolving health trends. The packaging will be updated, too when the new boxes get to grocery stores in August.
However, this isn't the first time that Capri Sun has changed its formula in order to meet parents' evolving concerns about what's okay to give their children. In 2015, the company announced it was changing its products to replace high fructose corn syrup with real sugar. However, the serving amount remained the same, and there was debate among experts as to whether it was actually "healthier." Now, with the monk fruit change, boxes will have 5 grams of sugar, not 8 grams.
More so than ever, parents are concerned about the effects of sugar on their children, with approximately 70% stating they actively try to limit the amount their child consumes, according to Statista. And it's for good cause—recent research has shown that fructose is actually detrimental to development, well beyond weight gain. Other areas in a child's life like academic performance, learning, and memory have been shown to be negatively impacted by sugar consumption. 
Capri Sun isn't the only iconic brand at the grocery store that is mixing it up this year. Kraft Macaroni and Cheese just announced it will be changing the product's name and logo—a move that will make it look drastically different.
Amber Lake
Amber Lake is a staff writer at Eat This, Not That! and has a degree in journalism from UNF in Jacksonville, Florida.
Read more about Amber