10 Celebs Who Look Exactly the Same As They Did 20 Years Ago
Here are the forever-young secrets of Hollywood's ageless stars.
Jennifer Lopez, Sandra Bullock, Beyonce, and Gabrielle Union have one thing in common: They keep getting older, but refuse to age! Sure, Hollywood stars have an advantage when it comes to longevity compared to the general population, as they have access to personal trainers, chefs, and expensive products, creams, and fitness equipment. However, many of them maintain that their forever-young looks are the result of simple healthy habits. Read on to see 10 stars who haven't aged in 20 years and learn about their secrets to longevity—and to get beach-ready yourself, don't miss these essential 30 Best-Ever Celebrity Bathing Suit Photos!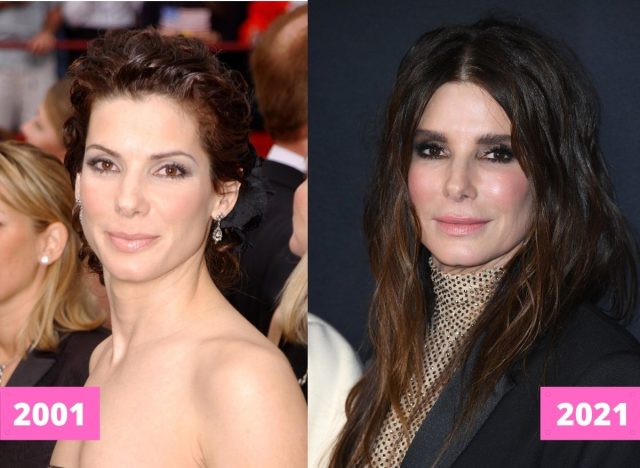 Sandra Bullock, 57, has a sense of humor about her longevity. "I'm sleeping in a container that is devoid of outside carcinogens, that helps lift what you don't have and — come on, please!" she joked to Entertainment Tonight in 2018 when asked about her secret to anti-aging. In all seriousness, she revealed to InStyle that exercise, including Pilates, kickboxing, and weight training with Simone La Rue, helps keep her body forever young. "When I'm in Austin, I run or ride a bike," she explained. "If I can work out every day, I will."
Jennifer Lopez is the first to admit she is in the best shape of her life at 52. "In my 20s and 30s I used to work out but not like I do now," she told InStyle's 2021 The Beauty Issue. "It's not that I work out more; I just work out harder and smarter. And it doesn't take me as long as it did in the past. I do it more for my health than I do for looks, which is funny. When you do things for the right reasons, you actually look better!" She also drinks a ton of water, per her trainer Dodd Romero. "She drinks a minimum of seven glasses a day," he told US Weekly.6254a4d1642c605c54bf1cab17d50f1e
If you want to look like Jennifer Aniston at 52, plan on transforming your eating habits. "I don't let eating habits get out of control where I need a reset button. My general philosophy is to eat healthy. It's pretty clear: eat as much organic fruits and veggies as you can, keep sugar [intake] low, drink tons and tons of water, and get good sleep," she told Yahoo! Food. In fact, when it comes to cheating, she has the willpower to eat a morsel. "A chip. Crunch, crunch, crunch," she recently joked to InStyle about her stress-eating food of choice. "Usually. I'm good at that. I can have one M&M, one chip. I know, that's so annoying."
Catherine Zeta-Jones attributes her ageless figure to constantly moving. She exercises "at least 45 minutes a day, seven days a week," she told InStyle, adding that fitness also boosts her mental health. "It really helps my mood too, which, with the bipolar thing, is important," she said. She added to W magazine that swimming, tennis, peloton, working out in her home gym and tap dancing are some of her other favorite workouts.  "I have a ballet barre in my gym," she told The Telegraph. "I turn the music up so loud that the walls are pulsating, and I go for it for an hour. I also hula-hoop, walk on the treadmill, do the elliptical [machine]. I try to keep the whole body working."
Beyonce has been dabbling in plant-based eating since 2018, when she famously went on Marco Borges' 22-day Vegan Challenge. "Me getting the weight off was so much easier than getting back in shape and my body feeling comfortable," she said in a 2019 YouTube video about her transformation.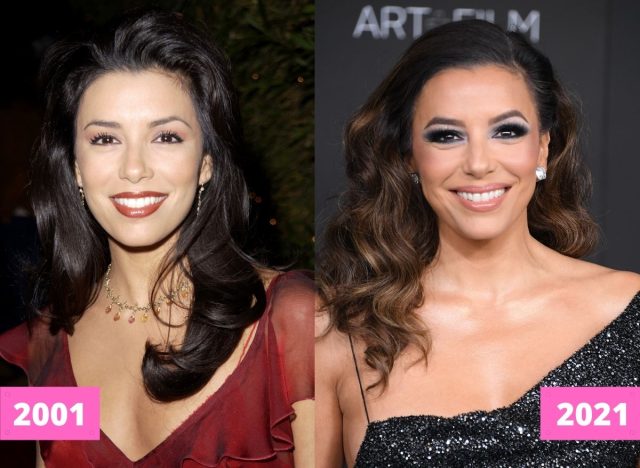 Eva Longoria doesn't take any shortcuts when it comes to her health. "Especially as you get older, people want to know the secret to looking good and there is no secret. It's diet and exercise," she told Vogue Australia. "People say they eat well but they don't exercise. Or they run 20 miles a day but they can't lose weight. You have to do both." Some of her workouts include trampoline exercise and strength training with Julia Brown of Thrive With Julia or Grant Roberts of Granite Gym. "I do very heavy weights," she recently told Women's Health. A few include squats on a weight rack with at least one 25-pound plate on each end and hip thrusts with a 50-pound plate on her hips. "I feel like my body changes the most when I do that—I wear a heart rate monitor, and I can see my heart rate spike from just doing a heavy bicep curl," she added.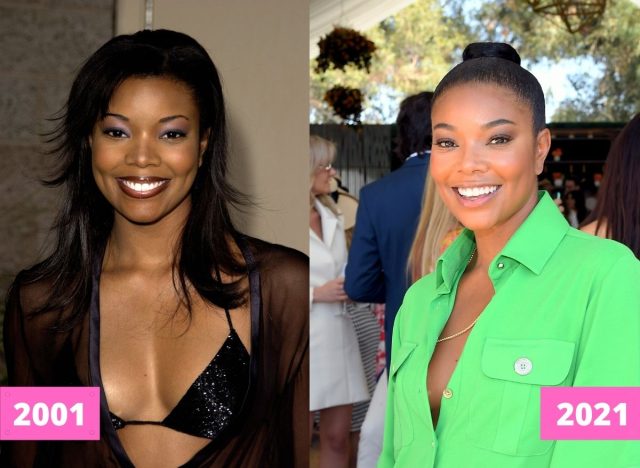 How has Gabrielle Union maintained her glow? She drinks a gallon of water per day. "It's made a tremendous difference with my hair, skin, and nails. Everyone is always like, 'What did you do differently than everyone else? Why are you aging so slow?' It's something that everyone has access to and it not only helps with your beauty, it also helps with your fitness and digestion," she told Elle. Her goal is to chug half a gallon by noon, "casually" drinking the other half until 6:00 pm. During workouts she drinks "a good 32 ounces" to stay fueled up. "Just try and do as much as you can early," she suggests.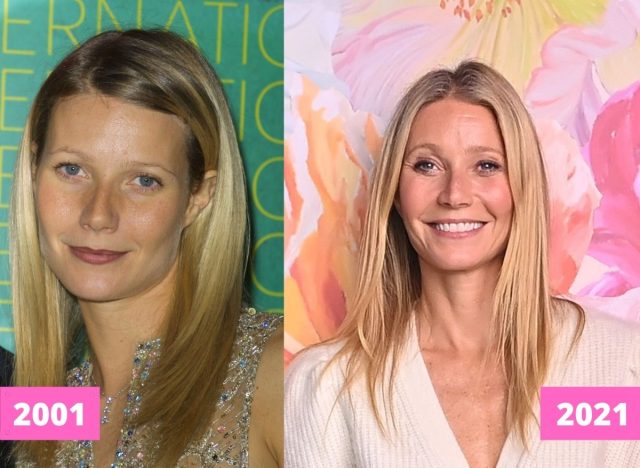 Goop founder Gwyneth Paltrow does a lot of things to promote longevity, including cleanses and healthy eating. But when it comes to her body she doesn't need to try any new trends and sticks with the Tracy Anderson Method. "Her method works so well for me. I've seen all these fads come and go, and nothing works for me the way that Tracy's approach does, so I really stick with it," she told Shape. "Many of you may already know of my passion for the Tracy Anderson Method and my investment in it. She has kicked my formerly sagging ass into shape and I will be forever grateful," she added on Goop.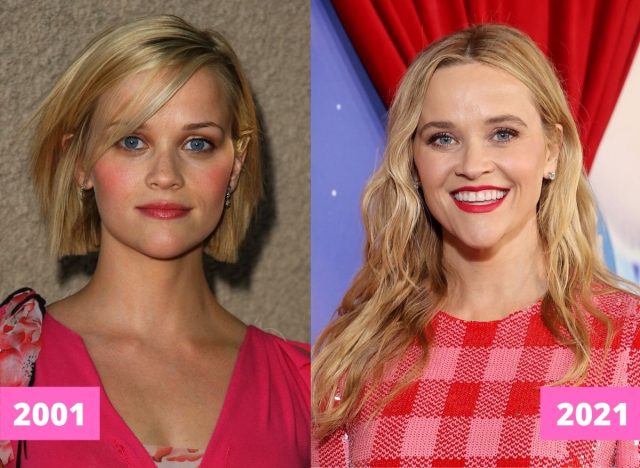 Reese's secret to looking good? "In my 30s, I learned to accept my body for what it is. This is what looks good on it. It will never look good in that thing over there with all the fabric and the bows and the ruffles. It just won't," she revealed in the December 2021 issue of InStyle. In a recent Instagram Reel, she also confessed that drinking lots of water and sleep help keep her looking and feeling great. "In bed by 10pm. *no late night TV binges," she said. "Try to get 8 hours of rest!"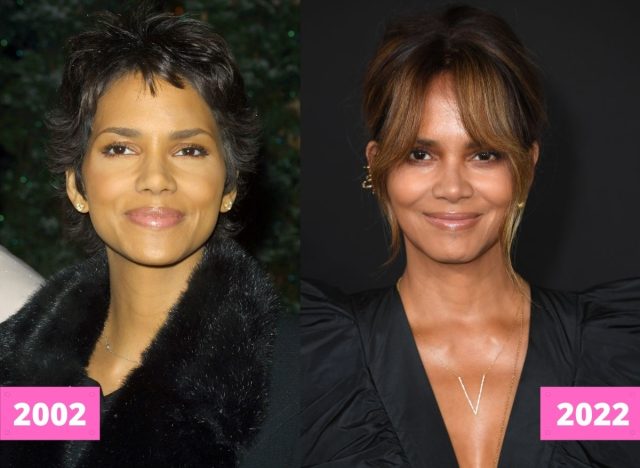 In addition to her commitment to exercise, the keto diet and intermittent fasting have been keeping Halle Berry looking decades younger for, well, decades. During an appearance on Live With Kelly and Ryan she explained that the diet helps her manage her diabetes. "No sugar, no carbs, nothing white," she said. Healthy fats like "avocado, coconut oil, butter," and no sugar also help. "That's the secret!" In an August 2018 Instagram story she discussed intermittent fasting, revealing that she eats two meals a day, saying she would "normally skip breakfast" and "sort of fast."
This story has been reprinted with permission from Celebwell.
Celebwell
Celebwell offers the best celebrity health, weight loss and fitness advice, with indispensable service in every piece—and the photos that prove they work.
Read more about