People Are Eating Cicadas and Sharing Their Recipes
How do you like yours cooked?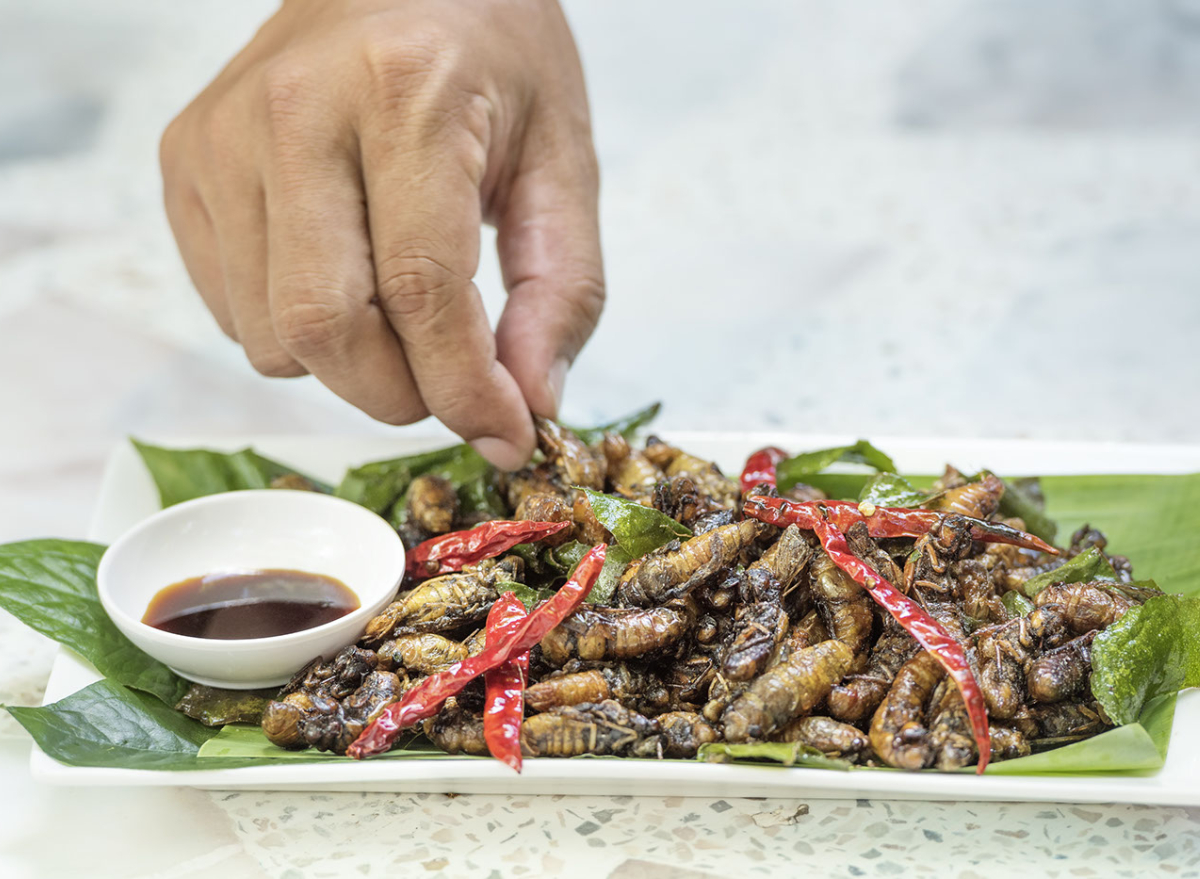 Trillions of cicadas are taking over some parts of the eastern U.S. for the first time in 17 years. While simply annoying, loud, and gross to some, others have waited almost two decades for this tasty treat, and they are revealing their cicada recipes.
People are grilling, sauteeing, and serving up these bugs, called Brood X. And with about 1.5 million of them per acre, there's plenty to pass around the table, maybe as Spicy Popcorn Cicadas or Cicada Cookies?
Filled with alternate, which is a sustainable protein, they allegedly have a "sweet, bitter flavor reminiscent of walnuts, chestnuts and adzuki beans" with a "gently crunchy exterior giving way to creaminess, like a soft shell crab," Bun Lai, the chef of Miya's Sushi in New Haven, Conn. told The New York Times. Putting it this way makes cicada casserole or cicada chowder or even cicada carbonara sound somewhat delectable.
Related: The 7 Healthiest Foods to Eat Right Now
"They're really good on salads or tacos, or pretty much anytime you can replace shrimp," TikToker Shane The Ninja said about them in a cooking tutorial video. He used garlic, lemon juice, salt, and pepper, but notes that you can use any seasonings you like.
Shane prepares them by first freezing them, then taking off the wings. He then heats up some oil and sautees them with the seasonings. Once they puff up, he says, they are almost ready—and don't mind any movement, that's just the heat!
There are over 3,000 species of cicadas around the world that have been around for thousands of years, National Geographic says. Some reappear each year and others (like Brood X) wait for 17.6254a4d1642c605c54bf1cab17d50f1e
Large parts of Chinese and Japanese cultures, where they come to life each year, utilize the bugs. Cicadas are heavily featured in Chinese art, folktales, literature, and even war strategy, according to NPR. Miya's Sushi chef Lai used to "climb up trees, following the song of the cicada" as a child in Kyushu, Japan, where they represent summer and rebirth.
Although chowing down on cicadas may seem strange in the U.S. because eating insects isn't common, for other traditions across the globe they are eaten like anything else—not as "starvation food" Lai says. They simply taste good!
Feeling inspired to try something new? While there are no cicada recipes from Eat This, Not That!, here are 25 New Twists on Classic Recipes to test out. And to get all the latest food news delivered right to your email inbox every day, sign up for our newsletter!
Amanda McDonald
Amanda has a master's degree in journalism from Northwestern University and a bachelor's degree in digital journalism from Loyola University Chicago.
Read more about Amanda