This Easter Treat Sold At Costco and Other Grocery Stores Is Part of A Massive Recall
This is one item you don't want to find in your Easter basket
A massive Kinder chocolate recall has been issued, unfortunately just in time for the Easter holiday. For most celebrators, the bacteria Salmonella isn't quite the surprise you want to find in your Kinder treats.
Affected items include the Kinder Happy Moments Chocolate Assortment and the Kinder Chocolate Treats Basket that were produced in Belgium by Ferrero. The U.S. Food and Drug Administration (FDA) recall notice says that no other Kinder products produced for the U.S. market are included in this recall.
The recalled 14-ounce Kinder Happy Moments Milk Chocolate and Crispy Wafers Assortment was sold at both Costco warehouses in the Bay Area of California and Northern Nevada and BJ's Wholesale Club stores. Additionally, the 5.3-ounce Kinder Mix Chocolate Treats Basket was sold in 14 Big Y Supermarket locations in Connecticut and Massachusetts.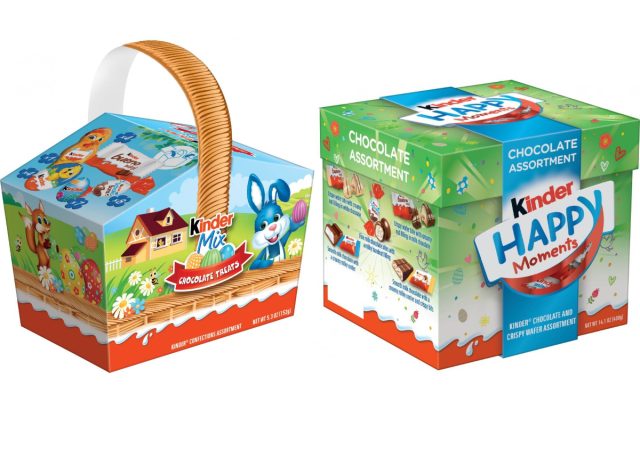 While these are the only Kinder products recalled in the U.S., the company has announced that additional ones are being pulled from shelves in Europe after they were manufactured in the same facility. The BBC recently reported that more than 60 people in the UK became infected with Salmonella in an outbreak linked to  Kinder treats. While no deaths have been reported, most of the cases have involved children aged five and under.
On April 8 the company announced it was shutting down operations at its manufacturing plant in Arlon, Belgium after Salmonella bacteria were found. The plant manufacturers 7% of the company's total volume. The temporary closure is suspending the production of its Kinder Surprise, Kinder Mini Eggs, Kinder Surprise Maxi 100g, and Kinder Schokobons treats. These have also now been recalled in Europe.
"Ferrero acknowledges there were internal inefficiencies, creating delays in retrieving and sharing information in a timely manner. This impacted the speed and effectiveness of the investigations. The plant will only re-open once certified by the authorities," the company says. "The Arlon plant accounts for around 7% of total volumes of Kinder products manufactured globally on a yearly basis. Local solutions will be implemented to assist consumers with the recall."6254a4d1642c605c54bf1cab17d50f1e
People infected with Salmonella develop the symptoms 12-72 hours after being exposed to the bacteria, which is usually transmitted to humans by eating foods contaminated with animal feces, according to the CDC. Those that have been exposed to the bacteria usually exhibit diarrhea, fever, and abdominal cramps. For healthy individuals, the symptoms can last 4-7 days but can be fatal for those under five, over 65, or with a weakened immune system.
This isn't the only Easter item to be pulled from shelves recently, This one at Walmart has also been recalled.
Amber Lake
Amber Lake is a staff writer at Eat This, Not That! and has a degree in journalism from UNF in Jacksonville, Florida.
Read more about Amber