The Benefits Of The "Slugging" Trend Everyone's Doing For Youthful Skin
Say hello to super hydrated, radiant skin.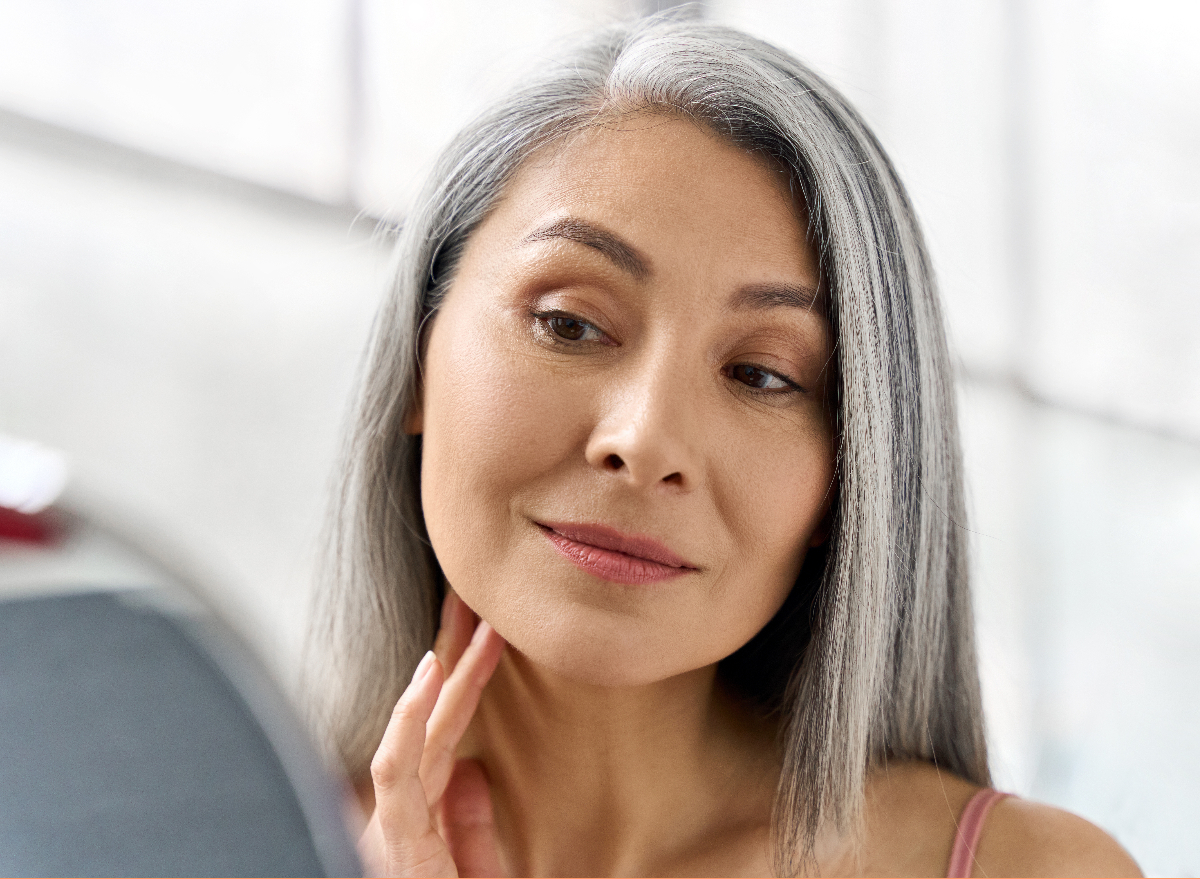 We've all heard of the term "slugging it out." Well, the "slugging" skincare fad has arrived, and it's quite different. In fact, this particular form of slugging can actually make your skin look super hydrated, dewy, refreshed, and even younger. If you are always curious to test out new facial products and methods to improve your skin or make it look younger, read on to learn about the wonderful slugging skin benefits and the overall process.
After hearing about the slugging skin benefits, be sure to check out The 6 Best Exercises for Strong and Toned Arms in 2022, Trainer Says.
"Slugging" is going viral for good reason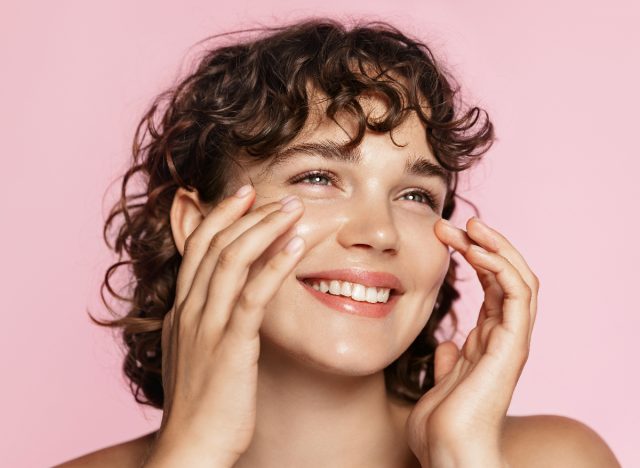 Although not a totally brand-new trend, slugging has received quite a lot of recent attention on social media. As a matter of fact, TikTok has raked in more than 180 million views of this unique skincare application process under the #slugging hashtag. It's clear people are absolutely obsessed, and for good reason. This self-care trend can actually make your skin appear slug-like before it looks radiantly hydrated.
We're going to let you in on what it's all about, and how you can start slugging. After hearing these details, you'll want to add it to your skincare routine ASAP.
Related: How To Copy Hailey Bieber's "Glazed Donut" Skincare Routine
Here's what this refreshing skincare trend is all about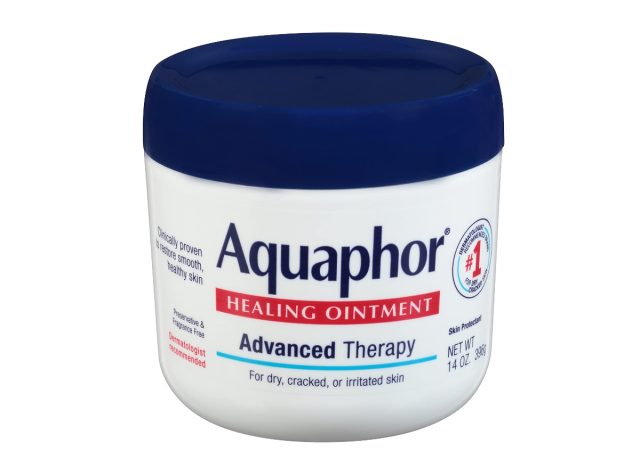 Slugging has people using a product on their face similar to Vaseline® petroleum jelly, or Aquaphor®, which are "occlusive" products. Board-certified dermatologist Dr. Hadley King tells CNN products that are "occlusive" stop damage in its tracks by creating a protective barrier—a healing layer—on your skin. By applying an occlusive product on your face, you will reduce any loss of water, promote hydration, and foster younger-looking skin.6254a4d1642c605c54bf1cab17d50f1e
Cosmetic dermatology expert Dr. Kenneth Mark explains to CNN that the method is gaining such popularity because your skin can improve by staying hydrated and sealed on a nightly basis. In fact, Mark notes that the process is actually a treatment dermatologists have used forever to aid various skin conditions such as psoriasis and eczema.
The products people are using for "slugging" make perfect sense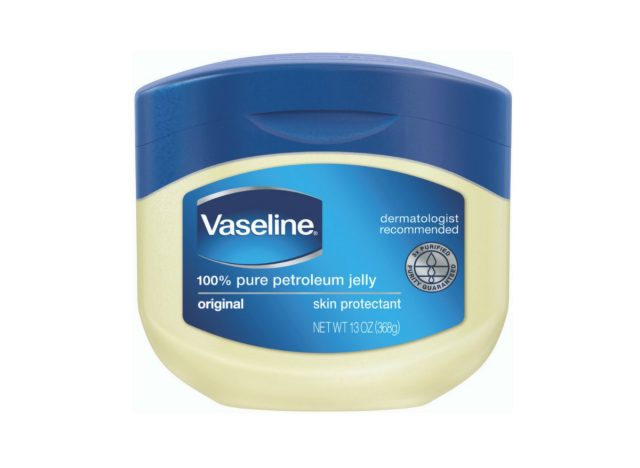 Just about everyone grew up with a jar of Vaseline® someplace in their medicine cabinet, as it's been a household staple for use in healing dry, cracked skin and small cuts or burns. According to the Vaseline website, "Our skin is the barrier between our bodies and the outside world, and the health of our skin is essential to our overall [well-being]. In tough circumstances, skin problems are common and can cause great discomfort, sometimes worsening to life-changing conditions if not addressed." It makes perfect sense that this product would be used by some to give their skin some extra TLC.
Related: Cindy Crawford's Best Skincare And Fitness Tricks In Her 50s
This is how to "slug," so you can add it to your own skincare regimen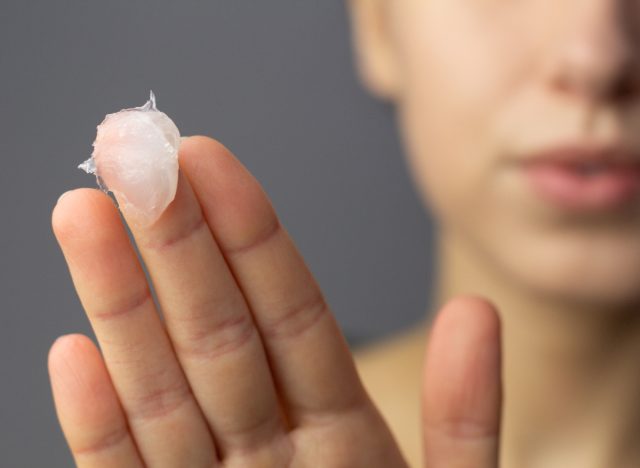 We checked out the slugging content on TikTok, and here are the easy steps on how to slug if you'd like to try the skincare trend yourself and wake up to skin that's ultra-refreshed. First, choose the product you'd like to use, then "slather" it all over your face after moisturizing before bedtime. That's it! Slugging can help to heal skin that is dry, damaged, or irritated.
One TikToker notes, "When you were slugging your face with [Aquaphor] since you were 13 cus your grandma said you'll never have wrinkles if you do."  TikToker Dr. Mamina Turegano does caution, though, "FYI: Even though this doesn't clog pores, it can exacerbate acne if you are acne-prone. Otherwise great for other skin types!" Turegano also points out in her video that she believes slugging is a solid way to ensure your skin stays moisturized and protected—most especially during the winter.
Alexa Mellardo
Alexa is the Mind + Body Deputy Editor of Eat This, Not That!, overseeing the M+B channel and delivering compelling fitness, wellness, and self-care topics to readers.
Read more about Alexa