This $4 Walmart Sunscreen Is the Best You Can Wear, Says Consumer Reports
Their 2021 sunscreen rankings are here—and one affordable lotion from Walmart tops the list.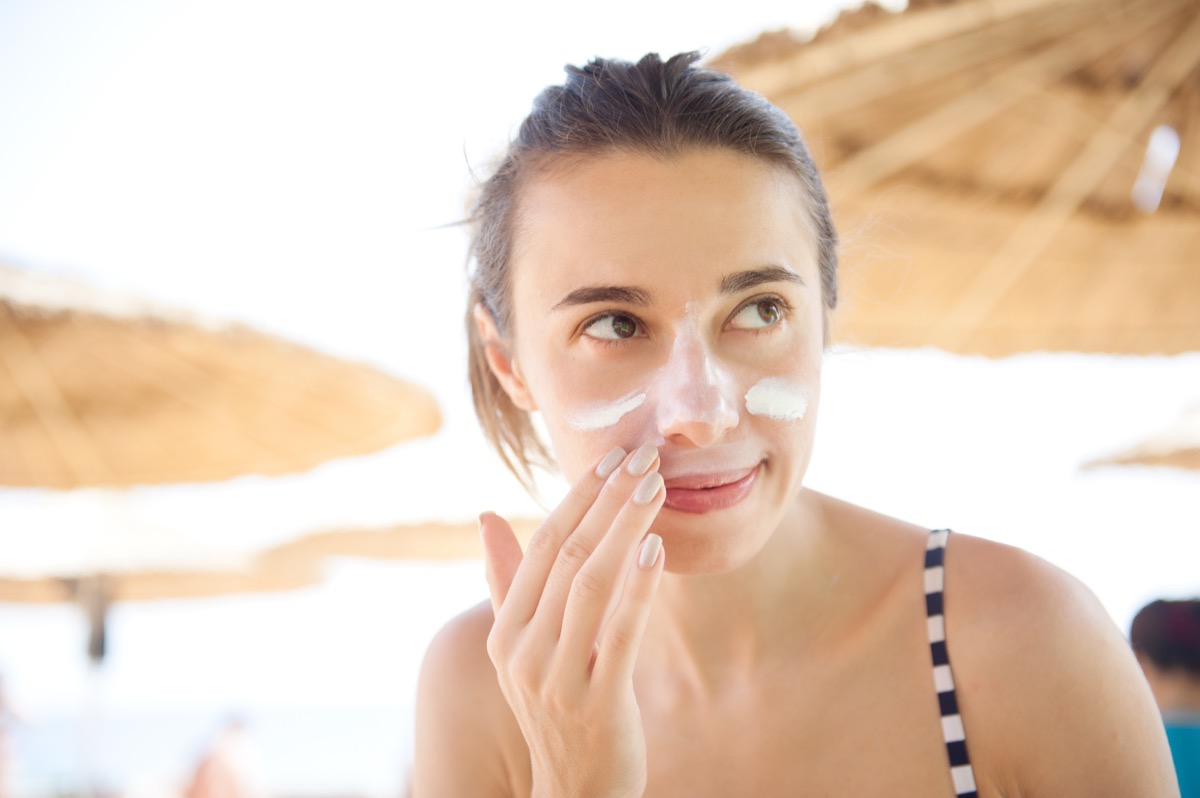 In 2021, wearing sunscreen isn't simply synonymous with playing at the beach or lolling by a lake. It's integral part of healthy daily hygiene—up there with flossing, getting in a daily walk, and washing the only three parts of your body that you need to be washing. After all, not protecting yourself from the sun's rays isn't just important for avoiding cancer (which it is) and for avoiding peeling skin. Too much sun exposure is linked to a number of health concerns, which range from terrible headaches to autoimmune diseases to even breathing issues.
But given the range of sunscreen options at your fingertips, which is the one you should buy to protect your own skin? The folks at Consumer Reports are here with answers, having just published their roundup of the best sunscreens for the year 2021. The results include great news for regular Walmart shoppers, as The Equate (Walmart) Sport Lotion SPF 50 is among the best buys in the category of lotion sunscreens. Perhaps best of all, a single bottle of the stuff retails for $3.98 from Walmart.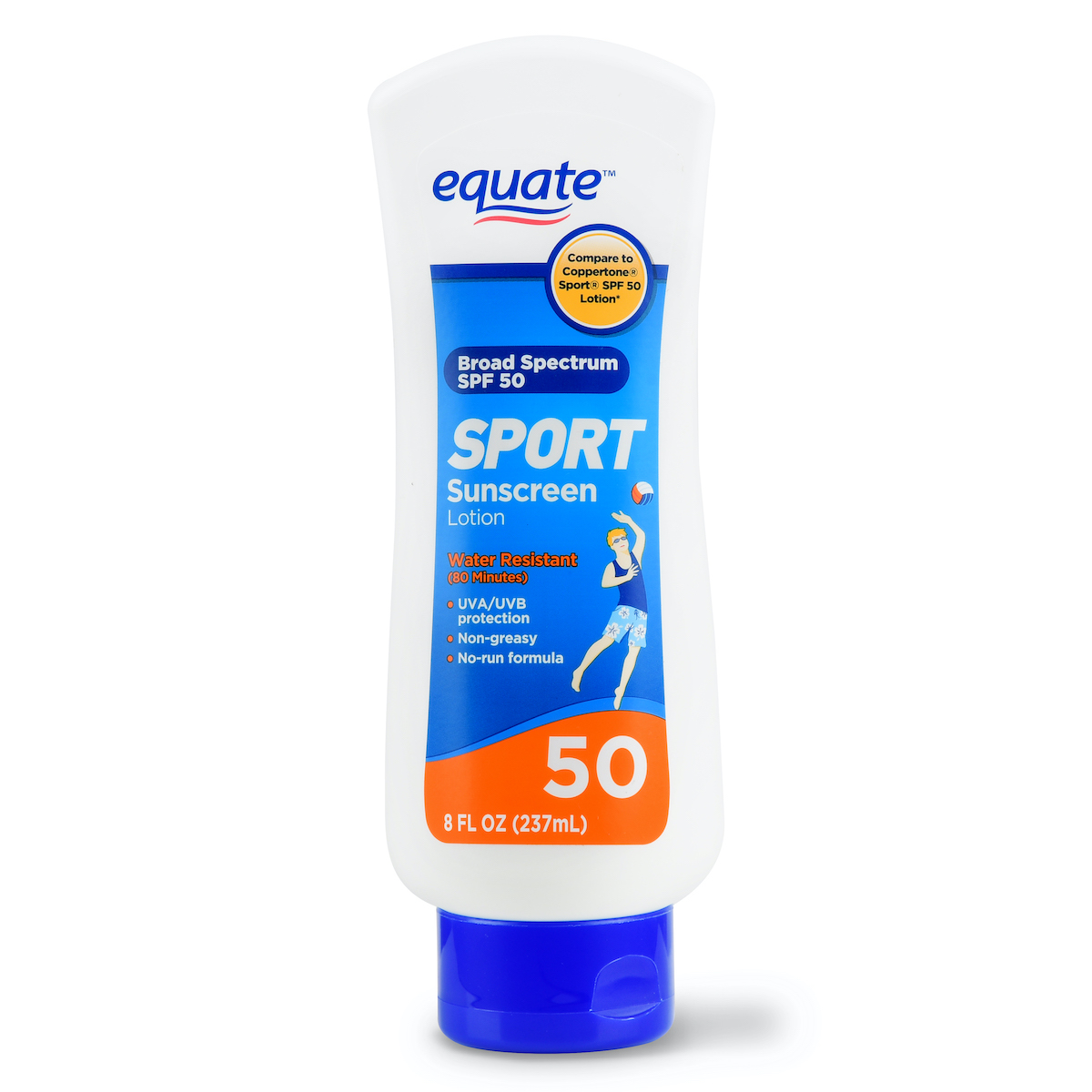 Other best sunscreens in the lotion category are Kiehl's Activated Sun Protector Lotion SPF 30 and Neutrogena's Ultra Sheer Face Lotion SPF 70. In the spray category, the best are the Alba Botanica Hawaiian Coconut Clear Spray SPF 50, the Banana Boat Ultra Sport Spray SPF 100, the Hawaiian Tropic Island Sport Spray SPF 30, and the La Roche-Posay Anthelios Lotion Spray SPF 60.
Consumer Reports says that their sunscreen testing model is based on the very same one that the Food and Drug Administration (FDA) imposes on manufacturers, with their own methodology built on top of that. "We buy the sunscreens for our tests off the shelf, the way consumers would," says Susan Booth, the CR project leader for our sunscreen testing, explained. "We use three samples, preferably with different lot numbers, of each product."
The testing team rigorously measured the sunscreens' performance under UV lighting—on the skin of real people while also using glass plates smothered with sunscreen that was blasted with light. They also took account of the "smells and feels" of the product. "The sensory testing isn't factored into our Overall Score—what people prefer is subjective, so we can't say, for instance, whether a sunscreen that has a tropical aroma is better than one with a classic beachy aroma," writes CR. "But our panelists objectively describe the scent and feel of every sunscreen we test so that you can pick the best product for you."6254a4d1642c605c54bf1cab17d50f1e
For more of the ways you can better protect yourself from the sun, read on, because we've included some doctor-approved ones right here. And remember: Once you've well protected yourself from the sun, you'll have eliminated one of the Biggest Dangers of Walking for Exercise, According to Health Experts.
Avoid Certain Medications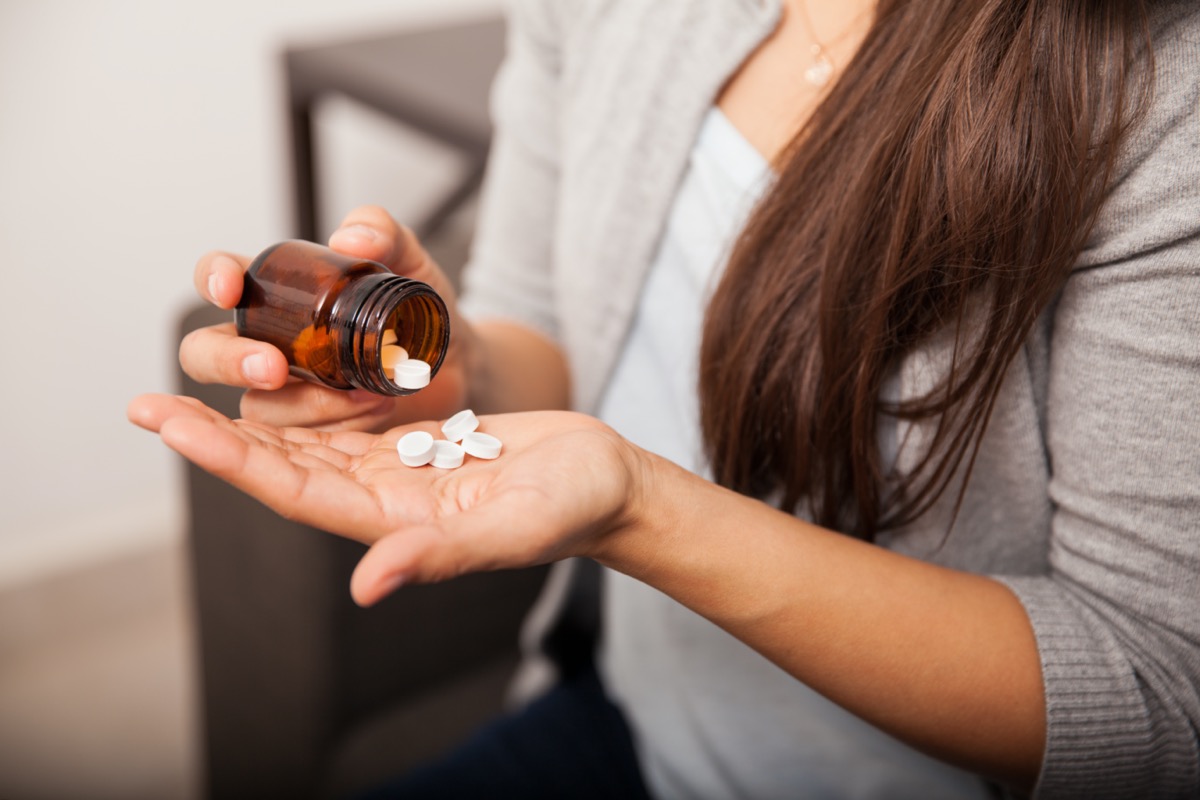 "Some antibiotics and over-the-counter medications can make you more sensitive to sunlight," warn the experts at The Mayo Clinic. "Common drugs include antihistamines, such as Benadryl; nonsteroidal anti-inflammatory drugs (NSAIDs), like aspirin or ibuprofen; certain antibiotics, including Bactrim or Tetracycline; antidepressants; antipsychotics; and some oral diabetic medications. Check with your pharmacist regarding your medication side effects."
Be Wary of Peak Sun Hours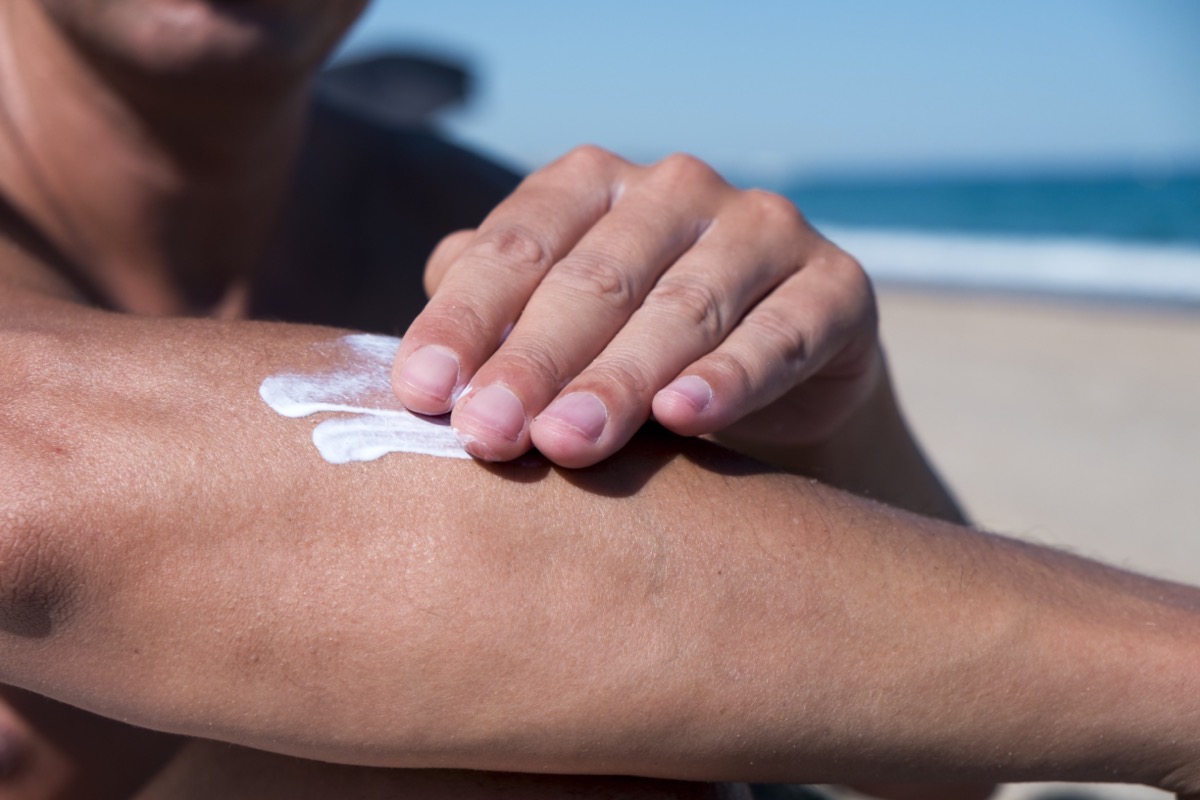 "Sunscreen shouldn't be the only sun-savvy step you take," observed Consumer Reports in their roundup of Best Sunscreens for 2021. "You also need to cover up with clothing, wear a hat and sunglasses, and stay in the shade or indoors when the sun's rays are the strongest—from 10 a.m. to 4 p.m." For more tips for keeping your skin protected and healthy, see checked out the 22 Best Foods for Your Skin, According to Dermatologists.
Always Go SPF of 30 or Higher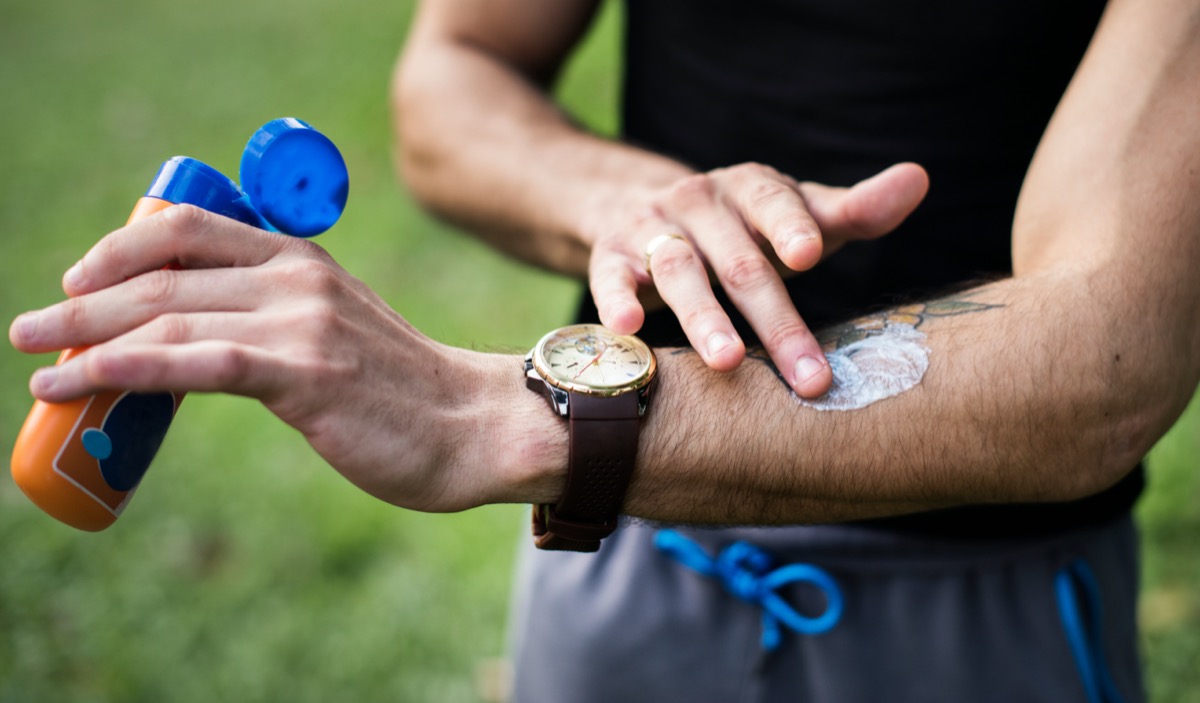 If you're merely trying to avoid sunburn, you can, in theory, do a lower SPF. "But protection from sunburn is not the most important reason for wearing sunscreen," say the health experts at the Cleveland Clinic. "You want to reduce damage from the sun. Your skin can be harmed by constant sun exposure, whether or not you see a burn. Remember, sunburn is an immediate reaction, but damage from the sun occurs over a lifetime. If you have had skin cancer or pre-cancer, you should use an SPF of 30 or higher."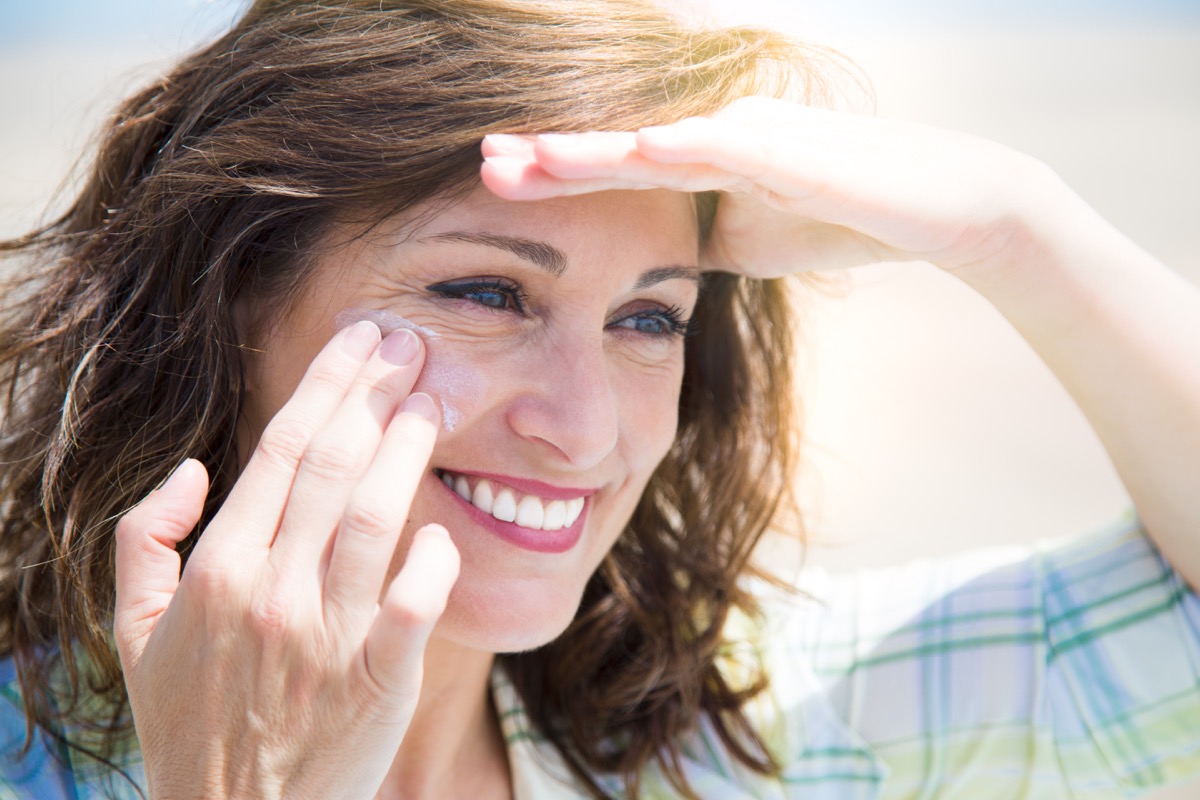 Don't just rub in a small layer of sunscreen, say the experts at the Cleveland Clinic. "Don't skimp; apply a generous layer. Smooth it on rather than rubbing it in. A rule of thumb is that 45 ml (a shot glass) of sunscreen is needed to cover all exposed skin to attain the stated level of protection." And for more ways to be healthier starting now, make sure you're aware of the Crazy Thing Stress Is Doing to Your Body, Say Top Experts.
William Mayle
William Mayle is a UK-based writer who specializes in science, health, fitness, and other lifestyle topics.
Read more about William