Pressure Cooker Molten Lava Chocolate-Cherry Cake Recipe
This fudgy dessert is perfect when you're looking for a volcanic explosion of flavor without all the calories.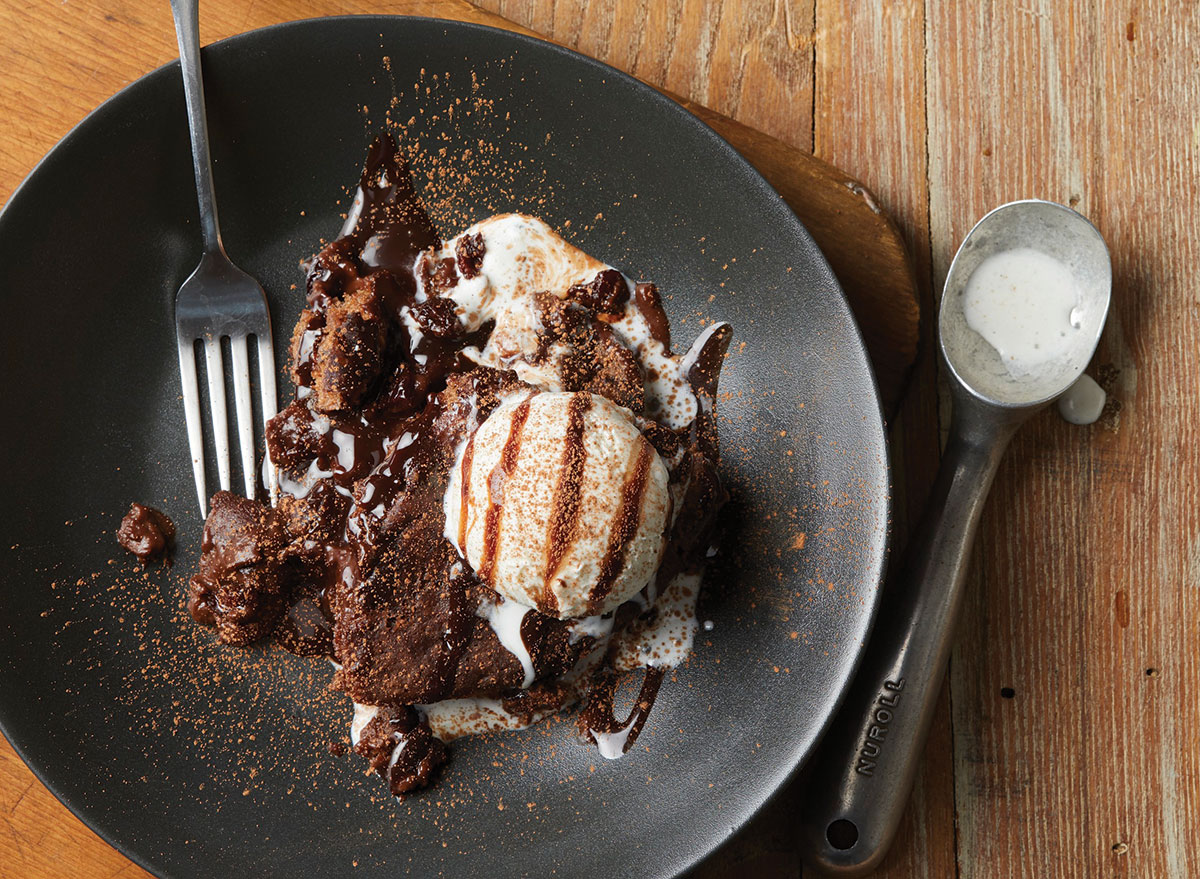 Is there anything more decadent than a chocolate lava cake? There's a reason they're so popular at places like Chili's and Domino's. Seeing the melty chocolate explode all over your plate—and then tasting that gooey goodness—is as fun as the dessert is delicious.
Though restaurant desserts are often loaded with fat and sugar, that doesn't mean you have to give up chocolate entirely. This chocolate-cherry cake recipe, complete with molten lava, has all the fun of the traditional lava cakes. With just one gram of fat and 247 calories per serving, this is definitely a healthier choice than a restaurant lava cake.
Thanks to the pressure cooker, the best thing about this chocolate-cherry cake recipe is that you can just set it and let the cooker do its magic. When it's done, you'll have a melty, chocolaty treat that's just as good as its store-bought counterparts.
Nutrition: 247 calories, 1 g fat (0 g saturated), 372 mg sodium, 39 g sugar, 4 g protein, 3 g fiber
Makes 6 servings
Ingredients
Nonstick cooking spray
2/3 cup granulated sugar
1/2 cup white whole wheat flour
1/2 cup all-purpose flour
6 Tbsp unsweetened cocoa powder
2 tsp baking powder
1/2 tsp salt
1/3 cup dried tart red cherries, coarsely chopped
1/2 cup fat-free milk
1/4 cup unsweetened applesauce
1/2 tsp almond extract
1/3 cup packed brown sugar
1 1/2 cups boiling water
Vanilla frozen yogurt (optional)
How to Make It
Coat a 6-quart electric pressure cooker with cooking spray. In a medium bowl, mix granulated sugar, flours, 2 tablespoons of the cocoa powder, the baking powder, and salt. Stir in dried cherries.
In a small bowl, combine milk, applesauce, and almond extract. Stir into flour mixture. Dough will be thick. Spread in bottom of pressure cooker.
In a medium bowl, combine brown sugar and remaining 4 tablespoons cocoa powder. Slowly pour in boiling water; whisk to mix well. Gently pour over batter in pressure cooker. Lock lid in place.
Set cooker on high pressure to cook 12 minutes. Let pressure release naturally for 15 minutes. Carefully release any remaining pressure. Open lid carefully. Cool cake for 15 minutes in the pot.
Serve with sauce from the bottom of the pot and, if desired, frozen yogurt.
Eat This Tip
If you opt for a little fro-yo, beware of the nonfat stuff—fat is usually replaced with a load of sugar, the nastier of the two evils.6254a4d1642c605c54bf1cab17d50f1e