We Tried Taco Bell's Naked Chicken Chips and Here's What Happened
Chicken nuggets meet nachos in Taco Bell's new Instagram-worthy menu item.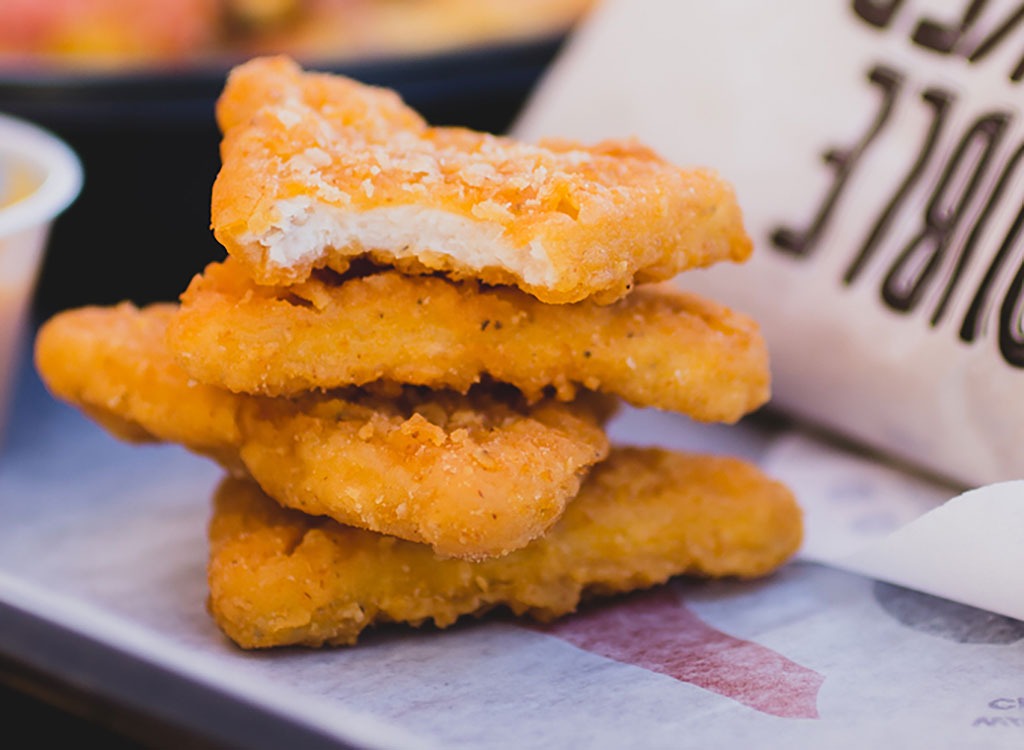 Taco Bell, known for its outrageous, social media-worthy menu introductions (see: Naked Chicken Chalupa, Cool Ranch Doritos Locos Tacos) released a new stunt food on May 11 nationwide: Naked Chicken Chips.
That's right, like peanut butter and jelly or milk and cookies, Taco Bell made food pairing magic when they combined chicken nuggets with nacho chips to create the Naked Chicken Chips, which are basically chicken nuggets shaped like triangle tortilla chips and thin enough to dip into T-Bell's signature nacho cheese sauce.
Similar to the previous-released Naked Chicken Chalupa, where the chicken served as the outer taco shell with lettuce, tomato, and cheese as the taco filling, the chicken chips are seasoned with "bold Mexican spices" (according to the press release). They're served with a tub of nacho cheese sauce, putting a unique spin on the classic chips and cheese combo.
Intrigued by how the fast-food chain could pull off this new menu offering, I along with some other Eat This, Not That! staffers got my hands on the limited-edition chicken chips the day of the release. And they are… interesting.
They're Thinner Than Nuggets
The first thing I noticed about these chicken chips was how much thinner they were than regular fast food nuggets, especially compared to McDonald's chicken McNuggets. They also a lot more of an orangey color than most chicken nuggets, thanks to the yellow corn flour, annatto, and turmeric in the breading.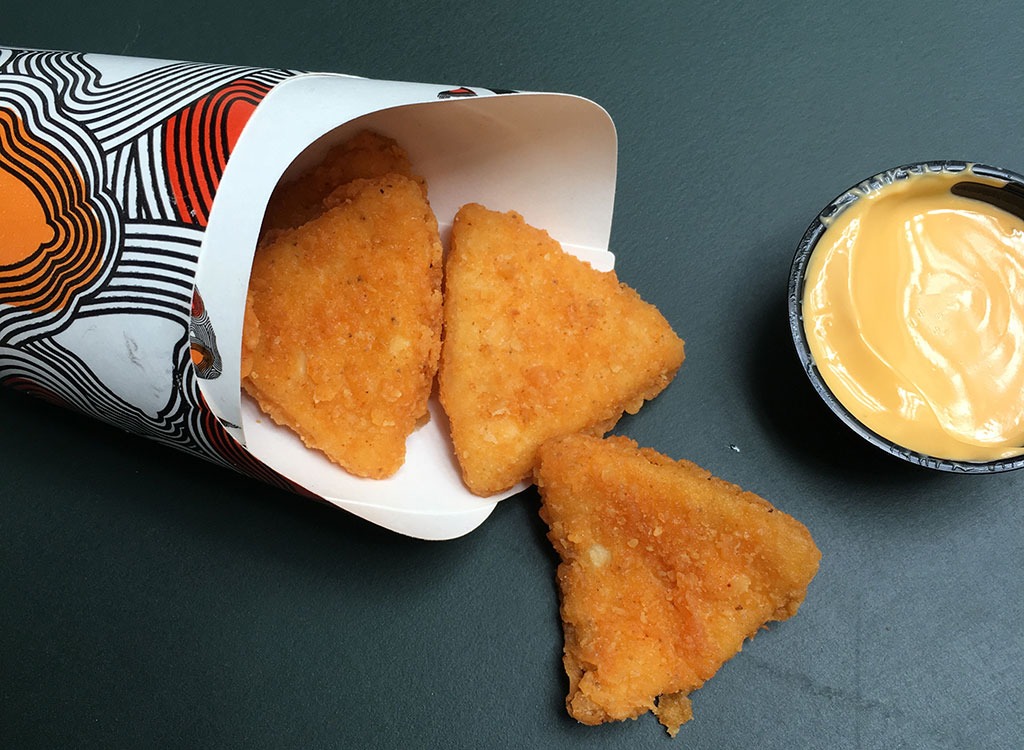 Upon taking my first bite, I immediately tasted the kick from the "bold Mexican spices." Unlike more bland chicken nuggets, these chicken chips definitely pack punch, similar to spicy nacho cheese Doritos. I love spicy food, so that was a tasty surprise.
Then there was the cheese sauce. Admittedly, I'm more of a chicken-nuggets-and-BBQ-sauce kind of gal (and not a huge fan of fake stadium nacho cheese), but I could see how this pairing would be enticing for someone who likes coagulated yellow cheese sauce. The cheese sauce itself had little flavor, however, despite the jalapeno puree in the ingredients, but had a similar color and texture to the sad nacho cheese sauce you get with tortilla chips at sporting events.
Overall, the Naked Chicken Chips were a lot tastier than I was expecting. The thinness of the chips might be a little off-putting, but the spices (mostly paprika) give it a nice flavor. But you're better off eating them as regular nuggets rather than as chips—the cheese sauce left a lot to be desired, and although it's served warm, it gets cold and congeals rather quickly.
They're greasy and caloric
6254a4d1642c605c54bf1cab17d50f1e
After grabbing one chip, I couldn't help but notice how greasy they were. The breading it a little on the thicker side, and the grease was oozing out of the nugget and covered my napkin. That oiliness reflects in the nutrition info: 6 chicken chips with the cheese sauce will set you back 390 calories, 24 grams of fat (3.5 grams saturated), 1110 mg sodium, 29 grams of carbs, 1 gram of fiber, 1 gram of sugar, and 14 grams of protein. That's more calories and twice the fat of a McDonald's cheeseburger, which clocks in at just 300 calories but only 12 grams of fat.
By itself with no cheese sauce, the chicken chips are still 330 calories, 20 grams of fat (3 grams saturated), 890 mg of sodium, 24 grams of carbs, 1 gram of fiber, 0 grams of sugar, and 13 grams of protein. Compare that to McDonald's 6-piece chicken McNugget, which has only 270 calories, 16 grams of fat (2.5 grams saturated), 510 mg of sodium, 16 grams of carbs, 1 gram of fiber, 0 grams of sugar, and 15 grams of protein.
There's a long ingredients list
Although the ingredients list for the chicken chips themselves is rather long, they are fairly benign save for the "natural butter flavor" and "natural flavors." The orange color comes from natural sources (annatto and turmeric spices), but they are deep-fried in fattening (and potentially dangerous) vegetable oil. The cheese sauce is made with nonfat milk but also lists vegetable oil as an ingredient. (A full ingredients list can be found on Taco Bell's website).
Final Verdict: They're worth a try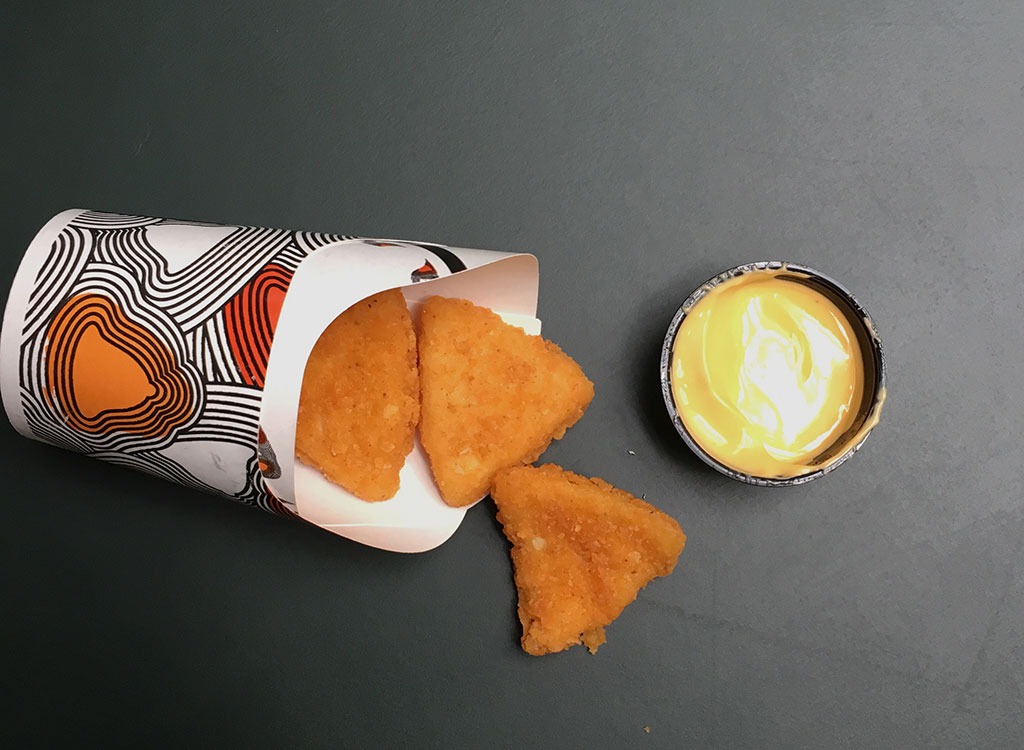 If you're just as intrigued by this new menu item as we were—or craving something particularly greasy after a late night out—then give these Naked Chicken Chips a try. They're only available for a limited time at Taco Bell and cost just $1.99. Looking for other fast-food chicken nuggets that won't cost you as many calories? Check out our list of Every Fast Food Chicken Nugget—Ranked!