Major Grocery Stores are Recalling Chicken, Including Kroger, Aldi, Trader Joe's, and Food Lion
Double check if you bought frozen chicken from any of these grocery stores ASAP.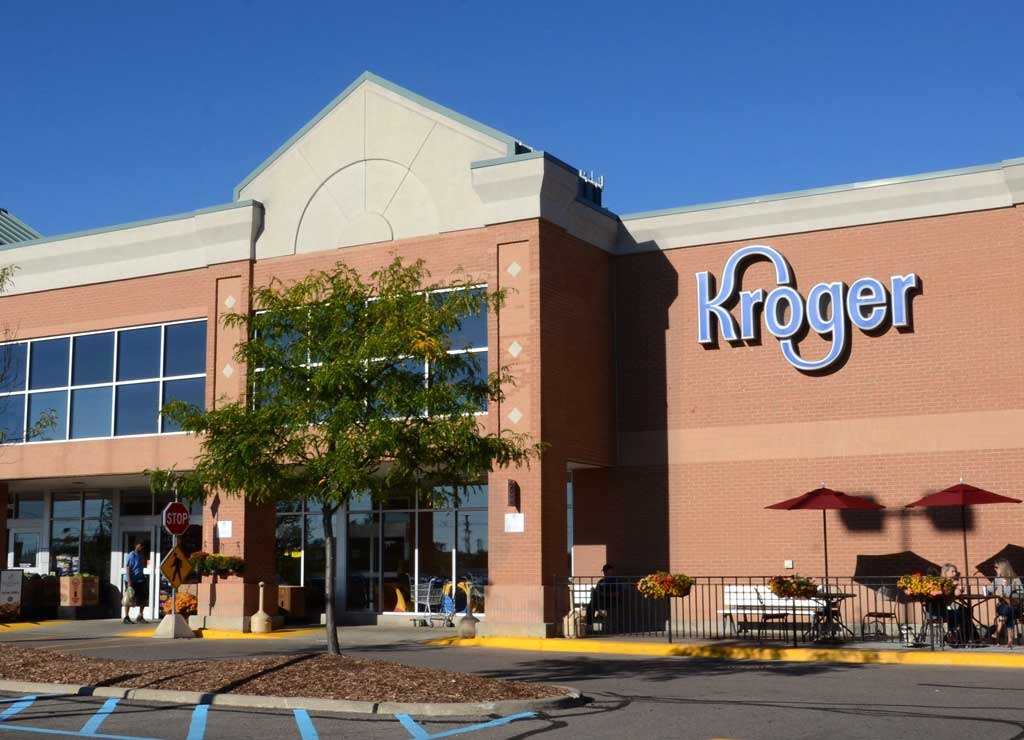 Don't open up that chicken just yet. Tip Top Poultry Inc., a company located in Georgia, is recalling some of their ready-to-eat chicken products because they could be contaminated with Listeria monocytogenes. The USDA Food Safety and Inspection Services released the announcement on Sept. 28, 2019.
The chicken affected isn't raw chicken, but frozen cooked chicken products that were packaged between Jan. 21, 2019 and Sept. 24, 2019. FSIS is referring to this recall as a Class I Risk, meaning this has a much higher health risk compared to most recalls. There are numerous frozen chicken products that were affected by this recall, so FSIS released a full list of them so you can easily reference it.
Which grocery stores sold this chicken?
Here are the specific grocery stores, as well as the affected food chains, that are recalling these frozen chicken products from specific locations across the United States.
Aldi: All locations in IL, PA, NJ, DE, TX, OK, IA, ND,MN, WI, SD, VA,WV, MD, IN, KY, FL, OH, GA, SC, AL, TN, MS,MO, NE, AR, KS, NC, NY, VT, MA, RI, CT, NH, MI, CA
Baker's: All locations in NE
BI-LO: All locations in NJ, SC, GA
Casey's: All locations in IA, MO, NE, IL, SD, MN, KS, AR, WI, ND, KY, TN, OK, OH
Costco: All locations in CO, UT
Dan's Supreme: All locations in NY
Dave's Marketplace: All locations in NY
Dillons: All locations in KS
Food 4 Less: All locations in CA
Food Lion: All locations in NC, SC, VA, MD, WV, DE, TN, GA
Gerbes: All locations in MO
GFS: All locations in OH, FL, IL, IN, KY, MI, PA, WI
Giant Supermarket: All locations in PA, WV, MD
Gordon Foods: All locations in MI, NC, GA, FL, KY, TX
Great Harvest Bread Company: All locations in NC
Harris Teeter: All locations in NC, SC, VA, MD
IGA: All locations in SC, GA
Jay C: All locations in IN
Jersey Mike's: All locations in GA
Kings Supermarket: All locations in NJ
KJ Market: All locations in SC, GA
Kroger: All locations in SC, GA, AL, IN, IL, MO, OH, KY, TX, WV, LA, MS, TN, AR, MI, VA, WV, MI
Piggly Wiggly: All locations in SC, GA
Redmer's Warehouse Market: All locations in PA, MD, DE
Riesbeck's: All locations in OH, WV
Ruler: All locations in NC, SC, VA, TN, MD, KY, WV, DE, GA, OH, IL, MO
Sav A Lot: All locations inGA, LA, NC, MD, KY, MI, MO, NY, OH, FL, TN, TX, WI
Supervalu: All locations in IL, IN, MS, MN, AL,VA
Trader Joe's: All locations in CA
WEIS Market: All locations in PA, MD, NY, WV, NJ
If you bought any of the listed frozen chicken products from Tip Top Poultry from these locations between January 21 and September 24, you need to check the labels and make sure your chicken has not been affected by Listeria monocytogenes.6254a4d1642c605c54bf1cab17d50f1e
How do I check if my chicken has been recalled?
The best thing to do is check the list FSIS released with all of the recalled products. However, for a quick glance, you can look for one of the following before diving into the full list:
Any Tip Top Poultry products with product codes between 10000 to 19999 and 70000 to 79999
Products that have the establishment number Est. P-17453 under the USDA mark of inspection
Again, it is probably best to check the full spreadsheet released by the USDA.
What do I do if I have a recalled product?
If you find yourself in possession of one of these products, FSIS recommends you either toss it or return it to the place you purchased it. Customers are urged not to consume them at all.
How was this recall detected?
After multiple samples of Tip Top Poultry, Inc. products were tested positive for Listeria monocytogenes in Canada, FSIS was immediately notified. Thankfully, this recall was not a response to an illness. FSIS reported that no one has been affected by the contaminated chicken.
What is Listeria monocytogenes?
According to WebMD, Listeria monocytogenes is a bacteria that causes food-borne illness. Listeria bacteria can live in soil, water, dust, and other substances. If you consume anything with it, you can get sick.
The FSIS report says "consumption of food contaminated with L. monocytogenes can cause listeriosis, a serious infection that primarily affects older adults, persons with weakened immune systems, and pregnant women and their newborns. Less commonly, persons outside these risk groups are affected.
Listeriosis can cause fever, muscle aches, headache, stiff neck, confusion, loss of balance and convulsions sometimes preceded by diarrhea or other gastrointestinal symptoms. An invasive infection spreads beyond the gastrointestinal tract."
Again, to avoid such sickness, it is best to check your chicken products and get rid of any of the listed ones above immediately.