Vegetarian Barbecue Survival Guide
For vegetarians, navigating the barbecue scene can be tricky—for more than one reason.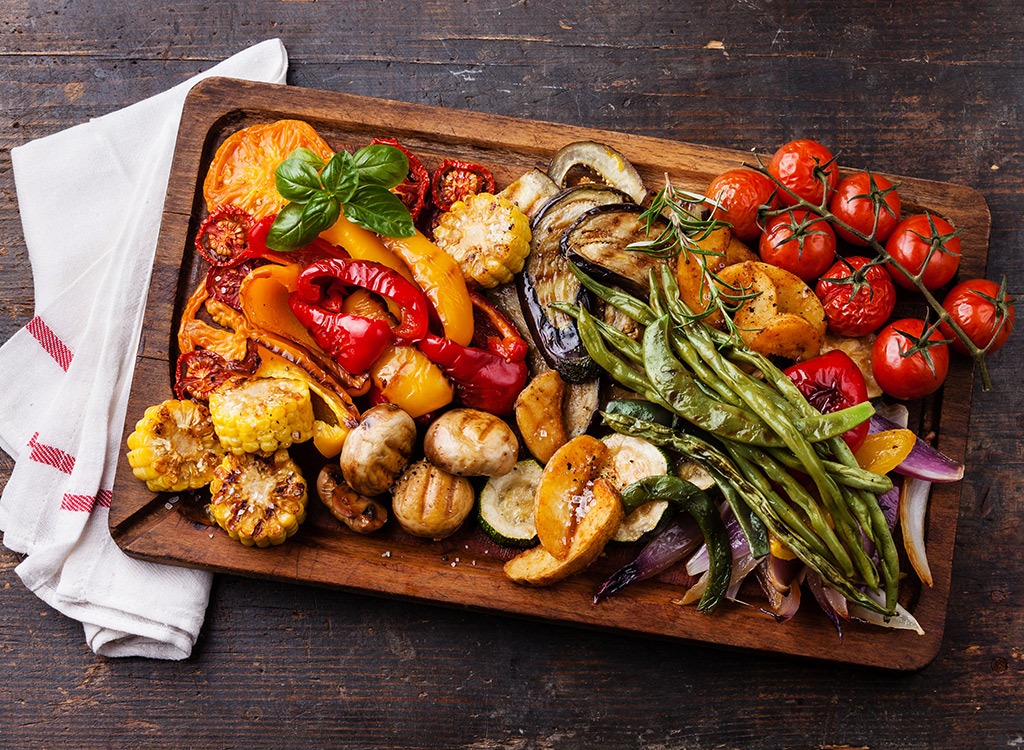 Nearly everything being served is a meat-based dish, and the few options that are vegetarian-friendly are typically the thing you want to avoid if you're trying to lose weight (like chips and mayo-laden slaw). Oh, and let's not forget all those pesky party-goers asking why you haven't tried the "ah-mazing" burgers—even though they know you're a vegetarian. So annoying!
But that doesn't mean you have to give up on the summer fun to stay slim—or sane, for that matter. Whether you're the guest or playing host, our tried-and-tested tips will keep you covered. Consider this your go-to vegetarian barbecue survival guide.
Next time you find yourself flipping veggie burgers and carnivorous favorites for your guests, throw some veggies on the grates, too. Prepping your entire meal over one surface is not only less hectic, making it easier to socialize with your guests, but also a flavorful way to mix things up without adding excess calories to your plate—especially when you grill up some of the best veggies for weight loss!
If you're a bit hesitant to put your produce on the barbie though, we get it: Grilling up veggies isn't as straightforward as roasting them in the oven. To maximize flavor and texture, every vegetable demands its own specific treatment—but don't let that intimidate you. Here's your grilling game plan: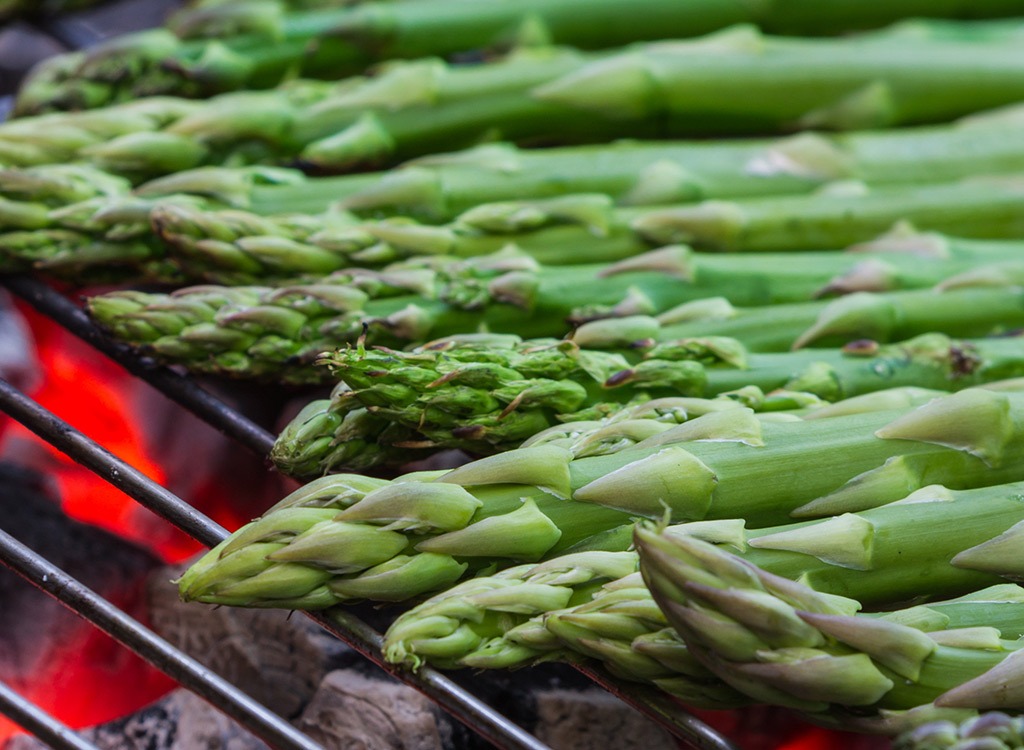 Heat: High
Time: 10 minutes
Trim the bottom inch off the spears and toss in a good amount of olive oil, salt and black pepper. To prevent the asparagus from rolling and slipping through the cracks, line up groups of six to eight spears and run skewers through the top and bottom ends. Grill over high heat, turning once, for three to four minutes per side, until lightly browned and just tender all the way through. Asparagus turns from tender to mushy very quickly, so watch them carefully.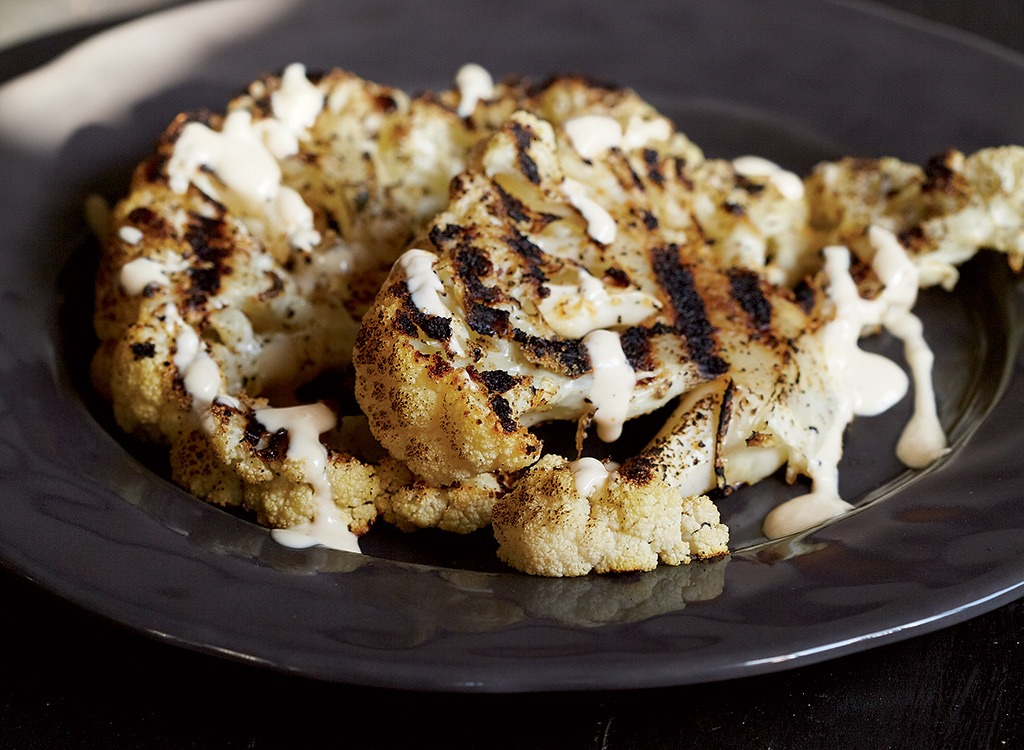 6254a4d1642c605c54bf1cab17d50f1e
Heat: Low
Time: 10 to 15 minutes
If you like your broccoli or cauliflower al dente, simply break the heads into smaller florets, rub them with oil, skewer them and grill over low heat for 15 minutes. But if you want the florets tender from head to stem, you'll need to blanch them first. Bring a pot of water to a boil, drop in large pieces of either (or both) and boil for 3 minutes. Drain and rinse with cold water for 30 seconds. Grill over low heat on skewers, in a grilling basket, or directly on the grate until lightly charred and tender, about 10 minutes. Cauliflower is incredible rubbed in curry powder, while broccoli just needs olive oil before and grated Parmesan and lemon juice after coming off the grates.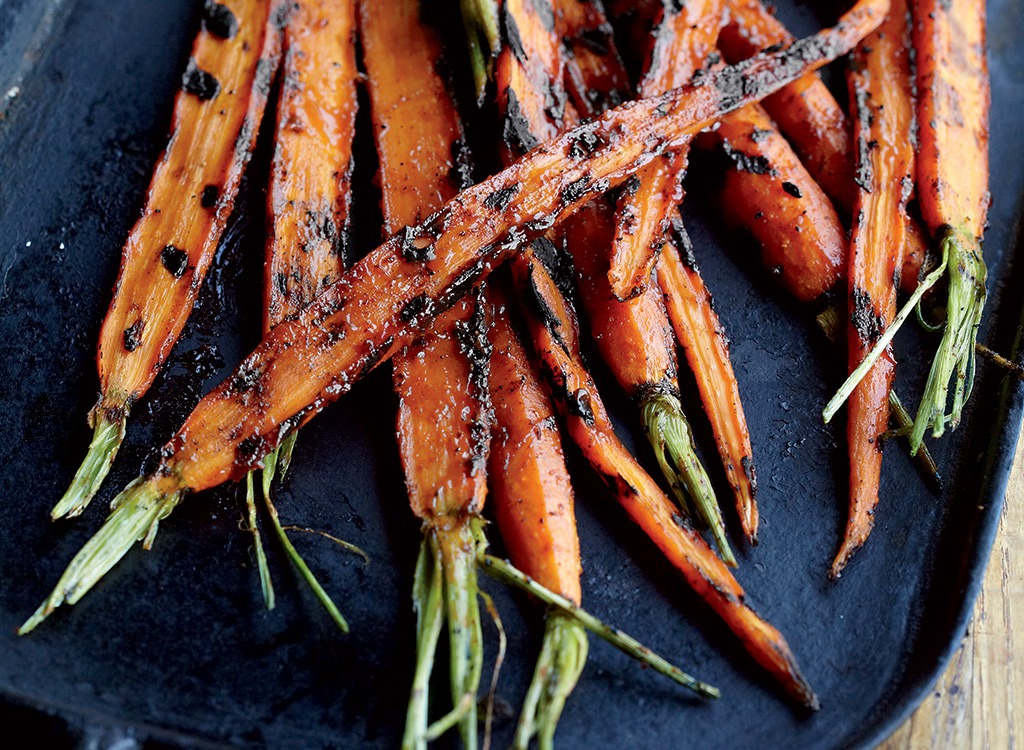 Heat: Low
Time: 20 minutes
Wash and peel the carrots; if the carrots are thick, halve them lengthwise. Toss with olive oil, salt and pepper (cumin and coriander are also excellent carrot spices). Place directly on the grate and grill over low heat for about 20 minutes. Grilled carrots also take well to sauces. Interested in giving that a try? Brush on low-sodium bottled teriyaki or hoisin at the end of grilling. Save brushing with sauce for the last 10 minutes of cooking, otherwise a sugary sauce will burn before the carrots are tender.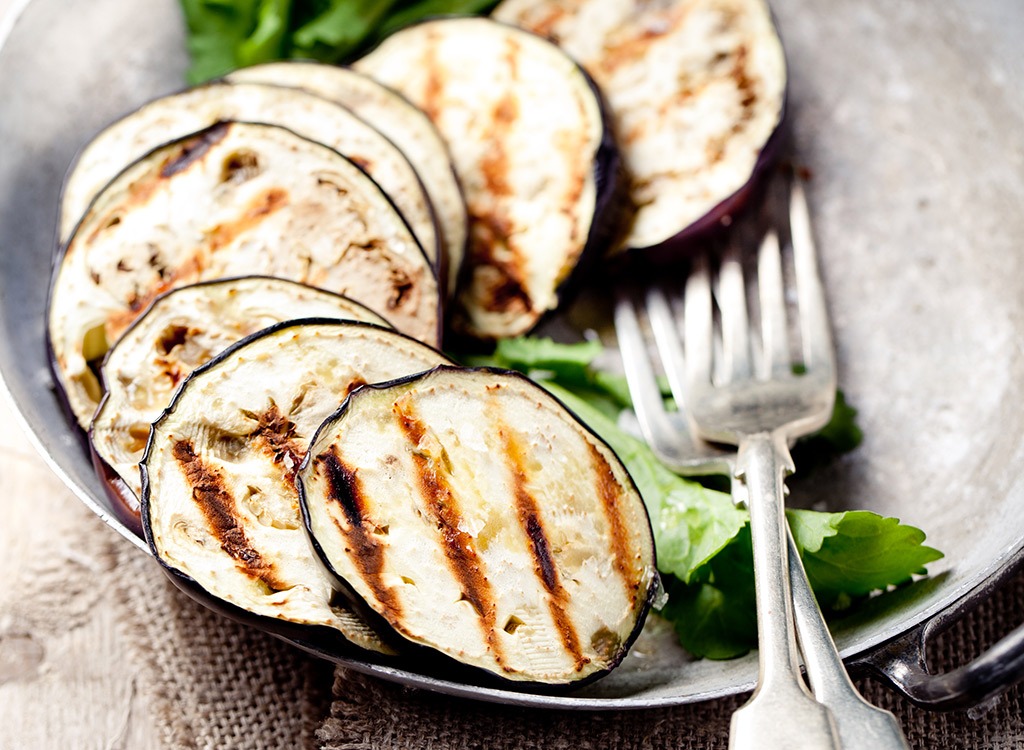 Heat: High
Time: 8 to 10 minutes for slices, 15 minutes for whole eggplant
Whether using smaller Japanese eggplant or darker, larger Italian eggplant, slice the vegetable into ½"-thick rounds, coat with a light film of oil and season with salt and pepper. Grill over high heat for four to five minutes per side, until lightly charred and softened. For dips and purees, grill eggplant whole for about 15 minutes, until the skin is charred and the flesh is very soft.
Heat: Medium
Time: 6 to 10 minutes
Onion rings can go directly on the grill, but you're bound to lose at least a quarter of your product to the fire. Instead, peel the onions and slice into ¼"-thick pieces. Skewer with toothpicks to secure the slices and grill over medium heat for three to four minutes per side, until soft and browned. If you want a deeply caramelized onion, turn the heat down and grill the onions for up to 10 minutes per side.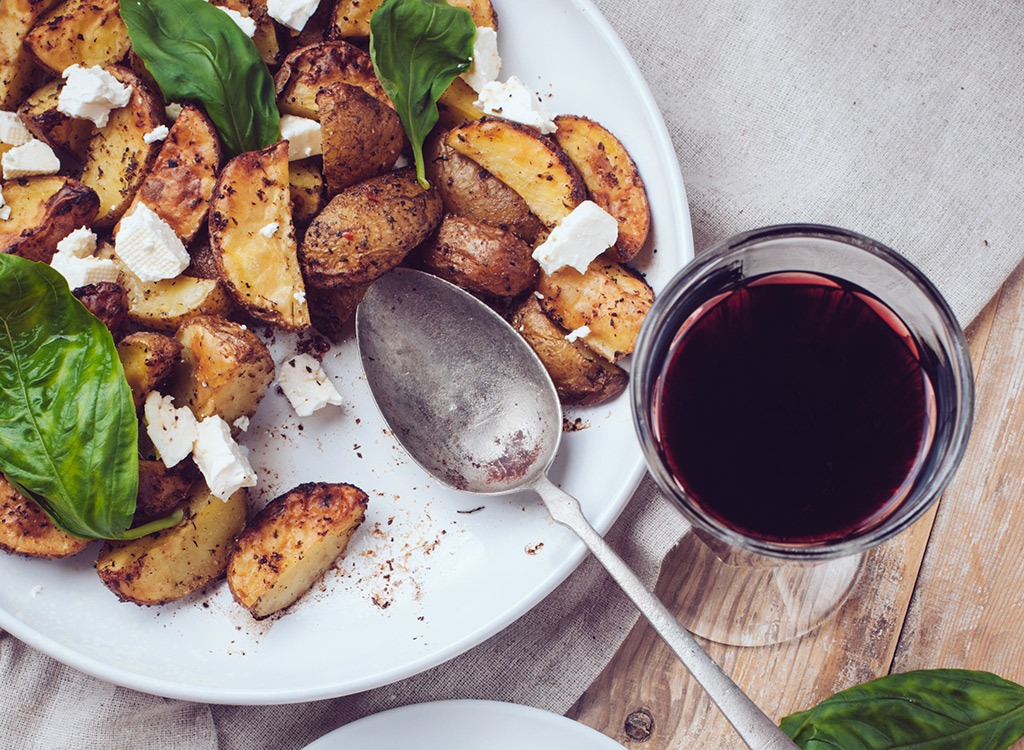 Heat: Medium
Time: 15 minutes for wedges or slices, 30 to 40 minutes for whole potatoes
Grilled potatoes are best when parboiled, then finished on the grate. Cook them in a large pot of boiling water until just tender, about 10 minutes, then drain. Cut into slices or wedges and rub with oil, salt and pepper. Grill over medium heat, turning, for about 15 minutes, until brown and crispy all over. For an incredible "baked" grilled potato, prick whole russet potatoes with a fork, wrap in foil and place directly in the hot embers of a charcoal fire (or on the grate of a gas grill). Grill, rotating them 45 degrees every 10 minutes or so, for 40 minutes, until very tender.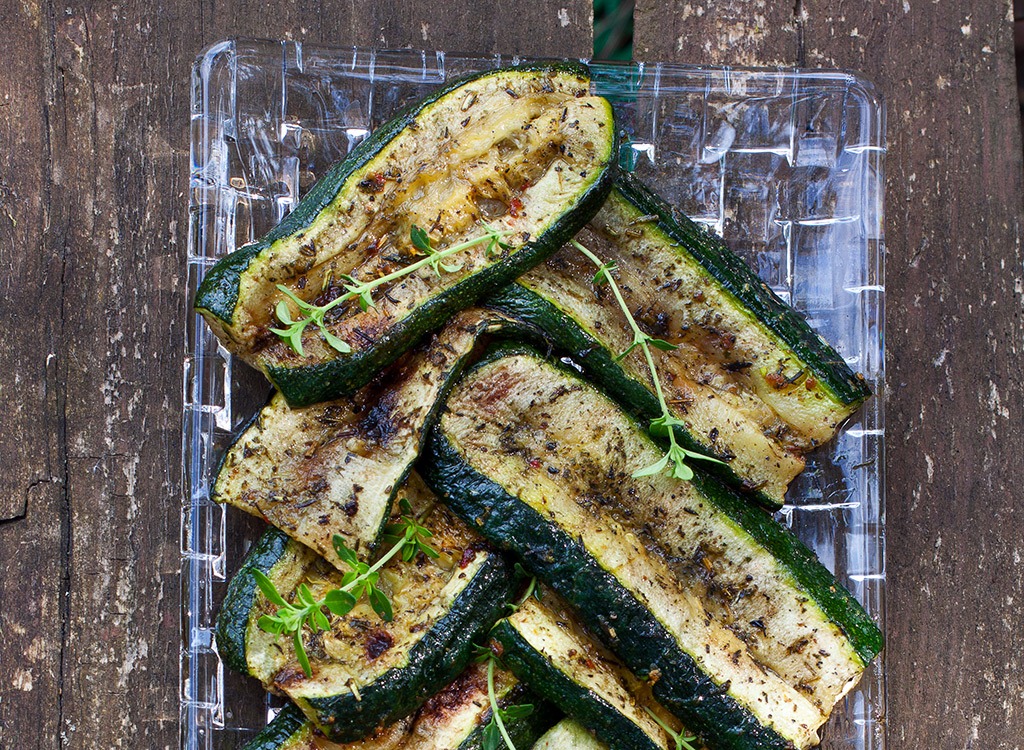 Heat: High
Time: 6 to 8 minutes
You'll lose tiny rounds through the grates, so it's best to slice zucchini lengthwise into ¼"-thick planks. Lay them at a 45-degree angle across the grate to maximize caramelization. Grill over high heat, turning, for six to eight minutes. The same rules apply for summer squash.
Following a specific diet makes parties and dinners at friends' homes all the more challenging—no matter what the season. But with a bit of planning you can make it work; here's your three-step game plan:
When you're a guest, you have less control over the menu, so ensuring you have a good time and don't go hungry starts with a smart RSVP. When you tell the host that you'd love to come to their barbecue, mention that you're a vegetarian. Even if the host assures you that there will be plenty for you to eat, offer to bring one or two dishes. Most people hosting large parties are happy to accept additional food.
Sure, bringing a bed of greens is great, but if it ends up being the only thing you can eat at the party, you'll wish you brought something a bit more filling. If you can only contribute one dish, play it safe by bringing a whole-grain pasta salad instead. Throw plenty of beans and filling veggies—like spinach, peppers, tomatoes, carrots, broccoli and cucumbers—into the mix, too. This ups the fiber and protein content, which will keep your belly full and your hand out of the chip bowl.
Someone is bound to ask you why you haven't tried the ribs or the to-die-for cheeseburgers, but don't let it get to you. Though you may be passionate about the reasons you're a vegetarian, a carefree BBQ isn't the place to share these views. Reply by saying that the side dishes looked too good to pass up and now you're stuffed, or simply change the subject. And no matter what, stick to your guns; if you haven't eaten meat in years, don't give in because a party guest is nagging you to "just take one bite." It's not worth it.
Eat This, Not That!
Inspired by The New York Times best-selling book series, Eat This, Not That! is a brand that's comprised of an award-winning team of journalists and board-certified experts, doctors, nutritionists, chefs, personal trainers, and dietitians who work together to bring you accurate, timely, informative, and actionable content on food, nutrition, dieting, weight loss, health, wellness, and more.
Read more about Eat This