The Most Stressful Wedding Day Problems—And How Brides Handled Them
Six brides share their biggest wedding day stresses so you can be prepared.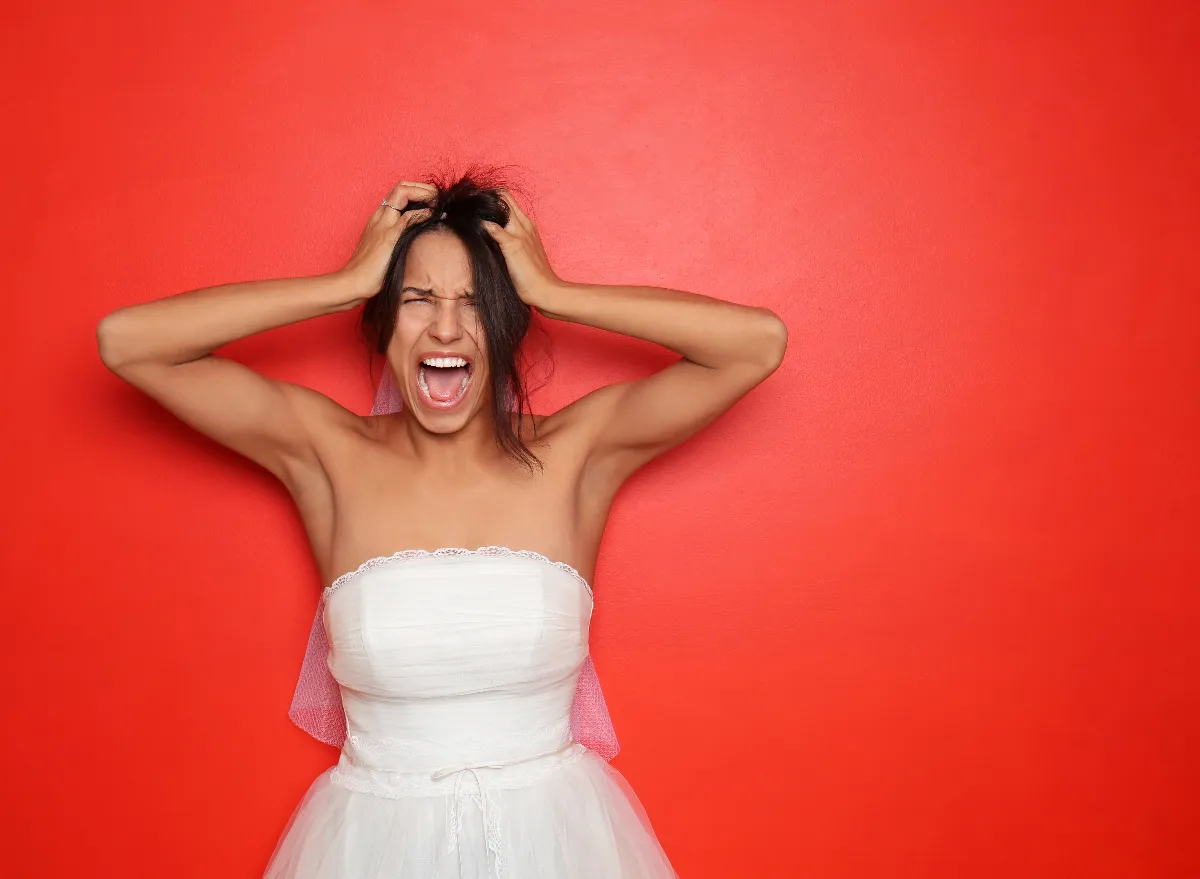 Visions of fresh greenery, bouquets bursting with garden roses, rustic invitations with wax seals, and a semi-naked white chocolate wedding cake dance in your head. You're planning a very special date—your wedding day—and love is in the air. If we're being realistic, the stress meter is also off the charts when it comes to deciding on the budget and your bridal party, finding the perfect venue, cutting down the guest list, creating seating charts, and looking at the weather down the line. Wedding planning stress can be all too real, but the days leading up to the big day—and most especially, the day of—can be a totally different ball game when things don't go according to plan. We spoke with six brides who reveal the wedding day disasters and stresses they experienced and how they handled them like pros.
When it comes down to it, your wedding is unlike any day you'll experience throughout your lifetime. Although a bit of stress is totally normal, and unexpected wedding day disasters or issues may arise, the most important thing to remember is this day is entirely about celebrating you and your favorite human. We spoke with Leanna Stockard, LMFT at LifeStance Health, who shares some solid advice when you feel the stress creeping up on you.
Stockard tells us, "Through the challenges, do not forget to take care of yourself, and enjoy the excitement of your upcoming nuptials. Additionally, it is okay for you to disperse certain aspects of planning on other people. Think about the strengths of those you've surrounded yourself with, and decide who to put in charge of which aspects accordingly. For instance, some people are better with logistics, others are better about getting people organized, and others may hold strengths with calming you down when moments get stressful."
Heading into the big day, one goal should be at the top of your mind: Celebrating with the most important people in your life, and the love of your life. "Stay present, and this may help you keep perspective if new stressors arise on the day of," Stockard adds.
Brides who have been there and done that, share their wedding day disasters and stresses so you can be totally prepared if any of them happen to you. Keep reading to learn more, and get ready to take notes.
This bride's wedding cake totally melted.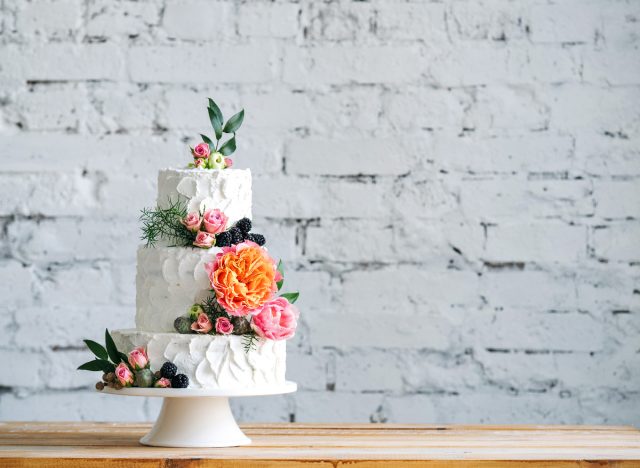 "It was a warmer than-usual day for September, and the heat melted our wedding cake, a croquembouche, to go with our French theme. On our way into the reception, our caterer broke the news. We had a lovely cake-cutting planned so it was definitely disappointing. We had to think quickly on our feet and told our caterer to just give us cake pops to feed each another for the photos instead. In the end, it turned out to be an adorable moment, a great photo opportunity, and our guests were none the wiser. It's one of my favorite memories to think back on with my husband now, and I wouldn't have changed a thing about our day." — Lisa6254a4d1642c605c54bf1cab17d50f1e
This bride avoided a major aesthetic faux pas in the nick of time.
"My husband and I did a lot of DIY projects for our wedding, one of which was constructing a drapery wall to cover a wall in our venue that didn't match the aesthetic we were going for. The final product involved PVC piping cut to size and spray-painted gold. On the morning of our wedding when dropping everything off with our coordinator, we realized we had left one pipe behind. My husband, dad, and brother-in-law had to drive 40 minutes each way to the closest Home Depot to buy a new piece before rushing back to the venue to get changed for photos! But thankfully they made it just in time, it fit perfectly, and the wall turned out exactly as we had planned." — Marisa
Wedding guests saw this bride in her gown before she walked down the aisle.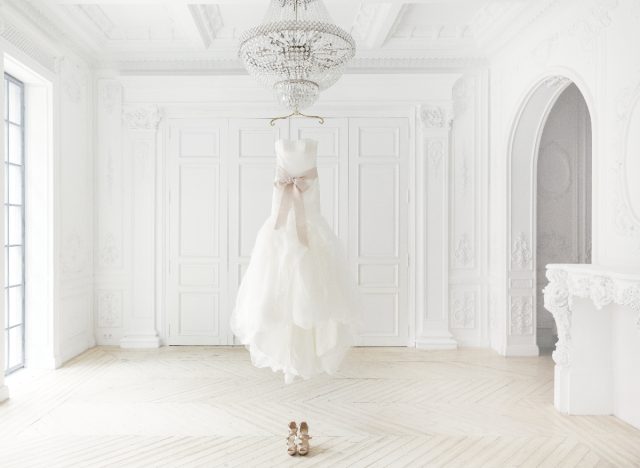 "The most stressful moment on our wedding day was probably the grandmas and moms delaying us and pushing back the photos because they were rigid about where they were getting ready and wanting to be in the bridal suite while the photographer was in there taking detail photos (there was a mirror the dress was hanging on so they couldn't be in the background). This pushed every photo back, and the family photos were so late that guests were arriving and some saw me in my wedding dress, which I was upset about. I tried to take deep breaths all day long, but I didn't feel relief until I walked back up the aisle with my now-husband, Alex." — Becca
RELATED: 10 Surprising Ways Your Relationships Are Influencing Your Health
Sticking to a strict timeline was stressful for this bride.
"Staying on the timeline—my wedding was on a super strict timeline because we did two religious ceremonies on the same day, and I was told we were running behind from the start! I decided in the moment to roll with the punches, just embrace running late, and not sacrifice anything that was important to me (like getting in that robe pic of me and all my bridesmaids). In the end, some events started a bit later than intended, but my coordinators helped me out, and I was under so much less stress by just accepting that we wouldn't be exactly on time!" —Shelja
This bride's seating arrangements were incorrect.
"The tables were all set—the pink and blue-hued flowers in full bloom and the ballroom looked absolutely stunning! However, when everyone sat down for our first dance, I realized the table arrangements were incorrect. The ballroom space required one table to be placed closer to a large speaker than any of the other tables. Since my friends are more accustomed to the thudding of a base than a table full of my great aunts and uncles, I planned for some of my friends to be seated there accordingly.
After my first dance, I noticed a few of my aunts and uncles in an obvious state of discomfort—some of them even opting to remove their hearing aids! I was so worried and felt terrible that they were not enjoying themselves. In an attempt to resolve the situation quickly, I asked two very helpful waiters to move the speaker forward toward the original table of choice and place it flush against the wall. However, the placement of the speaker clashed with the aesthetics of the ballroom. Your eye immediately went straight to this massive, misplaced speaker!
Out of location options and eager to deter any attention toward this little mishap, I quickly suggested they throw a long, white tablecloth over it, and top it off with the bouquet and envelope box from one of the bars. This worked out surprisingly well! The speaker looked more like a decorative podium that was purposely placed in a location for departing guests to better notice the envelope box. In the end, everything was totally fine and my great aunts and uncles were able to chat the night away comfortably!" — Alexis
This bride was stressed out about a rainy wedding day.
"We definitely had some stress when it came to the weather. As a bride, of course, I was watching the weather radar like a hawk. Unfortunately, the forecast was showing potential rain showers on and off all day, so naturally, I was stressing out! Instead of sulking, my now husband and I consulted our coordinator for backup plans well ahead of our wedding day, should the weather become an issue. However, the rain looked pretty spotty, and I decided to trust my gut, making a call just hours before, that we were going to proceed with an outdoor ceremony. We had umbrellas lined up for the ceremony and set up an indoor section for cocktail hour.
At the end of the day, the rain held off, and we were able to have all our outdoor events as planned. Having a plan for the weather ahead of time will 100% make you feel prepared and less stressed should it become a factor. And don't look at the weather too far in advance—it can and will always change!" — Kelly
Alexa Mellardo
Alexa is the Mind + Body Deputy Editor of Eat This, Not That!, overseeing the M+B channel and delivering compelling fitness, wellness, and self-care topics to readers.
Read more about Alexa