The Single Worst Side Effect of New Restaurant Coronavirus Guidelines
Fears of spreading COVID-19 have led the restaurant industry to revert back to this harmful practice.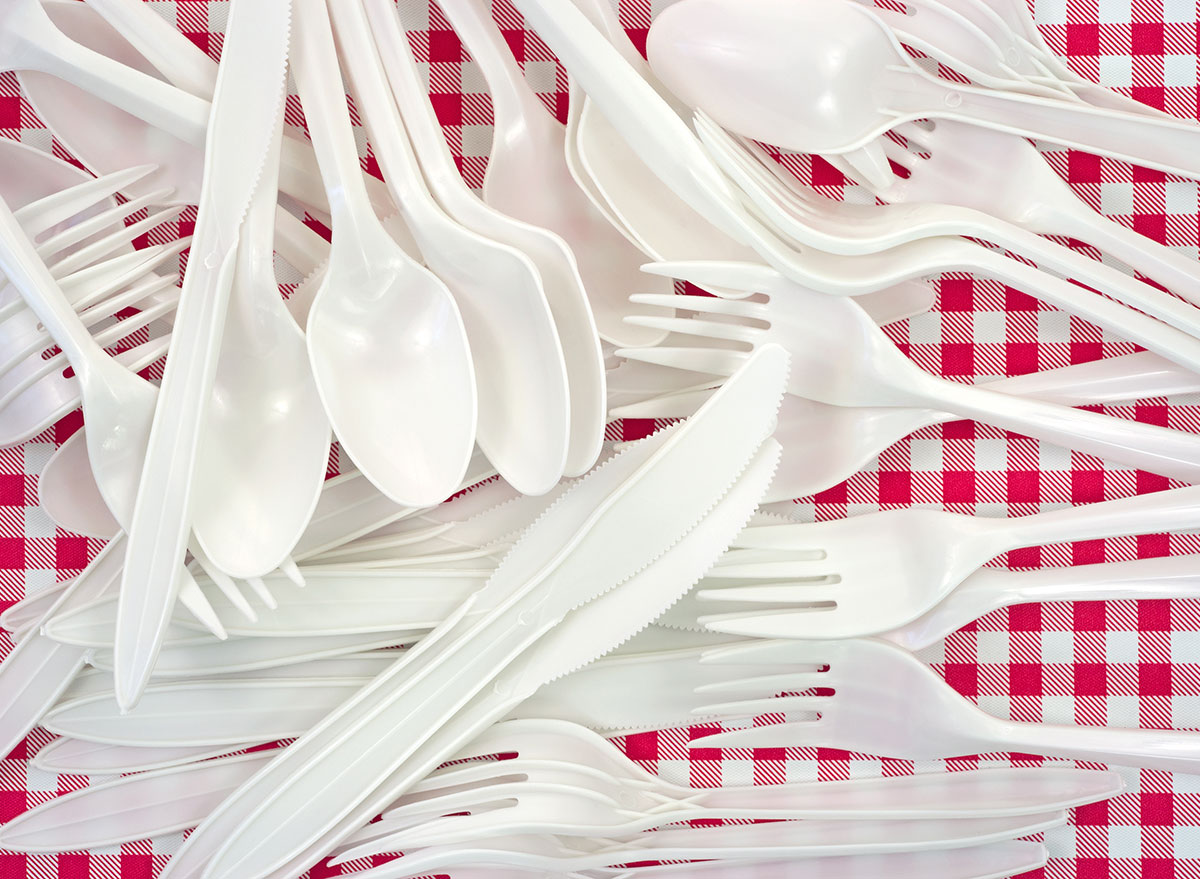 As restaurants reopen across the country, owners are going to great lengths to ensure the safety of customers and staffers alike—implementing strict new health and safety guidelines recommended by the CDC to avoid the spread of coronavirus.
However, these new practices are reversing all of the great recent progress made in reducing the amount of plastic used in the restaurant industry, which is the worst news for our planet.
At the beginning of the pandemic, for instance, fears of spreading COVID-19 through the use of reusable bags convinced many cities to roll back their bans on plastic bags. Plus, as the entire restaurant industry shifted to takeout and delivery, single-use plastic food containers and utensils made a huge comeback.6254a4d1642c605c54bf1cab17d50f1e
As CNBC reports, "The surge in single-use plastic is a major blow to the fight against plastic pollution, which is projected to increase by 40% in the next decade, according to a report from the World Wildlife Fund." In fact, scientists believe there will be more plastic than fish in our oceans by the year 2050 if we don't seriously curb our plastic use.
"The environmental fallout is definitely real," Sandra Noonan, chief sustainability officer of Just Salad, told CNBC. If you love their salads, you know that Just Salad had a great program in place pre-pandemic by producing reusable salad bowls, which saved the company from producing more than 75,000 pounds of plastic a year. But once coronavirus hit, the salad chain stopped the reusable program, closed their restaurants, and focused on delivery and takeout orders only, which led to the use of more disposable packaging.
The most annoying problem? There hasn't been sufficient evidence that reusable products can transmit COVID-19. As John Hocevar, ocean campaign director at Greenpeace, pointed out to CNBC, "The plastic industry seized on the pandemic as an opportunity to try to convince people that single-use plastic is necessary to keep us safe and that reusables are dirty and dangerous. The fact that neither of these things is supported by the best available science was irrelevant."
Restaurants are realizing this issue and already trying to curb their renewed reliance on plastics. For instance, Just Salad started asking customers to opt-in to receiving plastic utensils with their delivery or to-go orders on their online ordering service. From this one move alone, the company cut down plastic utensil use by 88 percent. Now, they're working with third-party delivery apps to make a similar opt-in to plastics a widespread change, reports CNBC.
To quit plastic, restaurants can also look into single-use compostable options for delivery, takeout, and dine-in supplies, and also research recycling programs available in their area (and what they do or don't accept). As a consumer, you can do your part by noting in your delivery or takeout orders that you don't need any utensils (you've got everything you need at home, anyway!). You can also talk to local restaurant owners about their plastic use, and ask them to consider more eco-friendly options, like compostable single-use products. For more, check out these 40 Ways to Stay Safe as Restaurants Reopen Near You.