18 Three-Ingredient Breakfasts For Busy Mornings
Who says you don't have time for a healthy breakfast?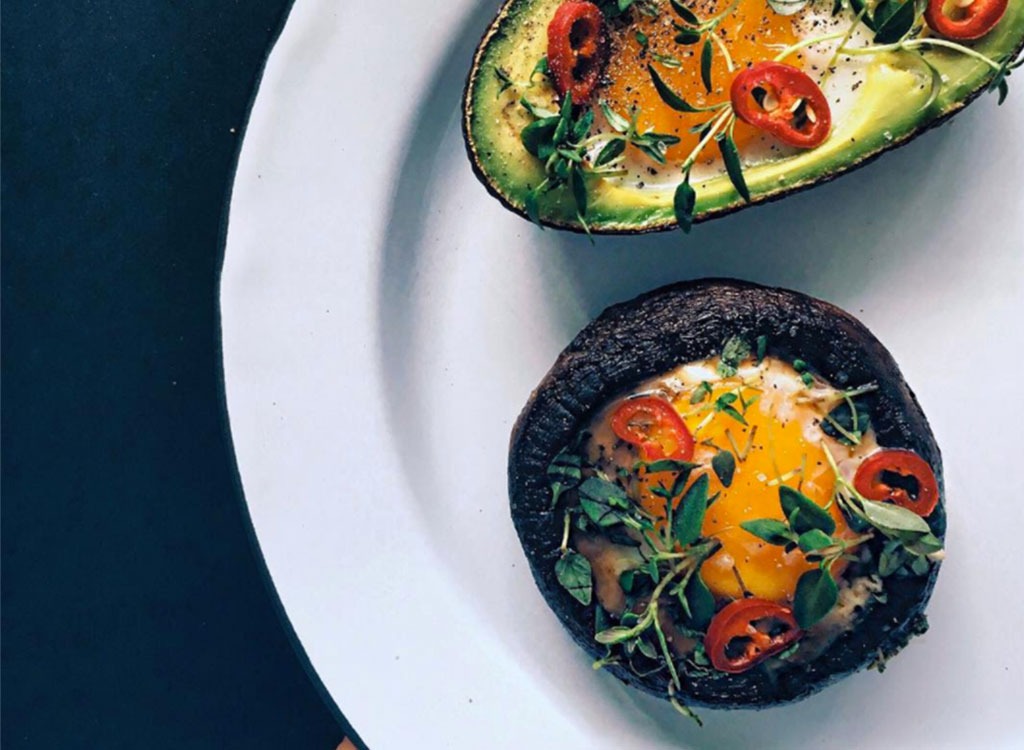 Here at Eat This, Not That!, we agree that breakfast is the most important meal of the day — and it's not just because everyone says so. New research, discussed in the diet plan Zero Belly Breakfasts, indicates that starting your day with a protein and fiber-filled meal leads to higher energy levels throughout the day, a boost in your metabolism, and an increase in your weight-loss results. In fact, participants on the diet lost up to 14 pounds in just one week simply by eating this morning meal!
We get that finding the time to eat your first meal can be difficult. It means getting out bed a little earlier, having to add in time for preparation and clean up, and sometimes even a trip to your local market. But skipping this meal leads to low energy, irregular blood sugar levels, and extreme cravings later on in the day.
You don't have to sabotage your workday productivity because of a lack of time. That's why we've come up with these breakfast game-changers: 18 three-ingredient breakfasts! Want to cut down on time (and ingredients) later in the day as well? Don't miss these 20 Healthy, 5-Ingredient Dinners.
Courtesy of Instagram/@happilyhealthyaj
Push Aunt Jemima and Mrs. Buttersworth out of the way! With these three ingredients, you're guaranteed a successful day. These pancakes are naturally sweet from the banana, so there's no need for any added sweetener. And unlike regular, carb-laden pancakes, these are loaded with protein, thanks to the eggs, so you won't find yourself craving a second breakfast after just a few hours. If you have a couple extra ingredients handy, top off with a couple fresh berries and a dollop of Greek yogurt for an extra boost of fiber and protein.
INGREDIENTS:
1 very ripe banana
2 eggs
¼ tsp cinnamon
HOW TO MAKE IT:
Just mix, mash, and place a dollop of this better batter on a hot, non-stick griddle.
Courtesy of Instagram/@yurielkaim
You're in a jam running late to work but know better than to eat sugary jelly. With this easy hack, you can fulfill those sweet cravings whenever you please. Raspberries contain more fiber than any other berry, 8 grams per cup to be exact. These high fiber seeds will stabilize your blood sugar and will help you feel full and focused.
INGREDIENTS:
2 cups Raspberries (or your berry of choice)
3 tablespoons Chia Seeds
1 piece Food For Life Ezekiel 4:9 Bread, toasted
HOW TO MAKE IT:
Simply place the chia seeds and raspberries in a blender with 2 tablespoons of chia seeds and blend until you get a jelly-like consistency. (You may need to add a little splash of water to help the seeds expand.) You'll definitely have leftovers; so, make sure you have a mason jar nearby. To serve, spread over a nice piece of protein and fiber-rich Ezekiel toast, toss on some more chia seeds for an extra omega-3 boost, and you're ready to go.
Courtesy of Instagram/@chelseasplate
We're still not over this trending open-faced sandwich. Simple, delicious, and nutritious — a true triple threat! If you want to cut down on the time it takes to poach the egg, you can crack an egg into a wide mouth mason jar, top with water, and zap in the microwave for 4 minutes. Saves you time, clean up, and figuring out how to keep those egg whites from whisping away.
INGREDIENTS:
½ Avocado
1 Egg
1 piece of whole-grain toast
HOW TO MAKE IT:
Simply mash up that avo, the weight loss superfood, poach the protein-packed egg, and place over your whole grain toast.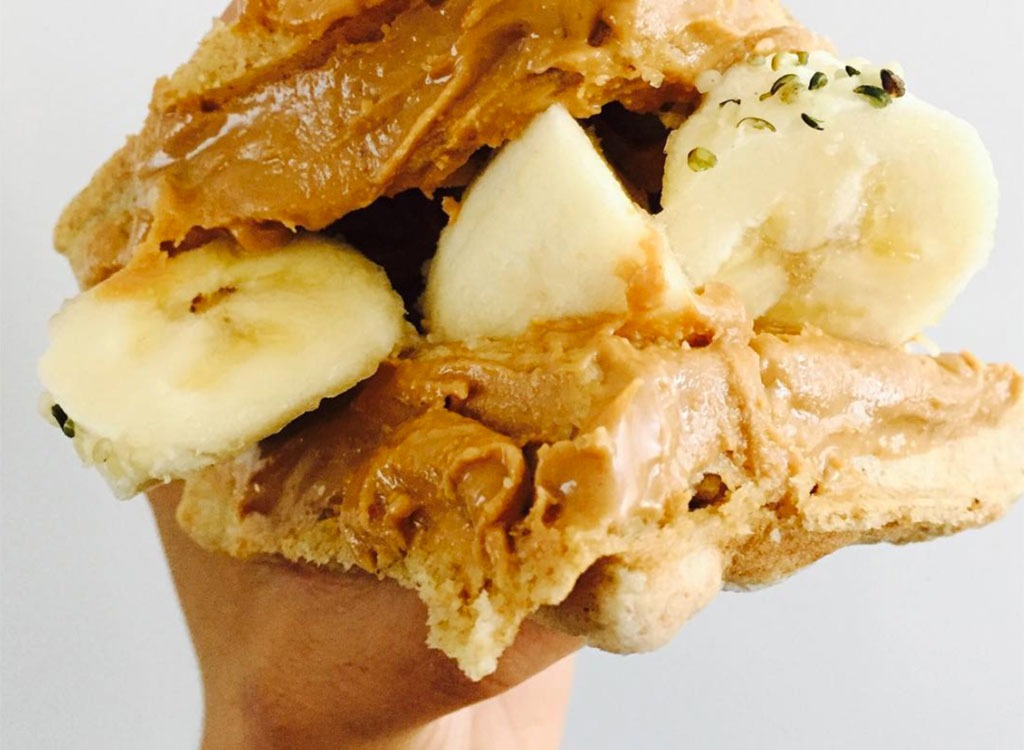 6254a4d1642c605c54bf1cab17d50f1e
Courtesy of Instagram/@shutthekaleup
A classic that never gets old. After choosing the nut butter of your choice, carefully give yourself no more than 2 tablespoons— otherwise, you're trapped in a breakfast with unwanted calories. Bananas, packed with mind-focusing folate, are the foolproof fruit for your breakfast, setting up your brain ready to absorb whatever work is coming your way.
INGREDIENTS:
½ Banana
1 piece of whole-grain toast
2 Tbsp Nut Butter
Cottage Cheese Berry Toast
Courtesy of Instagram/@shutthekaleup
High-fat cream cheese in not our top pick when it comes to breakfast spreads. Cottage Cheese, however, is rich in casein protein — a slow-releasing milk protein that guarantees satisfaction all morning long. Pop on your favorite antioxidant-packed berry to add some color and bursts of vitamin cup and enjoy over some fiber-filled Ezekiel Toast.
INGREDIENTS:
Cottage Cheese
Berries of your choosing
Toast
Courtesy of Instagram/@inspiredbynick
There's something so aPEELing about prebiotic-filled bananas. Known to ease digestion, balance your blood sugar, and feed your gut bugs, they can also make your morning routine so much easier.
Sick of that PB Banana combination? Swap out the nut butter for half of a hunger-squashing avocado. Together, the green and yellow combo create a creamy, hearty smoothie destined for your indulgence.
INGREDIENTS:
Frozen Banana
½ cup vanilla Icelandic yogurt, such as siggi's
2 tablespoons Nut Butter or ½ Avocado
HOW TO MAKE IT:
Place a banana in the freezer the night before. Then, add that frozen banana in your blender with 2 tbsp of nut butter, add water to blend (or your milk of choice) and pulse away for a delicious smoothie.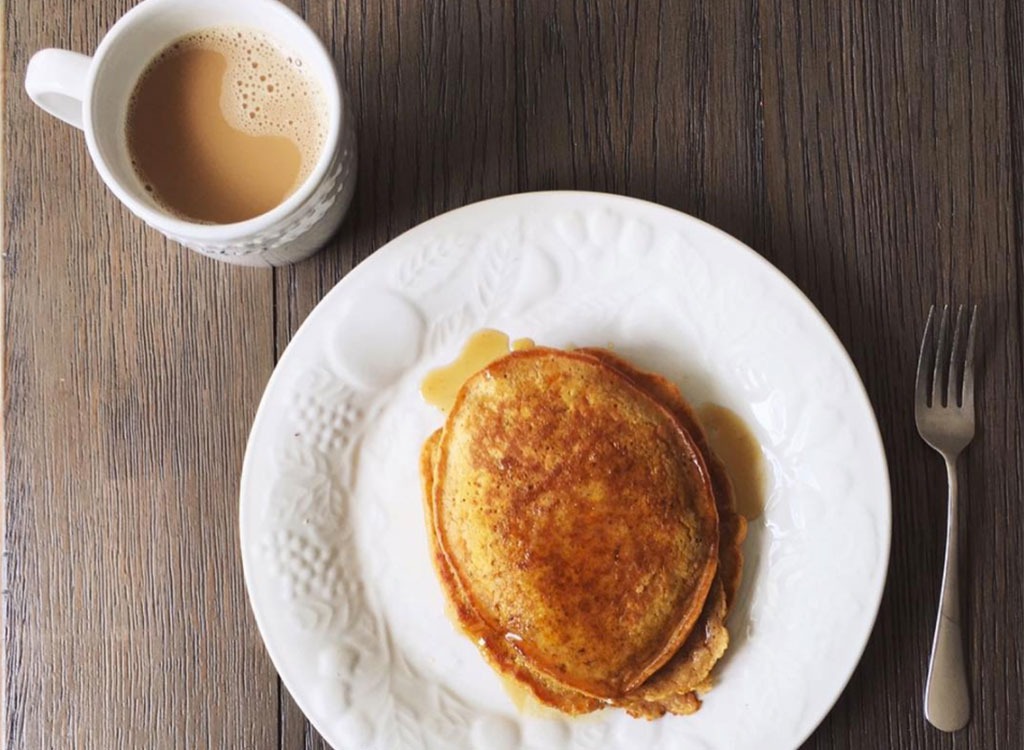 Courtesy of Instagram/@katherinecimorelli
Not over our take on a healthy pancake? Neither were we — so we had to figure out another. At only 210 calories, and filled with immunity-boosting nutrients, this is a must try.
INGREDIENTS:
½ cooked sweet potato
1 egg
1 Tbsp peanut butter
HOW TO MAKE IT:
Take ½ of a cooked sweet potato, mash in an egg and a tablespoon of peanut butter. Mix, pour batter on a non-stick griddle, and cook.
Courtesy of Instagram/@ohsheglows
Why waste your money and calories on café parfaits when it's much more beneficial for your diet and wallet to make them at home. The best part about parfaits is that the combinations are endless. Greek yogurt is a great source of calcium, protein, and probiotics—keeping your gut happy and healthy. Try some of our go-to's next time you're prepping this party for your mouth.
INGREDIENTS:
Fage Plain Greek yogurt, Berries of choice, Chopped Almonds
Smari Lime Yogurt, Blueberries, 1 tablespoon Ground Flax Seed
Siggi's Vanilla Yogurt, Pomegranate seeds, Chopped Pistachio s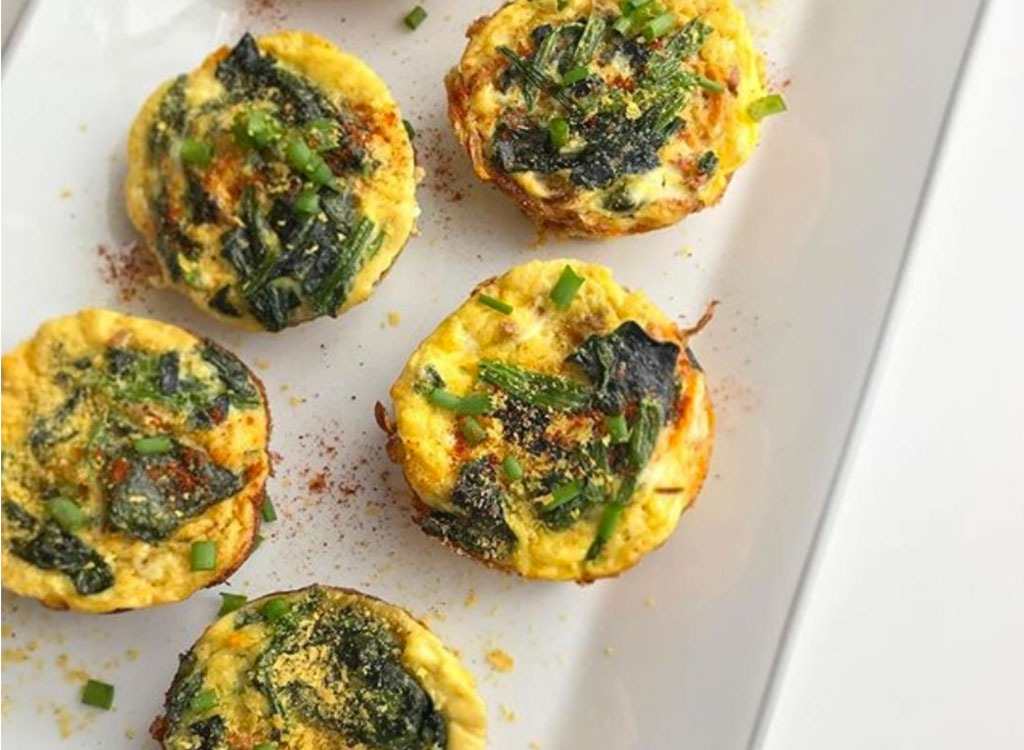 Courtesy of Instagram/@pillarsyogurt
Egg muffins — not Egg McMuffins — we absolutely say "yes" to. These egg muffins can be catered to anyone's taste buds. Spinach and feta, broccoli and peppers, bacon and cheese — the choice is up to you. Two of these mini muffins serve you a ton of protein and choline (an important macronutrient essential for your liver.) The best part? Save the rest for the week and enjoy— all you have to do is refrigerate, microwave and devour.
INGREDIENTS:
Six eggs with…
Broccoli and Peppers
Spinach and feta
Turkey Bacon and cheddar cheese
HOW TO MAKE IT:
Heat your oven to 350°F. In a mixing bowl, whisk your eggs until the whites and yolks are combined, and then add in your mix-ins. Pour mix into a silicone baking mold up to three-quarters of the way up. Bake your combination of three ingredients for 20-22 minutes. Set to cool for 5 minutes and enjoy!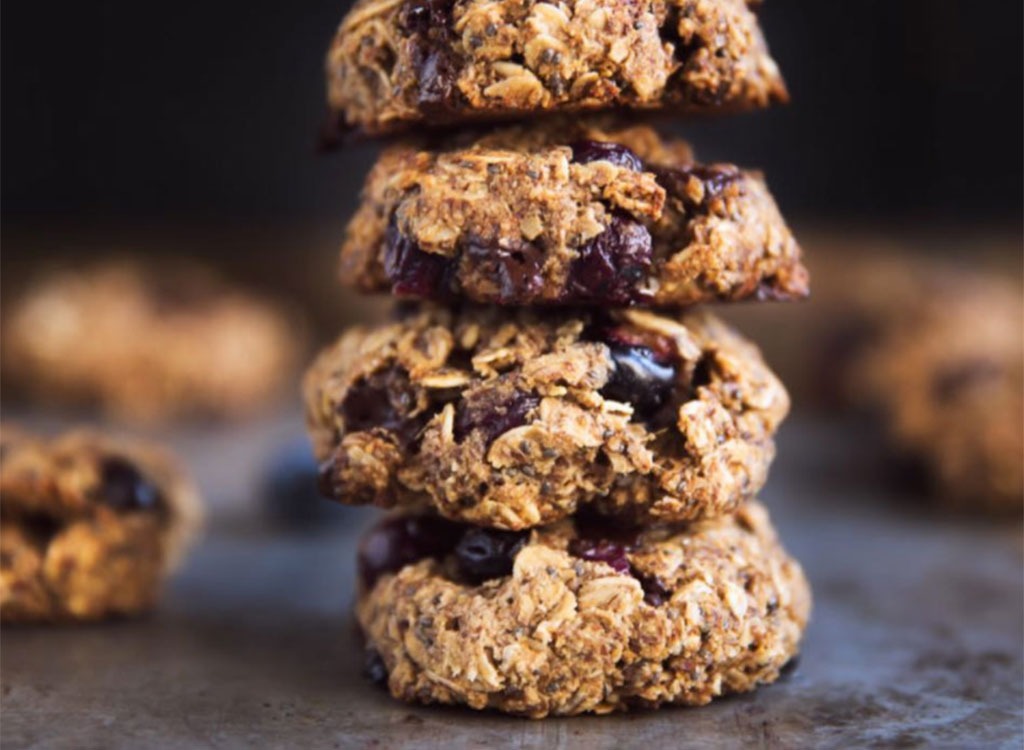 Courtesy of Instagram/<a href="https://www.instagram.com/p/BGR6SsrrXjH/?target= "_blank">@ambitiouskitchen
Cookies for breakfast?! Yes, please. Loaded with fiber, filled with texture and sweetness, these breakfast treats can be enjoyed anywhere.
INGREDIENTS:
1 cup Quick Oats
¼ cup Chopped walnuts
2 Very ripe bananas
HOW TO MAKE IT:
Mix and mash this terrific trio together, roll into balls, and bake at 350 F for 10 to 12 minutes.
Green Eggs and Ham Omelet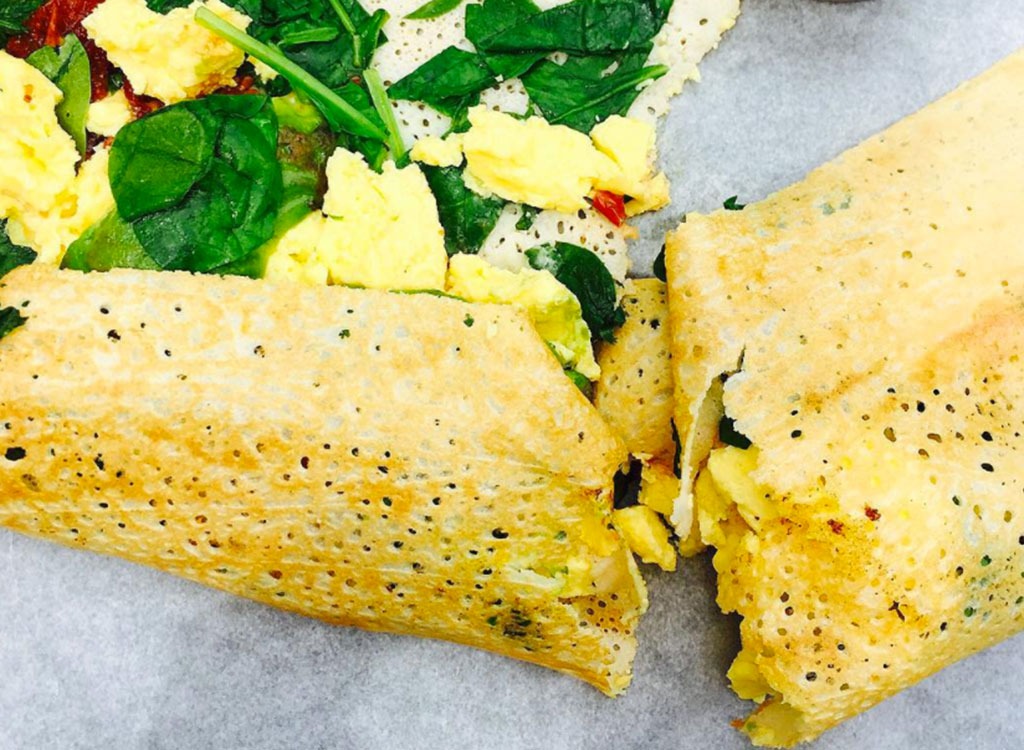 Courtesy of Instagram/@allgoodeats
This classic does more than just spark childhood memories. Spinach adds tons of value to your meal: iron to enhance strength, potassium to prevent bloat, and plenty of immune-boosting vitamins. Just scramble it up with eggs, and toss in some ham to tie the three together. All made in one pan, this dish is definitely a keeper.
INGREDIENTS:
3 eggs
½ cup spinach
¼ cup diced ham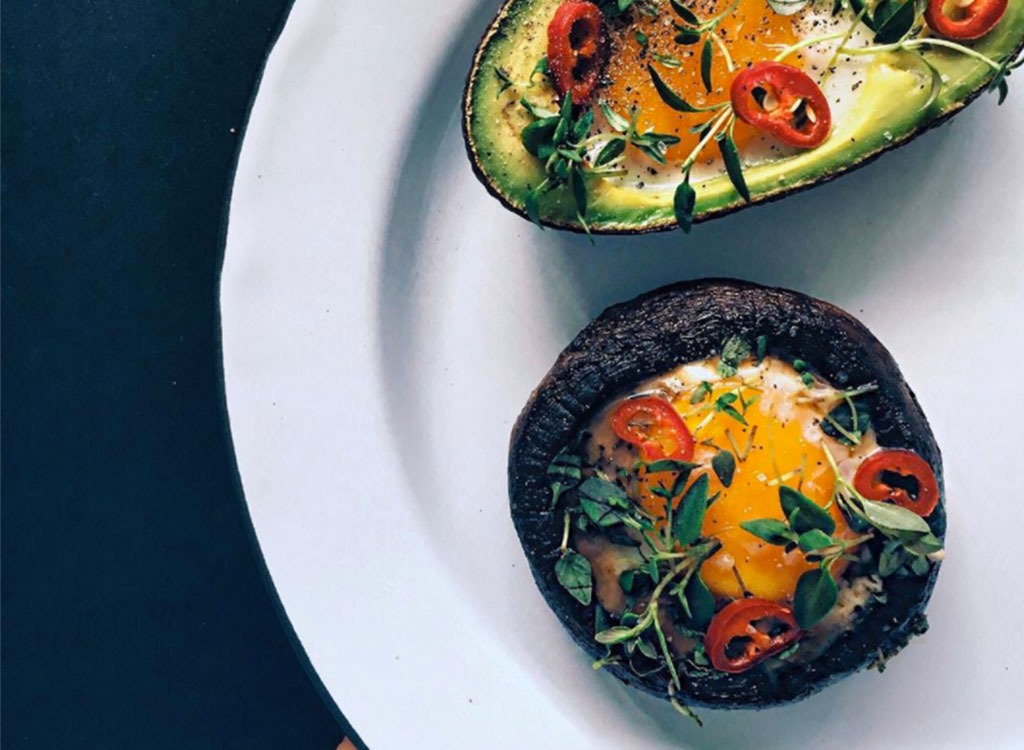 Courtesy of Instagram/@helsinki.foodie
Clean off these fat-free, low-cal fungi and get ready to meet your new favorite breakfast. Carefully crack a single egg into the mushroom cap and top with some parmesan cheese. Place on an oiled cookie sheet and bake at 375°F for 25-30 minutes.
Not into mushrooms? Try this dish with red bell peppers!
INGREDIENTS:
4 large portobello mushrooms
4 large eggs
2 Tbsp grated Parmesan cheese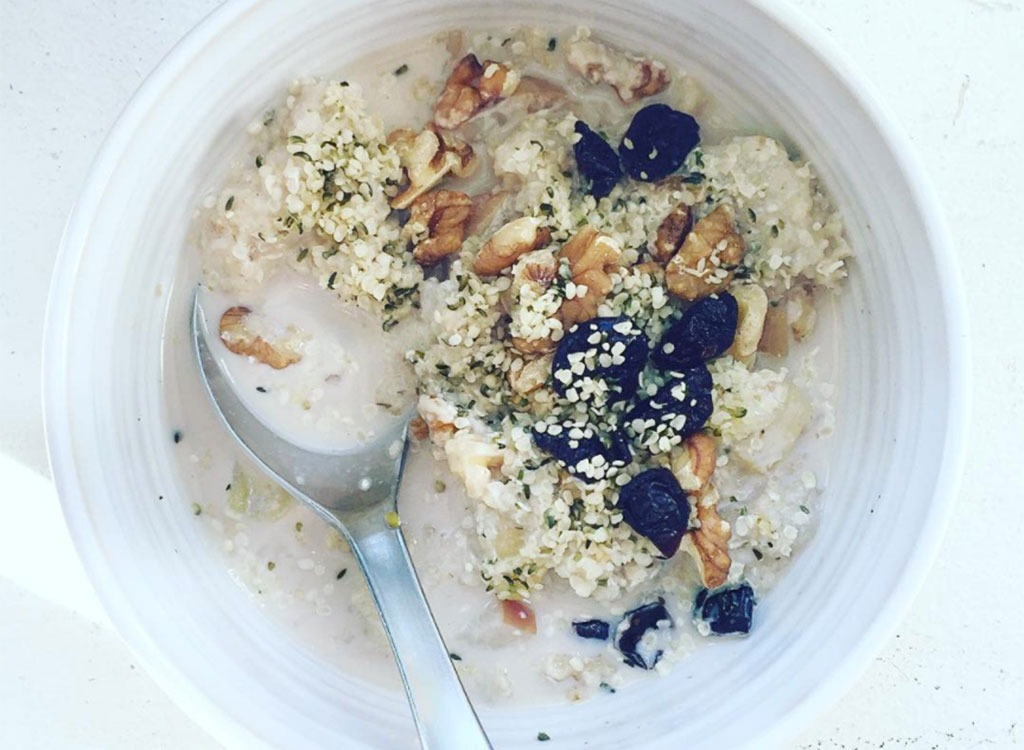 Courtesy of Instagram/@pure_ella
There's something irresistible about ooey gooey oats in the morning. Maybe it's the high levels of protein and fiber or the multitude of combinations it can be paired with. Prep the hot cereal of your choice (steel cut, quick, rolled) and top with delicious berries and cinnamon. The more colors of berries you use, the more vitamins and benefits you gain. You can't go wrong with this standard mix.
Craving oats but searching for a different combination? Try peanut butter and banana, apples and honey, peaches and almonds!
INGREDIENTS:
½ cup oats
¼ cup berries
Dash of cinnamon
OR 2 tsp PB & ¼ chopped apples, 1 TBSP slivered almonds & ¼ cup peaches
Courtesy of Instagram/@chefs_board
Filled with protein, this breakfast skillet for two is perfect to get your day started. This breakfast is quick, delicious, and can easily be changed to please your taste buds!
INGREDIENTS:
½ lb ground turkey
1 cup salsa
4 eggs
HOW TO MAKE IT:
Heat up your skillet and add in your turkey until completely cooked. Then toss in the salsa of your choice, and mix in to guarantee bites of flavor in every forkful. Salsa gives so much flavor you won't have to add additional salt. Crack in your eggs and cover for 8 minutes, or until egg white appears as cloudy white.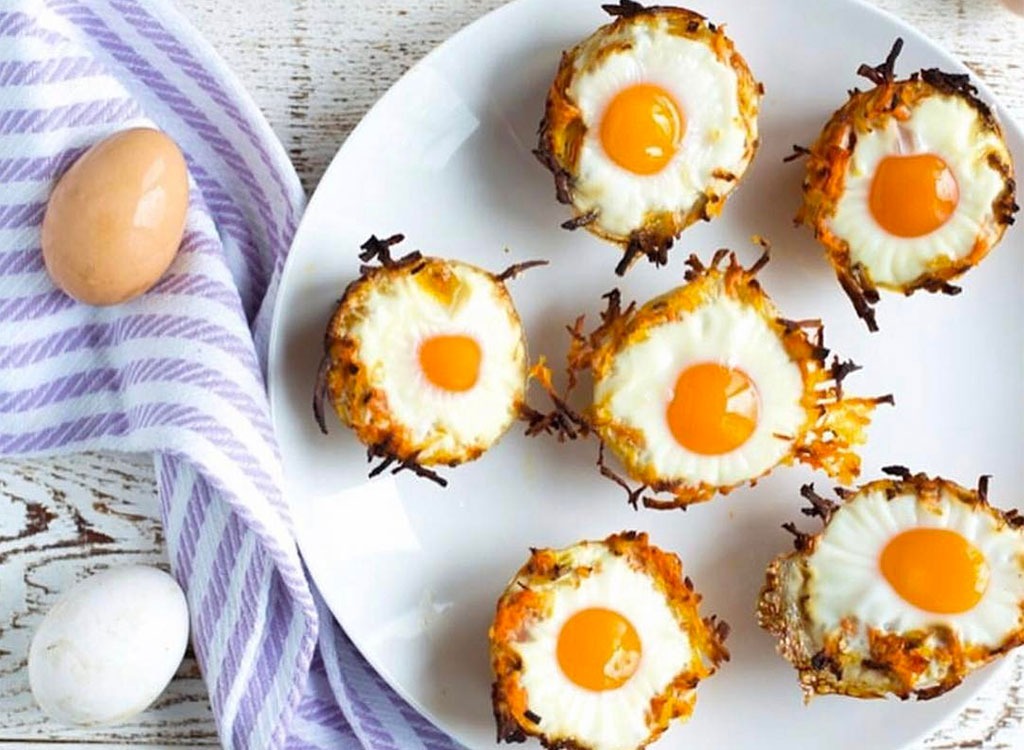 Courtesy of Instagram/@realfoodwholelife
Grab a bag of shredded frozen sweet potatoes, and get ready for a breakfast that will last you through the week. We like to add green pepper to our eggs. This fruit is not only great for your immune system, but also the overall health of your skin, teeth, and gums thanks to its high levels of carotenoids. Looking to improve your complexion even more? Don't miss these 25 Healthy Foods That Give You Glowing Skin.
INGREDIENTS:
1 bag frozen sweet potato shredded
12 eggs
1-2 green peppers
HOW TO MAKE IT:
Grease a muffin tray, and line with defrosted sweet potato, next layer with diced cup of vitamin-packed green pepper. Place in the oven at 400°F for about 10 minutes. Once complete, crack an egg on top of the mid-cooked treat and carefully place back in the oven for an additional 10 to 12 minutes.