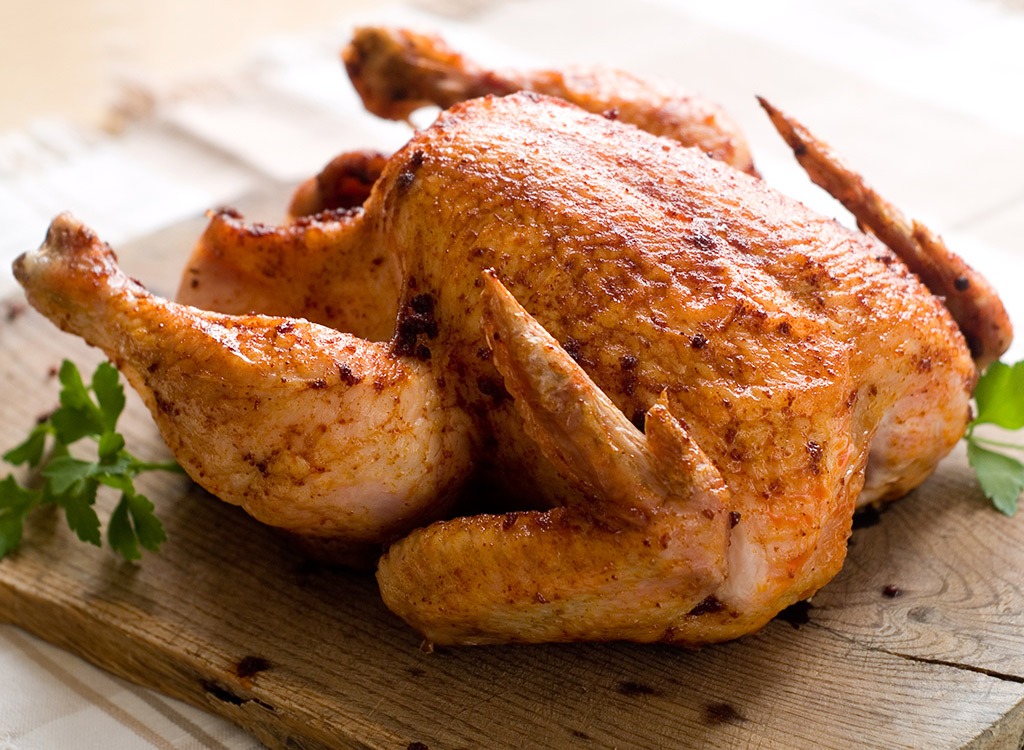 You've heard the phrase "if you're bored, you're boring?" Well, if the prospect of downing another chicken breast makes you yawn, you're off the hook.
The go-to protein is an effective muscle-builder but can be a fail on the taste front. (Our casual poll on the taste of plain breast elicited answers ranging from "air you cut with a knife" to "wet sock.") The good news: With just a little creativity, you can make it a savory post-gym dinner or an impressive date-night meal. "A chicken breast is like a pair of jeans," says Carolyn O'Neil, MS, RD. "You can dress it up or down, depending on the occasion."
Fit Facts: A 3 oz. cooked chicken breast contains only 142 calories and 3 grams of fat, but packs a whopping 26 grams of protein—more than half of the day's recommended allowance. Plus, it's got less than half a gram of saturated fat in one serving (no heart attacks here) and B vitamins, which metabolize food while providing an energy boost.
Prep Tips: Buy a package and wrap each breast separately in plastic wrap, then place them all in a Ziploc bag and freeze—that way, you can shop ahead and thaw each breast easily. And try our nutritionist's favorite tip for tasty chicken breast: use bone-in, skin-on chicken breasts when cooking, then remove the skin before eating. You'll get the added flavor and moisture without the extra saturated fat and cholesterol. Score.
So, are you ready to teach an old protein new tricks? Try our 7 easy ways to make chicken breast.
Marinate It
Marinating chicken means no more dry meat and lots of flavor, and this Italian-inspired mix comes together easily for a quick meal. Combine olive oil, ¼ cup of lemon juice, ¼ cup of white vinegar, and 1 tablespoon each of dried parsley and basil. Add in a ½ teaspoon of dried oregano, garlic powder, salt, cracked black pepper, and a dash of chopped garlic. Toss a pound of chicken breasts into the marinade for at least 10 stuffed minutes, and then grill or bake in the oven at 425 degrees for 15 minutes or until juices run clear.
Stuff It
Don't let the name scare you: stuffed chicken is much easier than you might think. Just flatten chicken with a meat mallet and spread olive oil, fresh basil, a sprinkle of Parmesan cheese, and a little garlic on top. Fold in the sides and secure with toothpicks, then pop it in the oven at 350 degrees for 30 minutes or until chicken is cooked through. Use your imagination—you can make almost anything into a stuffing, including fit foods like spinach and broccoli.
Bake It
Starving after work or post-gym? Place a chicken breast in a baking tray and top with diced tomatoes, plus seasonings like oregano or a sprinkle of Parmesan cheese. Heat in a 350-degree oven for about 25 minutes, or when the meat is no longer pink and the juices run clear. See how easy that is? While you shower and unwind, dinner's cooking.
Skewer It
Chop up vegetables like peppers, onions and zucchini, then alternate them with cubed chicken breast on skewers for easy kebabs you can grill or bake.
Stir-Fry It
For an easy Asian-style dinner that's definitely better than Chinese takeout, toss diced chicken breast and vegetables in a flavorful sauce for an easy stir fry. This recipe for Stir-Fried Chicken and Vegetables is tasty and loaded with nutritious ingredients.6254a4d1642c605c54bf1cab17d50f1e
Bread It
Dredge chicken breast in egg whites and seasoned panko breadcrumbs, then pop it in the oven and bake at 400 degrees for 10-15 minutes or until juices run clear. The coating keeps moisture in and provides the satisfying crunch of fried chicken — Colonel Sanders has nothing on you. (You can also try quinoa!)
Wrap It
Chicken breast isn't just for dinner. Pack a lunch starring this lean protein, and you're guaranteed to get a midday energy boost. Slice last night's leftover chicken and wrap it in a whole-wheat tortilla with salsa, a bit of cheese and your favorite vegetables, or try this easy recipe for a grilled chicken pita wrap.
Courtesy of Men's Fitness
Eat This, Not That!
Inspired by The New York Times best-selling book series, Eat This, Not That! is a brand that's comprised of an award-winning team of journalists and board-certified experts, doctors, nutritionists, chefs, personal trainers, and dietitians who work together to bring you accurate, timely, informative, and actionable content on food, nutrition, dieting, weight loss, health, wellness, and more.
Read more about Eat This