3 Easy Homemade Aioli Recipes You'll Love
Think of aioli as a fancy, upgraded mayo—here's how to make it and use it.
Condiments are are pretty high up on the list of what makes or breaks an indulgent plate of food. They can take a boring french fry or chicken nugget and turn them into something delectable, craveable, and exciting. One of the more decadent, fancier condiments out there is aioli. We've gathered our favorite aioli recipes so you can recreate the magic at home.
What is aioli?
"Aioli" is the compound of "garlic" and "olive oil". And in Mediterranean cultures (alioli in Spanish or aïoli in French) it is just that—a simple emulsion of garlic and olive oil. The process of emulsifying means slowly mixing oil into something water-based, so the oil doesn't end up floating on top. Instead, it is broken up into a bunch of tiny droplets and is spread evenly throughout the mixture.
To make aioli, the two ingredients are combined, usually in a mortar and pestle, by mashing garlic and slowly adding oil, drop by drop, until it combines into a creamy, almost fluffy spread that resembles mayonnaise. Sometimes egg (whole or just the yolk) is added to help emulsify faster.
If this sounds just like mayonnaise, it's because it basically is—the only difference is that mayo almost always contains egg, lemon juice or vinegar, and a neutral oil like vegetable or canola. And since the 1980s in the United States, aioli has become synonymous with mayonnaise, known as a fancier flavored mayo that can be spread on a sandwich or used as a dip or drizzle for vegetables and fried goods. You can even make cheater's aiolis by mixing herbs, garlic, or spicy pastes into store-bought mayonnaise.
Easy homemade aiolis
Making homemade aioli isn't difficult, especially if you have a blender, food processor, or immersion blender so that your arm doesn't feel like it's going to fall off from whisking constantly to emulsify. Below are three of our favorite, tastiest homemade aiolis and how we like to use them.
Basic Garlic Aioli
If you have a food processor, this aioli recipe from Savory Simple can come together in five minutes. Use pasteurized eggs (or pasteurize them yourself) since they will be consumed raw once you make the aioli, and use up the aioli within two weeks. Try adding in pesto, Sriracha, or truffle oil for a flavored aioli, and use it as a dip for steamed artichokes or a dressing for chicken salad.
Get the recipe for Homemade Aioli from Savory Simple.
Chipotle Aioli Recipe
This chipotle aioli recipe from Minimalist Baker doesn't use eggs, it's actually vegan. It subs in cashews and almond milk as a creamy base—but you won't taste the nuts due to the smoky chipotles in adobo sauce that get blitzed in. Drizzle it over roasted potatoes or tacos, use on your crudités tray, make fries extra special, or spread onto your favorite sandwich.
Get the recipe for 5-Ingredient Chipotle Aioli from Minimalist Baker.
Fresh Herb Aioli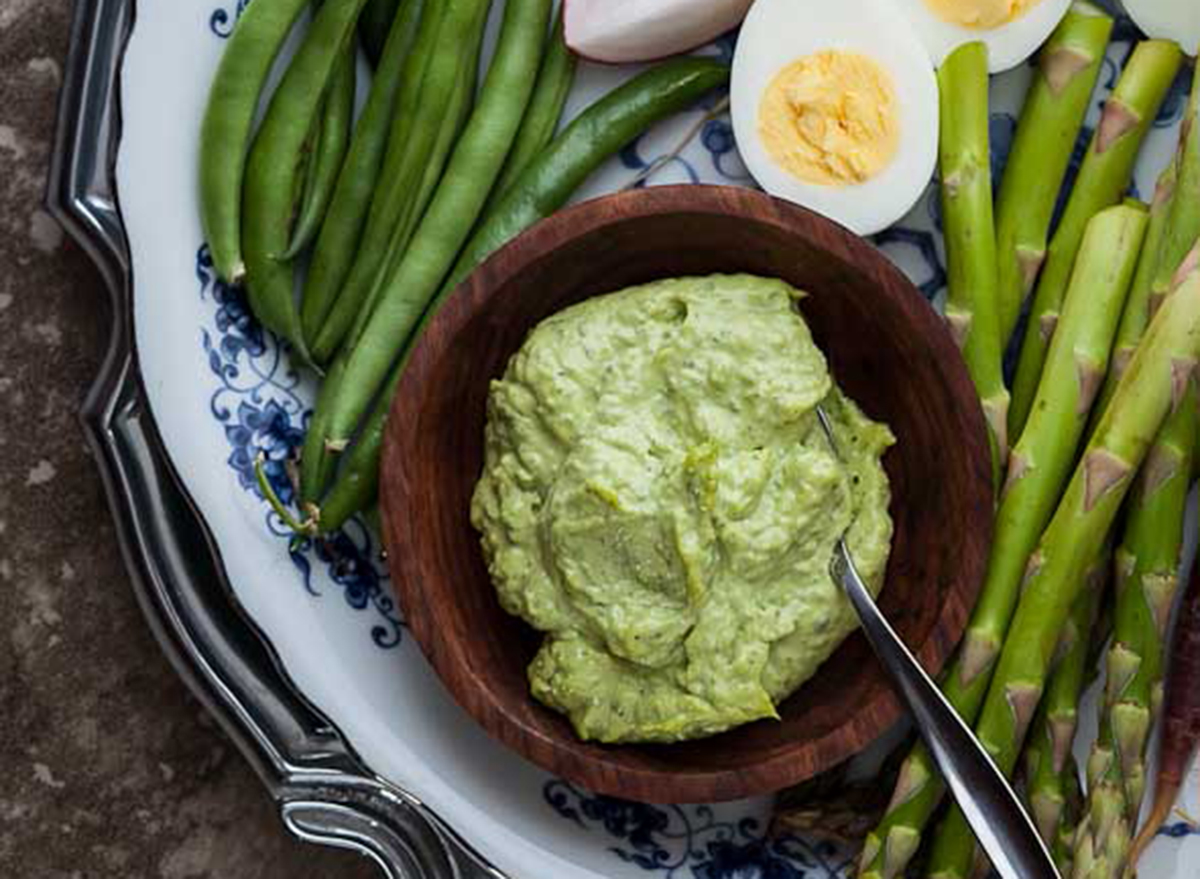 Want a punch of green that can zest up your veggies, cooked or raw? Use this fresh herb aioli recipe from Gourmande in the Kitchen that is customizable to your favorite tender herbs (such as chives, tarragon, and parsley). This particular aioli is great for making a grand French platter of lightly steamed or blanched asparagus and green beans, radishes, carrots, and hard boiled eggs. Try it at your next party!6254a4d1642c605c54bf1cab17d50f1e
Get the recipe for Fresh Herb Aioli from Gourmande in the Kitchen.