20 Alcohol-Infused Healthy Bites
Who says you have to drink your alcohol? Try out these fun, alcohol-infused foods that won't pack on the liquid calories.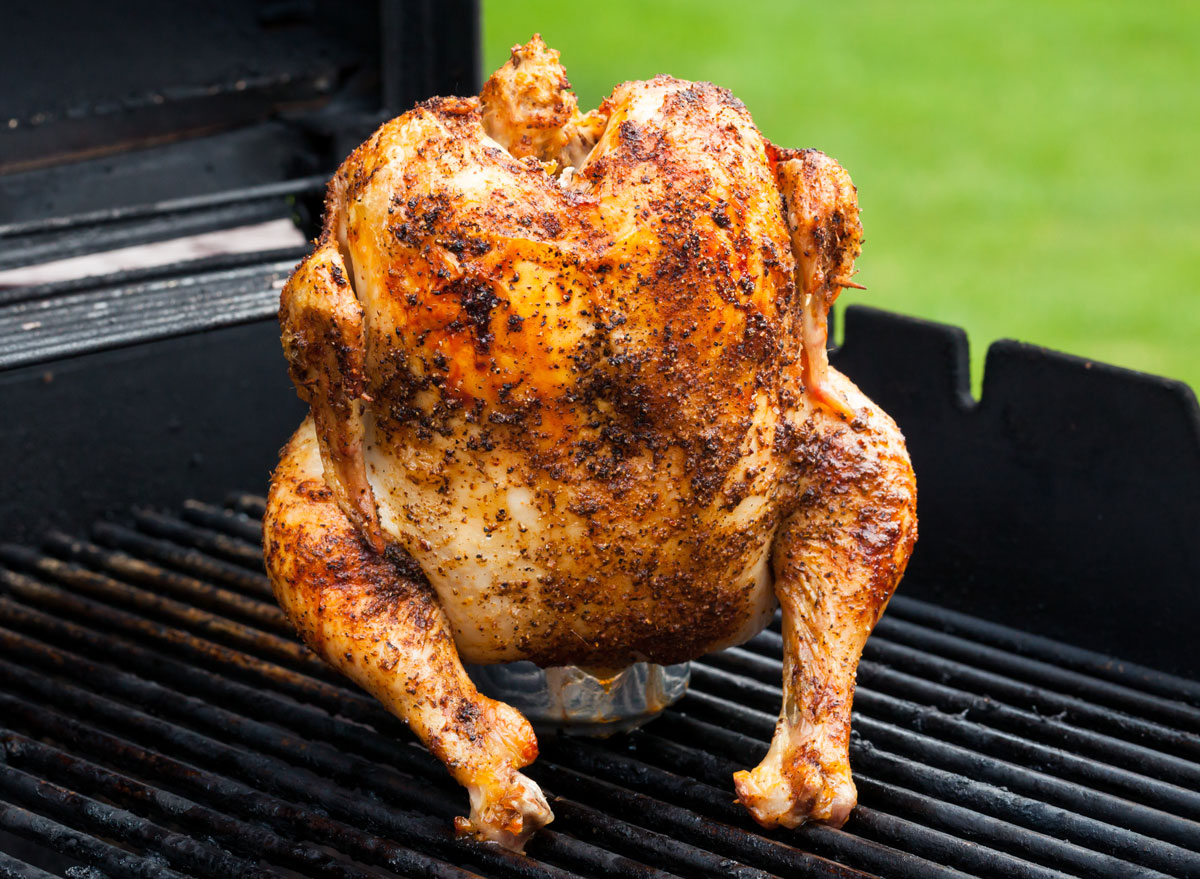 Alcohol and healthy are two words we don't often see together when we're talking about weight loss—and usually for good reason. Chugging back those mixed drinks, malt beverages, and creamy beers can leave you bloated, dehydrated, and craving greasy foods. Instead of taking in those unnecessary liquid calories that come with drinking, get your buzz going with a bite of food. The secret behind consuming alcohol on a diet? Moderation!
Not only do you still get to enjoy your favorite spirits and keep your beach body, these healthy, alcohol-infused bites are loaded with good-for-you nutrients and vitamins. From dinners to desserts (and okay, a couple of beverages), alcohol can be infused in tons of enjoyable treats that won't deem your diet donezo. If you need even more reason to you to try these alcoholic food recipe ideas, remind yourself of these health benefits of alcohol!
Pina Colada Popsicles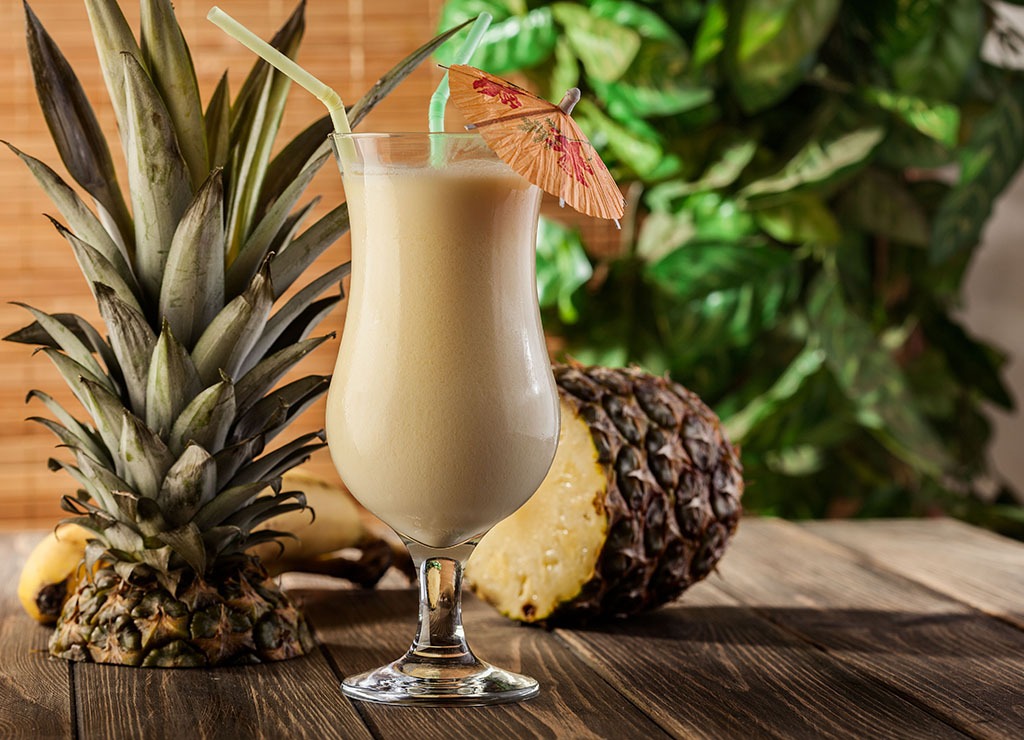 Take a trip to the tropics with a healthified version of the tasty island drink! Make Pina Colada popsicles by blending pineapple, coconut milk, coconut water and rum. Freeze for 12 to 24 hours in plastic cups with a stick for holding (or those fancy popsicle freezer molds found as #12 on our list of healthy cooking gadgets). Coconuts have some pretty amazing nutrients that will benefit your hair, skin, and even energy. Plus, it tastes awesome! These treats are a refreshing snack that can give you the buzz without the bloat!
Boozy Melon Salad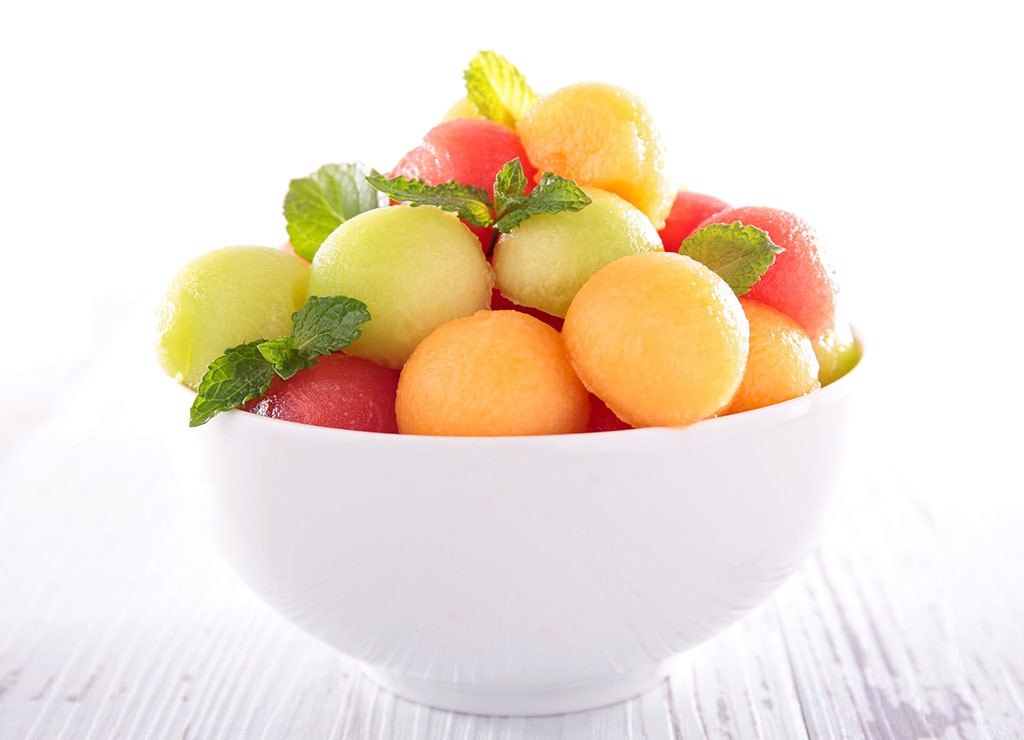 Watermelon, cantaloupe, and honeydew are all perfect fruits to infuse alcohol into. These juicy melons can be scooped out using an ice cream scoop and soaked in triple sec, fruit flavored vodka, and a touch of pineapple juice. After about 2 to 5 hours, enjoy yourself a fruit salad that's bright in color and bold in flavor.
Beer Braised Chicken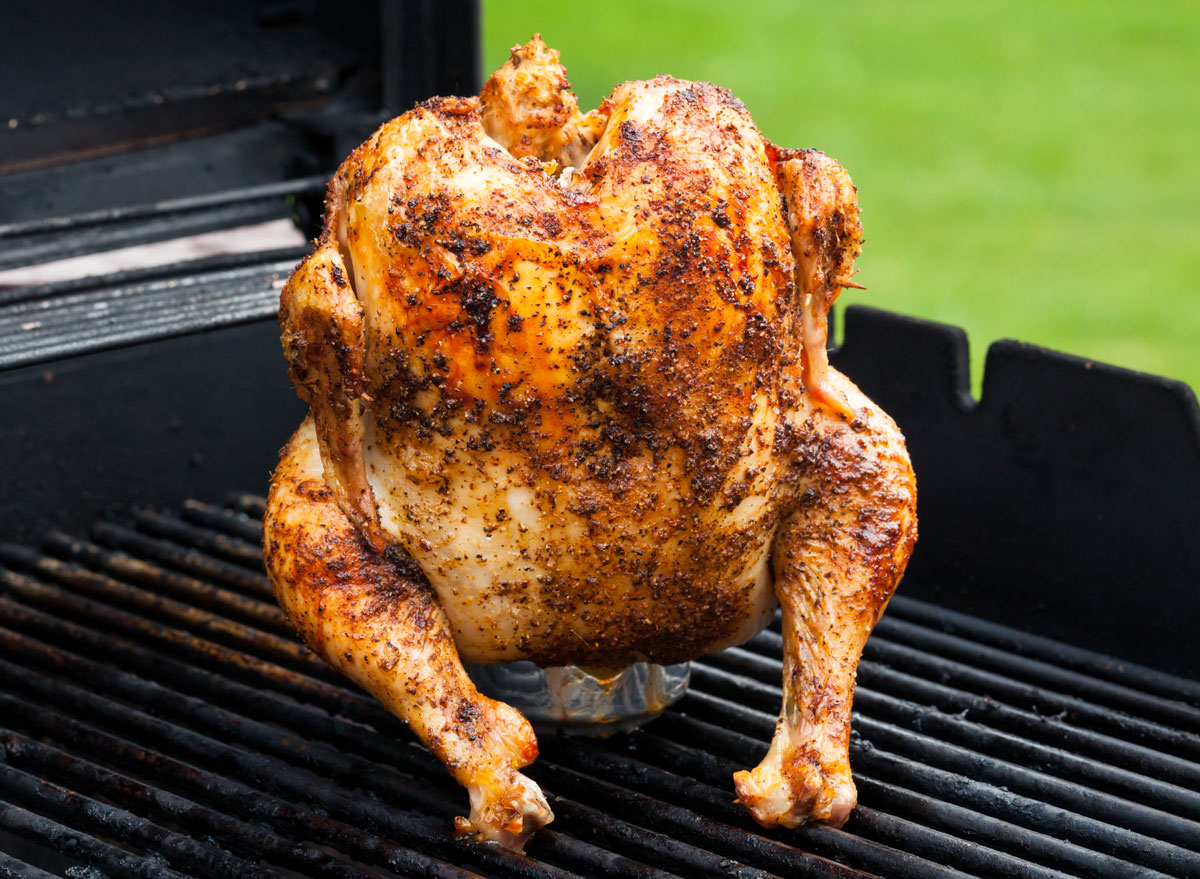 The Eat This, Not That! team was recently dazzled by how creatively alcohol can be used when we were visited by Cody Goldstein, founder of Muddling Memories, a cocktail and bar consulting firm. You may have heard of "beer can chicken" before, but you'll want to do it Cody's way if you ever attempt it: "I like to place two pounds of chicken breast—along with carrots, celery, onions, garlic and fresh herbs—into a braising pot or slow cooker. I add my favorite local wheat ale (I recommend Brooklyn Greenmarket Wheat) which will give a really great zesty and citrus flavor to the chicken and help break it down as it cooking." Cheers to that!
Prosecco Ice Cube Fruit Water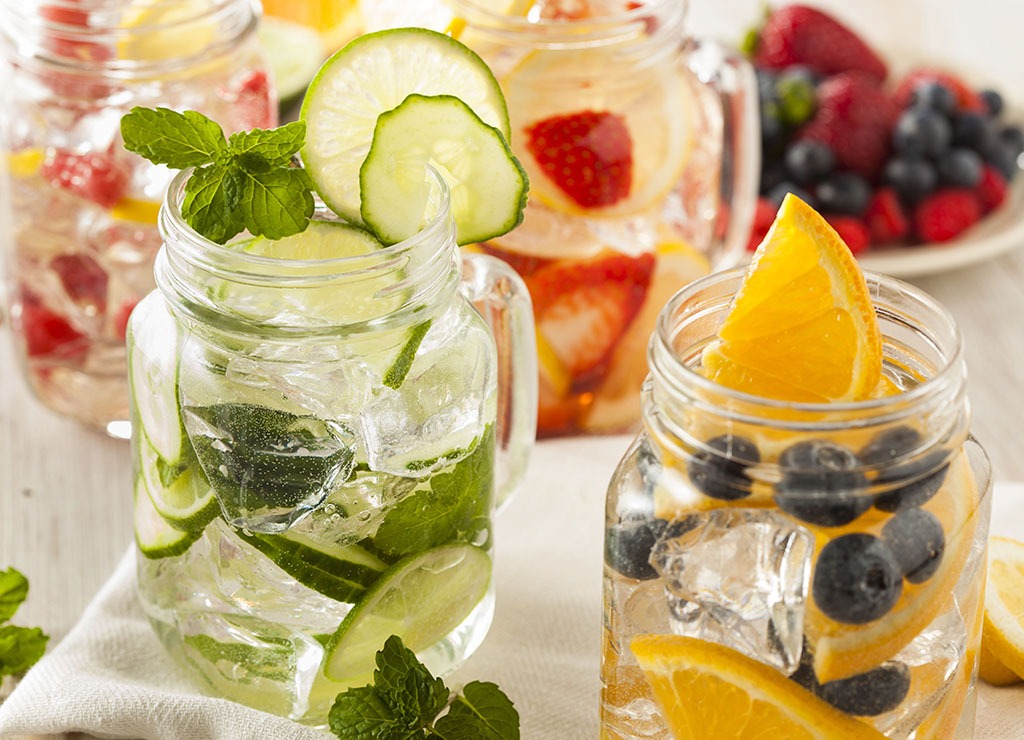 There's nothing better than gulping back an ice cold glass of water on a hot day. Well, there may be an exception; how about an ice cold fruit water with prosecco ice cubes? Simply freeze prosecco in an ice cube tray overnight and slice oranges, kiwis, limes, and strawberries. Add it all to a pitcher of water. Drinking water will not only keep you hydrated, it helps boost your metabolism to aid weight loss efforts. Next time you think about reaching for a mixed drink with sugary additives, skip it and go for a glass of this thirst-quenching drink. Try out one of these detox waters for weight loss!
Tequila Lime Shrimp
Use tequila and lime to bring out a bold flavor in a shrimp dish. Shrimp is an awesome protein that is a definite go-to for anyone looking to lose weight. Add this shrimp to a salad, lettuce wrap, or a stir-fry, and you're sure to be happy and satisfied!
Whiskey Marinade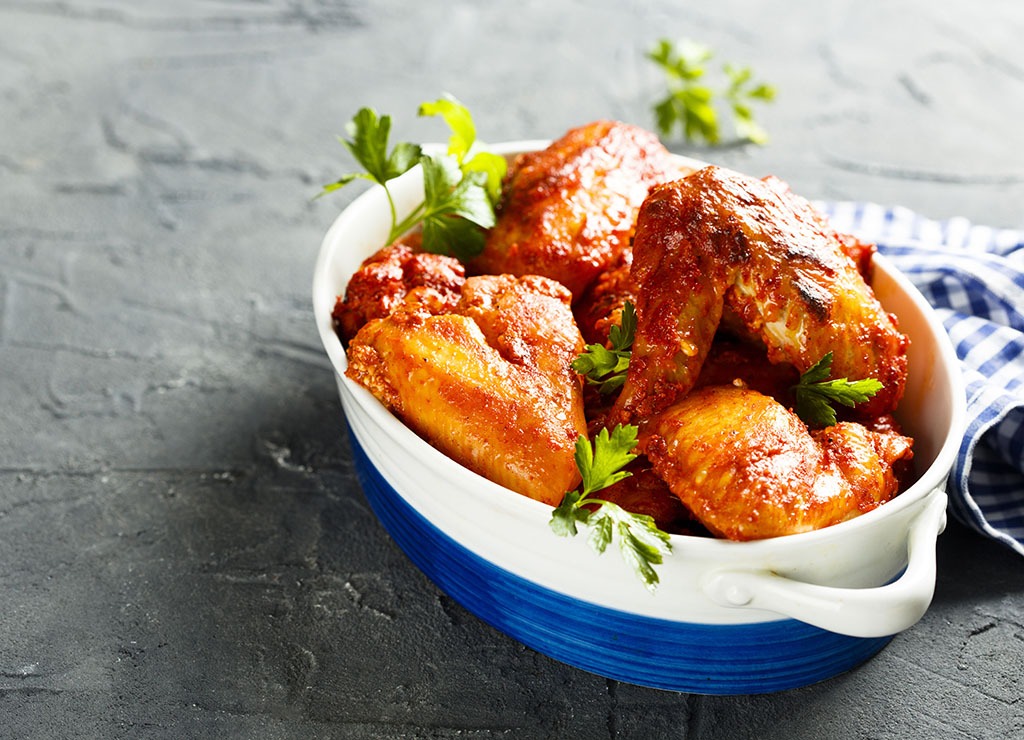 Spice up your life and go for a whiskey marinade when you grill chicken, tofu or veggies! For the marinade, combine whiskey, honey, soy sauce, ginger, sesame oil, crushed red pepper, lime juice, and garlic. This is a flavor-packed way to enhance those proteins and add an extra kick!
Mezcal Gazpacho Soup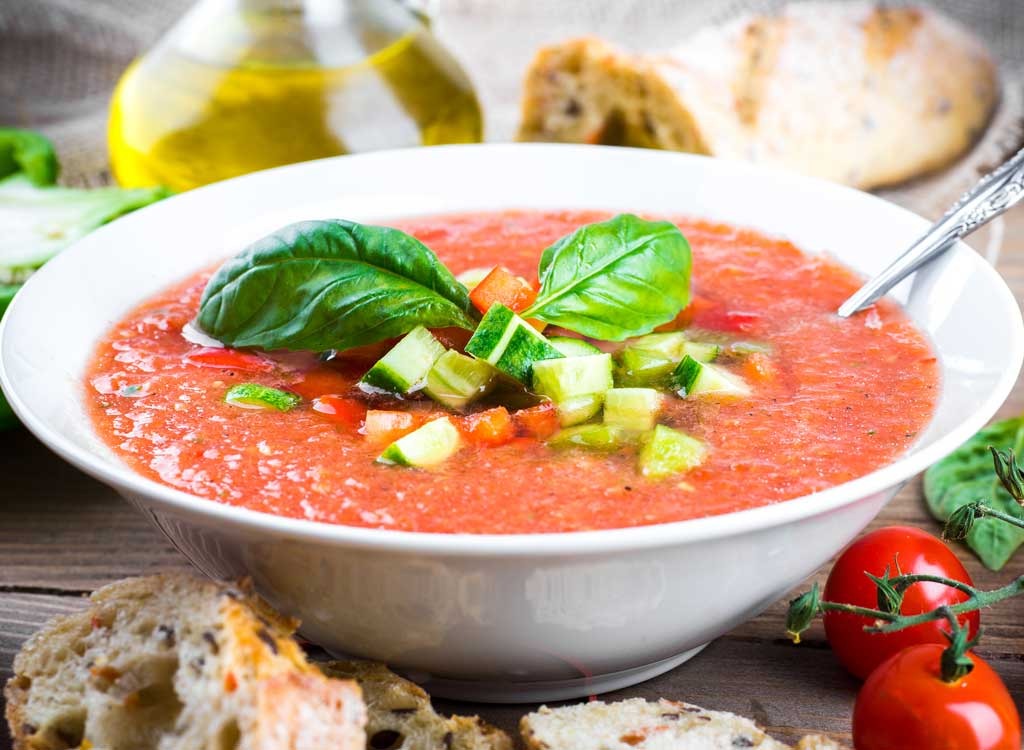 Here's another delicious idea from Goldstein! He likes to combine 2 ounces of Creyente Joven Mezcal in the blender with tomatoes and herbs to get a soup with a great smokey flavor. Since the soup is served cold, you will really taste the agave that has been smoked underground and the flavor will complement the roasted tomatoes. Don't miss these healthy gazpacho tips for more tips and tricks.
Tipsy Mojito Icey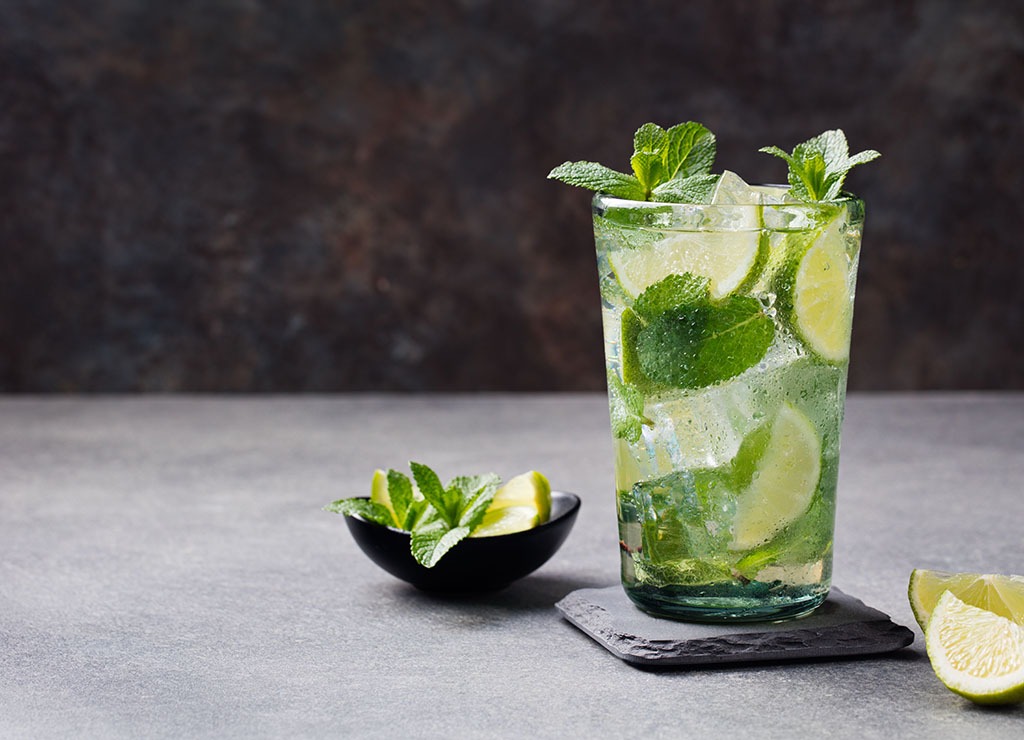 Transform the classic cocktail into a refreshing, waist-whittling dessert! Combine honey, lime juice, lime zest, mint, white rum, and water, and then freeze. Now that's a cool way to satisfy your sweet tooth!
Tequila Spiked Salsa
The agavins (a natural sugar) found in Mexican tequila has been shown to help lower glucose levels and make you feel fuller than when consuming artificial sugar. So, go ahead and add two tablespoons of tequila to your salsa, along with the tomato, onion, jalapeno, garlic, cilantro, lime juice, and sea salt. Not only will this taste great, it's a snack that will help you lose that unwanted belly fat!
Jello Shot Oranges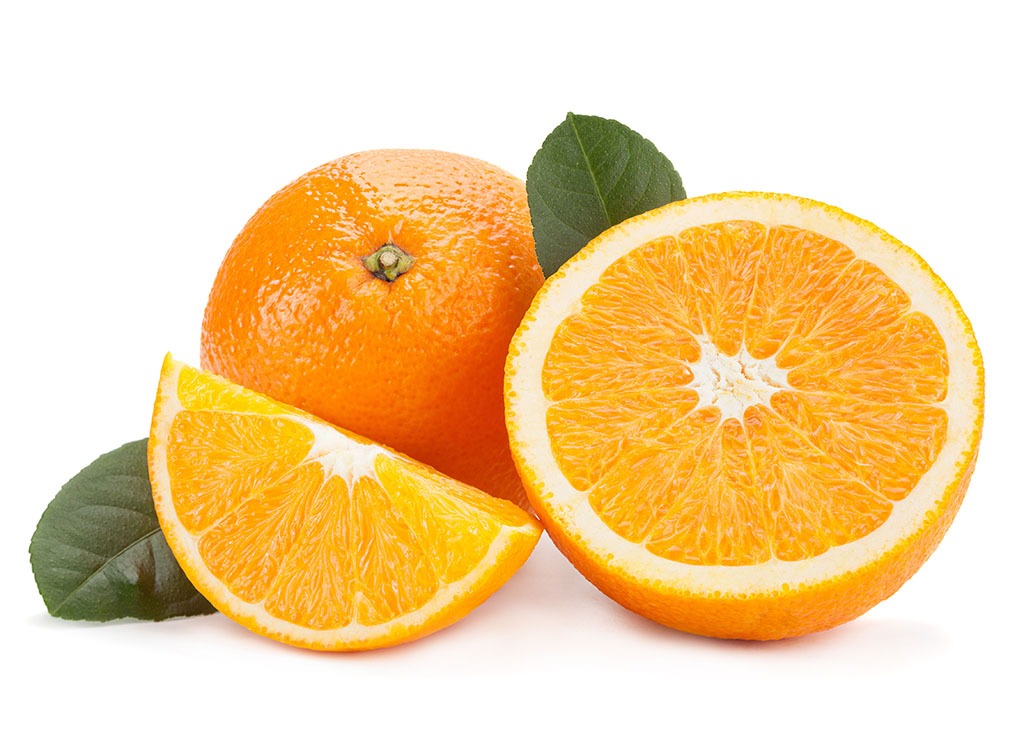 Instead of making jello shots with those packages of flavored jello that are filled with artificial sweeteners, make your own at home using unflavored gelatin powder and fresh oranges. Cut the oranges in half and scoop out the inside to use for juicing. Combine with alcohol and put the mixture back into the orange skins to refrigerate overnight. You can use any hard liquor for this little treat, but we suggest going for an orange flavored vodka. Fresh orange juice is loaded with vitamin C with a low glycemic index that won't send your blood sugar skyrocketing.
Coffee Liqueur Fruit Dip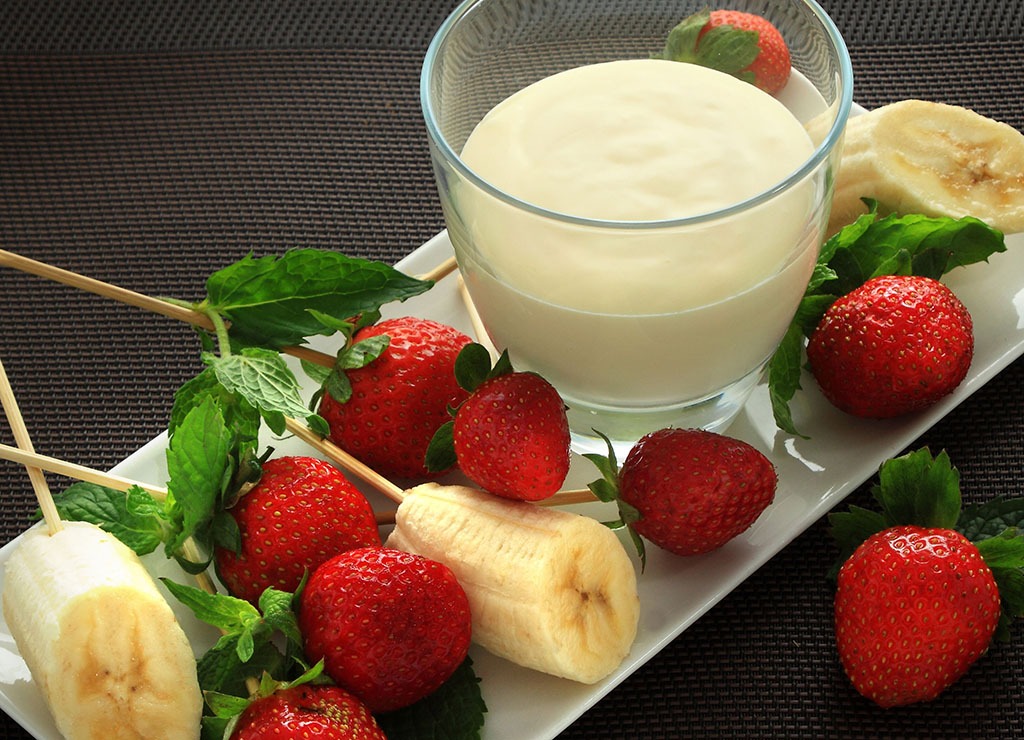 Make a quick fruit dip by mixing Siggi's Icelandic yogurt and a coffee based liqueur. Icelandic yogurt is actually strained an extra time than the popular Greek yogurt and the process increases the protein content!
Rum Balls
Itching for a sweet treat? Go for these Coconut Rum Balls from Fresh Frit & Healthy! They are naturally sweetened with dates and use cocoa, which is one of the healthiest spices on the planet since it can help reduce heart problems and control inflammation. These tasty things are the perfect way to have both your after-dinner drink and your dessert. Win-win!
Spicy Beer Mustard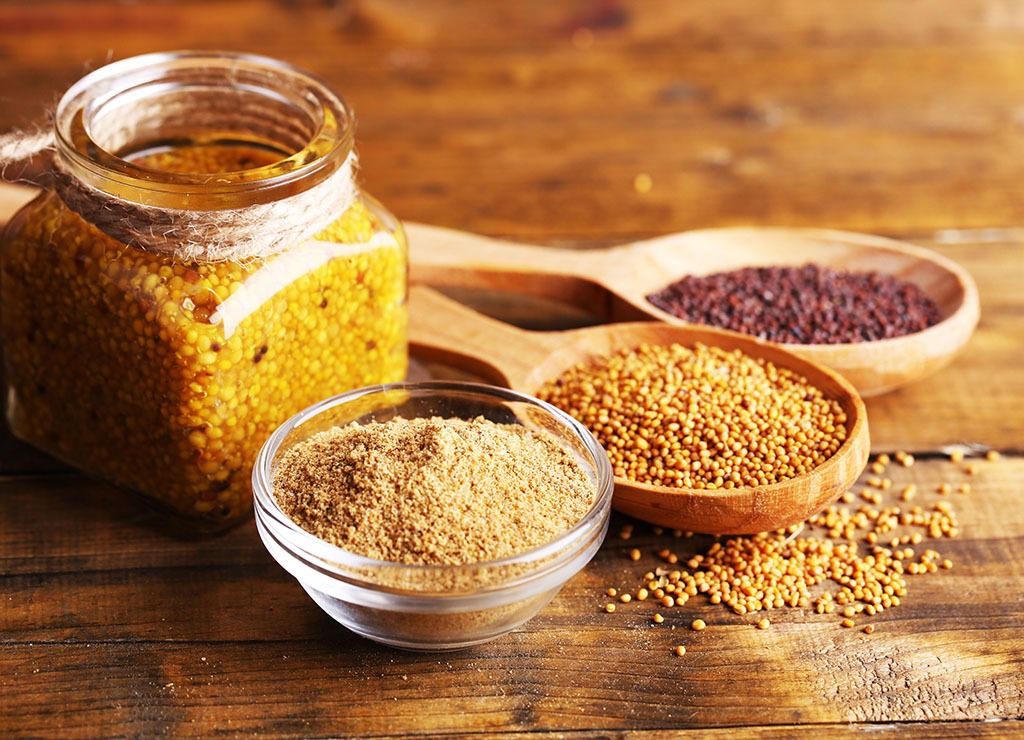 When you're looking to add extra flavor to your grilled chicken or steak, go for spicy beer mustard. Mustard seed is low in calories and reportedly can help boost metabolism. Use brown and yellow mustard seeds, vinegar, honey, cayenne, allspice, turmeric, and dark beer for a condiment like no other.
Amaretto Cherries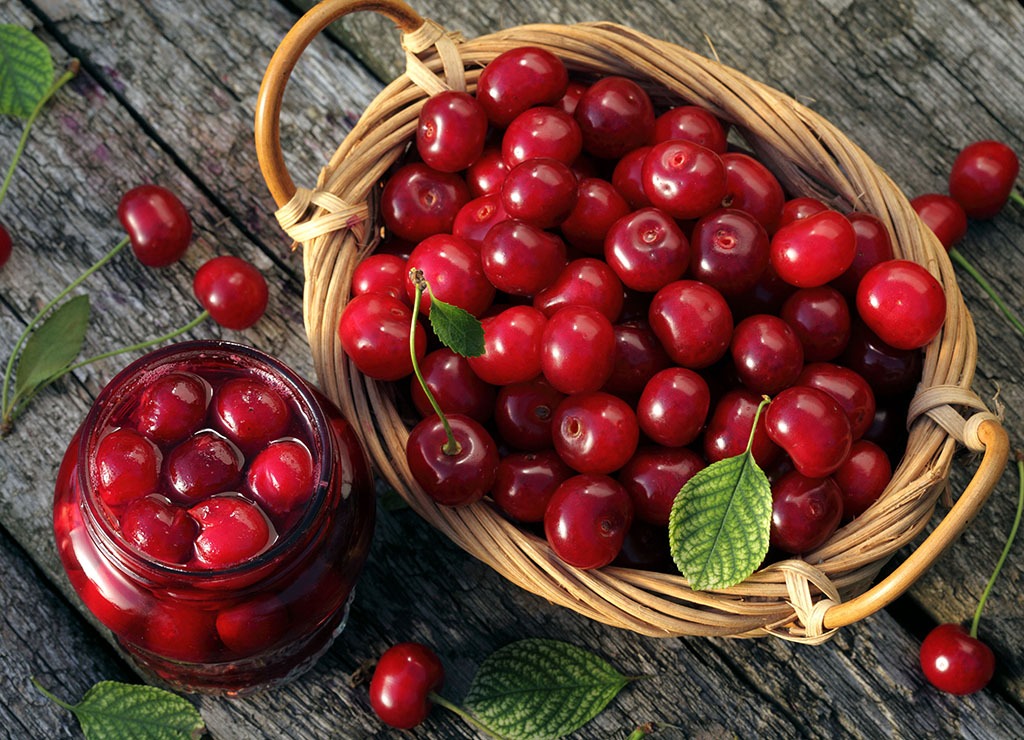 Skip the bright red jarred cherries from the grocery store that you might see on top of a sundae or in a Shirley Temple cocktail. (Those are loaded with belly-bloating high fructose corn syrup and fake coloring. Yuck!) Instead, go for the real thing, made at home. Soak cherries in amaretto to get a garnish you won't have to feel guilty about; one cup of natural cherries has less than 100 calories and is loaded with cancer-fighting flavonoids and fiber.
Infused Ice Pops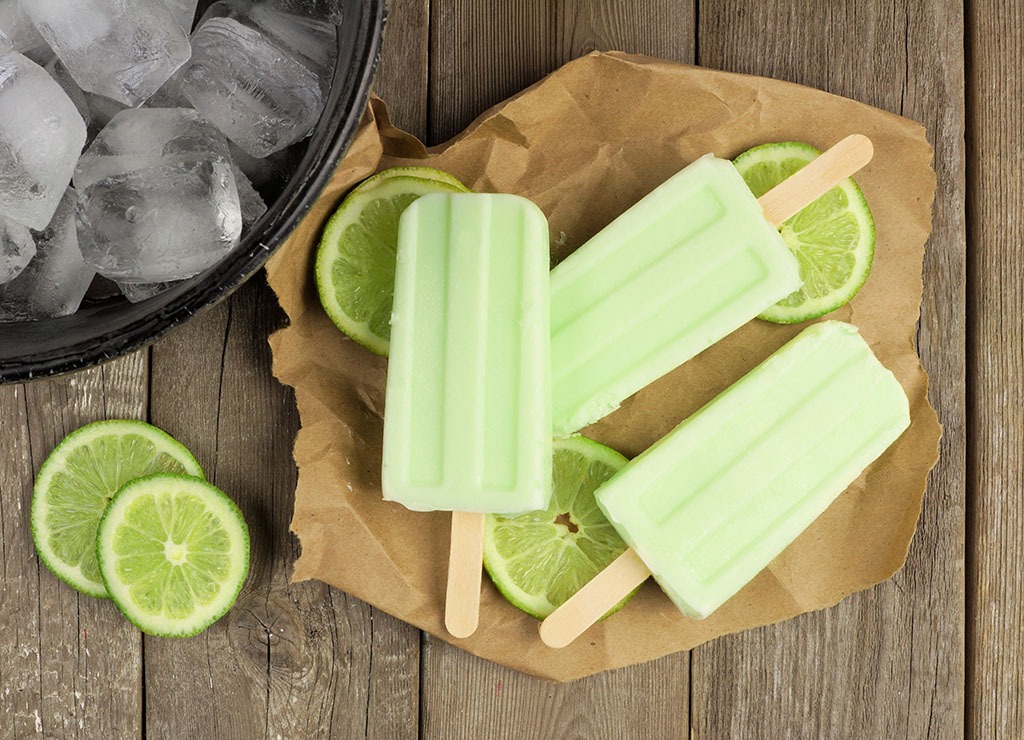 Who says ice pops are just for the youngsters? Try out ice pops infused with any of your favorite cold alcohols! Try combining Smirnoff Ice or Bud Light Straw-Ber-Itas with water or freshly squeezed fruit juice to lower the fake sugar content and keep that same sweet flavors. Freeze it for 8 to 12 hours and you have yourself a treat that you can feel better about. You could even just melt and refreeze one of these best popsicles for weight loss with a liquor!
Spiked Fro-Yo Cupcakes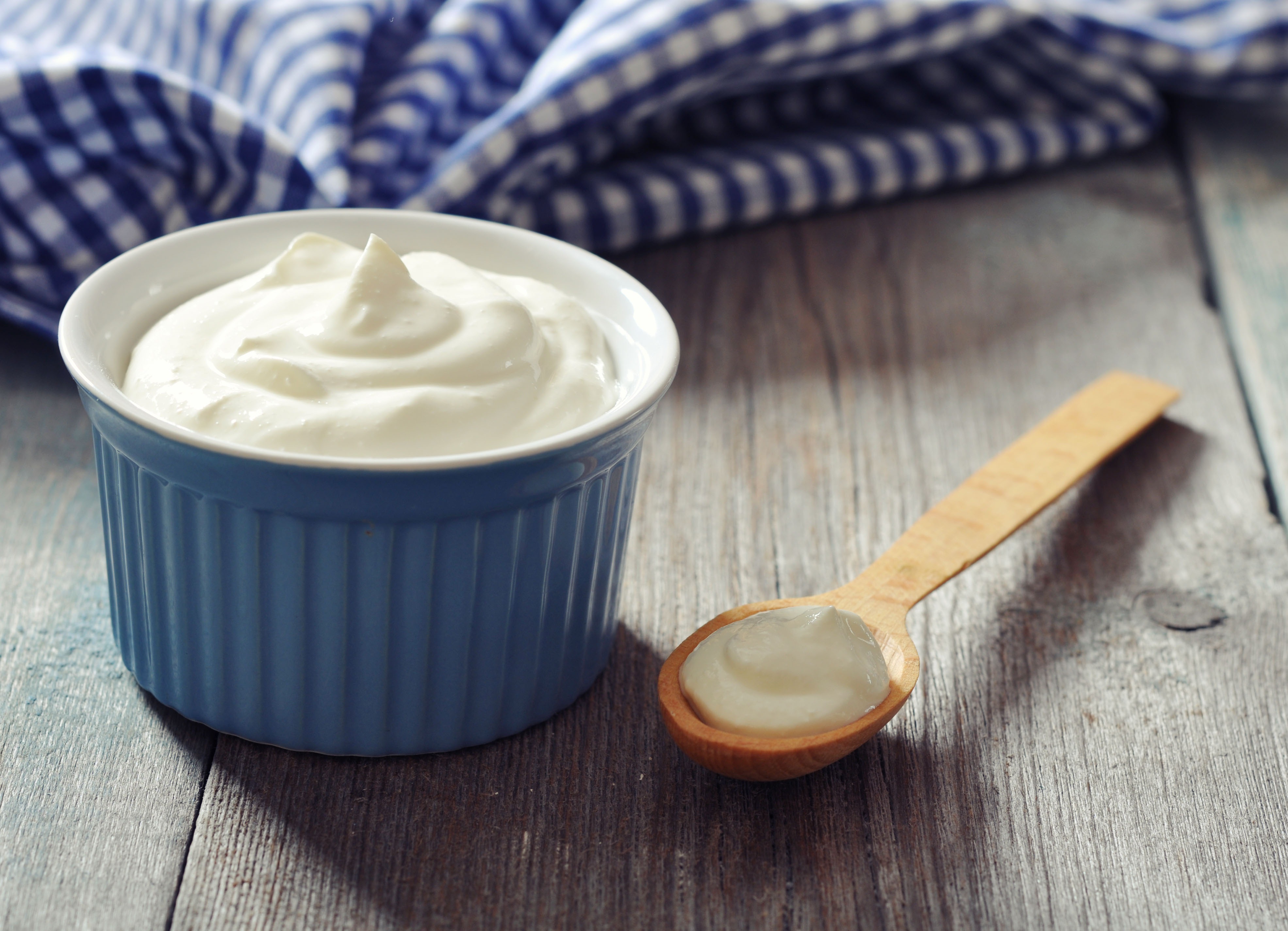 Make a crust by pulsing pecans, maple syrup, and coconut oil and pressing it firmly into a greased cupcake pan. Combine Greek yogurt, coconut sugar, vanilla vodka, and pour over the crust. Freeze for about 5 to 12 hours or overnight and you've got yourself a fun treat that will make you feel like a kid again!
Beer Stuffed Mushrooms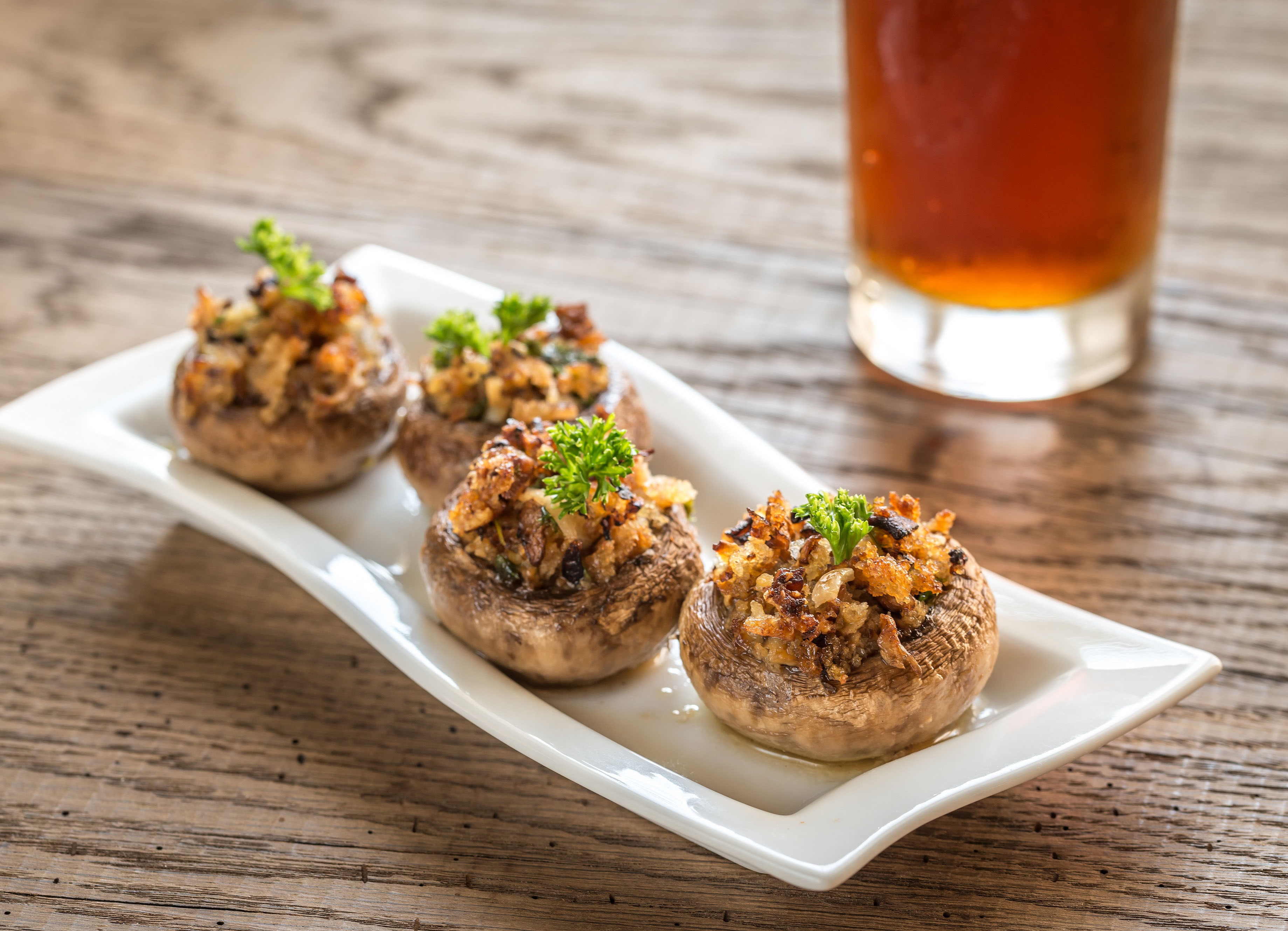 6254a4d1642c605c54bf1cab17d50f1e
Saute onions in your choice of beer to get an extra flavor profile in your stuffed mushrooms. Mix with panko bread crumbs, cheese, and spices to get the perfect party appetizer that everyone will love!
Chocolate Strawberry Shot Glasses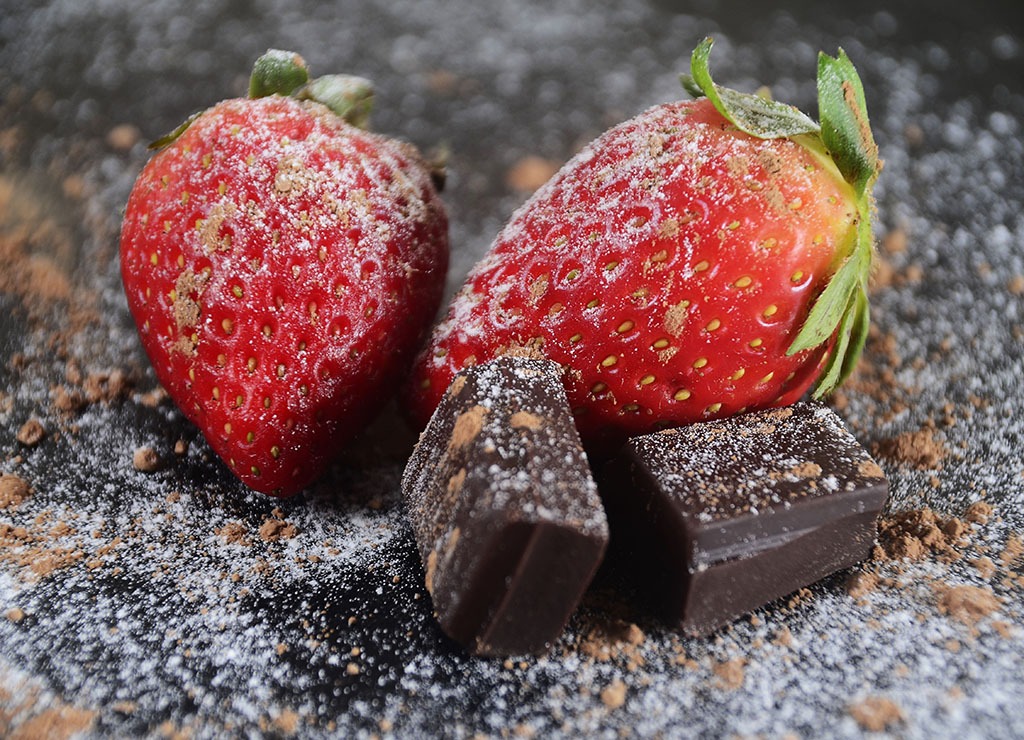 This one takes a bit of work but the end result is too cute! Here's what you do: First, cut off the point of the strawberries and dip them in melted chocolate; this makes for a stable, balanced "cup." Without destroying your strawberries, remove each center with a paring knife to leave a cavity that's large enough to fill. Use a vanilla or chocolate flavored liquor in combo with some of the remaining melted chocolate to fill the strawberry shot glass. (Always choose a chocolate with more than 70 percent cocoa or higher.) After you take the shot, you can forget a high-calorie chaser; just eat and enjoy the strawberry instead!
Caramel Apples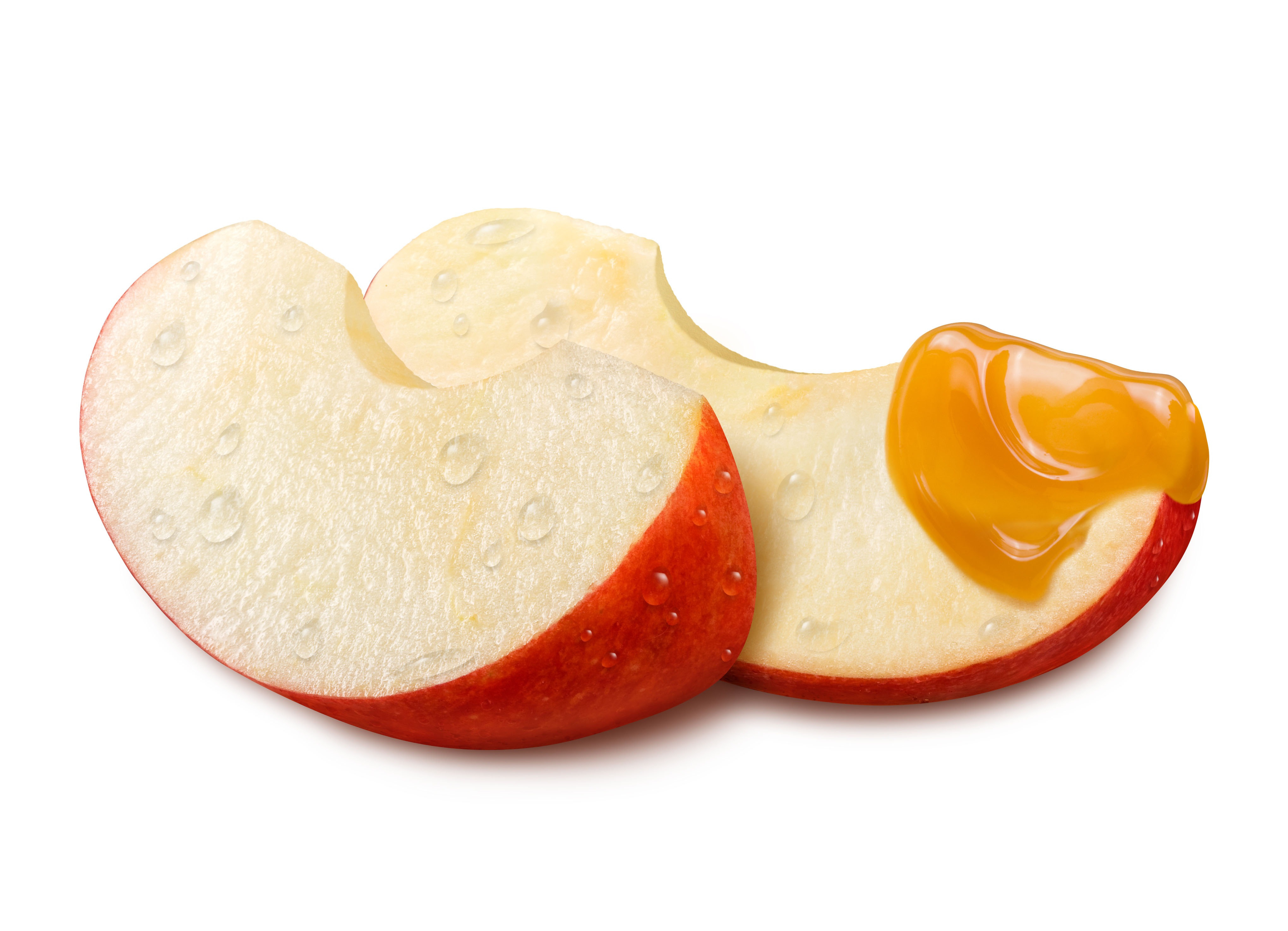 Soak Granny Smith apples in a caramel vodka for a few hours before dipping them in creamy almond butter. It'll taste just like that popular fair treat without all the sticky sugary caramel.
Bourbon Peanut Butter
One last idea from Goldstein that we could resist sharing: Try spiking your peanut butter with bourbon! You can easily make it at home, too. "After I roast the peanuts in a sautéing pan, I blend my peanuts with brown sugar, raisins, and 3 ounces of bourbon," he says. "I recommend Amador Whiskey to add a bit more complexity; the notes of that bourbon (brown sugar, vanilla, oak, and spice) really compliment the other flavors." The Eat This, Not That! team reminds you to be responsible—and not add too much of that brown sugar. Check out our exclusive guide to added sweeteners ranked by nutrition for more info. And in the meantime, enjoy your tasty-bite imbibing!