The Best Skyr Yogurts With More Protein Than Greek
Just when I thought Greek was my go-to 'gurt, a trip to Iceland unearthed my new favorite snack.
Recent years have shown a dramatic surge in yogurt's popularity, so much so that research found that the global yogurt market is set to reach an astonishing $9.8 billion by 2022. Since over half of the adult population is a 'gurt fan, it's no surprise we've seen a surfeit of tubs hailing from Greece to Australia to France lining supermarket shelves. However many options we're bombarded with on our weekly grocery run, there's one type that stands out the most: Icelandic yogurt—or skyr.
What Is Skyr?
Skyr is technically a cheese produced by thoroughly straining the milk and then adding in skyr cultures that impart a luxurious creaminess. Since it takes about four cups of skim milk to produce one cup of skyr, filtrating it lends the tub a velvety thickness and sky-high protein content that Greek just can't compete with. (One 150-gram serving of Chobani's plain Greek yogurt contains 15 grams of protein while the same size serving of Icelandic Provisions' plain skyr contains 17 grams of protein.) "The main difference [between skyr and other yogurts] is the way we filtrate or strain the product," John Heath, chief of innovation at Icelandic Provisions, tells us. "Greek yogurt typically uses a machine called a separator. We use what's called an ultrafiltration machine. The principles are the same but the end result is very different. Our partner in Iceland has perfected the use of ultrafiltration over the last 10 years and has passed along their trade secrets to us so that we can make the very best, most authentic skyr here in the U.S. One cup of skyr requires nearly four cups of milk to make versus a cup of yogurt, which takes about three cups of milk. That's why skyr is so thick and rich in protein."
But the straining process isn't the only differentiating factor—the special skyr cultures play a major role in the treat's flavor as well. "Some might say the cultures we use give our product a cheese-like quality, which is why it's often compared to a soft cheese versus a yogurt," Heath says.
While yogurt is oft-enjoyed for breakfast or as a snack in the states, my time in the Land of Fire and Ice confirmed that Icelanders of all ages eat the dairy all throughout the day. The traditional way to eat skyr consists of pouring heavy cream over the plain variety and topping with fresh fruit like Nordic berries (I highly recommend!). But there are plenty of gateway skyrs you can find at your local supermarket. From flavors like key lime and blueberry bilberry, we've gathered our go-to cups below.
Icelandic Provisions Blueberry Bilberry Skyr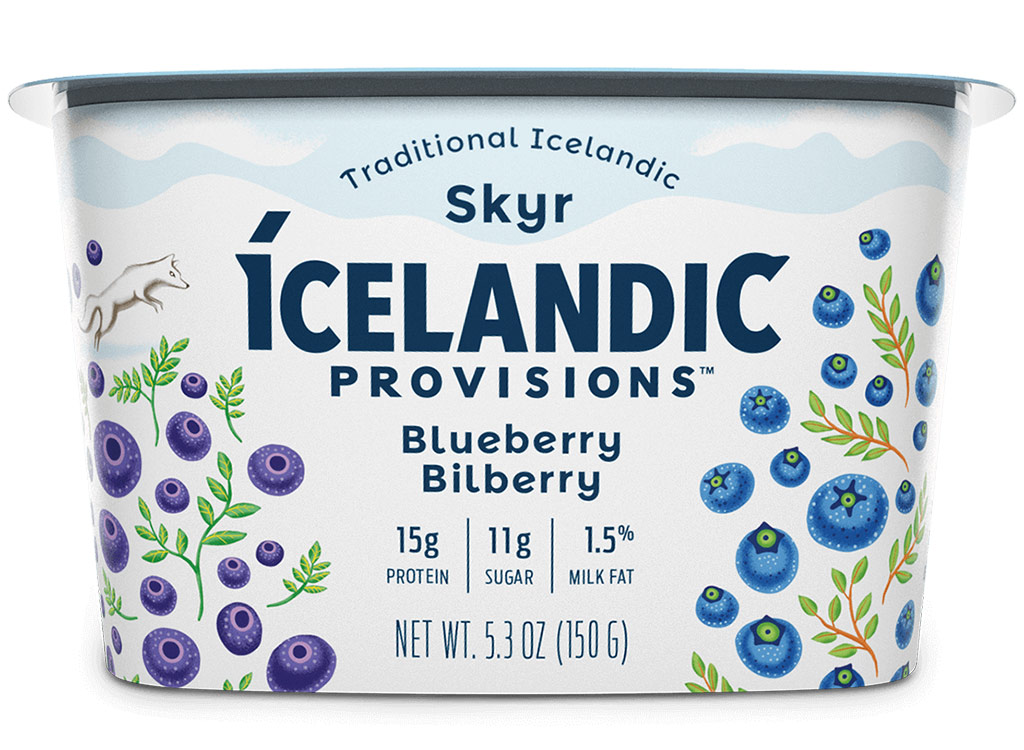 per container
: 130 calories, 2 g fat (1 g saturated fat), 65 mg sodium, 15 g carbs (1 g fiber, 11 g sugar), 15 g protein
You know Icelandic Provisions (IP) remains authentic to skyr's thousand-year-old recipe because it uses the trademarked heirloom culture, Streptococcus Thermophilus Islandicus, which has been passed down through generations of Icelanders. Not only that, IP spikes its skyr with juicy Nordic bilberries that add a subtle sweetness. Other must-try flavors include the tart yet honeyed Strawberry Lingonberry, the dessert-rivaling Key Lime, and the Michelin-chef-created bold Cherry Black Currant.
Smari New Orleans Coffee Whole Milk Skyr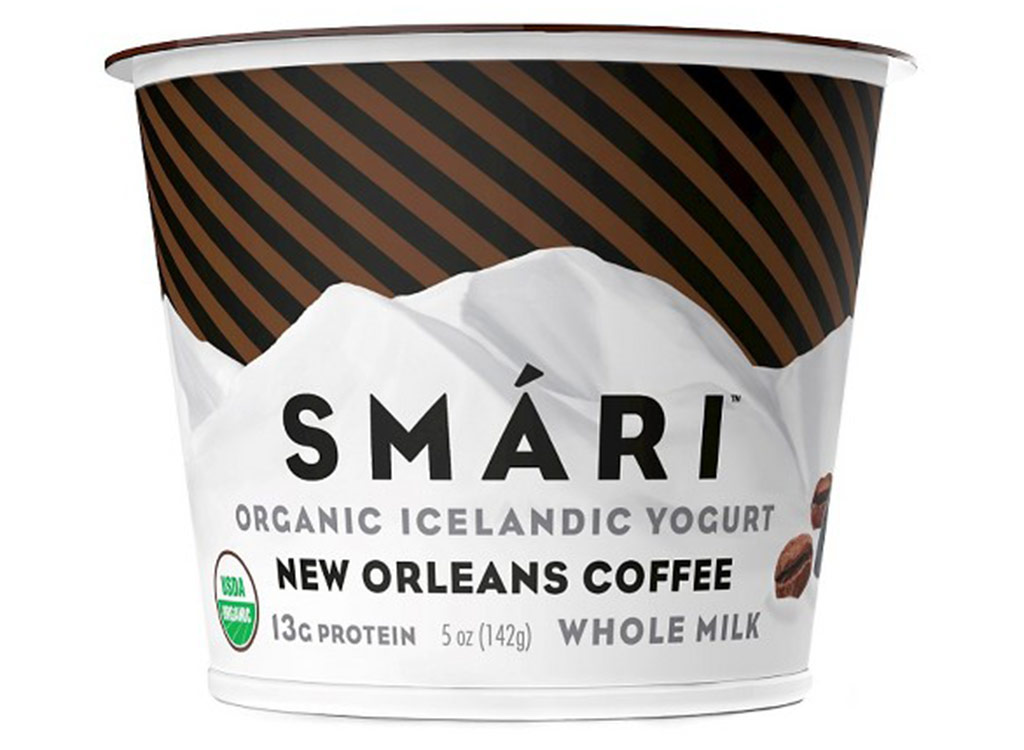 per container
: 150 calories, 5 g fat (3.5 g saturated fat), 20 mg sodium, 14 g carbs (1 g fiber, 12 g sugar), 13 g protein
Jersey and Guernsey cows are smaller than most dairy breeds but are known for their rich and thick milk, which Smari strains for use in its skyr. Smari's eclectic New Orleans Coffee flavor takes an untraditional spin on skyr by using whole milk for added creaminess and healthy fats. If you're looking for a lower-fat alternative, try Smari's more traditional skim milk flavors. The non-fat vanilla packs in a whopping 16 grams of protein!
Lifeway Organic Ancient Grains Skyr
per container
: 230 calories, 11 g fat (6 g saturated fat), 70 mg sodium, 13 g carbs (1 g fiber, 3 g sugar), 18 g protein
With an impressively low-sugar content and high-protein count, this split-cup skyr features whole milk yogurt and a medley of organic sunflower seeds, golden flaxseed meal, millet, quinoa, amaranth, and gluten-free oats for extra satiating power. The indulgent snack also boasts 14 live and active cultures that replenish your gut with beneficial bacteria, keeping your digestive system chugging smoothly.
Green Mountain Creamery Full-Fat Key Lime Skyr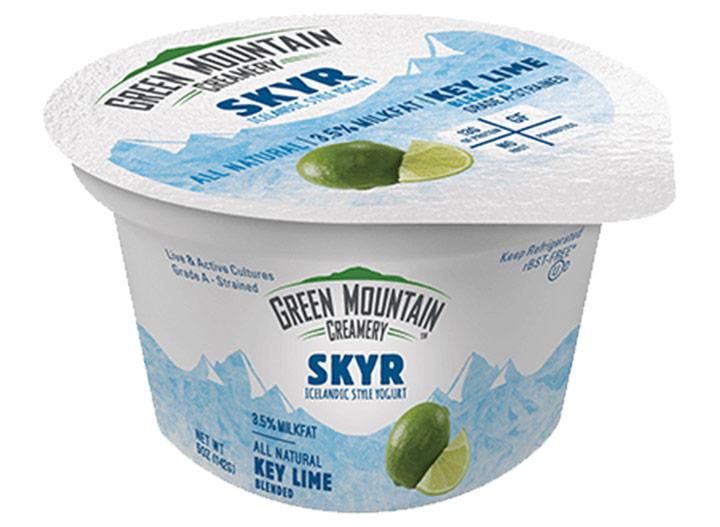 per container
: 160 calories, 4 g fat (3 g saturated fat), 30 mg sodium, 17 g carbs (0 g fiber, 13 g sugar), 13 g protein
Green Mountain Creamery's new line of Icelandic yogurt comes in guilty-sounding flavors such as caramel and key lime yet feature the low-sugar and high-protein content you can expect of skyr. Snack on a cup on its own or add it to smoothies, protein pancake batter, and post-workout shakes for an extra dose of the muscle-building macro.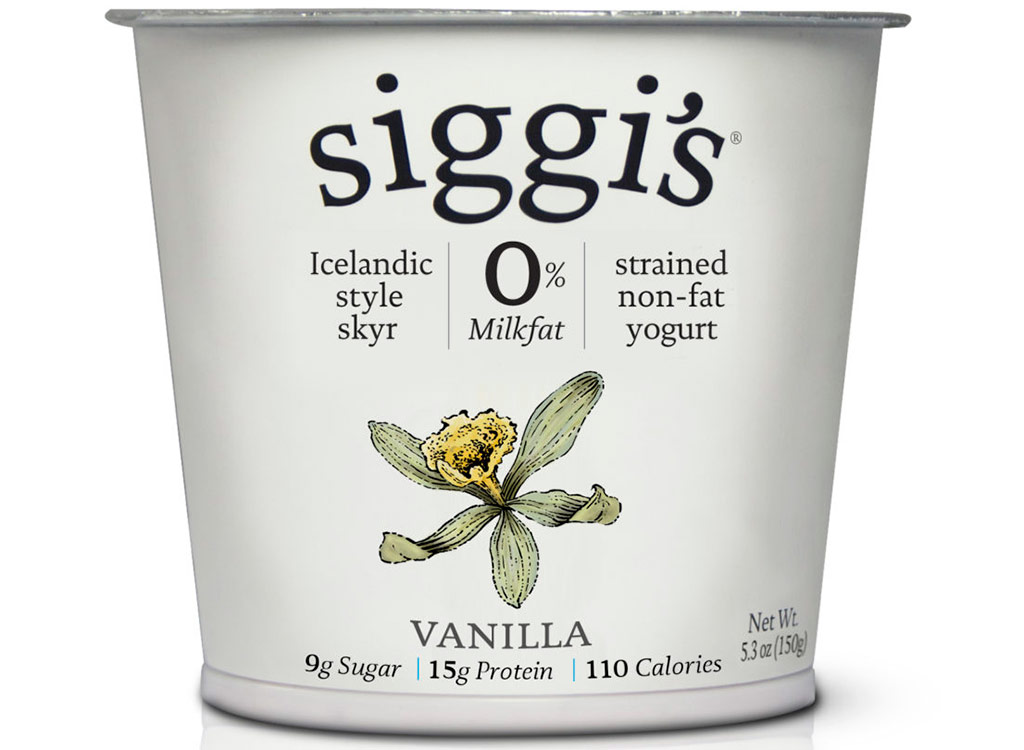 per container
: 110 calories, 0 g fat, 55 mg sodium, 12 g carbs (0 g fiber, 9 g sugar), 15 g protein
The Chobani of the Icelandic yogurt market, Siggi's is probably one of the most-recognized and ubiquitous skyr tubs lining grocery stores' dairy aisle. The nonfat vanilla, one of the best-selling flavors, is crafted with organic agave nectar and Madagascar bourbon vanilla for a touch of sweetness as well as five different live and active cultures. If you want more creaminess and healthy fats in your cup, Siggi's also makes skyrs with 2 percent fat, 4 percent fat, and triple cream as well as boasts a new line dubbed Simple Sides that feature scrumptious add-ins like figs and cacao nibs.6254a4d1642c605c54bf1cab17d50f1e
April Benshosan
April is a born-and-raised Brooklynite who has a passion for all things health, wellness, and tastebud-related.
Read more about April