The New Food Brand That's Threatening Trader Joe's
There's a new line of snacks on the market, and they're totally convenient. Find out where you can get them.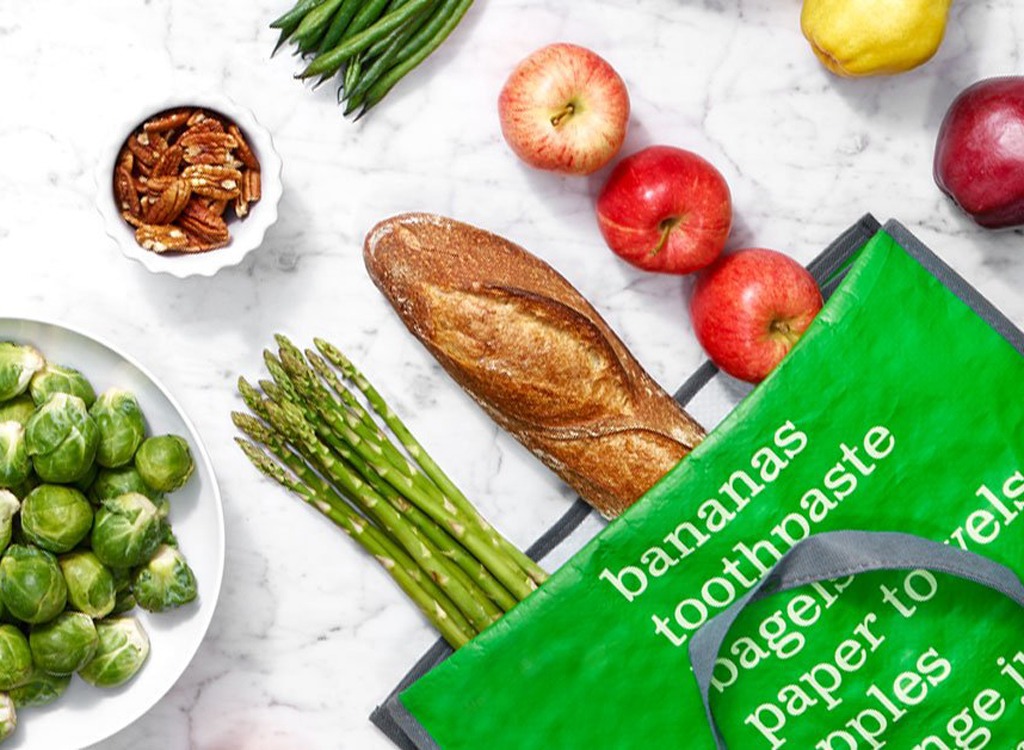 People love Trader Joe's for its slew of delicious (and super healthy!) snacks at an affordable price. Where else can you find sweet and savory popcorn, dry roasted nuts, and seaweed snacks for a fraction of the price of competitors? Turns out, a giant retailer you're probably already a member of is getting in on the action, delivering these tasty treats directly to your door.
That's right, Amazon now offers an exclusive line of soups, snacks, and teas that are affordable and can be delivered along with your socks and eye cream. Called Wickedly Prime, this new line of private label groceries can be delivered through AmazonPrime, PrimePantry, AmazonFresh, and PrimeNow, but is only available for Prime members.
Wickedly Prime now offers 24 different options, including nine different soups, eight kinds of tea, and crunchy snacks like tortilla chips and soft shell almonds. Although the products are eligible for 15 percent off through the Subscribe and Save feature, they are pretty reasonably priced on their own. Check out some of our favorite offerings below, and add some to your cart for your next Amazon delivery. For more healthy snack options from our favorite online retailer, check out the 25 Best Healthy Snacks to Order from Amazon.
Soft Shell Almonds, Dry Roasted & Salted
Per 1/2 cup with shells: 170 calories, 15 g fat (1 g saturated fat), 55 mg sodium, 8 g carbs (3 g fiber, 2 g sugar), 6 g protein
Almonds are one of the healthiest snacks you can enjoy; they're the ideal combo of protein, healthy fats, fiber, and carbs. But it's easy to have too much of a good thing, especially if you have trouble sticking to just the serving size. That's where the soft shell almonds come in. With an outer shell that must be peeled off before you can enjoy (think: pistachios), you will devour them at a slower pace, allowing you to really savor and enjoy the almonds without going overboard. These from Amazon are dry roasted and salted, giving them a subtle boost of flavor.
Per 1 cup: 150 calories, 3.5 g fat (0 g saturated fat), 830 mg sodium, 27 g carbs (6 g fiber, 5 g sugar), 6 g protein
This filling black bean soup packs enough heat and smokiness from the chile peppers, fire-roasted veggies, and soft black beans. With a creamier texture, it's perfect to enjoy with tortilla chips.6254a4d1642c605c54bf1cab17d50f1e
Sweet Potato Tortilla Chips
Per 1 oz (14 chips): 140 calories, 7 g fat (1 g saturated fat), 50 mg sodium, 18 g carbs (2 g fiber, 2 g sugar), 2 g protein
You've had corn tortilla chips before, but what about corn tortilla chips mixed with sweet potatoes? That's what these sweet potato chips accomplish, adding hints of savory sweet potato along with yellow corn, and sprinkled with flax, black sesame, and chia seeds for an extra crunch. With a thicker texture, these chips can hold up to your favorite salsa, guacamole, or hummus.
Organic Herbal Tea, Rose Berry Rooibos
Per bag: 0 calories, 0 g fat, 0 mg sodium, 0 g carbs, 0 g protein
We love rooibos tea for its hunger-fighting properties. In fact, rooibos tea is one of our 5 Best Teas for Weight Loss. This green rooibos tea, however, is lighter and woodier than regular red rooibos. It packs a punch of fruity flavor from the black currant, blueberry, and floral notes from the delicate rose petals.
Sweet 'n' Cheesy Popcorn Mix, Caramel & Cheddar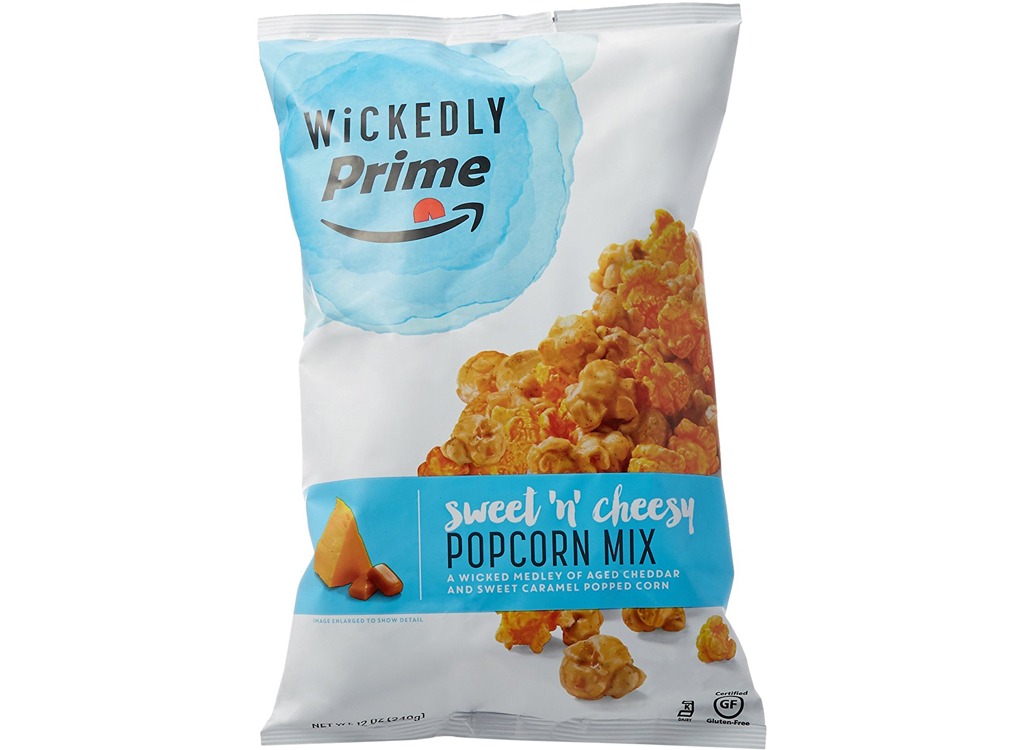 Per 1-½ cups: 130 calories, 6 g fat (1.5 g saturated fat), 170 mg sodium, 19 g carbs (1 g fiber, 13 g sugar), 1 g protein
This popcorn mix is the perfect blend of sweet and savory. The sweet flavor comes from caramel, made with cane sugar and brown sugar, and the cheesy popcorn packs a tangy savory punch. The cheddar cheese seasoning is actually made from real cheese: pasteurized milk, cheese culture, salt, and enzymes are all listed in the ingredients. Although each serving packs 13 grams of sugar, it's a snack that you can enjoy in moderation and will totally curb those sweet and salty cravings.
Organic Roasted Seaweed Snacks, Sea Salt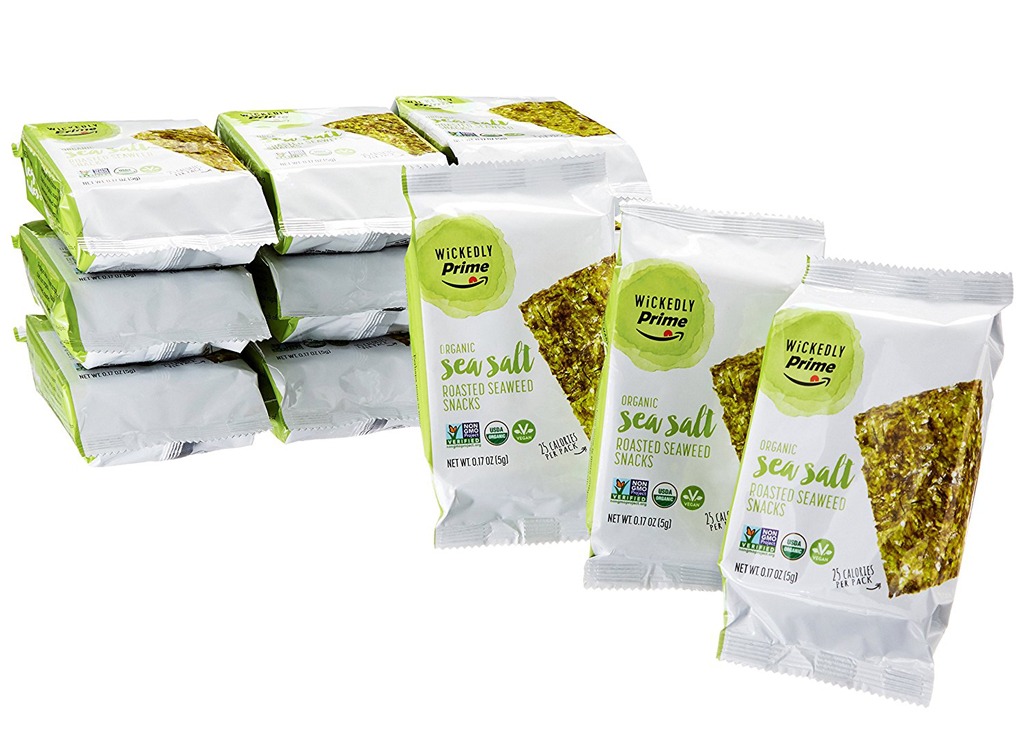 Per 1 package: 25 calories, 2 g fat (0 g saturated fat), 50 mg sodium, 2 g carbs (1 g fiber, 0 g sugar), 1 g protein
Roasted seaweed is one of our favorite snacks to munch on. These crispy and paper-thin seaweed sheets are seasoned with sea salt and melt in your mouth. With simple ingredients (organic seaweed, organic sunflower oil, organic sesame oil, sea salt) and a super low calorie count, it's a salty snack you won't feel guilty about.
Olivia Tarantino
Olivia Tarantino is the Managing Editor of Eat This, Not That!, specializing in nutrition, health, and food product coverage.
Read more about Olivia