These Are Our Favorite Healthy Snacks on Amazon
We tracked down our favorite eats, so all you have to do is click, buy, and wait for the delivery.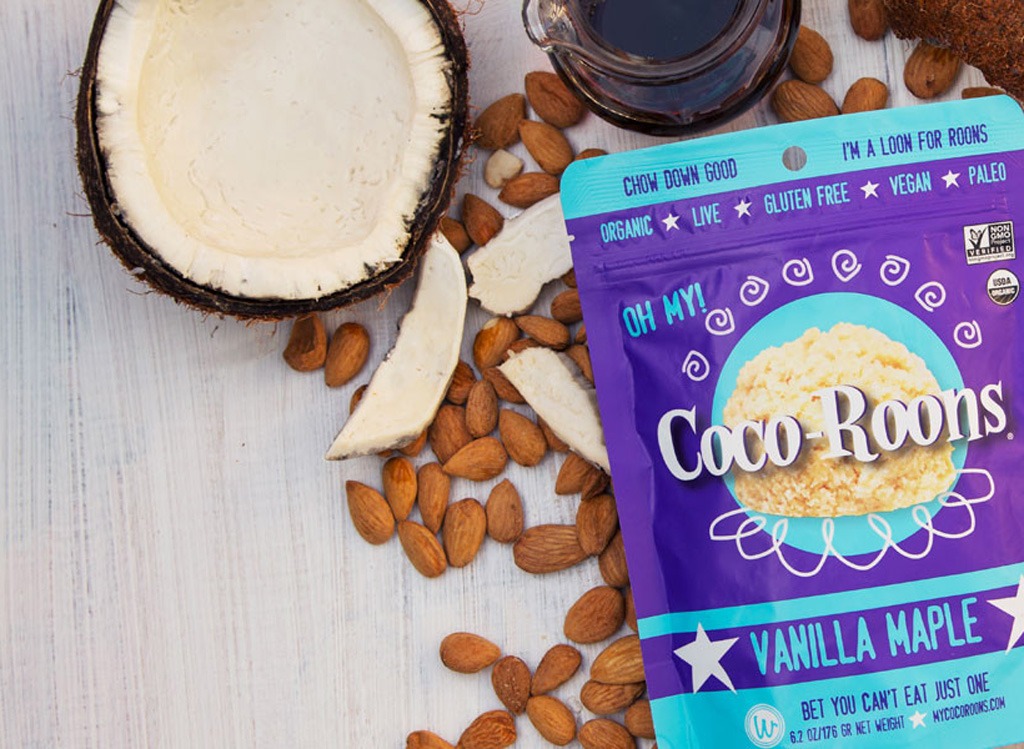 Whether you're trying to order something healthy off the McDonald's menu or looking for a wholesome snack to munch on at work, we know it can be hard to make healthy choices all the time. What makes it easier? Shopping for healthy snacks on a site you're probably already on all the time: Amazon. We've rounded up some of the healthiest packaged foods on the planet—many of which are offered on your favorite site to shop.
Whether you're seeking high-protein snacks to sneak in your kid's lunchbox or low-carb goodies to snack on between meals, you'll want to stock up on the tasty, healthy snacks you can buy on Amazon. To help you eat better each and every day, we scoured Amazon and hand-picked our favorite small bites, so all you have to do is click, buy, and wait for a delivery.
Nourish Snacks Chewy Chocolate Peanut Butter Granola Bites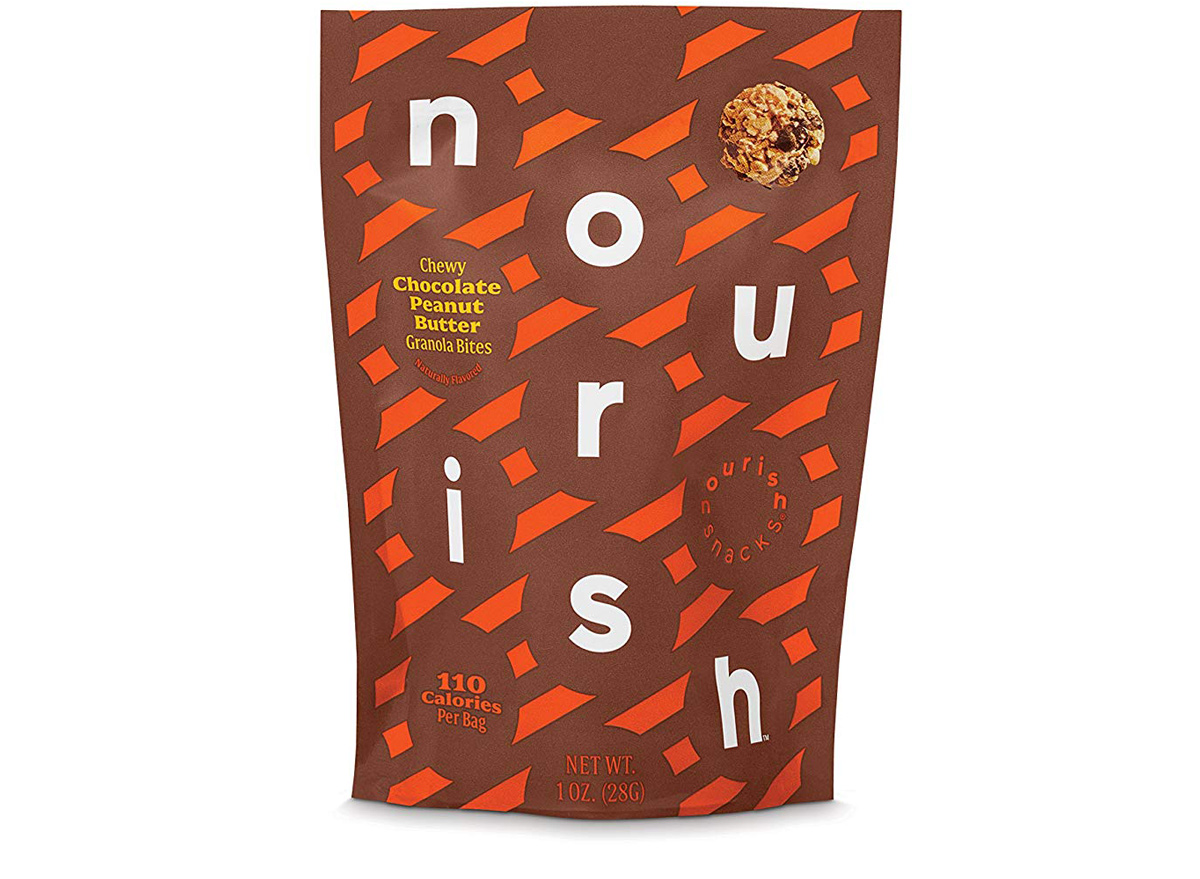 SHOP NOW ON AMAZON
These mini granola bites come packed with indulgent cocoa and creamy peanut butter, as well as plant-based protein and fiber. You'll also get a heart-healthy dose of omega-3s coming from the crunchy chia seeds!
Go Raw Sprouted Flax Snax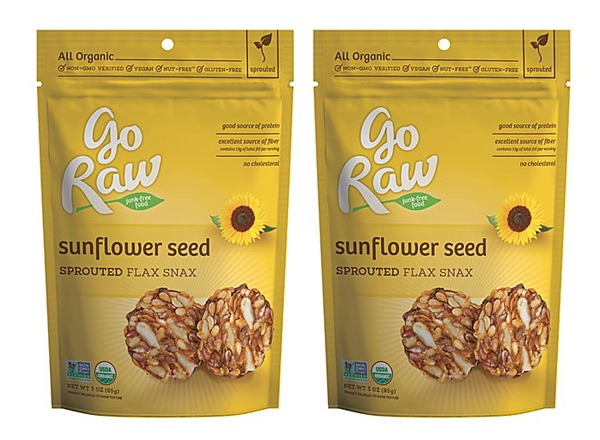 SHOP NOW ON AMAZON
Raw flax crackers, made from simple ingredients such as flax seeds and spices, are naturally gluten-free and rich in omega-3s. Dana James, nutritionist and founder of Food Coach NYC, is a big fan of the snack and suggests topping them off with some sliced avocado. For more ways to eat the creamy green fruit, check out these delicious avocado recipes for weight loss!
Pure Organic Peanut Butter Chocolate Ancient Grain and Nut Crispy Bar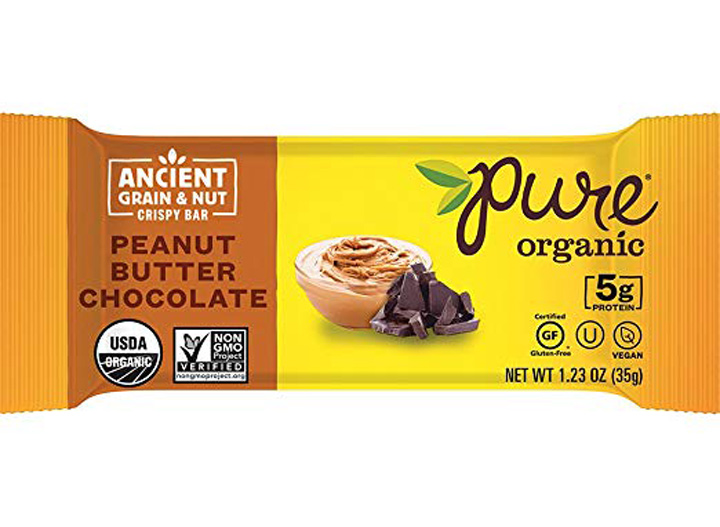 With hints of both sweet and salty, this organic, gluten-free snack hits the spot no matter what you're craving. Not to mention, we love that these clusters are made from a combination of mostly ancient grains and peanuts with just a touch of honey for sweetness. Looking for more easy-to-find clean eats? Check out these 50 Snacks With 50 Calories or Less.
Think of this as a grown-up Fruit Roll-Up made solely of fruit puree and added vitamin C for freshness. Some of the varieties have spices or coconut shavings for added texture and flavor, but none of the add-ins raise any nutritional red flags. Pair a package with a small handful of almonds or walnuts to add some protein and additional fiber to your snack-time lineup.
Paleta Power Up Energy Bars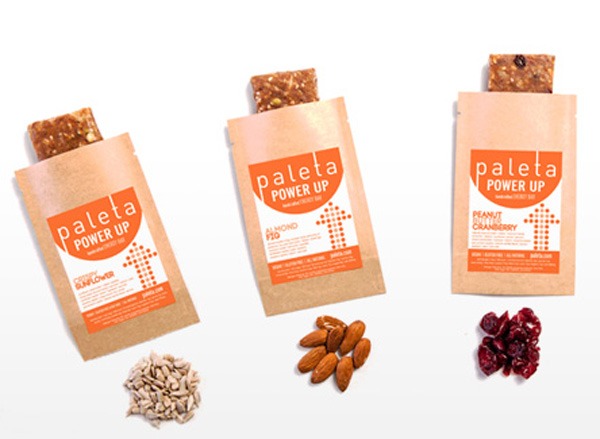 Many "energy" bars often translate to "high-sugar" bars—they're basically candy bars on steroids. That's why we're excited to find a product that delivers on both the nutritional and the flavor front. Paleta bars are vegan and gluten-free and deliver a good dose of protein and fiber. While many of these flavors were a hit with the team, Coconut Cacao Cashew was the clear taste-test winner.
Rhythm Superfoods Kale Chips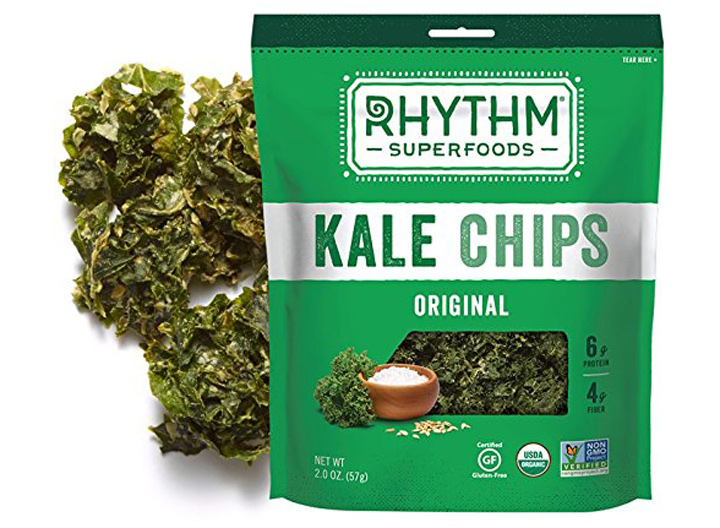 Sure, those barbecue-spice-dusted potato chips may satisfy your salt cravings, but snacking always feels better when it's guilt-free. These crunchy kale chips have 3 grams of fiber per serving and 5 grams of filling protein. It doesn't get much better than that.
Peeled Snacks Dried Fruit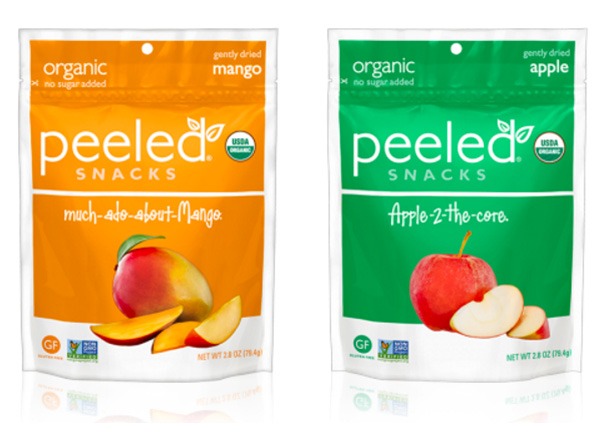 SHOP NOW ON AMAZON
Skip your morning Flintstone supplements and dig into a bag of Peeled Snacks' dried fruit instead. They contain no added sugars or artificial ingredients—just fruit! That's how each bag winds up carrying such high amounts of vitamins! One bag of the Much-Ado-About-Mango flavor, for example, carries 30 percent of the day's vitamin A and 20 percent of the day's vitamin C.
Saffron Road Organic Crunchy Chickpeas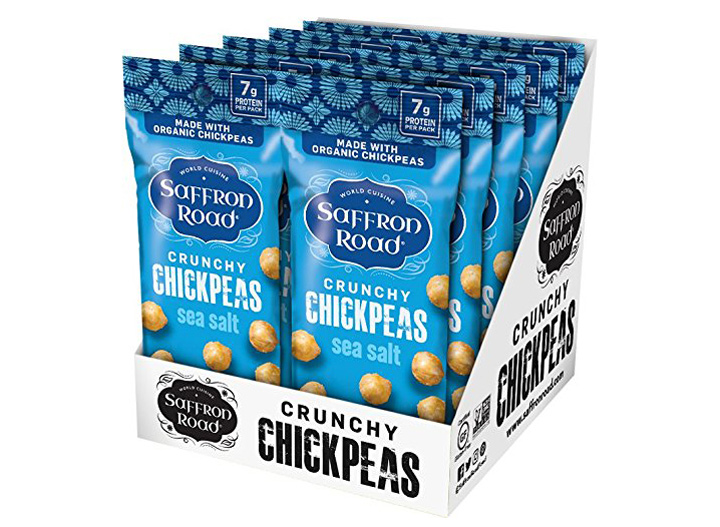 These dried chickpeas are downright addictive. Luckily for you, they are low in calories and sugar and loaded with fiber and protein. Keep some stashed in your glove box so you're prepared with a clean, healthy snack whenever hunger strikes. For more options light in the sweet stuff, check out these 15 Best Low-Sugar Snacks for Weight Loss.
I Heart Keenwah Chocolate Quinoa Clusters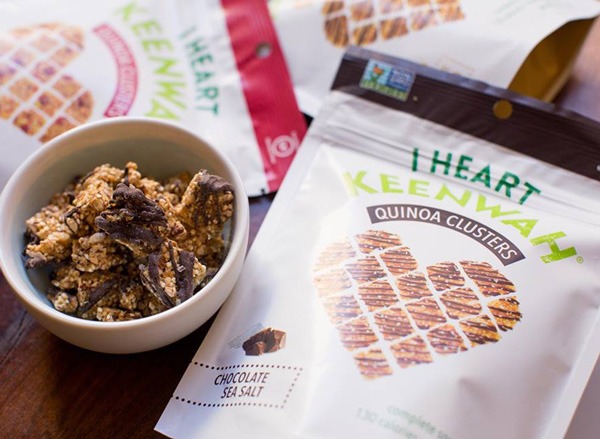 Quinoa isn't just for your dinner plate anymore. Breakfast quinoa bowls and snacks made with the super-grain are both big trends right now. We love that this bite-sized snack is wholesome and free of scary additives, yet tastes like sugary chocolate granola clusters. They even have an addictive crunch!
Justin's Nut Butter Mini Peanut Butter Cups, Dark Chocolate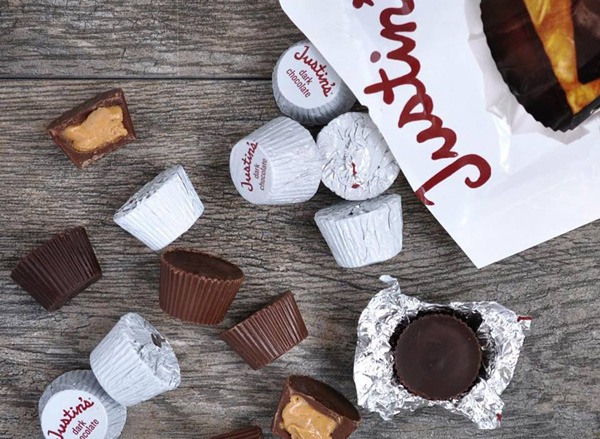 Although candy shouldn't be your go-to snack, we won't fault you for noshing on a little something sweet to get you through the day. But if you're going to indulge, you may as well do so without ingesting nasty chemicals and loads of sugar. If you love Justin's nut butters, then you're going to go ga-ga for these pint-sized peanut butter cups. Their tiny size means that calories and sugar stay at a low. Nuts for nut butter? Check out The 36 Top Peanut Butters—Ranked to find the best bets for your belly.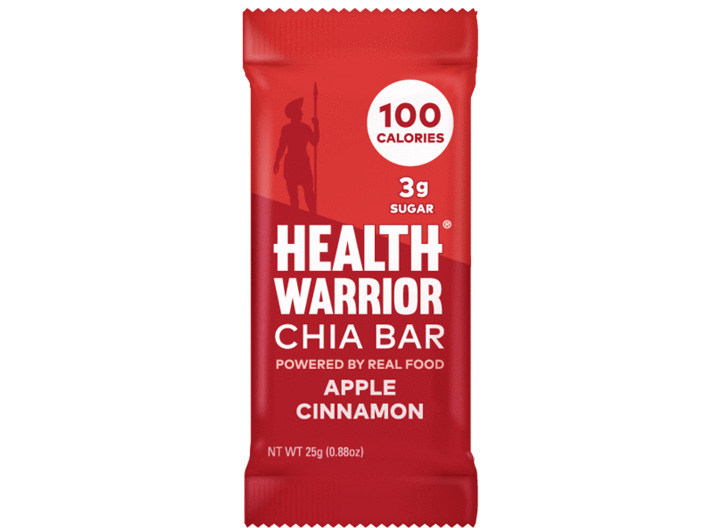 "Health Warrior Chia Bars make for a great small grab-and-go snack," says registered dietitian Isabel Smith. "They have about 100 calories each, in addition to being low in sugar and high in soluble fiber, which helps you feel fuller for longer by slowing digestion and keeping blood sugar in check." To reap the benefits of chia on the reg, check out these 50 Best Chia Seed Recipes on Instagram. There are loads of simple ways to slip them into your diet plan.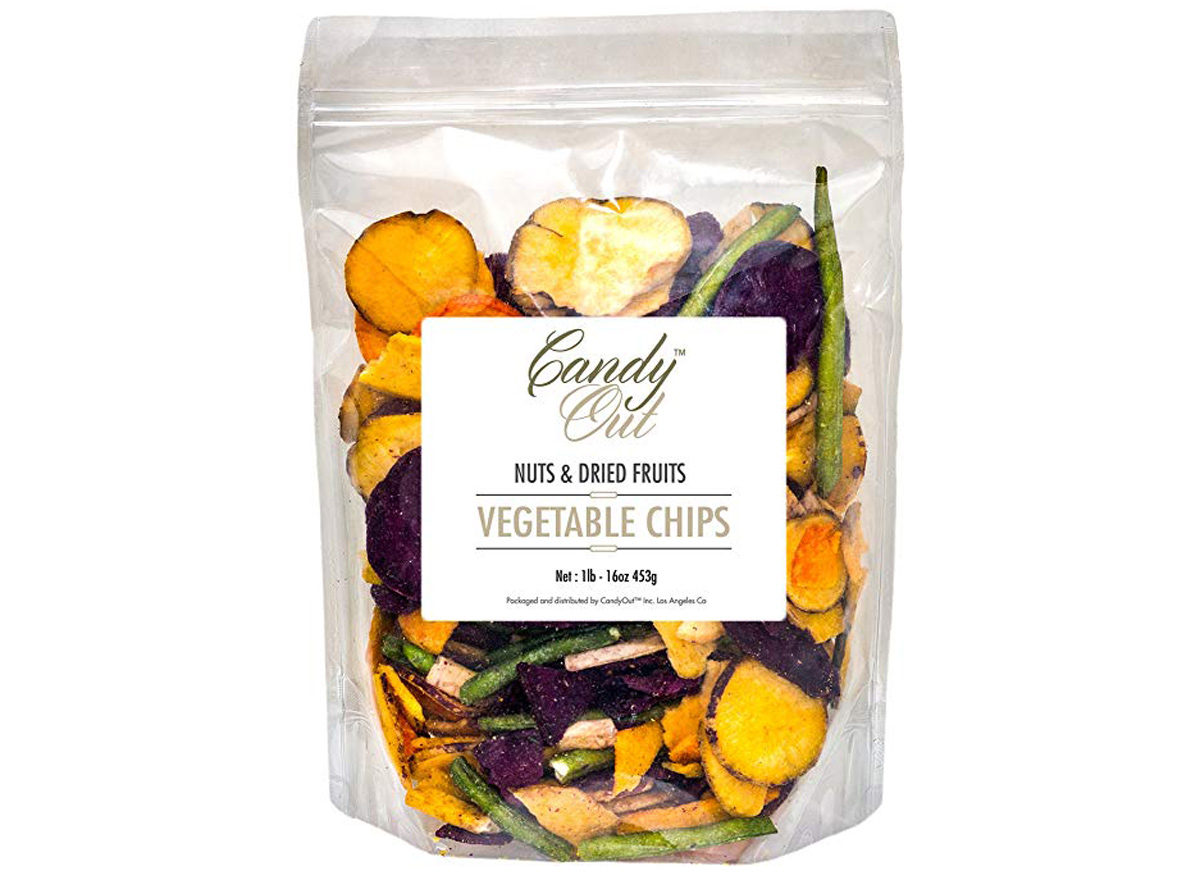 Two words: So. Good. While eating something made solely of dehydrated veggies (such as sweet potato and taro) and a bunch of spices may not seem tastier than a bag of Lay's, CandyOut dazzles us with their culinary creation. Even if you were to polish off half the bag in one sitting, you'd only take in 190 calories. And speaking of foods that will help keep you trim, check out these 25 Best Foods for a Toned Body.
Luna Bar Nutz Over Chocolate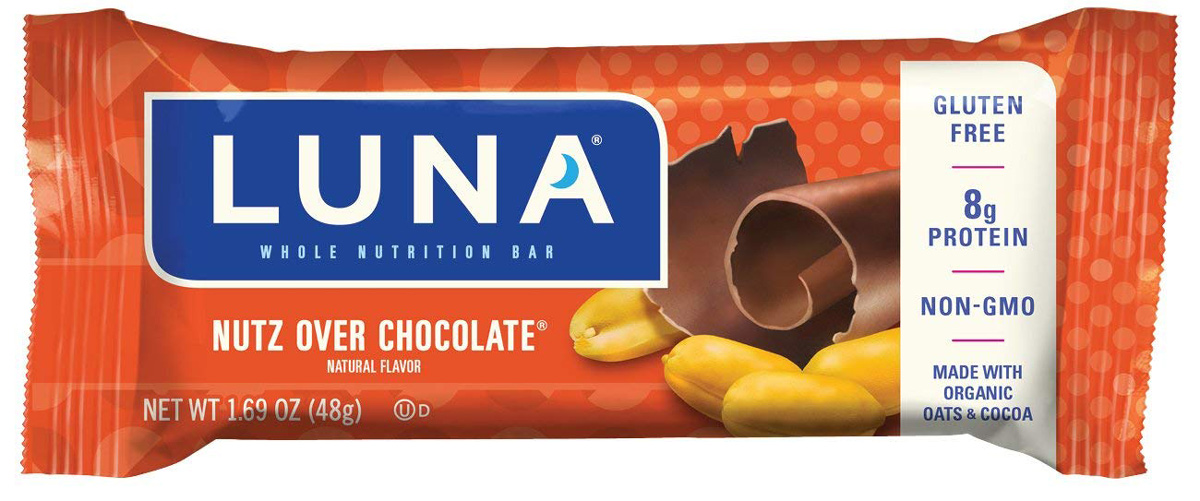 If you're craving some chocolate but struggle with portion control, try noshing on these nutty dark chocolate Luna bars. They clock in at 200 calories and 3 grams of fiber per pop!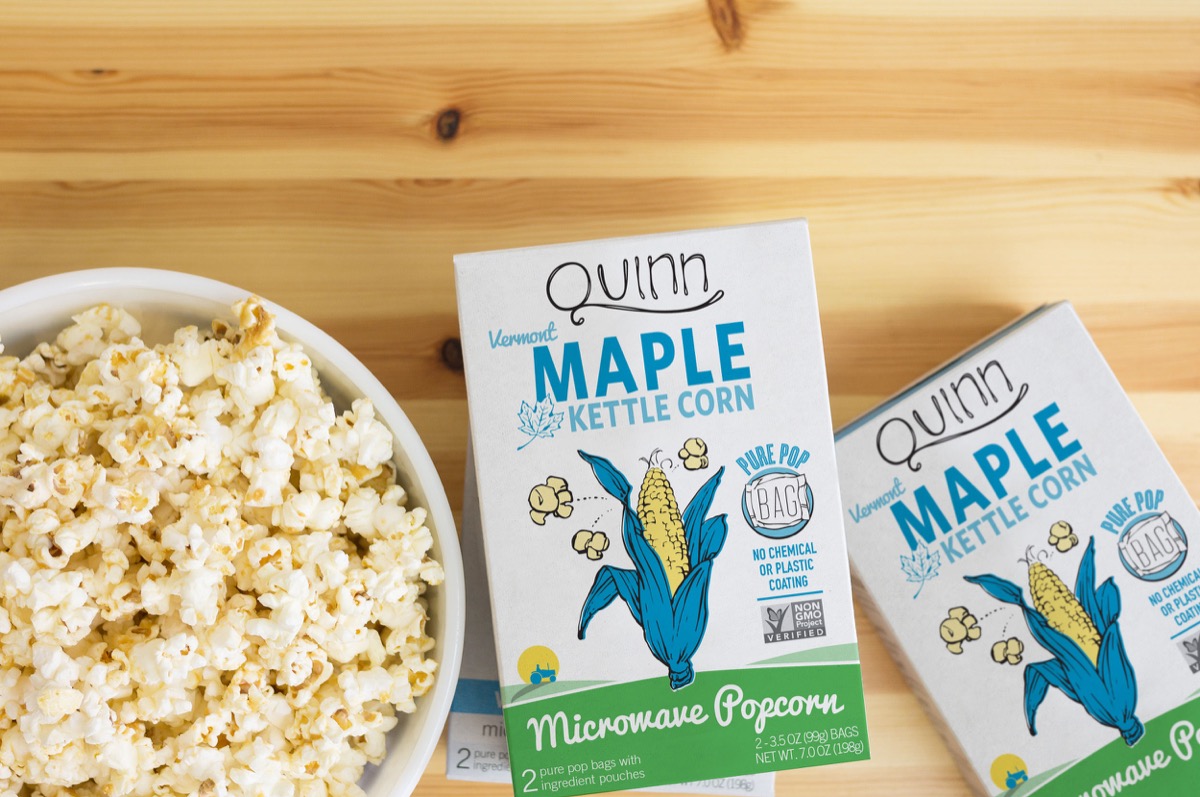 Next time you're cozying in for a night of "Netflix and chill", pop open a box of Quinn Popcorn. It's one of the only microwavable popcorns that's free of chemicals. Better yet, it comes in yummy flavors like Butter & Sea Salt and Parmesan & Rosemary.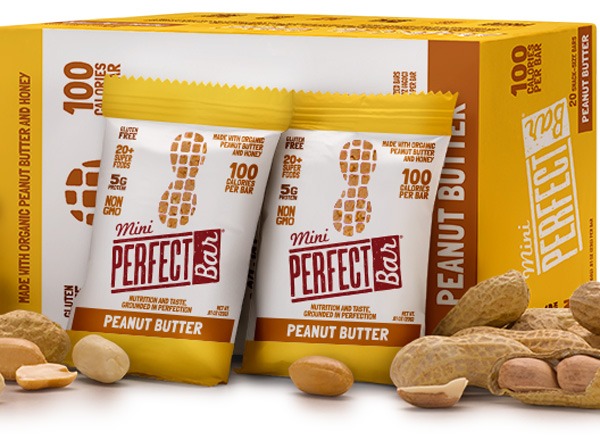 Amy Shapiro MS, RD, CDN, founder of Real Nutrition NYC, loves these mini-sized bars. She frequently turns to them as a quick, protein pick-me-up after spin classes and workouts. They basically taste like pure nut butter with a bit of a chewy crunch but somehow the makers of this truly delicious snack manage to sneak in things like kale and papaya. If we didn't tell you, you wouldn't be the wiser.
Quest Nutrition Protein Chips
Quest's delicious, protein-filled chips—which come in flavors like cheddar and sour cream—will tingle your taste buds without blowing your diet. One individual snack bag can even serve as a savory on-the-go replacement for a post-workout protein shake. Before you laugh us off, you should know we have two big reasons to back up our claim: The salt can help replace electrolytes lost after a sweaty workout, and one bag serves up as much protein as a 2.5-ounce chicken breast. Made from dried potatoes, a blend of milk protein and whey protein isolate, and a generous amount of seasonings, this crunchy snack is sure to put your sad bag of Lay's to shame.
The New Primal Beef Thins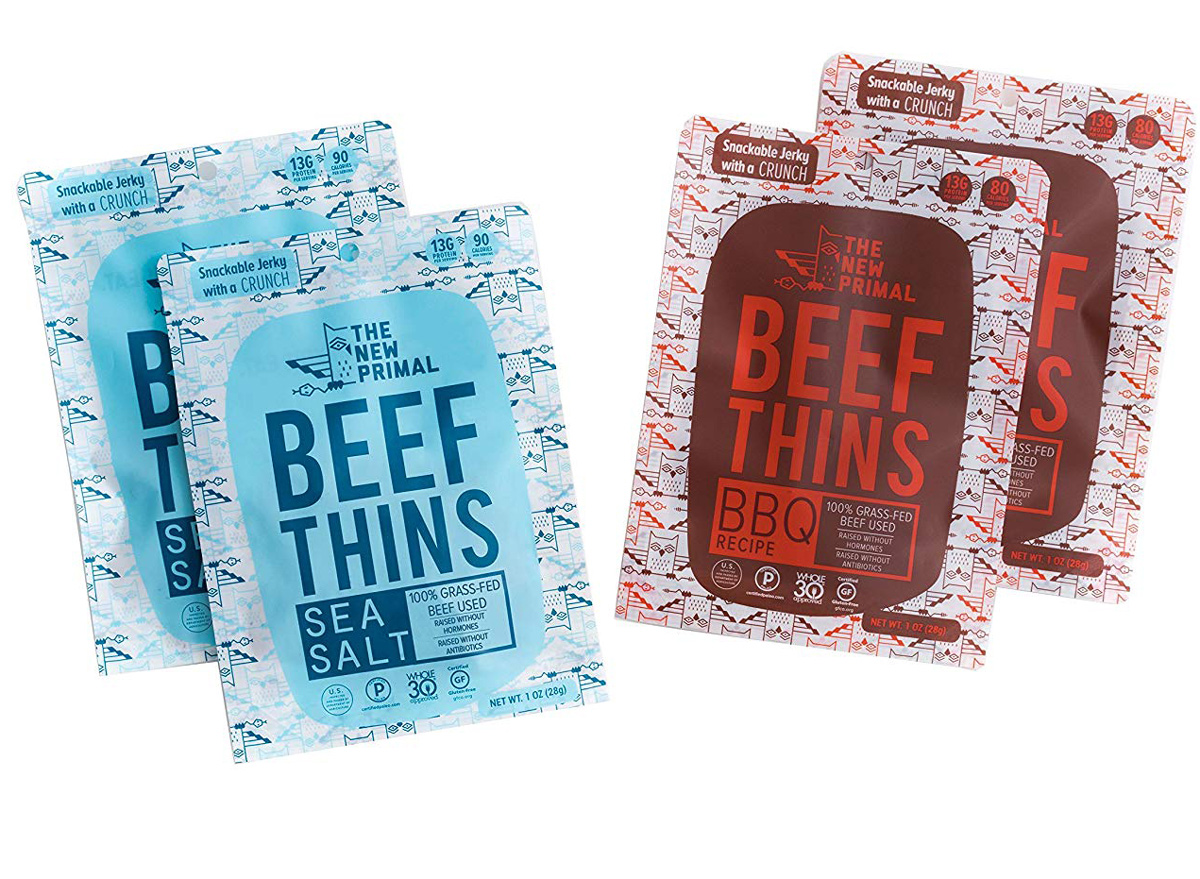 To make their signature jerky, The New Primal uses grass-fed beef that's full of healthy omega-3s and CLA. CLA, or conjugated linoleic acid, isn't as present in grain-fed cattle because the CLA comes directly from the grass. This fatty acid contains a group of chemicals that provide a wide variety of health benefits, including improved blood sugar regulation, maintenance of lean body mass, and reduced body fat. For more ways to lean out your physique, check out these 44 Ways to Lose 4 Inches of Body Fat!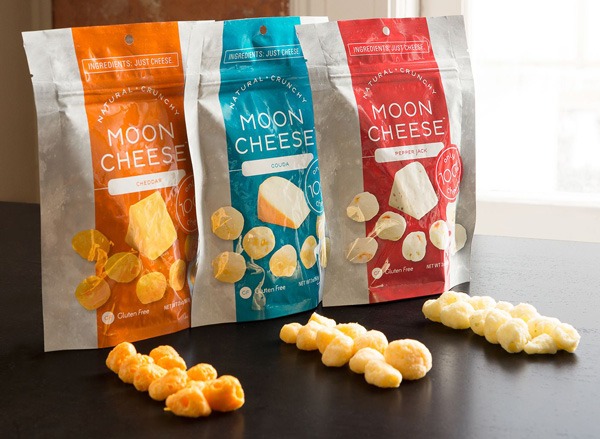 Yes, the name Moon Cheese is a bit odd, but we promise that this out-of-this-world snack (pun intended) is a healthy pick. The makers of this healthy snack use a patented technology that allows them to suck the moisture from their cheese without stripping away its natural nutrition or flavor. Because they don't add anything thing else to the mix before packaging it up, it's hard to go wrong snacking on these savory treats.
Nothin' But Granola Cookies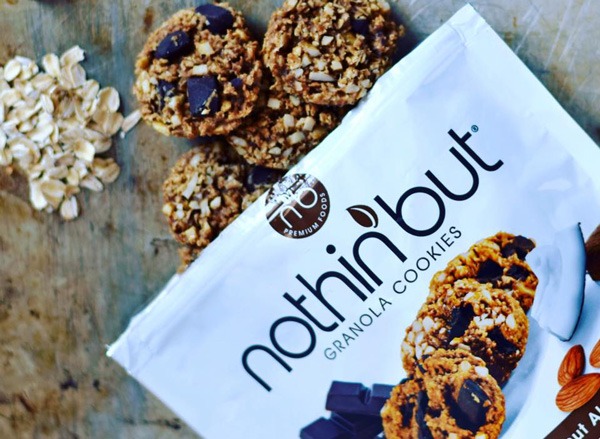 With just 3.5 grams of the sweet stuff in each cookie, this sensible treat is sure to fit into just about anyone's weight loss plan.
Wonderfully Raw Organic Vanilla Maple Coco-Roons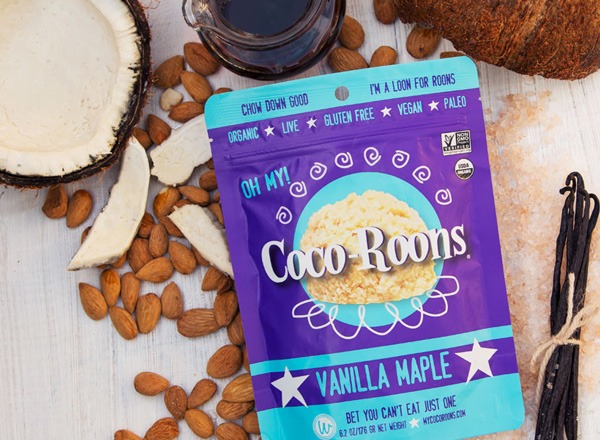 Made from a blend of unsweetened coconut, almond flour, maple syrup, coconut oil, vanilla extract, and salt, these mini macaroons are the perfect way to indulge your sweet tooth without blowing a day's worth of carbs.
Kashi Organic Sweet Potato Sunshine Cereal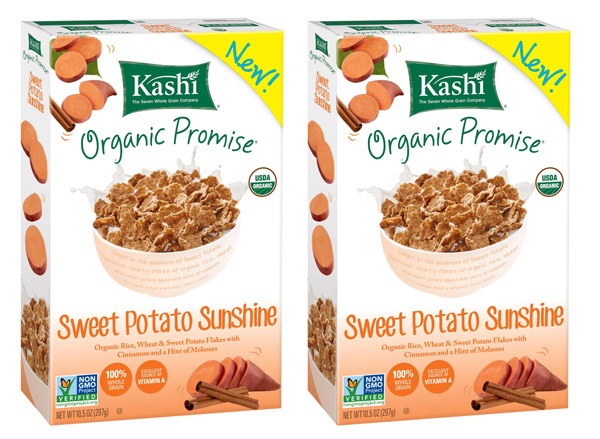 Made with just eight whole-food ingredients, this tasty, low-sugar cereal is one you can feel good about noshing on. Measure out a cup, toss it in a baggie, and bust it out next time your stomach starts to growl between meals. For more cheap and healthy snacks you're sure to love, check out these 27 Healthiest Snacks Under $1.
Go Lite! Himalayan Salt Popcorn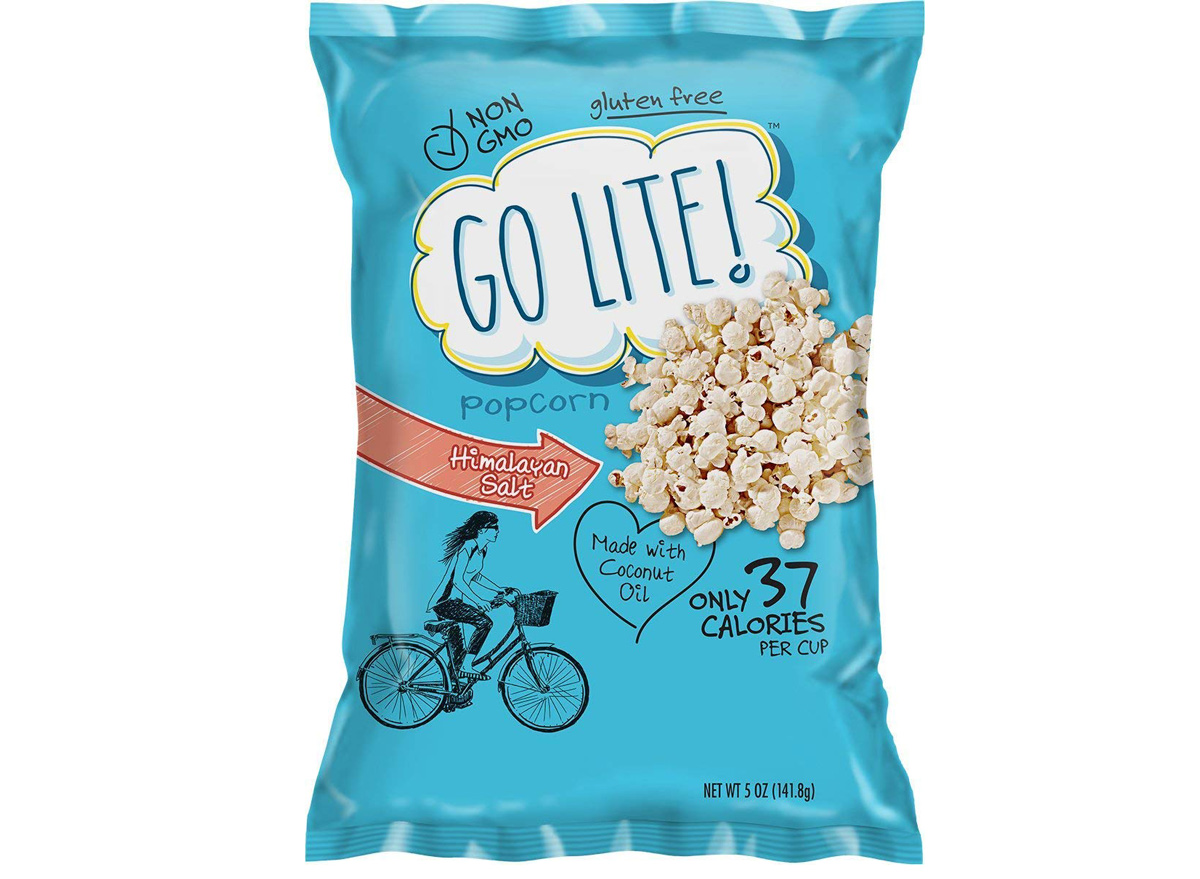 6254a4d1642c605c54bf1cab17d50f1e
These gluten-free popped chips have a slightly sweet, slightly tangy flavor you're sure to love. They're made with cassava, a tuberous starchy root plant native to South America, which makes them stick out—in a good way—among its fellow shelf-mates in the chip aisle.
Hail Merry Dark Chocolate Bites
SHOP NOW ON AMAZON
A "guilt-free chocolate treat" is basically the stuff of marketing mythology, but these cute little snacks come as close as possible to that concept. The rich, two-bite treats are made with whole food ingredients like cocoa and coconut oil. These snack bites may become your new chocolatey addiction, and we're totally not judging!
Tapaz 2 Go, Lentil Crackers and Classic Hummus
This satiating, flavorful duo of fiber-rich hummus and lentil crisps serves up as much protein as an egg and provides a crunchy texture reminiscent of a "normal" cracker that'll make even Triscuit lovers jealous.
Eat This, Not That!
Inspired by The New York Times best-selling book series, Eat This, Not That! is a brand that's comprised of an award-winning team of journalists and board-certified experts, doctors, nutritionists, chefs, personal trainers, and dietitians who work together to bring you accurate, timely, informative, and actionable content on food, nutrition, dieting, weight loss, health, wellness, and more.
Read more about Eat This