"Anne With an E" Star Miranda McKeon, 20, Shares Her Breast Cancer Story
She endured a double mastectomy and 25 rounds of radiation.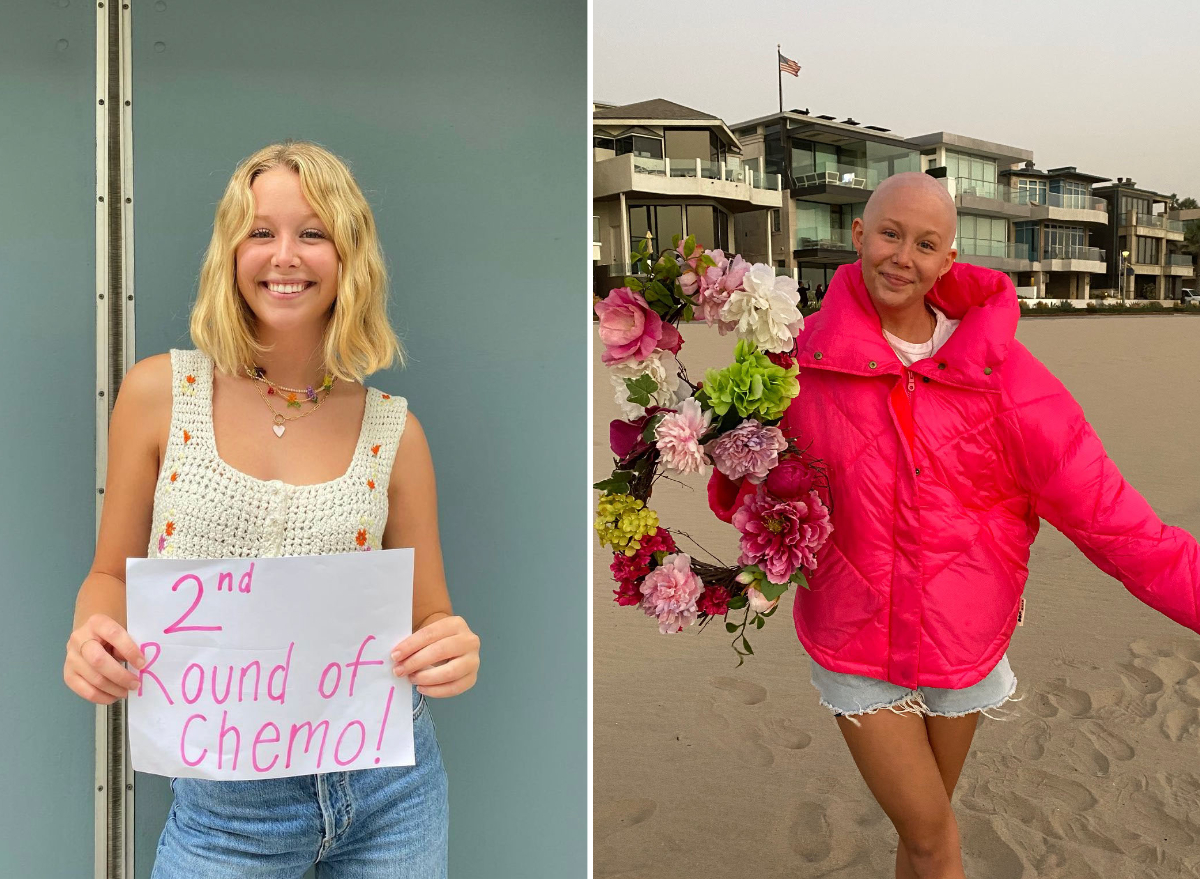 If you close your eyes and imagine what summer vacation would look like for a college freshman, the picture would likely be a collage of exciting new experiences and memories with friends—fun in the sun, free of care and worries. That precious time of life was extremely different for "Anne with an E" star Miranda McKeon, 20, and she shares her breast cancer story and advice with Eat This, Not That! for Breast Cancer Awareness Month.
You may be surprised to learn that, according to statistics, only around 10% of those with a breast cancer diagnosis have a family history of the disease. In addition, the American Cancer Society estimates that about 287,850 women will be diagnosed with breast cancer in 2022, and there's a 13% chance of a woman getting breast cancer during her lifetime. Self-checks are crucial for your overall health and wellness; early detection is key.
Miranda McKeon, a University of Southern California student and formerly Josie Pye of Netflix's "Anne with an E" shares the life-changing moment when she felt a lump in one of her breasts. She recalls, "I had just come home to NJ for summer from my freshman year of college when I discovered a lump in my right breast. I was 19 at the time and quickly reported it to my primary care doctor. I had a gut instinct that something was wrong."
The next shocking and clearly unexpected period of life for McKeon and her family was filled with panic, tests, decisions, treatments, surgery, and so much more. It all started with one phone call, as McKeon tells us, "I had just flown to San Francisco and when I landed, I turned on my phone to find missed calls/ text messages from my doctor. I called her back, still taxying on the plane when she told me that my biopsy came back positive for cancerous cells. I felt an immediate wave of shock and fear and dialed my parents onto the phone mail." She was on a plane just two hours later returning home to New Jersey and was greeted at the airport by her family, tons of love and support, and her favorite local Thai food.
Miranda McKeon endured a double mastectomy and 25 rounds of radiation.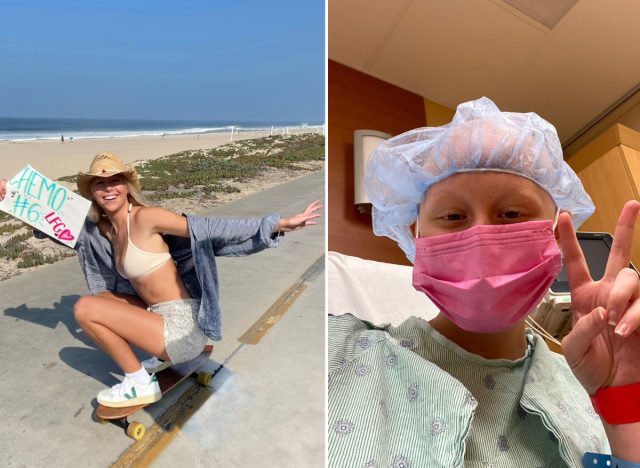 McKeon had stage 3 breast cancer. The seemingly endless uphill rollercoaster ride started with freezing her eggs, followed by eight rounds of ACT chemo over a four-month period. Next for McKeon was a double mastectomy and a whopping 25 rounds of proton radiation. Of every devastatingly painful, scary, and disappointing moment McKeon endured after being diagnosed, the hardest to accept—especially at such a young age for her—was losing her hair.
She reveals, "Looking in the mirror and standing before someone I did not recognize was really hard. I had to do a lot of work around redefining the way I think about myself, eliminating physical appearance as a factor. I think we don't realize how many ties are drawn between our physical attributes and our relationship with ourselves until the physical component is threatened. I've seen my appearance change so many times in the past year, sometimes I forget what I actually look like—and then I remember that really doesn't matter at all. When I think about the people I love most in life, I would never mention their hair, their nose, or their pant size as a reason why I love them. Never. It just wouldn't come to mind. I love them for their heart and light and energy—the intangible stuff."
Related: The Best Exercises To Help Prevent Breast Cancer, Expert Says
Life in remission has been "challenging" for McKeon, but she's grateful to be where she is in the recovery process.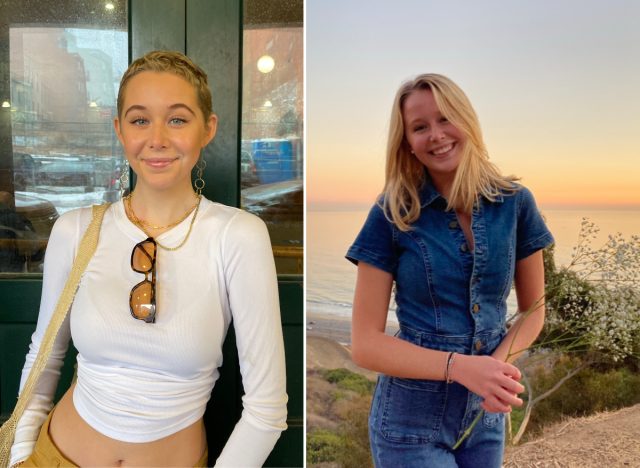 The happy update? Miranda McKeon is now back at USC and plans to study abroad next semester in Rome! She tells us, "I am now in remission but taking medications for two, five and ten more years."
This college sophomore continues to write, audition, and spread positivity on social media. Throughout the month of October for Breast Cancer Awareness month, she says, "I've been posting a video a day on my TikTok speaking about different aspects of my experience this past year. Overall, navigating life in remission has been challenging, but I'm so grateful to be where I am in the process of recovery and navigating how to integrate this experience into my story."
She stresses to "get comfortable knowing your body."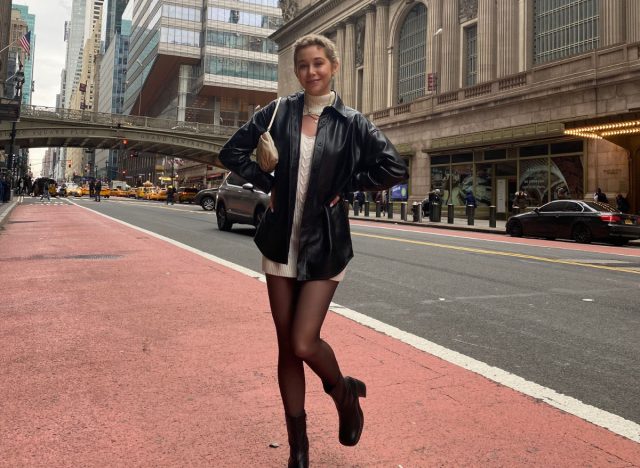 October is Breast Cancer Awareness Month, but every single day is one to be mindful of breast self-care. McKeon has many helpful tips for everyone's own self-care, along with advice for those who are starting their own frightful journey.
"Perform regular self-breast exams, and get comfortable knowing your body. It's so, so important. And if something feels off, advocate for yourself and make sure your voice is heard. Nobody knows your body better than you do," she says, adding, "For anyone beginning a journey with cancer, or anything unknown really, give yourself grace. There will be high highs and low lows, and you never know what's coming your way. The best thing you can do is try to be easy on yourself and hold your own hand as you go through this process."
Related: The Best Foods To Help Prevent Breast Cancer, Expert Says6254a4d1642c605c54bf1cab17d50f1e
McKeon's positive energy is truly so inspiring.
McKeon's energetic and positive attitude is truly motivating and inspiring. She maintains other habits to routinely feed her body and mind.
"My journal practice is a huge one for me. I also notice a massive correlation between movement and mental health for me," she tells us, adding, "When I'm moving my body in ways that make me feel strong and empowered, I am always happier. And friends. Good friends and good people are everything to me. My people are my cure. Like everything, self-care ebbs and flows. I wish more people understood that self-care doesn't have to be 24/7 and perfectly consistent to be beneficial."
Alexa Mellardo
Alexa is the Mind + Body Deputy Editor of Eat This, Not That!, overseeing the M+B channel and delivering compelling fitness, wellness, and self-care topics to readers.
Read more about Alexa