15 Things to Know About Applebees Nutrition
Don't miss this must-know Applebee's nutrition intel that can take your order from scary to weight loss-friendly...
What started out in 1980 as a single "mom and pop" restaurant called T.J. Applebee's Rx for Edibles & Elixirs has grown into a chain with nearly two thousand restaurants worldwide. And just like anything that's too large for its own good (monster trucks, giant tortoises), the chain has lost much of its dexterity and wholesomeness—and customers waistlines are paying the price. After a 2009 Scripps Howard News Service investigation revealed that many of Applebee's "healthy" menu items were up to three times as caloric than advertised, the chain became one of the last restaurants to release its nutrition information to the public.
All it takes is a swift glance at the Applebee's nutrition stats to see why it took them so long to come clean. There are tons of nutritional nightmares hiding on the menu just waiting to crush your flat belly dreams. The thing is, they aren't all easy to spot. It's not just the dishes that are high in calories that are out to get you; the chain is serving up a number of items that are overrun with things like salt and MSG, which can both slow your progress.
So, before you dine at the 'Bee's, dig into our report to get in the know about the must-try dishes and customization requests that can take your order from scary to skinny. And to ensure you stay on track toward your weight loss goals no matter where you dine, you'll want to steer clear of these 26 Worst Foods in America 2016, too.
The Bad: Some Items Contain MSG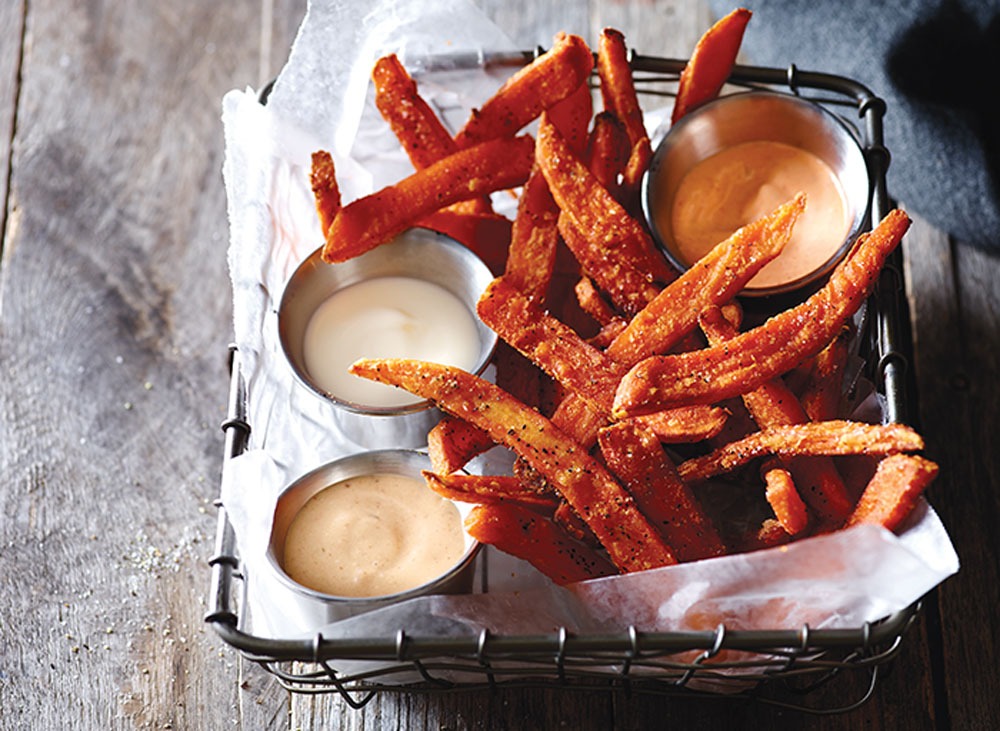 While most people associate monosodium glutamate (MSG) with Chinese takeout, it can be found in plenty of other restaurant fare, including the dishes at Applebee's. Not only does the additive cause nausea, headaches, and chest pains in sensitive individuals, it's also been shown to block the "I'm full" hormone from communicating with the brain, causing you to overeat. MSG can be found in Applebee's sweet potato fries and accompanying dips (like it wasn't already difficult enough to stop eating fries), the All-In triple bacon burger, as well as their buttermilk ranch and creamy cilantro ranch dressings. And, considering those dressings are paired with otherwise healthy things like the baby carrots, that's actually pretty depressing news. Skip the entrées and apps doused in dips and simply ask for a different dressing or stick with olive oil and vinegar if your salad of choice comes with the stuff.
The Good: They Have Mini Desserts
There's a good reason that "good to the last bite" is one of the highest compliments a chef can receive. Generally speaking, the more bites we take, the less tasty each one becomes; it's basic econ. With that in mind, it seems silly to order some massive, calorie-slewn dessert. The perfect solution: Applebee's mini bite-sized desserts. Unlike its massive 1,670-calorie big brother, the chain's Brownie Bite won't take hours to walk off. It clocks in at 380 calories, making it the best dessert on the menu. The second runner up: the hot fudge sundae dessert shooter. It carries 460 calories and 44 grams of sugar—still high, obviously, but better than most other restaurant sweets by a long shot. Looking for even more ways to indulge your sweet tooth without packing on the pounds? Indulge in some of these 20 Healthy Desserts for Weight Loss.
The Bad: Everything is Doused in Salt
Applebee's has some serious sodium issues. Clocking in at 6,120 milligrams (which is nearly two and a half day's worth of salt!), the salsa verde beef nachos is the restaurant's worst offender, but several other dishes are almost as bad. Stealing second place is the boneless wings with hot Buffalo sauce (4,480 mg) and taking home bronze is the spinach and artichoke dip with 3,980 milligrams of the salty stuff. Even the healthy sounding dishes aren't safe. The Fiesta Lime Chicken, for example, has 3,640 milligrams of salt (as well as 1,140 calories!). Beware of the desserts, too. Both the Blue Ribbon Brownie and the butter pecan blondie have just under 1,000 milligrams of sodium—that's more than you'd find in five orders of medium fries off the McDonald's Menu. The takeaway here: Salt is stealthy—it hides in some of the weirdest places, so always read the nutrition information online before you dine.
The Good: They Have a Lighter Fare Menu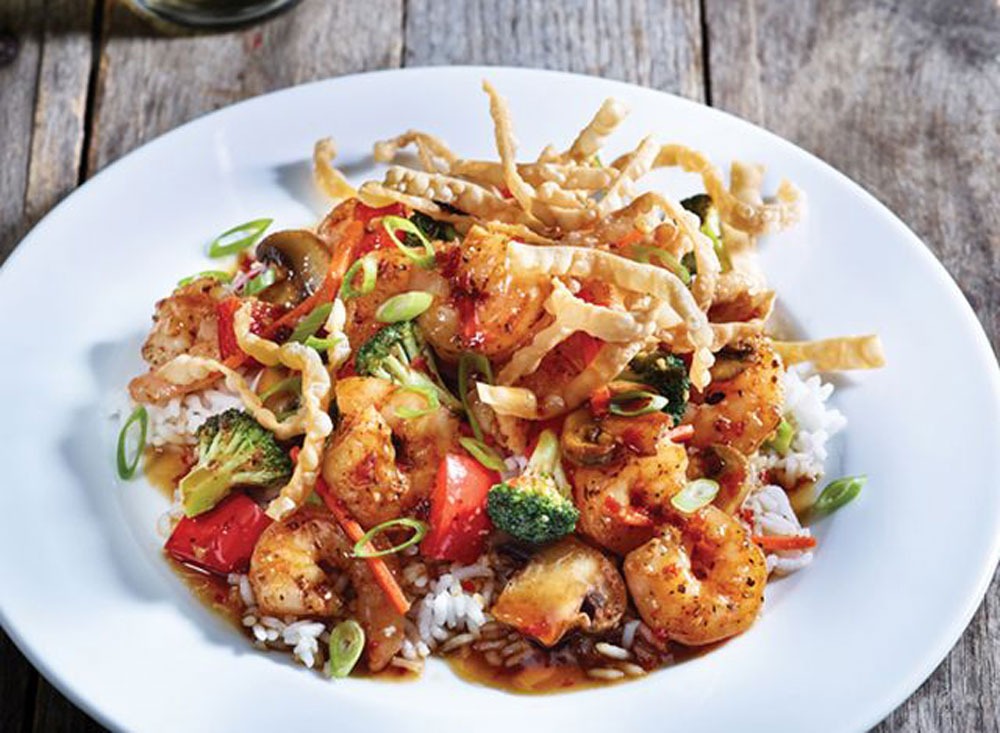 While we applaud Applebee's for their Lighter Fare menu, a collection of health-centric dishes that all fall under the 650-calorie mark, you'll want to wash them all down with a few giant glasses of water. All of the dishes contain more than half the day's recommended sodium intake, which is apt to leave you feeling heavy and bloated even though the calorie count is conservative. If you're prone to ballooning, the Thai shrimp salad or the pepper-crusted sirloin and whole grains are your best bets, as they're the least sodium-stricken of the lot.
Eat This! Fun Fact
Not convinced your salt intake matters? Consider this: For every extra gram of salt you eat in a day, your risk of obesity climbs by 25 percent, according to a study at Queen Mary University in London.
The Good: There Are a Number of Low-Sugar Options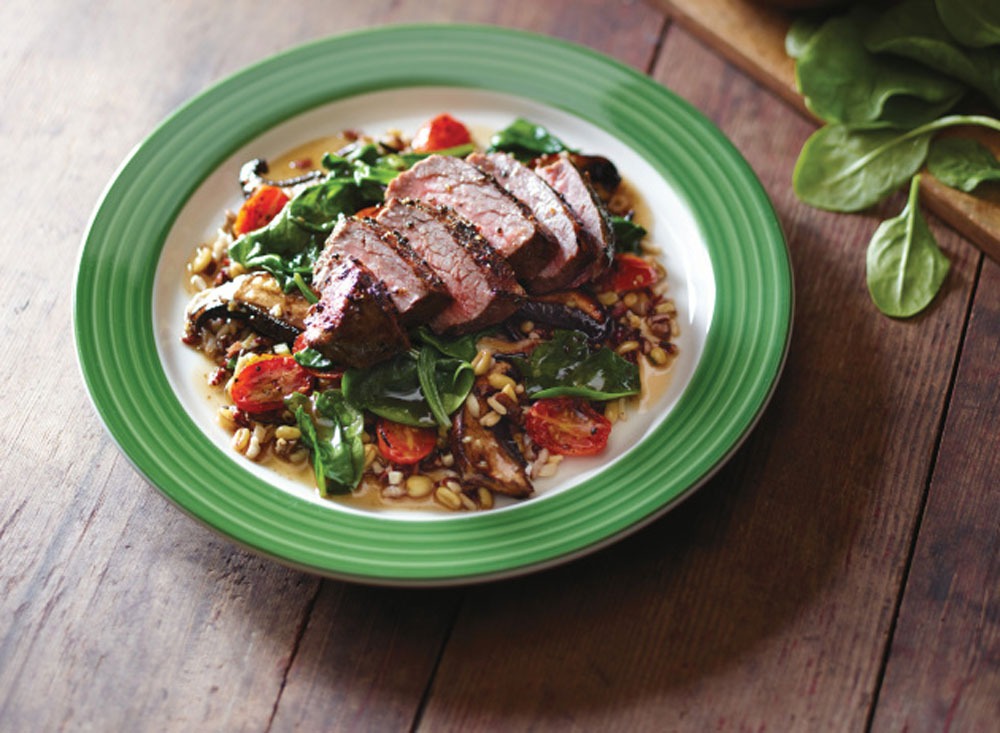 We know what you're thinking: "But isn't Applebee's the restaurant that had that 50 grams of sugar spinach salad?!" Yes, yes it was. It was also home to a platter of ribs with nearly 100 grams of sugar up until recently. We even called them out for that in our special report 23 Restaurant Foods With Crazy High Amounts of Sugar. But that doesn't mean there are a number of safe bets. The cedar grilled lemon chicken, the grilled onion sirloin with stout gravy, and the pepper-crusted sirloin and whole grains all have less than 15 grams and 600 calories.
The Bad: The Pastas Are All Over 1,000 Calories
6254a4d1642c605c54bf1cab17d50f1e
While it's totally fine to give into not-so-healthy carb cravings on occasion, we suggest using some restraint if the mood hits while you're at Applebee's. If mac and cheese, in general, weren't indulgent enough, the chef's at the 'Bees top it with honey pepper chicken tenders, which brings it's already colossal calorie count to the 1,580 mark. Not to mention, it also carries 154 grams of carbohydrates—talk about a blood sugar spike! The three-cheese chicken cavatappi, which is the chain's only other pasta entrée, isn't much better, carrying an entire day's worth of artery-clogging fat and more calories than you'd find in three McDoubles in a single-serve dish. If you must dig your fork into something starchy and cheesy, you're better off ordering a side of the four-cheese mac and cheese (510 calories) or turning the car around and cooking up any of these 25 Best Carbs for Weight Loss, at home.
The Bad: They Serve the Worst Fish Dish In America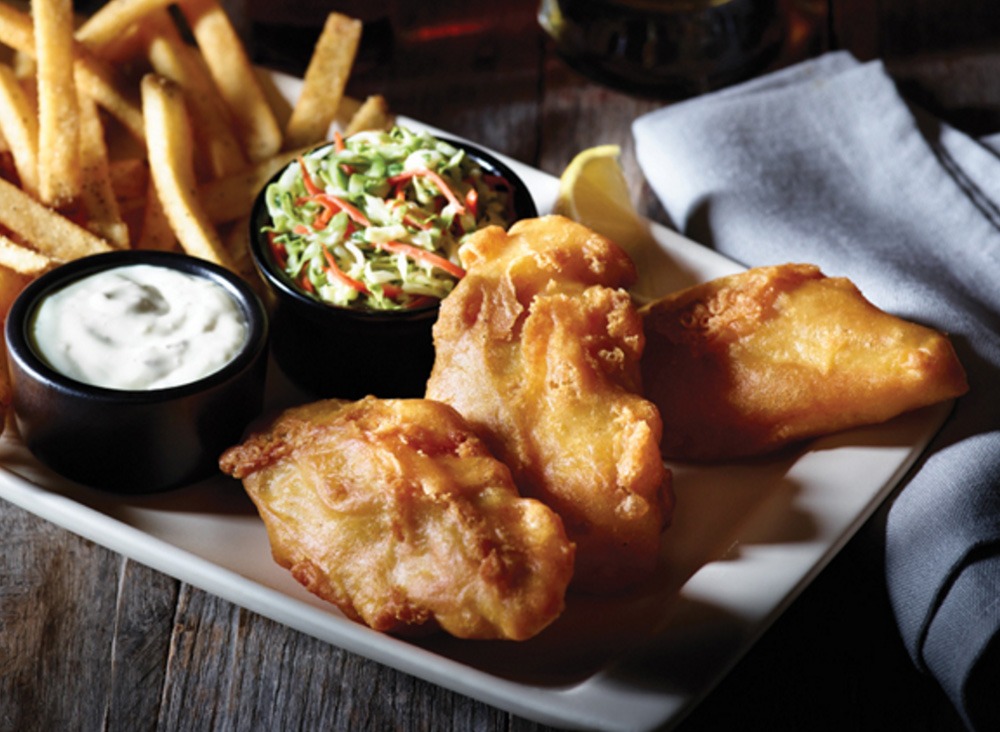 With 1,530 calories and a belt-busting 102 grams of fat, the hand-breaded fish and chips are one of Applebee's very worst menu items, not to mention, one of the worst fish dishes in America. And when you stop to consider how healthy fish could be it's actually a little sad—it's packed with lean, muscle-building protein and heart-healthy fats, after all. But all of that great nutrition doesn't stand a chance after it's been coated in crispy batter and served with a heaping pile of deep-fried potatoes. When it comes to seafood, always abandon ship on fried fish and opt for grilled instead. Though it's not wild caught like we'd usually suggest, if you're looking for a seafood dinner your best bet is the chain's cedar grilled salmon (340 calories) which comes complete with a maple mustard glaze and veggies on the side.
The Good: You Can Get a Healthy Lunch on the Cheap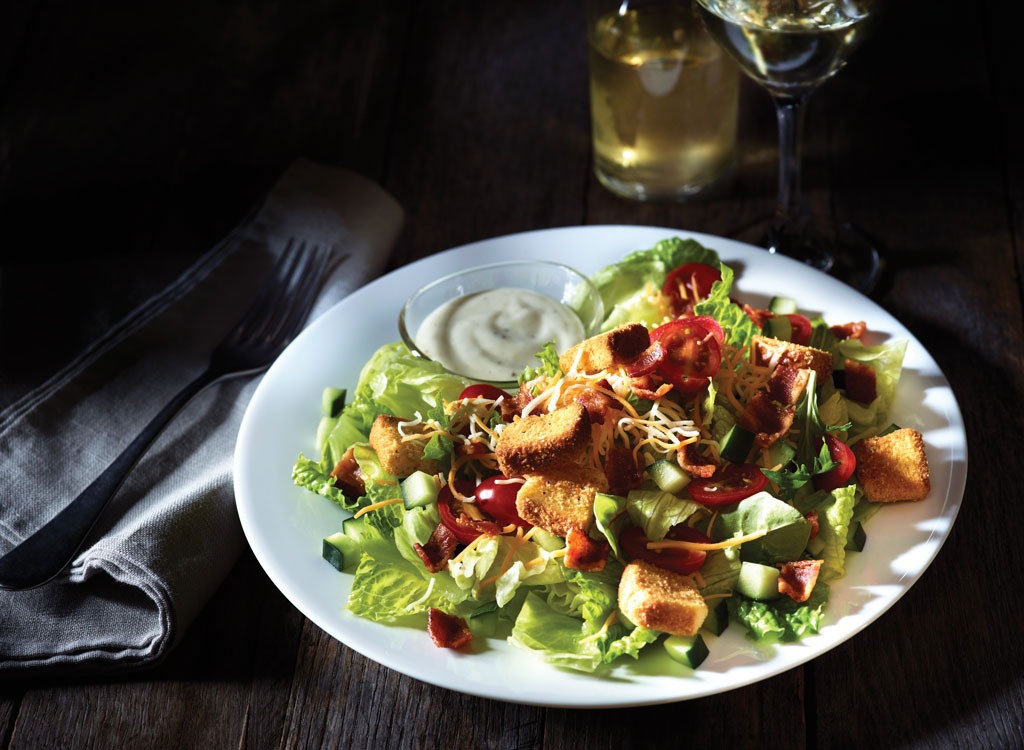 Dipping into your local Applebee's for a quick mid-day bite can be both cost-effective and nutritious. Thanks to their choose any two lunch combos you can snag dialed down portion sizes of two different dishes for less than $10. Order a grilled chicken caesar salad and a tomato basil soup for 510 calories or house salad with lemon olive oil vinaigrette and a chicken tortilla soup for 540 calories—not bad! For even more ways to dine away from home without packing on the pounds, check out these 35 Tips to Eat Healthy at Restaurants.
The Bad: The Menu Is Riddled with Trans Fat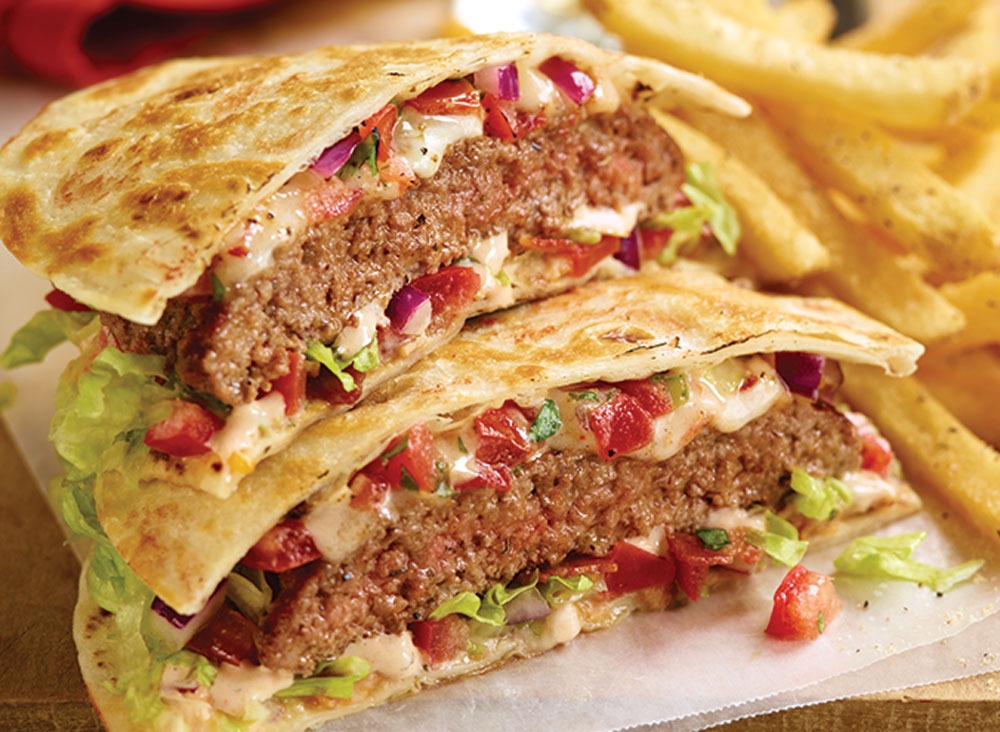 —and a lot of it! While only nine dishes at Applebee's contain the dangerous man-made fat, the dishes that have it, have a ton! The quesadilla burger, for example, carries 4 grams of trans fat, which is two day's worth! Other offenders include the steak quesadilla, the baked haddock (shocking we know), the chicken quesadilla, the sweet potato fries, the chili, the shrimp and parmesan sirloin and the Fiesta Lime Chicken. Steer clear of these health landmines to stay on track with your weight loss goals.
The Good: They Have Some Decent Kid's Options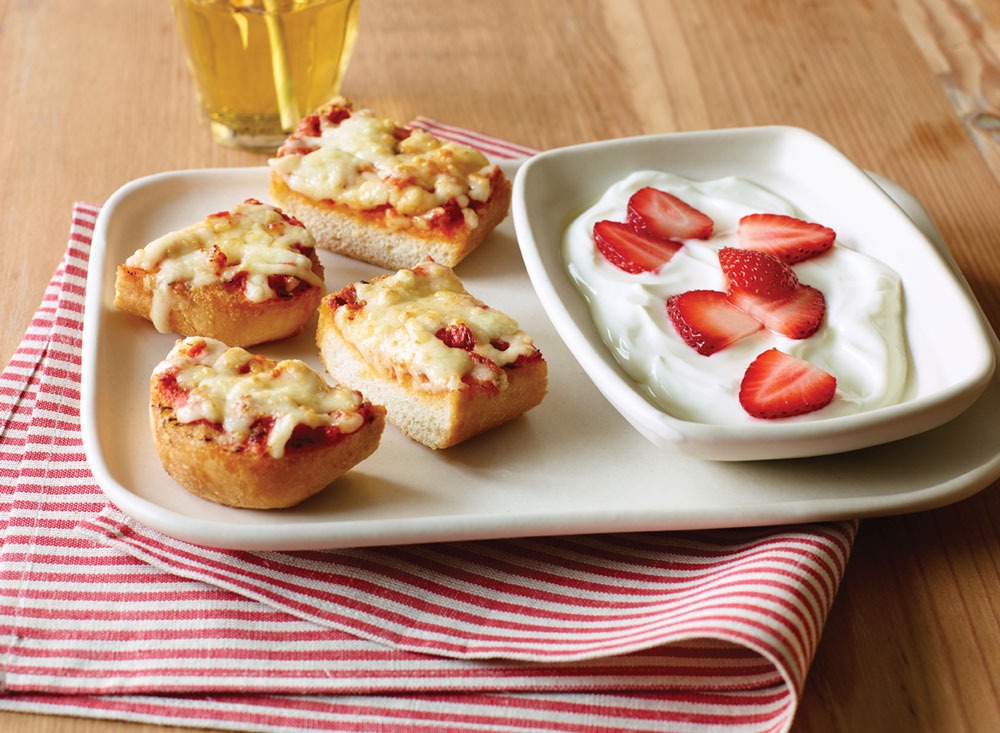 As you might expect, Applebee's offers some not-so-great options for little ones, take their 640-calorie grilled cheese sandwich, for example. But we can't ignore that there are a number of fairly wholesome offerings for tiny humans on their menu, too. We love that they offer two different portion options for little kids and big kids, and we're also digging all the healthy sides that mom and dad can pair with their little one's mini hamburger or cheesy bread pizza. Along with staples like mozzarella sticks and fries, you can now get applesauce, apple dippers with yogurt, a house salad, baby carrots with dip, steamed broccoli or vanilla yogurt with strawberries with your mini me's order. Better yet, this past December, Applebee's removed soda from kids' meals and children's menus. Although parents can still order soft drinks for their little ones, the chain now only lists milk and juice as beverage options on their menus.
The Good: It's Easy to Create Your Own Healthy Combo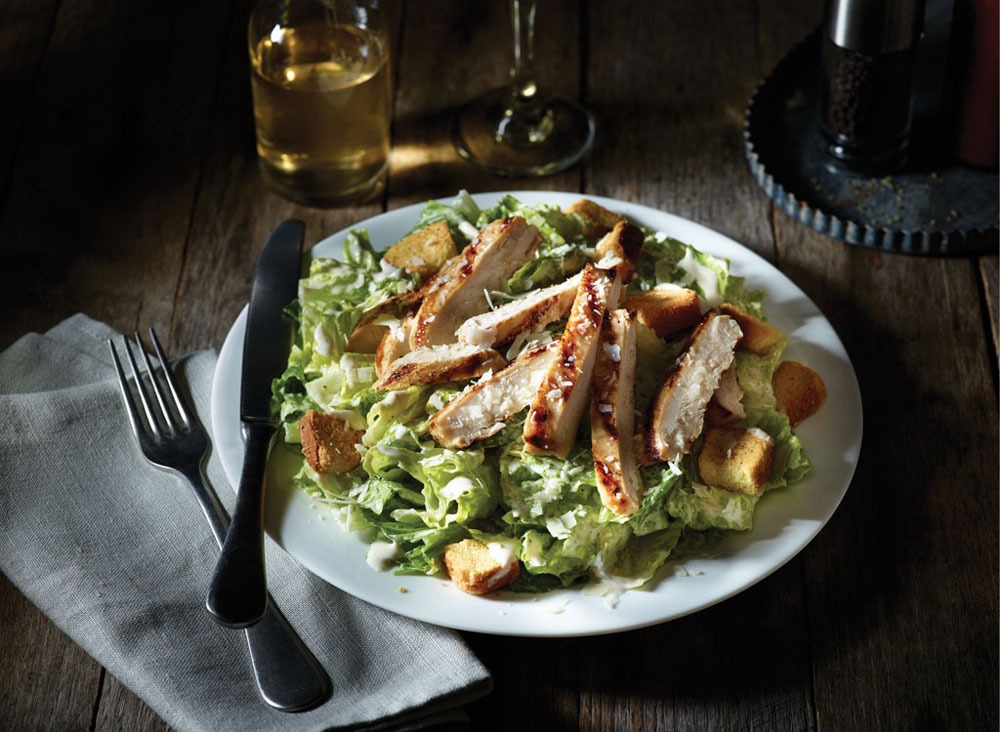 The chain has 15 sides, tons of soups and a few different side salads, so it's super easy to piece together a meal that fits your diet. Here are two of our favorites low-cal, high fiber combos:
Steamed Broccoli + garlic mashed potatoes + side of grilled chicken (450 calories, 1,430 mg sodium, 36 g carbs, 7 g fiber)
Garlicky Green Beans + Hearty Grains & Rice + side of grilled chicken (520 calories, 1,360 mg sodium, 64 g carbs, 6 g fiber)
The Bad: Their Shakes Are Horrific!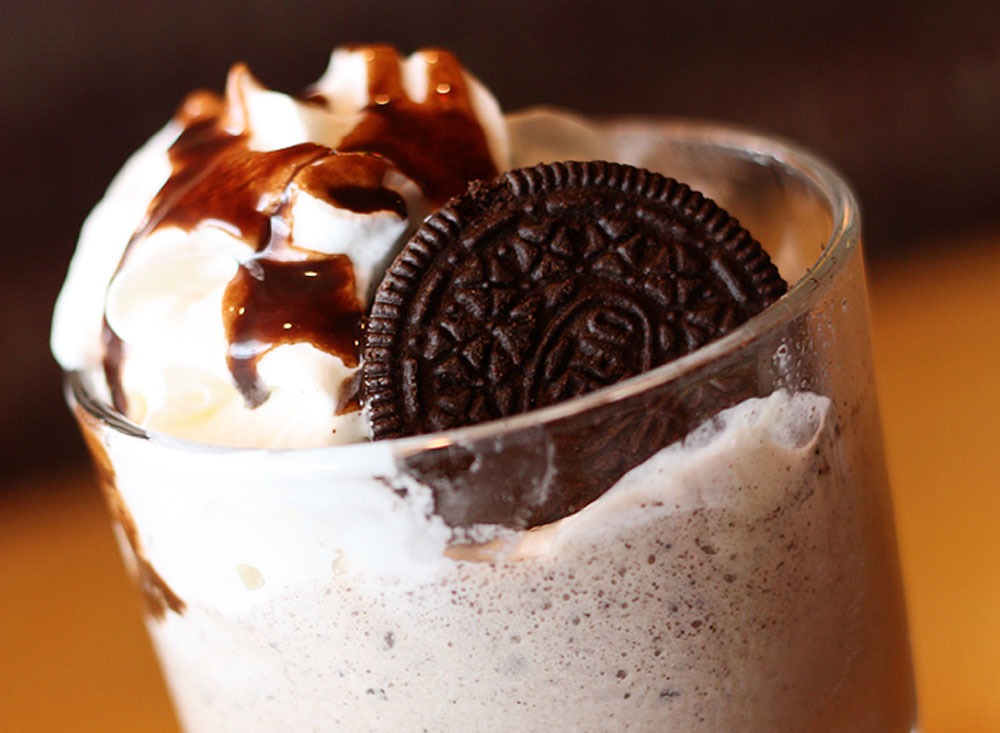 Heaven help whomever orders a classic shake from Applebee's. While you probably wouldn't assume slurping one down is a healthy choice, you likely didn't expect them all to pack 1,000 calories and 100 grams—yes, 100!—of the sweet stuff. If you wouldn't down more than 30 Hershey's chocolate kisses in a single sitting steer clear of these calamitous cups. The better order? One of the chains new teeny-tiny "Shorty Shakes." The salted caramel variety clocks in at and 59 (still horrible, but a definite step up!) while the chocolate nut brownie flavor fairs a bit worse with 690 calories and 66 grams of the white granular stuff. For even more ways to slash your sugar intake, read up on these 30 Easy Ways to Stop Eating So Much Sugar.
The Bad: Some Dishes Have an Entire Day's Fat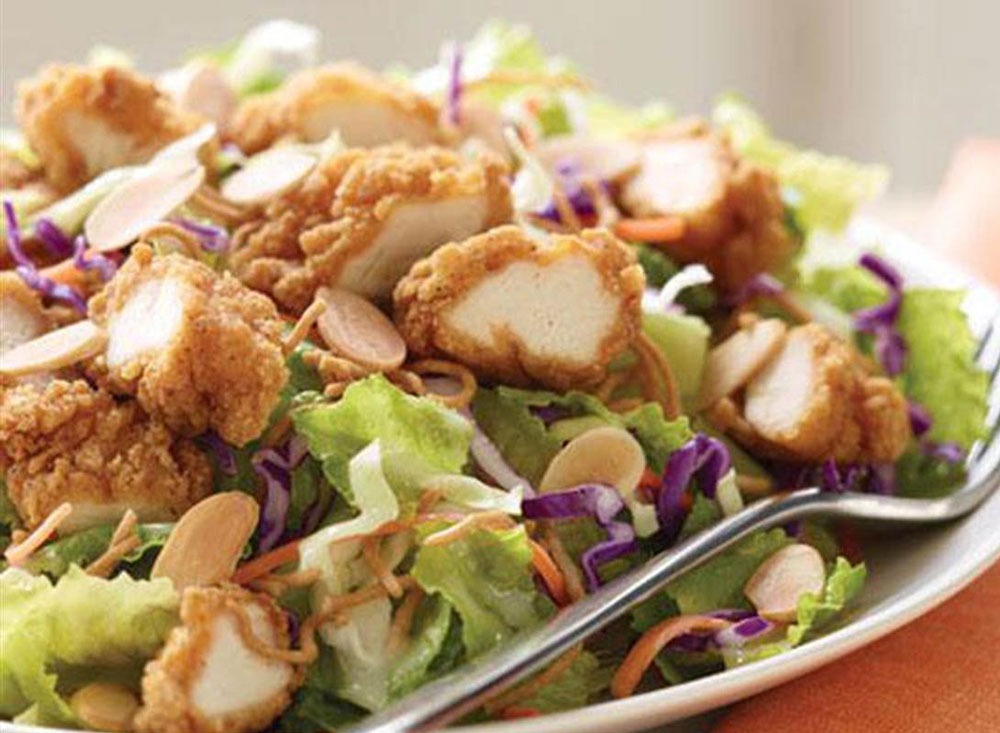 The American Heart Association suggests that adults limit their intake of dietary fat to no more than 35 percent of total daily calories. That means someone who's consuming 2,000 calories daily should eat no more than 700 calories of fat. And since fat provides 9 calories per gram, 77 grams of fat should be your upper limit—and if you can believe it, there are a number of dishes at Applebee's that serve far more than that. If you can even believe it, the quesadilla manages to pack 106 grams of fat in between its delicate tortilla shells. Even more shocking is the oriental chicken salad which is filled with 99 grams of the heart-harmer. The Hand-Battered Fish & Chips and the Salsa Verde Beef Nachos are two other dishes that make our arteries ache. Just say no!
The Bad: Only One of Their Salads is Low-Cal
When you're trying to lose weight, ordering a salad seems like the safest bet. Except more often than you realize, that salad is the worst choice on the menu. And that's because restaurants know that that "nutrition" sells, so they put caloric calamities on their menu, add a few token shreds of lettuce and try to pass them off as healthy—and Applebee's is no different. Only one of their dinner-time entrée salads is worth your time: the Thai shrimp salad (380 calories). Every other option has over 800 calories and serves up traces of trans fat, a manufactured fat that's been linked repeatedly to heart disease, and diminished brain and sexual function. For even more restaurant greens on a mission to stop you weight loss progress dead in its tracks, check out our special report America's Worst Restaurant Salads.
The Good: It's Easy to Healthify at Home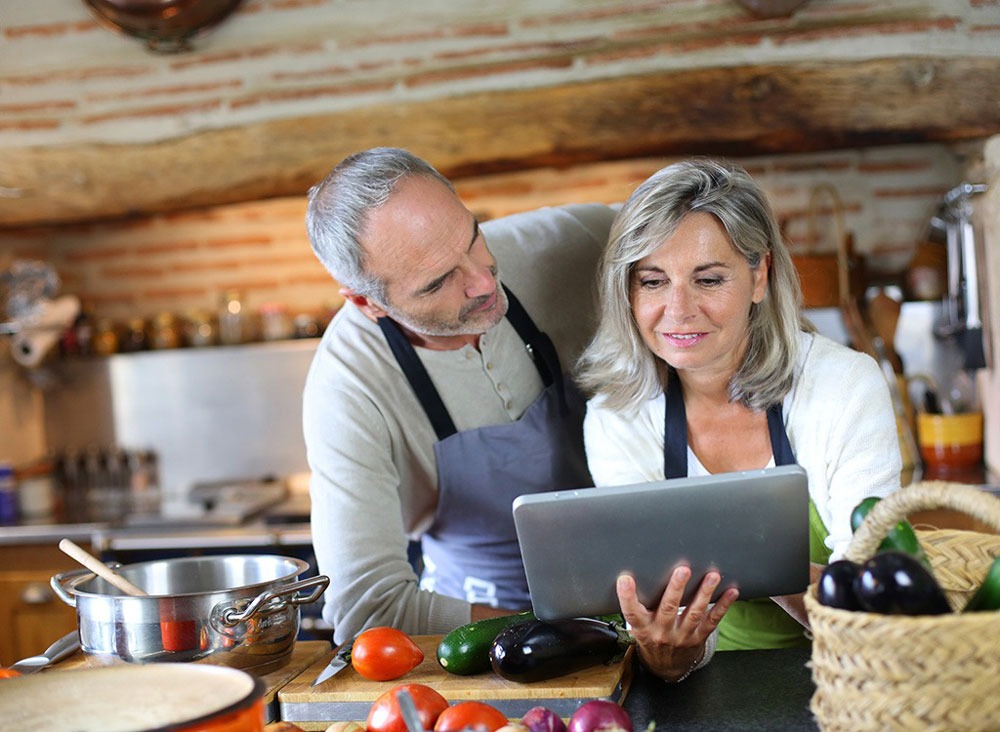 If after reading through this article you've come to find that many of your go-to picks are far less nutritious than you thought—or even if you just wish you could eat at Applebee's more often but it's just not financially feasible, we come bearing good news! Thanks to the blog, Applebee's at Home, you can create healthier versions of your favorites dishes in your very own kitchen. Say you're a big fan of their oriental chicken salad, which, as we already told you has a staggering 1,420 calories and 99 grams of fat. You can simply follow this recipe to create a slimmed-down version with just 524 calories and 32 grams of fat—that's an 896 calorie savings!