These Are the Best Air Fryers of 2019
Whatever you're looking for in an air fryer, you've got options.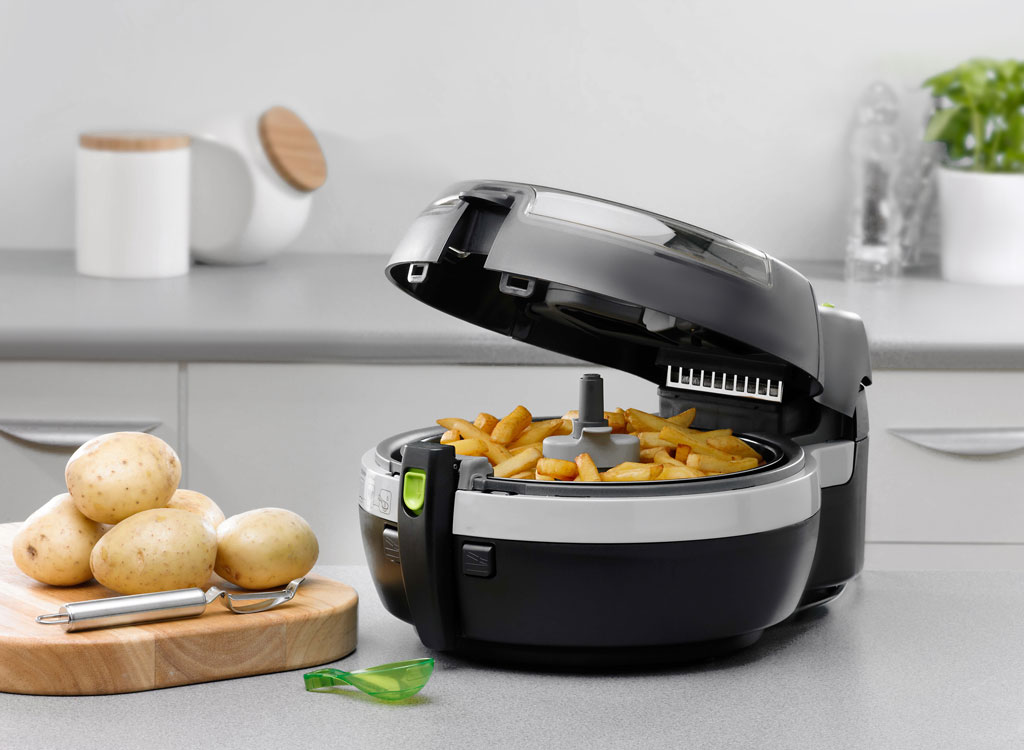 We may earn a commission for anything you purchase through links on this page.
2019 was the year of the air fryer, aka the magical contraption that transforms your most beloved, greasy finger foods (think fries, mozzarella sticks, wings, and the like) into (slightly more) healthier eats. From influencers to pro chefs like Gordon Ramsay, people are taking advantage of these devices, which can whip up everything from snacks to desserts—even entire meals worth of grub. And the best part is, the food comes out crisp, tender, and fully cooked with minimal to no oil or grease necessary.
So as 2019 comes to a close and you begin jotting down items on your wishlist, take a good look at your kitchen appliances. What could use an upgrade, and what trendy gadgets are you missing from your countertops? If you've yet to get your hands on any of the best air fryers of 2019, you can either keep your ideal model in mind for someone special to gift you or treat yourself to one this season.
Now, here are the best air fryers of the year.
Emeril Lagasse Power AirFryer 360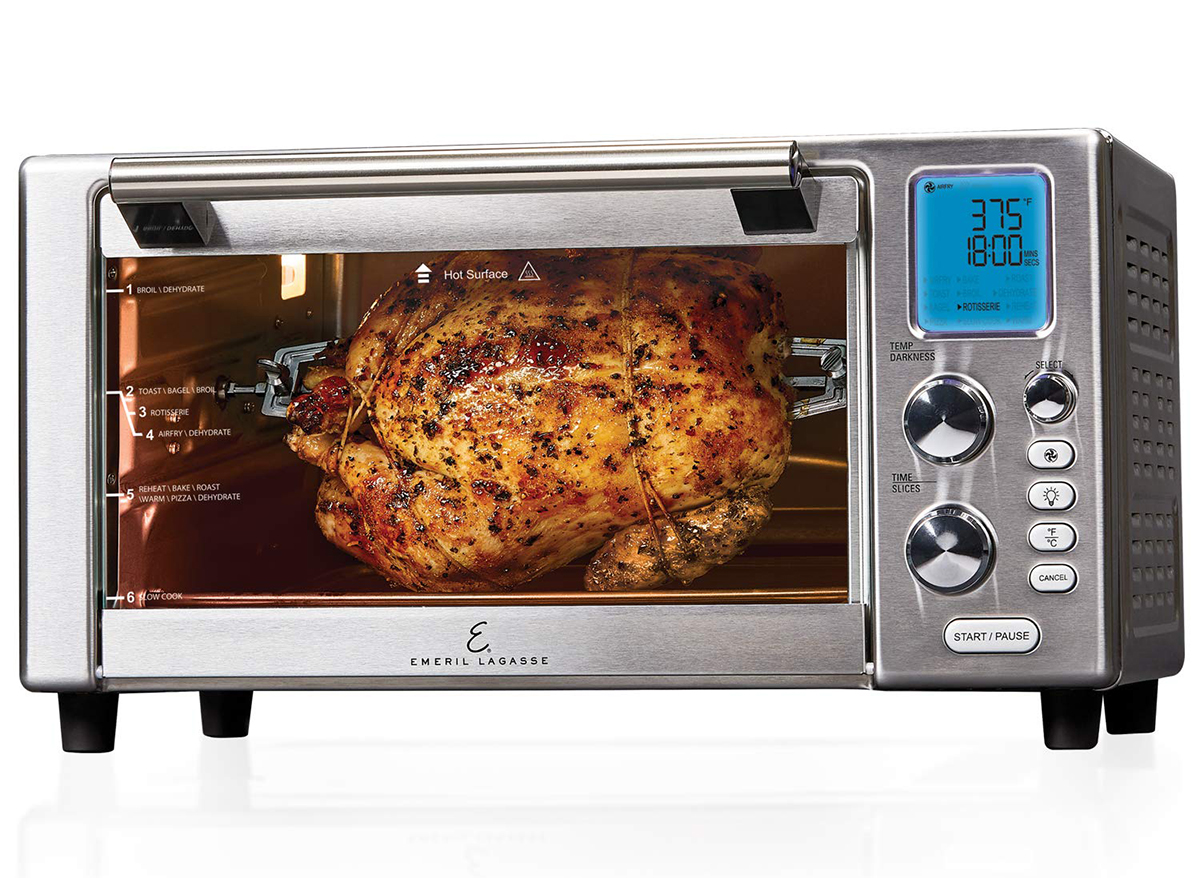 For anyone looking to clear off some space on their countertops in 2020, The Emeril Lagasse Power AirFryer 360 does the work of nine kitchen appliances: air fryer, toaster oven, convection oven, pizza oven, dehydrator, slow cooker, rotisserie set, roaster, toaster, and broiler. The appliance is up to chef-quality standards, and features a whopping 12 pre-set functions including air fry, rotisserie, sauté, dehydrate, bake, broil, and more. Plus, its 360 Degree Quick Cooking Turbo Heat Technology operates on five heating elements to ensure heat is evenly distributed throughout your food and cooked in a timely manner.
In terms of its air frying abilities, cooking accessories include a three-piece crisper tray set, rotisserie spit, rotisserie stand, two-piece pizza rack set, baking pan, and a drip tray. A cookbook is also included with your purchase, featuring recipes written by Chef Emeril himself for BAM-tastic eats every time.
Black + Decker Two-Liter Purifry Air Fryer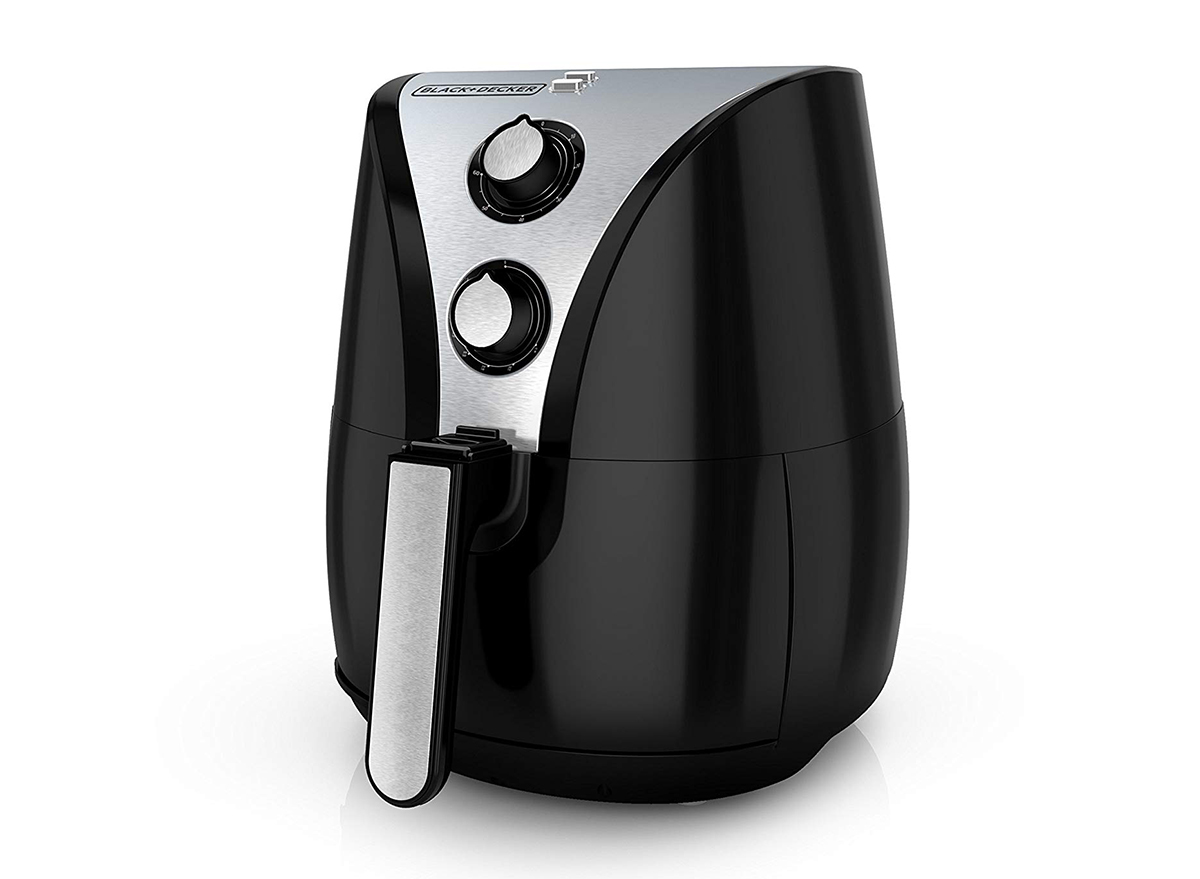 Black + Decker's air fryer is made from stainless steel and will look incredibly sleek on the corner of your countertop. But aside from its restaurant-quality aesthetic, this air fryer has features that will sell you on the appliance.
Whether you're a big-time snacker who's always going back for seconds (or thirds), or you're feeding a grazing family, the appliance can get the job done. It can hold up to about eight cups of food (roughly three to four servings), which is great if you want to make more than one meal's worth at a time. When it's time to cook, simply toss in your food—no cooking spray or oil/grease required—and one indicator light will let you know the device is on, while the other will blink off as soon as its preheated temperature has been reached.
Cooking temperatures for this air fryer range from 170 to 400 degrees Fahrenheit. But even if your recipe calls for cooking at low temps, an exclusive heating element designed by Black + Decker combines heat with a powerful fan for even circulation, so you can rest assured that heat will be equally distributed and your food fully cooked through. And once you're finished, cleanup is made simple with a dishwasher-safe basket.
GoWise USA Seven-Quart Digital Touchscreen Air Fryer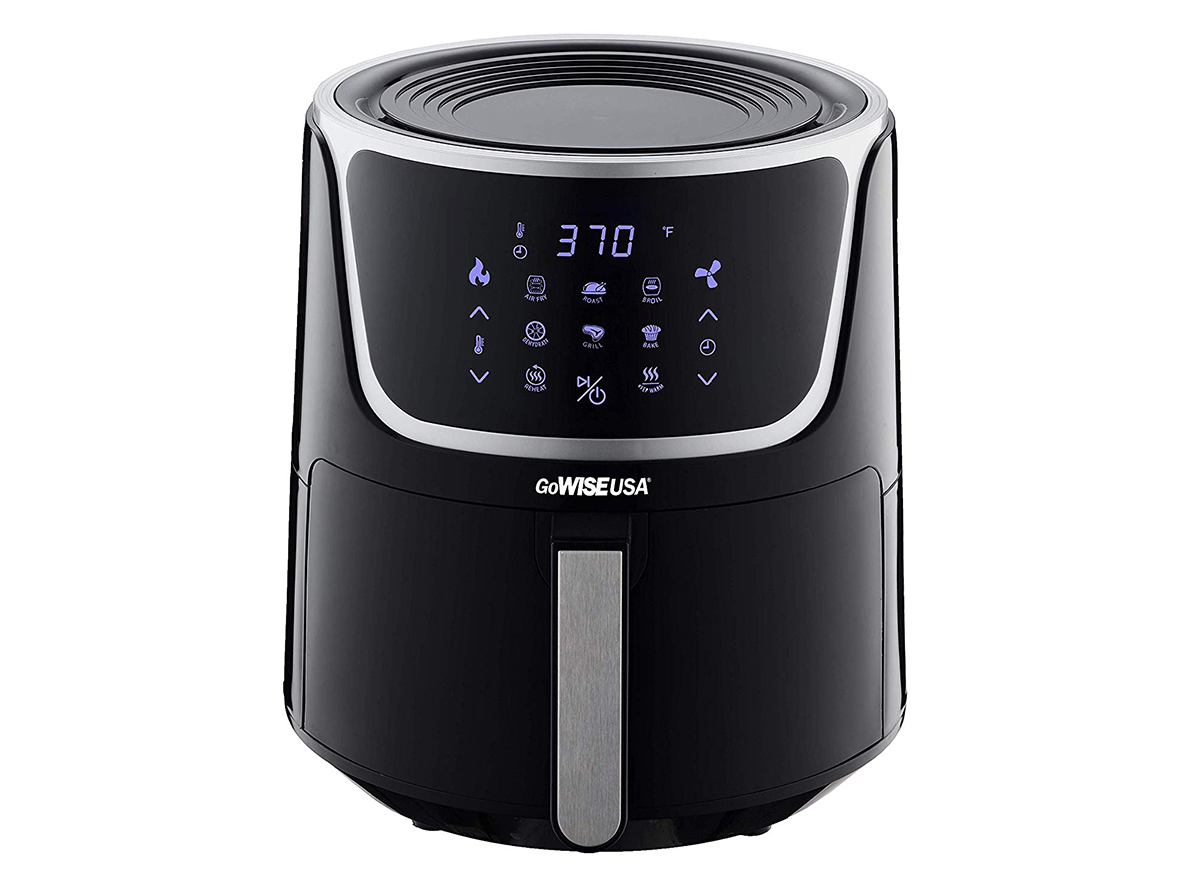 The perfect air fryer for large families (or the frequent host with the most), the GoWise USA 7 Quart Digital Touchscreen Air Fryer makes a ton of food and does so in style. The temperature dial ranges from 180 to 400 degrees Fahrenheit, so you can serve up virtually anything from on-the-go breakfasts to party snacks, steak, and rotisserie chicken. You can even bake personal pizzas and up to five burger patties at once. Plus, the set includes three dehydration racks to prepare dried fruits, veggies, jerky, and DIY dried herbs.
Choose the preferred cooking technique (air fry, roast, broil, dehydrate, grill, bake, reheat, or keep warm), and the appliance will operate accordingly. You can clean up via hand washing or tossing its parts into the dishwasher.
Cosori Smart 5.8-Quart Air Fryer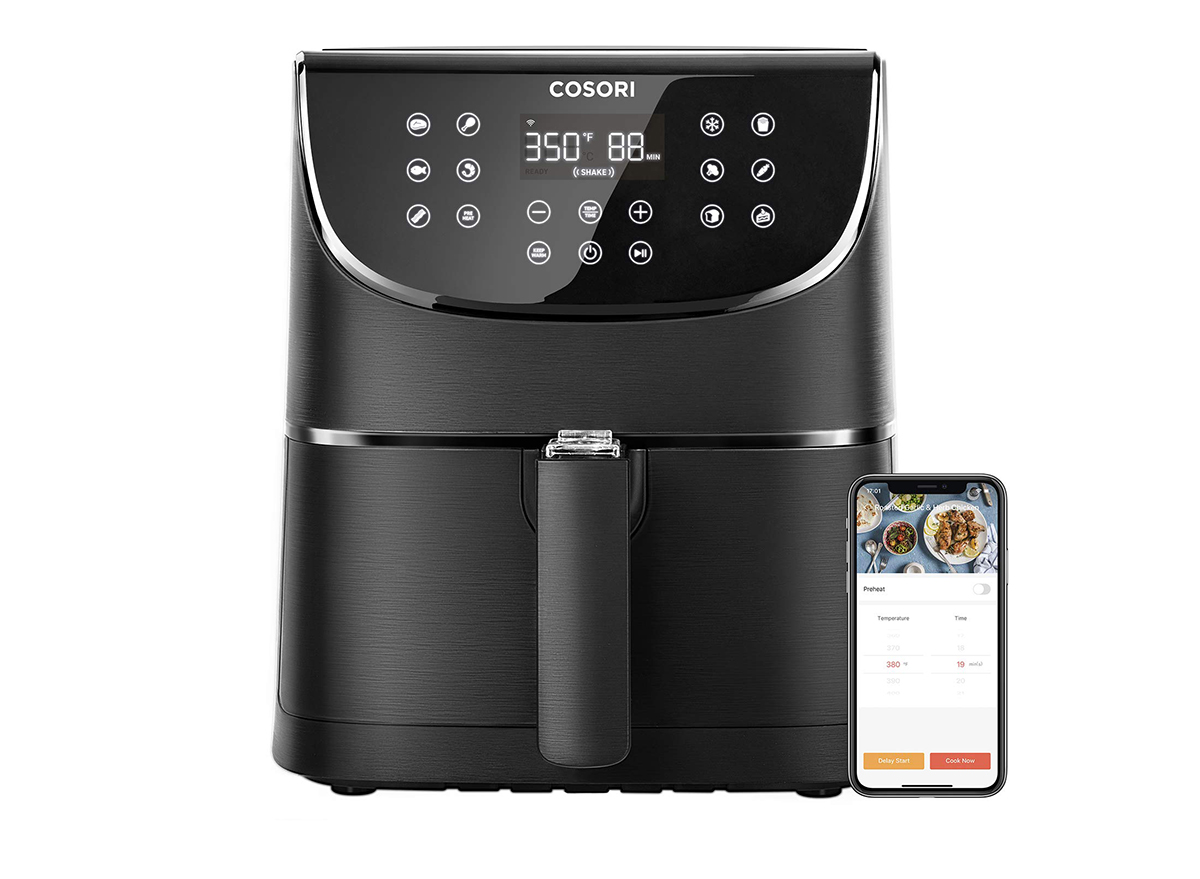 Technology aficionados will love this air fryer. The controls connect through the VeSync app or Alexa via wifi, so you can keep a close eye on what's cooking without having to physically be in the kitchen. (Because if there's anything more snooze-worthy than watching paint dry, it's watching a chicken crisp.) What's more, having this level of control over your meals allows you to monitor their progress and adjust and schedule cook times in advance.
And even if you're not all that tech-savvy, it's still worth downloading the app, because it features over 100 original, pre-programmed recipes you can whip up in this appliance. What's more, the digital touch screen menu features a whopping 11 presets: steak, poultry, seafood, shrimp, bacon, frozen foods, French fries, vegetables, root vegetables, bread, desserts, and preheat, so you can virtually cook anything and everything. It does more (and takes up less space on your counter) than the collection of appliances you likely already have lined up.6254a4d1642c605c54bf1cab17d50f1e
Cuisinart AFR-25 Air Fryer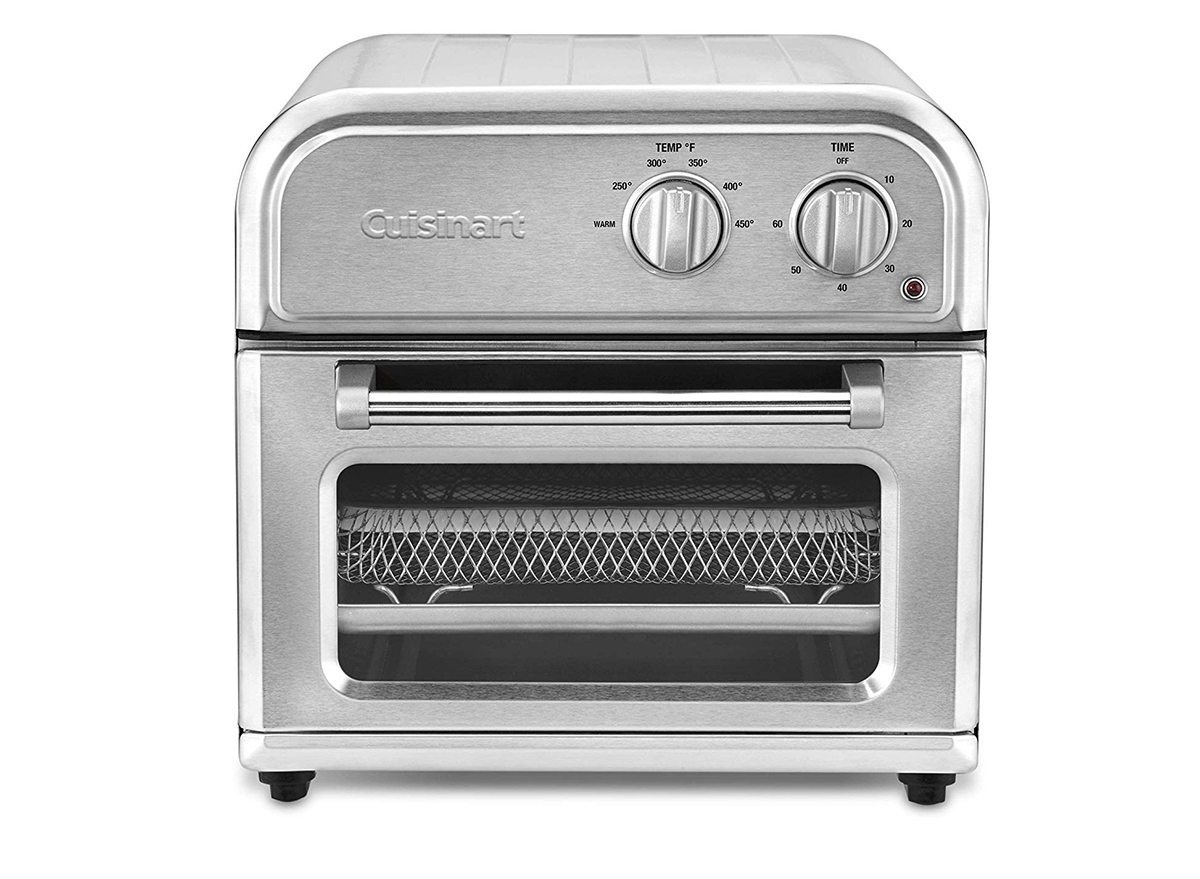 The biggest selling point of Cuisinart's air fryer is that this appliance doubles as both an air fryer and a toaster oven. So rather than lug another, more chunky air fryer from cabinet or pantry to countertop, this appliance can have a permanent spot in your kitchen.
The full-size gadget bakes, broils, toasts, and air fries using ultra-hot air to prepare your takeout favorites sans extra grease and oil. Plus, reviewers boast it's whisper-quiet—meaning no loud, obnoxious murmurs will come from your kitchen as it cooks.
Krups AJ1000 2.5L Air Fryer
This writer was first introduced to the air frying phenomenon via the Krups model. And though this air fryer wasn't designed in 2019, it's still one of the best in my opinion. The appliance features a 3D air pulse technology that heats from the top of the device down to optimize airflow, so you'll never have to worry that your food isn't being cooked to perfection.
Fries and veggies boast a satisfying crispness on the outside and tenderness on the inside every time, with little to no oil necessary, though I still drizzle EVOO on my frozen veggies to ensure the spices stick before popping them in the air fryer. And as far as cleaning goes, the scrubbing process truly couldn't be easier. Soap and water do the trick (but the pieces are dishwasher safe!), and it won't take more than a few minutes to tidy up the pan and basket.
Whatever air fryer model is best for your needs, you'll be amazed at how much these workhorses can do.