16 Delicious Breakfast Sandwich Recipes You Won't Believe Are Healthy
These recipes pack in nutrients, giving you the extra boost you need to start your day right.
There's nothing tastier than a fresh, doughy bagel with the perfect schmear-to-bread ratio to start the day, but it's not exactly the healthiest option for your morning. However, there are multitudes of ways to create healthier breakfast sandwiches that still include the carbs you crave, but are piled high with veggies, healthy fats, and lean protein instead of a slab of cream cheese. Click through to see 16 of our favorite healthy breakfast sandwiches, and rejoice in the knowledge that your stomach won't be growling before lunch. And while some of these might be higher in calories than your typical pastry, the macro- and micronutrient profiles look a lot different.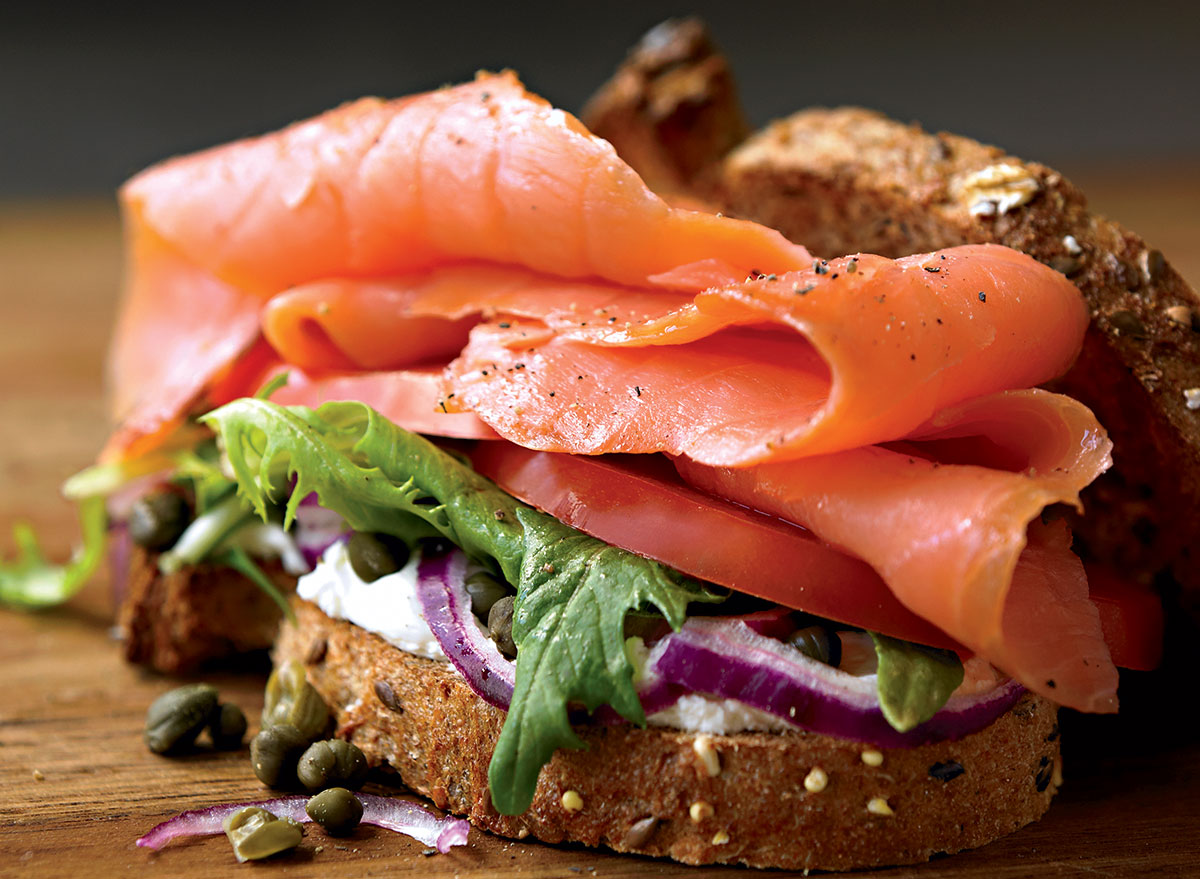 Think: New York-style lox bagel, but healthified. Trust us, you won't even miss the bagel in this smoked salmon sammie. Use whole grain bread or an English muffin, whipped cream cheese instead of regular, add on the smoked salmon for lean protein, and pile on greens for those essential micronutrients.
Get our recipe for a Smoked Salmon Sandwich.
Sunrise Sandwich With Turkey, Cheddar, and Guacamole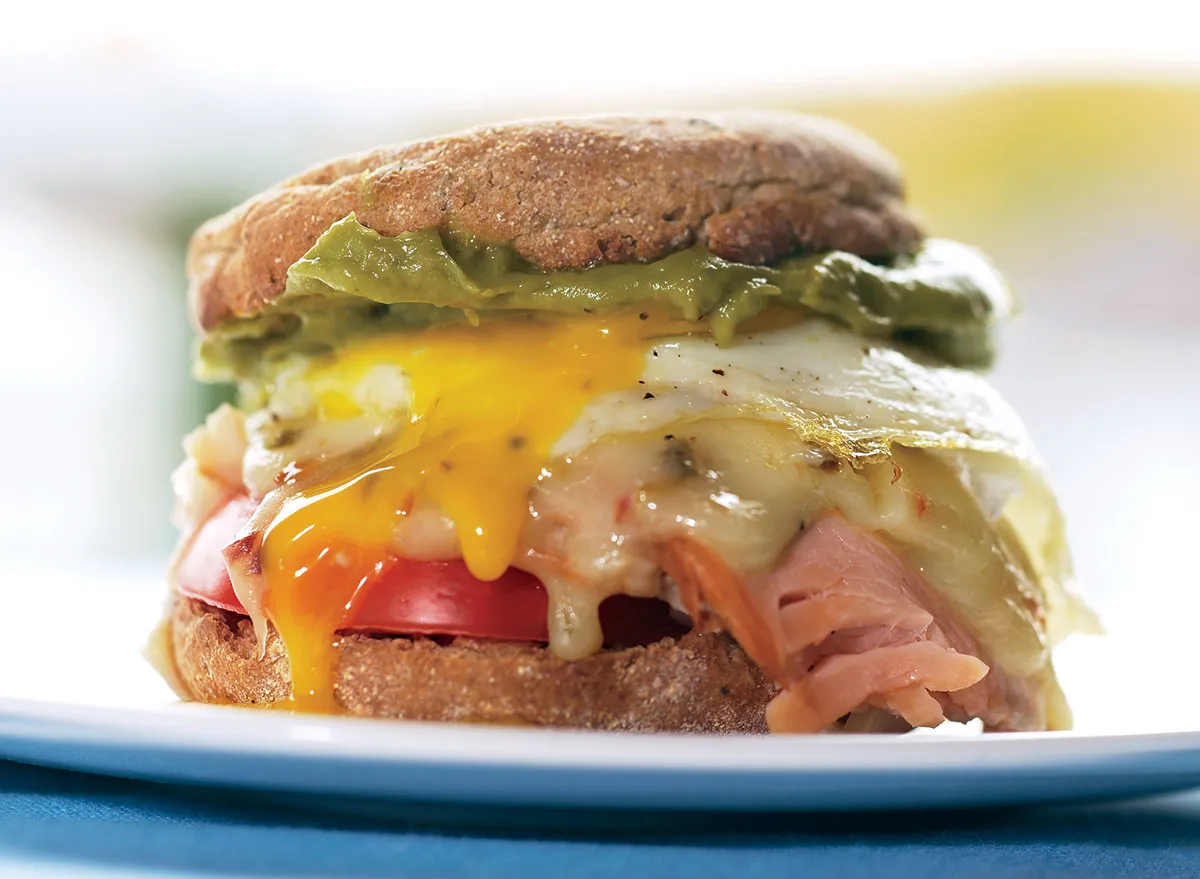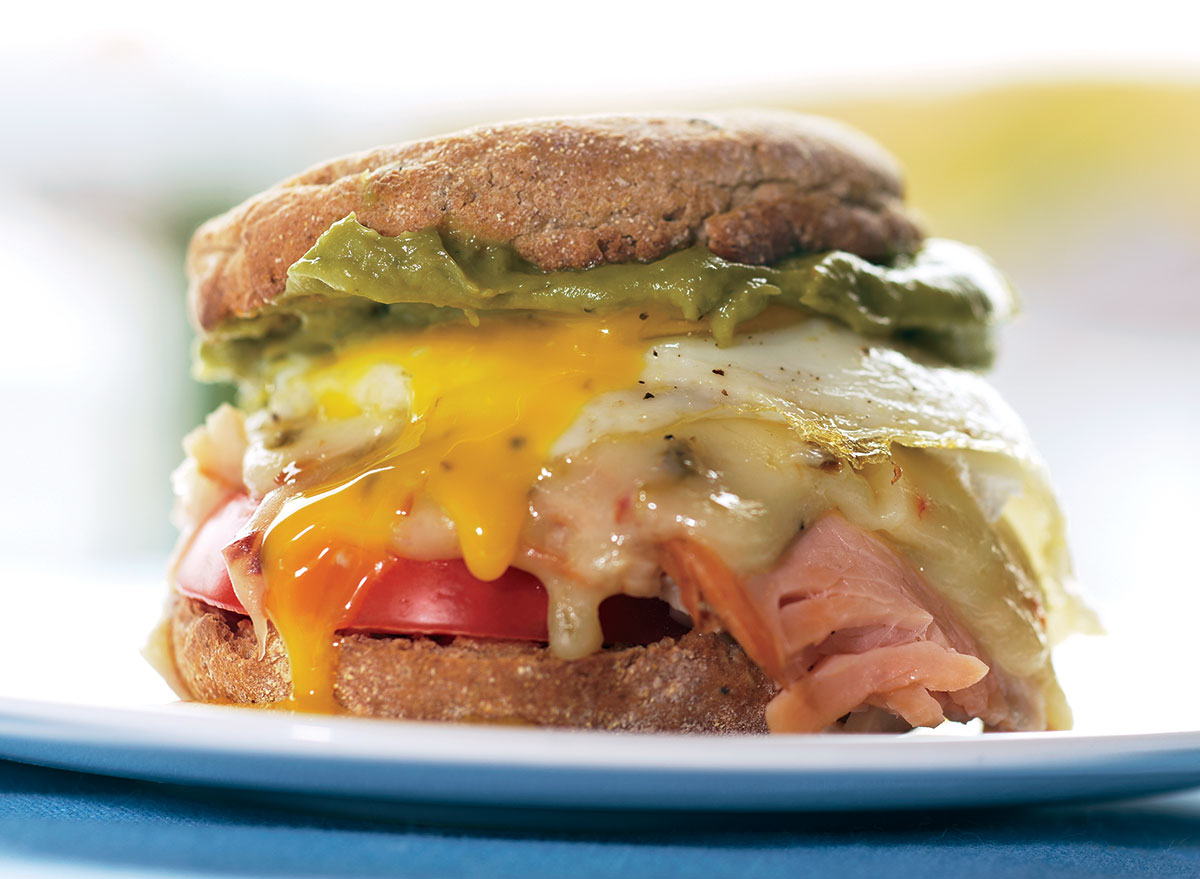 This breakfast is a surefire way to get you hopping out of bed in the morning. Think of this as an upgraded Egg McMuffin. Top off your whole-wheat English muffin with protein-packed fluffy eggs, lycopene-rich tomatoes, guacamole for healthy fat, cheddar cheese, and thin-sliced turkey breast (look for low-sodium options) for added protein. Morning made.
Get our recipe for a Sunrise Sandwich with Turkey, Cheddar, and Guacamole.
Egg Sandwich With Pastrami and Swiss Recipe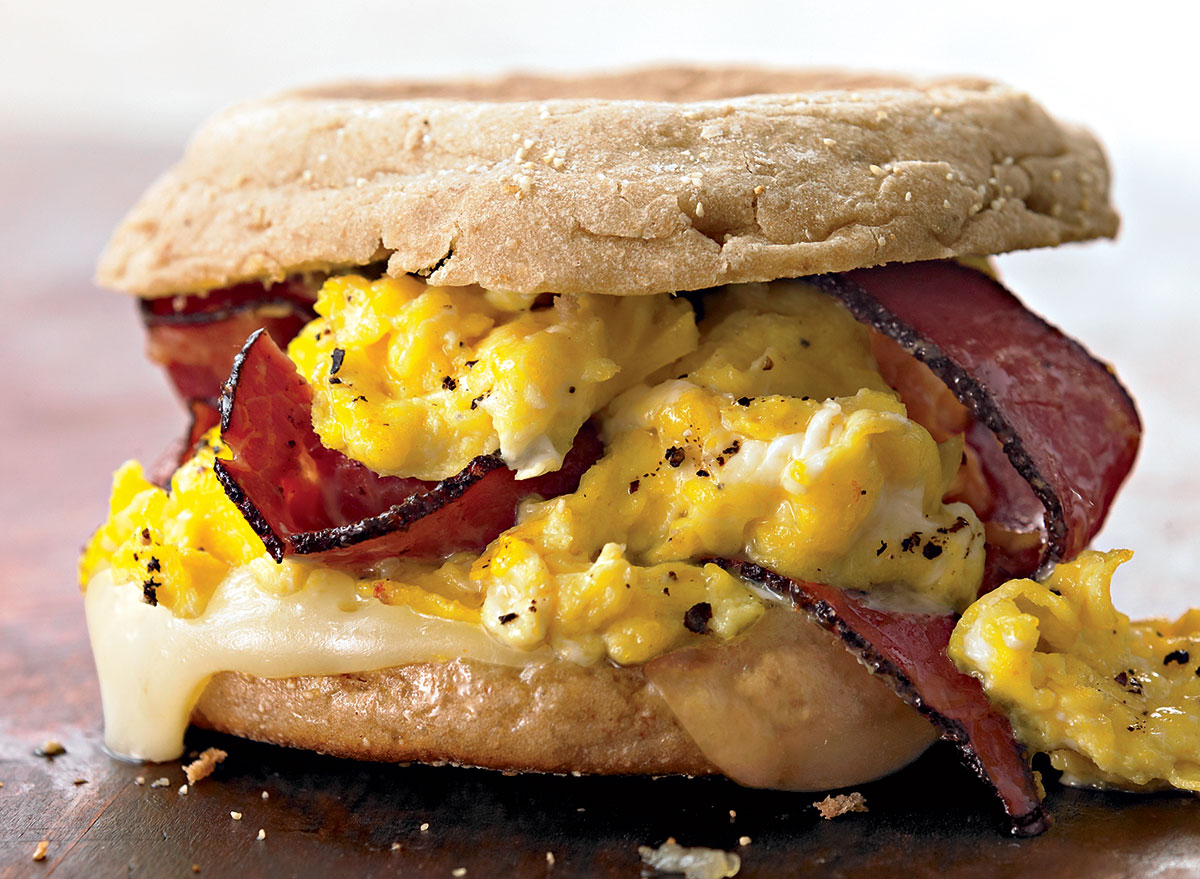 The combination of pastrami and Swiss has long been confined to the realm of the lunchtime deli counter, but we think it works beautifully with soft scrambled eggs—especially because pastrami trounces both sausage and bacon in the calorie department. Give it a try.
Get our recipe for an Egg Sandwich With Pastrami and Swiss.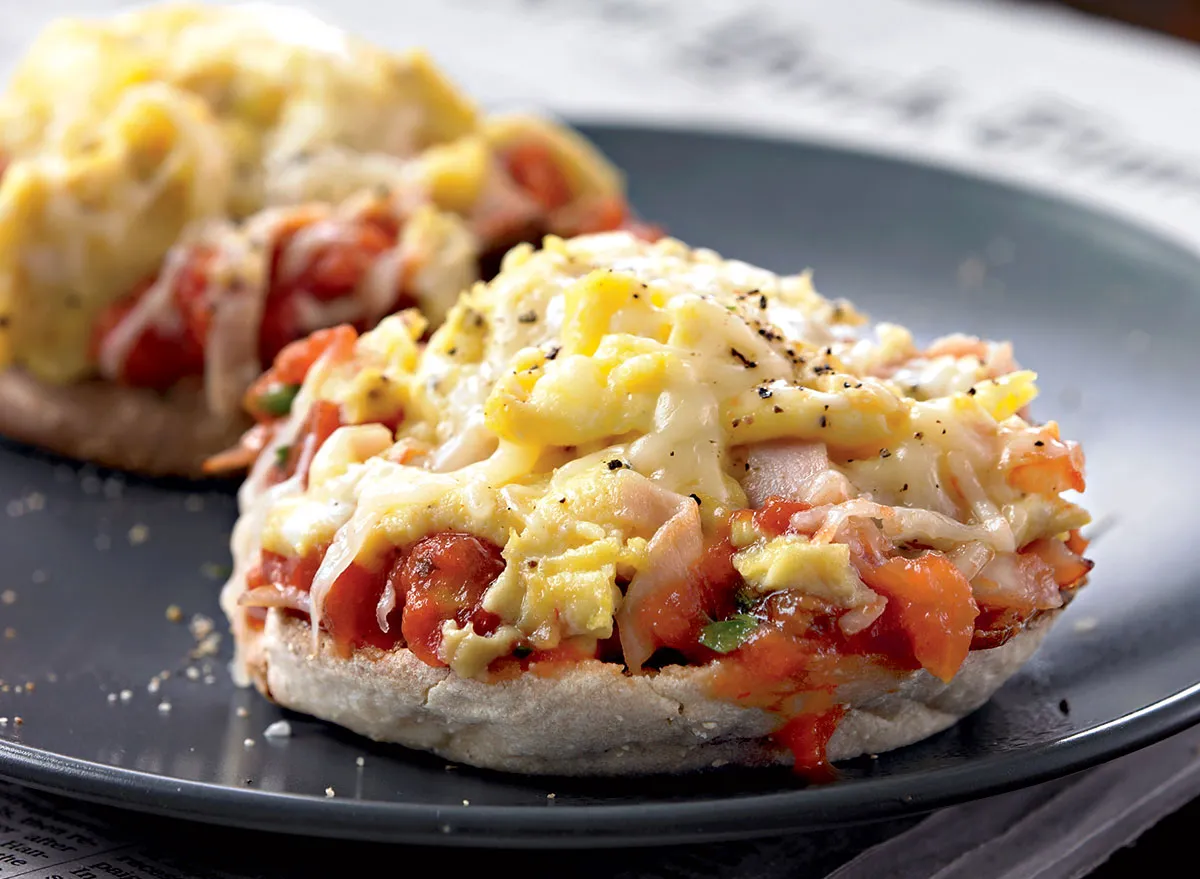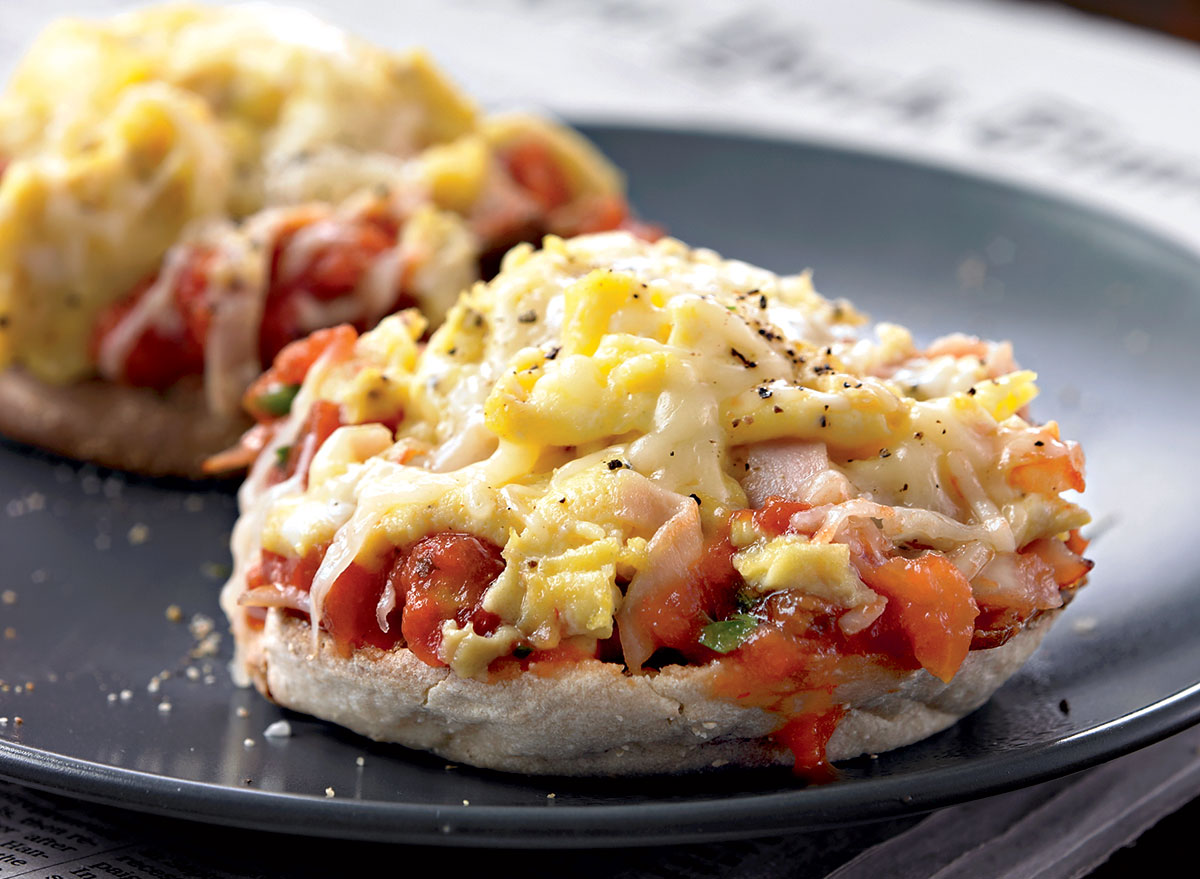 Yes, really, pizza for breakfast! Start with the ultimate breakfast bread—the fiber-dense whole-wheat English muffin—as your base and salsa as your sauce, then add eggs, ham, and cheese for flavor, substance, and plenty of protein.
Get our recipe for Breakfast Pizza.
Open-Face Hot Ham and Cheese Sandwich With Chipotle Mayo Recipe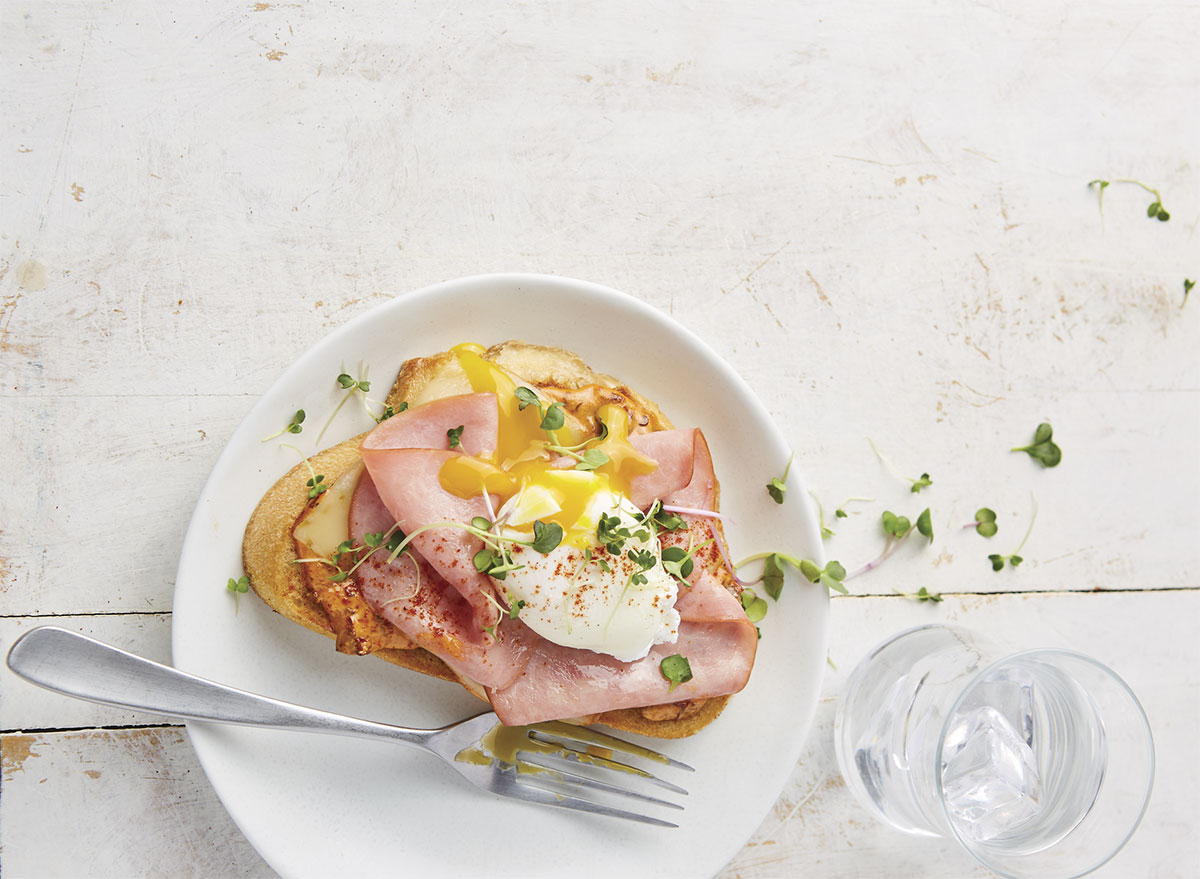 It's all about what you're putting on top of that slice that matters, and in this hot ham and cheese open-face sandwich, we add chipotle mayo and eggs to give you extra protein with a kick. You won't even miss that other piece of bread!
Get our recipe for an Open-Face Hot Ham and Cheese Sandwich With Chipotle Mayo.
Caprese Breakfast Sandwich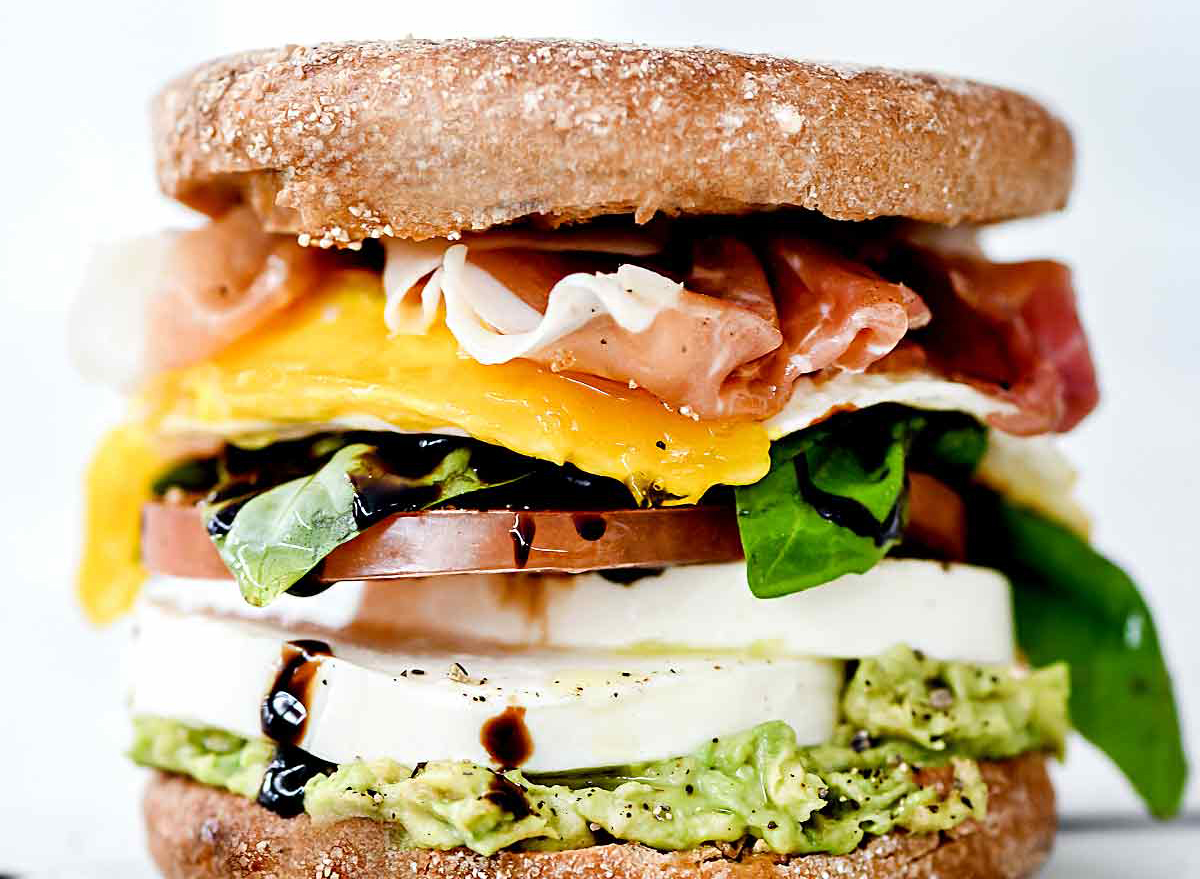 This healthy breakfast sandwich uses whole-wheat English muffins for fiber and protein, thick slices of fresh mozzarella (naturally low in fat), and olive and flaxseed oils for heart-healthy fats. This recipe also calls for sliced tomatoes and fresh basil, and they also recommend adding other healthy toppings like avocado and eggs. You just can't go wrong!
Get the recipe from Foodie Crush.
Meal Prep Breakfast Sandwiches
This delicious, easily meal-prepped breakfast sammie recipe is perfect for a busy family. Scrambled eggs with bacon and spinach give loads of protein, cheese has calcium and good fat, and optional avocado will give even more healthy fats and omega-3s.
Get the recipe from Pinch of Yum.
Sausage, Sun-Dried Tomato, and Spinach Breakfast Sandwich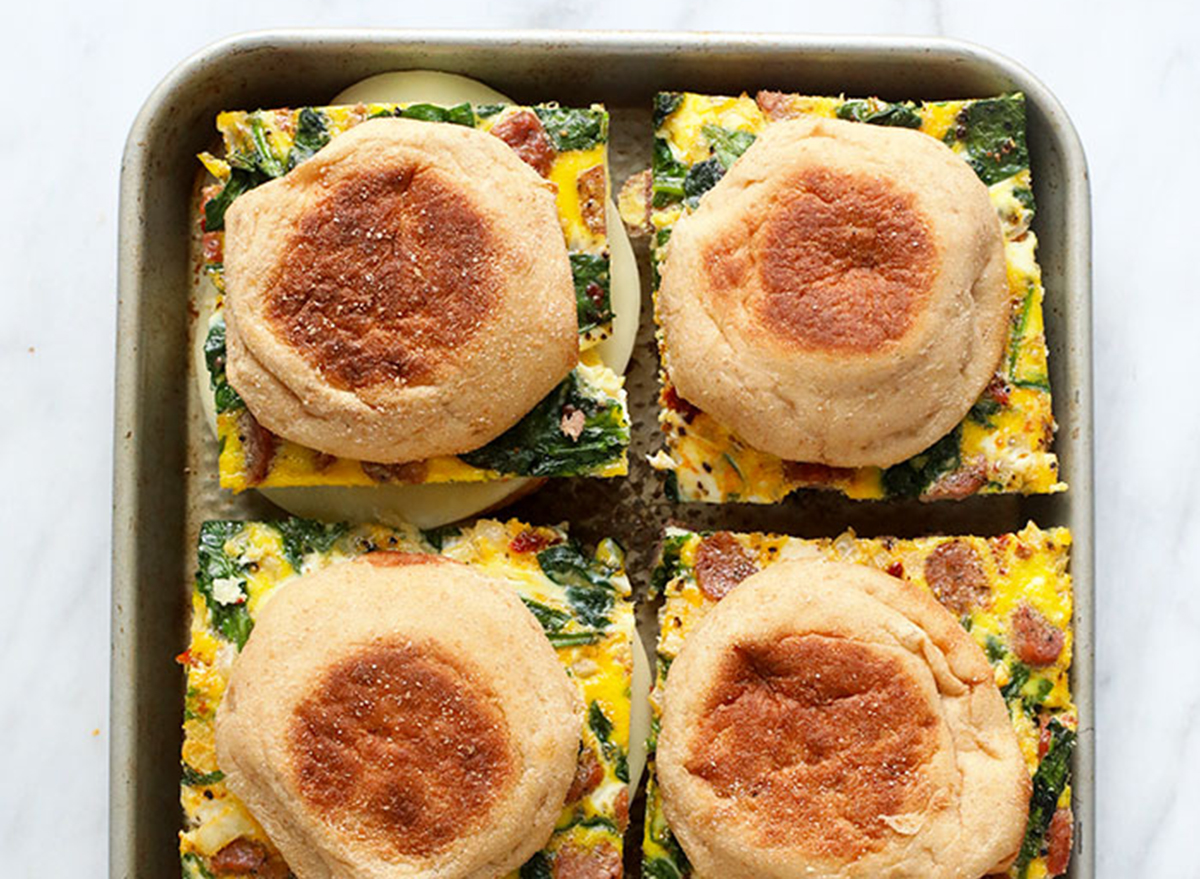 These meal-prep friendly healthy breakfast sandwiches are super easy to make, and even easier to modify. First, you make the egg patties. This recipe calls for sausage, sun-dried tomatoes, and spinach, but you could add peppers, turkey bacon, broccoli, and more. Dairy-free? Nix the cheese. Just place the patties on whole-grain English muffins for extra fiber and good-for-you carbohydrates, pop 'em in the freezer, and you're set for 12 days of healthy mornings.
Get the recipe from Fit Foodie Finds.
Gruyere, Fig Jam, and Arugula Breakfast Sandwich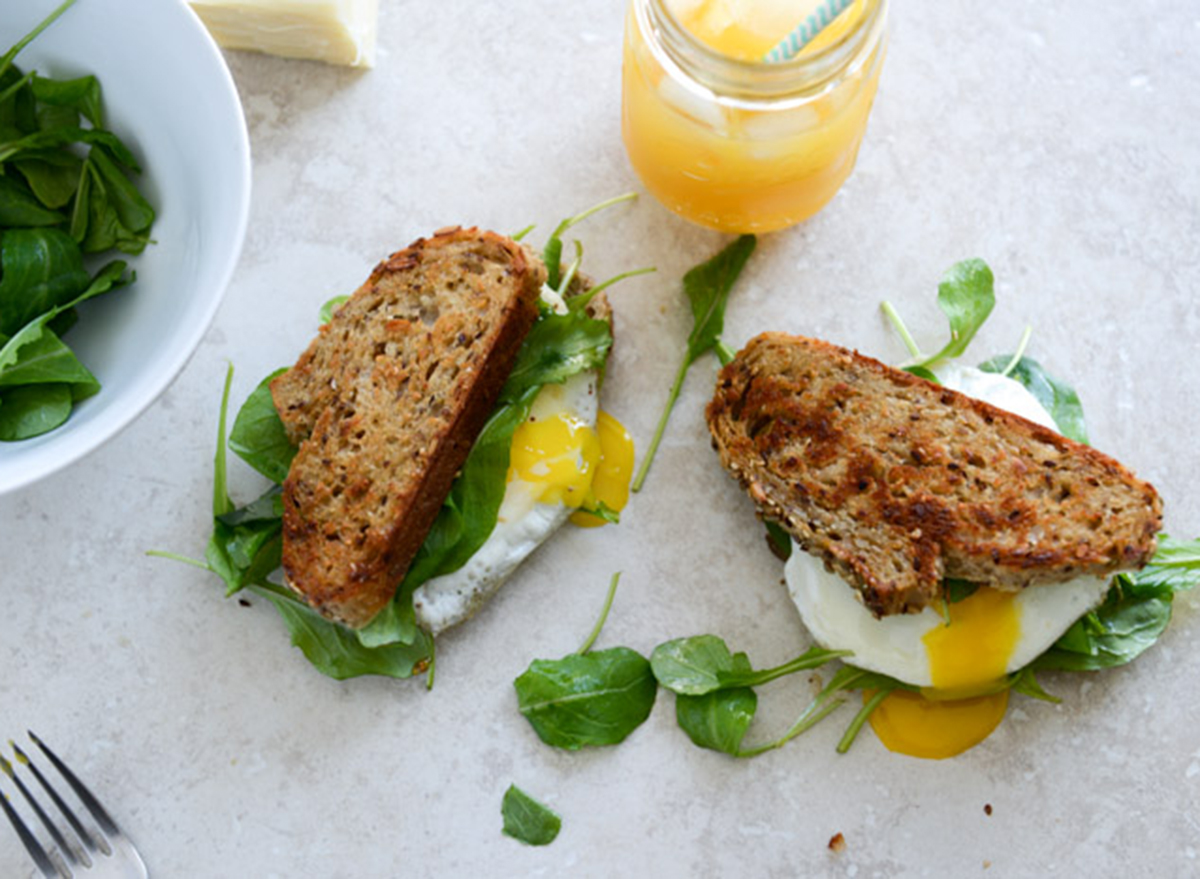 This decadent breakfast sandwich is perfect for weekend mornings. The seedy whole-grain bread provides fiber, gruyere gives calcium and mouth-watering creaminess, a poached egg will give you six grams of protein, and the fig jam provides sweetness without being loaded with added sugars (just make sure you check the label). Top it off with a handful of vitamin-K rich arugula for an extra kick.
Get the recipe from How Sweet Eats.
Veggie Breakfast Sandwich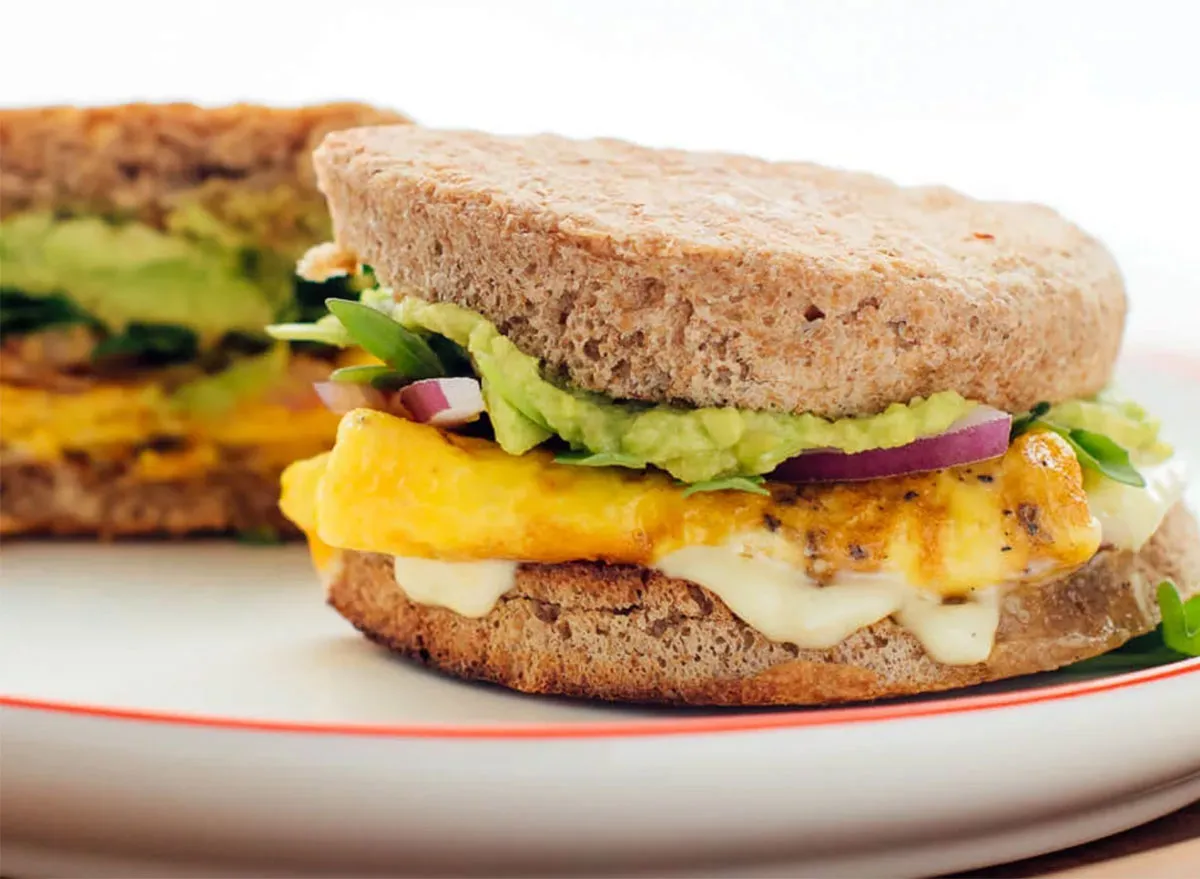 6254a4d1642c605c54bf1cab17d50f1e
You can't go wrong with this staple breakfast sandwich in a pinch. This one adds mashed avocado, vitamin-rich tomato, vitamin C and folic acid-packed onion, and hot sauce to the standard egg, cheese, and muffin combination. Top it off with alfalfa sprouts or arugula for extra phytonutrients.
Get the recipe from Cookie and Kate.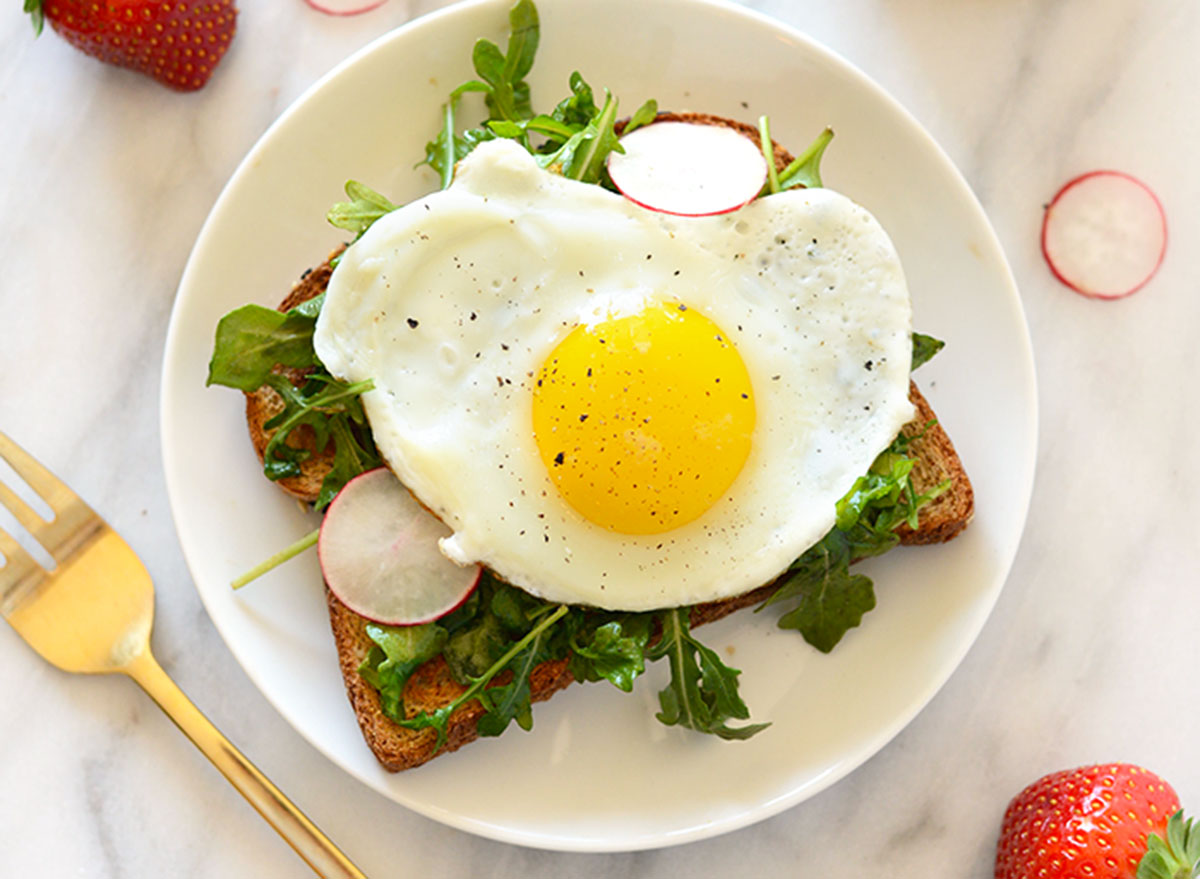 While not quite a sandwich, this upgraded toast is just as satisfying. Toss some nutrient-rich arugula in balsamic vinegar and olive oil (healthy fats), and pile it on a hearty piece of toasted whole-grain bread. Fry or poach an egg, add it to the toast, and finish with some beautiful, vitamin- and mineral-packed radishes. Protein, fat, complex carbohydrates, and veggies? That's the toast of health dreams.
Get the recipe from Fit Foodie Finds.
Garlicky Spinach and Avocado Breakfast Sandwich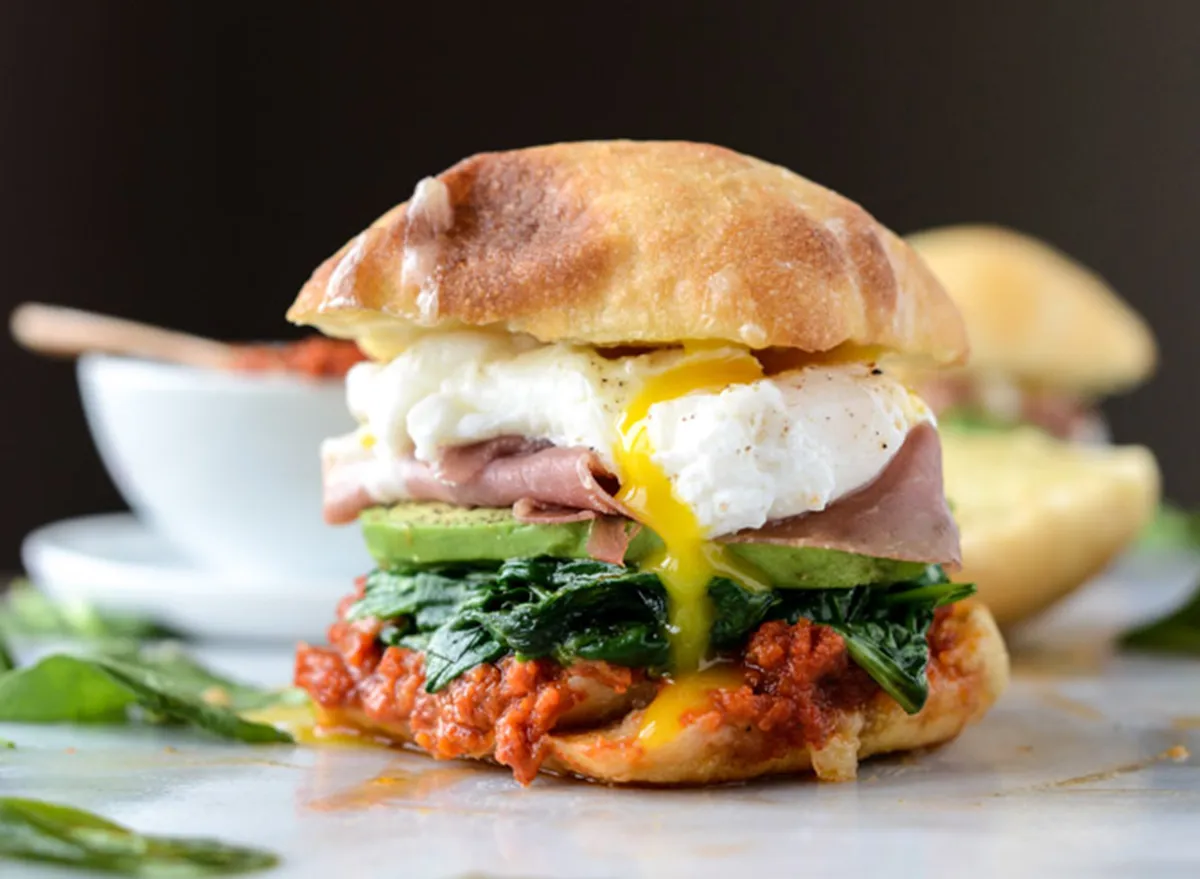 A veggie-packed sandwich that tastes good? Count us in. With a whopping 3 cups of spinach per sandwich, you're sure to get your daily dose of vitamins A and E. Thin-sliced prosciutto gives protein without unhealthy fats, and a poached egg adds even more protein. For healthy fats, add avocado (a favorite so-far among breakfast sandwich chefs) and thin-sliced real cheddar cheese.
Get the recipe from How Sweet Eats.
Baked Croissant Breakfast Sandwich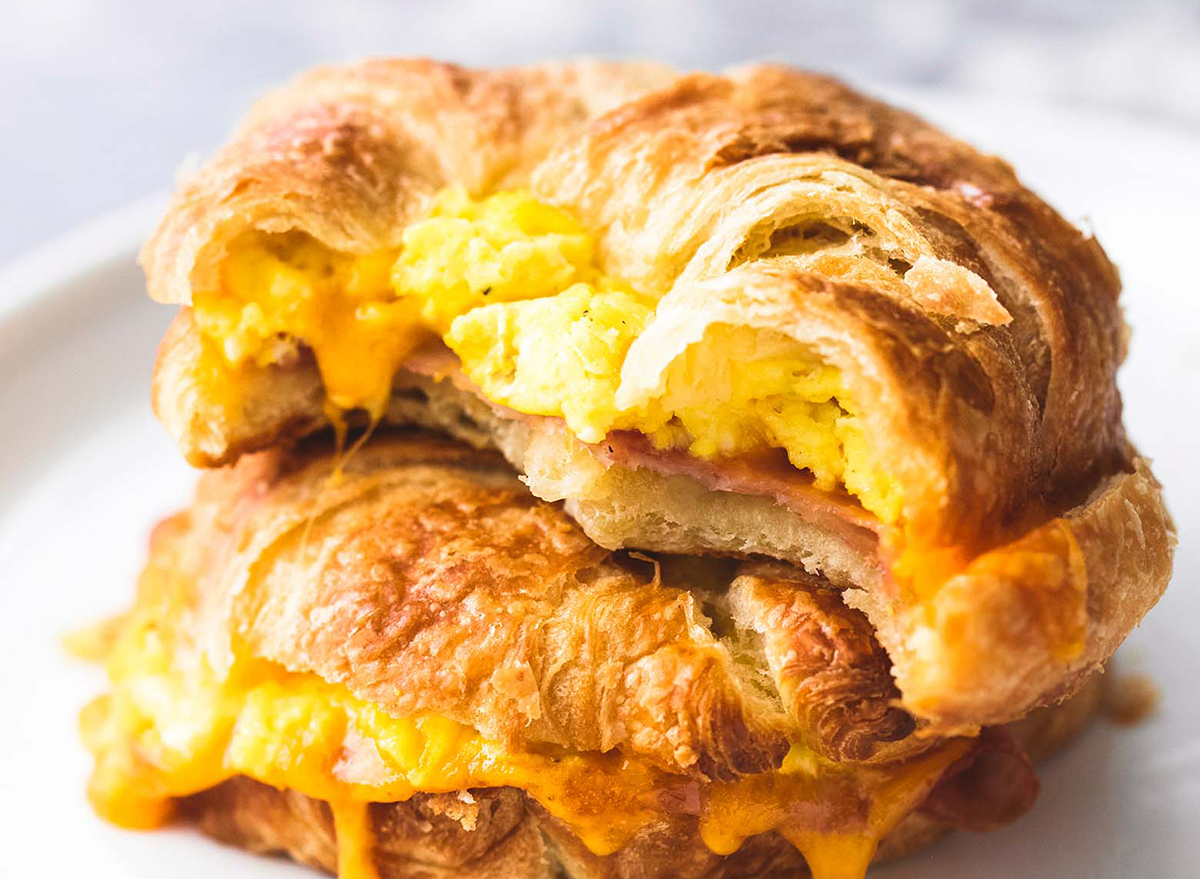 Not feeling like having that dense bagel with your bacon, egg, and cheese? Keep it light with a flaky croissant! You could even prep a few of these sandwiches in advance and save them for later.
Get the recipe from Creme de la Crumb.
Homemade Sausage Egg McMuffins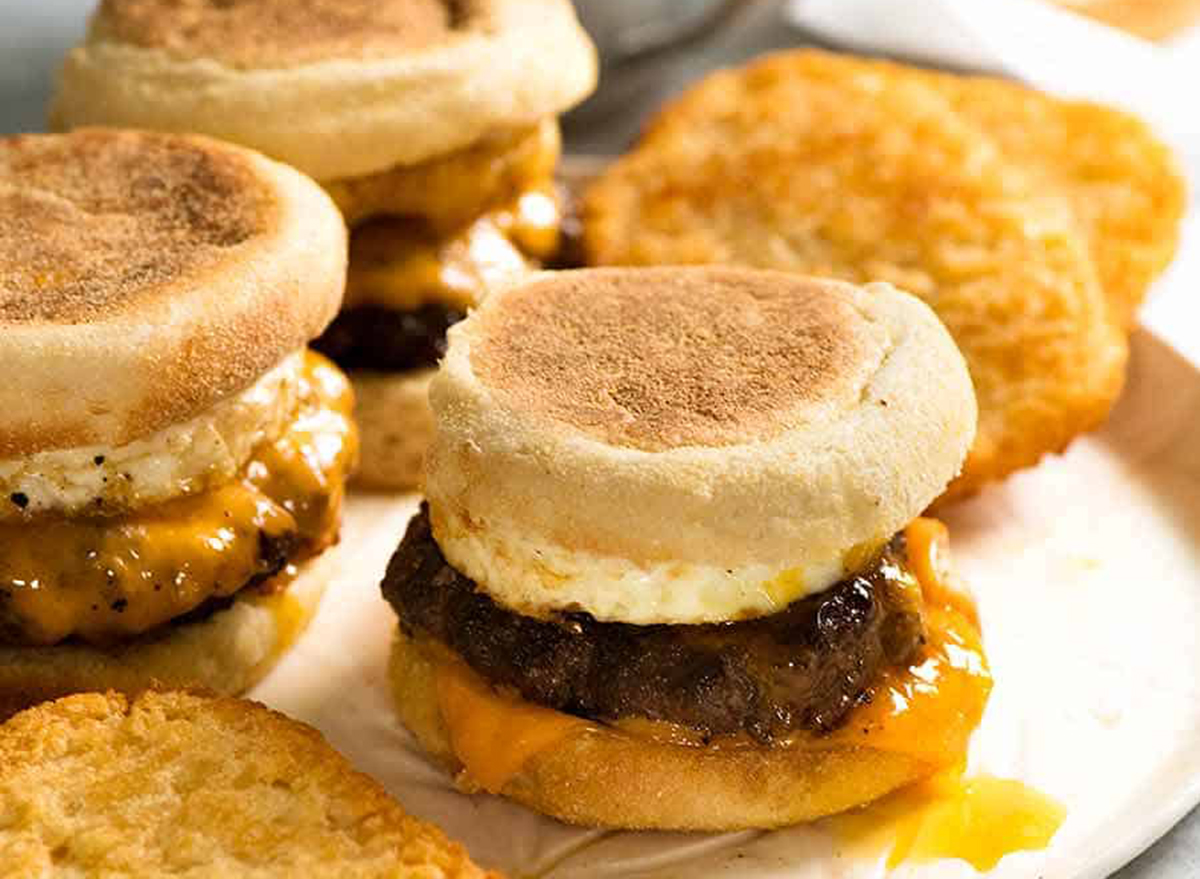 Love a good Egg McMuffin in the morning? Save the money by making a few of these copycat Egg McMuffins right at home! You could even top it off with tomatoes, arugula, and whatever other veggies your heart desires for an extra boost in nutrients.
Get the recipe from Recipe Tin Eats.
Smoked Salmon Bagel Spread With Greek Yogurt and Cucumbers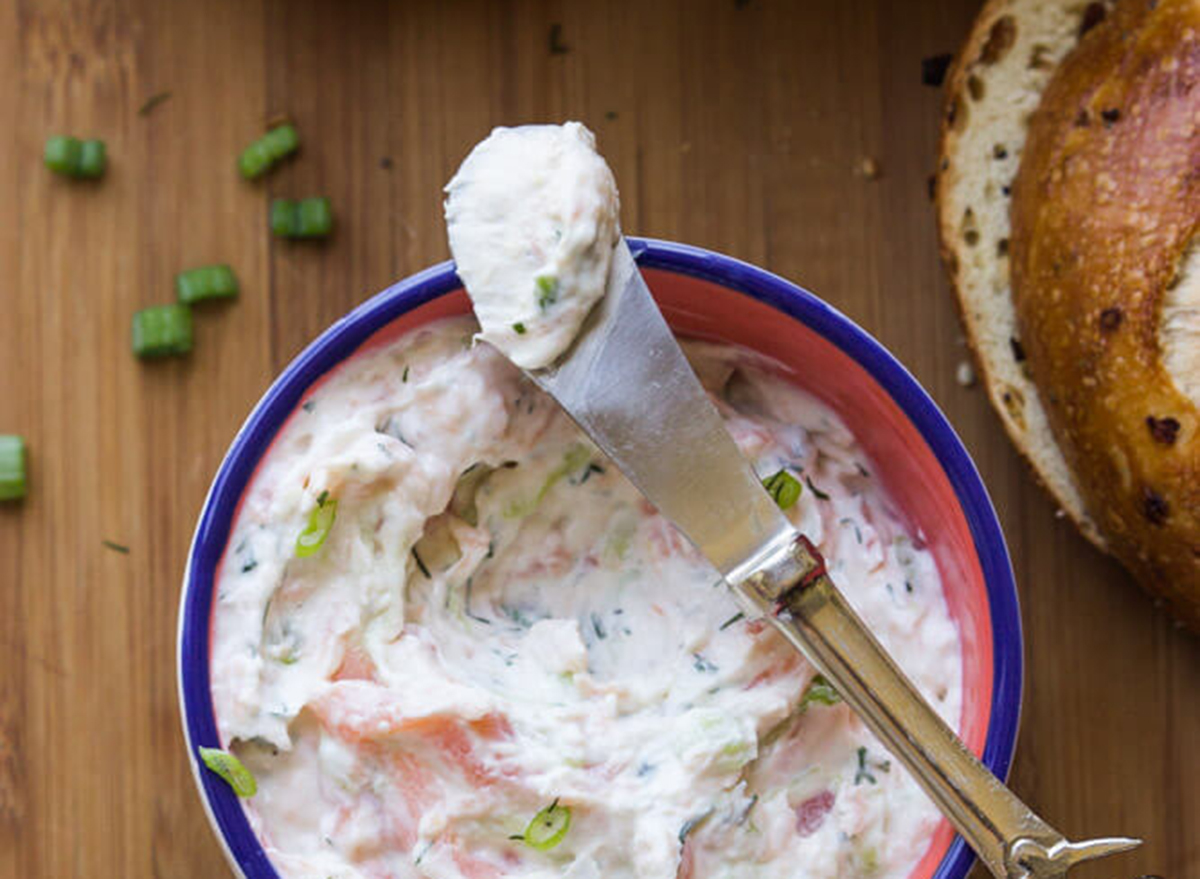 BYOB: Bring your own bagel, because that's all you'll need once you whip up this sophisticated schmear. This recipe slashes the typical amount of cream cheese and subs it for Greek yogurt. The yogurt adds protein and probiotics, and reduces the overall fat without adding sugar and other weird chemicals. Add in smoked salmon for the lox flavor we know and love, onions and dill for a kick, and cucumbers for a hydrating and vitamin-packed addition.
Get the recipe from Little Broken.
Lox Breakfast Bagel Sandwich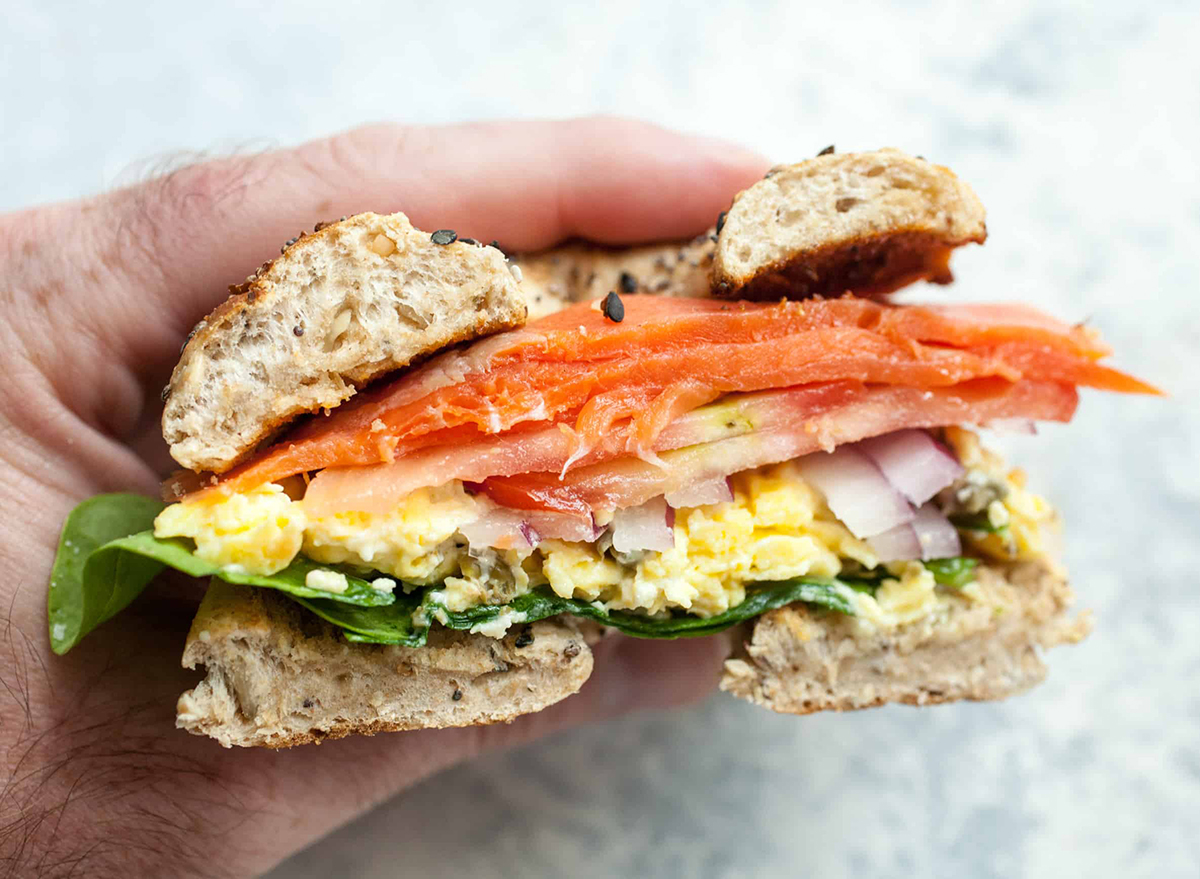 Eggs scrambled with capers? Handfuls of greens? A hearty serving of lox? Yes, this breakfast sandwich is the stuff of dreams. By using less cream cheese and loading up on whole grains, veggies, and protein, you're setting your day up for greatness.
Get the recipe from Macheesmo.