20 Best Ever Blenders for Every Budget
Buzz your way to a better body with our favorite blenders, with this exclusive guide from Buy This, Not That.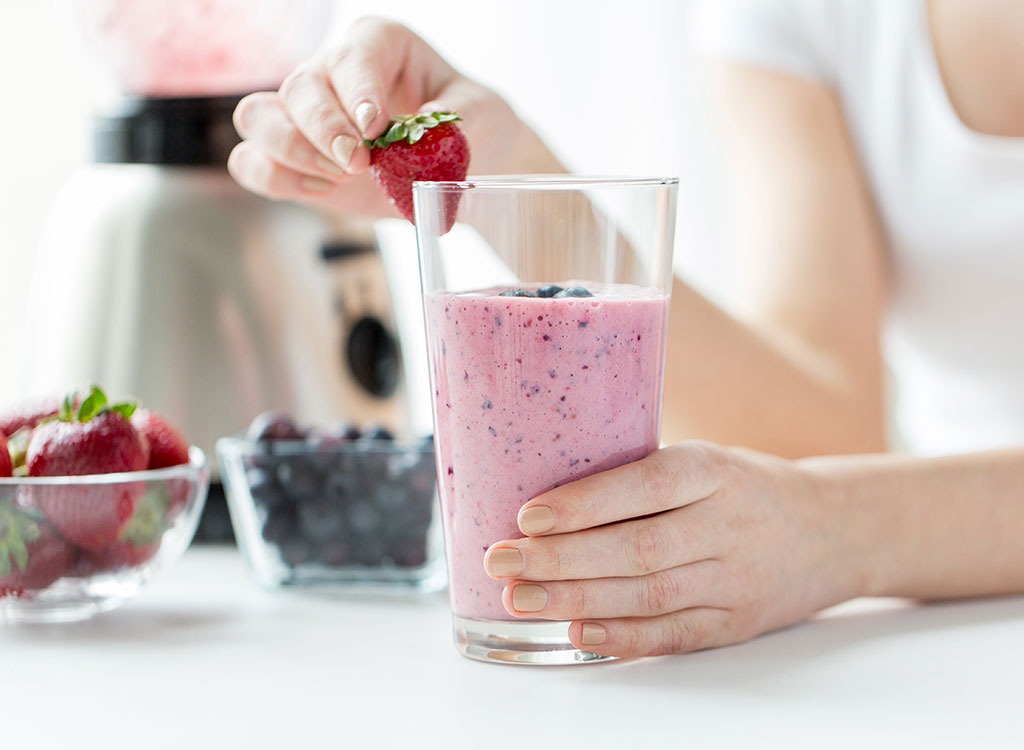 Blending up a fresh smoothie or soup may help you get a better body, but not every blender is for everybody. And that's because we all have different lifestyles, diets, kitchens, and budgets.
Not sure which blender best fits your needs? We've got you covered. Whether you're looking for a blender that's quiet as a mouse, something that's perfect for camping, or a gadget that won't take over your tiny kitchen, we've got you covered. Check out our go-to picks for every category and then sip your way slim with the help of these delicious Zero Belly Smoothies!
IF YOU NEED TO BLEND AND GO
If you typically chug your smoothie before running out the door, it's time invest in a blend n' go machine. Both of the options below allow smoothie fanatics to blend their drinks right in to-go cups. The sets even come with lids to assure you won't have any spills during your commute. Not only will sipping your drink more slowly throughout the morning ward off brain freeze, it will also give your body more time to process the sugars from the fruit, which can help keep extreme blood sugar spikes at bay.
Top Notch: Ninja Nutri Auto-iQ Blender, $120
Budget Buy: Cuisinart Compact-Smoothie Blender, $60
Every woman knows that nutrition is a top priority when they're pregnant—and that's one of the main reasons we wrote Eat This, Not That! When You're Expecting. But how can ensure your baby is well fed after they're no longer relying on your body for food? Make it yourself! With the help of a baby food blender, you can easily create an entire week's worth of healthy, nutritional food for your mini me in minutes flat! The best part: Each of our picks come with small storage containers and lids, so you can throw your little one's meal into the fridge or into the diaper bag for easy feedings on the go.
Top Notch: BELLA Baby Rocket Blender, $94
Budget Buy: Magic Bullet Baby Bullet Baby Care System, $60
IF YOU USE YOUR BLENDER AT THE CRACK OF DAWN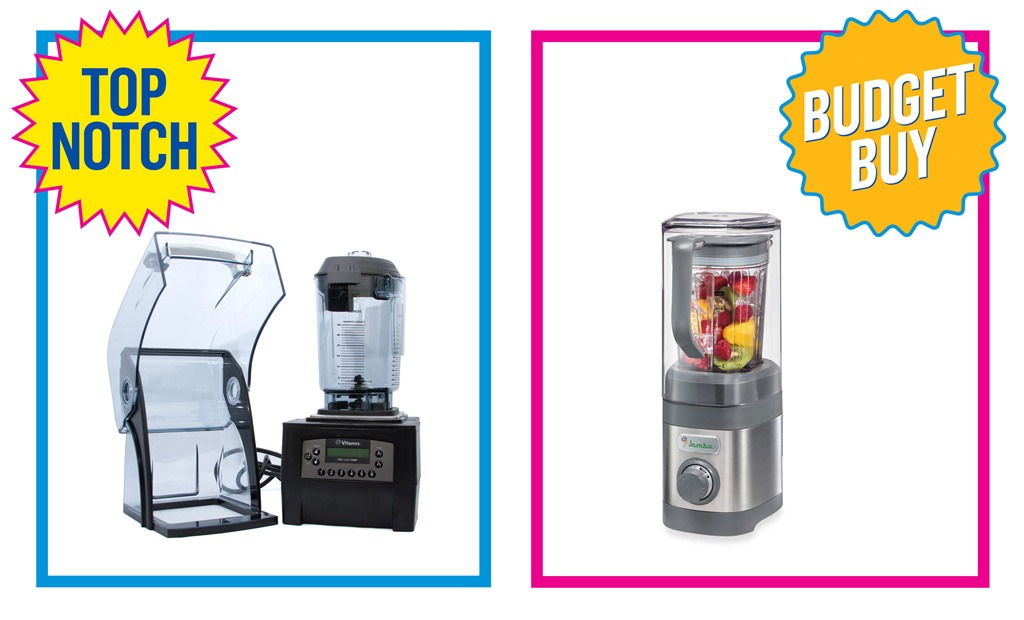 If you wake up early to hit the gym or head to the office, a quiet-as-a-mouse blender is key. Both of our picks are strong enough to break down ice and tough produce, yet far quieter than their competitors, thanks for their sound minimizing features. Buy one. Your family will thank you.
Top Notch: Vitamix Quiet One Blender, $1,144
Budget Buy: Jamba Quiet Shield Blender Jar, $149
FOR THE SMOOTHIE ADDICT WHO HAS EVERYTHING
Looking for the perfect gift for the ultimate smoothie addict? These unique mix masters are both solid picks. While Oster's mason jar blender is perfect for fans of the rustic country trend that's all the rage right now, the Vitamix is a great gift for those who enjoy blending up soup recipes. In a mere six minutes, it can turn cold ingredients into a steaming hot liquid. How impressive is that?!
Top Notch: Vitamix 5200 Series Blender, $450
Budget Buy: Oster Blend N Go Mason Jar Blender, $30
FOR THE OUTDOOR ENTHUSIAST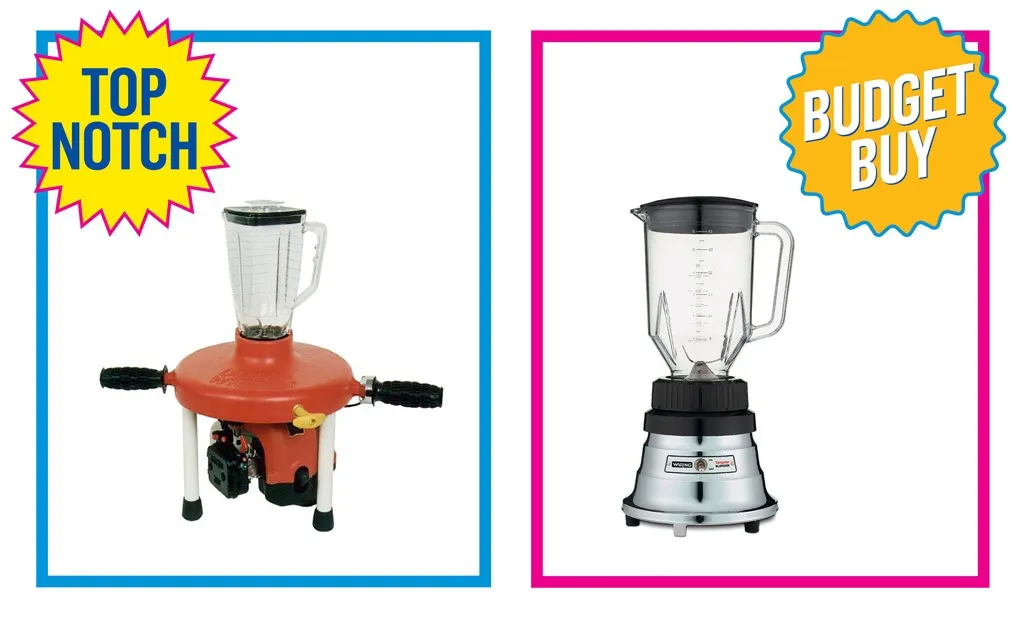 If you often find yourself away from home craving a creamy smoothie or blended cocktail, these are the best blenders for you. The Waring Tailgater Blender plugs right into your car's cigarette lighter and comes with a 14-foot cord so you can easily set it on a nearby table; this should be your go-to gadget for glamping and tailgates! Curious what the "Extreme" Daiquiri Whacker is all about? It's a motor-powered blender that is perfect for the beach, boating, a day at the races, or any other outdoor function that would be far more fun with an ice-blended drink in hand.
Top Notch: The "Extreme" Daiquiri Whacker, $499
Budget Buy: Waring Tailgater Blender, $85
FOR THE EXPERIMENTAL FOODIE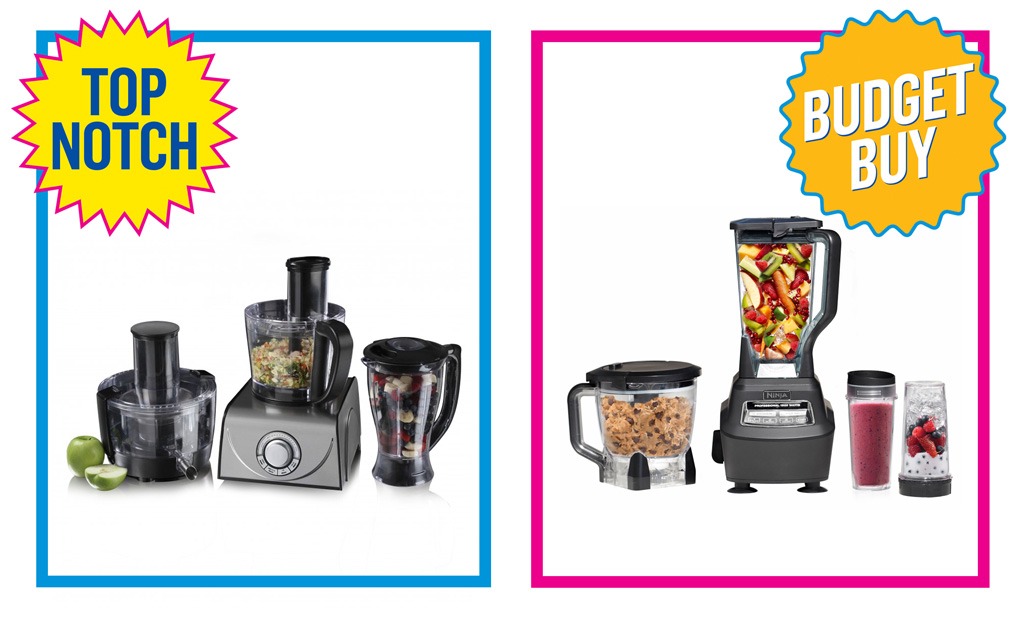 As a healthy foodie, you know the ideal blender should be able to handle more than just smoothies and gazpacho—it should be able to slice, shred, and churn out a silky batch of chickpea cookie dough, too! Both of these versatile buys act not only as blenders, but as choppers, processors, kneaders, and graters. If you want to invest in one machine that does at all, these are two of the very best bets on the market.
Top Notch: Tower Professional Food Processor, $319
Budget Buy: Ninja Mega Kitchen System Food Processor Blender, $218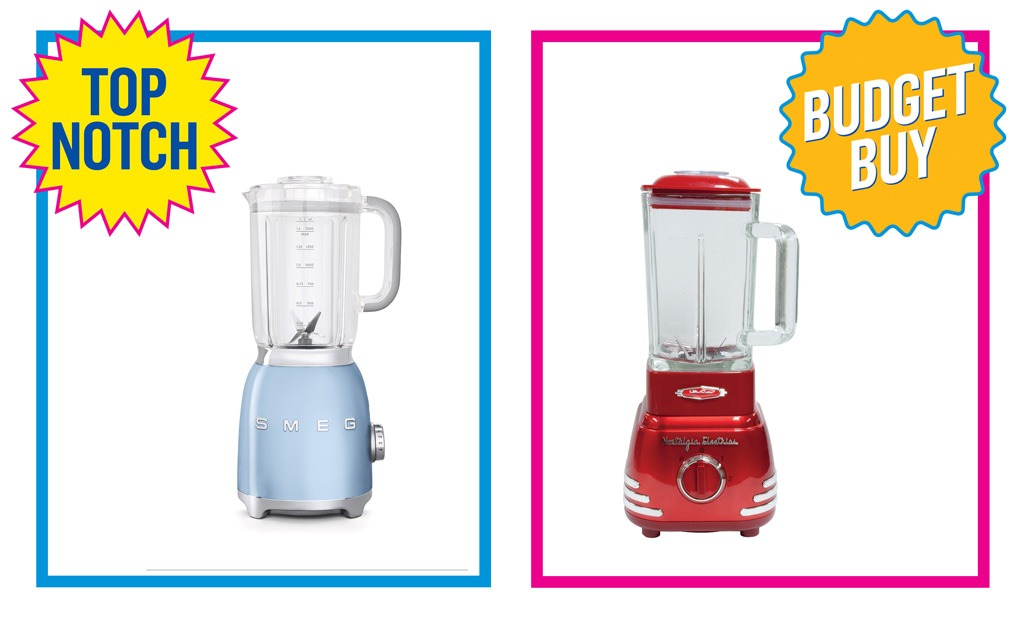 Farm chic and retro inspired kitchens are endearing and enduring, and these fashion-forward blenders are the perfect accessories to complete the vintage look. You'd be hard pressed to find other countertop gadgets that can make your farm sink look this good!
Top Notch: Smeg Retro Style Blender, $250
Budget Buy: Nostalgia Retro Series Blender, $46
Just because your kitchen is only slightly bigger than your car doesn't mean you have to toss your blender and other high-tech kitchen gadgets into storage (or worse, to the curb). Just trade in your way-too-big toys for a tiny, versatile option and you'll be good to go. The Bella Blender comes with grinding and blending blades and various-sized blending cups and to-go lids. The NutriBullet is just as versatile and comes complete with various types of blades, cups, lip rings, and lids. It even shreds, chops and grinds! It may be just five inches wide, but it's a no-nonsense multitasker.
Top Notch: Magic Bullet NutriBullet 12-Piece High-Speed Blender/Mixer System, $86
Budget Buy: Bella 12-Piece Rocket Blender, $24
IF YOU NEVER HAVE TIME TO CLEAN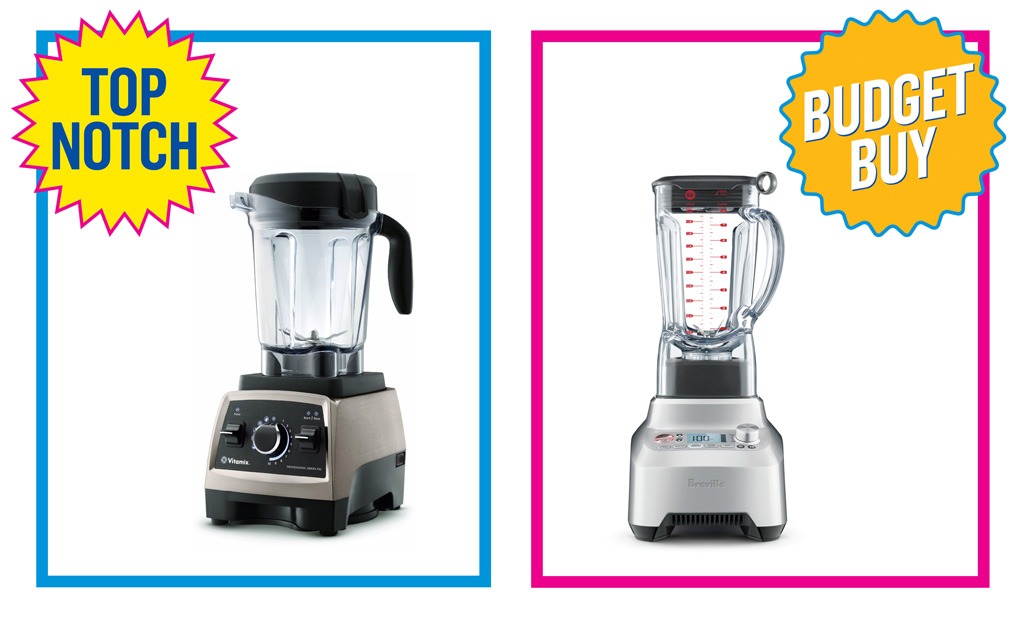 If you love to cook but you hate the mess, these souped-up blenders are for you. Not only does the Breville Superblender have an auto-clean feature (you just need to add soap), it also has a ton of preset blending and timer functions. If you want something with all the bells and whistles this may be one of the best bets. The Vitamix is equally as impressive—but if we had to pick just one thing about it that wows us, it would definitely be the fact that it self-cleans in 60 seconds. It also comes with pre-programmed settings, each specifically designed to help you create things like smoothies, hot soups, frozen desserts, and purées. Bonus: It has a seven-year warranty!
Top Notch: Vitamix Professional Series 750, $599
Budget Buy: Breville Boss Easy to Use Superblender, $395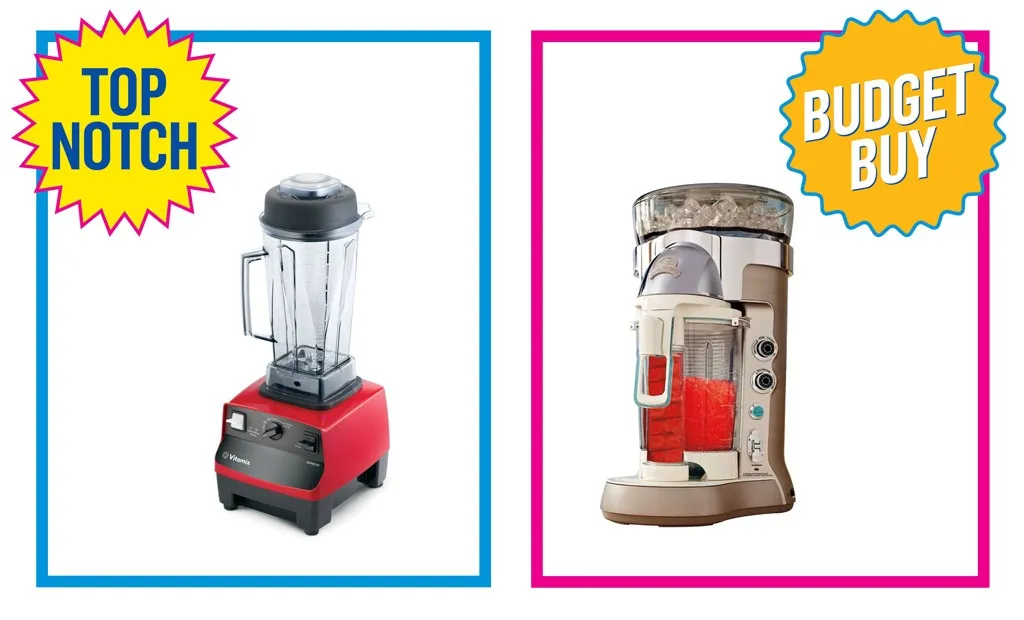 6254a4d1642c605c54bf1cab17d50f1e
When you're a big fan of fancy poolside cocktails, you know not just any blender will give you that perfect texture you crave. We love the Margaritaville drink maker because it comes pre-programmed to make margaritas, daiquiris, Coladas and smoothies—a quadruple threat! It can also hold up to 60-ounces of liquid, making it ideal for parties and gatherings. The Vita-Mix is just as impressive and comes with an automatic shut-off, which is great for those nights when you're playing host—because no one wants to babysit their blender during a party.
Top Notch: Vitamix Barboss Advance, $545
Budget Buy: Margaritaville Bali Frozen Concoction Maker, $250