There's good reason that when you say "chia" these days, the first thing that comes to mind isn't an '80s drugstore relic.
They're the latest superfood superstar: With just 129 calories and less than 9 grams of fat — but 11 grams of fiber and 4 grams of protein per ounce — chia seeds can stabilize blood sugar, fight inflammation, boost weight loss, and even help keep your body hydrated.
Chia seeds are an excellent add-in for yogurt and smoothies, but you can work them into almost any dish you can think of. To help you get started, we've rounded up our favorite fall chia seed recipes. You'll want to test them out faster than you can say ch-ch-ch- well, you know how it goes.
Overnight Protein Chocolate Almond Chia Seed Pudding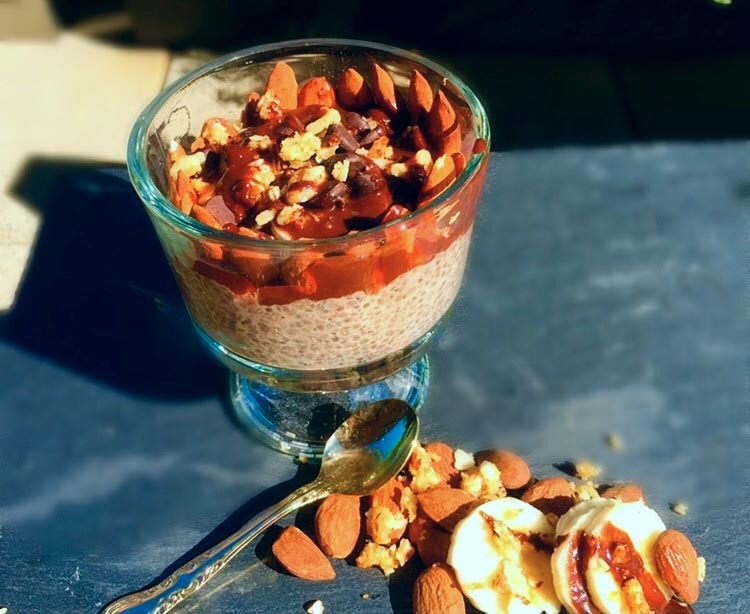 6254a4d1642c605c54bf1cab17d50f1e
This cozy morning meal wakes up your palate with chocolate, a hint of almonds and chia seeds. Add whatever fruit toppings you like, but bloat-busting bananas (see more foods that beat bloat here!) get our stamp of approval and make a great flavor complement to the almonds.
WHAT YOU'LL NEED
1/3 cup chia seeds
1 and 1/2 cup unsweetened vanilla almond milk (like Almond Breeze)
1/2 tablespoon almond extract
1/2 scoop of chocolate protein powder (like Plant Fusion)
Optional toppings: whole almonds, toasted crushed almonds, chocolate chips, bananas, granola.
HOW TO MAKE IT
Combine all ingredients in a bowl, mix, and place tin foil on top. Place in refrigerator to absorb
Wait 5-8 hours for the chia seeds to absorb the liquid, top and enjoy!
158 calories, 8 g fat (1 g saturated fat), 10 mg cholesterol, 311 mg sodium, 8 g carbs, 5 g fiber, 9g protein
Recipe and photo by: The Wellnecessities
Baked Oats with Love Grown Foods Super Oats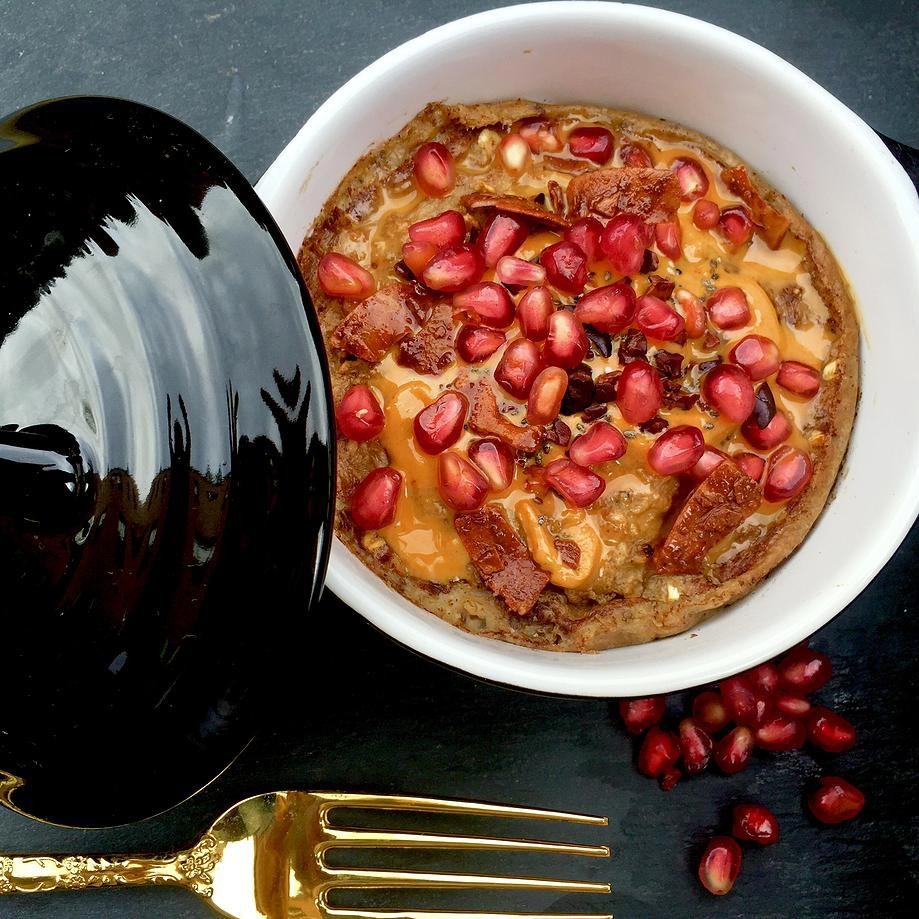 Fan of bread pudding? You'll love this healthy rendition that combines hot cereal packets with chia, amaranth and quinoa (a superfood trio), almond milk and a hint of cinnamon and vanilla for a plant-based power meal. You can add some nut butter for a dose of healthy fats, and swirl in uber-nutritious pomegranate seeds for a pop of fiber and antioxidants.
WHAT YOU'LL NEED
1 package Love Grown Foods "Super Oats original flavor "
1/3- 1/2 cup unsweetened almondmilk
1 tsp vanilla extract OR 1 packet stevia
1 tsp cinnamon
HOW TO MAKE IT
Place everything together in an oven safe ceramic bowl.
Place in oven at 350 degrees
Enjoy! It should be crispy on the outside, gooey on in the inside, similar to a bread pudding (but way more nutritious!)
185 calories, 4 g fat (.5 saturated fat), 80 mg sodium, 28 g carbs, 5 g fiber, 8 g protein
Recipe and photo by: The Wellnecessities
Between the crumb topping, moist cake and savory banana flavor, you probably won't even notice that this whole-grain cake is vegan (coconut oil, applesauce and bananas pinch-hit for eggs).
WHAT YOU'LL NEED
1¼ cup whole wheat pastry flour (use regular whole wheat or durum atta flour if you prefer)
¼ cup chia seeds (can substitute with black or white poppy seeds)
1½ tsp baking powder
½ tsp baking soda
1 tsp cinnamon
½ tsp nutmeg (optional)
¼ tsp salt
1 cup applesauce
1 tsp vanilla
2 very ripe bananas, well-mashed
2 tbsp coconut or any other vegetable oil
½ cup sugar
For the crumb topping:
¼ cup whole-wheat pastry flour
¼ cup sugar
2 tbsp coconut or other vegetable oil
HOW TO MAKE IT
In a bowl, whisk together the flour, baking powder, baking soda, salt and chia seeds.
In a larger bowl, whisk together the sugar, oil and applesauce.
Add the bananas and vanilla and mix well.
Add the flour mixture and mix until everything's moistened and well-mixed.
Oil and flour a cake pan. I used a square pan that's 9 X 9 inches but an 8 X 8 inch pan would be perfect too. Or use an 8- or 9-inch round cake pan.
Pour the batter into the pan.
Prepare the crumb topping by mixing all the ingredients—the flour, sugar and oil—together until everything's moistened.
Sprinkle the crumb topping evenly over the top of the cake batter.
Preheat the oven to 350 degrees Fahrenheit. Place the pan on the center rack and bake 30-35 minutes or until a toothpick inserted in the center comes out clean.
Cool on a rack, then cut into squares and eat.
MAKES 16 SERVINGS
Per serving: 130 calories, 4 g fat (3 g saturated fat), 0 mg cholesterol, 74 mg sodium, 23 g carbs, 2 g fiber, 1 g protein
Recipe and photo by Holy Cow Vegan
Salted Caramel Chia Pudding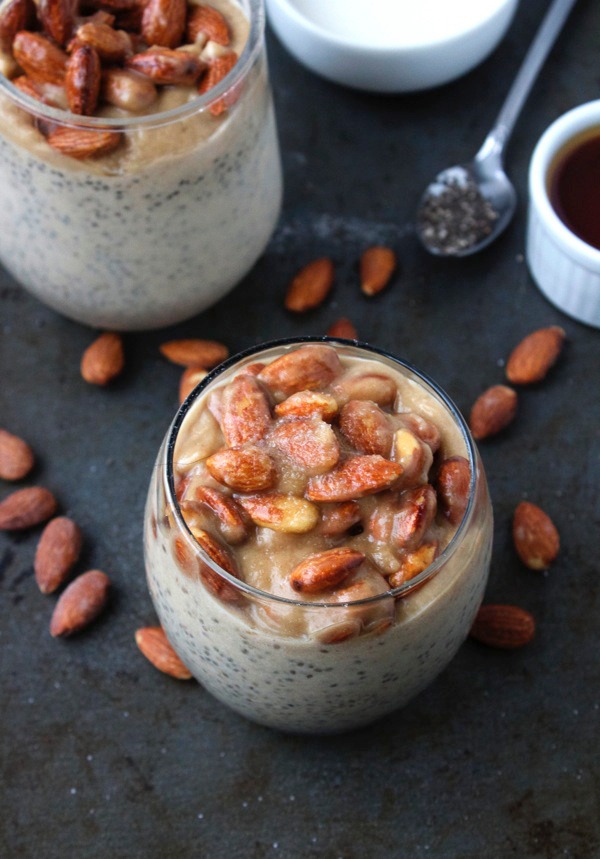 Here, caramel gets a healthy makeover with fiber-rich dates, a hint of vanilla extract and coconut oil. You'll probably want to save some for an oatmeal topping or banana-dipping purposes—trust us. Top it with almond butter for a decadent texture and added protein.
WHAT YOU'LL NEED
2 cups unsweetened almond milk
2 tbsp organic maple syrup
½ tsp vanilla extract
¼ tsp salt
½ cup+2 tbsp chia seeds
Date caramel:
16 pitted dates
6 tbsp warm water
½ tsp vanilla extract
2 tbsp coconut oil
Topping:
2 tbsp Blue Diamond Salted Caramel Almonds
HOW TO MAKE IT
For the pudding, combine milk, syrup, vanilla, and salt together in a bowl; stir in chia seeds and pour into two separate bowls/cups/jars.
Place in refrigerator for at least two hours, or preferably overnight.
For the date caramel, combine dates, water, vanilla, and oil together and a blender and blend until mixture forms a caramel-like consistency.
Pour caramel in a bowl and add almonds to the bowl; stir together, and then distribute evenly overtop of chia pudding.
MAKES 2 SERVINGS
Per serving: 442 calories, 20 g fat (12 g saturated), 0 mg cholesterol, 475 mg sodium, 68 g carbs, 9 g fiber, 54 g sugars, 4 g protein
Recipe and photo by The Almond Eater
Healthy Stuffed French Toast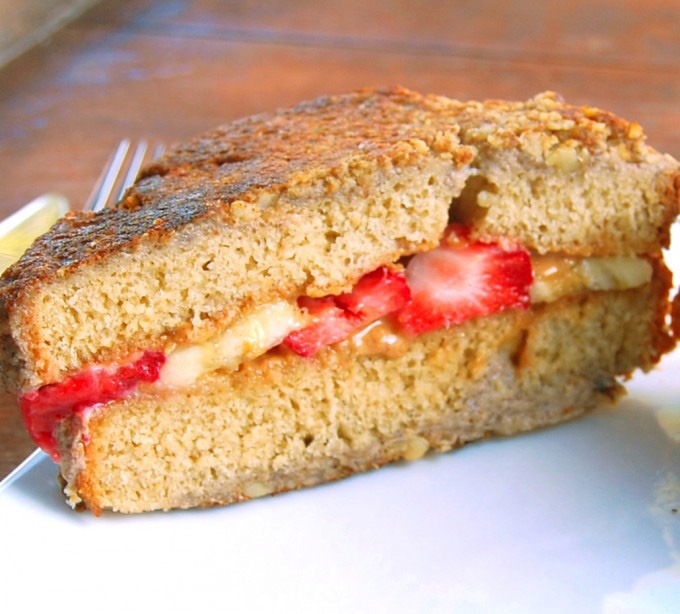 Consider French toast a comfort food? If you make this recipe, there's science behind that. The omega-3s in chia seeds soothe inflammation throughout the body (and, in fact, might just fight the menstrual blues), so give in to your craving free of guilt. Chia seeds, peanut butter, strawberries, banana and walnuts (one of the best nuts for weight loss) form a lineup of nutrient-rich superstars.
WHAT YOU'LL NEED
Eight slices of bread (try this vanilla whole wheat bread which is perfect in this recipe)
8 ripe strawberries, thinly sliced
2 medium bananas, thinly sliced
2 tbsp smooth peanut butter
1 cup nondairy milk like soy or almond
¼ cup whole wheat flour
1 tbsp chia seeds, powdered in a food processor or spice grinder
1 tbsp maple syrup
2 tsp pure vanilla extract
¼ tsp salt
½ cup walnuts, crushed to a fairly fine consistency.
Oil spray to coat the pan
HOW TO MAKE IT
Make the eggless wash by whisking together in a shallow dish the nondairy milk, powdered chia seeds, maple syrup, vanilla, salt, and flour.
Spread some peanut butter on one side of each slice. Then arrange the sliced strawberries and bananas on the buttered side. Place the second side, buttered side down, on top and press down firmly.
Dredge the stuffed toast in the eggless wash, coating the top and bottom sides thoroughly. Then dredge it in the powdered walnuts.
Heat a cast-iron or nonstick griddle or skillet and spray with oil. Place the French Toast on the griddle and toast each side until it's golden-brown. 5. This should take 3-4 minutes per side on medium heat.
Serve hot. The stuffed French Toast is great by itself but it's extra-special with a drizzle of maple syrup.
The toast is quite filling– one half makes a hearty serving. Nutrition info is for half of each stuffed French toast.
MAKES 8 SERVINGS
Per serving: 238 calories, 16 g fat (7 g saturated fat), 0 mg cholesterol, 141 mg sodium, 22 g carbs, 4 g fiber, 8 g sugars, 6 g protein
Recipe and photo by Holy Cow Vegan
Homemade Chia Seed Loaf with Sun-Dried and Fresh Tomato Chutney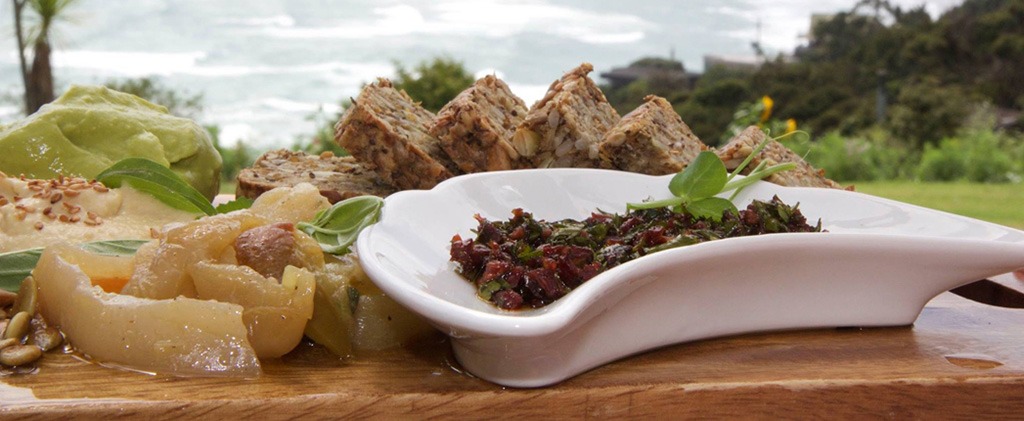 Chia seeds add protein and fiber to this whole-grain loaf, which mingles perfectly with flavorful chutney. To make it a meal, spread hummus over a slice before scooping the chutney over it, or serve it with a nourishing bowl of vegetable soup.
To make the Chia Seed Loaf:
Mix whole grain (or almond) flour and about a tablespoon of your favorite seeds into a large bowl with a store-bought sachet of yeast. Slowly pour water, olive oil and a touch of maple syrup (or agave) into the mixture, stirring until the dough doesn't feel sticky. Leave the dough in the tin for about an hour until it starts to rise, then bake loaf in the oven for about 30 minutes.
Sundried and Fresh Tomato Chutney:
To make it, boil a cup of water with half a cup of malt vinegar. Gently place sundried tomatoes, cardamom, chili, cilantro, ginger together into the boiling liquid until it reduces into thick syrup. Add a handful of sweet cherry tomatoes (better than sugar!) and stir until everything is mixed in well. Keep in the fridge right away.
Recipe and image by Cat Smiley
Vegan Chocolate Cherry Granola Bars
When was the last time you tried something where chocolate and cherries didn't go well together? Yeah, we didn't think so. Thanks to chia seeds, cacao powder and fiber-filled old fashioned oats (check out our favorite overnight oats recipes here), your taste buds and waistline will want to belly up to these bars.
WHAT YOU NEED
1¼ cup pitted dates
2 tbsp+1 tsp cacao powder (or unsweetened cocoa powder)
1½ cup old fashioned oats
½ cup+ 2 tbsp organic maple syrup
1 cup walnuts
3 tbsp chia seeds
⅓ cup fresh cherries, pitted
HOW TO MAKE IT
Pit cherries, chop them into bite-size pieces and set aside.
Combine cacao, syrup and walnuts together in a food processor; add dates. 3. Pour mixture into large bowl.
Stir in oats and chia seeds by hand; Lastly, add cherries.
Line a 8×8 pan with parchment paper and pour mixture into pan; use a spatula to smoothen it out.
Place in refrigerator for at least 30 minutes, but preferably for an hour, allowing bars to harden.
Remove from refrigerator and cut into bars.
MAKES 10 BARS
Per serving: 303 calories, 11 g fat (1 g saturated fat), 0 mg cholesterol, 6 mg sodium, 47 g carbs, 7 g fiber, 26 g sugars, 7 g protein
Recipe and image by The Almond Eater
Gluten Free Vegan Chocolate Chip Breakfast Cookies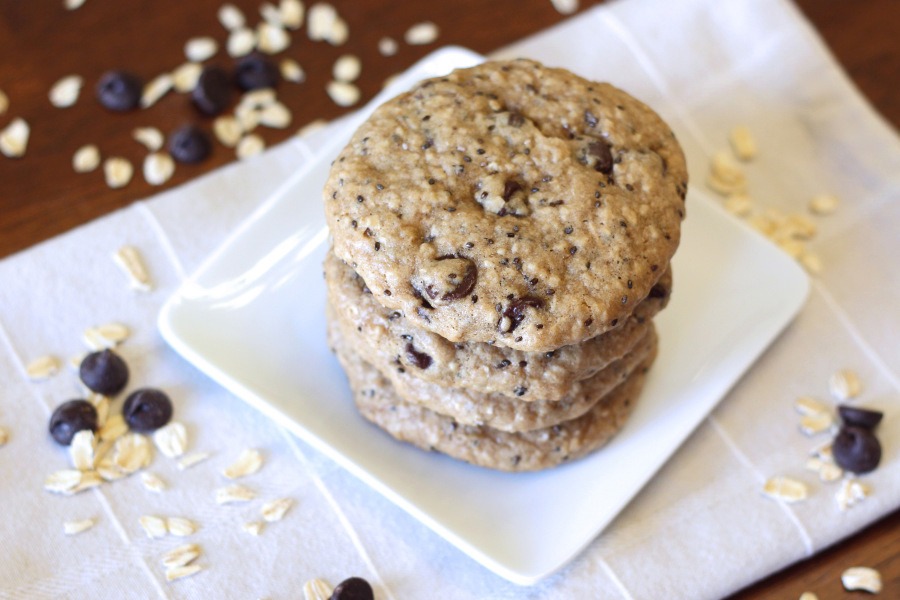 There's nothing like indulging in a warm, comforting chocolate chip cookie when the weather turns cold. These breakfast cookies go one better, providing a healthy, energizing AM start. Chia seeds help bind this simple recipe, which uses gluten free oats for added fiber and a chewy texture.
WHAT YOU NEED
1½ cups Sarah's gluten free flour blend
1 cup Bob's Red Mill certified gluten free quick oats
2 tablespoons chia seeds
1 teaspoon baking powder
½ teaspoon baking soda
½ teaspoon sea salt
¾ cup coconut sugar or brown sugar
⅓ cup coconut oil, softened
¼ cup So Delicious unsweetened coconut milk, room temperature
3 tablespoons pure maple syrup, room temperature
2 teaspoons pure vanilla extract
1 cup dairy free dark chocolate chips
HOW TO MAKE IT
Preheat oven to 350 degrees. Line baking sheets with parchment paper.
In medium bowl, sift together flour blend, oats, chia seeds, baking powder, baking soda and salt. Set aside.
In large mixing bowl, cream together coconut sugar and coconut oil. Add coconut milk, maple syrup, and vanilla. Mix until blended. Add flour mixture and chocolate chips. Stir until just combined. Let dough rest for 10-15 minutes to thicken.
Roll 2-tablespoon size scoops of cookie dough into balls and place onto prepared baking sheet. Flatten with fingers. Bake for 9-11 minutes. Place cookies on cooling rack to cool completely. Store in air-tight container.
MAKES 24 COOKIES
Per cookie: 126 calories, 6 g fat (4 g saturated fat), 0 mg cholesterol, 68 mg sodium, 18 g carbs, 2 g fiber, 9 g sugars, 2 g protein
Recipe and image by Sarah Bakes Gluten Free
Dairy Free Pumpkin Breakfast Smoothie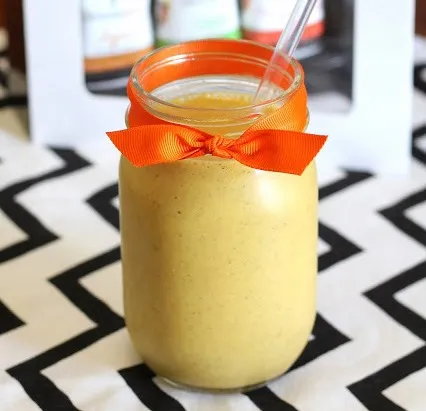 That pumpkin spice latte isn't doing your fall weight loss efforts any favors. But this healthy smoothie will kickstart your day with clean energy, thanks to pumpkin puree, slimming bananas and fat-burning ginger. Add some plant-based protein powder to bulk it up if you like. (See more amazing ways to eat pumpkin here!)
WHAT YOU'LL NEED
1 frozen banana
1/2 cup pumpkin puree
1 1/2 cups So Delicious unsweetened coconut milk
1/4 cup certiifed gluten free oats
6-8 ice cubes
1/2 teaspoon ground cinnamon
1/4 teaspoon ground ginger
1 tablespoon chia seeds
Skinnygirl sweetener, to taste (like Monk Fruit)
HOW TO MAKE IT
Add all ingredients to high-powered blender. Blend on high until smooth and blended well, 1-2 minutes. Make sure the oats are finely grounds. Serve or chill in refrigerator to enjoy later.
MAKES 1 SERVING
Per serving: 450 calories, 17 g fat (3 g saturated fat), 0 mg cholesterol, 203 mg sodium, 65 g carbs, 21 g fiber, 19 g sugars, 13 g protein
Recipe and photo by Sarah Bakes Gluten Free