15 Cutest Store-Bought Holiday Cookies For Santa—Or Yourself
Leaving cookies for Jolly St. Nick is a time-honored Christmas tradition.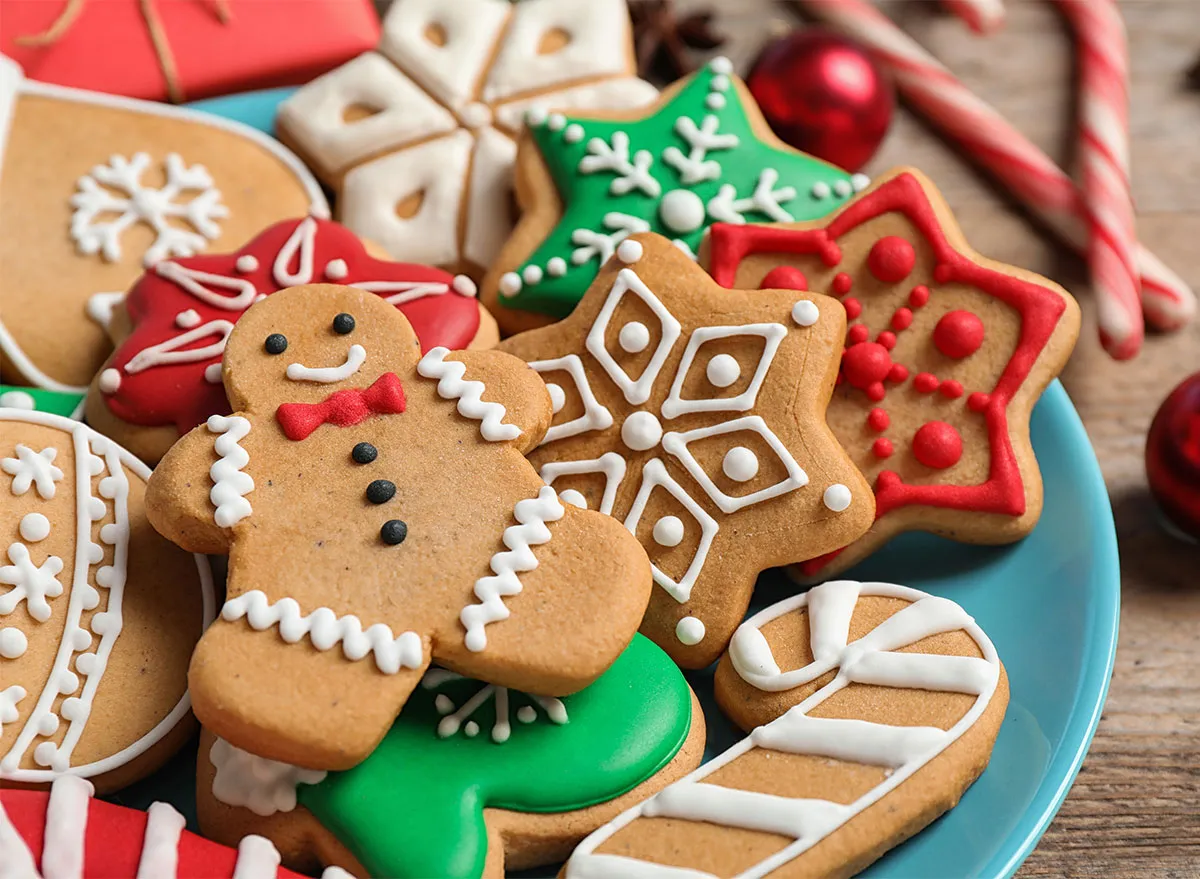 The product recommendations in this post are recommendations by the writer and/or expert(s) interviewed and do not contain affiliate links. Meaning: If you use these links to buy something, we will not earn a commission.
Leaving cookies for Santa Claus is a time-honored Christmas tradition in the United States—and one with an interesting backstory to boot.
According to History.com, the custom dates back to the Great Depression of the 1930s. Parents came up with the idea in order to teach children the concept of gratitude. Giving to others in a time of need, like leaving out cookies for someone else, was thought to make kids more grateful for the gifts that they did receive.
It's a valuable lesson, which also benefits the parents, of course. After all, the legendary bringer of gifts can't be expected to eat all of America's cookies himself!
No matter to whom they are truly intended, Christmas cookies should be always festive, tasty and fun. We shopped around to find the most adorable cookies available from retailers all along Santa's sleigh bell-jingling route. Whether you eat a few on Christmas Eve or wait until morning, you and your kids—and Santa too!—all will enjoy these sweets.
Costco's Holiday Cookies 44-Count Pack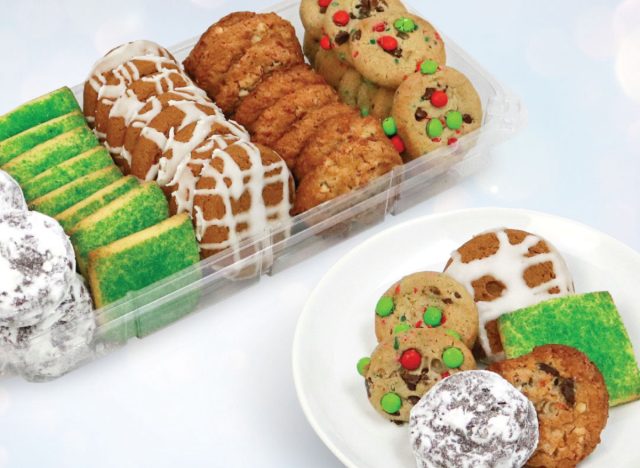 Of course something from Costco's iconic bakery had to be our first pick. According to the Instagram account @costcohotfinds, the warehouse offers a colorful 44-count assortment of holiday cookies priced at $13.99 per box. The package is filled with festive sugar cookies and M&M chocolate chip cookies, among several other kinds.
Williams Sonoma Assorted Holiday Cookies
Williams Sonoma's set of eight assorted holiday cookies is as picture-perfect as it gets, with various shapes including a Santa, candy cane, stocking, gingerbread man, tree, ornament, gift, and mitten. Prepared by an award-winning bakery using premium ingredients, according to the retailer, these treats are priced at $44.95 per package.
Williams Sonoma Dark Chocolate Peppermint Bark Cookies
Williams Sonoma's dark chocolate peppermint bark cookies begin as crisp chocolate wafers, which are then dipped in peppermint-infused semisweet chocolate and finished with tiny red-and-white peppermint sprinkles. A perfect addition to your tree-shaped charcuterie board. A 12-ounce can costs $32.95.
Trader Joe's Decorate Your Own Holiday Ornaments Cookie Kit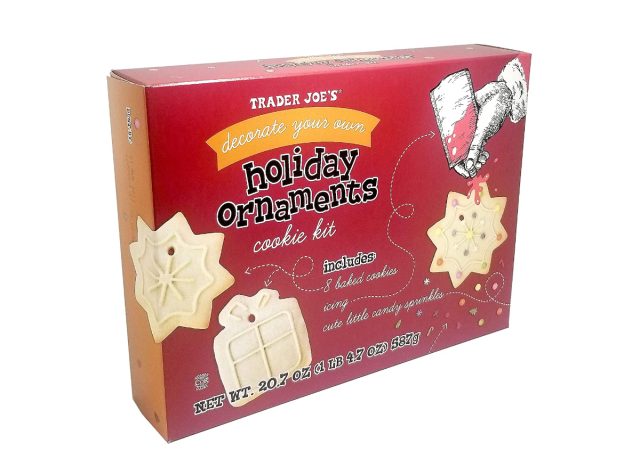 Okay, so these are only Instagram-worthy if you do it right. Trader Joe's provides a decorate your own holiday ornaments cookie kit with eight baked cookie ornaments inside. The kit contains red, white, and green icing and festive sprinkles for all of your creative needs. You can even hang the extras on your tree! Just $12.99 right now via Amazon.6254a4d1642c605c54bf1cab17d50f1e
Trader Joe's Gingerbread Sandwich Cookies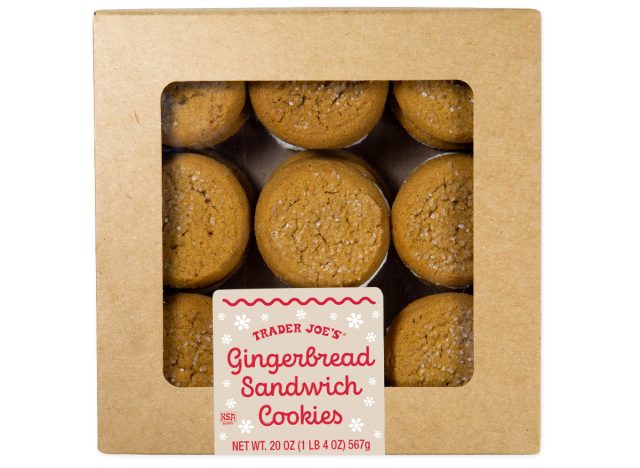 Who needs a gingerbread man when you can have gingerbread sandwich cookies? Trader Joe's describes these cookies as soft and molasses flavored with a sweet vanilla frosting in the middle. A 20-ounce box costs $4.99. Instagram account @traderjoesobsessed recommends pairing them with the brand's new gingerbread ice cream for the ultimate winter sundae.
Trader Joe's Mini Dark Chocolate Mint Stars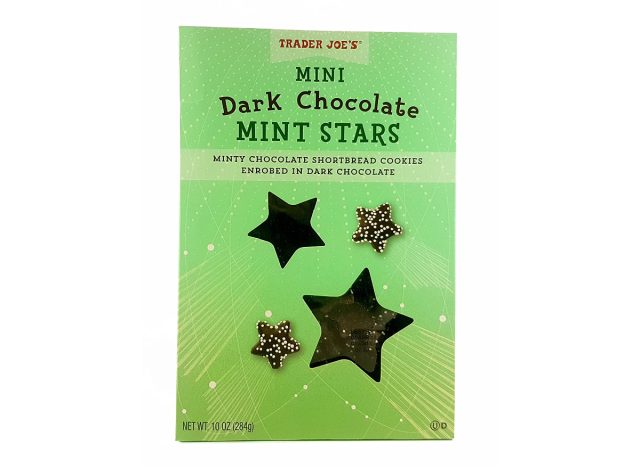 Trader Joe's mini dark chocolate mint stars are not only a seasonal cult favorite, but they're also a totally adorable snack to pile on Santa's plate. The minty chocolate cookies are star-shaped with white sprinkles and sell for $2.99 per box.
Stop & Shop's Lofthouse Frosted Sugar Cookies
Lofthouse's frosted sugar cookies look exactly like the ones we used to love as a kid. The brand offers several kinds at Stop & Shop for $5.99, some with green icing and others with white icing and holiday sprinkles. Make sure to check with your local store to see which sugary cookies they carry!
Lidl's Favorina Cookie Assortment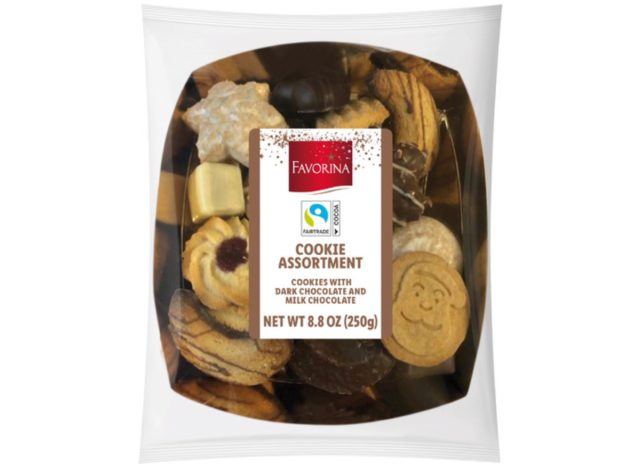 Lidl offers traditional cookies with dark chocolate and milk chocolate that are perfect to grab when you're in a hurry. The $3.99 assortment includes everything from an imprinted Santa cookie to a snowflake-shaped treat.
Lidl's Favorina Meringue Cookies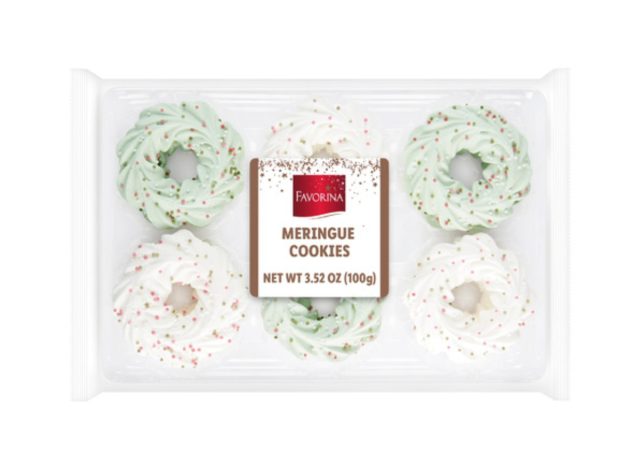 Lidl also has Favorina meringue cookies on display. Santa's sweet tooth will definitely be satisfied with these white and green wreath shaped cookies for only $1.99.
Target's Holiday Red & Green Frosted Cookies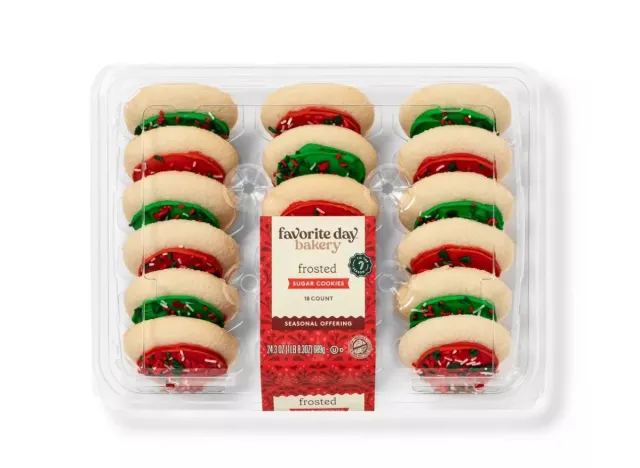 How does Target seem to always have everything we need on a moment's notice? The store carries red and green frosted sugar cookies that will never steer you, or your Instagram feed, wrong. The package sells for $7.99 and comes with a total of 18 cookies for Santa and your Christmas Day guests.
Target's Holiday Red & Green Shaped Shortbread Cookies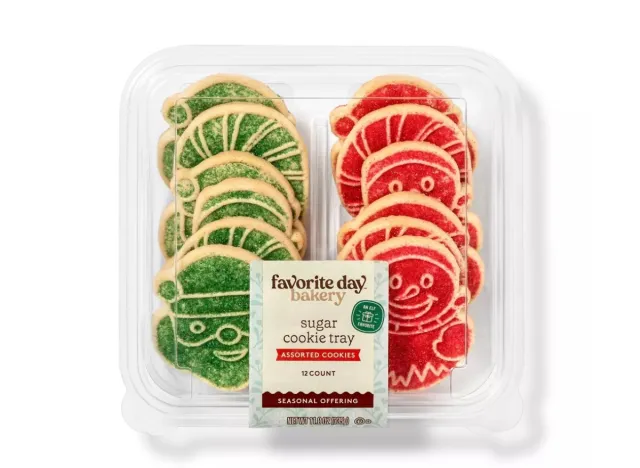 We aren't done with Target's holiday food selection just yet. You can also grab the retail chain's red and green shaped shortbread cookies. The name eludes us as the $3.99 sugar cookies are actually shaped like a snowman and Santa Claus, but hey, they are still a pretty cute Christmas Eve treat.
Publix's Christmas Cookies 25-Count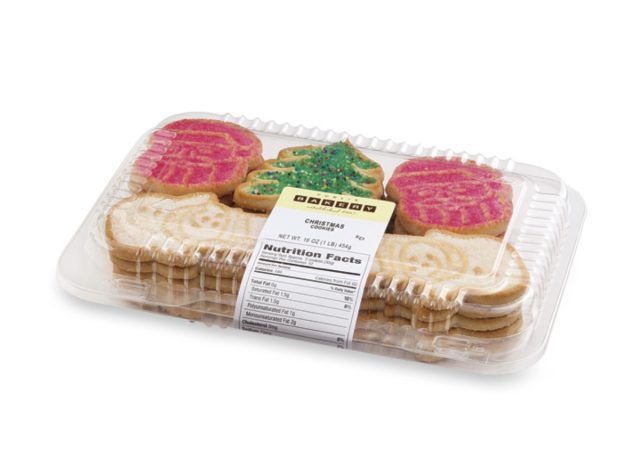 Publix never fails in its deli or bakery department. The supermarket baked up some adorable 25-count Christmas cookies that you can buy in a pinch. Although the price is not listed on the store's website, the package includes the basic Santa-, tree-, and snowman-shaped cookies with the according holiday sprinkles.
Publix's Seasons Greetings Cookie Platter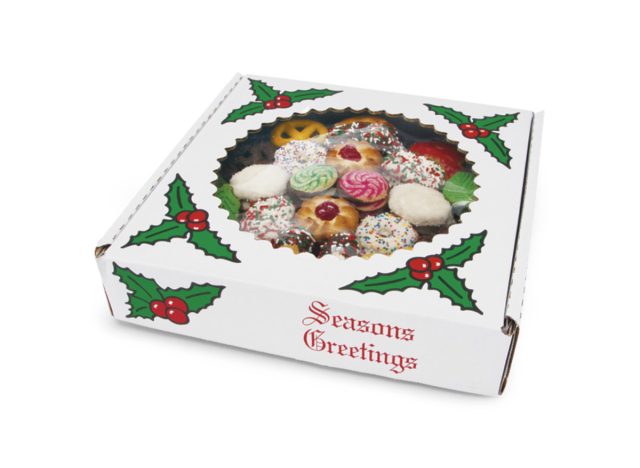 If you're looking for a slew of charming cookies to throw on Santa's plate, this season's greetings cookie platter has you covered. Publix offers a plethora of festive bakery options including a cookie assortment filled with every sweet you can imagine. From chocolate-covered pretzels to leaf-shaped treats, you are all set with Santa's plate after the kids head to bed.
Aldi's Winternacht Spekulatius Spiced Cookies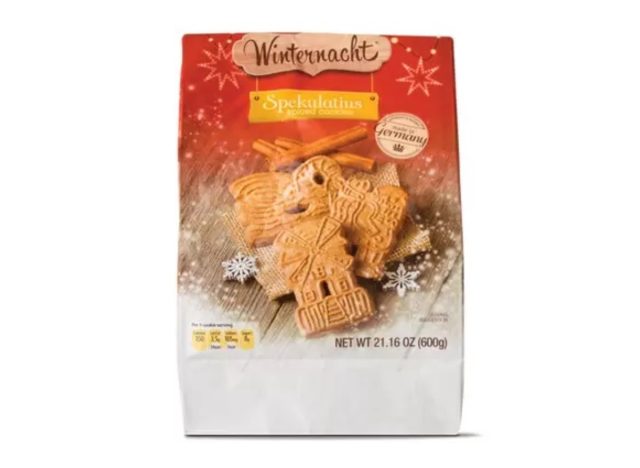 These cookies are for the families who enjoy the traditional but chic Christmas decorations. You know who you are!. Aldi's Winternacht spekulatius spiced cookies are beautifully detailed for the simple treats in life. The price of this authentic German holiday dessert varies by store. Pair with tea, cider or hot chocolate, or in this case, Santa's usual milk.
Wegmans Assorted Cookies
There's a reason we saved Wegmans assorted cookies for last. The holiday spirit is definitely alive in these decorated gingerbread men, stocking, tree, and star cookies. At $13.99 per pound, these sweets guarantee an extra present from Santa's sleigh!
Olivia Bria
Olivia has a bachelor's degree in communications and political science from the University of Connecticut. She is a foodie, traveler, journalist, and celebrity interviewer.
Read more about Olivia