5 Best New Bakery Items Costco Launched in 2022
These are the absolute tastiest novelties at the warehouse.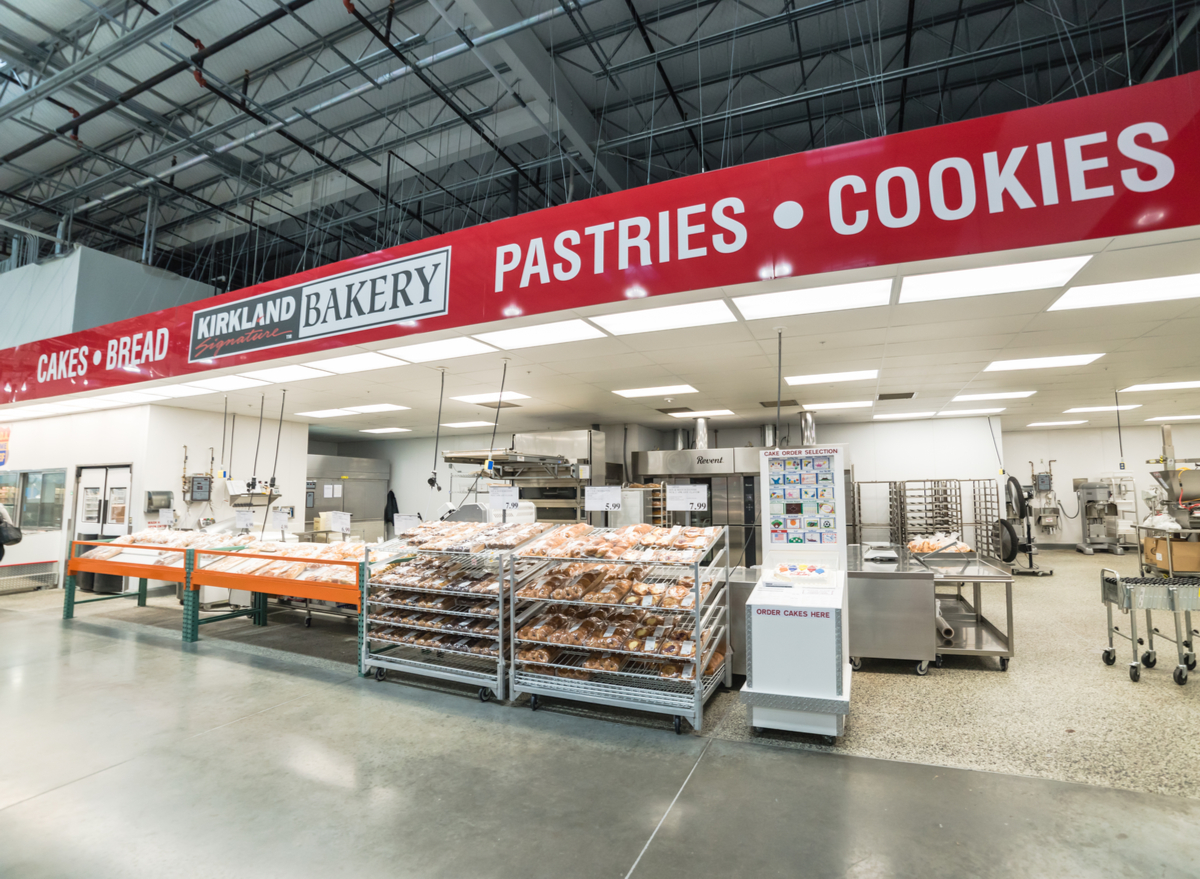 This post contains affiliate links. If you use these links to buy something, we may earn a commission.
In any given year, Costco is busy making changes both big and small to its offerings to better serve its loyal customer base. This year is no exception, and within mere months, the big-box retailer has opened up shop in new cities, made important policy changes, added to its list of services while dropping other programs, and even made a subtle but impactful sustainability change within its food courts.
That's all well and good, but it's really the introduction of new bakery items that tends to steal the show at the warehouse. This is the kind of news that really gets people talking, and there's definitely been a lot to discuss so far this year.
Among the oldies but goodies such as the buttery croissants and rotating seasonal selections like the giant Pumpkin Pie, many fresh new bakes have recently appeared at Costco. Warehouse fans quickly flooded the internet with honest reviews and heated debates around which of these items lived up to expectations and which weren't worth the added calories.
The following items were found to be the best of the best, so make sure to get your hands on them now before they are phased out. The diet starts next year!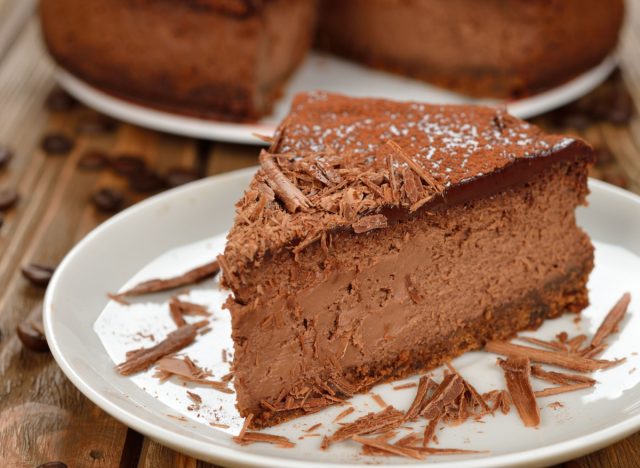 We didn't think anything could top Costco's quintessential plain cheesecake with its versatility and long-standing customer devotion. But, this year, the store's bakery may have finally done it. The 4-pound Chocolate Cheesecake debuted in June 2022, nearly breaking the internet.
Upon trying the dessert for the first time, TikTok user @CostcoHotFinds went so far as to say that it is going down as one of her "all-time favorites" and that it's a "must-try for all chocolate lovers." She additionally adds, "If the Costco bakery ever takes this away, I will be devastated."
Over on Instagram, @costcobuys shares, "Chocolate Cheesecake is NEW at Costco and I'm ALL about it! This dangerously delectable dessert is made with a chocolate cookie crust, chocolate cheesecake, and chocolate mousse…you can never have too much chocolate!" Commenters agree with these sentiments and the 10,000 likes on this post speak for themselves.
Word additionally spread to Reddit, with one post announcing, "Local Costco has chocolate cheesecake with chocolate crust. Never seen it before. OMG." In response, another writes, "Just give me a spoon and get out of the way. On second thought Never mind the spoon…"6254a4d1642c605c54bf1cab17d50f1e
Raspberry Mini Cakes with Buttercream Frosting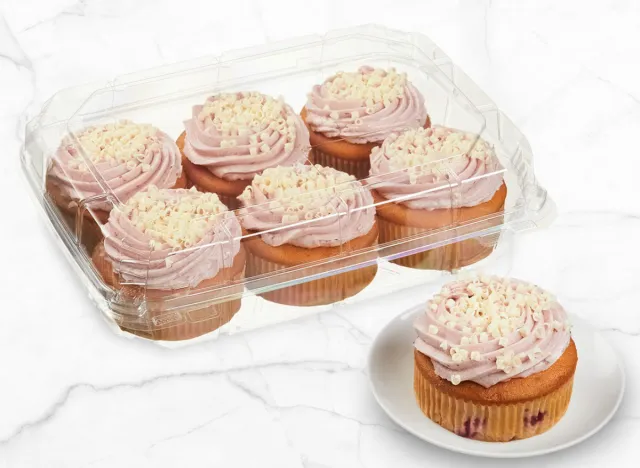 Have you noticed a trend at Costco's bakery this year? It seems that the warehouse is on a mission to turn everything mini, and these smaller-than-average treats are making a larger-than-life impression on Costco shoppers. Varieties stocked this year have included Mini All American Chocolate Cakes, Mini Chocolate Chip Cookies, and seasonal varieties like Mini Carrot Cakes or Snickerdoodle Mini Cakes.
But one of the small-scale sweets that has Costco fans most excited is the never-before-seen pack of Raspberry Mini Cakes with Buttercream Frosting. These new delicacies are made up of a yellow cake with a raspberry filling, topped with a generous portion of smooth pink icing, and adorned with white chocolate shavings. They look almost too good to eat. Almost.
Costco members shared their initial thoughts on the highly sought-after treat on Reddit. "Wherever these cakes came from, and whoever made them, please keep them around Costco," says a fan, while another agrees, "I just got them today. I've been craving them ever since I saw this post. Must admit that they are delicious!" Many expressed that the Snickerdoodle Mini Cakes pale in comparison to this new flavor.
"THESE ARE HEAVENLY I got them today!! They are VERY. RICH," a user comments on @costcohotfind's Instagram post about the raspberry-flavored delights.
Junior's Gooey Butter Cake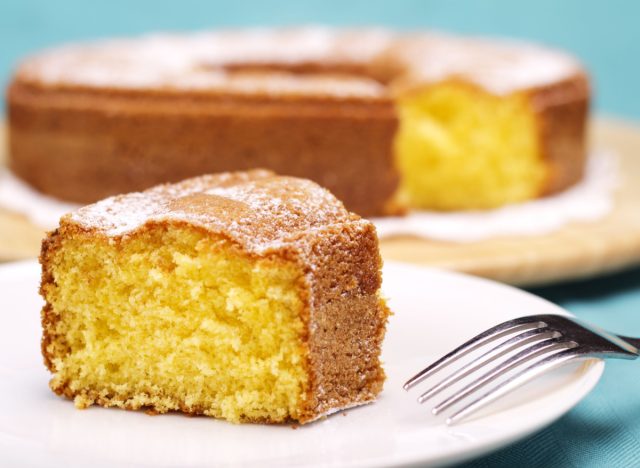 With the word "butter" baked right into the name, you already know this new cake is bound to be tasty–and Costco members have confirmed it. The Gooey Butter Cake was spotted at the warehouse for the first time in August among Junior's popular sweet treats like its crème de la crème New York Cheesecake (the full-size version rather than its mini counterparts which were a disappointing flop.)
This latest creation is the brand's take on a traditional St. Louis-style Gooey Butter Cake with a yeast base and a thin gooey cake layer made of flour, butter, sugar, and eggs. If that's not enough to make your mouth water, Junior's version is also topped with cream cheese and dusted with powdered sugar.
Instagrammer @costcobuys posted a video of the new bakery section find, which has garnered over 7,200 likes and additionally has Costco fans swooning in the comment section. One user writes, "Ummmm what? I need this asap." Another comment reads, "Literally the BEST dessert ever!!"
Unfortunately for some, it seems that the gooey goodness is only available in select Costco stores. "​​Im So sad and salty that they don't sell juniors at my local costco," one disappointed user comments. "I wanna try it looks so good."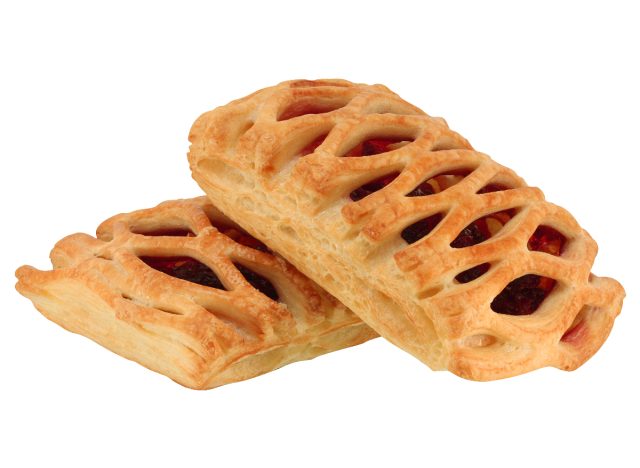 Cherry and cheese is a match made in pastry heaven and a unique combo that quickly became a hit after its release at Costco. Both Cherry Danishes and Cream Cheese Danishes have been on the menu for a while, but this is the first time the bakery has fused the two for a perfectly balanced sweet and savory flavor experience. The Cherry and Cheese Pastries are similar in appearance to the store's seasonal Braided Apple Strudel, and so far have been met with just as much fandom.
Reddit user u/yimsie quickly posted about the new pastries after finding them in September at a local Costco. "New cream cheese/cherry filled pastry in the bakery. My new favorite item! $9.99," the post reads. One user notes in the comments, "It tastes like cheesecake with cherry. Spectacular." Another jokes, "Have mercy, Costco Bakery! If you kill me off with your sweet, sweet baked goods, you'll have one fewer customer!"
And, user u/mslinky was just relieved to see the cherry and cream cheese combo finally come to fruition. "What? No more having to decide between cherry or cheese?" they write. "Did Costco hear me complaining all these years? I better buy bigger pants."
Mini Lemon Cakes with Buttercream Icing
Mini Lemon Cakes with Buttercream Icing popped up in the Costco bakery this year just two months after their raspberry-flavored equal. The two have gone head to head, but both have managed to win over the hearts of Costco shoppers. While the Raspberry Mini Cakes are rich and dense, the Lemon Cakes offer a more light and citrusy taste with a touch of extra sweetness. This added sweetness was a turn-off for some, but for many others, it's just the right amount to satisfy their sweet tooth.
Instagrammer @costco_doesitagain was one of the first to post about the lemon treats, and many approving comments ensued. "Bought them…as always with Costco…they were great!" one comment reads. Another user says, "These are soooooo good, the best out of all the flavors yet. They have so many elements besides just icing & cake!!! YUM."
User @costcofans couldn't agree more. The account shared a separate post praising the lemon flavor while simultaneously serving a subtle dig at the raspberry cakes. "Raspberry cupcakes move over… The NEW Lemon Mini Cakes 🍋 have arrived to @costco!" the post says. The caption additionally includes a "Foodie Review" which reads," My husband loved it. He said it's the best one. He loves lemon. AND he's tried them all!"