We Tested 5 Fast Food Breakfasts, and This is the Best!
While the drive-thru is notoriously calorific, you can still start your day the right way with this pick.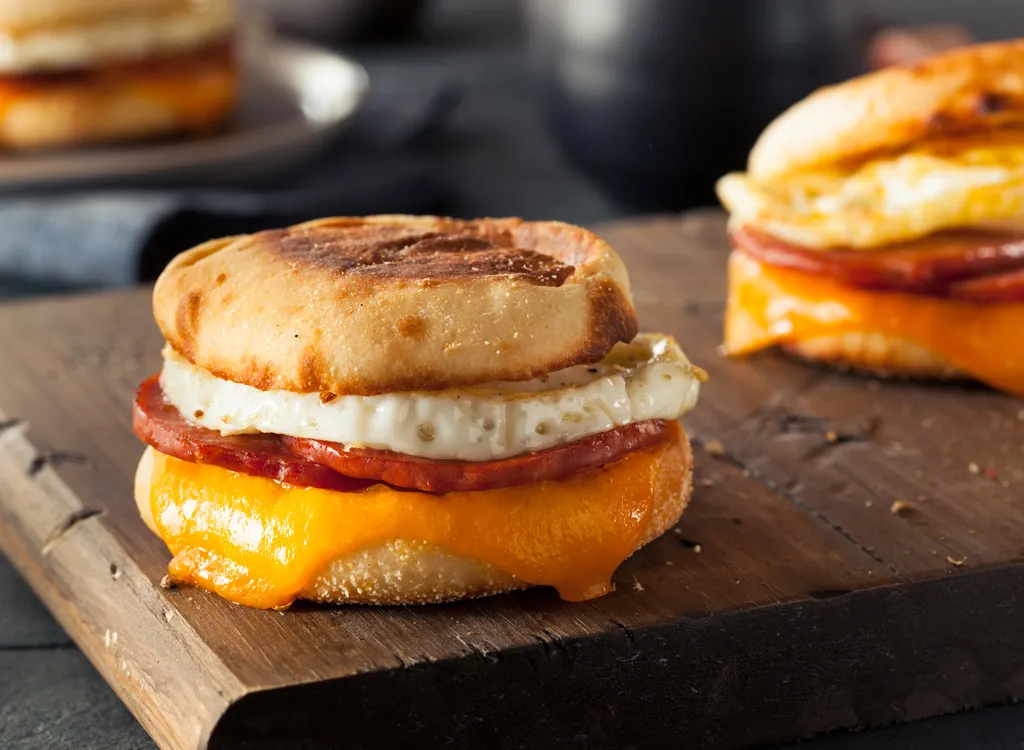 Opting for a fast food breakfast sandwich this a.m.? Let's face it: you're either running late to an early morning meeting or severely hungover. No matter your incentive or expectations, you still want the best fast food breakfast out there. And with so many options from ubiquitous chains like the Golden Arches and Home of the Whopper, choosing one can become quite the daunting task.
That's why Eat This, Not That! tested five popular morning meals so you can breeze through the drive-thru and fuel up on the fly. Find out which 'wich is our winner below!
How We Graded The Fast Food Breakfast Sandwiches
Here are the three metrics we used to determine each breakfast's final grade.
Nutrition
Starting your day with a balanced breakfast brimming with lean protein, healthy fats, and fiber is a sure-fire way to boost your metabolism, fight hunger, and power through your day. However, scoring a fast food a.m. meal that checks off all three macros is a difficult task, which is why we favored the sandwiches that fit the bill. We favored sammies that were well-balanced when it came to protein, carbs, and fat.
Appearance & Consistency
Is the sandwich bread crumbling apart in your fingers or does it hold up to the fixings? Is the bacon shriveled or perfectly crisp? Does the gooey cheese seep through the carby shell or complement each ingredient's flavor profile? Does the egg actually look like it came from a hen?
Taste
Whether your fast food sammie is annoyingly greasy or satisfying as can be, taste is probably the most significant determining factor. After all, no matter how stellar the nutritionals and how inviting the advertising campaigns are, you wouldn't reorder a b'fast that didn't please your taste buds.
Listed From Worst… To Best
McDonald's Egg McMuffin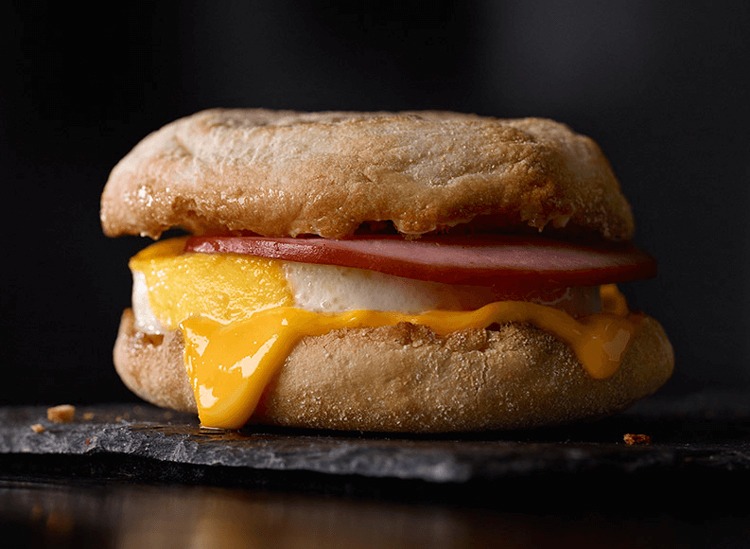 6254a4d1642c605c54bf1cab17d50f1e
Nutrition: 300 calories, 12 g fat (6 g saturated fat, 0 g trans fat), 750 mg sodium, 30 g carbs (2 g fiber, 3 g sugar), 18 g protein
Appearance & Consistency: The toasted English muffin was burnt around the edges and very dusty, the egg resembled plastic, and the ham was way too chewy.
Taste: According to an avid Arrested Development enthusiast and colleague, "The ham tasted like I'd imagine the ham from Lindsay Bluth's hot ham water would." And the under-seasoned fried egg was nowhere near a redeeming quality: "It tastes like a sponge."
Eat This, Not That! Verdict:
While the nutritionals in this sammich deem it one of the healthier options at McDonald's (and McDonald's even claims to make all the round eggs fresh with real eggs in the restaurant), the flavor didn't do it any justice. The egg was rubbery and flavorless, the ham underwhelming, and the English muffin was far from fresh. While we had high hopes the fast-food titan's renowned McMuffin would at least sit among the best fast food breakfasts, we surely weren't expecting the overwhelming lack of flavor and missed opportunities with the English muffin would land it dead last.
Burger King Bacon, Egg & Cheese Biscuit
Nutrition: 390 calories, 25 g fat (13 g saturated fat, 0 g trans fat), 1,230 mg sodium, 28 g carbs (1 g fiber, 3 g sugar), 12 g protein
Appearance & Consistency: The biscuit was both its greatest strength and weakness. Among every ingredient in the sandwich, the biscuit had the most flavor: it tasted like a true Southern buttermilk biscuit, but came off too dry and too flat to be the real deal. The bread should play second fiddle to the interior, but that wasn't the case here.
Taste: The egg was fluffy but absolutely flavorless, the cheese lacked the spike that it needed to stand out, and the bacon was anything but thick-cut—it seemed to be the same bacon they toss on their value menu items. The cheese was somehow a step down from what they put on their burgers.
Eat This, Not That! Verdict:
If it's an authentic biscuit you're after, you may need to book a weekend in Nashville or NOLA instead of directing yourself to the nearest Burger King. While the butter-drenched biscuit tasted authentic, the texture—in addition to the outrageously high sodium count—is what threw us off. What we did enjoy is that BK allows you to customize your biscuit 'wich with any breakfast meat you're craving that a.m. So, yes, you can have it your way.
Dunkin' Donuts Veggie Egg White Wake-Up Wrap
Nutrition: 160 calories, 8 g fat (4 g saturated fat, 0 g trans fat), 510 mg sodium, 15 g carbs (1 g fiber, 1 g sugar), 8 g protein
Appearance & Consistency: The portion size was fairly small, which makes sense since this wrap has only 160 calories. The breakfast pick was mushy and the fact that the wrap boasts one homogenous texture didn't encourage us to take more bites.
Taste: The saltiness and glob of cheese blend overpowered the egg and veggies. The wrap wasn't tasteless, but it wasn't impressive either. We would've loved to get more of the veggies listed in the ingredient list—mushrooms, green onions, peppers, and shredded potatoes—in at least one bite.
Eat This, Not That! Verdict:
Dunkin' Donuts' wake-up wrap reminded us of a homemade cheese quesadilla crafted with Kraft singles and a soft Mission tortilla. We didn't get much flavor from the egg and couldn't tell there were any veggies in this besides an occasional peppery kick. Overall, this DDSmart menu item isn't the worst thing to wake up to flavor-wise, but the relatively low calorie, fiber, and protein contents deem this pick a snack rather than a filling a.m. meal.
Subway Black Forest Ham, Egg & Cheese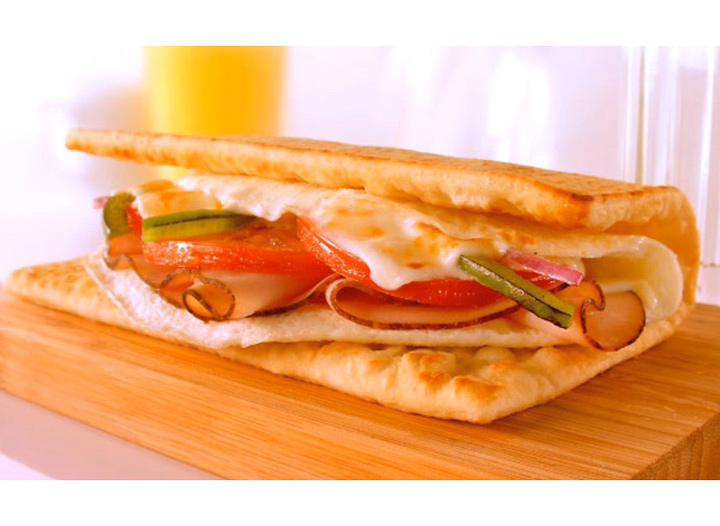 Nutrition: 410 calories, 16 g fat (5 g saturated fat, 0 g trans fat), 1,210 mg sodium, 44 g carbs (2 g fiber, 3 g sugar), 23 g protein
Appearance & Consistency: The flatbread looked exceptionally fresh and pliable. The egg was pre-made and slapped onto the wrap and then piled with two slices of Black Forest ham and melted provolone.
Taste: Overall, our taste testers loved that the egg tasted real and the addition of crunchy green peppers and piquant jalapenos really brought out the proteins' flavors.
Eat This, Not That! Verdict:
A respectable 410 calories of juicy ham, creamy cheese, and egg that actually tastes like egg—a total enigma, when it comes to microwave-oven omelets—ensconced in a pleasantly crisp and buttery flatbread, this delicious beast is sure to keep your hunger at bay until lunch swings around. Pro tip: If you like a fiery kick to jumpstart your day, order with jalapeño peppers and a dash of Subway's patented chipotle southwest sauce.
Starbucks Spinach, Feta & Cage-Free Egg White Breakfast Wrap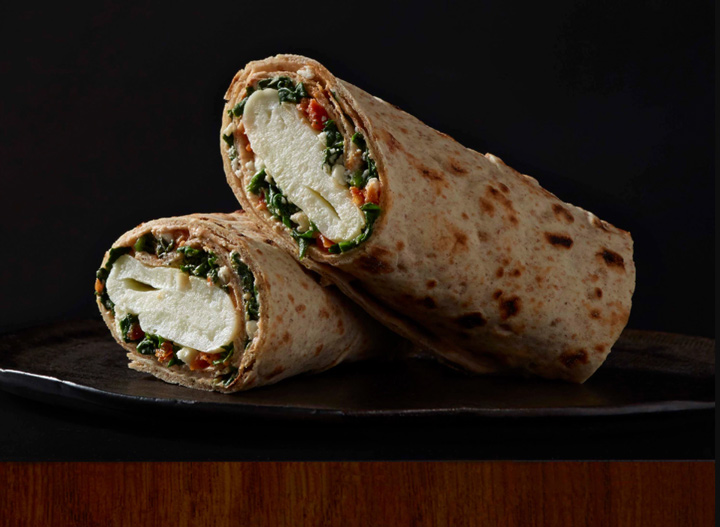 Nutrition: 290 calories, 10 g fat (3.5 g saturated fat, 0 g trans fat), 830 mg sodium, 33 g carbs (6 g fiber, 4 g sugar), 19 g protein
Appearance & Consistency: The flatbread was crisp on the outside and gooey on the inside thanks to a generous amount of melted feta. The stringy spinach added satisfying texture while the egg was uber fluffy and fresh.
Taste: The lean cage-free egg trumped every other offering's protein source in both taste and quality while the sun-dried tomatoes lent the wrap a mouth-watering, pizza-like savoriness. Is it too early for seconds?
Eat This, Not That! Verdict:
Meet the winner of our fast food breakfast sandwich ranking. The vitamin-rich spinach, juicy tomato, and salty feta complemented each other perfectly while the fluffy egg-white omelet added satiety and protein. Unwrapping this Starbucks staple was sort of like unboxing a fresh-out-of-the-oven pizza pie—the enticing scents wafting foreshadowed the delicate flavor balance and savoriness of the sandwich. Just when it couldn't get any better, Sbux's nutritionals blew it out of the park, boasting healthy fats coming from the feta, protein from the cage-free egg, and an impressive six grams of fiber coming from the whole wheat wrap and spinach. Wondering what to guzzle this #1 pick with? Try the Nitro Cold Brew or any of our other 15 Starbucks Orders Under 200 Calories.
April Benshosan
April is a born-and-raised Brooklynite who has a passion for all things health, wellness, and tastebud-related.
Read more about April