5 Best Fried Chicken Spots in the South, According to Chefs
This is where the pros get their fix.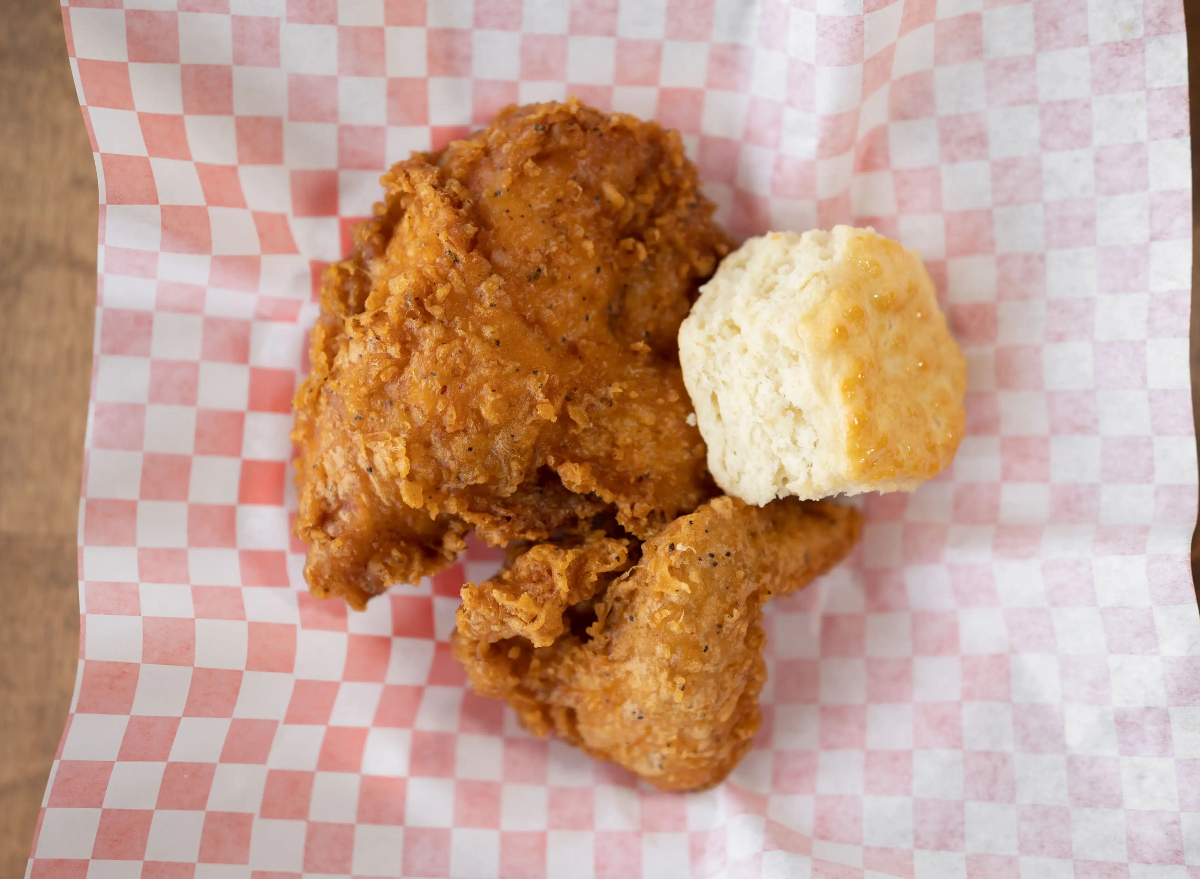 Prior to World War Two, fried chicken was a delicacy reserved for celebrations and special dinners. Over the years, however, it became a staple comfort food we reach for often. It's something you can easily pick up at a fast-food chain and millions of other restaurants nationwide. In fact, according to the U.S. National Chicken Council, the average American consumed 28 pounds of chicken in 1960. Fast forward to 2022 and that figure goes up to 99 pounds per year.
Here, we've rounded up our favorite fried chicken spots in the South, according to chefs from around the nation. Basically, we'll eat fried chicken in just about any form, and according to our experts, these fried chicken joints are pretty hard to beat.
Prince's Hot Chicken Shack in Nashville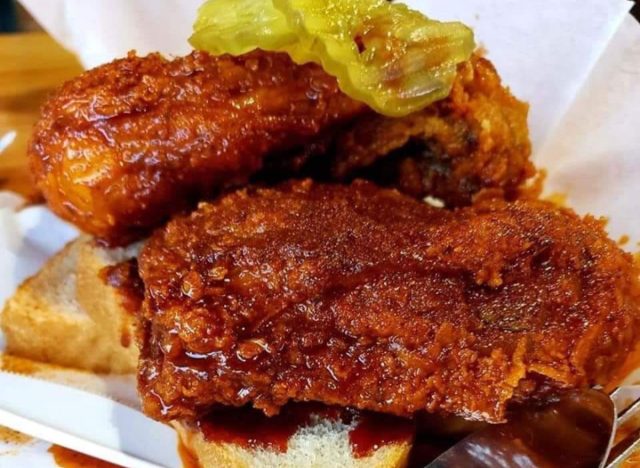 Prince's is known for popularizing hot chicken, a specialty fried chicken that started in Nashville and is covered in a red sauce or paste that has different levels of heat from cayenne or other pepper. Executive Chef Bin Lu of Blue Rock in Washington, Va. (former head chef of Michelin-starred Pineapple and Pearls) mentions Prince's as a top pick for fried chicken in the South.
"The OG, Prince's in Nashville! When I was at UVA I would drive home to Texas for the holidays and almost always stop at the original location. I could do the hot, but never got to the extra hot." The restaurant has even inspired the fried chicken that Lu makes at Blue Rock, which is doused in Buffalo sauce and Laoganma (a famous brand of Chinese chili sauce).
He's not the only chef that called out Prince's as one a staple for southern-style fried chicken. Chef and owner Grant Kneble of Freddy J's Bar & Kitchen in New Jersey is also a big fan. "Their fried chicken isn't just crispy on the outside and juicy on the inside; their signature punch of spice truly sets them apart. The harmony of heat, subtle sweetness, and traditional southern spices creates an intoxicating flavor experience. This isn't simply a meal, it's a memory that lingers long after the last bite, and I still find myself dreaming about it."
Mike's Chicken in Dallas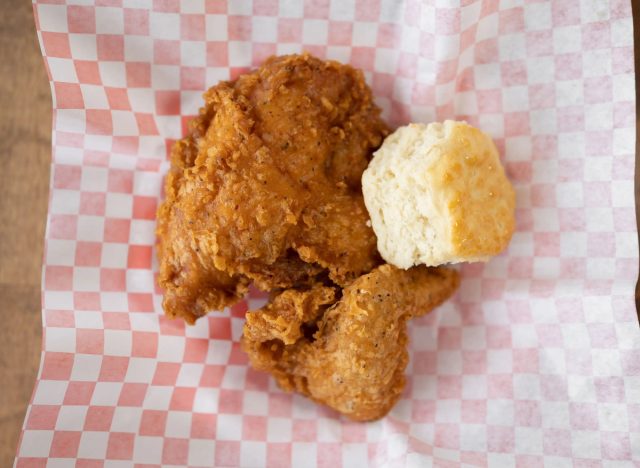 Another top-tier fried chicken spot, family-owned Mike's started out in a laundromat in 2014 and has since grown to two locations in the DFW area. Malik Cantu, the head chef at Isla & Co. in Dallas, swears by Mike's, telling us, "Hands down the best fried chicken comes from Mike's Chicken, located in Dallas on Maple Avenue. Served out of the side of a laundromat, this chicken is the juiciest, crunchiest, and most flavorful chicken around. It's not a matter of opinion, it's literally the best. No questions asked! The chicken is good by itself, however, it also pairs well with their house-made sauce and sides."
South City Kitchen in Atlanta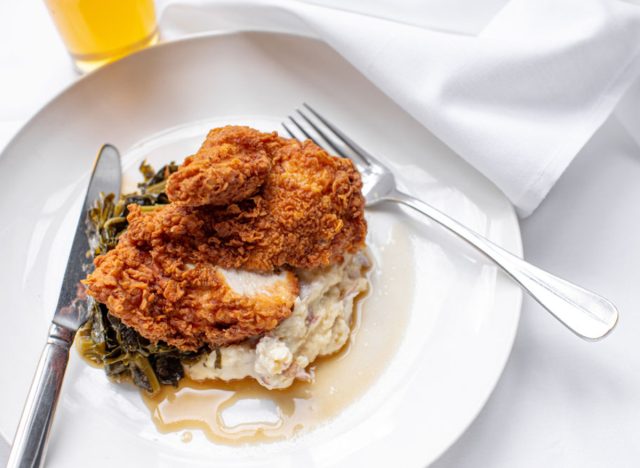 Pastry chef Kayisha Thompson of De L'or Cakery in New York City tells us she had the most amazing fried chicken at South City Kitchen while living in Atlanta. "We dined either at the Buckhead or Midtown location. It was a beautiful atmosphere, the servers were very attentive, and the fried chicken was fantastic."
Parker's Kitchen in Georgia and South Carolina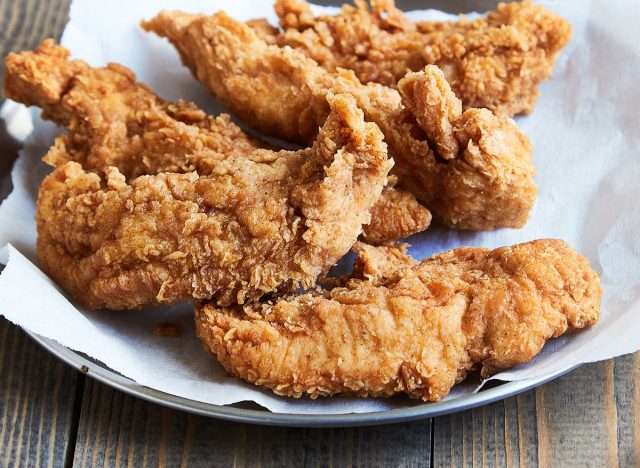 Those who know Southern food know that some of the best versions come from local convenience stores and gas stations. According to chef David Thomas, soul food connoisseur and chef and partner at Baltimore-based H3irloom Food Group, convenience store chain Parker's Kitchen makes some of the best fried chicken he's ever had.
"When we go down to South Carolina or Georgia, which is maybe three or four times a summer, we have to go to Parker's. I originally was drawn to it because it looked so familiar, like a place up here called Royal Farms that has a similar color layout. And then when I saw they sold fried chicken, I had to try it. It's made fresh and double-breaded, which gives it a nice extra crunch. It's some of the best fried chicken I've had and consistently tastes homemade."
Husk in Charleston
Escoffier Chef Instructor Christopher Diehl shouted out the well-regarded Husk in South Carolina (they also have locations in Nashville and Savannah). "I had the pleasure of accompanying the Auguste Escoffier School of Culinary Arts' Farm To Table students at an event where we visited Husk in Charleston," Deih said. "They had amazing fried chicken! Crispy, flaky, juicy, and tender. What made it even more special were the dishes served alongside, which were skillet cornbread with whipped honey butter and collard greens with bacon. Hands down, it was the best fried chicken we had ever experienced!"6254a4d1642c605c54bf1cab17d50f1e
Tanya Edwards
Tanya Edwards is a seasoned food and health journalist, who has held roles at Yahoo Health as Managing Editor and at Food Network as Programming Director.
Read more about Tanya